January 23rd, 2017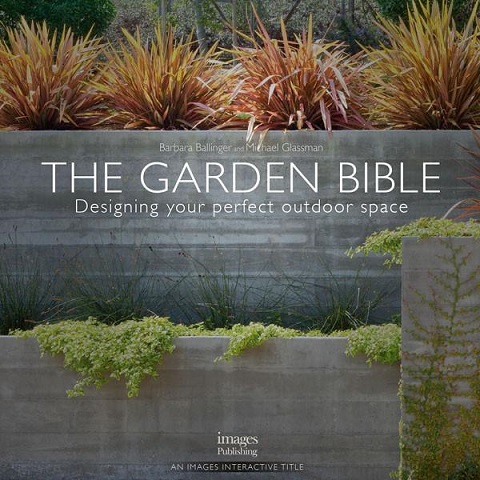 I'm kicking off Book Review Week here at Digging (yes, I had time to read a few gardening books over the holidays and want to share my faves) with The Garden Bible: Designing Your Perfect Outdoor Space (2016, Images Publishing) by Barbara Ballinger and Michael Glassman.
While "garden bible" is a bit of a misnomer — the featured projects are largely patios and terraces with outdoor fireplaces, pergolas, and swimming pools rather than plant-rich gardens — readers who are keen to learn the nitty-gritty of a designed outdoor living space will find plenty to interest them. More than two dozen landscaping projects around the U.S., plus one in Australia, are featured, and each includes useful info such as budget, site problems and solutions, and key design details, plus 2 or 3 pages of before-and-after photos. I like that the authors offer suggestions for cost-saving alternatives for certain features, which helps in understanding how one might save money by choosing less-expensive materials or finishes that involve less-skilled craftsmanship.
Who will enjoy this book? Homeowners who are considering hiring a designer to create an outdoor living space will find inspiration for what can be accomplished, even on a challenging site, and learn what size budget may be required. Garden designers and gardeners who appreciate professional hardscaping will also find inspiration.
A couple of quibbles: I noticed a number of typos as well as instances of designer-speak that lack clarity for the layperson, and California projects are over-represented. But these are minor issues. Overall I enjoyed seeing a variety of well-designed outdoor living spaces from across the country and getting a sense of the budget and challenges that each design addressed.
Disclosure: Images Publishing sent me a copy of The Garden Bible for review. I reviewed it at my own discretion and without any compensation. This post, as with everything at Digging, is my own personal opinion.
I welcome your comments; please scroll to the end of this post to leave one. If you're reading this in a subscription email, click here to visit Digging and find the comment box at the end of each post.
_______________________
Digging Deeper: News and Upcoming Events
Book Review Week is happening all this week right here at Digging! Do you have an Amazon gift card from the holidays burning a hole in your pocket? Need a good gardening book to get you through winter? Come here first for my recommendations.
2/25/17: Come to my talk at the Wildflower Center. I'll be speaking at the day-long Native Plant Society of Texas Spring Symposium at the Lady Bird Johnson Wildflower Center in Austin. My talk is called "Local Heroes: Designing with Native Plants for Water-Saving Gardens," and it's about creating water-wise home gardens that don't sacrifice beauty. The symposium is open to the public. Click here for registration. I'll be offering signed copies of my books, The Water-Saving Garden and Lawn Gone!, after my talk ($20 each; tax is included). I hope to see you there!
Get on the mailing list for Garden Spark Talks. Inspired by the idea of house concerts — performances in private homes, which support musicians and give a small audience an up-close and personal musical experience — I'm hosting a series of garden talks by design speakers out of my home. The first talk with Scott Ogden has sold out, but join the Garden Spark email list for speaker announcements delivered to your inbox; simply click this link and ask to be added.
All material © 2006-2017 by Pam Penick for Digging. Unauthorized reproduction prohibited.