October 17th, 2016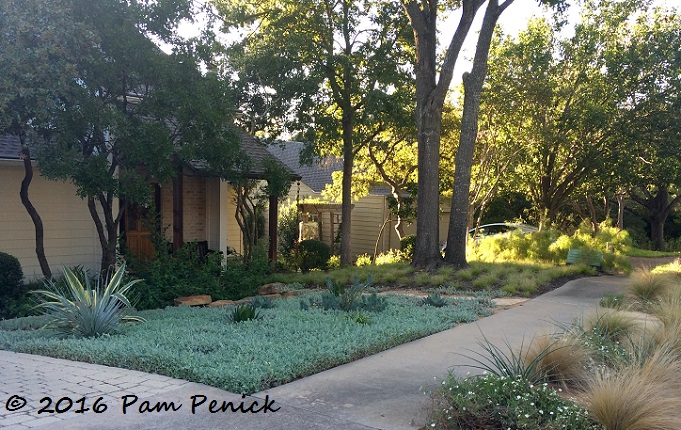 I can't believe I forgot about Foliage Follow-Up yesterday, and I'm the host! To make up for it, I'm combining my Foliage Follow-Up post with Drive-By Gardens, always a reader favorite. I have two Austin gardens to share with you for this Drive-By, and both are largely foliage gardens, with little attention paid to flowers. Instead the focus is on strong foliage forms and easy-care evergreen groundcovers.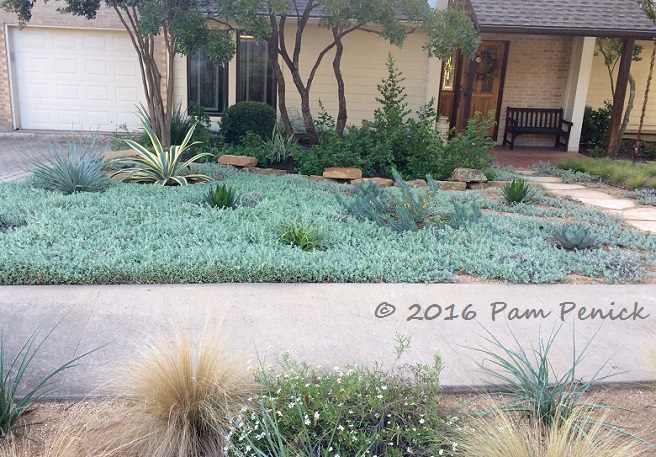 The first drive-by is really a walk-by. This xeric, deer-resistant, front-yard garden belongs to a neighbor just down the street. I've been watching its progress on dog walks, and it's looking great after a year of growth. Here's the first post I wrote about it last November. Comparing the images, you can see how much the woolly stemodia (Stemodia lanata) groundcover has filled in, like a silver-gray carpet in the main part of the yard.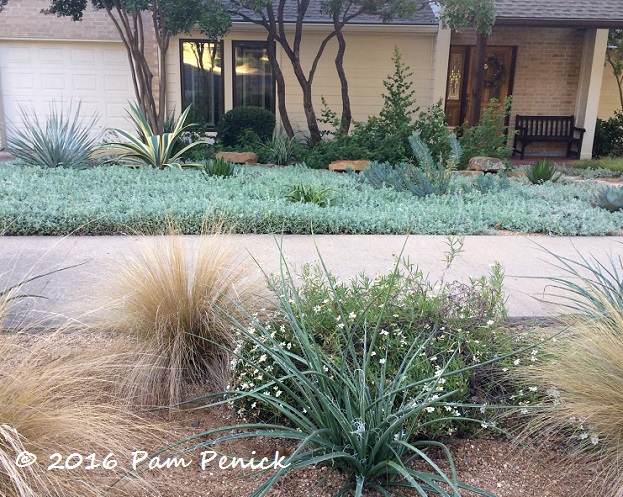 In the hell strip between the sidewalk and the street, red yucca, Mexican feathergrass, and blackfoot daisy — Texas natives all — are tough as nails given plenty of sun and good drainage.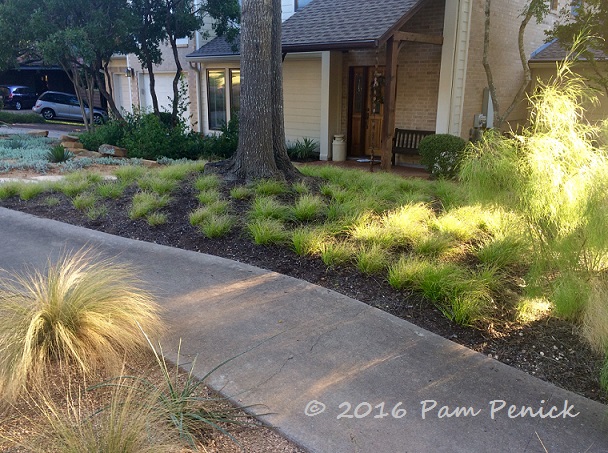 On the shadier side of the yard, under a large tree, sedges are filling in nicely (additional plugs were added this spring to fill it out), and bamboo muhly along the side yard glows in the afternoon light. Grasses and sedges are wonderfully resistant to deer, who neither nibble nor antler them.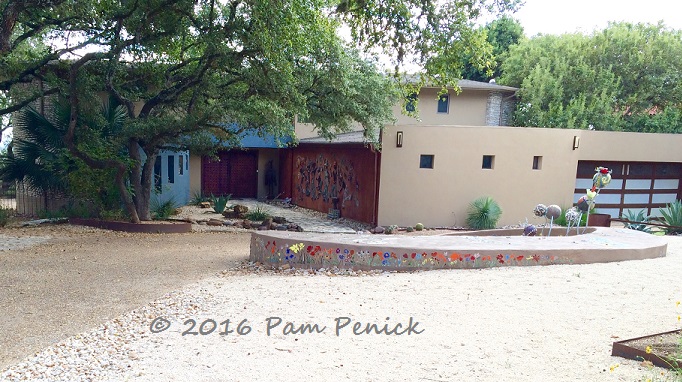 The second drive-by is one I passed in the Highland Park West Balcones Area neighborhood while looking at houses on the AIA Austin Homes Tour on Saturday. I was struck by the color-block architecture and the charming mosaic flowers on the stucco retaining wall and along the entry walk.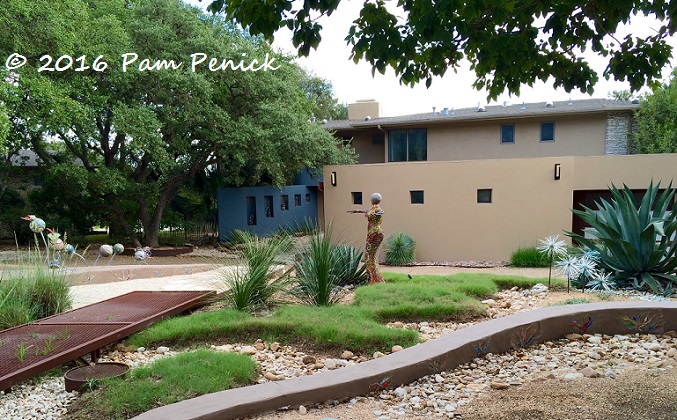 Panning right you see a wavy strip of turf grass, curvy rock paving, sculptural and xeric foliage plants like agave, yucca, and dasylirion, a steel bridge (crossing a dry stream, maybe?), a gently undulating stucco retaining wall with colorful mosaic agaves (or yuccas?), and a life-size mosaic sculpture of a woman. An artist either lives here or did a lot of work for this garden!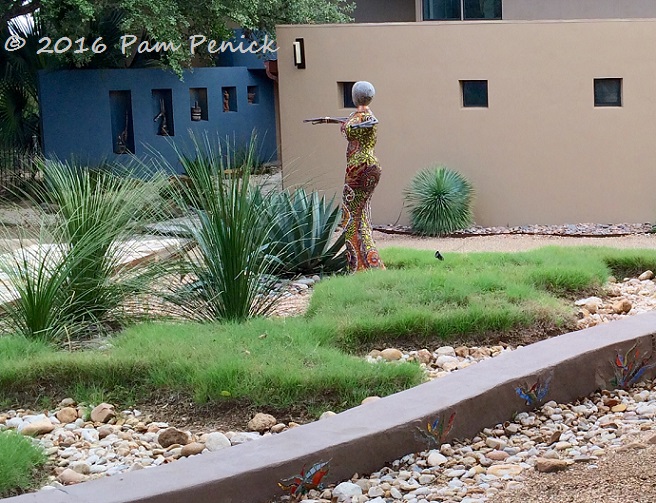 I love to see people enjoying their front yards with alternative plantings and art!
This is my (belated) October post for Foliage Follow-Up. Fellow bloggers, what leafy loveliness is happening in your garden this month? Please join me in giving foliage its due on the day after Bloom Day. Leave a link to your post in a comment below. I'd appreciate it if you'll also link to my post in your own — sharing link love! If you can't post so soon after Bloom Day, no worries. Just leave your link when you get to it. I look forward to seeing your foliage faves.
I welcome your comments; please scroll to the end of this post to leave one. If you're reading this in a subscription email, click here to visit Digging and find the comment box at the end of each post.
_______________________
Digging Deeper: News and Upcoming Events

South Texans, come see me at the 2nd annual Planta Nativa festival in McAllen, Texas, on Saturday, October 22. I'll be delivering the keynote talk, "Local Heroes: Designing with Native Plants for Water-Saving Gardens," that evening. Tickets are on sale at Quinta Mazatlan. I hope to see you there!
I'll be speaking at the Antique Rose Emporium Fall Festival 2016 in Brenham, Texas, on Saturday, November 5th, 1:30-2:30 pm. Come on out to the Antique Rose Emporium's beautiful gardens for a day of speakers and fun! My talk, with plenty of eye-candy photos, is called "Hold the Hose! How to Design a Water-Saving Garden that Wows." Meet me afterward at the book-signing table!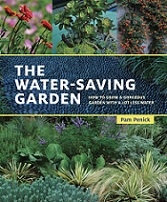 Do you review? Have you read my new book, The Water-Saving Garden? If you found it helpful or inspirational, please consider leaving a review — even just a sentence or two — on Amazon, Goodreads, or other sites. Online reviews are crucial in getting a book noticed. I really appreciate your help!
All material © 2006-2016 by Pam Penick for Digging. Unauthorized reproduction prohibited.