August 8th, 2016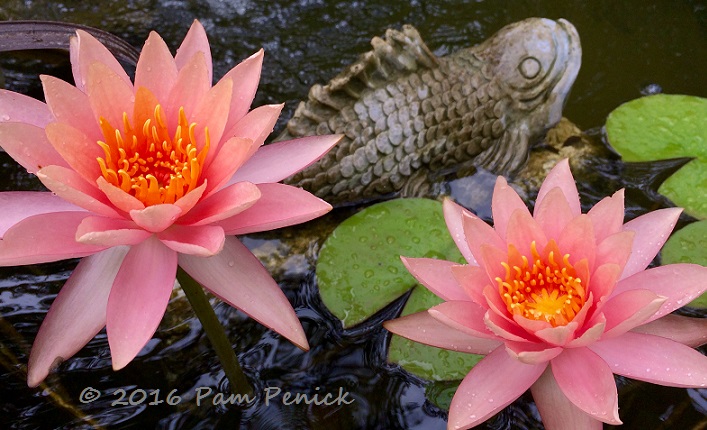 As the Death Star sizzles for weeks on end — 100 degrees F and no rain in sight — it might seem as if all the garden can do is endure. But no! Plants that put on their best show in the heat of summer, even a Central Texas summer, abound. Here are a few I'm enjoying right now, starting with 'Colorado' waterlily. Sure, it's growing in water, so why wouldn't it enjoy summer? Still, all you need is a large tub or a stock tank to have one of your own.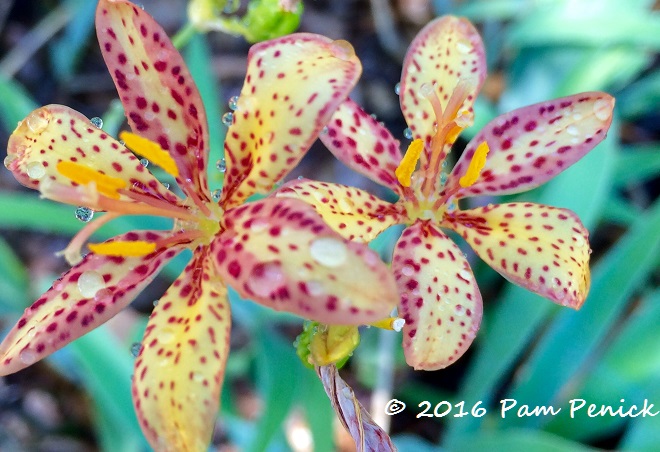 Delicate-seeming candy lily (x Pardancanda norrisii) saves its flowering for midsummer too. While the tiny, freckled blossoms lack a waterlily's showiness, they're a sweet discovery on a hot day.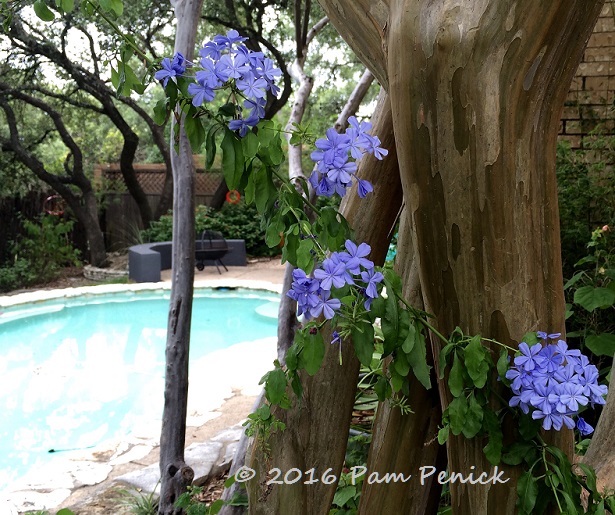 Dependable plumbago (Plumbago auriculata) is a summer favorite. Mine is a dark-blue variety that I prefer to the more common sky blue, but they're all summer performers.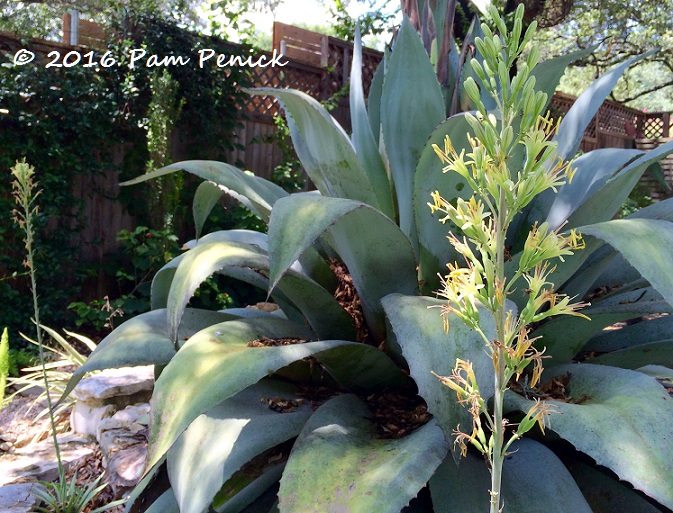 Structural plants like agaves and yuccas are unfazed by triple-digit heat. But have you tried dainty, speckled 'Bloodspot' mangave? (Click the link to see the beautiful foliage.) In summer, a mature plant sends up a bloom spike with pale-yellow flowers that lasts for a couple of weeks.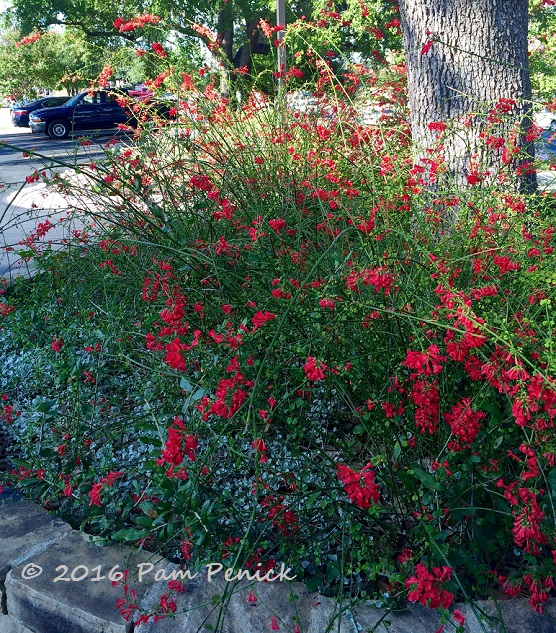 Firecracker fern (Russelia equisetiformis) fights fire with fire, its arching stems erupting in a cascade of tubular, crimson flowers all summer. Even better, in my opinion, is round-leaf firecracker fern (Russelia rotundifolia), pictured here, which takes more shade. This one lights up a grocery store parking lot in my neighborhood. It's traffic stopping!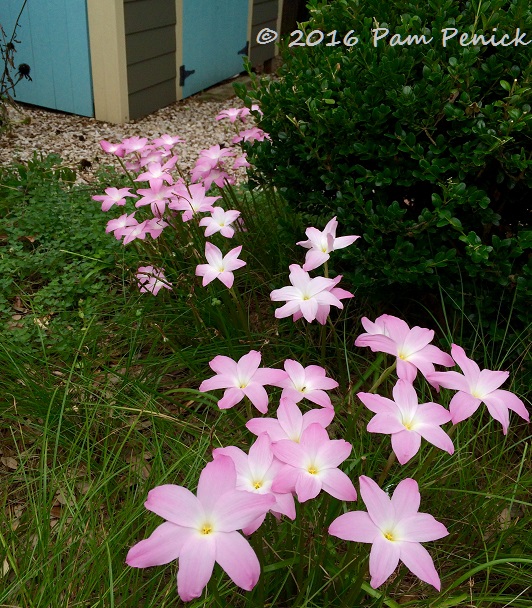 A few weeks ago we enjoyed a rare summer rain, and the rain lilies (Zephryanthes 'Labuffarosea') burst into grateful bloom.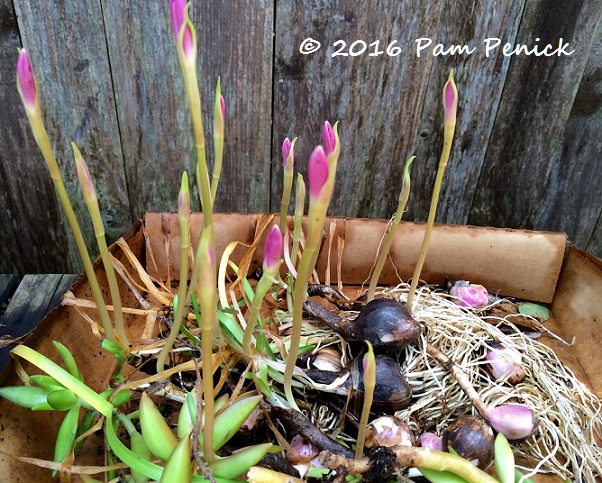 A while back I experimented with planting rain lily bulbs in a hanging planter, and they lived but didn't thrive. So recently I pulled everything out and replanted, in the process finding that the bulbs had multiplied threefold. I separated them, laid them in a cardboard box on an outdoor table, and then forgot about them for a week. Meanwhile, it rained, and this happened.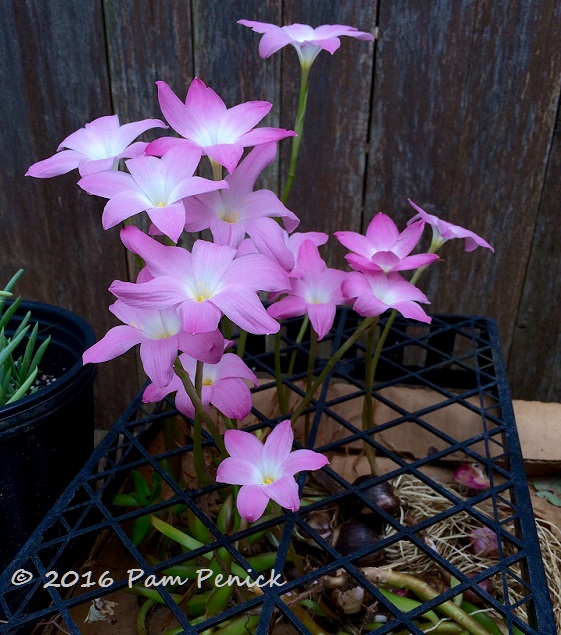 Yes, they bloomed without even being in the ground. Aren't bulbs amazing little energy capsules? 'Labuffarosea' rain lilies will bloom several times throughout the summer, whenever we get a rain shower. As a bonus their leaves, like monkey grass, are evergreen in our climate.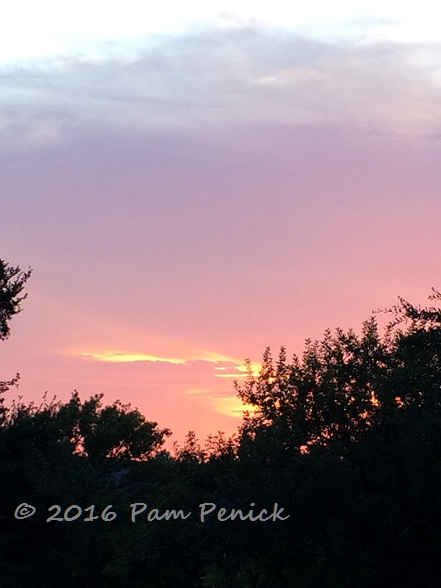 Of course, even without our summer-loving plants to provide color, there's always the evening sky.
I welcome your comments; please scroll to the end of this post to leave one. If you're reading this in a subscription email, click here to visit Digging and find the comment box at the end of each post.
_______________________
Digging Deeper: News and Upcoming Events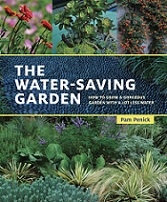 Do you review? Have you read my new book, The Water-Saving Garden? If you found it helpful or inspirational, please consider leaving a review — even just a sentence or two — on Amazon, Goodreads, or other sites. Online reviews are crucial in getting a book noticed. I really appreciate your help!
All material © 2006-2016 by Pam Penick for Digging. Unauthorized reproduction prohibited.