August 3rd, 2016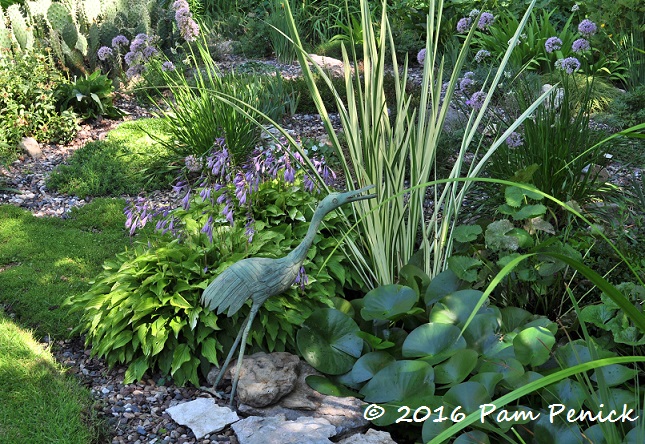 This is my 10th post about the recent Minneapolis Garden Bloggers Fling, and I have two more coming up that cover one very special garden. Even so, I won't have shown you every garden we visited. There were just too many! But here are a few images from three other gardens, as well as some Minneapolis sights and blogger friends.
Lee & Jerry Shannon Garden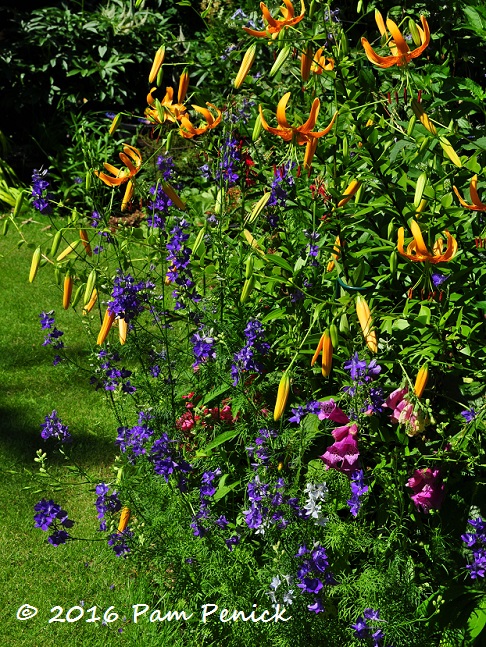 The St. Paul garden of Lee and Jerry Shannon surprises you, appearing rather small from the street but then, in back, stretching on and on to two-thirds of an acre. In mid-July, it was bright with flowering lilies…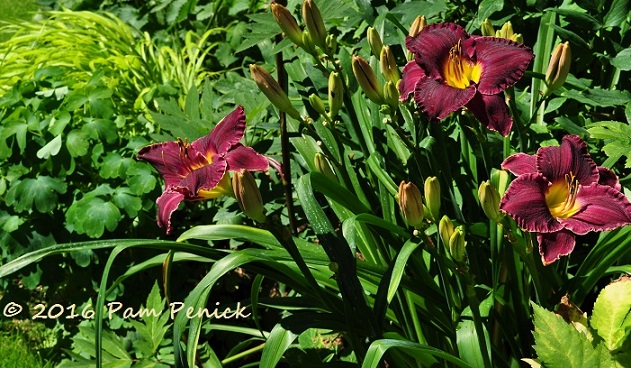 …daylilies…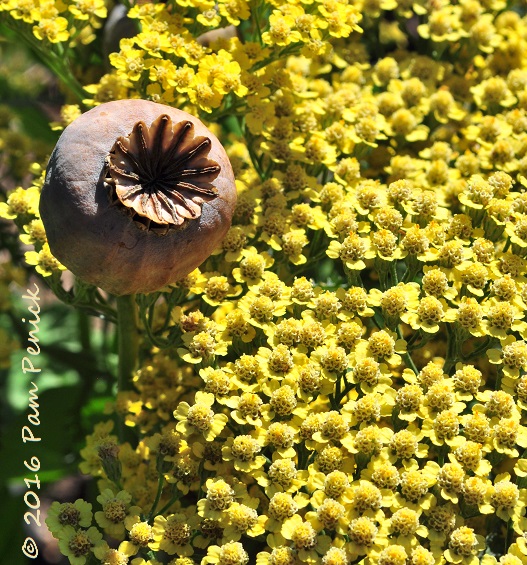 …and yarrow studded with poppy seedheads.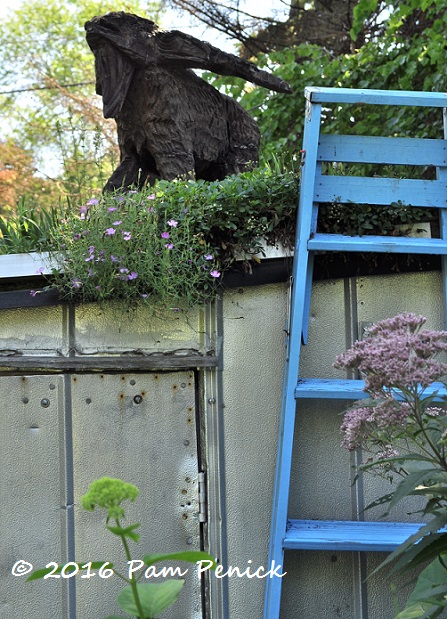 A carved-wood goat sculpture cavorts atop a garden shed's green roof.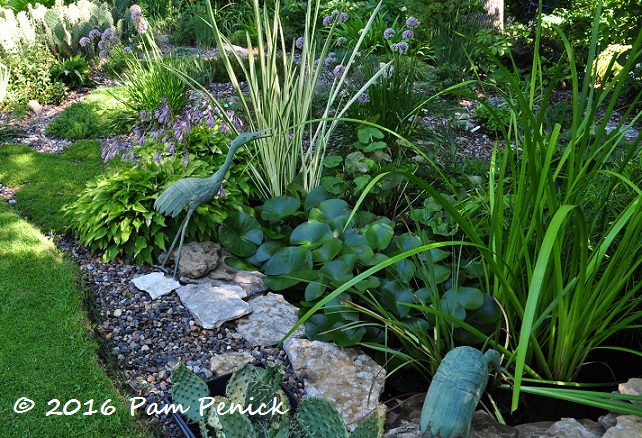 Elsewhere, a small pond is nearly hidden under iris and waterlily leaves.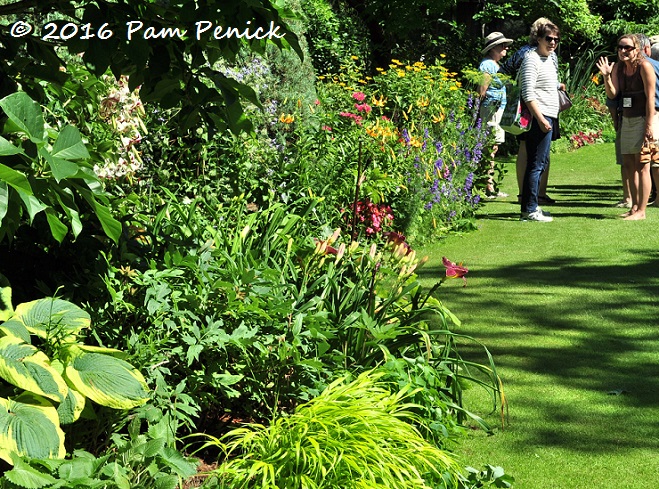 I was pleased to meet Mary Schier of My Northern Garden here. Mary, in the white striped shirt, put together the jam-packed itinerary for the Fling, but she missed attending due to a death in the family. She was able to say a quick hello to the Flingers at the Shannon garden. That's her co-planner Amy Andrychowicz of Get Busy Gardening! on the right.
Nancy Guldberg Garden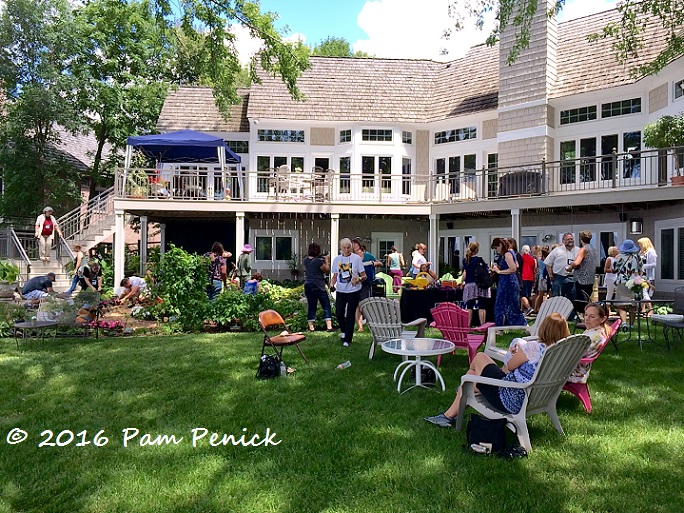 We enjoyed a relaxing lunch one day in Nancy Guldberg's back garden overlooking Lake Minnetonka.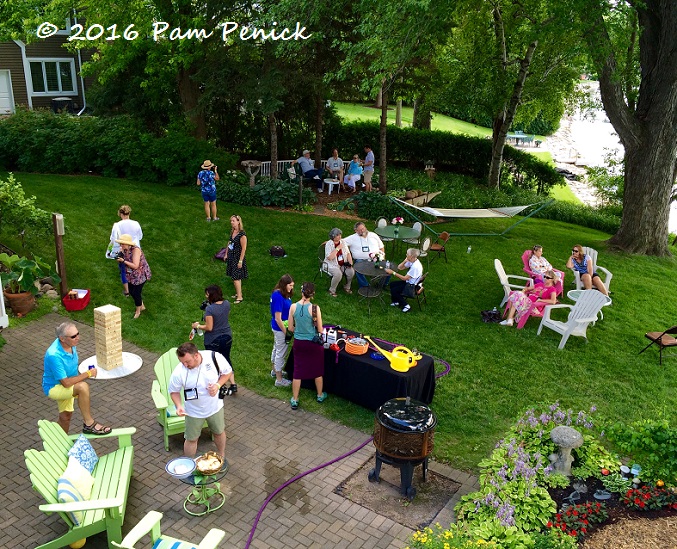 With an upper deck overlooking the lake and an inviting play lawn and grandchild-friendly garden below, the place is lake living at its finest.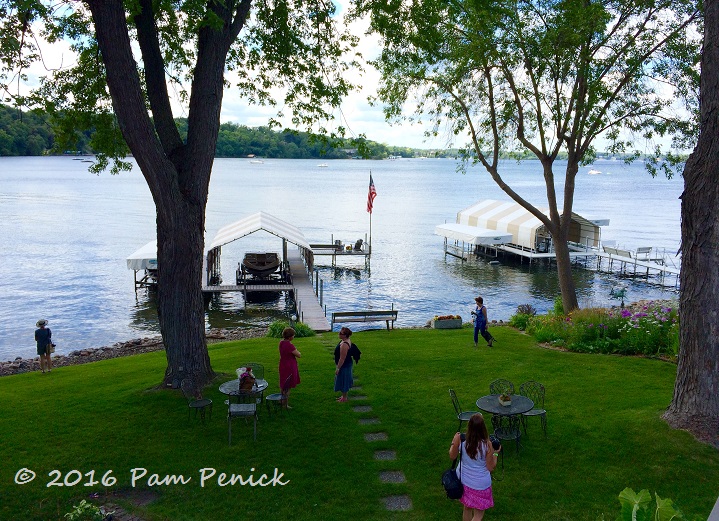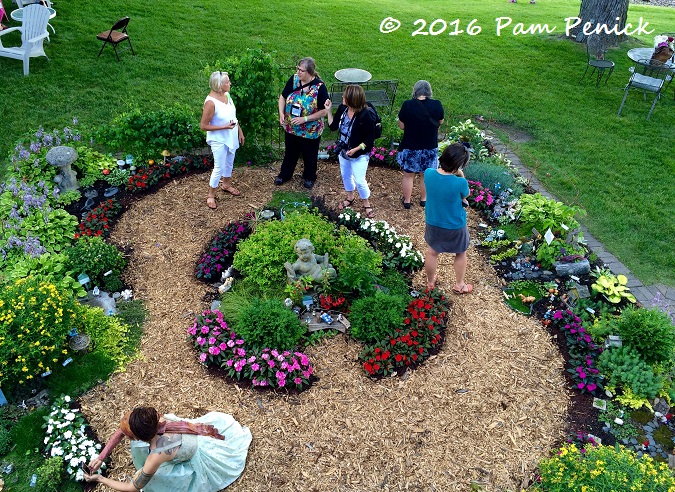 This small area proved the most fascinating part of the garden for many of the bloggers, myself included. Nancy and her children and grandchildren have composed vignettes out of small objects and figurines placed amid the plants, each representing special moments in their lives. One composition, for example, shows family members watching a movie outdoors in an aunt's garden. Miniature lounging people gaze at a tiny screen showing a scene from Prince's movie Purple Rain. Each charming and creative vignette serves as a scrapbook memory about the family.
Vera's Garden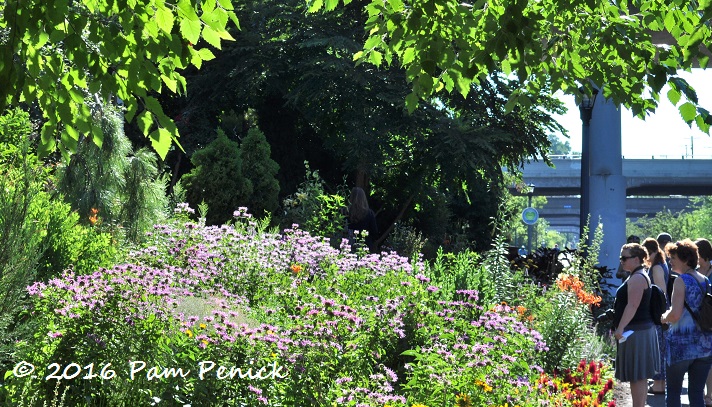 Vera's Garden is a community garden along the Midtown Greenway and bike path in Minneapolis.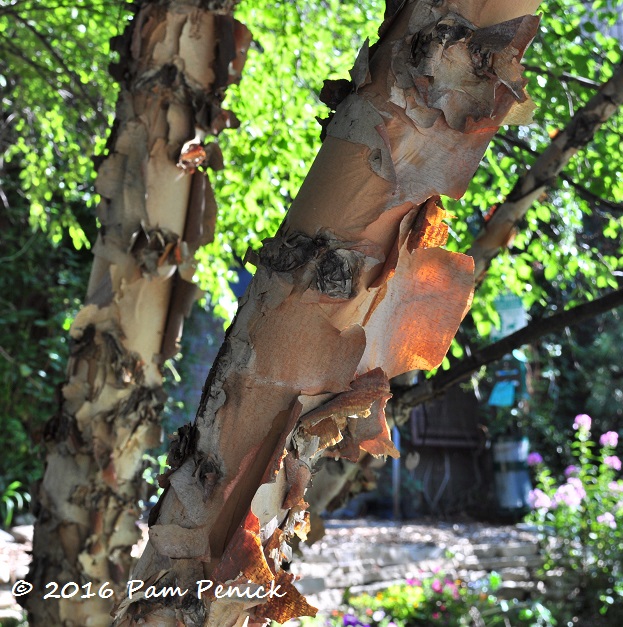 Seeing what dedicated volunteers can create out of a neglected urban space on a minimal budget is eye-opening.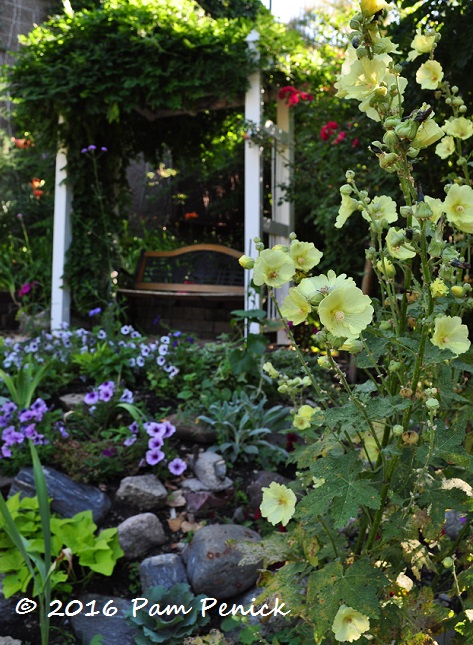 Today it's a beautiful strip of flowers, trees, and shrubs that passing bikers as well as nearby apartment dwellers can enjoy.
Bloggers and Minneapolis sightseeing
Aside from seeing lots of gardens, getting to know new bloggers and reconnecting with longtime blogging friends is what makes the Fling such a fun event. Here are a few pictures from our opening night reception.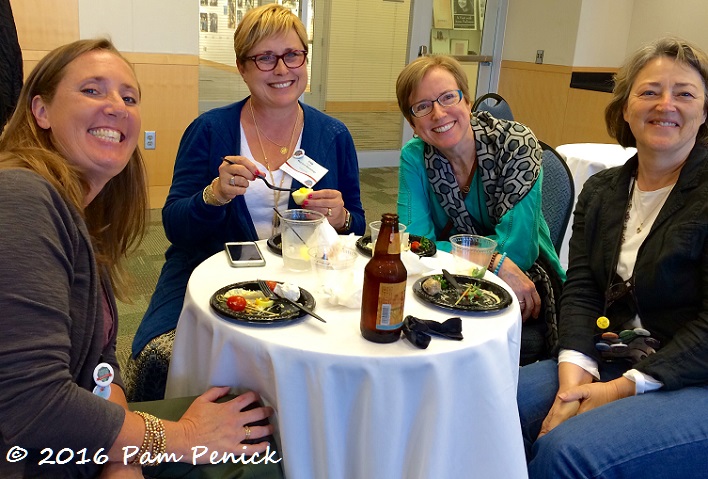 Southern gals: Karin of Southern Meadows (Georgia), Dee of Red Dirt Ramblings (Oklahoma), Jean of Dig, Grow, Compost, Blog (Louisiana), and Gail of Clay and Limestone (Tennessee).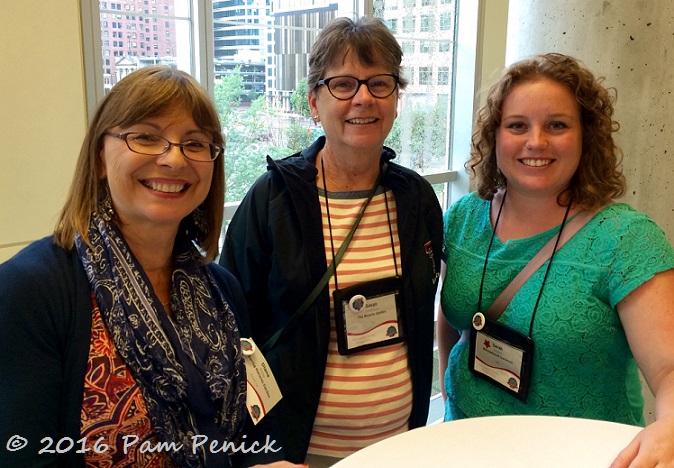 Texans Diana of Sharing Nature's Garden and Susan of The Bicycle Garden, along with 1st-time attendee Sarah of Recreational Gardener (Minnesota).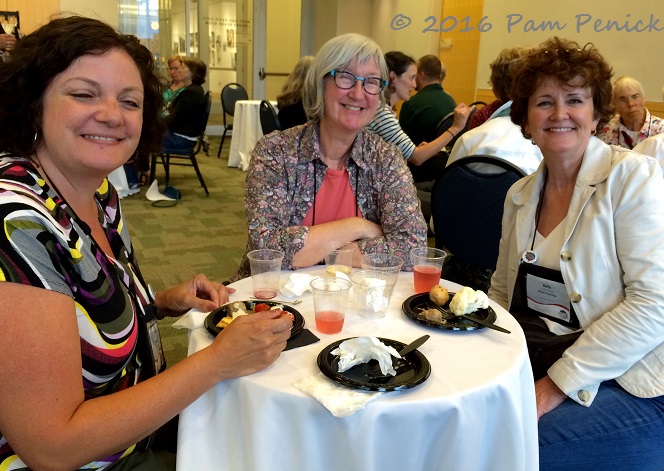 Northern gals: Joanne of Down2Earth (Canada); last year's co-host of the Toronto Fling, Helen of Toronto Gardens (Canada); and Beth of Plant Postings (Wisconsin).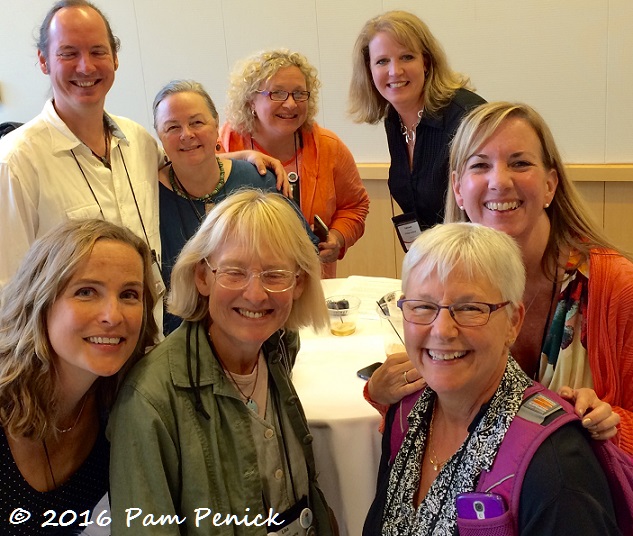 And a troop of happy Flingers from all over. Front row, left to right: Minneapolis Fling co-host Amy of Get Busy Gardening! (Minnesota), Lisa of Natural Gardening (North Carolina), Janet of The Queen of Seaford (South Carolina) and Julie of Garden Delights (South Carolina). Back row, left to right: Shawn and Laurin of Ravenscourt Gardens (Texas), Bren of Creative Living and Growing with Bren (Ohio), and co-host Kathleen of 29 Minute Gardener (Minnesota).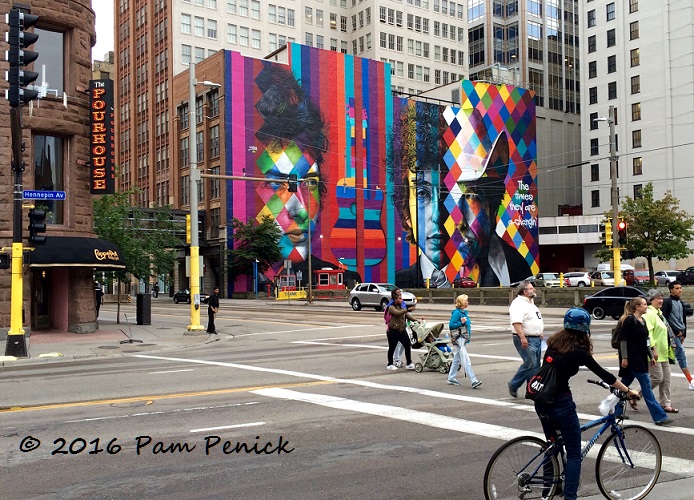 Our hotel was located in the heart of downtown Minneapolis, where there were plenty of sights to see, including this colorful Bob Dylan mural.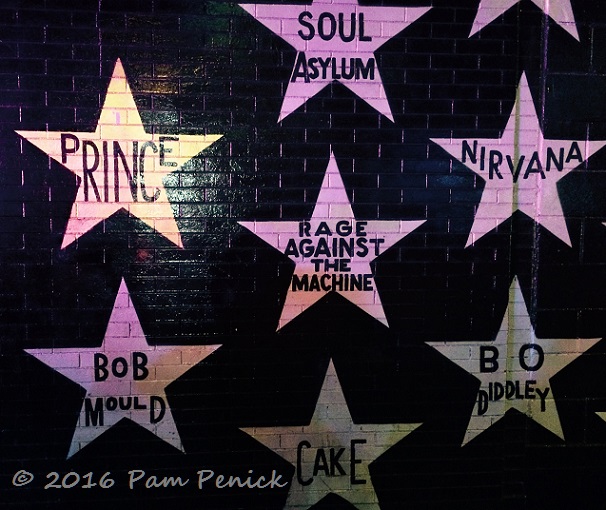 Just down the block was First Avenue nightclub, where hometown hero Prince filmed a scene for his movie Purple Rain. The club's black exterior walls are gridded with painted silver stars bearing musicians' names. After Prince died, his star was painted gold and attracts throngs of fans who take selfies in front of it.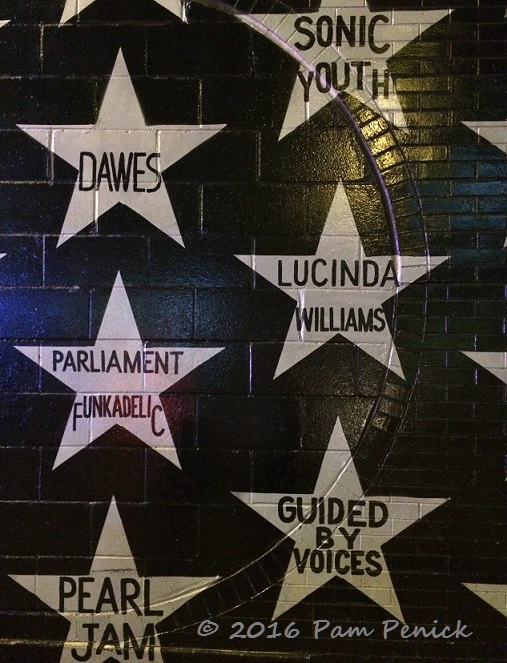 I've been a Prince fan since 1999 in the early '80s. I love Lucinda Williams too, and she also has a star.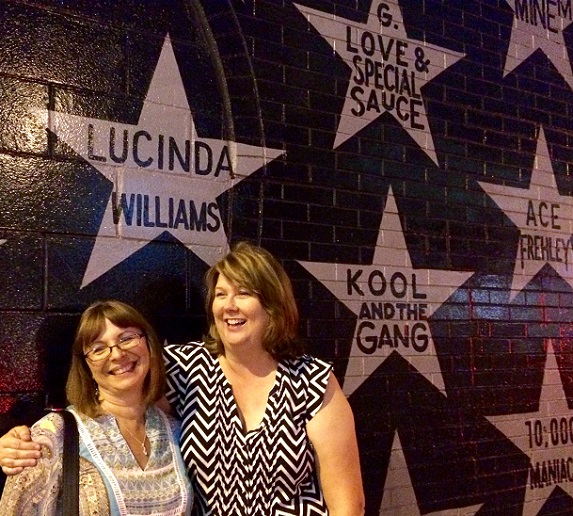 My friend Diana and me — well, you know a couple of Austinites are gonna love another music town like Minneapolis!
Up next: Part one of my final garden visit from the Minneapolis Fling, sculptor and mosaic artist Wouterina De Raad's garden. For a look back at Noerenberg Memorial Gardens, the Kelley-Carmichiel Garden, and Kelley & Kelley Nursery's display garden, click here.
I welcome your comments; please scroll to the end of this post to leave one. If you're reading this in a subscription email, click here to visit Digging and find the comment box at the end of each post.
_______________________
Digging Deeper: News and Upcoming Events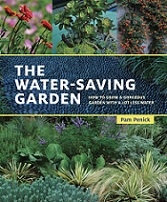 Do you review? Have you read my new book, The Water-Saving Garden? If you found it helpful or inspirational, please consider leaving a review — even just a sentence or two — on Amazon, Goodreads, or other sites. Online reviews are crucial in getting a book noticed. I really appreciate your help!
All material © 2006-2016 by Pam Penick for Digging. Unauthorized reproduction prohibited.
posted in
Arbors
,
Birds
,
Community gardening
,
Daylily
,
Fling Minneapolis
,
Garden art
,
Garden blogging
,
Garden tours 2016
,
Green roofs
,
Lakes
,
Murals
,
Patios & decks
,
Ponds
,
Public art
,
Seating
,
Travel
,
Trees