July 28th, 2016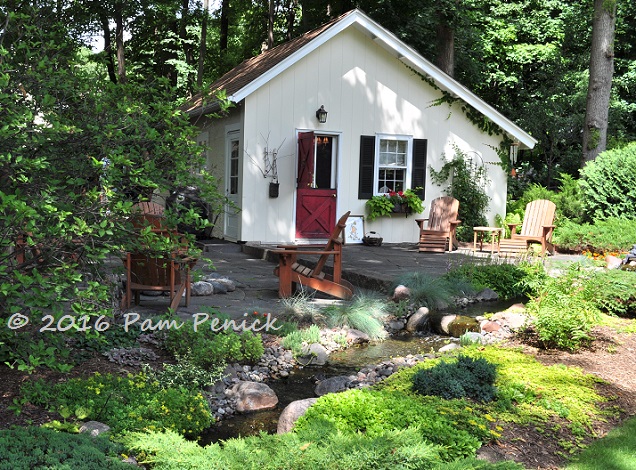 When you live on Walden Road and you're creating a garden, you can do a lot worse than take inspiration from Thoreau. This woodsy, serene garden was on the Master Gardeners tour that we saw on day two of the Minneapolis Garden Bloggers Fling, held earlier this month. Its centerpiece? A charming cottage — a former storage shed converted into a cozy garden house — fronted by a boulder-edged stream.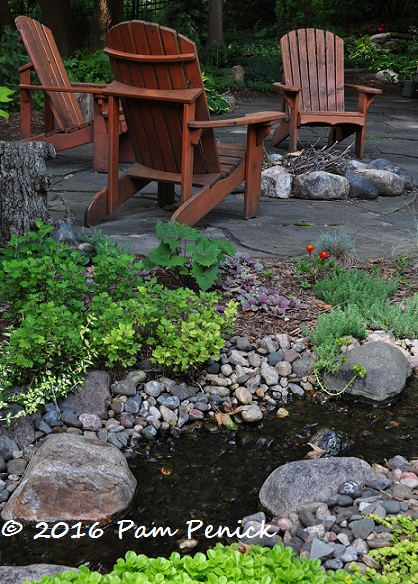 The 100-foot stream, explained the owner, is a recirculating water feature.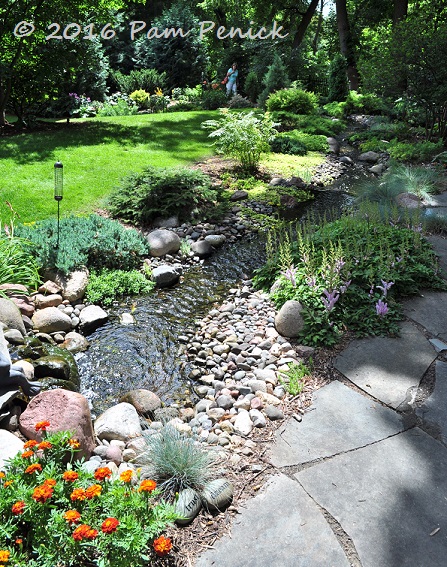 It was very well done and added the pleasant sound of running water to the garden.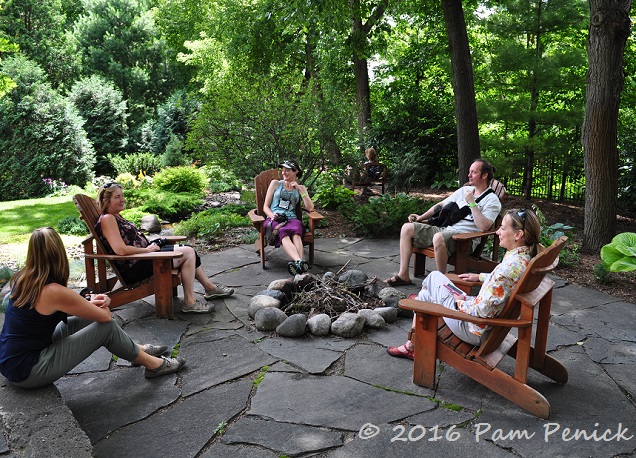 A large flagstone patio with a fire pit quickly attracted a flock of bloggers, including Texans (from right) Chris (Austin), Shawn (Houston), and Andrea (College Station).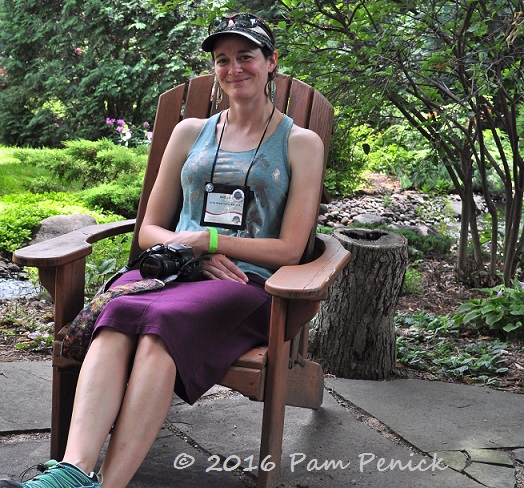 Andrea enjoying the garden views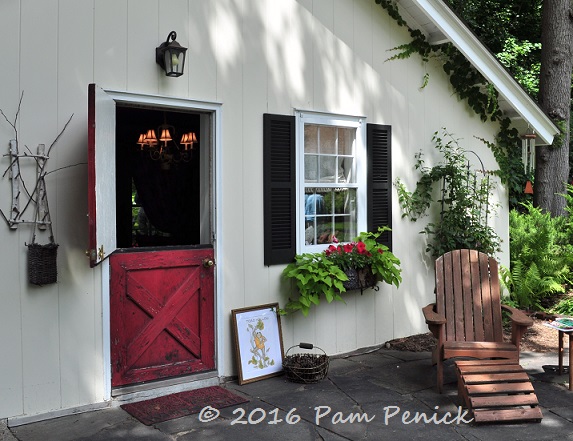 The garden shed's red Dutch door, its top half invitingly open, allowed a peek inside.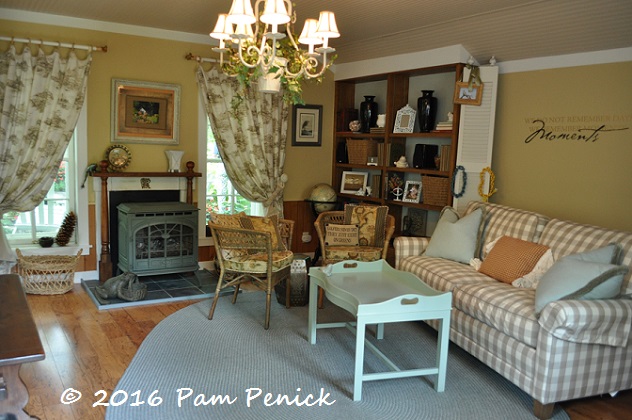 Cushy and cozy! Imagine curling up here with a book during a rainstorm.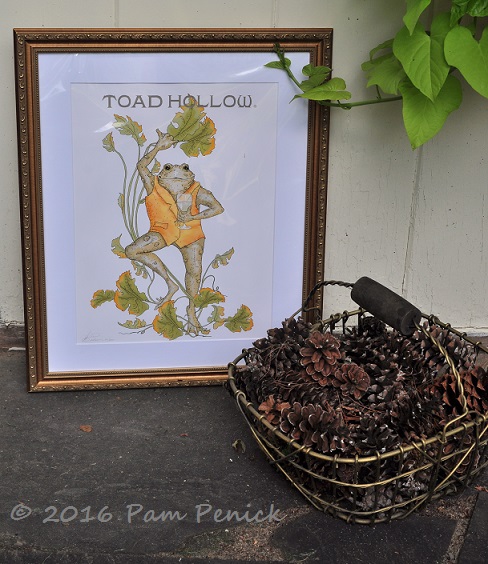 A framed Toad Hollow print and basket of pine cones adds woodsy charm.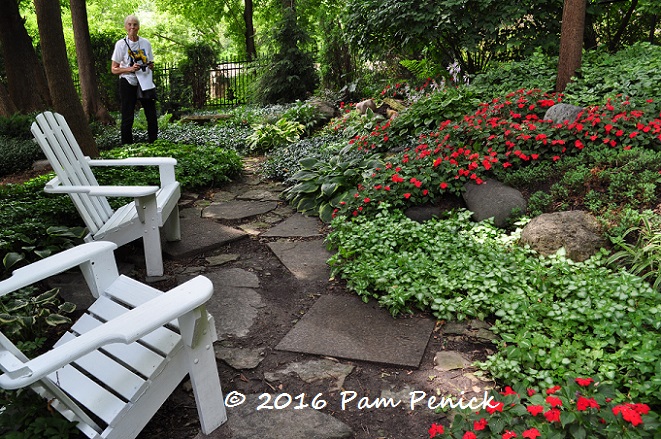 Behind the garden house, I found this shady patio with a pair of white Adirondacks overlooking a slope clothed in red-flowering impatiens, hostas, and other groundcovers. No space is neglected in this garden. And there's Pat of Commonweeder coming around the path.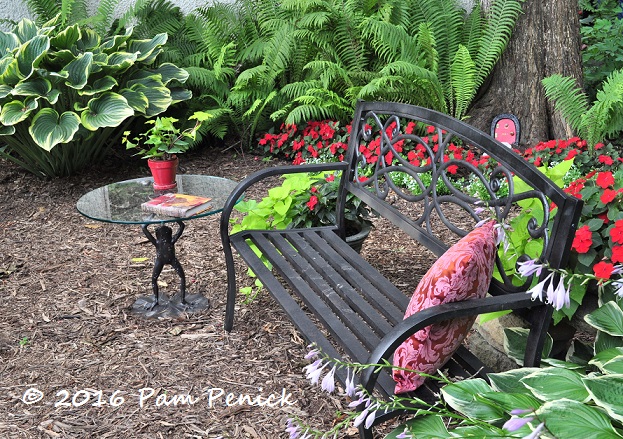 Around the other side, an intimate mulched seating area offers a contemplative spot for a bench and froggy table. What's that on the table?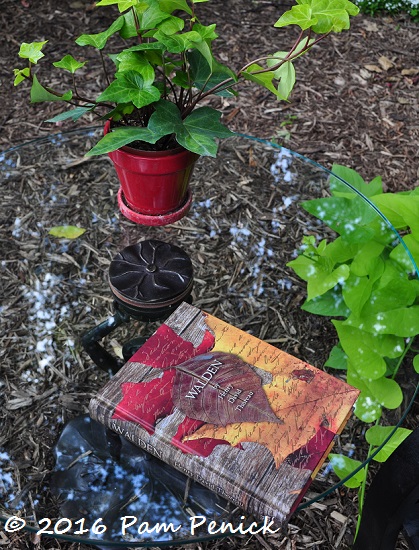 What else? A copy of Walden.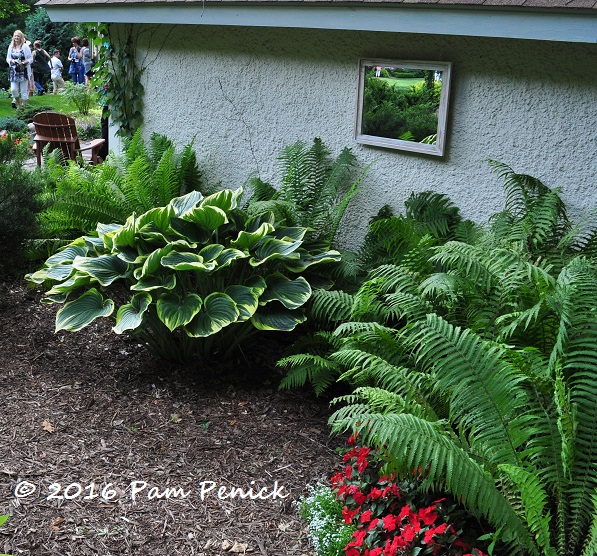 A framed mirror on the garden-house wall creates the look of a window. Hostas, ferns, and impatiens make a soft border.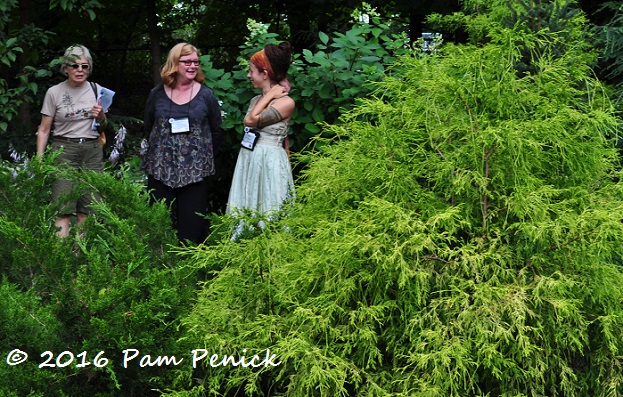 Shrubs screen the rear property line.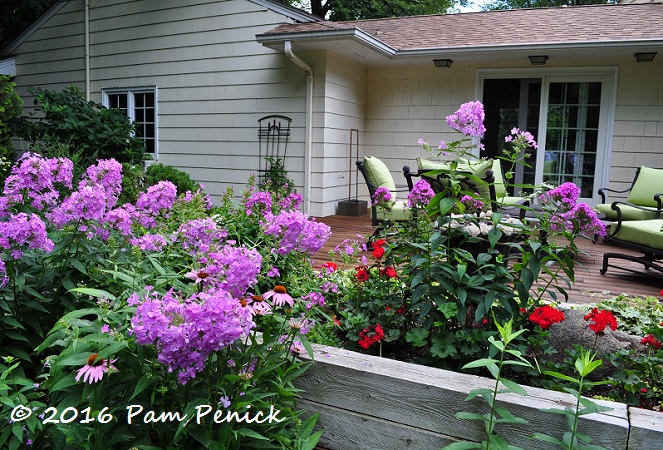 For sunny seating, a deck at the back of the owner's house beckons. A raised planter of timbers brings plants up to eye level and eliminates the need for a railing.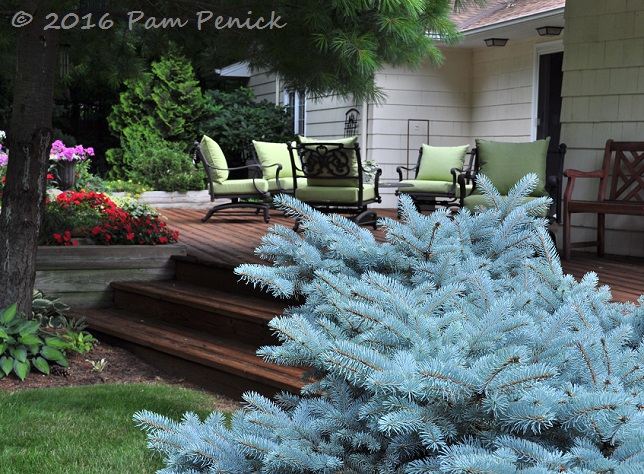 A side view, with a beautiful blue conifer that I absolutely covet.
Up next: Como Park Japanese Garden and Conservatory, where we took our group photo. For a look back at a spectacular hosta garden on Dynasty Drive, click here.
I welcome your comments; please scroll to the end of this post to leave one. If you're reading this in a subscription email, click here to visit Digging and find the comment box at the end of each post.
_______________________
Digging Deeper: News and Upcoming Events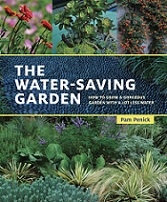 Do you review? Have you read my new book, The Water-Saving Garden? If you found it helpful or inspirational, please consider leaving a review — even just a sentence or two — on Amazon, Goodreads, or other sites. Online reviews are crucial in getting a book noticed. I really appreciate your help!
All material © 2006-2016 by Pam Penick for Digging. Unauthorized reproduction prohibited.
posted in
Annuals
,
Books
,
Containers
,
Decor
,
Doors
,
Firepits
,
Fling Minneapolis
,
Garden structures
,
Garden tours 2016
,
Paths
,
Patios & decks
,
Rivers & creeks
,
Rock
,
Seating
,
Sheds
,
Shrubs
,
Travel
,
Trees
,
Water features