July 25th, 2016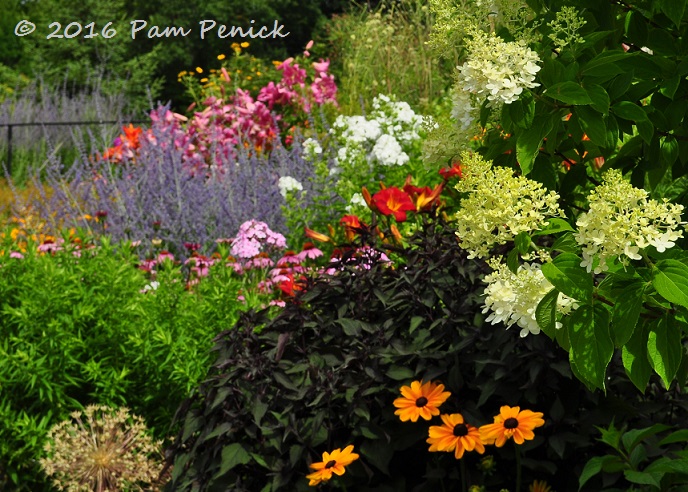 Our Minneapolis Fling banquet dinner — an opportunity to dine with blogging friends, win amazing giveaway prizes from sponsors, and listen to entertaining anecdotes and announcements from organizers — was held at the end of the second day, at the Minnesota Landscape Arboretum. Time was short before the dinner, so I darted into the garden with a few friends to see as much as I could in 45 minutes.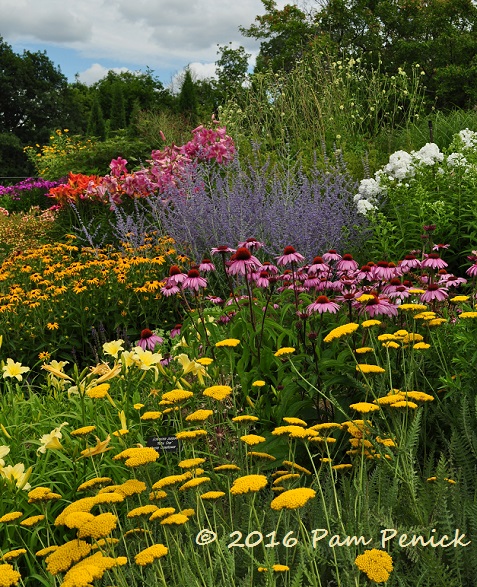 The north-country beauty of gardens on sunlight and rainwater steroids was showcased at the entrance, with lush perennial beds accented with flowering shrubs and small trees.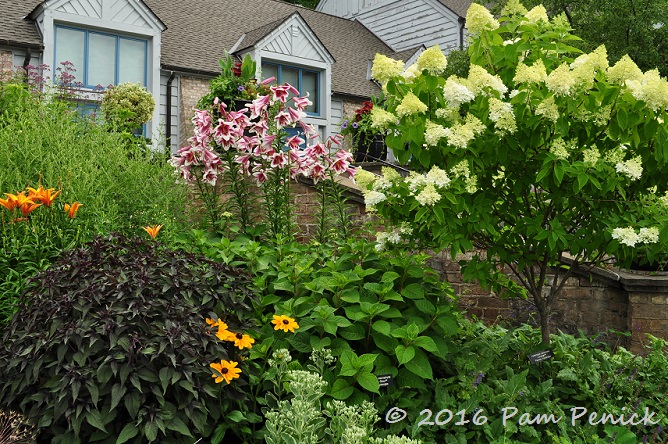 Daylilies and Oriental lilies were blooming alongside hydrangeas and black-eyed Susans.

Really, what wasn't in bloom?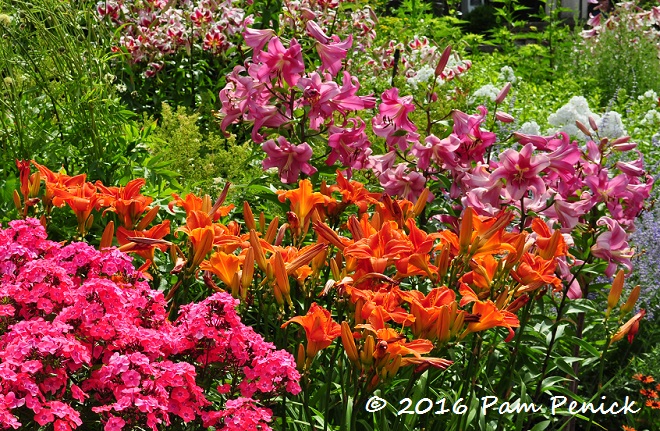 Ka-pow! Lily power!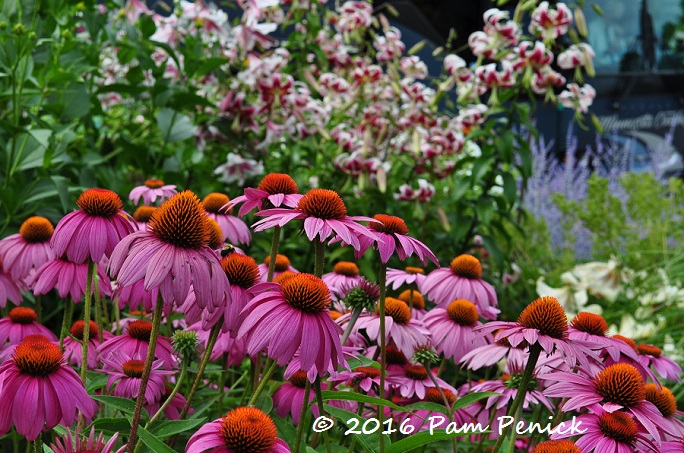 Purple coneflowers were looking good too.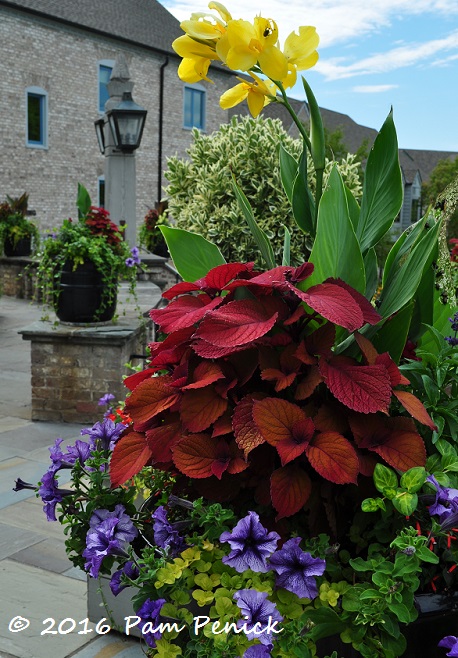 Summery containers…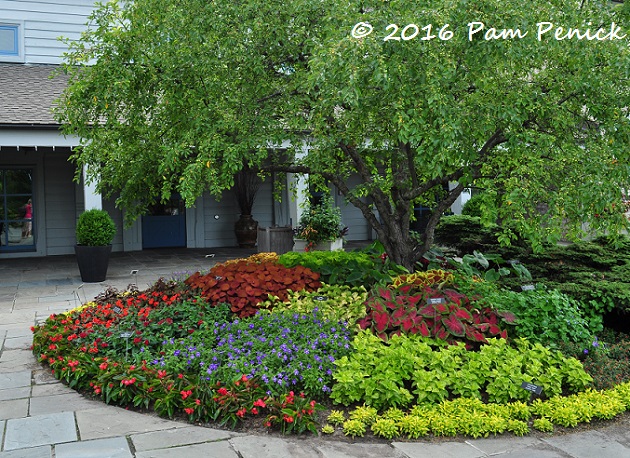 …and color-block plantings of annuals jazzed up the intimate entry plaza.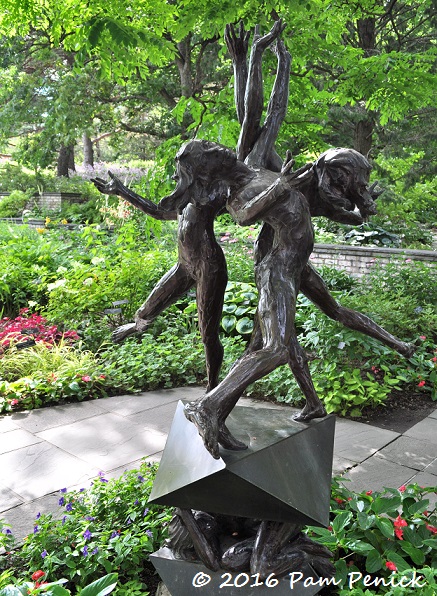 Exiting the main building onto a shady rear patio, I saw this unusual sculpture of three women dancing atop a fourth woman, curled on her side in a fetal position. What in the world?! Ah, an engraved title explains: they represent the seasons, with Spring, Summer, and Fall frolicking atop poor, hibernating Winter.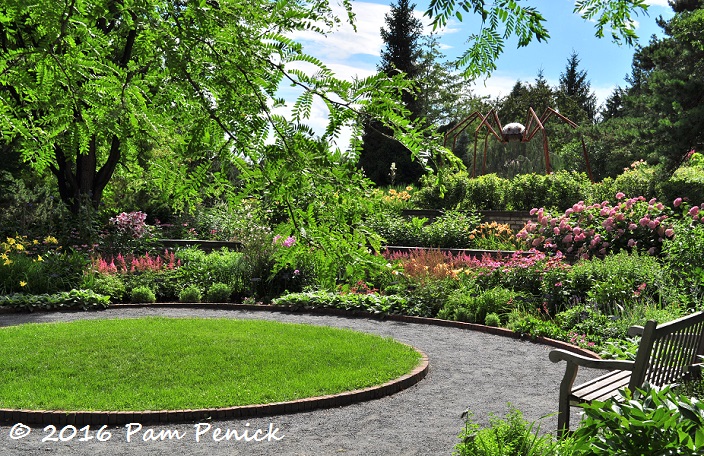 This small formal garden awash in pink flowering shrubs and perennials was overlooked by a…a…a giant spider! The spider and many other super-sized bug sculptures are part of Big Bugs, a traveling exhibit that I've seen at the Lady Bird Johnson Wildflower Center and San Antonio Botanical Garden.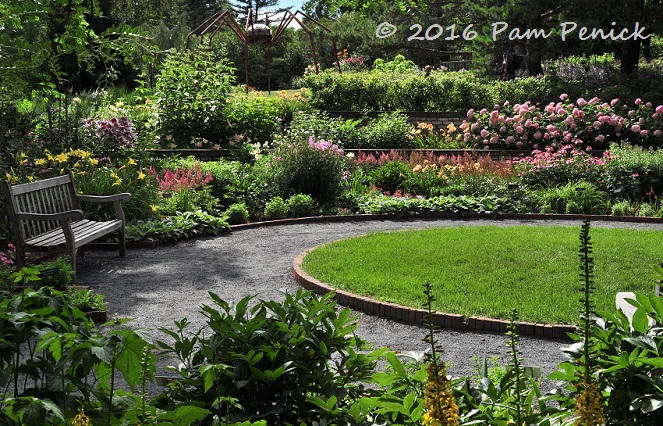 Maybe it's a daddy longlegs, not a true spider, now that I think about it. At any rate, I'm glad not to be bug-sized myself.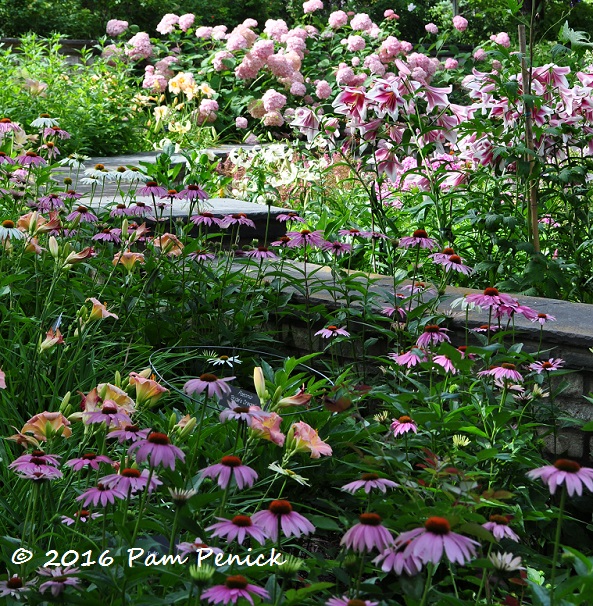 More pinks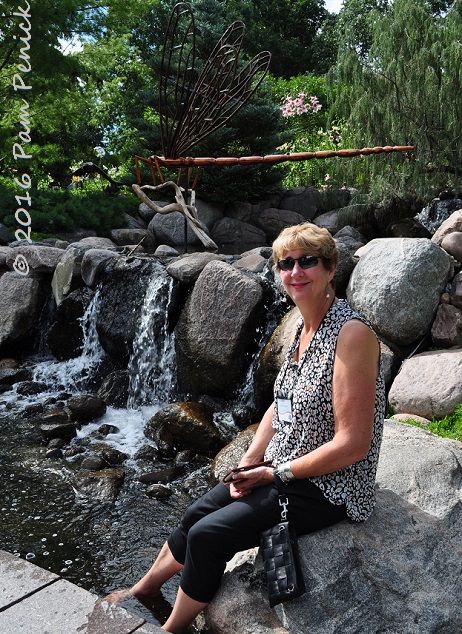 Rhode Island blogger Layanee, whose own garden I'd had the pleasure of visiting just a week earlier, cools her heels as a Big Bugs damselfly rests nearby.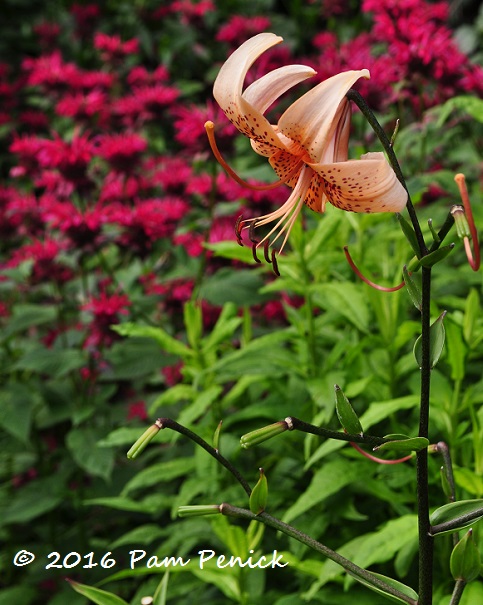 I was pointing my lens left and right, trying to take it all in, like this freckled lily with crimson bee balm behind it.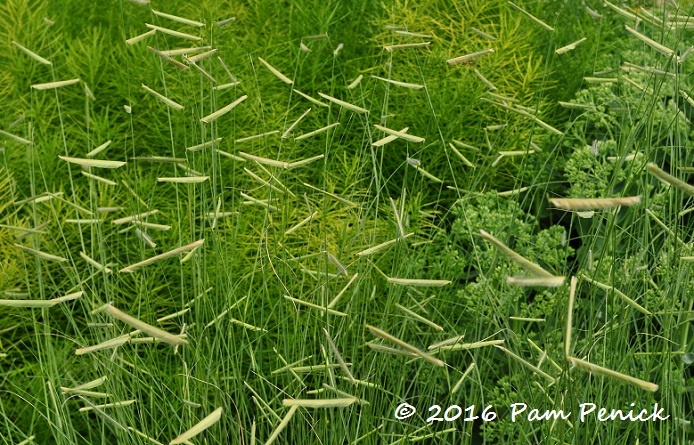 The blond-flag seedheads of grama grass, with feathery, yellow-green amsonia foliage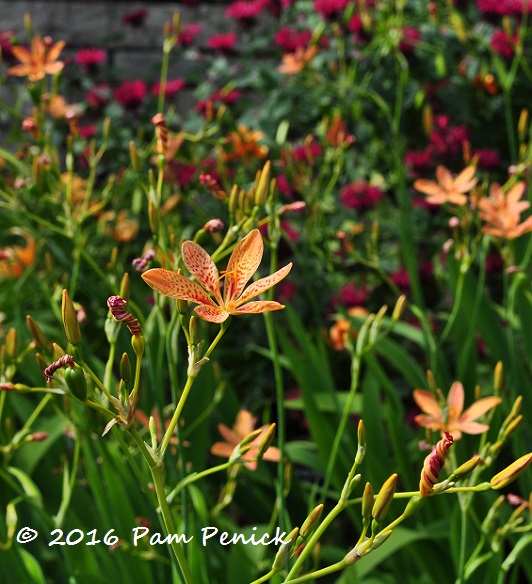 Flowering blackberry lilies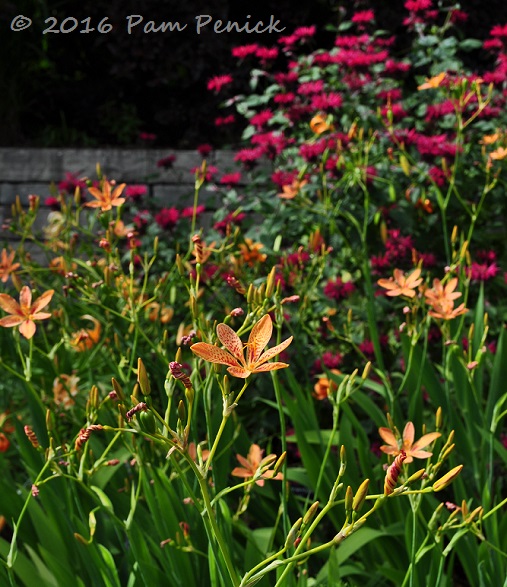 Their maroon-red freckles are echoed by crimson bee balm.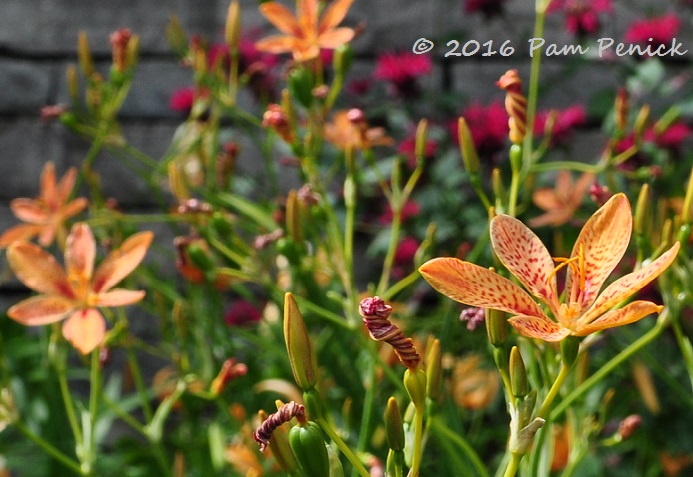 A closer look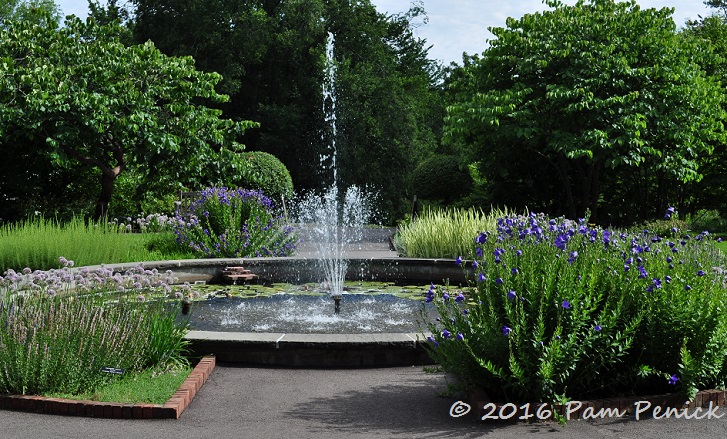 This lovely pool and fountain caught my eye as well.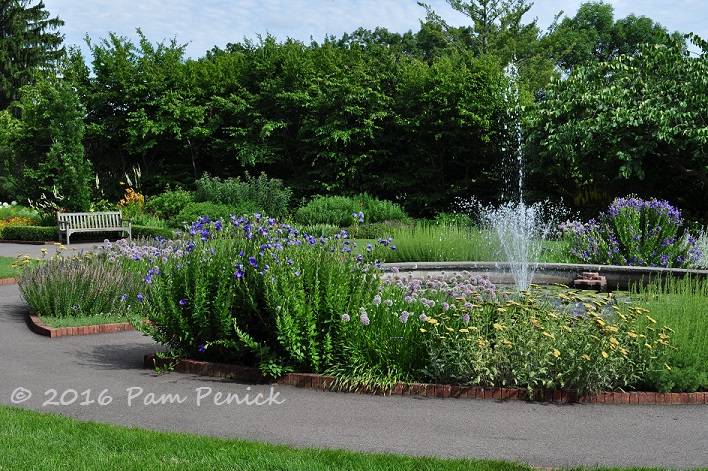 Flowering plants in purple, silver, and yellow give it a Mediterranean look.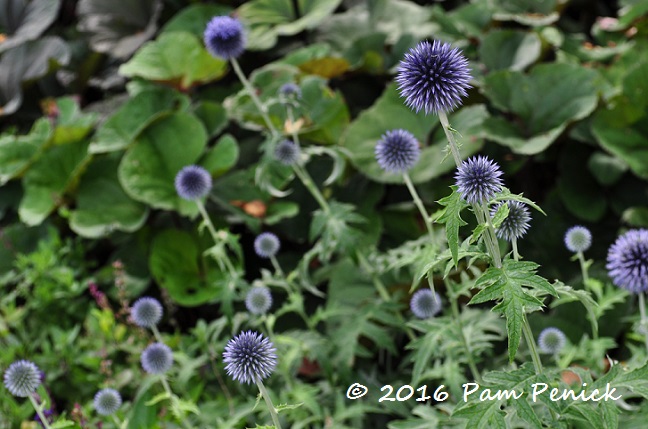 Echinops — so cute and spiny!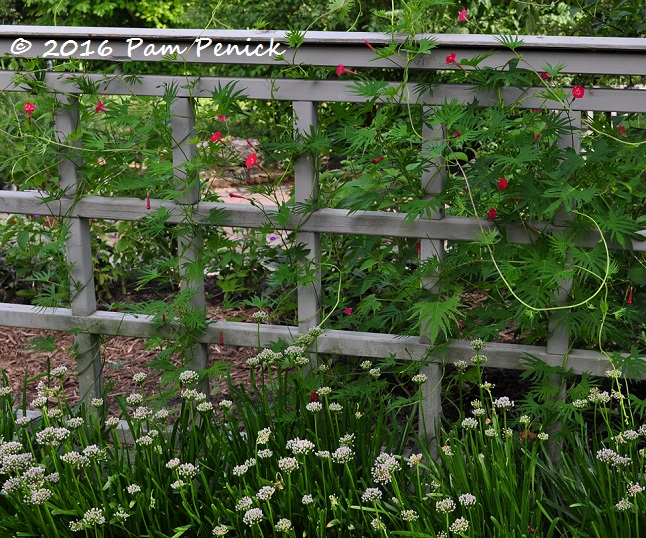 Cypress vine rambling along a low lattice fence adds cottage charm.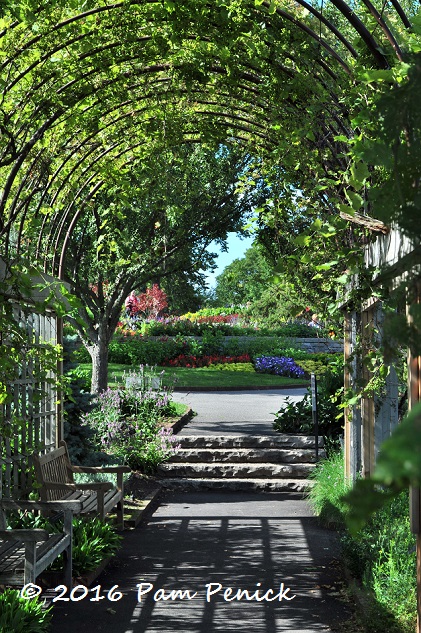 An arching tunnel of foliage offers a shady place to sit.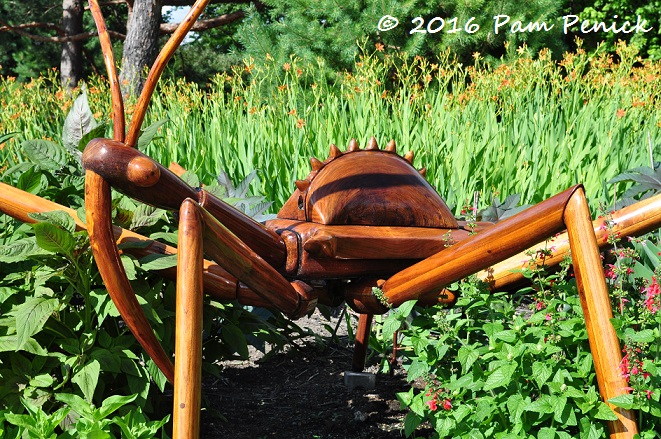 Lurking near a stand of blackberry lilies, a giant wooden wheel bug stands ready to take out garden pests.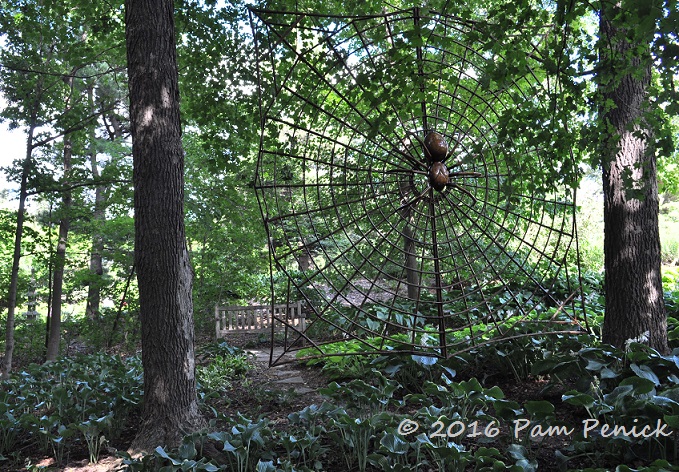 In a shady spot, a spider in a Shelob-sized web hangs between two trees. Although Big Bugs may seem a little scary, especially if you're already a bit shy of bugs and spiders, they represent beneficial insects that help us control plant-eating pests in our gardens.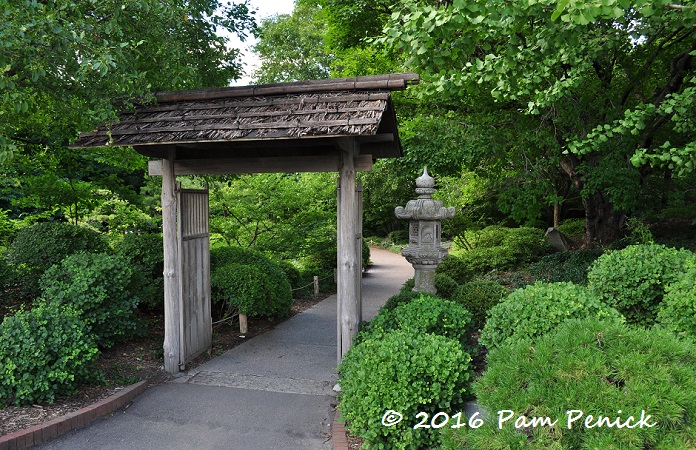 Moving on, we headed into a restful, green Japanese garden.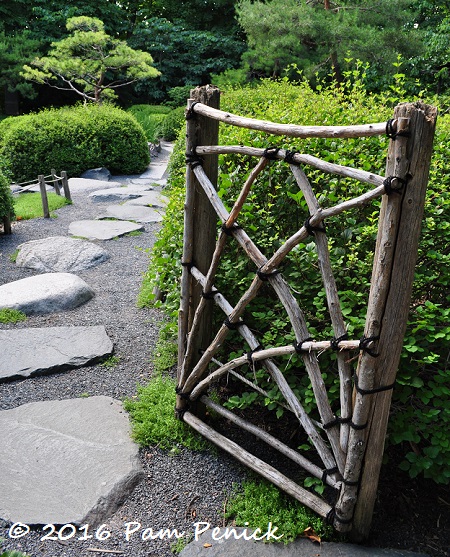 The branch-constructed gate was open: come on in.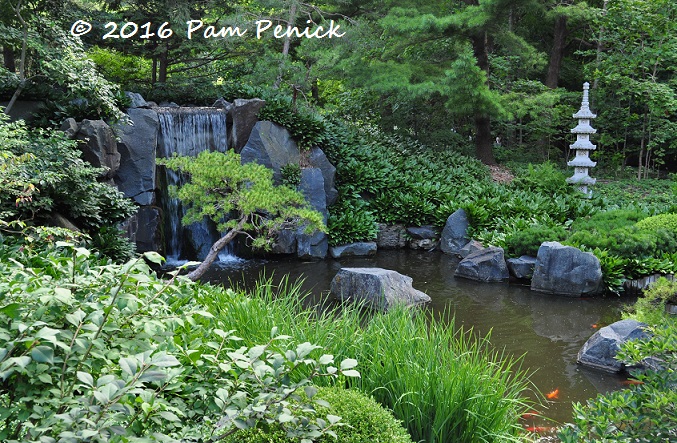 A dramatic waterfall spills into a koi pool in the heart of the garden.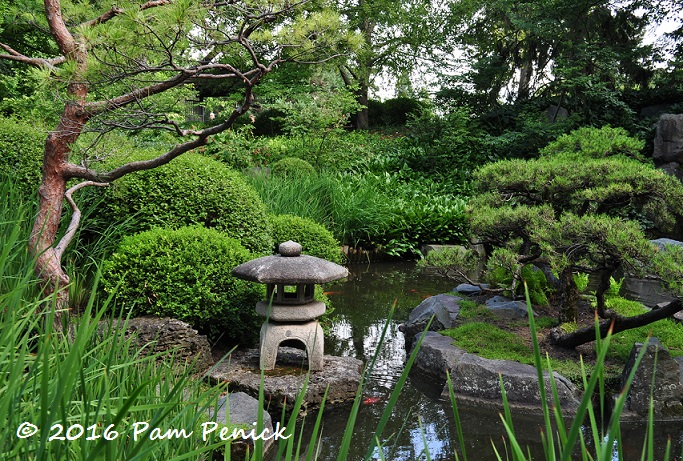 Sculptural pines, boulder islands, and a stone lantern complete the scene.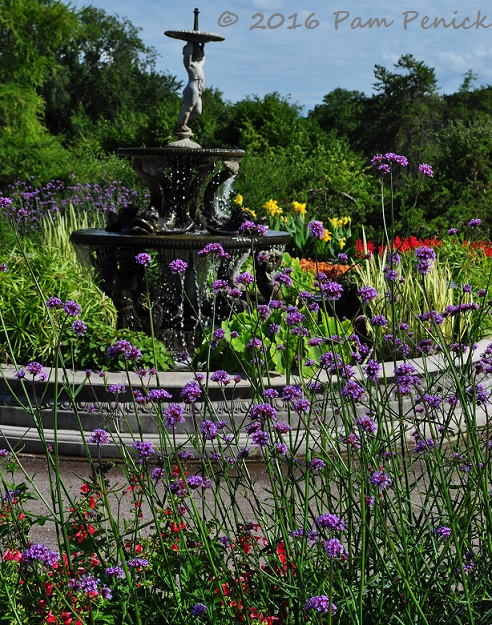 But now it was time to head back to the main building for dinner with friends old and new.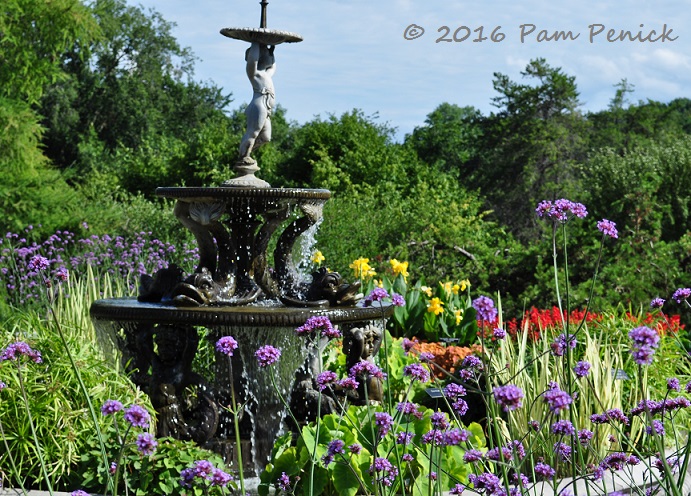 I leave you with a final image from the beautiful gardens at the MN Landscape Arboretum.
Up next: Dynasty Drive flowery goodness plus a bonus garden not on the official itinerary. For a look back at the daylily-breeding farm of Springwood Gardens, click here.
I welcome your comments; please scroll to the end of this post to leave one. If you're reading this in a subscription email, click here to visit Digging and find the comment box at the end of each post.
_______________________
Digging Deeper: News and Upcoming Events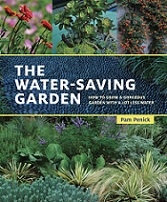 Do you review? Have you read my new book, The Water-Saving Garden? If you found it helpful or inspirational, please consider leaving a review — even just a sentence or two — on Amazon, Goodreads, or other sites. Online reviews are crucial in getting a book noticed. I really appreciate your help!
All material © 2006-2016 by Pam Penick for Digging. Unauthorized reproduction prohibited.
posted in
Annuals
,
Arbors
,
Botanic/Public Gardens
,
Bugs
,
Containers
,
Daylily
,
Dragonflies
,
Fences
,
Fish
,
Fling Minneapolis
,
Flowers
,
Fountains
,
Garden art
,
Garden tours 2016
,
Gates
,
Grasses
,
Japanese garden
,
Lawns
,
Paths
,
Ponds
,
Sculpture
,
Seating
,
Summer color
,
Travel
,
Trees
,
Trellis
,
Vines
,
Water features
,
Waterfalls