July 25th, 2016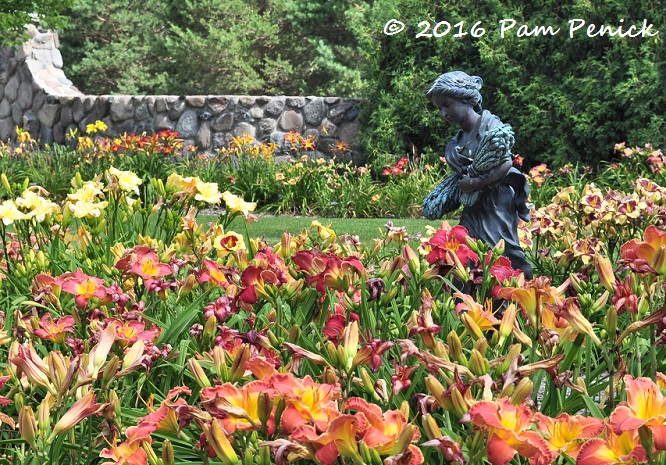 I enjoy daylilies and grow a few in my own garden. But I couldn't quite imagine a whole farm of daylilies until we visited Springwood Gardens, the daylily breeding operation of Karol Emmerich, one of our stops on the Minneapolis Garden Bloggers Fling.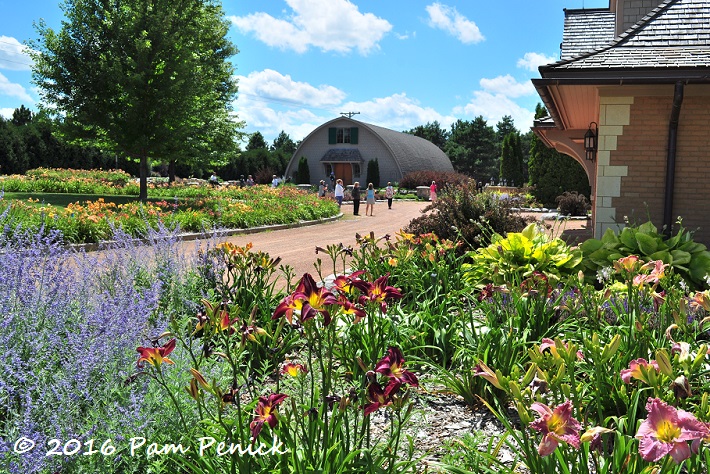 Karol's goal is to produce beautiful and interesting varieties of cold-hardy daylilies on her zone 4 acreage.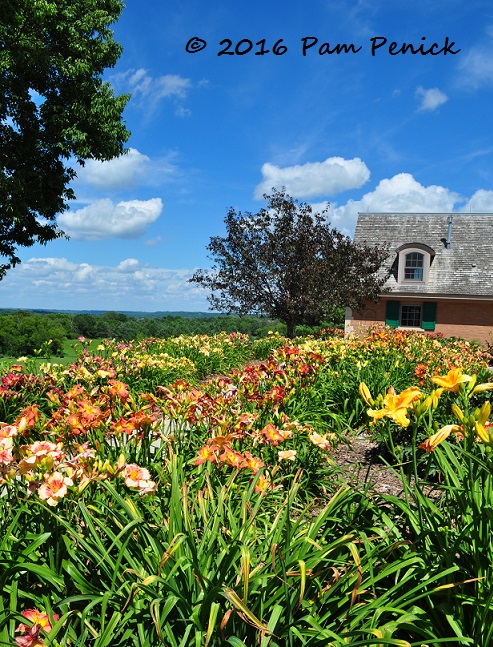 Seeing the farm in midsummer, when all the daylilies are in bloom, is like stepping into a giant box of crayons. The colors are enhanced by a sweeping view of green trees below the hilltop farm.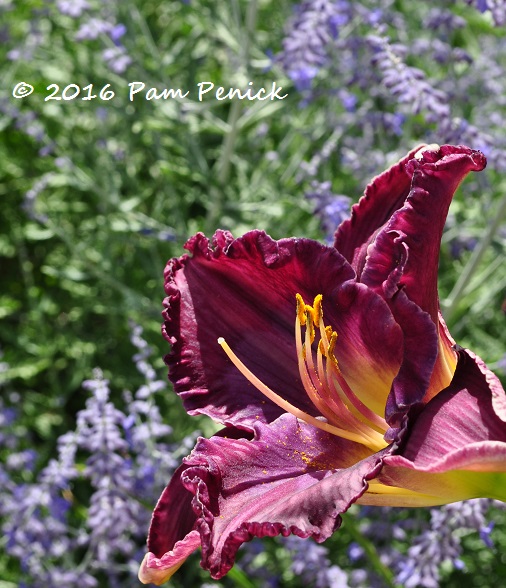 Our visit was brief, so I didn't get pictures of individual daylilies except for this beauty, 'Bluegrass Memories'.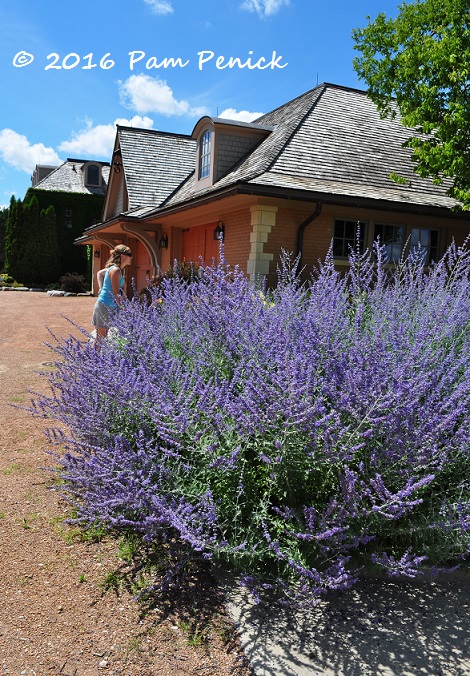 The gardens include a few other plants, like airy Russian sage (Perovskia atriplicifolia).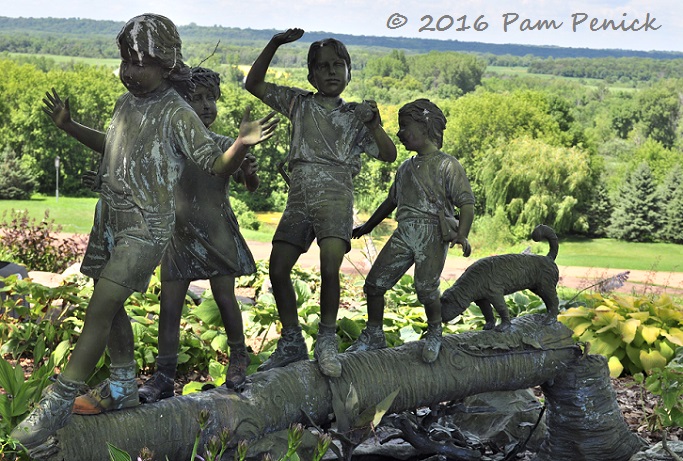 A number of sculptures adorn the gardens too.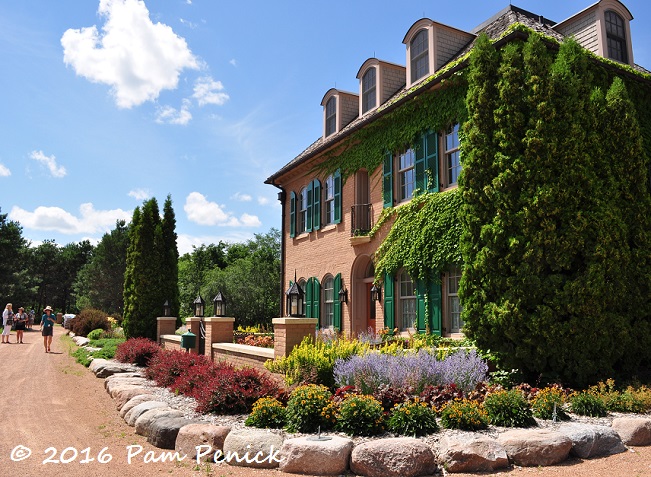 But what fascinated me most about the whole place was Karol's home, a Mansard-style house constructed by a Swedish immigrant and railroad builder in 1862. With emerald-green shutters, ivy scaling the brick walls, and a tidy, walled garden, it looked like something out of a Wes Anderson movie.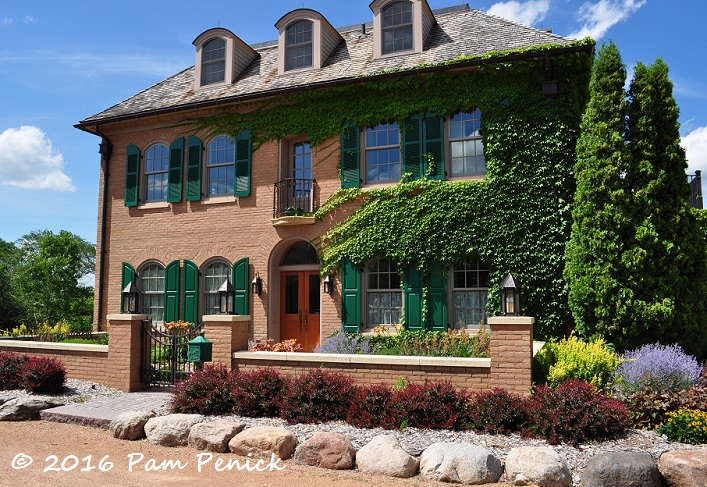 It enjoys a view of the green valley in back and, in front, acres of colorful daylilies where Karol keeps dreaming up new hybrids.
Up next: The paintbox colors and Big Bugs exhibit at Minnesota Landscape Arboretum. For a look back at the contemporary-classic garden of blogger Rhonda Fleming Hayes, click here.
I welcome your comments; please scroll to the end of this post to leave one. If you're reading this in a subscription email, click here to visit Digging and find the comment box at the end of each post.
_______________________
Digging Deeper: News and Upcoming Events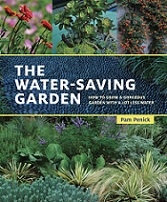 Do you review? Have you read my new book, The Water-Saving Garden? If you found it helpful or inspirational, please consider leaving a review — even just a sentence or two — on Amazon, Goodreads, or other sites. Online reviews are crucial in getting a book noticed. I really appreciate your help!
All material © 2006-2016 by Pam Penick for Digging. Unauthorized reproduction prohibited.