July 24th, 2016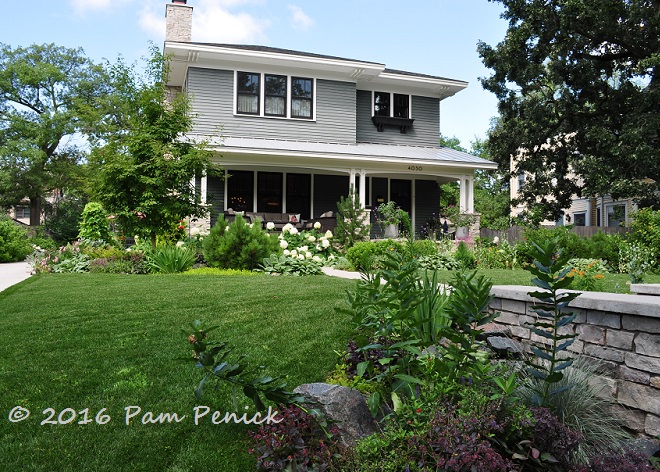 I'm dubbing this summer Escape to the North. In the space of two months I've made three trips to the northern, cooler half of the U.S., starting with the Philadelphia area; then Providence, Rhode Island; and finally Minneapolis, where the 9th annual Garden Bloggers Fling was held July 14-17. And for once, the gazillion Texas bloggers who attend the Fling each year didn't bring the heat with them — yay!

It's hard to know where to start when you take pictures of dozens of gardens over the course of three days, so I'm going to just jump in with blogger and author Rhonda Fleming Hayes's personal garden.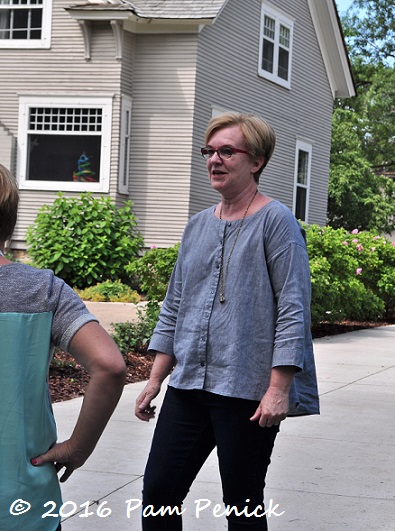 Rhonda blogs at The Garden Buzz, and lots of the Flingers were already fans of her work.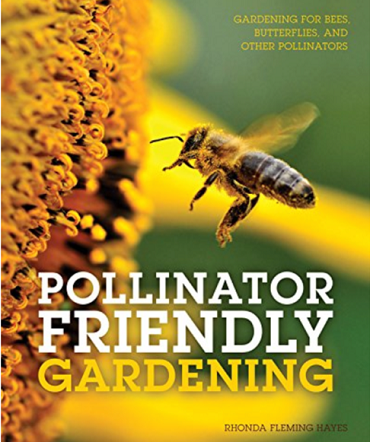 Rhonda also writes a gardening column for the Minneapolis StarTribune, and she has a new book called Pollinator Friendly Gardening.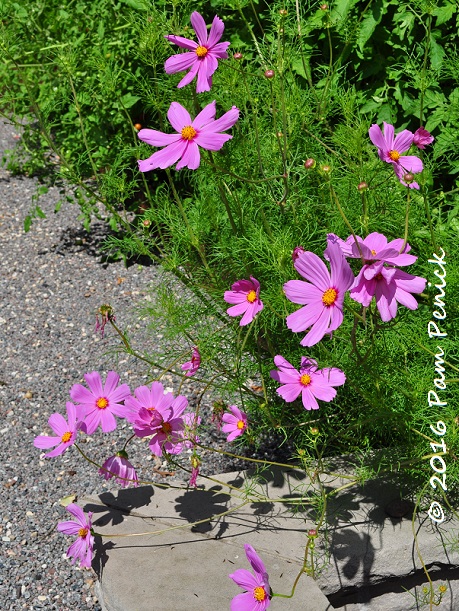 Generalizing from her book title, I expected that she might have a meadowy sort of butterfly garden, but it was actually quite manicured and even a bit contemporary in design. Of course I'm sure it's pollinator friendly as well, but it's different from what I was expecting — and I loved it!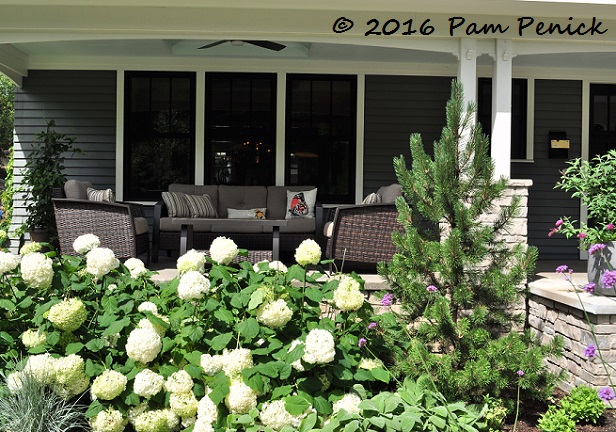 Starting out front, the house has old Craftsman charm, although we were told that it's relatively new construction. A generous front porch overlooks snowball hydrangeas with blossoms the size of snowmen's heads.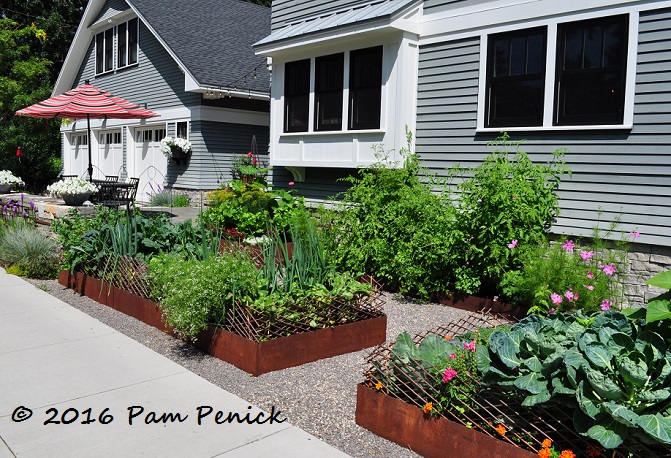 The traditional front garden is lovely, but the side yard is where the action really is. What might have been a sterile swath of lawn or a green mustache of foundation shrubs has been converted to a stylish potager of raised Cor-ten steel beds and a handsome stone patio shaded by a striped umbrella. Willow edging in the veggie beds helps protect against incursion from…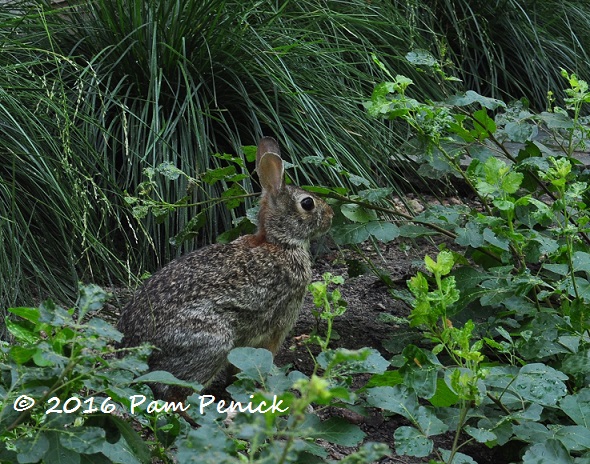 …Peter Rabbit, who I spotted hopping through her other side yard.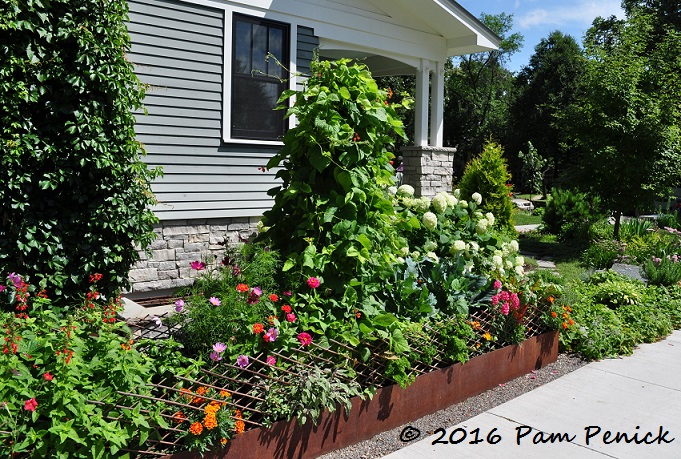 Cottage favorites like zinnia and cosmos add color to the beds, and vines on tuteurs provide welcome height.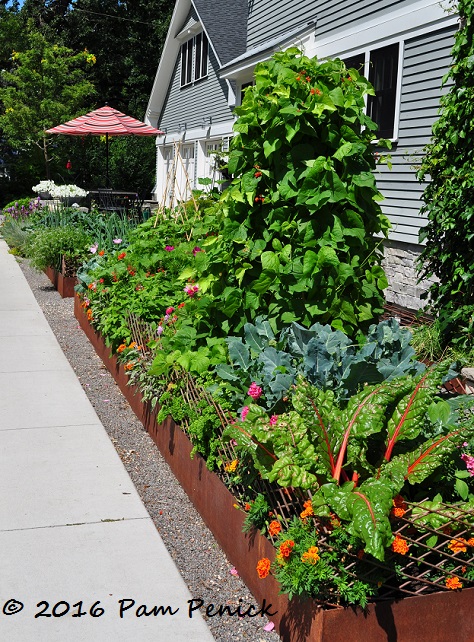 Gravel makes a practical, affordable, and water-permeable paving around the Cor-ten beds. Imagine seeing this view as you pull into your driveway at the end of each day.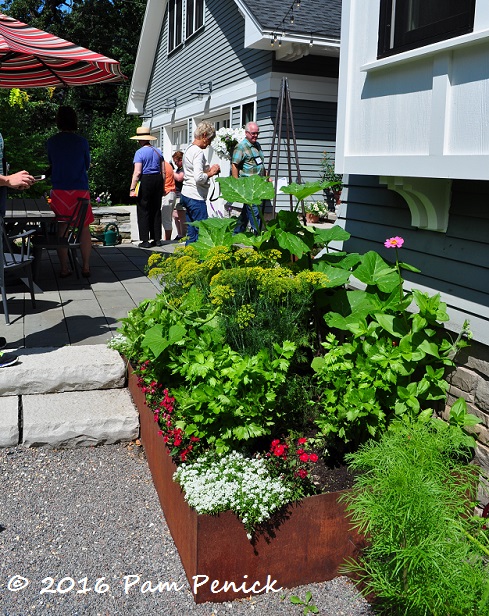 The Cor-ten beds lead to an elevated stone patio that bridges the space between house and garage. As you step up and turn the corner, you see this…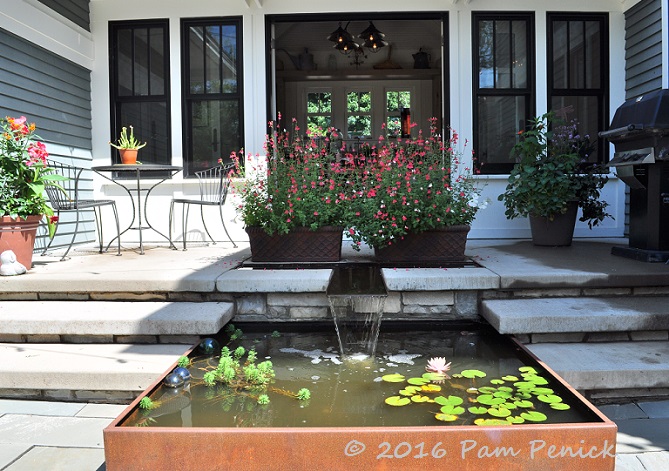 …a contemporary Cor-ten steel pond with a flat, blade-like fountain. A smaller rectangular trough, just in front of the planters of autumn sage (upper level), spills water across the metal blade, which juts like a diving board over the steel-edged pond. It's a wonderful design, compact but eye-catching.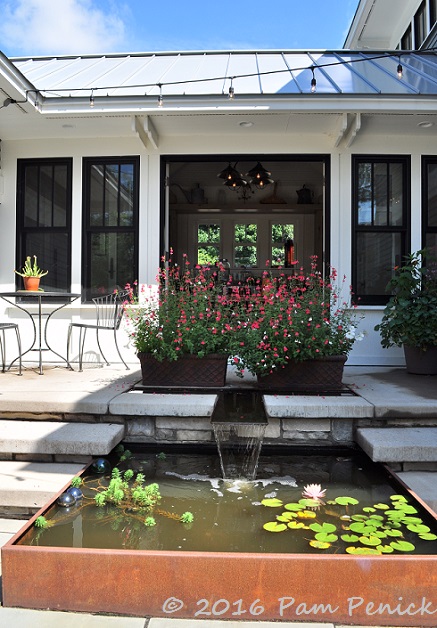 String lights hang over the space for nighttime enjoyment. The doors behind the fountain open into a stylish potting room…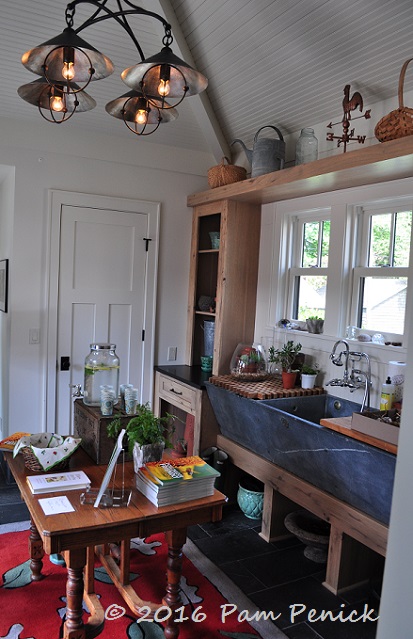 …with a deep sink, shelves for supplies, and gardening tools. What a beautiful pass-through, too, between the garage and house. Rhonda had kindly set up refreshments for us here.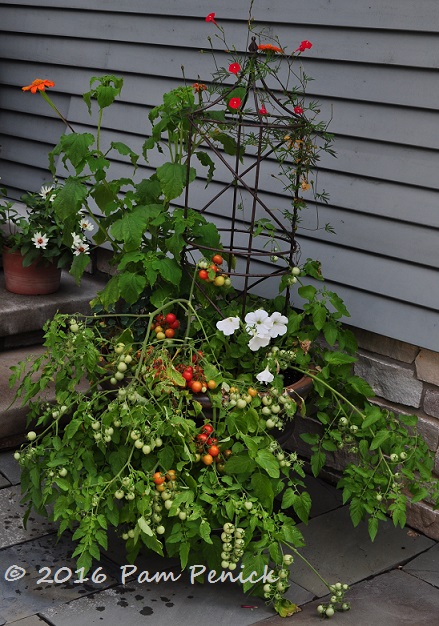 She has only to step out on the patio to harvest tomatoes, here planted up with petunias, zinnias, and what looks like cypress vine.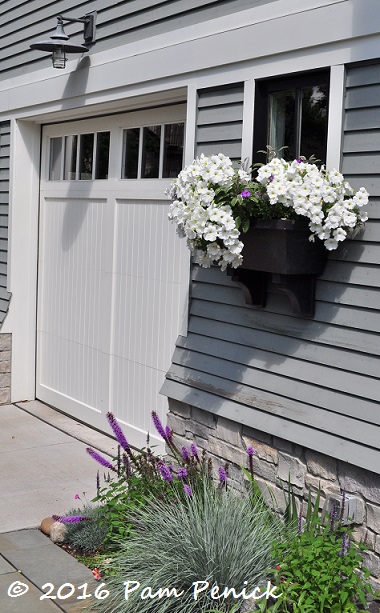 Even the garage wall is gardened up.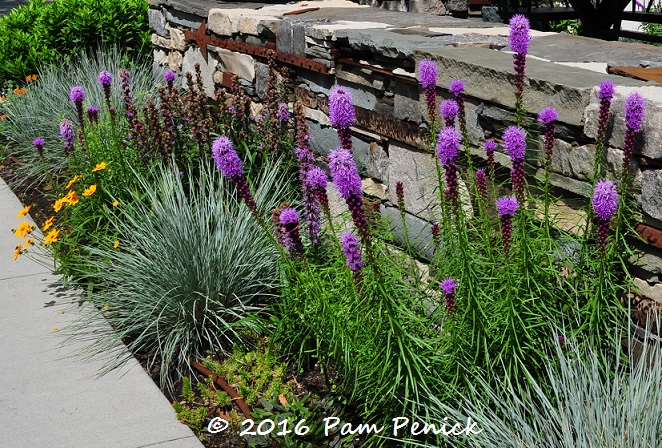 There's no back yard to speak of, so Rhonda has cleverly made the most of her sunny side yard. The elevated stone patio is bordered by a handsome stone wall (which doubles as additional seating), with a water-wise mix of liatris, coreopsis, sedum, and grasses enjoying the reflected heat from the driveway.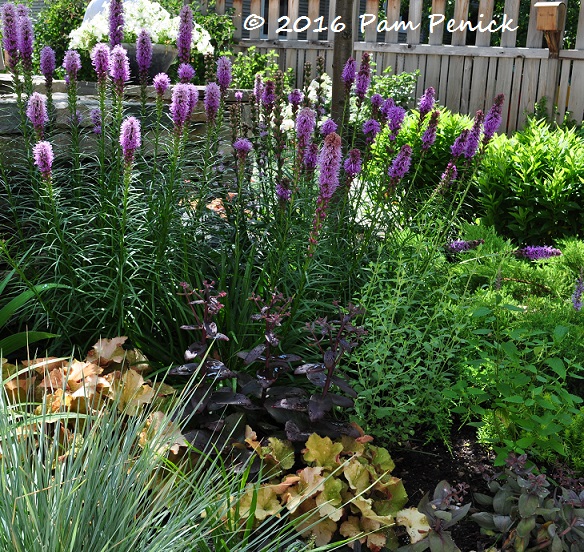 Another view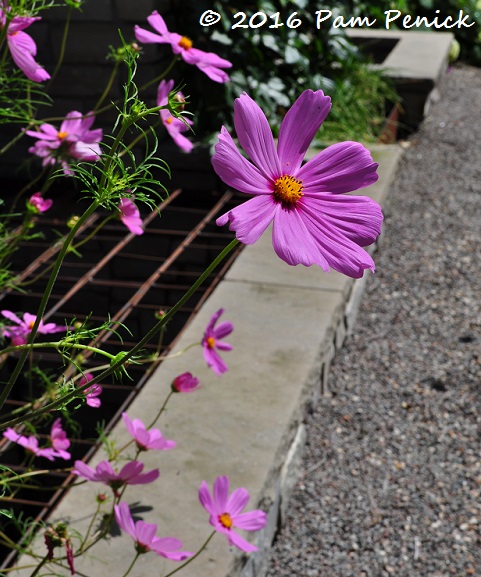 What a wonderful space, and full of lawn-gone inspiration!
Up next: The colorful Springwood Gardens daylily farm.
I welcome your comments; please scroll to the end of this post to leave one. If you're reading this in a subscription email, click here to visit Digging and find the comment box at the end of each post.
_______________________
Digging Deeper: News and Upcoming Events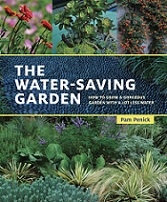 Do you review? Have you read my new book, The Water-Saving Garden? If you found it helpful or inspirational, please consider leaving a review — even just a sentence or two — on Amazon, Goodreads, or other sites. Online reviews are crucial in getting a book noticed. I really appreciate your help!
All material © 2006-2016 by Pam Penick for Digging. Unauthorized reproduction prohibited.
posted in
Annuals
,
Bees
,
Books
,
Containers
,
Decor
,
Edibles
,
Fling Minneapolis
,
Fountains
,
Garden blogging
,
Garden tours 2016
,
Grasses
,
Lawn Gone!
,
Lighting
,
Paths
,
Patios & decks
,
Pests
,
Ponds
,
Porch
,
Seating
,
Shrubs
,
Travel
,
Trellis
,
Walls
,
Water features
,
Water gardening
,
Wildlife