July 20th, 2016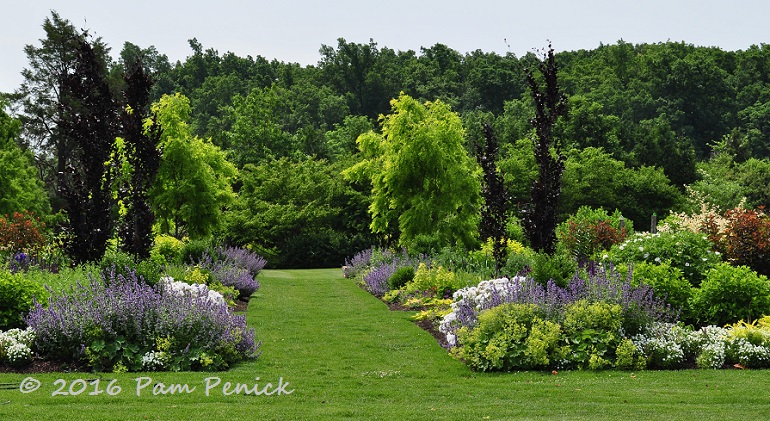 I've been reading author and plantswoman Nancy Ondra's blog, Hayefield, for nearly a decade. Although we'd never met, we've been friendly online. After all, she donated one of her books as a door prize for the first Garden Bloggers Fling in Austin in 2008, I've written about one of her books, and she published some of my photos in her latest book, The Perennial Matchmaker.
So when my friend Diana and I were planning our Philadelphia-area garden-touring trip for early June, I asked Nan if we might stop by for a visit. She kindly gave us a tour of her beautiful, sunny garden, which wraps around her charming log home, and even introduced us to her pet alpacas (aloof yet so cute!).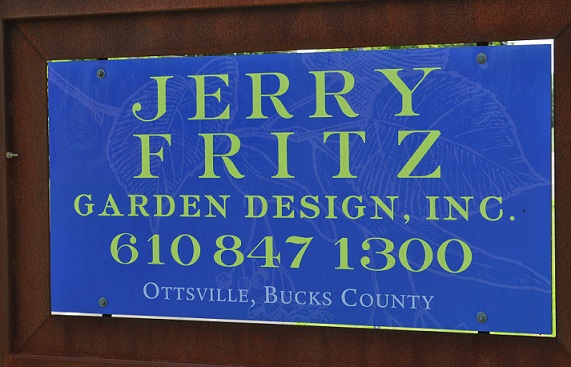 Afterward, she treated us to a personal tour of Linden Hill Gardens, the gorgeous display garden and retail nursery owned by designer Jerry Fritz. Nan helps Jerry with the gardens, and she's intimately familiar with the plants and design.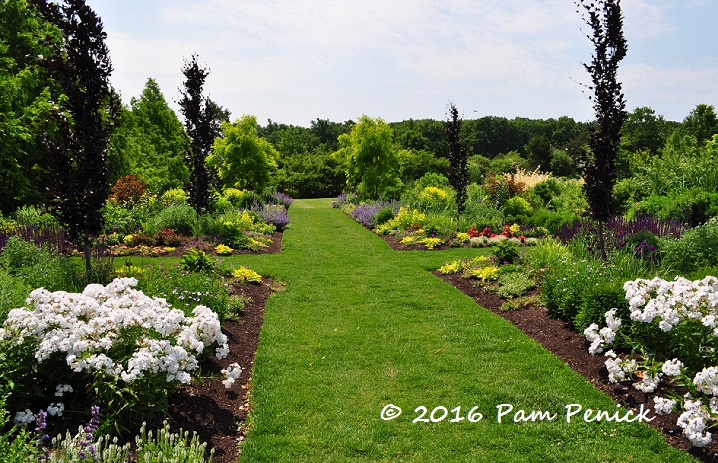 Being from a far different climate, I'm unfamiliar with many of the plants, so I won't focus on IDs. But I hope you'll enjoy the views and design as much as I did, starting with this elegant formal garden, where Nan told us a wedding had recently been held.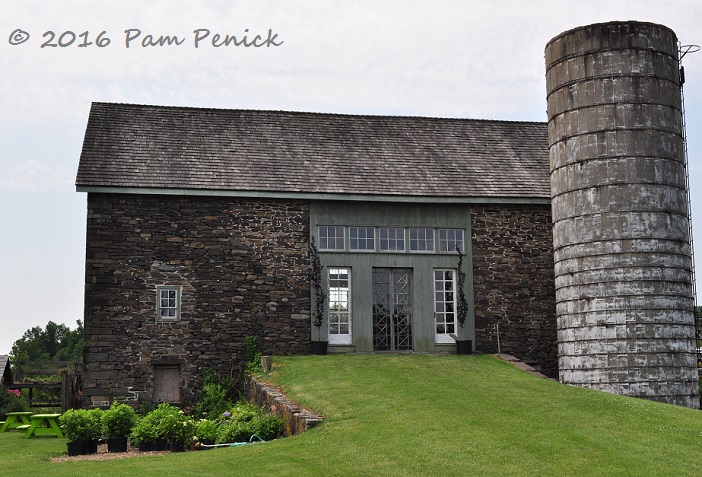 Linden Hill is located in bucolic Ottsville, Pennsylvania — farm country — and when you turn into the parking lot, a massive old stone barn and silo greet you. The barn is the central focal point of the gardens…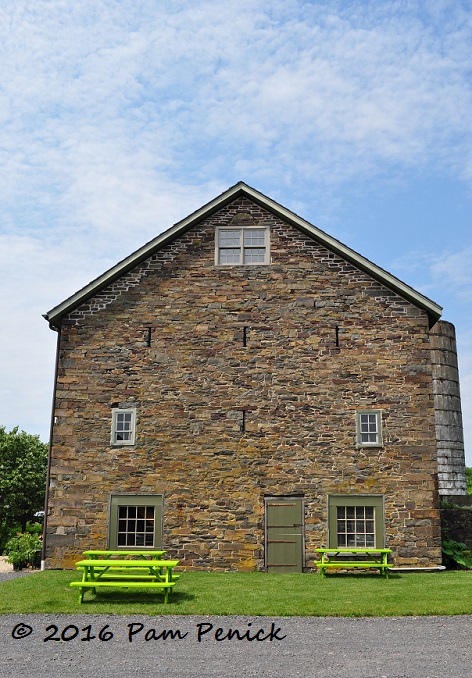 …and eye-catching from every angle, here with a jolt of chartreuse from painted picnic tables.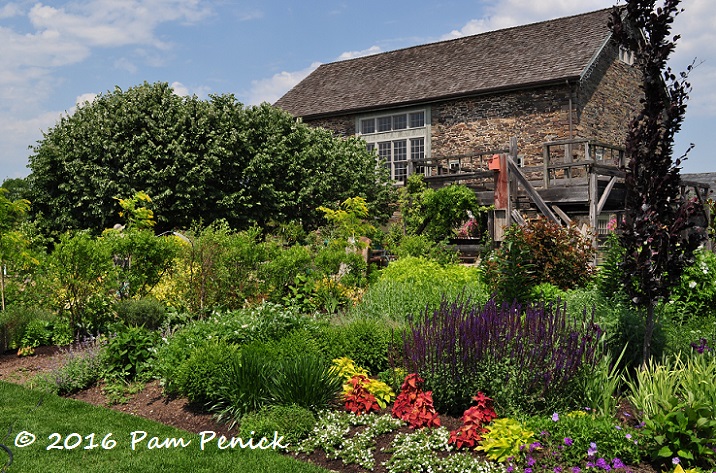 In back, lushly planted formal beds make a tapestry of color against a sweeping lawn…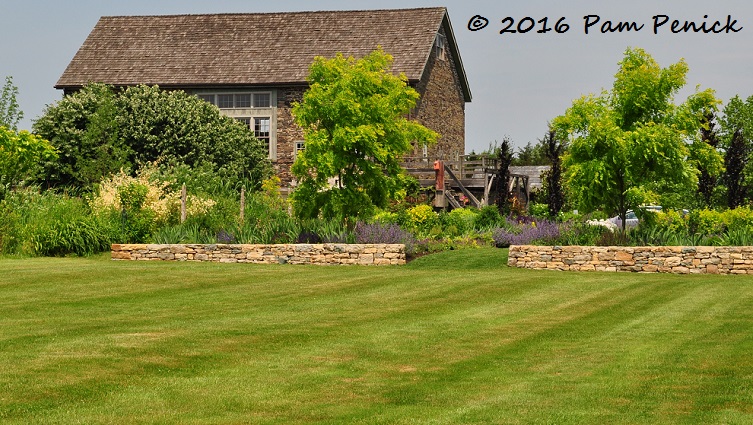 …set off by a low stone wall.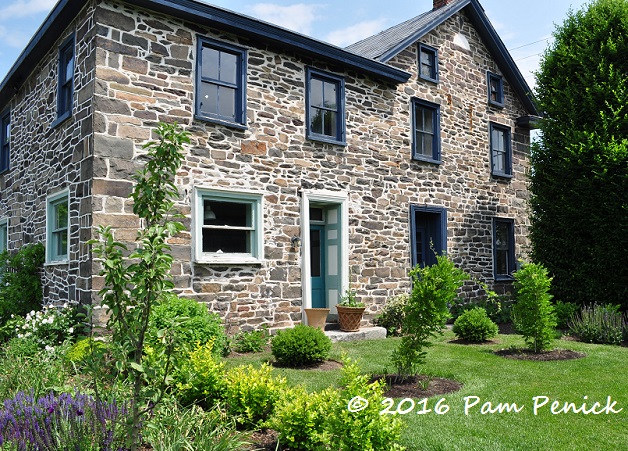 An old farmhouse with blue trim stands closer to the road. A kitchen garden is planned for this space.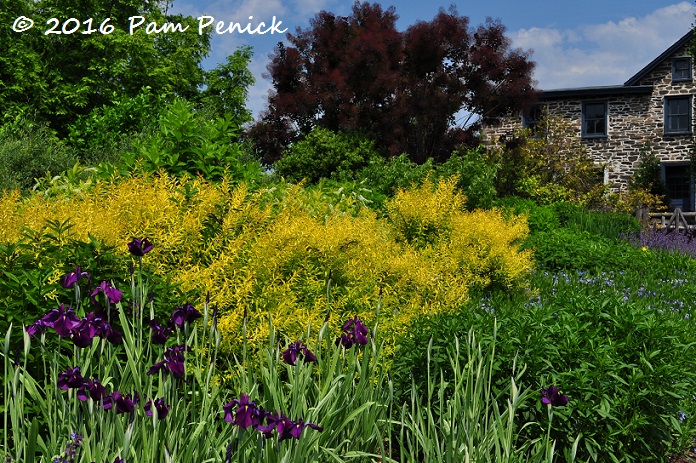 A long border facing the road advertises the nursery and design business and was lush in early June with purple iris and gold, green, and burgundy foliage.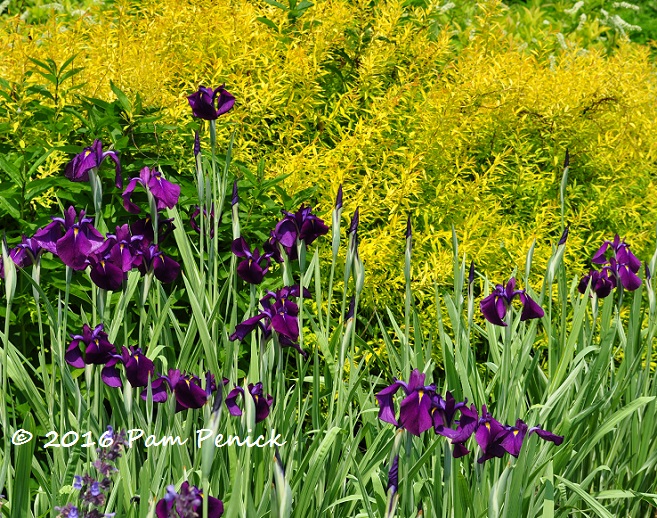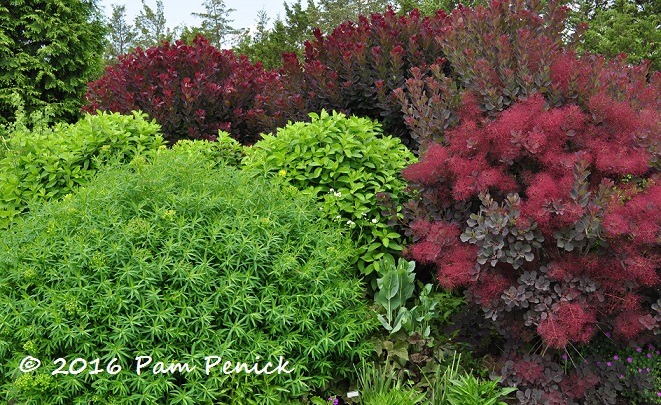 Wine-colored smoke bush was in full "smoke" (fluffy hairs on the spent flowers).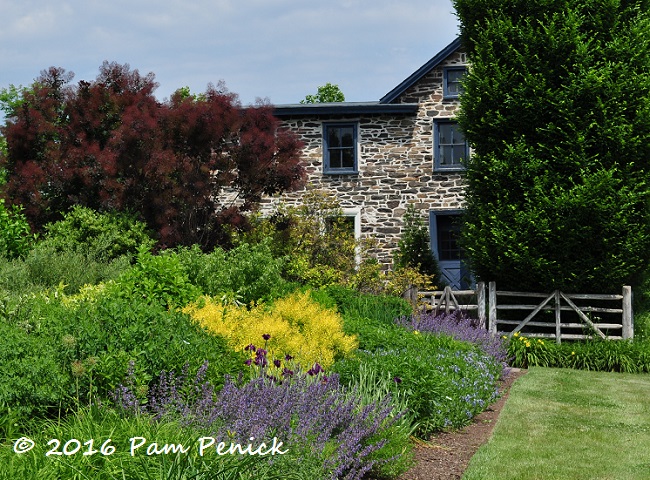 One more look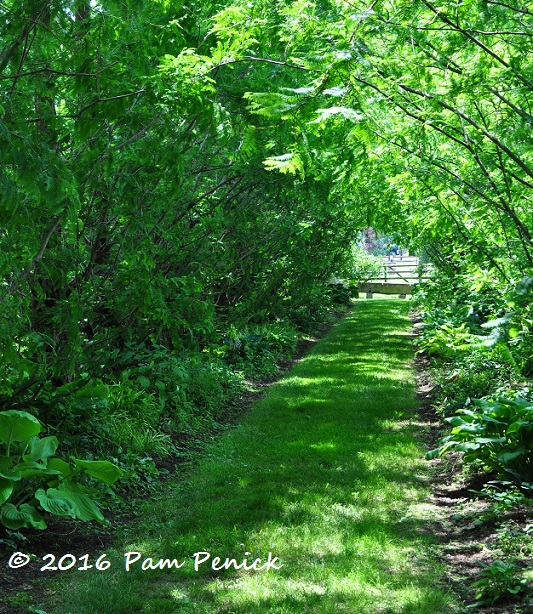 Nearby, a dawn redwood allee offers a shady respite from the sun.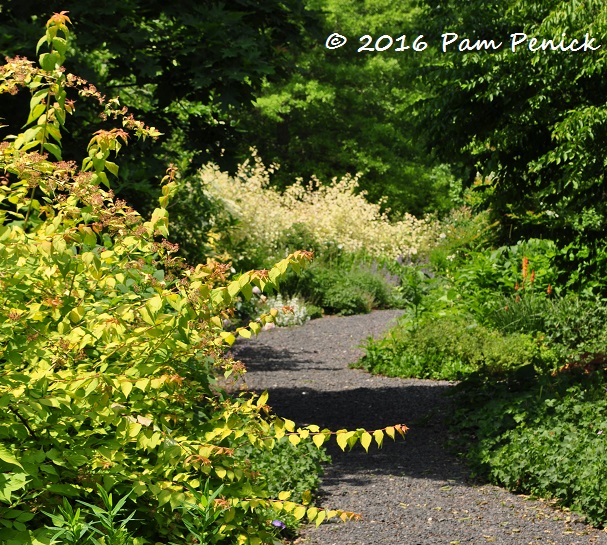 Along the back of the property, a winding path leads through a deer-resistant garden highlighted with clusters of golden-leaved shrubs.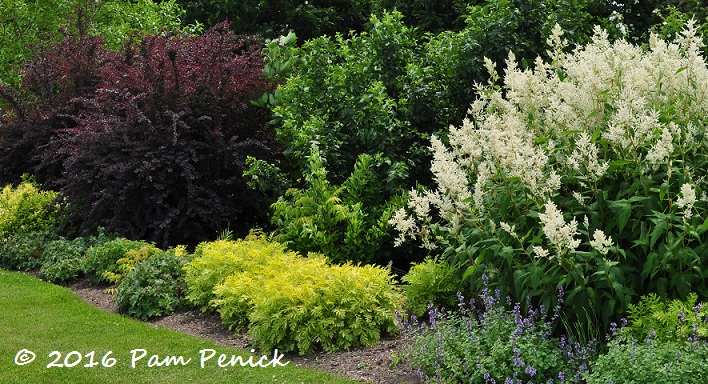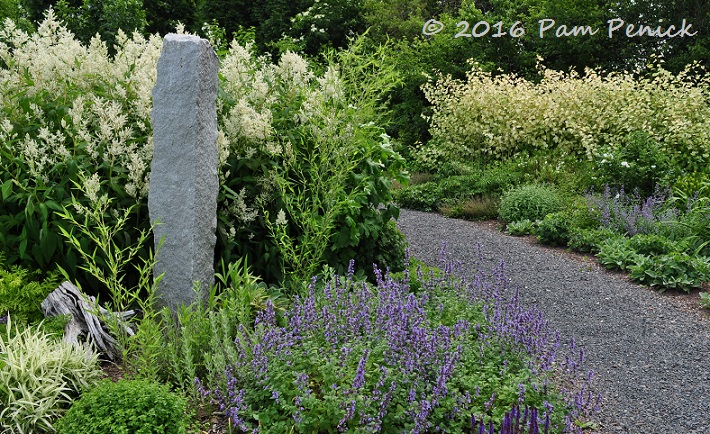 Rustic stone pillars are used to mark transition points.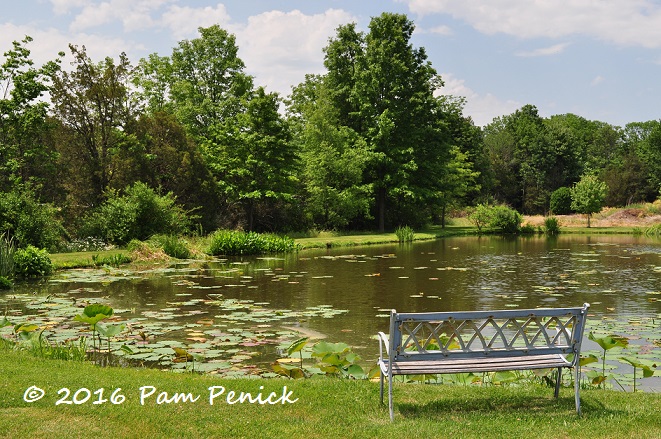 A large pond occupies a sunny spot.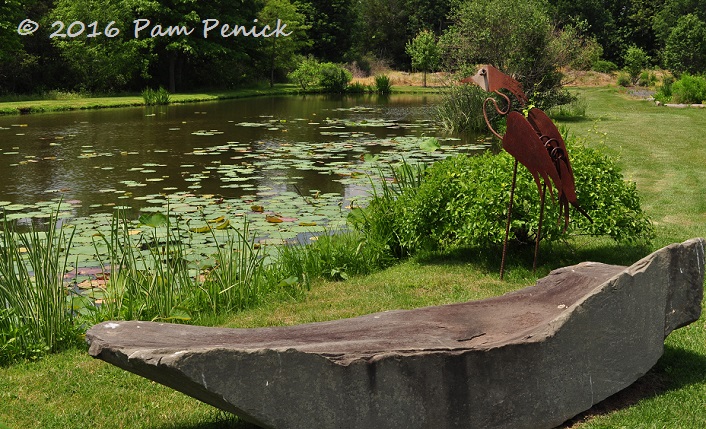 I like this sculpted stone bench.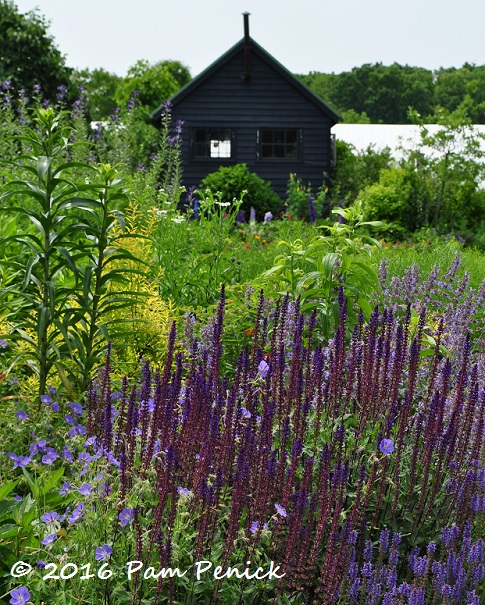 A black-painted, shed-like office sits in the central garden, a striking backdrop for green, gold, and purple-flowering plants in the surrounding cottage beds.

Delphiniums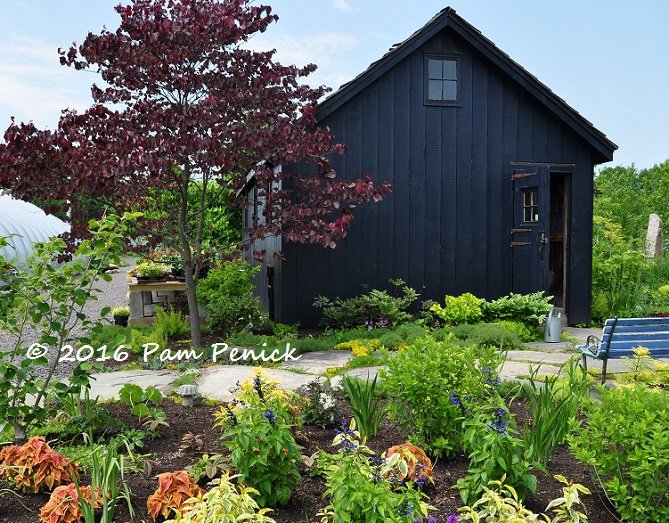 Wine-red and orange look fabulous against that black paint too.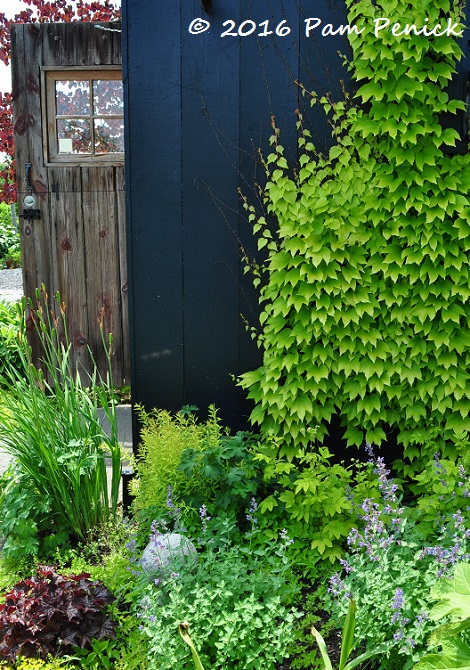 But chartreuse — ahhh!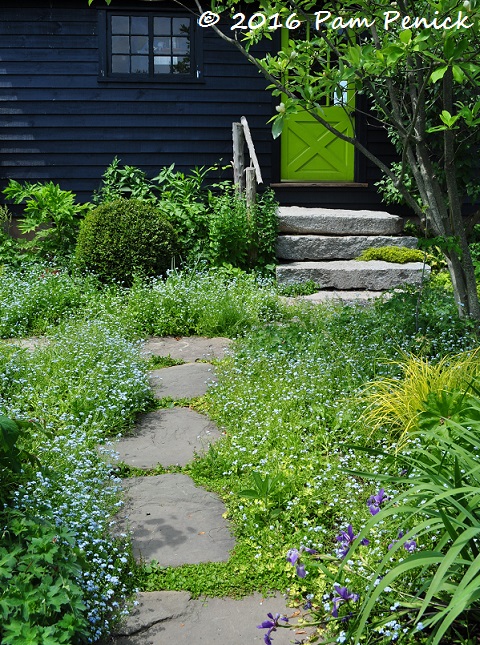 That modern jolt of chartreuse is carried through on the door as well. A groundcover with sparkling blue flowers edges a flagstone path to the front steps.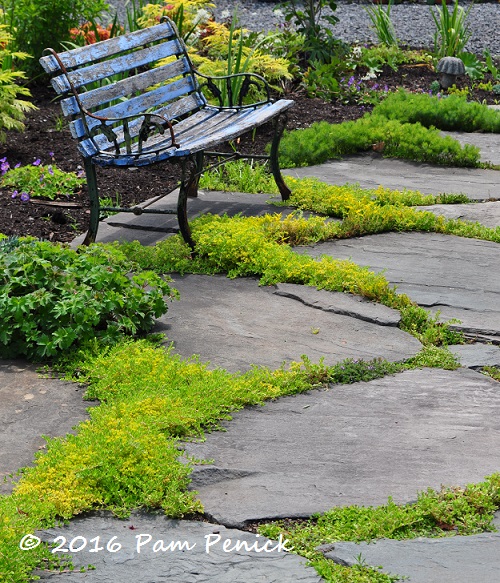 Elsewhere, gold-flowering sedum traces flagstones in a patio.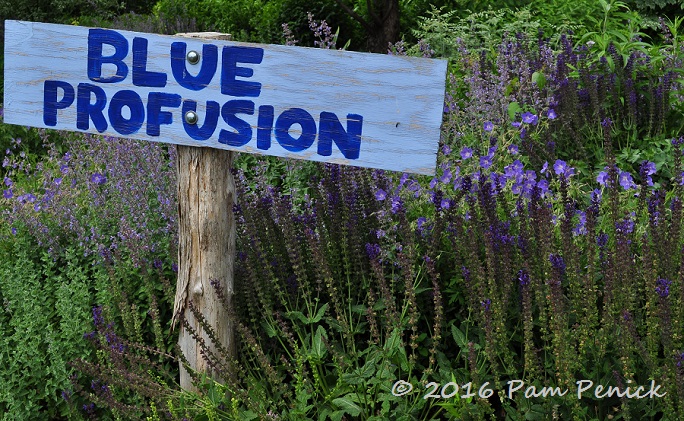 In one corner, blue, lavender, and purple plants rule in the Blue Profusion Garden.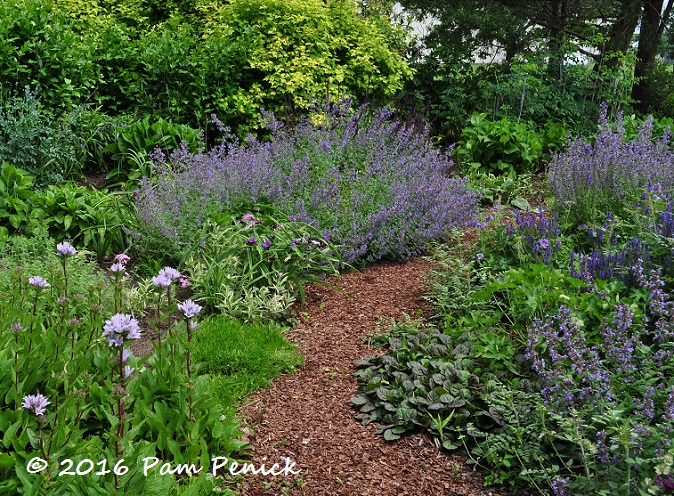 Golden foliage adds welcome contrast.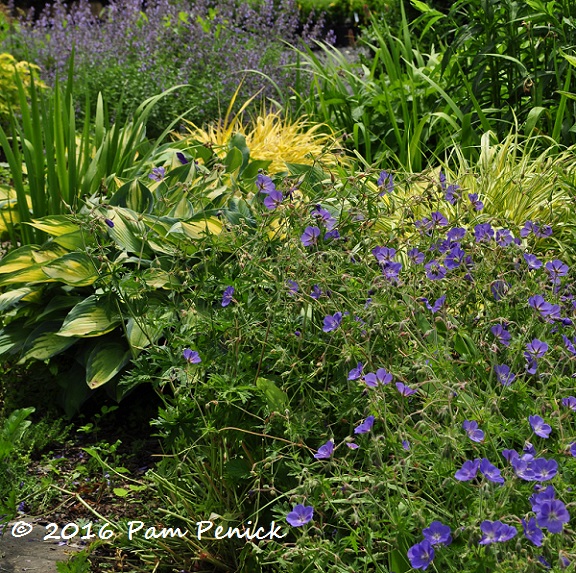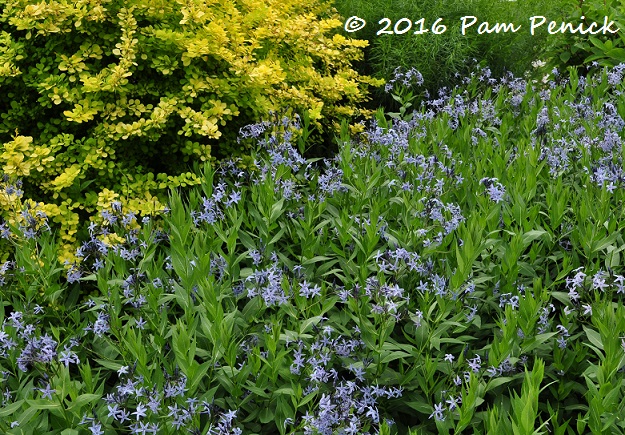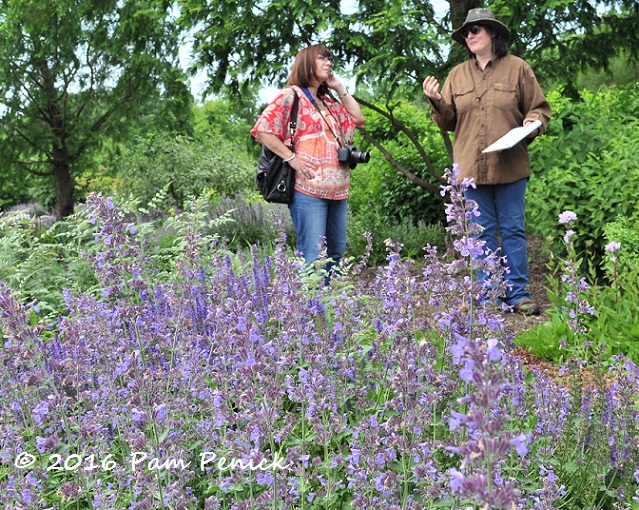 Here's Nan (in the sunglasses and hat) talking to Diana and taking notes about what needs to be done in the gardens — a born multitasker!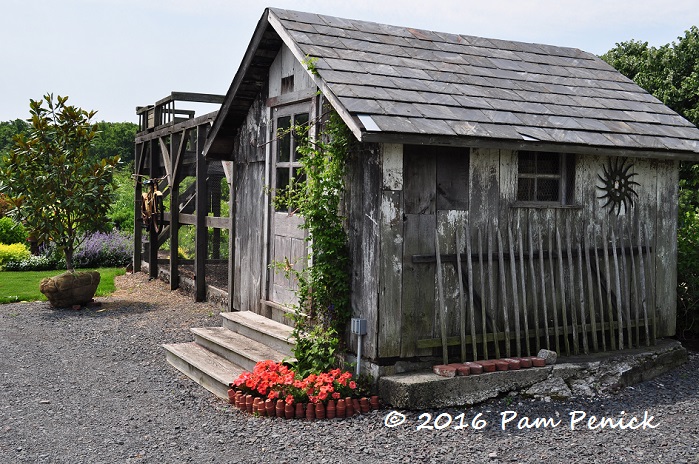 This rustic shed caught my eye because of the tiny flowerpot edging by the front steps.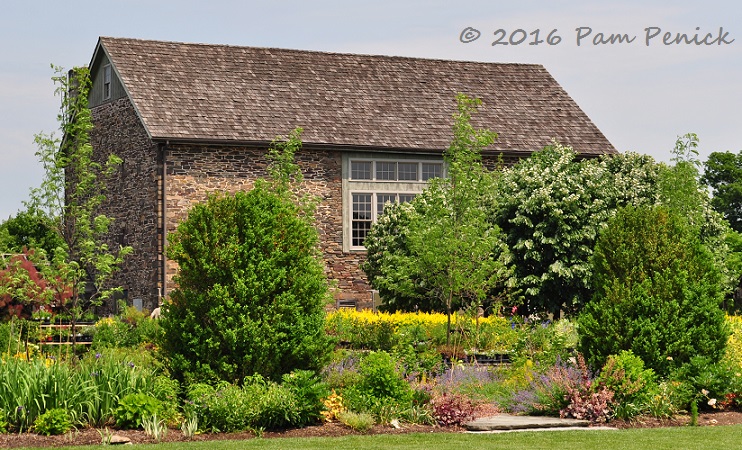 Behind the barn, the nursery tables and more display gardens vie for attention.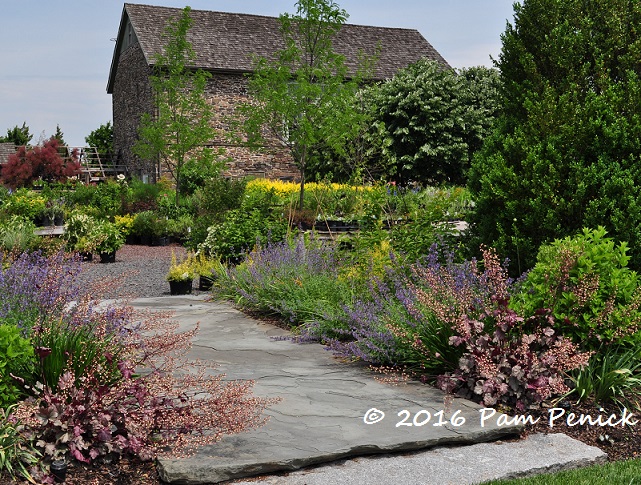 A massive slab of stone bridges the lawn and gravel paths, with flowering heuchera on either side.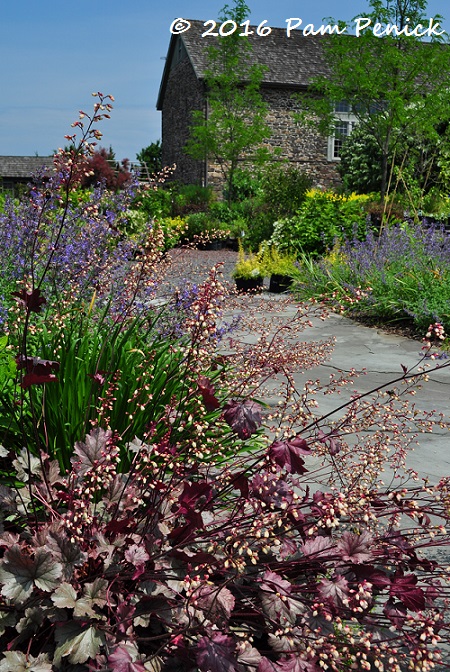 With wine-red and silvery-pink leaves and flowers dotted with pink and cream, it's a stunner.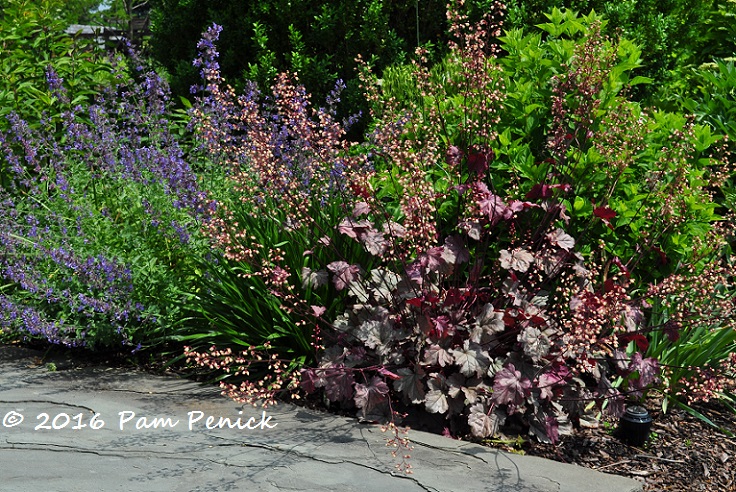 Love!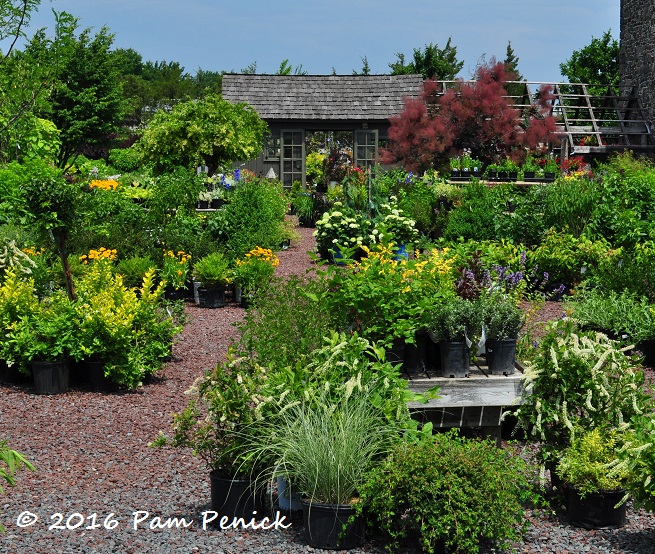 Even the nursery tables are artfully arranged.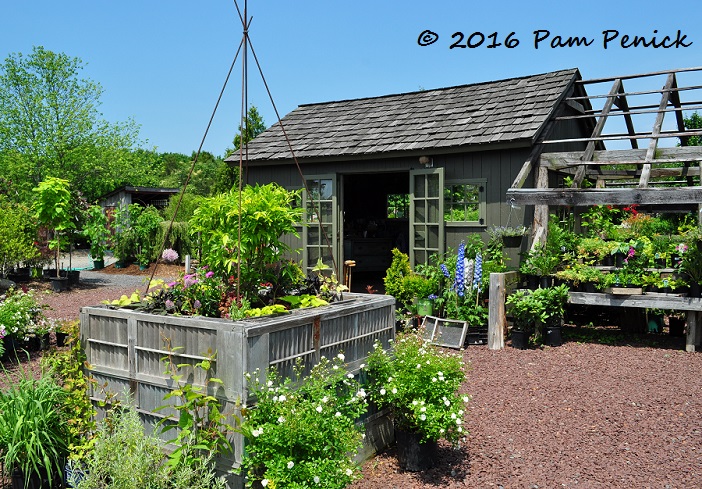 A raised planter made of old shutters and a rebar tuteur? Yes, please! The retail shed is lovely too.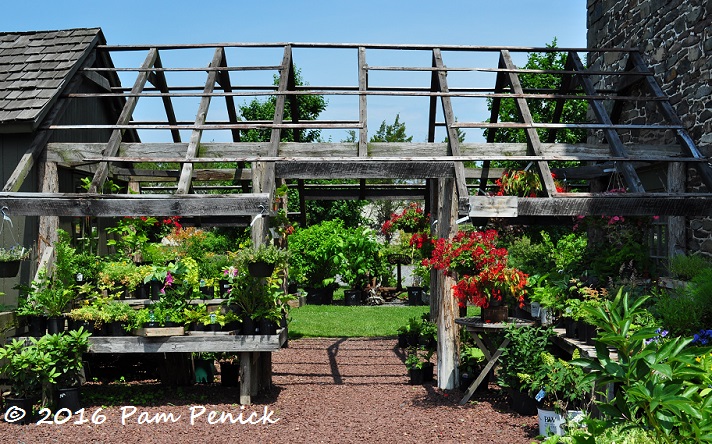 A wooden arbor bridges shed and barn.

The beautiful old barn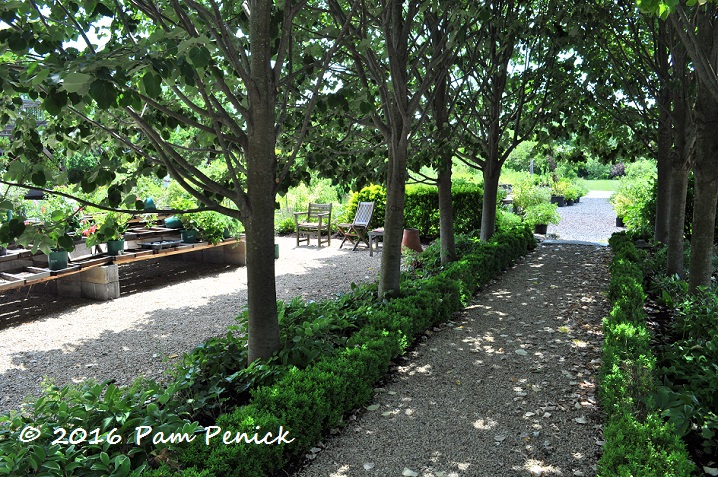 A linden allee leads into the garden from the gravel patios behind the barn.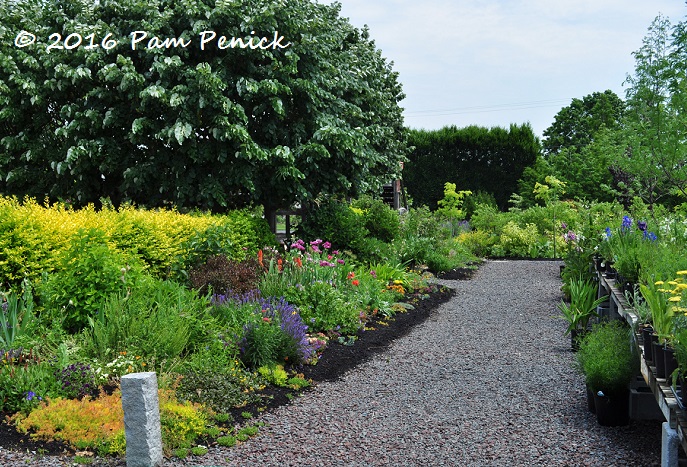 A side view of the linden allee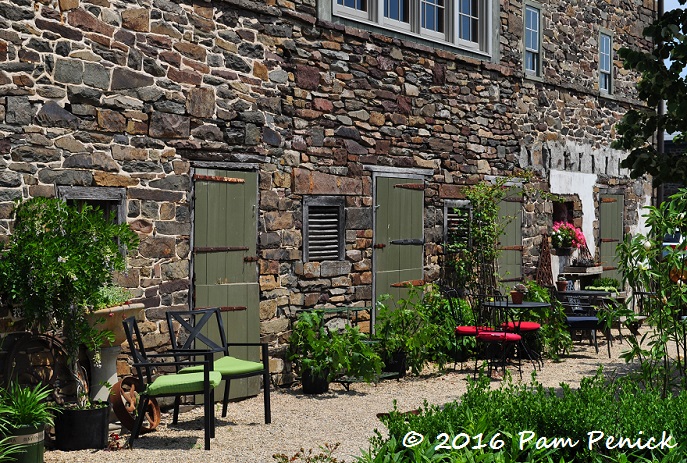 Behind the barn, a French-style gravel patio runs its length, with pairs of wrought-iron chairs and small tables inviting you to sit and enjoy the view.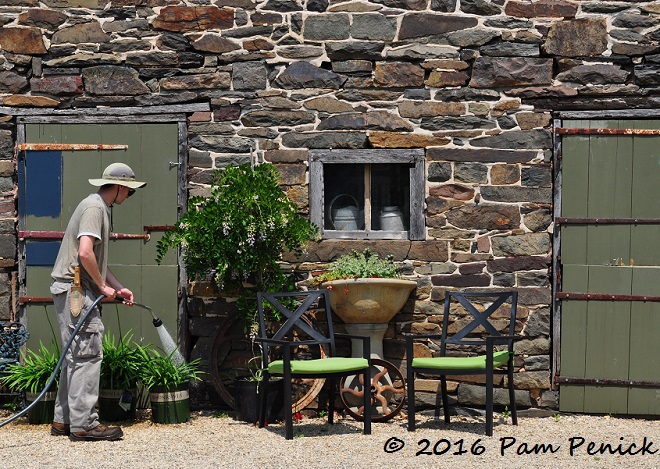 What a beautiful place to work, eh?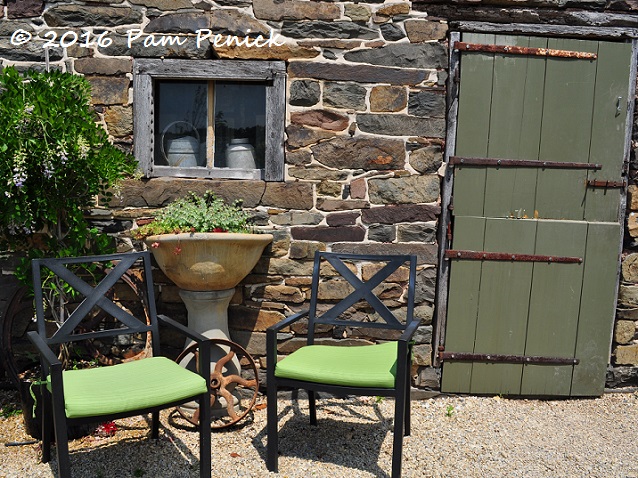 A pretty vignette under an old window framing watering cans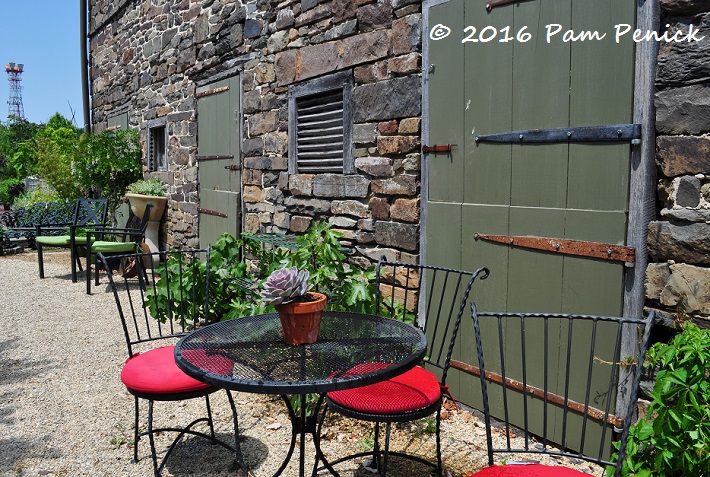 Thank you, Nan, for sharing Linden Hill Gardens with us and your own special corner of Bucks County!
This concludes my series about Philadelphia-area gardens I visited in early June. For a look back at the amazing Chanticleer Garden, click here; you'll find links to additional posts at the end.
I welcome your comments; please scroll to the end of this post to leave one. If you're reading this in a subscription email, click here to visit Digging and find the comment box at the end of each post.
_______________________
Digging Deeper: News and Upcoming Events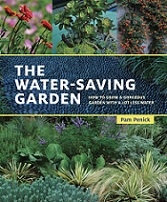 Do you review? Have you read my new book, The Water-Saving Garden? If you found it helpful or inspirational, please consider leaving a review — even just a sentence or two — on Amazon, Goodreads, or other sites. Online reviews are crucial in getting a book noticed. I really appreciate your help!
All material © 2006-2016 by Pam Penick for Digging. Unauthorized reproduction prohibited.
posted in
Arbors
,
Birds
,
Containers
,
Doors
,
Fences
,
Garden art
,
Garden structures
,
Garden tours 2016
,
Groundcovers
,
Lawns
,
Nurseries & Shops
,
Paths
,
Patios & decks
,
Ponds
,
Rock
,
Sculpture
,
Seating
,
Sheds
,
Shrubs
,
Succulents
,
Summer color
,
Travel
,
Trees
,
Vines
,
Walls
,
Windows