July 16th, 2016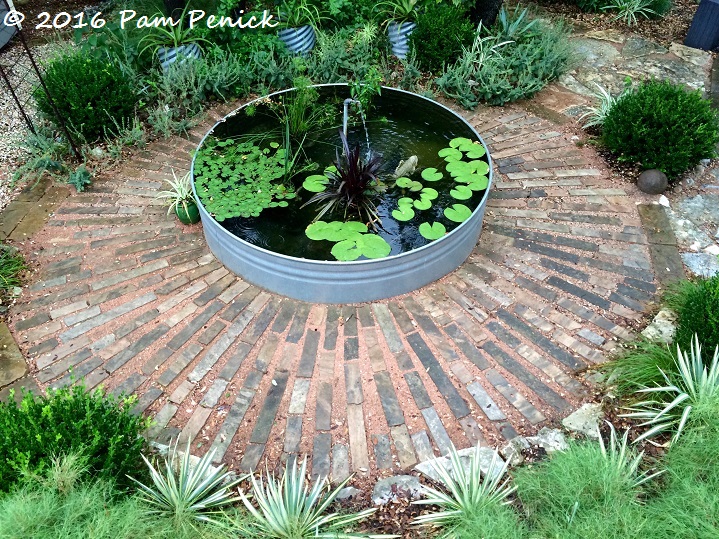 Mid-summer is all about foliage in my garden. The spring flowers are long gone, but evergreen plants like 'Winter Gem' boxwood, 'Color Guard' yucca, bamboo muhly grass, and squid agave look good even when the Death Star's on full blast. The stock-tank pond helps the garden feel cool, with a trickle of water spilling from a faucet pipe in the center.
Even my pond plants are largely about foliage — a dark-leaved crinum and sparkler-headed dwarf papyrus, plus rounded water lily leaves — since my garden doesn't get enough sun for the lilies to bloom as much as I'd like.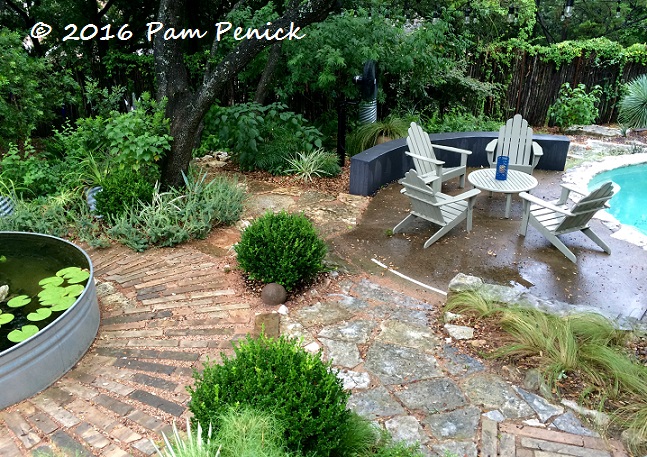 To the right, Adirondacks by the pool are a good place to sit and let a lazy summer day float by.
This is my July post for Foliage Follow-Up. Fellow bloggers, what leafy loveliness is going on in your garden this month? Please join me in giving foliage its due on the day after Bloom Day. Leave a link to your post in a comment below. I'd appreciate it if you'll also link to my post in your own — sharing link love! If you can't post so soon after Bloom Day, no worries. Just leave your link when you get to it. I look forward to seeing your foliage faves.
I welcome your comments; please scroll to the end of this post to leave one. If you're reading this in a subscription email, click here to visit Digging and find the comment box at the end of each post.
_______________________
Digging Deeper: News and Upcoming Events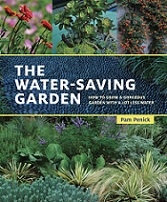 Do you review? Have you read my new book, The Water-Saving Garden? If you found it helpful or inspirational, please consider leaving a review — even just a sentence or two — on Amazon, Goodreads, or other sites. Online reviews are crucial in getting a book noticed. I really appreciate your help!
All material © 2006-2016 by Pam Penick for Digging. Unauthorized reproduction prohibited.