December 6th, 2007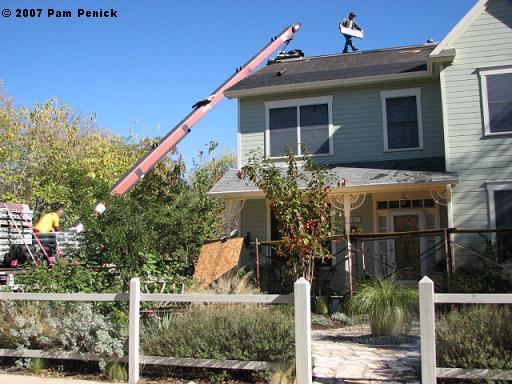 First Xris's roof, then Elizabeth's, and now mine. The necessity of replacing our balding and wind-damaged shingles could no longer be put off, so this week we had the house reroofed. I always dread repair work or painting on the house because of potential damage to the garden. So with anxiety written plain on my face, I'm sure, I gave the roofer a tour of my garden and explained how strongly I felt about keeping ladders and fallen shingles off the plants. He promised—and put it in the contract—to protect the plants with scaffolding (visible in the photo above) and to dump debris only over the driveway. I signed the contract and closed my eyes.
And it all went swimmingly. After just two days of scraping, nail guns, and conjunto music, my new roof is up, and the skies can rain all they want—not that they want to just now. I'm very pleased with how it turned out, and the only garden casualty that I've noticed is a broken branch on the beautyberry.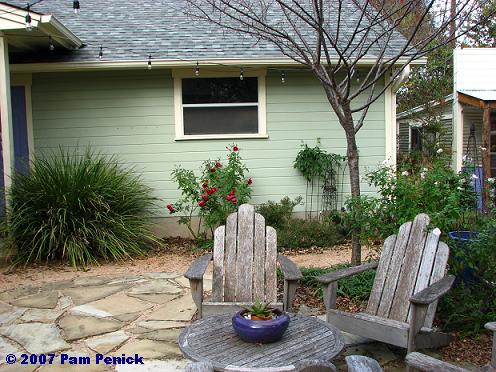 Here's how it looks from the back patio. This is the south-facing wall that shelters the back garden from north winds, creating a warm microclimate in winter. The result is a delightful winter patio, protected on two sides by the house and open to the sun on the south and east. The roses here will bloom much longer than the ones out front. Red 'Valentine' pops against the green wall, and 'Marie Pavie' glows white beneath the bare Mexican plum. The big grassy plant is bicolor iris (Dietes bicolor ), a South African evergreen that grows like a monster here.