June 23rd, 2016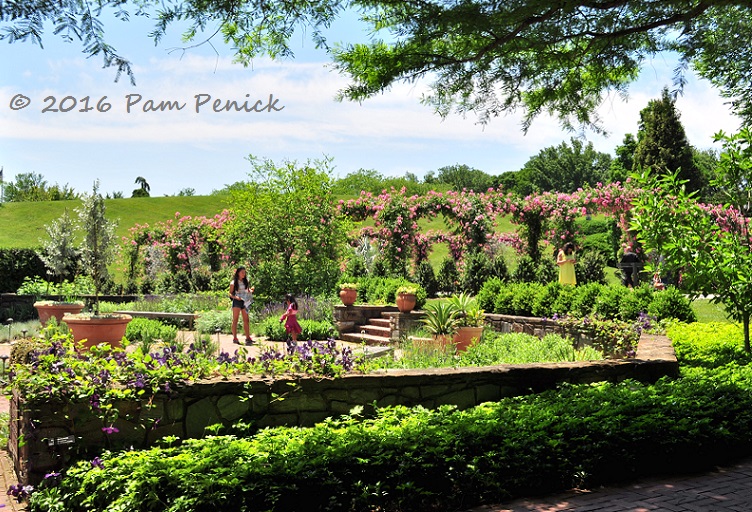 Classically formal gardens aren't my favorite style of garden, and that's doubly true if roses are involved (they so often look leggy and lonely unsoftened by companion plants). But Longwood Gardens, a Philadelphia-area estate garden I visited with Diana/Sharing Nature's Garden earlier this month, surprised me on this score. While the 300-acre garden includes plenty of naturalistic gardens, and even a wild (managed) meadow, not to mention a massive conservatory (pics coming soon), two of its formal spaces particularly delighted me.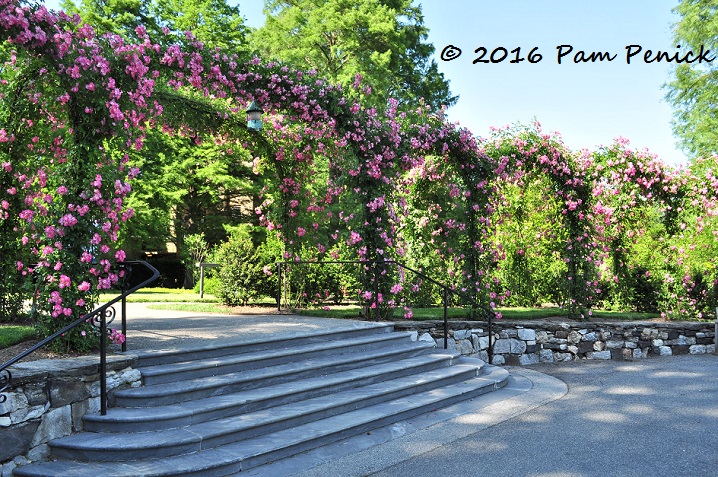 First, the Rose Arbor, a wide circle of arches smothered in happy pink rambler roses (Rosa 'American Pillar').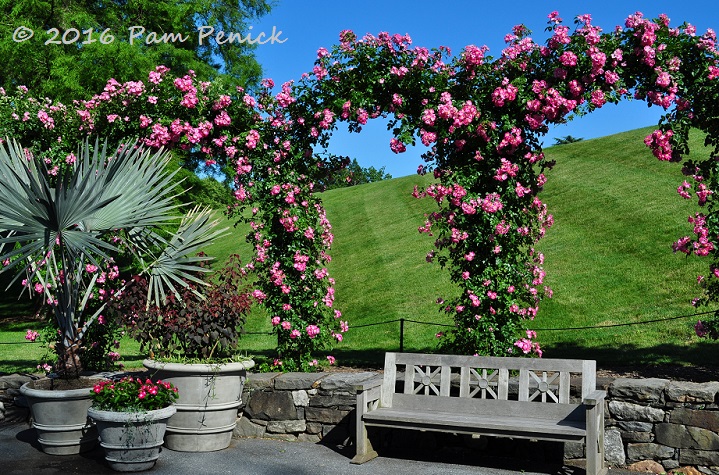 We were lucky to catch the roses in their early summer glory. I read on Longwood's Instagram that they begin to fade by July.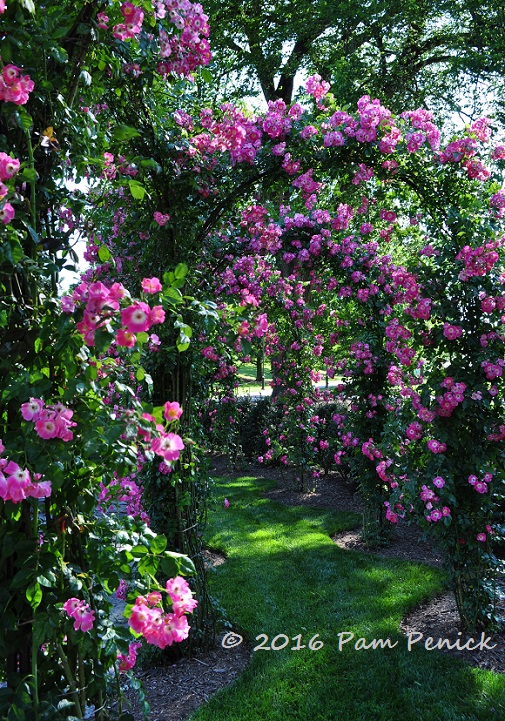 What the rambler rose lacks in fragrance, it makes up for in profuse flowering.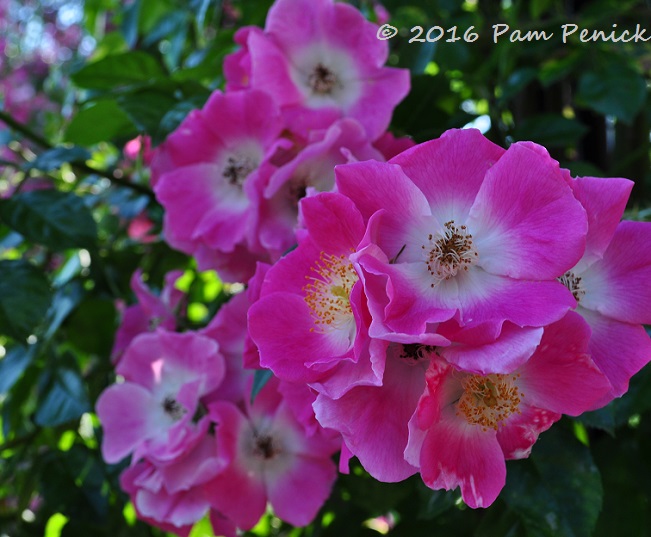 Against deep-green leaves and a blazing blue sky, the roses blush rosy-pink tempered by sparkling white centers.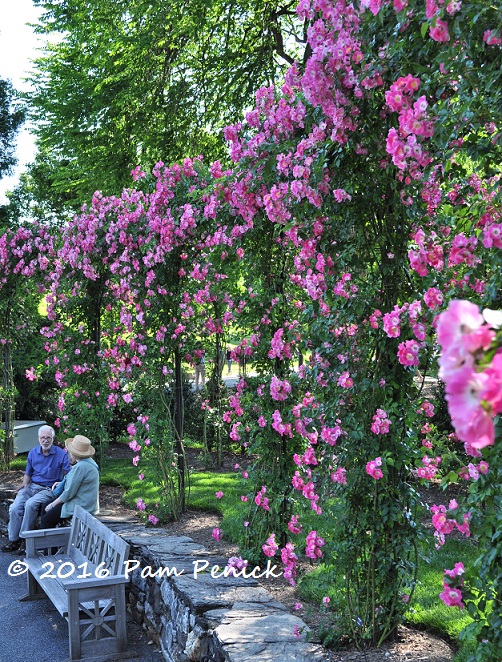 Benches and a low wall around the rose circle offer plentiful seating for those wishing to immerse themselves in the splendor.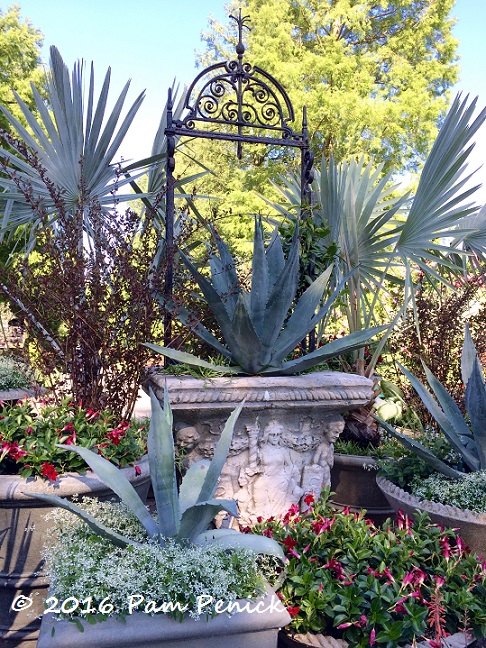 In the center of the patio, a fine display of potted dryland plants, including silver-blue agaves and Bismarck palms, make a cool, spiky focal point.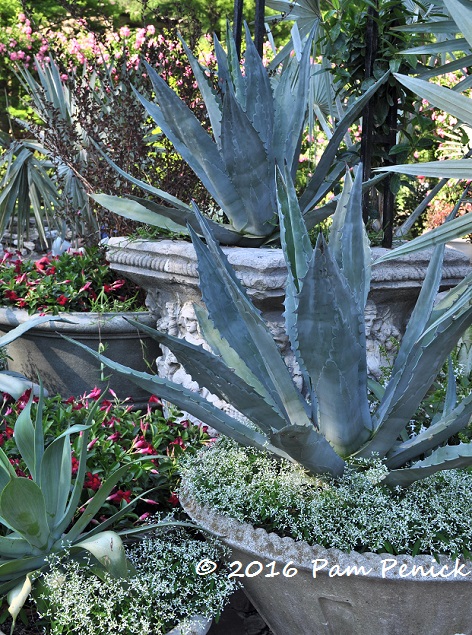 I love the frothy 'Diamond Frost' euphorbia planted under the agaves. I wonder if this pairing would work under our Death Star. 'Diamond Frost' euphorbia prefers mid- to late-afternoon shade in my Austin garden. However, it seems a great combo for cooler-summer climates.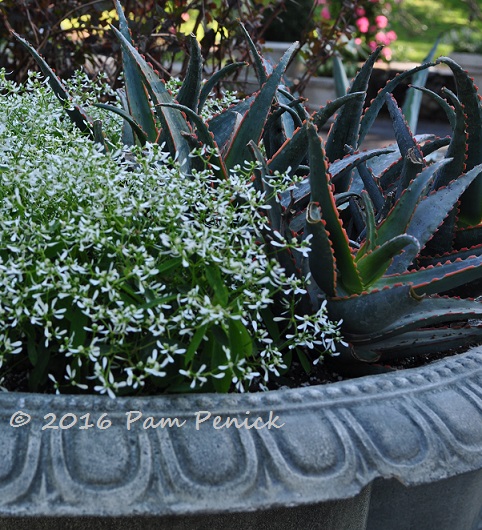 It looks lovely with aloes too.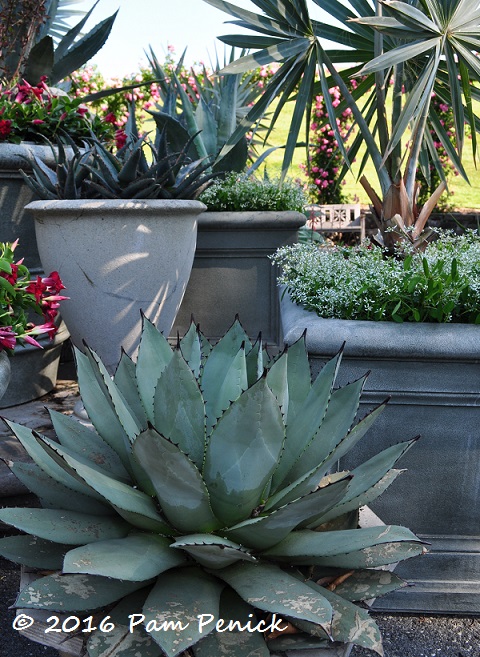 And palms (in the background). I believe that's Agave macroacantha in front, with gorgeous dark teeth and spines.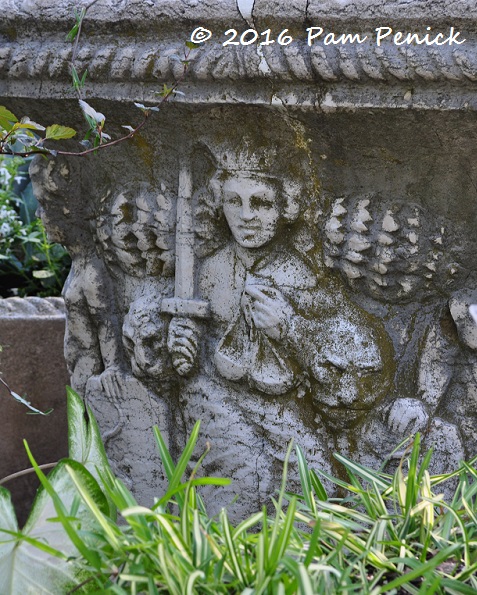 In keeping with the cool color scheme, the pots are all gray and white, and some have lovely bas-relief designs. Variegated St. Augustine grass, a yellow-striped variety of the common Southern lawn grass, which has found surprising popularity as a container plant, spills from a pot in the foreground.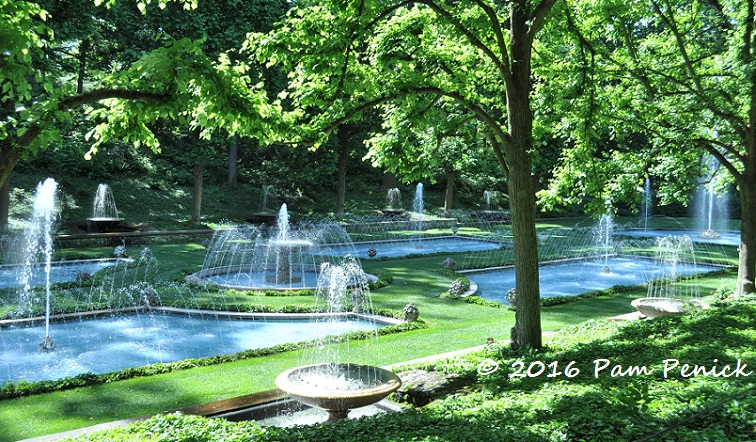 Another formal space that I really liked at Longwood is the Italian Water Garden. Six hundred jets spray water into towers, arches, and bubblers in a changing display that proved as mesmerizing on a warm summer's day as a flickering fire on a cold winter's night.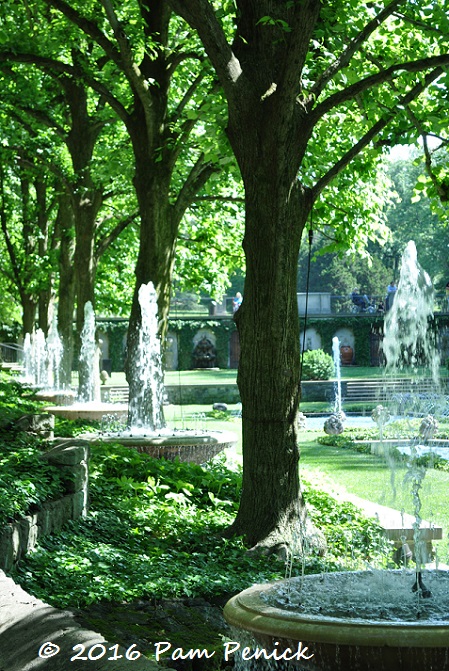 Pierre du Pont, Longwood's founder and cousin to Winterthur's Henry Francis du Pont, constructed the water garden from 1925 to 1927, inspired by a similar garden at Villa Gamberaia near Florence, Italy.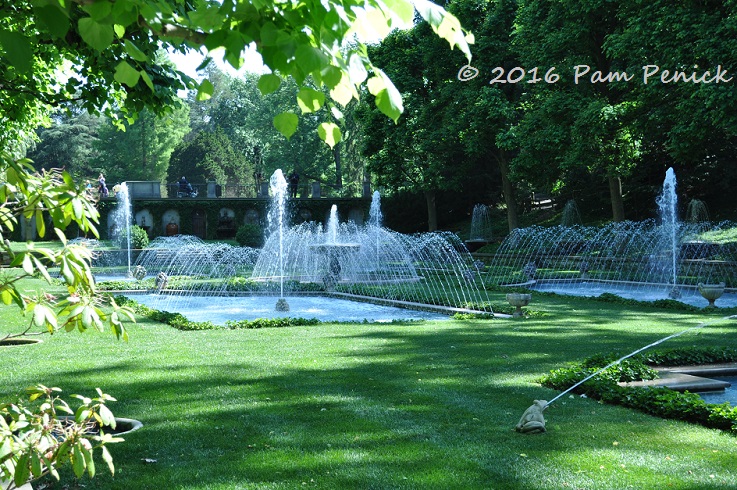 You can view the fountains on three sides. The side views are from shady woodland paths, and the long view is from an elevated terrace (seen in the distance).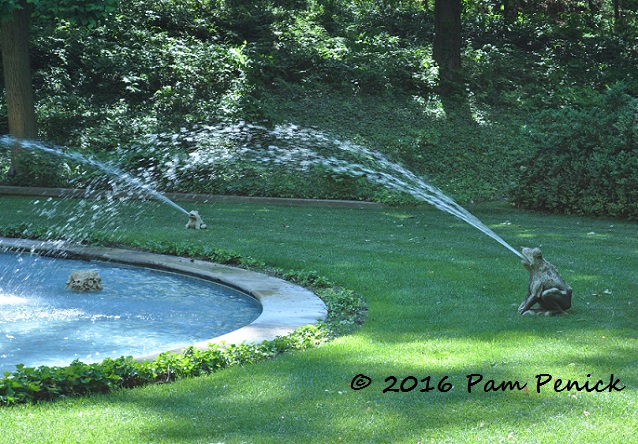 Frogs set in the lawn spit jets of water into the farthest pool.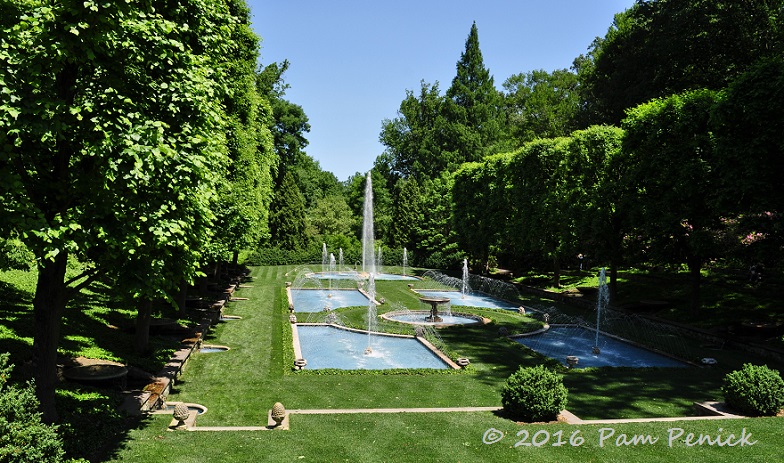 I read that du Pont was concerned with perspective views and made the two most-distant corner pools 14 feet longer than the closer pools to trick the eye into seeing them all as the same size. You notice it when you walk along the side paths, of course, but from here, the pools look identically sized.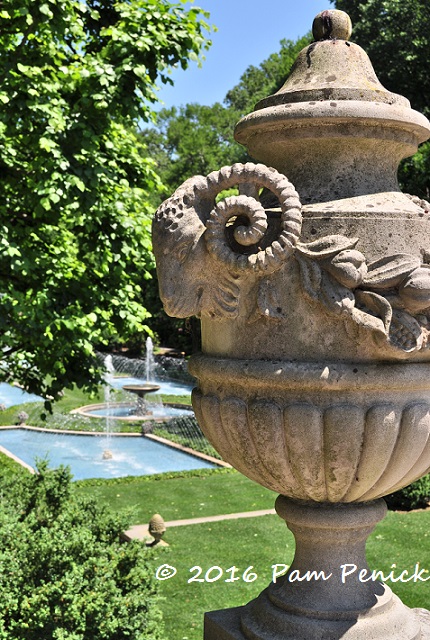 A goat head urn finial along the balustrade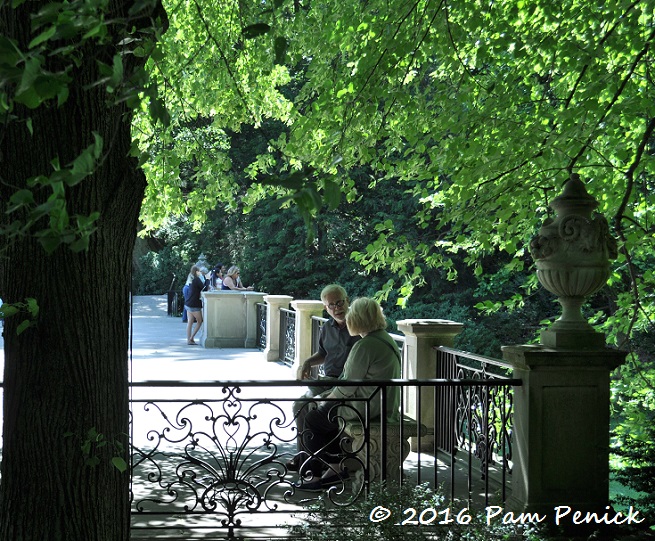 Wait, is this the same couple I photographed sitting in the Rose Arbor? Yes, it is! They certainly know how to find picturesque seating.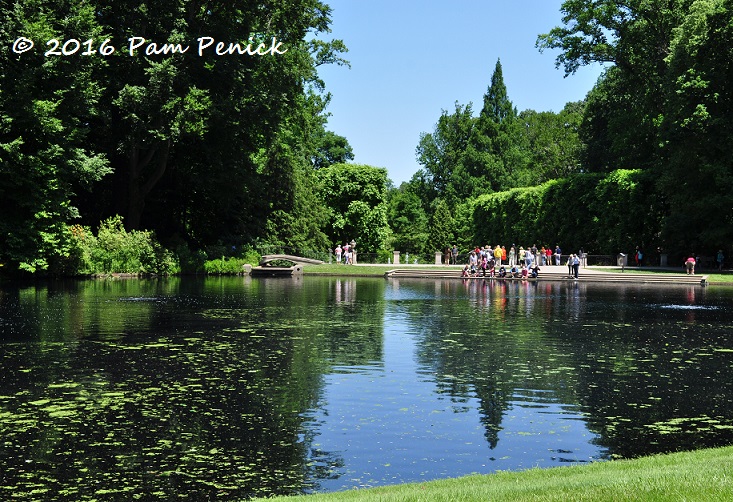 Opposite the Water Garden, a pond offers a more naturalistic water view.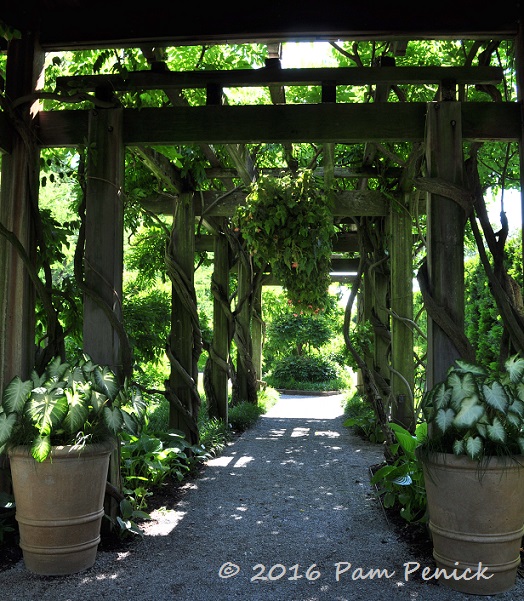 We also enjoyed the shade and structure of the Wisteria Garden and mused on what it must be like to experience it in spring bloom. It must be something to see — and smell.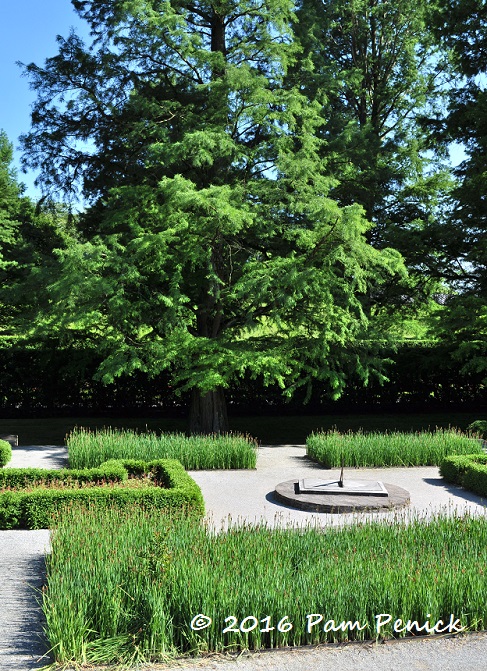 We also missed the flowering of the tree peonies and Siberian irises of the Peony Garden, but the formal structure and sundial focal point make a pleasant view, even dressed in shades of green.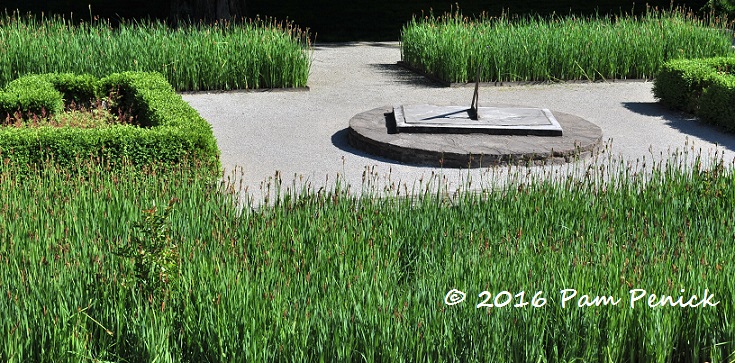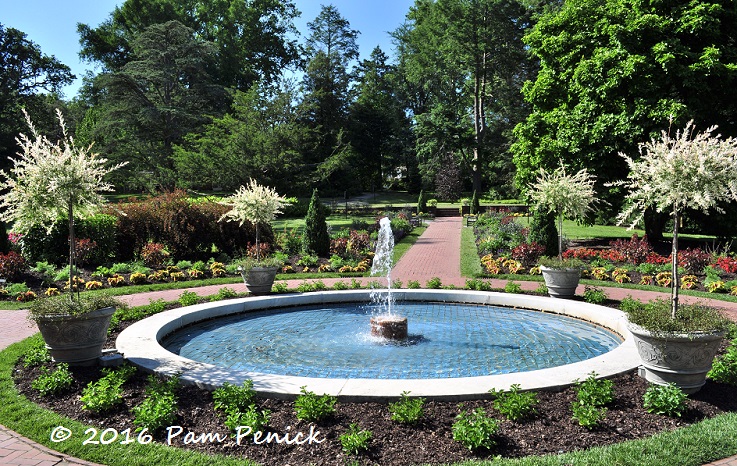 The formal Flower Garden Walk, one of the earliest and most iconic gardens at Longwood, didn't move me, although perhaps it would in a different season. At this time of year, the plantings looked somewhat sparse. I suspect our visit coincided with recent removal of spring-flowering annuals and re-planting with summer annuals that have yet to fill in. Which is why you always want to revisit a garden in different seasons, if you can manage it.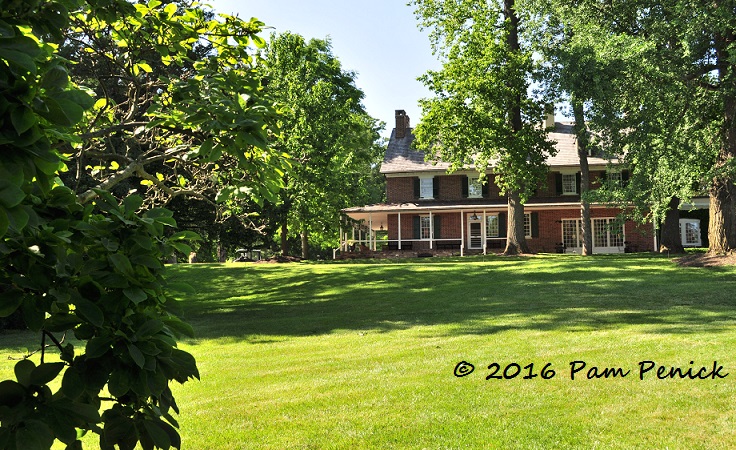 The Peirce-du Pont House was built in 1730 (!) by Joshua Peirce and "enlarged over the years by successive generations of Peirces and later by Mr. du Pont, who purchased the property in 1906 and used it as his summer home," according to Longwood's website. If I were to live in one, I much prefer this house, with its deep porches and welcoming scale, to the king-sized mansion — also "just" a summer home — at Winterthur.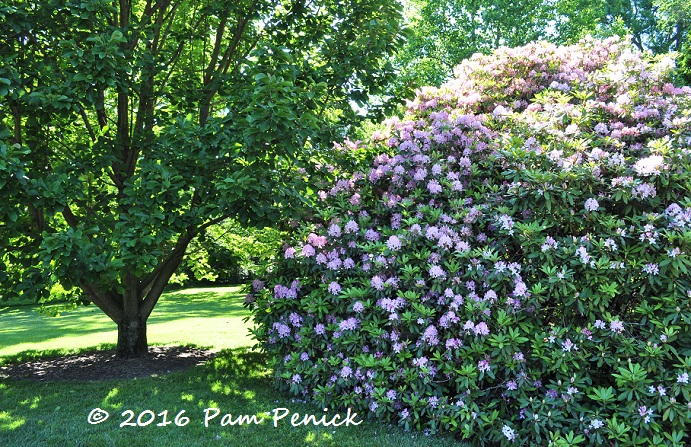 A big pink rhododendron was in bloom near the house, and buzzing with bumblebees.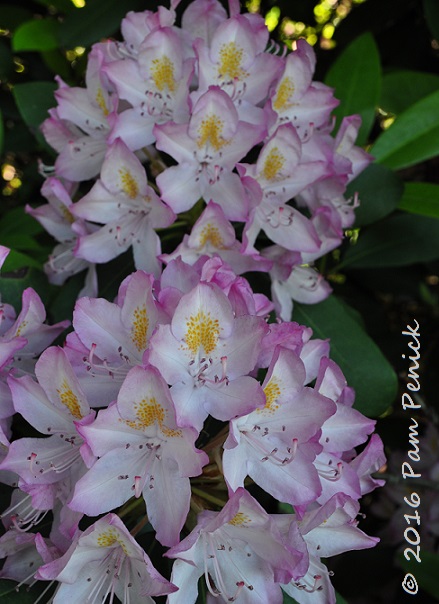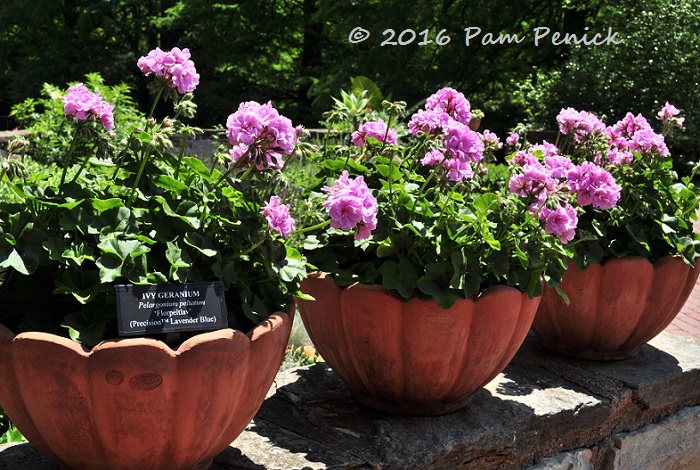 On low walls here and there, pots of carnation-pink pelargonium…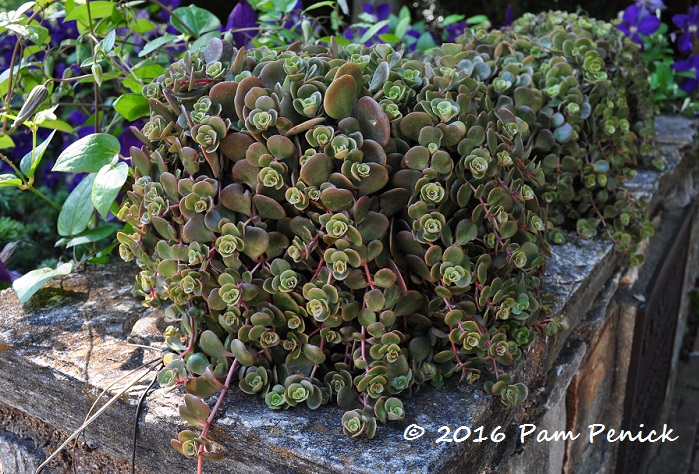 …and olive-green succulents add color and texture.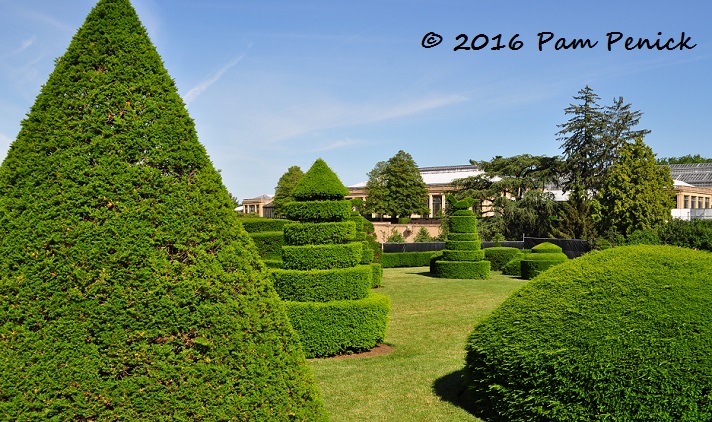 The ultimate symbol of formal gardening is topiary, and Longwood's Topiary Garden is one of the first areas we saw. While nicely maintained, the clipped shrubs seemed a bit random, lacking context and symmetry within the larger garden. Perhaps this will be remedied once the Main Fountain Garden next door, which is undergoing renovation (notice the black construction fencing in the background), is complete.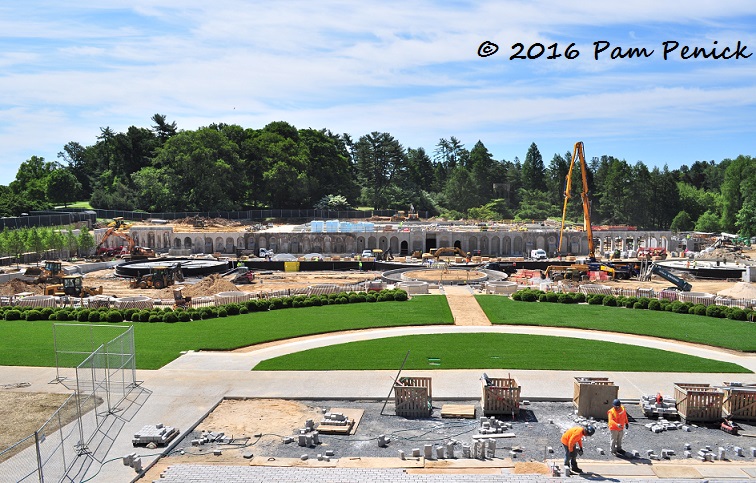 This massive construction scene was humming with activity. The original Main Fountain Garden, a grand water garden on a scale I've never seen, was built by du Pont in 1931 to entertain his many guests. Since 2014 it's been closed for renovation, and while I was sorry to miss the spectacle of the fountains, I was duly impressed by the signage showing what it will look like when complete in the summer of 2017. I hope I'll be able to revisit one day to see it.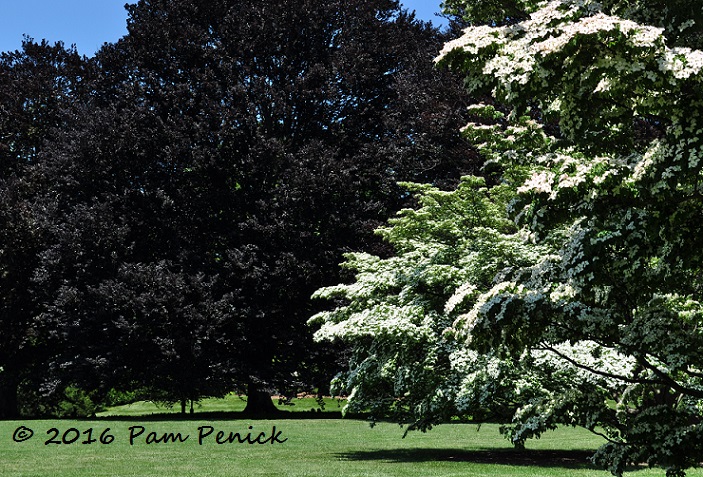 Leaving the formal spaces behind, in my next post I'll show you the extravagantly scaled conservatory, including a surprising indoor children's garden focused on whimsical water play. As a segue, enjoy the ebony-and-ivory display of a magnificent copper beech and a dogwood in flower…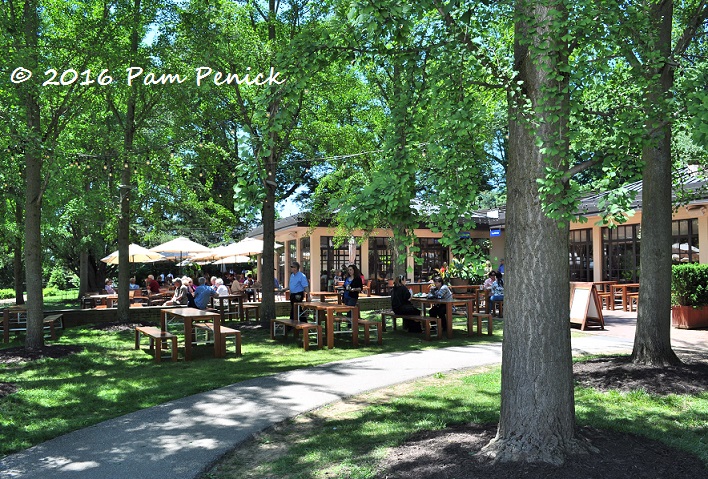 …and a virtual lunch al fresco at the cafe.
Up Next: Longwood's enormous conservatory and water-play-friendly children's garden. For a look back at nursery and home-and-garden shop Terrain, click here.
I welcome your comments; please scroll to the end of this post to leave one. If you're reading this in a subscription email, click here to visit Digging and find the comment box at the end of each post.
_______________________
Digging Deeper: News and Upcoming Events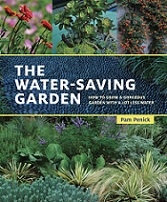 Do you review? Have you read my new book, The Water-Saving Garden? If you found it helpful or inspirational, please consider leaving a review — even just a sentence or two — on Amazon, Goodreads, or other sites. Online reviews are crucial in getting a book noticed. I really appreciate your help!
All material © 2006-2016 by Pam Penick for Digging. Unauthorized reproduction prohibited.
posted in
Agaves
,
Aloes
,
Arbors
,
Botanic/Public Gardens
,
Containers
,
Flowers
,
Fountains
,
Garden art
,
Garden tours 2016
,
Paths
,
Ponds
,
Restaurants
,
Roses
,
Travel
,
Trees
,
Trellis
,
Vines
,
Water features