September 9th, 2009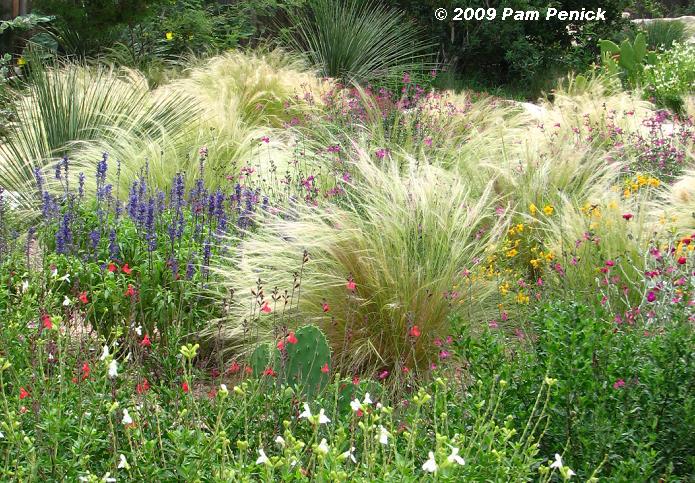 We gardeners who love ornamental grasses may find autumn, their primary blooming season, to be our favorite time of year. I do love autumn. However, I'm choosing a spring-bloomer, Mexican feathergrass (Nassella tenuissima), for my entry in this month's Picture This Photo Contest over at Gardening Gone Wild. I just can't resist its sunny-haired, breezy, softening presence amid colorful salvias in this springtime Hill Country-style garden. (For more pics of this beautiful native-plant garden, visit my post about Austin's Gardens on Tour 2009.)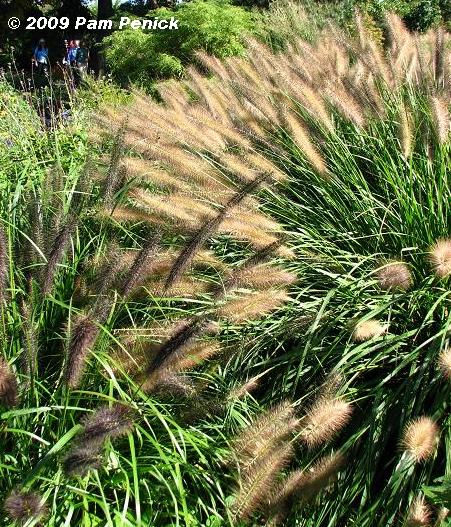 Although I've chosen the first photo as my official entry, I couldn't resist showing some fall-blooming grasses as well. We can never have too many pictures of beautiful grasses, can we? I spotted these toasty pennisetums in the Circle Garden at Chicago Botanic Garden in October 2007. I absolutely adore their bottlebrush inflorescences.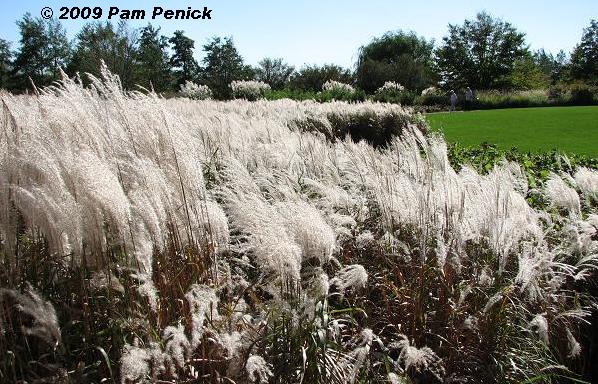 Also at Chicago Botanic Garden, on Evening Island, these flame grasses (Miscanthus sinensis 'Purpurascens') set my heart on fire. Just look at them! They stood 6 feet tall, and you walked through the billowing, waving mass as if through the parted Red Sea, full of awe and amazement.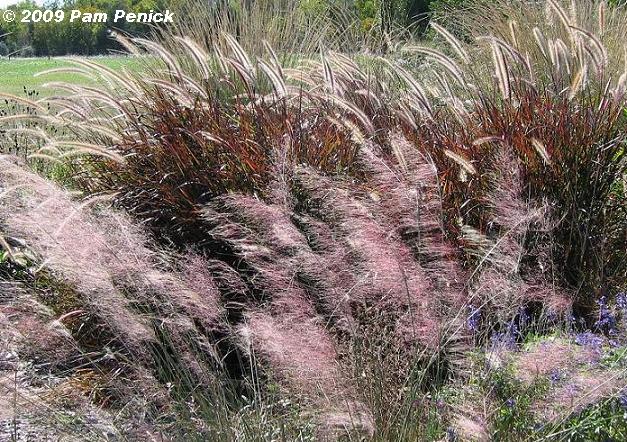 Last but not least, here is a mix of native and exotic grasses hissing in a cool, north wind at the Antique Rose Emporium in Brenham, Texas. From front to back, there's Gulf Coast muhly (Muhlenbergia capillaris), purple fountain grass (Pennisetum setaceum), and, I think, Lindheimer muhly (Muhlenbergia lindheimeri).
Grasses are so photogenic, especially in the morning or evening light. I look forward to seeing everyone's favorites in the contest.
All material © 2006-2009 by Pam Penick for Digging. Unauthorized reproduction prohibited.