March 11th, 2016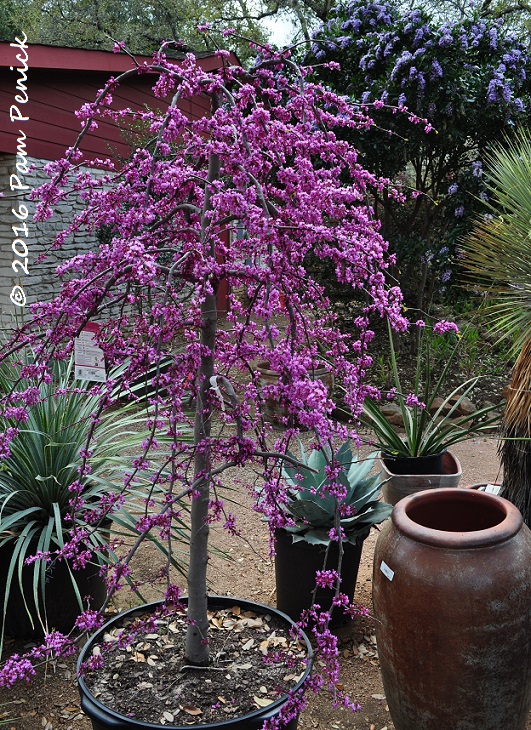 A few days ago I visited my favorite North Austin nursery, Hill Country Water Gardens & Nursery, which is actually located in Cedar Park, just northwest of Austin. As the name implies, HCWG carries pond plants, fish, fountains, pond equipment, and other water-garden supplies. But over the past few years they've also really grown their regular nursery offerings, including a nice selection of native and adapted perennials, woody lilies (agaves, sotols, yuccas, etc.), and trees.
Weeping redbuds (Cercis canadensis var. texensis 'Traveller') in full bloom were flying out the door while I was there, and no wonder. Isn't it a gorgeous small tree? I bought one from Vivero Growers last spring, and while mine is still small it's blooming beautifully right now. A HCWG employee told me she planted one 10 years ago in a hot, dry spot in her garden, and now it's 12 feet tall by 10 feet wide and needs hardly any supplemental water. That's a lot taller than my preliminary online research indicated, but when I ran home with her words ringing in my head and took a look, I decided there's room if mine gets that large. Bring it, 'Traveller'.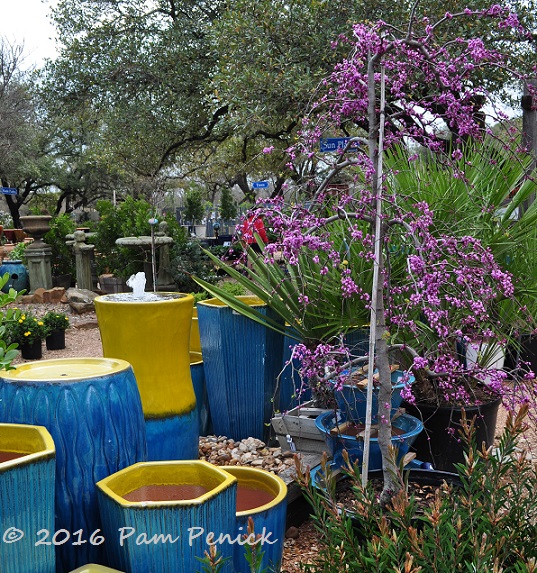 Here's another beauty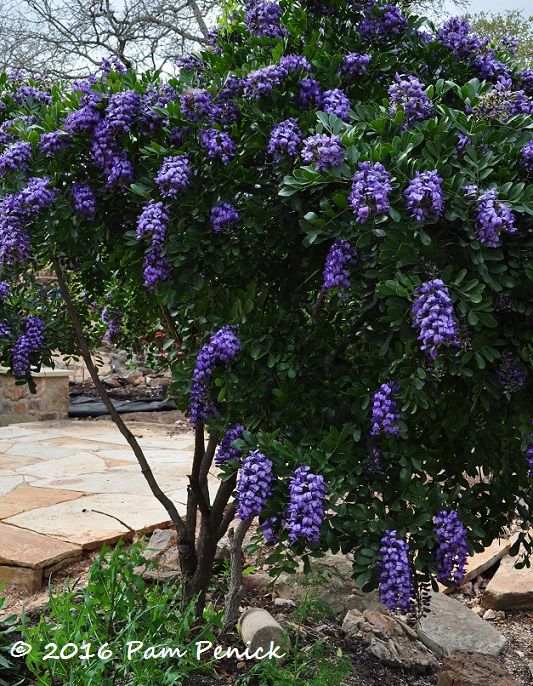 Texas mountain laurels (Sophora secundiflora) are blooming like crazy too, especially the big ones planted in their display gardens.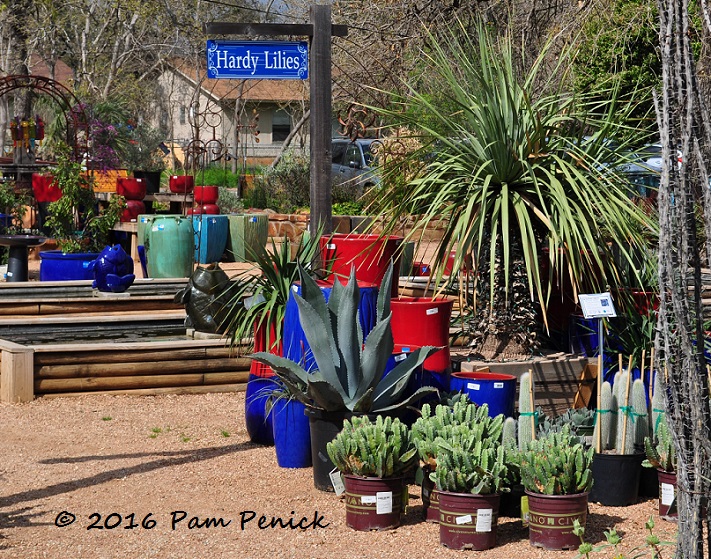 Thanks to Nathan, HCWG's staff horticulturist, you'll always find cool succulents and cacti here. If you're a risk-taker and have a taste for the unusual, you can even try Marfa-style ocotillo, which I see at right in this image.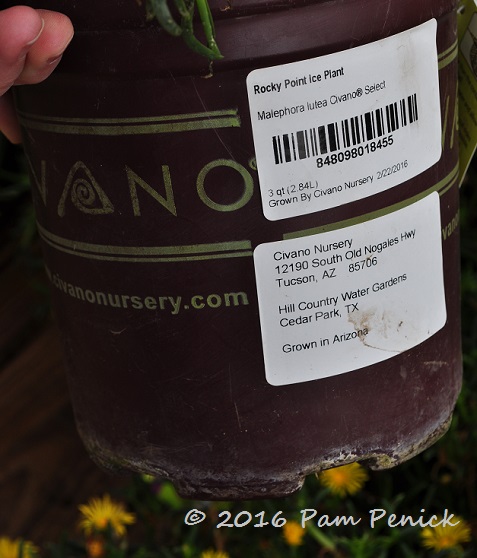 I noticed quite a few Civano Nursery plants for sale, which was a fun surprise. I visited Civano Nursery in Tucson a couple of years ago. HCWG must be seeking out desert species to give Central Texas gardeners more options for their dry gardens. Watch the hardiness zone though; some of these need winter protection in our climate.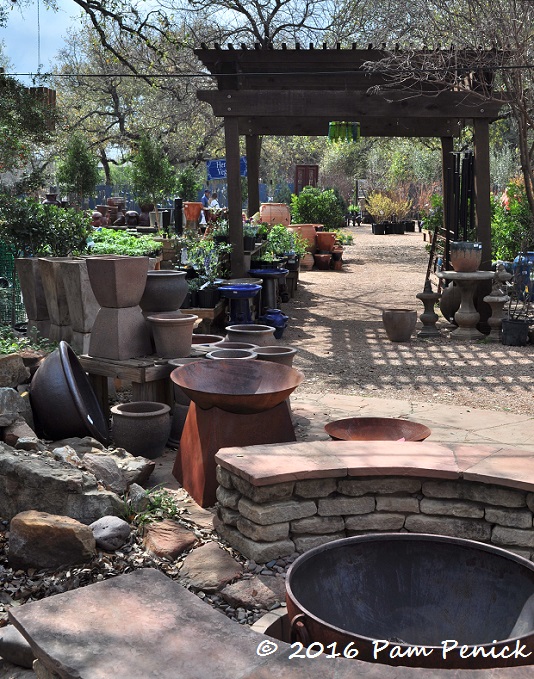 The pots and plants at HCWG are always temptingly arranged, and the display gardens will make you want to add pergolas and fire-pit seating in your own garden.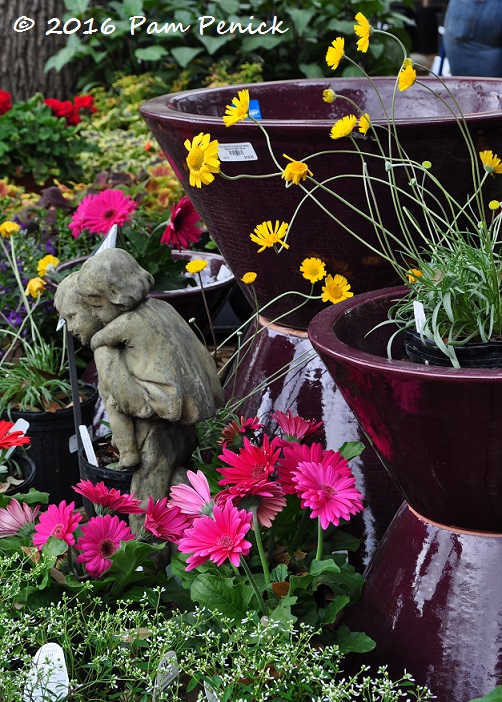 I like these wine-colored pots, especially paired with sunny native four-nerve daisy (Tetraneuris scaposa).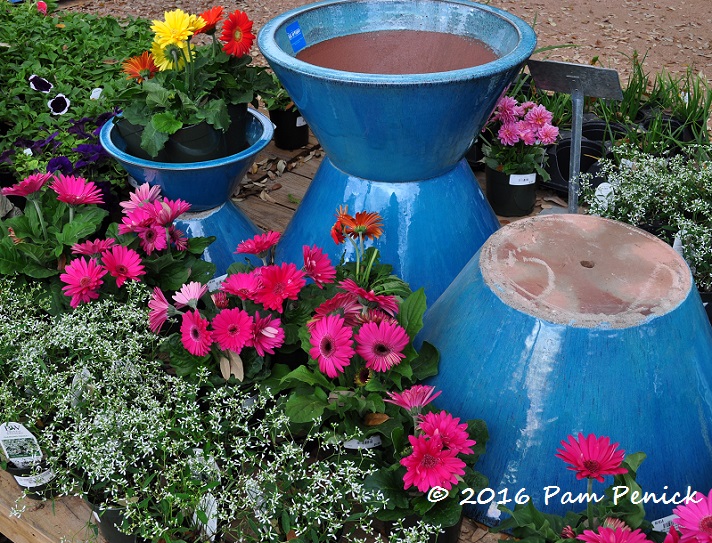 But I bought a blue pot for myself.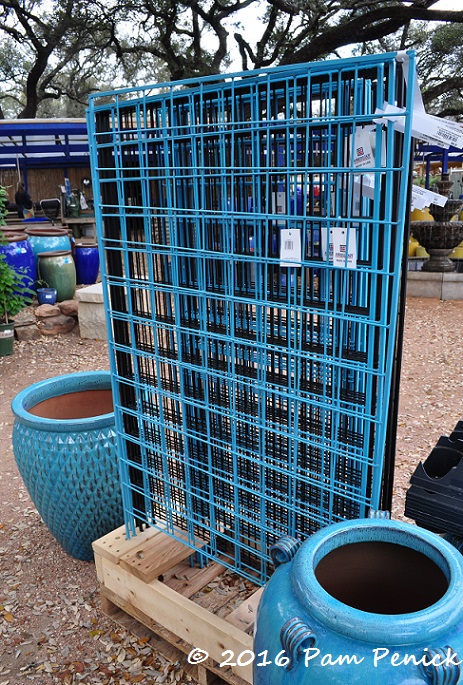 I was sorely tempted by these blue square trellises, a welcome contemporary alternative to the traditional fan-style or scrolled trellises available at the box stores.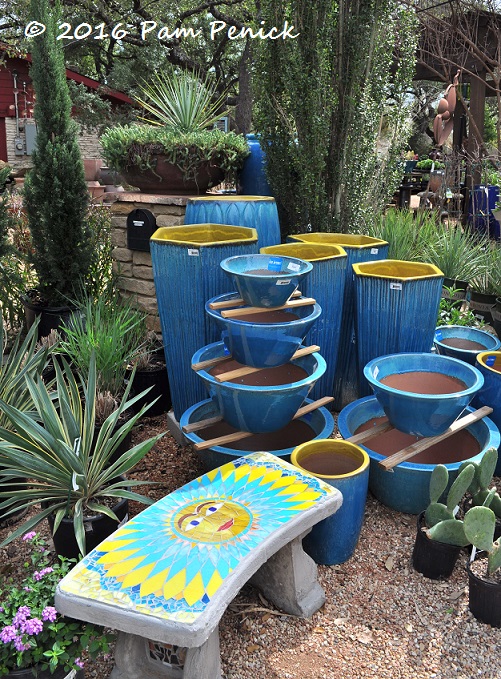 More blues and a fun-in-the-sun, mosaic-tile bench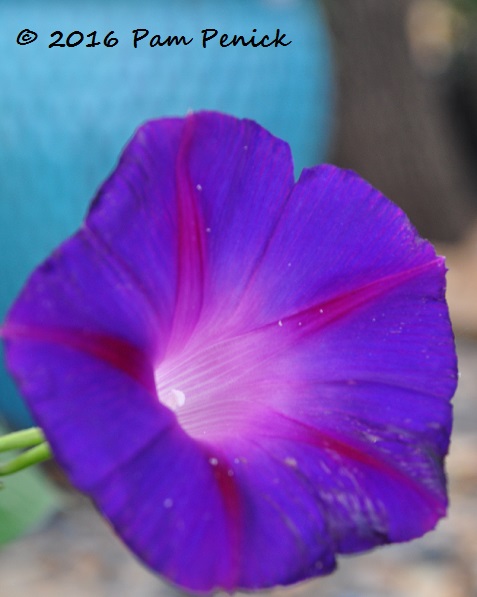 I've had vines on the brain lately, so I stopped to admire this morning glory…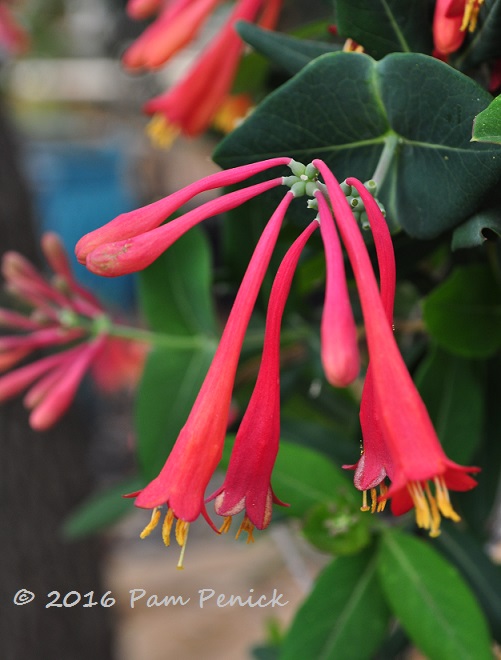 …and native coral honeysuckle (Lonicera sempervirens)…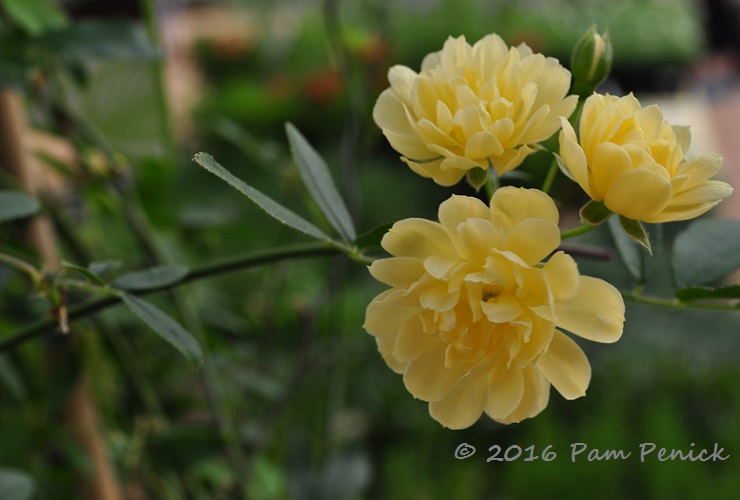 …and Lady Banks rose. It's not really a vine, but it grows like one, only bigger. You've been warned.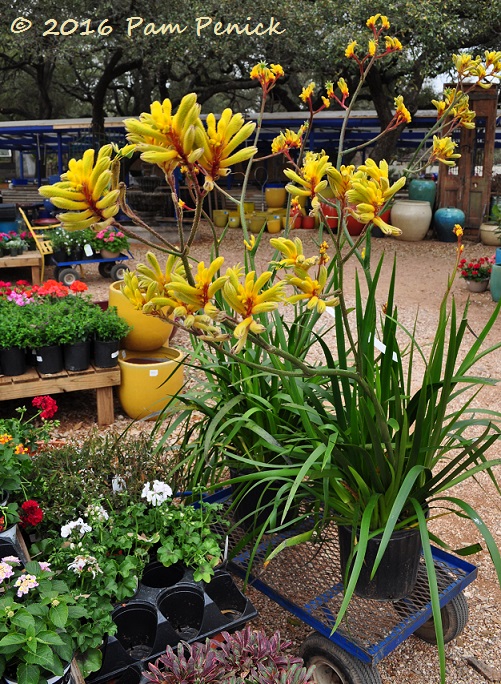 Australian native kangaroo paws (Anigozanthos) — oh, how I want them to grow here. Has anyone reading this had any luck keeping them alive during our steamy summers?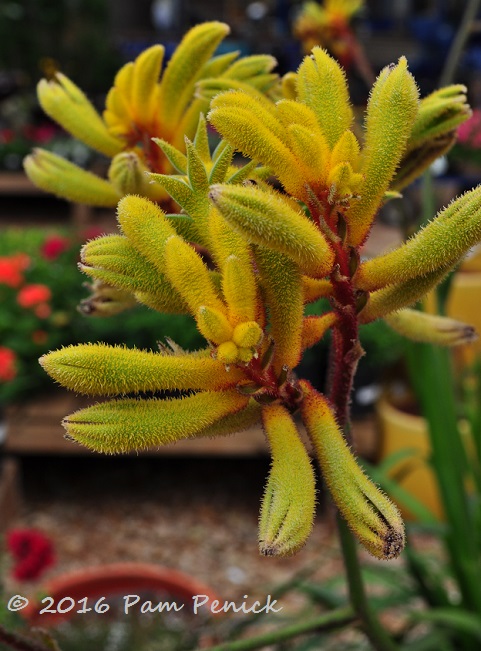 I love those fuzzy flowers.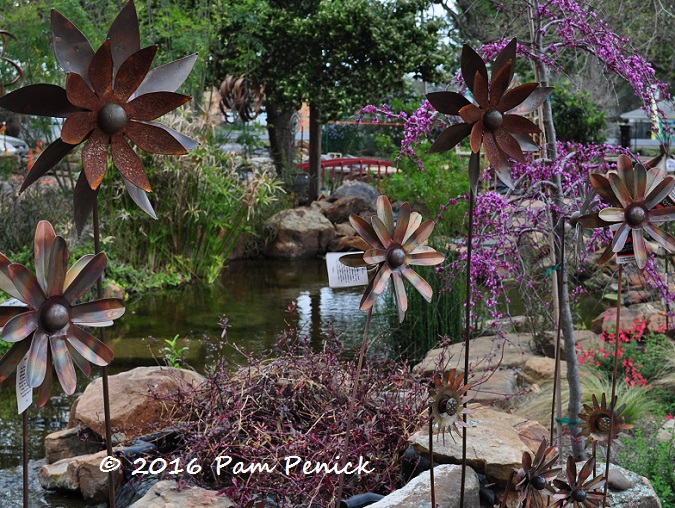 Over the years I've done a lot of birthday and Mother's Day shopping at HCWG. They always have fun garden decor, like these metal flowers…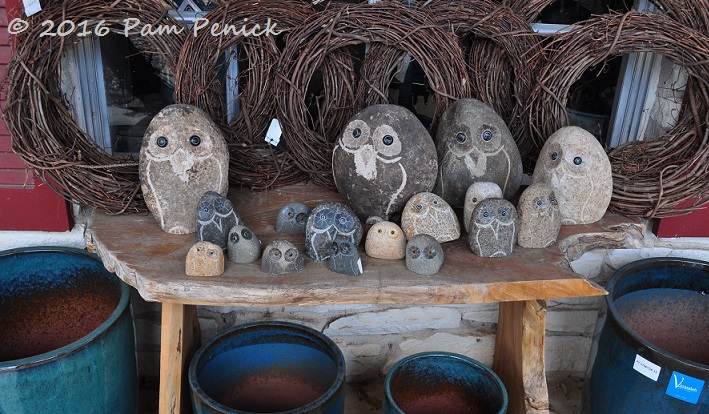 …and stone owls…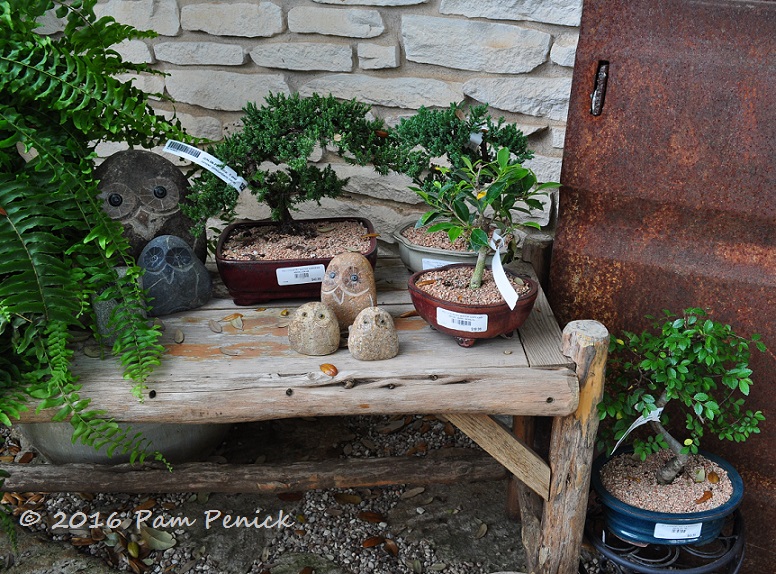 …and even bonsai.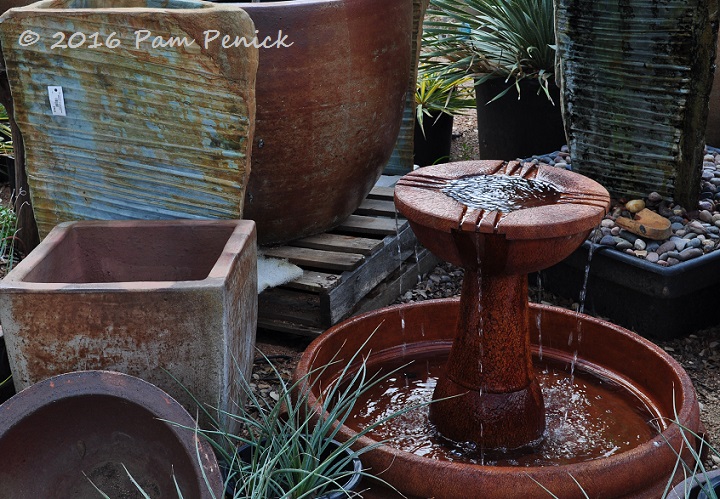 If you want to add a fountain or pond to your garden, there's no place better. I bought my disappearing fountain here, as well as the supplies, fish, and plants for my stock-tank pond.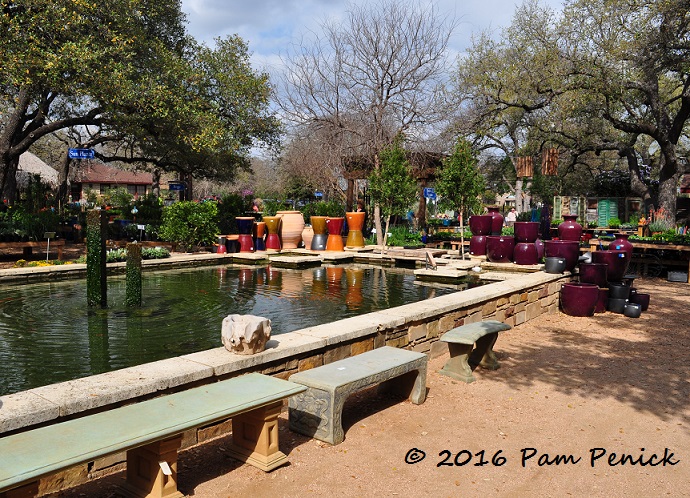 This large raised pond will be afloat with gigantic Victoria amazonica water lily leaves in a couple of months.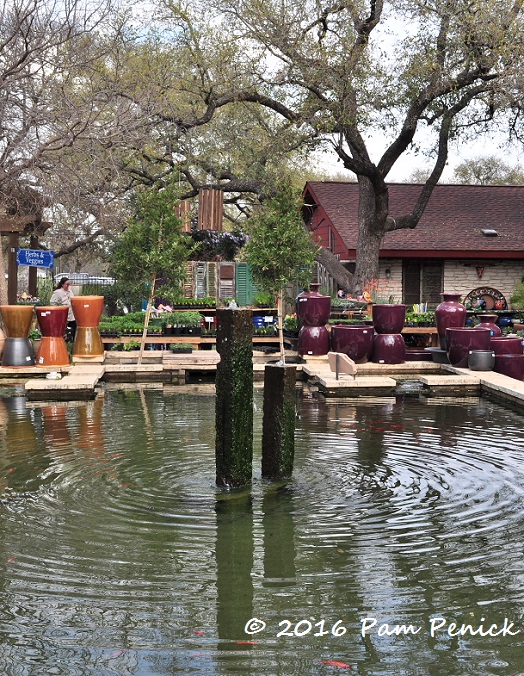 Tower-style fountains create a focal point for now.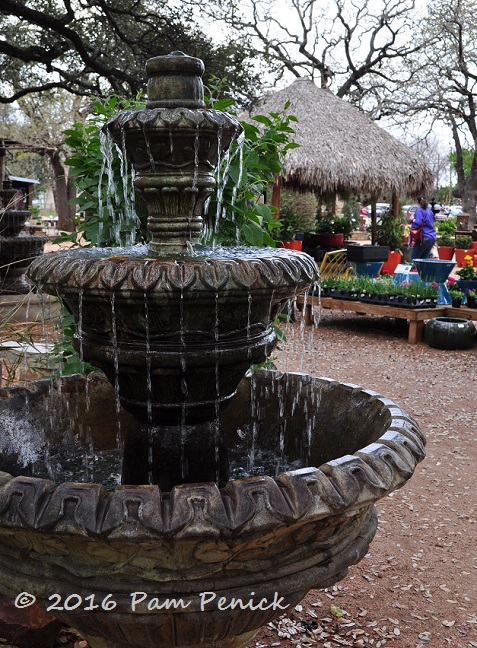 A tiered fountain is a classic choice for a Spanish courtyard or Mediterranean-style garden.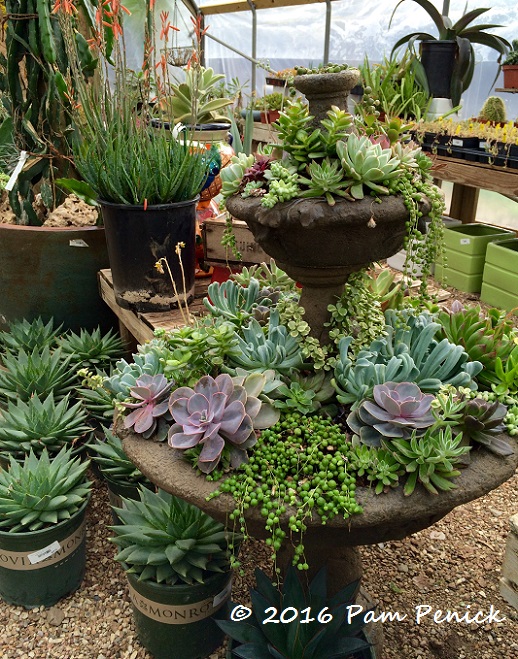 Or forget the pump and just add succulents for a dripping illusion!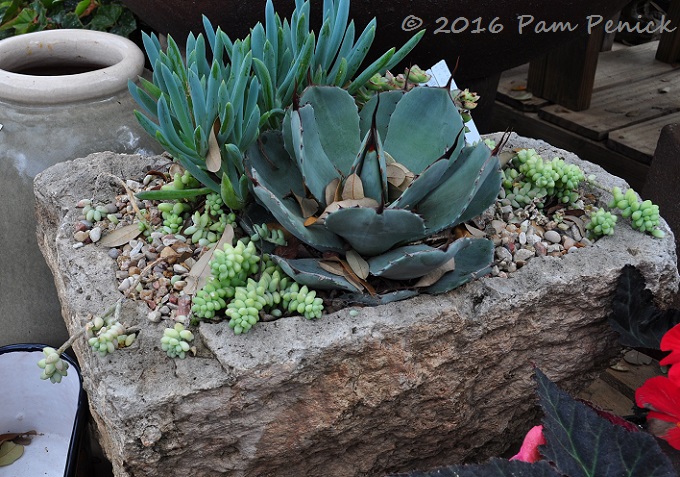 Succulents are so handsome, no matter where you plant them.

Don't forget evergreen shrubs for forming the backbone of your garden.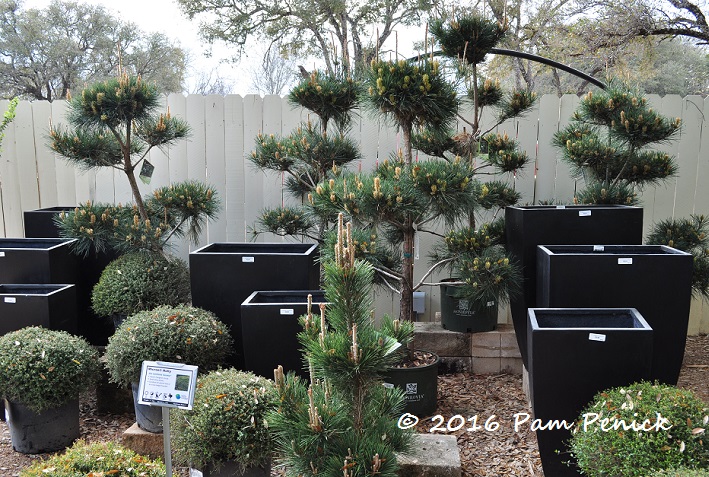 You don't see a lot of pines in Central Texas because our soil is alkaline, not acidic, so I was drawn to these 'Majestic Beauty' black pines. They look gorgeous with the black pots and would be lovely in a Japanese-style garden.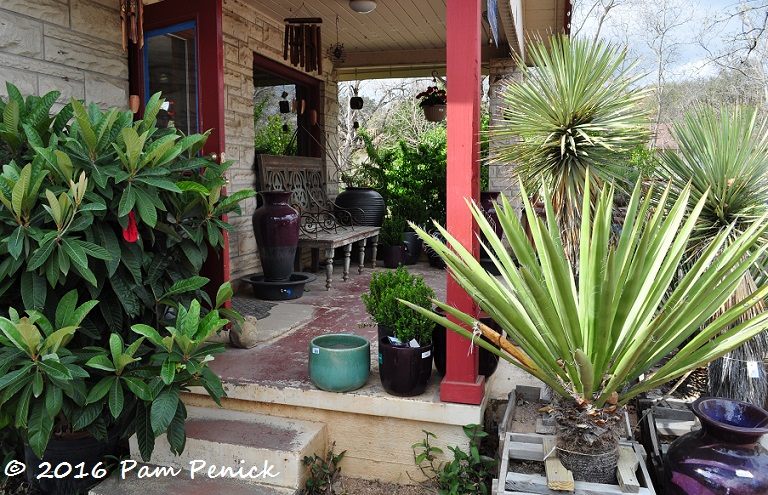 The nursery operates out of two houses on the property, one of which also functions as a gift shop. You'll find helpful employees and a great selection of plants, not to mention events and classes throughout the year (but no online links to those, for some reason). Go in May and June to admire their water lilies.
I welcome your comments! If you're reading this in an email, click here to visit Digging and find the comment link at the end of each post.
_______________________
Digging Deeper: News and Upcoming Events
Enter to win a free copy of The Water-Saving Garden this week at Gardening Gone Wild. Or go ahead and order one for yourself, and if you win the giveaway you'll have a perfect gardener's gift. :)
Read an excerpt from my new book, The Water-Saving Garden, at Garden Design: "Create the Illusion of Water with Plants: How to use grasses, trees, groundcovers and other plants to evoke water in a dry garden." Check it out, and let me know if you try any of these creative design ideas.
Do you review? Have you read The Water-Saving Garden? If you liked it or found it helpful or inspirational, please consider leaving a review — even just a sentence or two — on Amazon, Goodreads, or other sites. Online reviews are crucial in getting a book noticed. I really appreciate your help!
Come meet me at Zilker Garden Festival, Austin, TX, April 2 & 3
Come see me at Zilker Fest between 10 am and 2 pm, on both Saturday and Sunday, at the Author Booth (near the main building entrance), where I'll be signing and selling my books ($20 each). Zilker Fest offers all-day entertainment, vendor shopping, plant sales, demonstrations, live music, a beer garden and food vendors, children's activities, a garden train, a flower show, and a docent-led tour of lovely Zilker Botanical Garden. Click here for full details.
I'm on Instagram as pamdigging. See you there!
All material © 2006-2016 by Pam Penick for Digging. Unauthorized reproduction prohibited.
posted in
Agaves
,
Annuals
,
Arbors
,
Birds
,
Bonsai
,
Containers
,
Decor
,
Firepits
,
Fountains
,
Garden art
,
Nurseries & Shops
,
Owls
,
Ponds
,
Porch
,
Sculpture
,
Seating
,
Shrubs
,
Spring color
,
Succulents
,
Texas natives
,
Trees
,
Trellis
,
Vines
,
Water features
,
Water gardening
,
Xeric plants