February 29th, 2016
The Water-Saving Garden: How to Grow a Gorgeous Garden with a Lot Less Water
, is officially published! To celebrate, I'm throwing a book-release party, and you're invited!
Six garden blogging friends are joining me today to host on our blogs 7 giveaways that help people save water in their gardens. Woot! So come on in and enjoy the party, and be sure to visit each blog and leave a comment to enter the giveaways.
But first, I'd like to tell you a little about my book. The Water-Saving Garden is for anyone who cares about conserving our most precious resource: water, specifically our supply of freshwater. Offering smart gardening information about making a drought-tolerant garden, holding onto rainwater when it comes, keeping runoff-borne pollutants out of waterways, and irrigating efficiently, the book also gets creative with design ideas for evoking water in a dry garden through clever plant choice and stonework. My aim was to write a practical and accessible book that also inspires with beautiful photos of water-wise gardens from all parts of the country. An index of 100 water-thrifty plants helps you figure out good choices for your own particular region.
Would you like to read an excerpt? Visit The Water-Saving Garden webpage at Penguin Random House and click on "Read an Excerpt" or "Look Inside." If you like what you see, you'll find it available for purchase on Amazon, other online retailers, and anywhere books are sold.
And now it's time for the book-party giveaways! Blow your party horn and toss the confetti, and take a look at all these water-saving goodies for your garden! Enter all 7 giveaways detailed below (quick links appear at the end of this post) to maximize your chances of winning.
Want to collect free rainwater? This 55-gallon rain barrel from Epoch Rain Barrels will help you save water and store it for a non-rainy day. Epoch's rain barrels are upcycled from food-grade drums, so you have the satisfaction of knowing they're keeping materials out of the landfill too.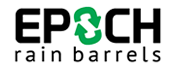 Epoch says that social responsibility is part of everything they do. According to their website: "We are not into mass produced, cheap products made overseas with inexpensive labor and manufacturing that affects the environment negatively. Exactly the opposite….We work to take waste products and re-purpose them into conservation products."
Gail at Clay and Limestone is hosting this giveaway. Gail's passion is wildflowers and other native plants that sustain pollinators in her Nashville, Tennessee, garden. She writes, "I've been gardening here for 30 years. Plants have to be rugged to survive our wet winters and dry summers. That's why I plant Middle Tennessee and Cedar Glade natives that will grow and thrive in clay and limestone." Gail also serves on the advisory committee of the Garden Bloggers Fling.
Hang a mod Circle Pot — you choose the color! — from your porch roof, pergola, or tree to display your favorite water-thrifty succulents in style. The Circle Pot is an original design by Potted, a hip Los Angeles garden shop with an online store. I have a red one hanging in my own garden, and I love it!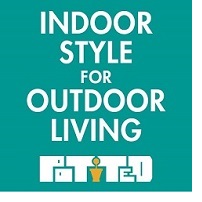 Potted is owned and operated by the creative duo of Mary Gray and Annette Goliti Gutierrez (whose Hollywood Hills garden I visited last fall). They write, "In 2004, we opened what we envisioned to be a mecca for like-minded, design-loving, garden enthusiasts – people like us who wanted to shop for the outdoor area of their homes with the same choices and style they have for their interiors. As we've evolved, we realized that what sets us apart is our continued desire to create our own products. This blend of original pieces coupled with our love of seeking out other unique artisans has helped us to develop our diverse style – from kitsch to cottage and vintage to modern."
Loree at Danger Garden in Portland, Oregon, is hosting this giveaway. She declares, "Nice plants are boring – my love is for plants that can hurt you. Agave, yucca, anything with a spike or spur!" She has an artist's eye for displaying these drought-tolerant beauties in contemporary pots — including a chartreuse Circle Pot of her own. Loree is a partner and the communications director at Plant Lust, and she serves on the advisory committee of the Garden Bloggers Fling.
This shapely, terracotta-lookalike Rainwater Urn from Gardener's Supply Company fits gracefully into any garden style. Made of UV-stable, scratch- and chip-resistant polyethylene, it has a matte-textured finish, spigot, and 5-foot hose with shut-off valve. The removable top includes a recessed basin that can be used to display a potted plant.

Based in Vermont, Gardener's Supply is 100% employee-owned and donates 8% of company profits to "programs and organizations that are using gardening to improve the world." Its mission since its founding in 1983 has been, "We are in business to spread the joys and rewards of gardening, because gardening nourishes the body, elevates the spirit, builds community, and makes the world a better place."
Dee at Red Dirt Ramblings is hosting this giveaway. She writes about gardening sustainably in rural central Oklahoma, amid challenging weather conditions that include heat, drought, and the occasional tornado. The author of The 20-30 Something Garden Guide, Dee is also a contributor to Oklahoma Gardener and a gardening coach.
This beautiful, 8-inch succulent planter from the well-curated online shop
Boxhill
arrives pre-assembled and ready to display, and it even includes a blank gift card in case you have the willpower to gift it to someone. Succulents are water-thrifty plants, making this planter especially easy to care for.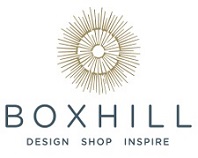 Elizabeth Przygoda-Montgomery, a Tucson, Arizona, garden designer and stylist, founded Boxhill as an online garden boutique selling modern, stylish furniture and accessories for outdoor living. Boxhill's mission is "to bring you products that you can't find 'just anywhere.' Our curated selection will help you to find and define your personal style, through products that combine quality craftsmanship with thoughtful design. Explore our inspired collection of outdoor and covered patio items, ranging from fire pits and dining tables, to the finest linens, to outdoor pillows, pots, and more."
Rebecca at Gossip in the Garden is hosting this giveaway. As owner and garden designer at Harmony in the Garden in northern California, she creates gardens that are not only beautiful but water-wise. She's the author of Refresh Your Garden Design with Color, Texture and Form and co-author of Garden Up!, as well as a contributor to Horticulture and other magazines.
Three lucky readers will each win a 15-pound bag of high-quality, 1/8-inch pumice from
General Pumice Products
. Pumice is ideal for planting water-thrifty plants like succulents that need excellent drainage. Mix it into your potting mix or add it to raised beds to provide excellent drainage for succulents and cacti.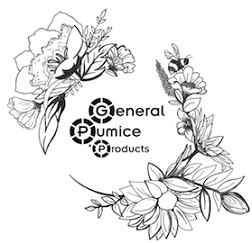 Owner Lexi Petelski is enthusiastic about the benefits of using pumice in a water-saving garden. She explains, "Pumice is rich in nutrients that boost growth in a variety of plant life, and it helps maintain healthy water absorbency in soils. Unlike perlite…pumice is completely organic and chemical free, and actually adds over 70 healthy minerals to your soil and plant life….[U]sing pumice in soils has proven to cut water usage by a huge percentage."
General Pumice Products sells its pumice to nurseries and growers all over the U.S., and they also run an online store, where you can order pumice by the bag.
Genevieve at North Coast Gardening is hosting this giveaway. Gen is a landscape designer who also operates a landscape maintenance business in Arcata, CA. She's also a contributing editor and staff writer for Garden Design magazine. On her blog, she shares reviews of garden tools and the best "garden tricks and organic solutions that aren't fiddly and stupid."
The Rain Barrel Depot
is offering two items to one lucky winner: a 50-gallon rain barrel and a stand on which to elevate it for better flow. The green rain barrel is made of 100% recycled plastic, and the Chesapeake Stand, constructed from pressure-treated Southern pine, is 12 inches tall and sized to hold a 45- to 55-gallon rain barrel.


Headquartered in Atlanta and owned by Gene and Peggy Kelly, the Rain Barrel Depot offers many different styles of rain barrels to suit your aesthetic, as well as kits for making your own rain barrels if you like to DIY. It also carries garden and kitchen compost bins. Gene says, "Our mission is to help people conserve water resources and be better stewards of the water we have been given." As his company's website points out, "We have all the water we will ever have, at this very moment."
Shirley at Rock-Oak-Deer is hosting this giveaway. A retired interior designer for commercial and public-sector projects, Shirley lives and gardens in San Antonio, Texas, where she plants for water thriftiness and deer resistance. On her blog, she shares her efforts in creating a low-water garden with year-round interest, especially out front, where she ripped out the thirsty lawn in favor of structural xeric plants.
High Country Gardens
, whose tagline is Pioneers in Sustainable Gardening, sells low-water plants and eco-friendly landscapes through its online catalog. Founded by Santa Fe horticulturist David Salman, High Country Gardens is a leader in water-wise plant offerings for dry regions of the U.S., and for those who just enjoy growing dry-loving plants. Today it's owned by
American Meadows
, and David is still hands-on, propagating plants for the catalog in his Santa Fe greenhouses and writing about his favorites on
High Country's blog
.

I'm hosting High Country's giveaway here at Digging. To enter, simply leave a comment on this post. The giveaway ends next Sunday at 11 pm CST, and I'll announce the winner here on Monday, March 7.
There are a few rules: One entry per person per giveaway, and you must provide a valid email address (will be kept private) when you enter. Winner must reside in the continental U.S. (excluding Alaska and Hawaii) for shipping purposes. The winner will be notified by email on March 7 and must contact me with his/her mailing address within 5 days to claim the giveaway; otherwise a new winner will be chosen. Good luck to you!
Update: The randomly chosen winner is Ally (comment #59). Congratulations, Ally! I'll send you an email and will need your confirmation and mailing address. Look in your spam folder if you don't see my email today.
Thanks for playing, everyone!
For quick access to all the giveaways in The Water-Saving Garden book party, follow these links:
Clay and Limestone:
55-Gallon Black Rain Barrel from Epoch Rain Barrels
Danger Garden:
Circle Pot from Potted
Gossip in the Garden:
Live Succulent Planter from Boxhill
North Coast Gardening:
3 bags of 1/8-in. pumice (to 3 winners!) from General Pumice Products
Red Dirt Ramblings:
65-Gallon Rainwater Urn from Gardener's Supply Company
Rock-Oak-Deer:
50-Gallon Rain Barrel and Chesapeake Stand from The Rain Barrel Depot
Digging:
$100 gift certificate from High Country Gardens
_______________________
Digging Deeper: News and Upcoming Events
Do you dig Digging? Please vote! Digging is nominated for the 2016 Better Homes and Gardens Blogger Awards in the Garden category. Click here to vote (refresh the page if necessary), and select "Skip This Category" to get to the garden blog nominees. You're allowed to vote once per day through 3/7. Thanks for your support!
Look for me on Instagram as pamdigging. See you there!
All material © 2006-2016 by Pam Penick for Digging. Unauthorized reproduction prohibited.
My new book,