February 21st, 2016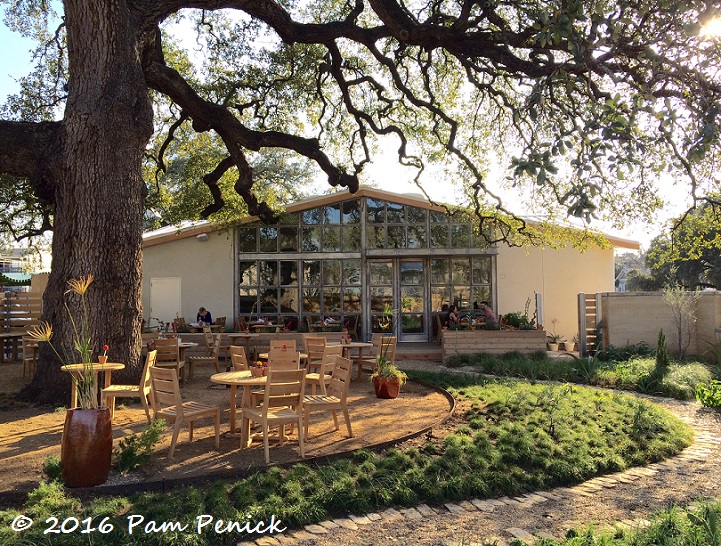 I'm not a foodie, and I don't get too excited about new restaurants opening on a daily basis here in Austin. And yet something about salad bistro Vinaigrette caught my attention when author Amy Stewart shared (from Eureka, CA!) an Austin Eater article about its recent opening.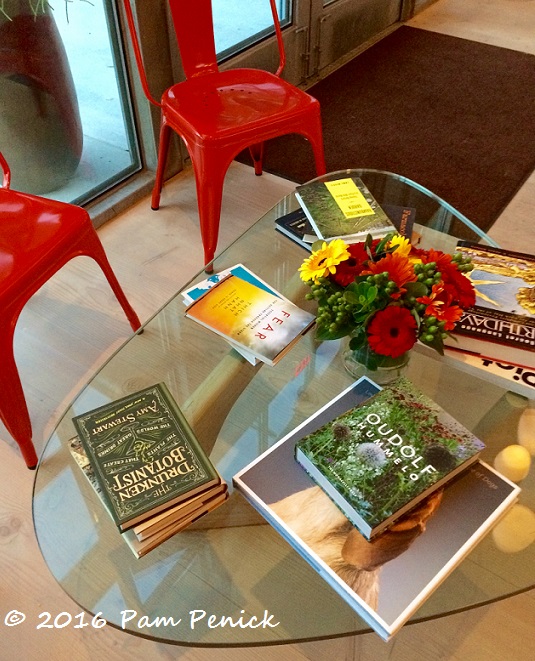 Could it have been the gardening books — including Piet Oudolf's recent Hummelo and Amy's own The Drunken Botanist — displayed on a table near the bar? Yes, indeed. That did it. I had to know what this garden-loving restaurant was all about.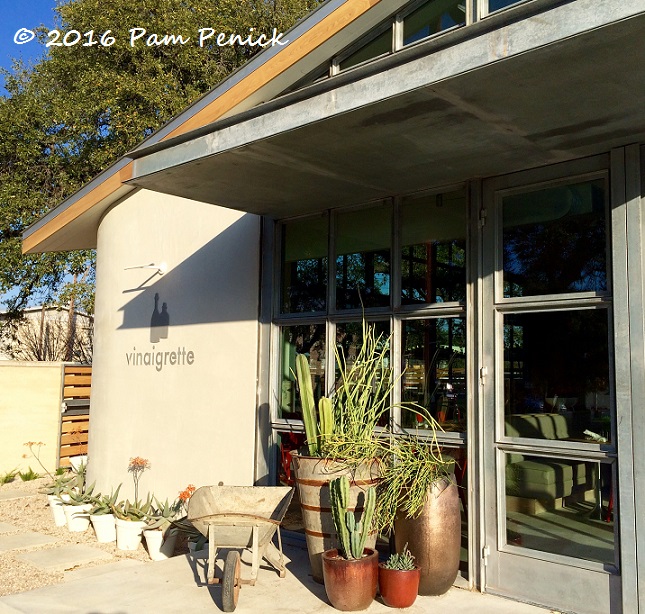 So it was that two days after Vinaigrette opened its doors on College Avenue, in Tree House Italian Grill's former location, I arrived for an early dinner with Chicago blogger, author, and motivational speaker Shawna Coronado, who was passing through on her way to a conference. Shawna's long devoted her own front yard to growing vegetables, but with a recent diagnosis of spinal osteoarthritis, she's now transforming her garden into a low-maintenance space and focusing in her writing and speaking on wellness and healthy living. (Check out her site for lots of garden eye candy, DIY projects, and wellness inspiration.)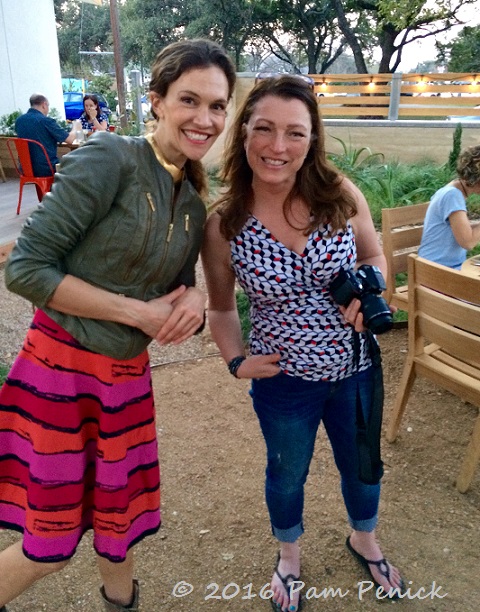 Before I arrived, Shawna (pictured at right) had already met owner Erin Wade (on the left) and was photographing the restaurant and its wares with a foodie's attention to detail. And no wonder. The place is irresistible.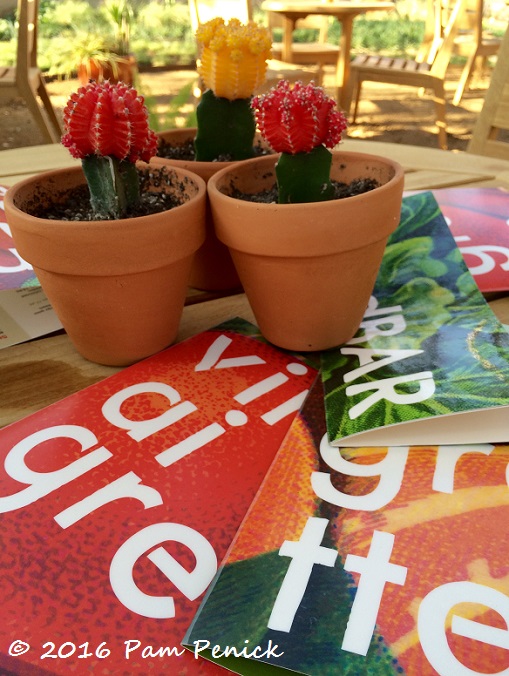 And so is Erin. A self-taught farmer from Santa Fe who opened a salad restaurant in order to offer healthy, delicious food like she'd enjoyed during a year in Italy, Erin now operates three locations of Vinaigrette in Santa Fe, Albuquerque, and, most recently, Austin. She also owns the farms that supply her chefs with fresh, organic ingredients. Food waste from the restaurants goes back to the farms to feed her pigs or be used for compost.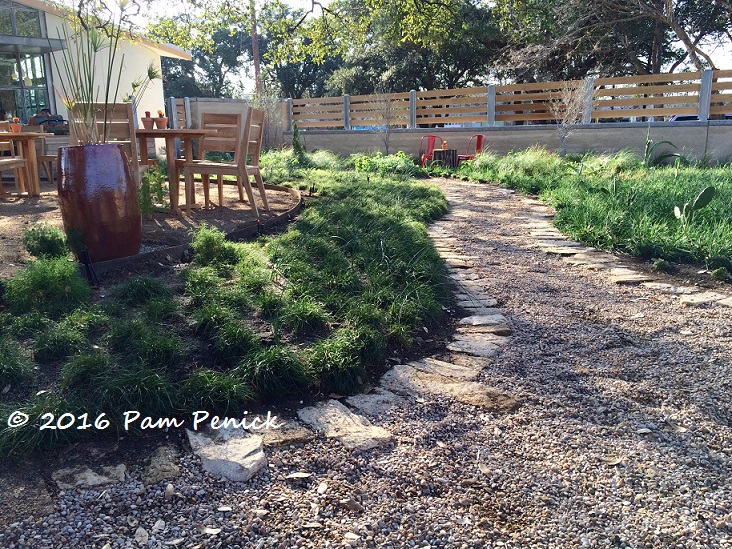 I raved about the beautiful patio garden, which is swathed in native groundcovers like Texas bluegrass (Poa arachnifera) and accented with drought-tolerant architectural plants like spineless prickly pear and agave. (There are no expanses of brown mulch in this brand-new garden. Thomas Rainer would be proud.)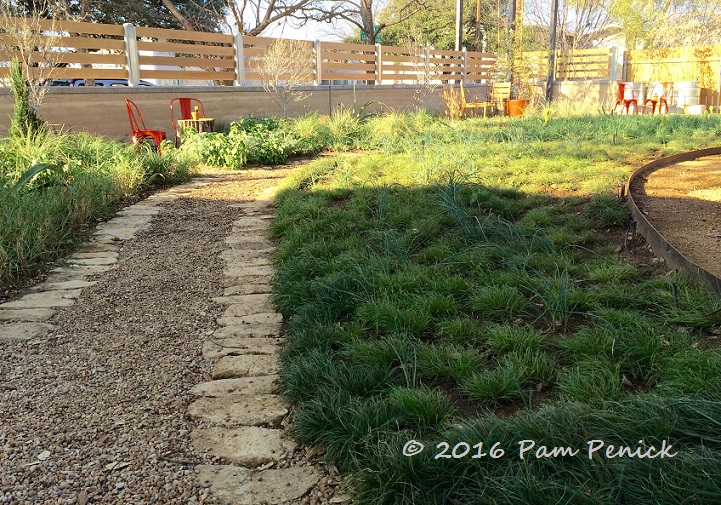 A curving, stone-edged gravel path leads through the grasses and skirts the biggest live oak I've ever seen, which, Erin explained, was surrounded by a concrete patio when she bought the place.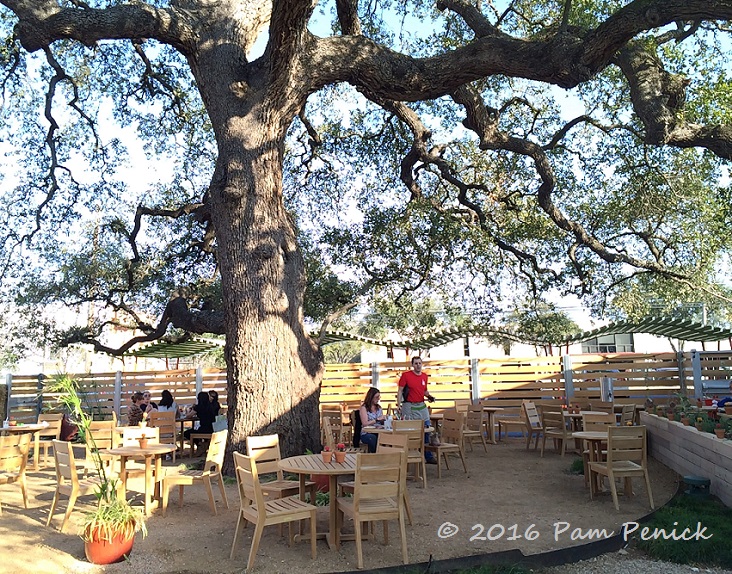 She immediately ripped out the concrete and laid permeable decomposed granite instead, kept in place with substantial steel edging.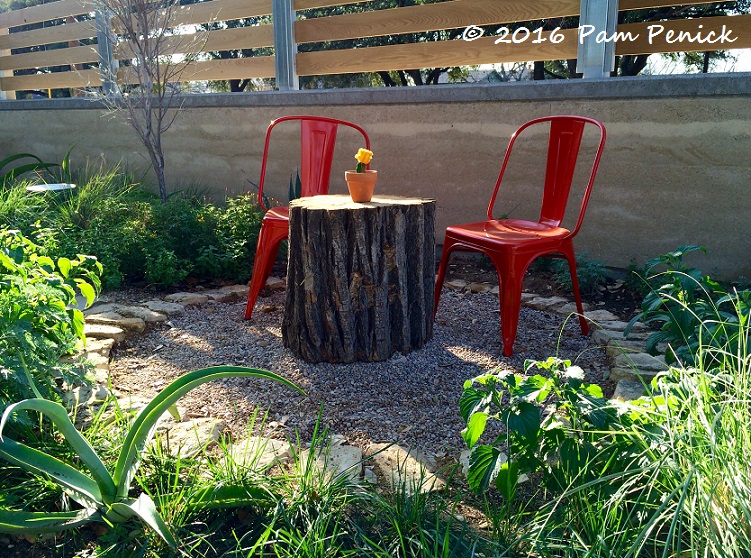 A rammed-earth wall and steel-and-wood-slat fence surrounds the garden, shielding views of the parking lot and street. "Who helped you with the landscape design?" I asked Erin, expecting to hear designer Mark Word's name. "I read a lot of books and did the design myself," Erin replied. Is there nothing this enterprising woman can't do?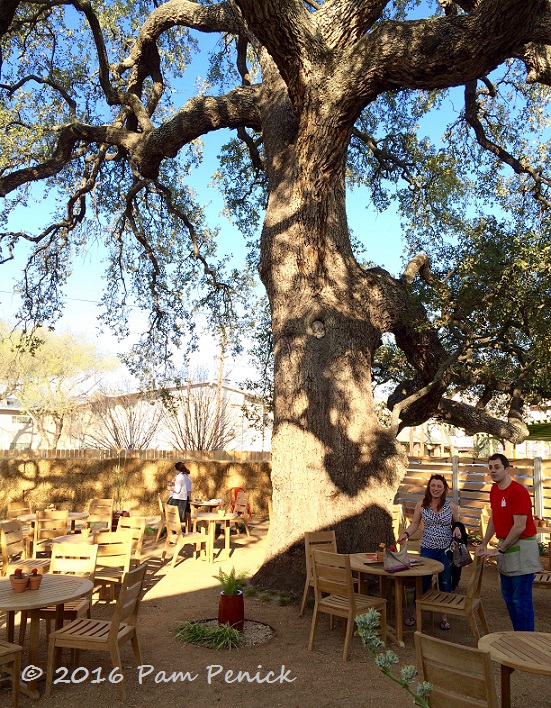 Shawna and I chose a table under the magnificent oak, and it was a joyful experience to sit under its spreading canopy.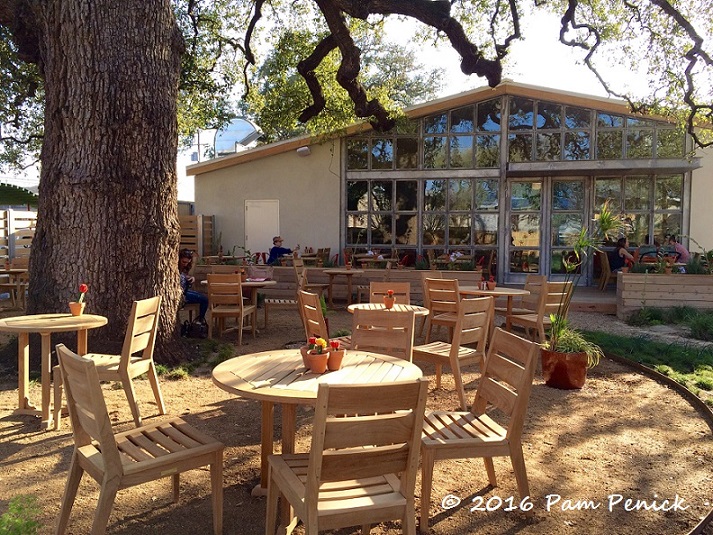 I kept popping up to take more garden pictures. It was a balmy, golden afternoon, and the place was not yet crowded with other diners.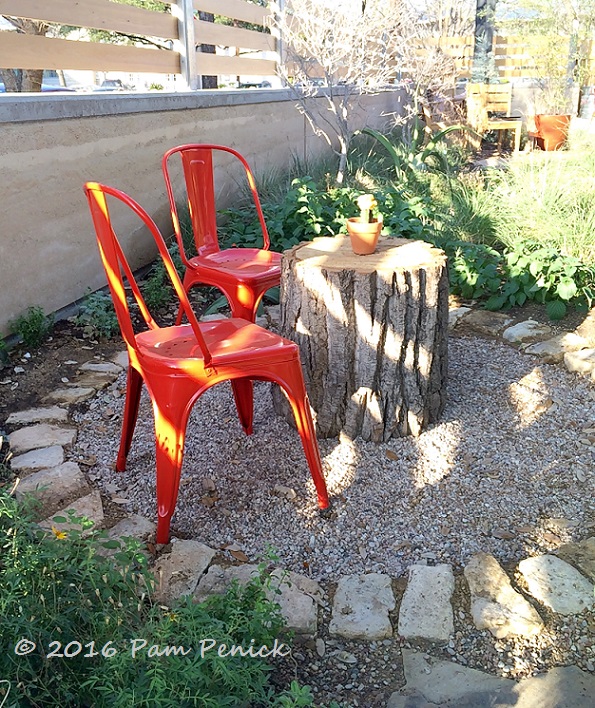 Red accents appear throughout the garden and inside the restaurant as well.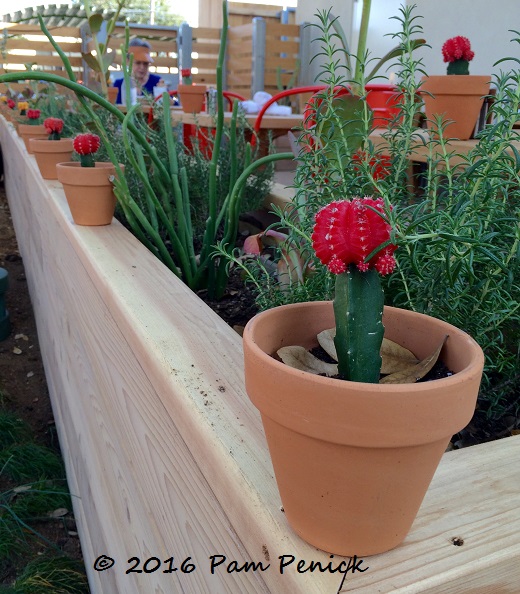 Even in the potted cacti that adorn each table and a deck rail.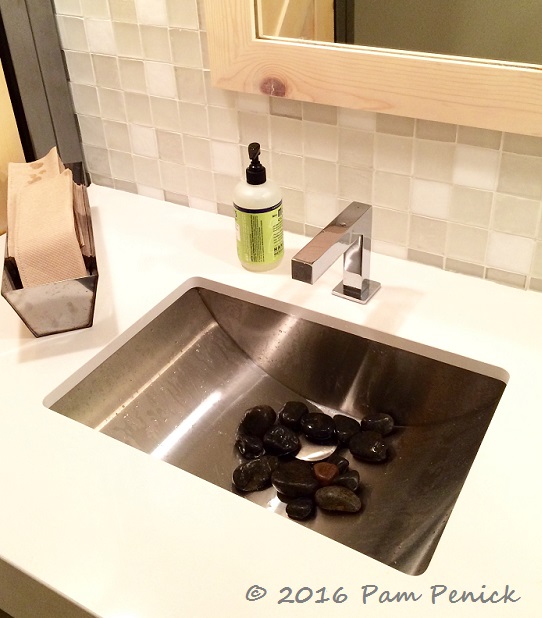 Am I the only one interested in the decor of restaurant bathrooms? I think not. In keeping with the restaurant's clean-lined, modern-farmhouse interior (oddly, I took no photos of the indoor seating), the lavatory design is spa-like — with the surprise of charcoal-colored river rocks in the stainless-steel sink basins…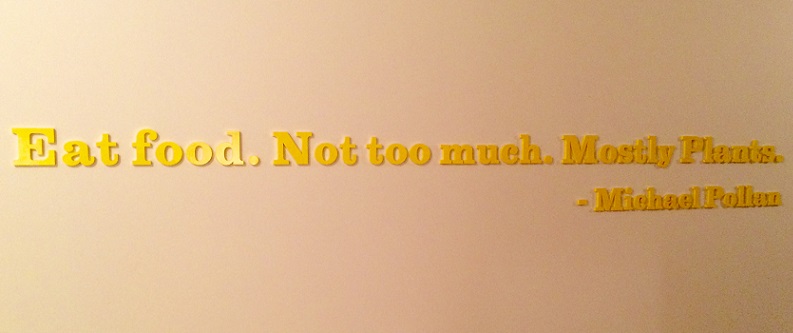 …and a Michael Pollan quote on the bathroom wall.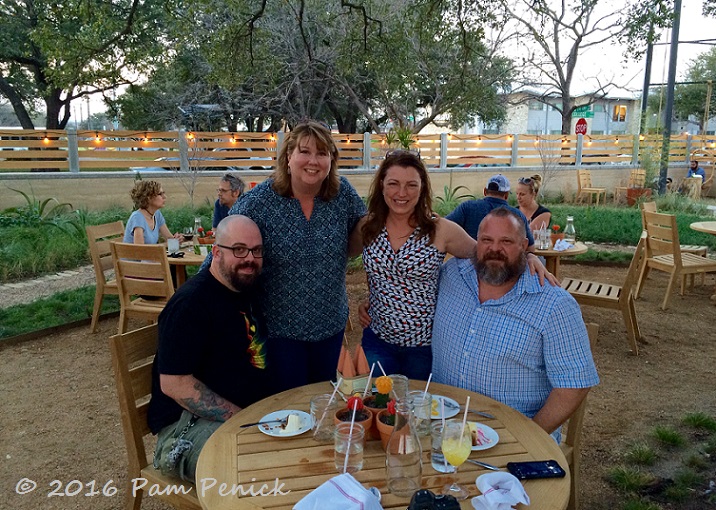 Shawna's friend Austin (whose garden I've had the pleasure of touring) and his partner, Jorge (on the left), joined us for dinner, and we enjoyed a fine meal together. My thanks to Shawna for inviting me, and to Erin for sharing her beautiful restaurant with us. Vinaigrette's patio garden is currently my favorite outdoor dining space in Austin.
_______________________
Upcoming Events and News
My new book, The Water-Saving Garden: How to Grow a Gorgeous Garden with a Lot Less Water, comes out next Tuesday! Click the link for more info and, if you like, to order online from the retailer of your choice. Check back soon for my book-release blog party with lots of giveaways of water-saving gardening items!
Join me for my kick-off garden talk for my new book, The Water-Saving Garden, on February 27, at 10 am, at The Natural Gardener nursery in southwest Austin. My talk is called "Hold the Hose! How to Make Your Garden Water Thrifty and Beautiful," and it's free to the public. Afterward I'll have books available for purchase and will be glad to autograph one for you! Dress for the weather, as the talk will be held in the big tent outside.
Look for me on Instagram as pamdigging. See you there!
All material © 2006-2016 by Pam Penick for Digging. Unauthorized reproduction prohibited.
posted in
Agaves
,
Cactus
,
Containers
,
Design
,
Fences
,
Garden tours 2016
,
Grasses
,
Groundcovers
,
Keep Austin Weird
,
Paths
,
Patios & decks
,
Restaurants
,
Seating
,
Signs
,
Sustainable Gardening
,
Texas natives
,
Trees
,
Walls