January 18th, 2016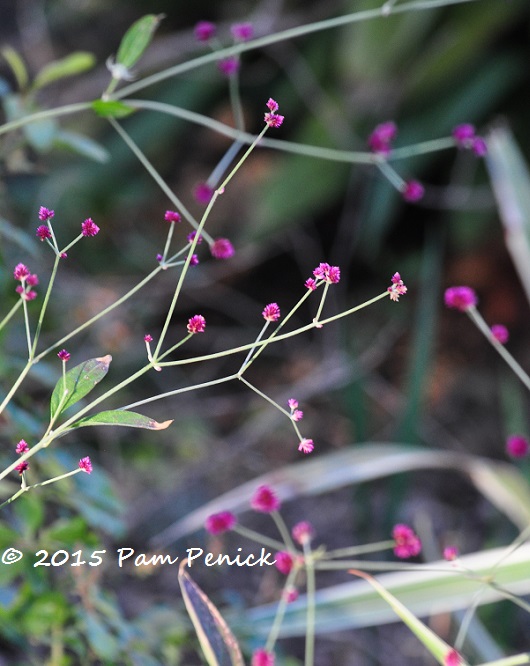 Since first planting it at Green Hall Garden in 2008, I've known this delicately branching gomphrena cultivar as 'Grapes', but it also goes by 'Little Grapes', 'Itsy Bitsy', and airy bachelor's buttons. By any name, it's a moderately reliable perennial in my fall garden, sometimes remaining in bloom well into a mild winter — like this year, still blooming in mid-January. Update 12/11/16: Jesse, a former employee at Barton Springs Nursery, where I bought this plant, tells me 'Grapes' was a guessed-at name when they acquired this plant from a grower who didn't know much about it. I suspect it was actually 'Little Grapes', so I'll change the name here from now on.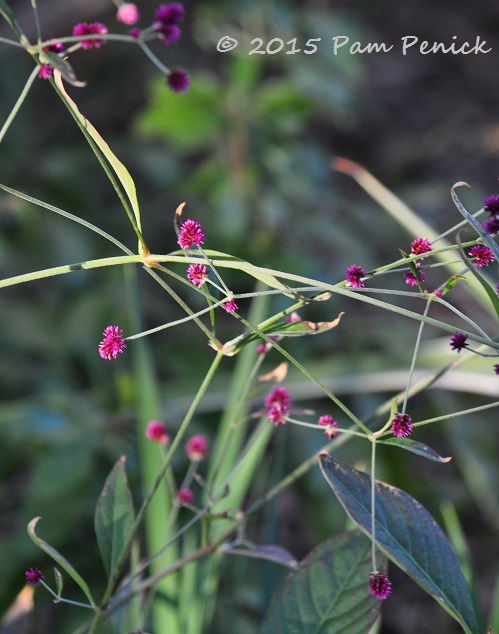 Its airy, slim-branching form resembles Verbena bonariensis. The singly held magenta flowers are about the size of a pencil eraser, or perhaps mouse-sized pom-poms.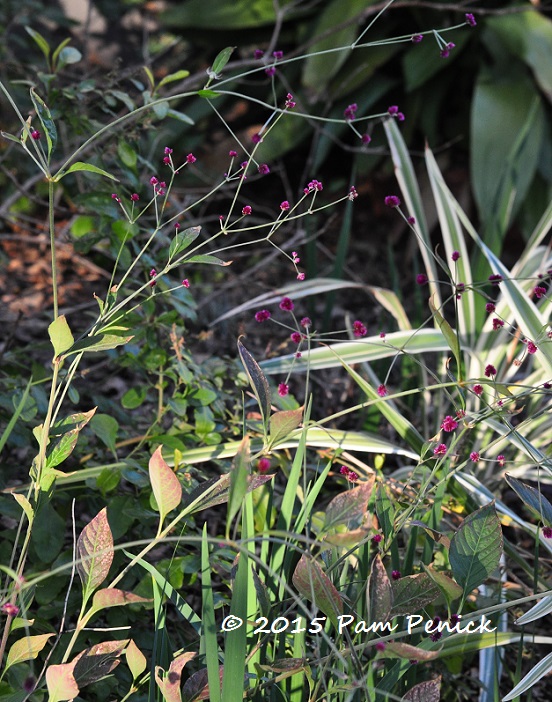 Normally a freeze would have browned the leaves and bleached the flowers by now, but this year it's still adding rich color to a part-shade bed beneath a crepe myrtle, where it combines nicely with variegated flax lily (Dianella tasmanica 'Variegata') and iris foliage. The leaves, you'll notice, have colored up with a tinge of magenta too.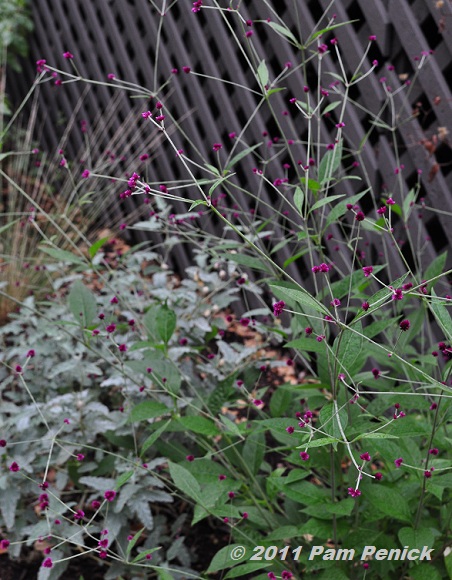 In its prime, in October and November, its green leaves contrast well with silver-leaved plants. I tried it with gray globemallow (Sphaeralcea incana) once, and loved the combo, but the globemallow didn't thrive in the part-sun bed I'd planted it in. I believe that 'Grapes', like other gomphrenas, would probably take full sun in our climate, but I can't confirm.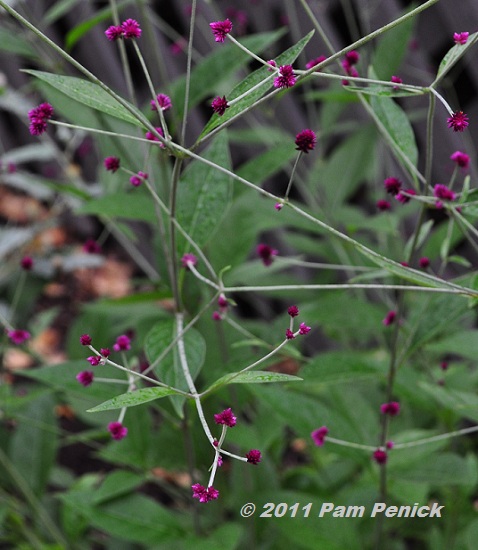 In spring and summer, you'll hardly notice 'Grapes', and it can be easy to forget. Then its fall explosion of tiny flowers is a sweet surprise. Normal winters kill it back to the roots, and a hard winter may kill it outright. But most years it'll come back reliably in spring. To give it a good start, plant it in spring, after any danger of frost.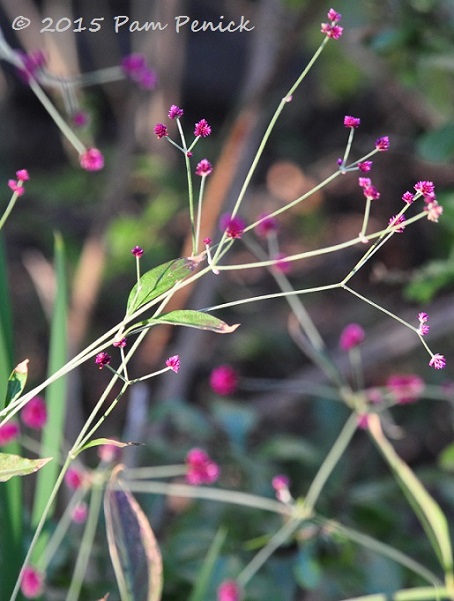 And consider growing it in a pot to bring those airy blooms up where you can really enjoy them. I used to grow 'Grapes' in a big stock-tank planter along with 'Macho Mocha' mangave and silver ponyfoot (Dichondra argentea), and the colors harmonized nicely.
Pick a bunch of 'Grapes' for your garden and enjoy its delicate beauty next fall!
Note: My Plant This posts are written primarily for gardeners in central Texas. The plants I recommend are ones I've grown myself and have direct experience with. I wish I could provide more information about how these plants might perform in other parts of the country, but gardening knowledge is local. Consider checking your local online gardening forums to see if a particular plant might work in your region.
All material © 2006-2016 by Pam Penick for Digging. Unauthorized reproduction prohibited.