January 16th, 2016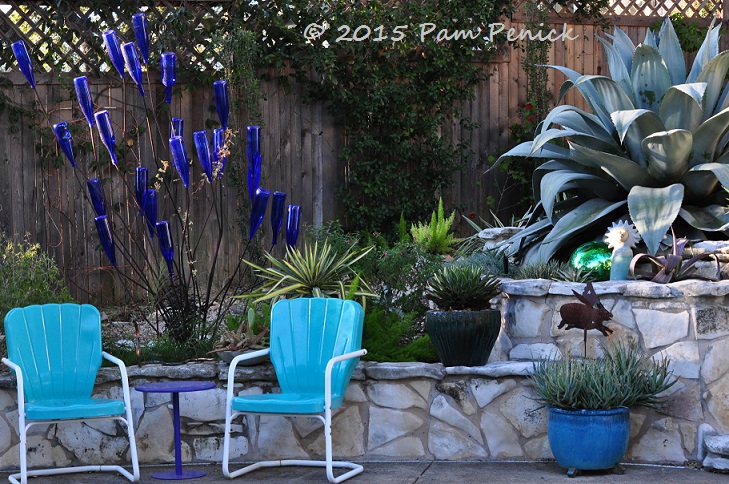 I wait all summer for winter days like these. China-blue skies. Warm sunshine on my face, the Death Star tame and friendly. A garden as yet untouched by a freeze — which is unusual, actually. We would normally have had several overnight freezes by mid-January, but so far central Austin remains unscathed.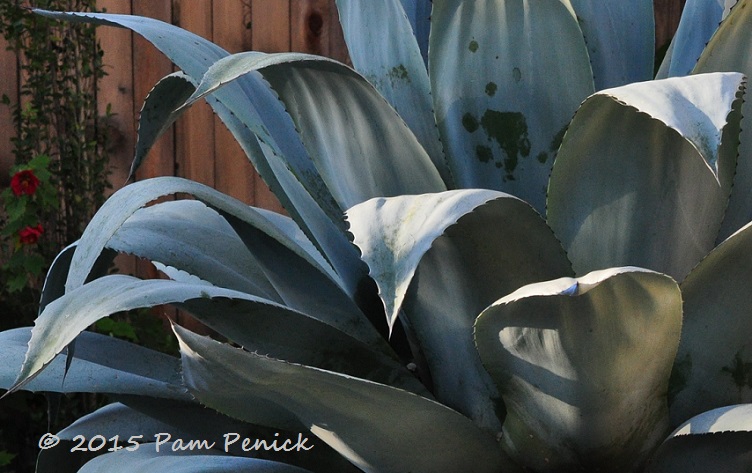 Which means that all kinds of foliage look pretty good. Of course, Moby, my whale's tongue agave (Agave ovatifolia), looks handsome all year long.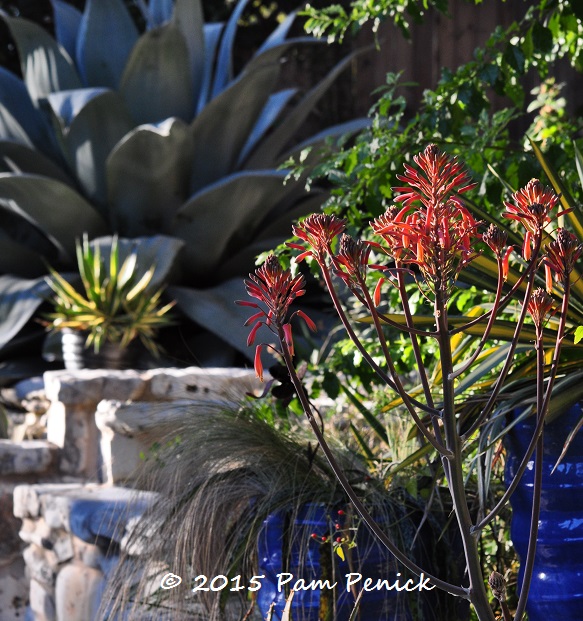 So does 'Quadricolor' agave, the green-and-gold agave in the background, in front of Moby. Surprisingly, one of the soap aloes (Aloe maculata) threw up a bloom spike late in the fall and is nursing it along, despite cool days and several near-freezing nights.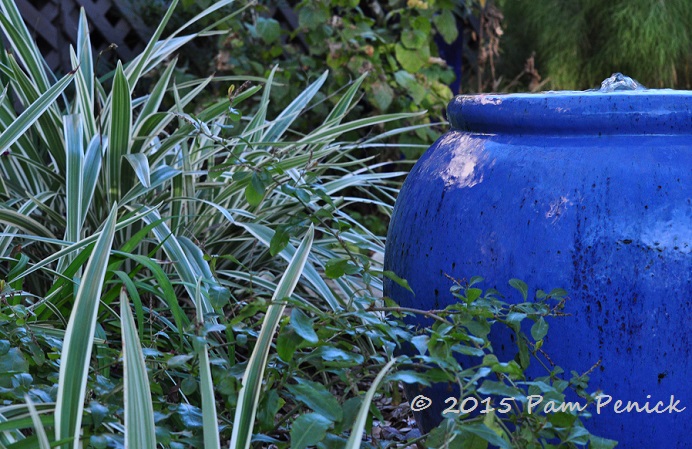 Plumbago (Plumbago auriculata) isn't blooming, but it's still green. Grassy variegated flax lily (Dianella tasmanica 'Variegata') is enjoying this warm winter.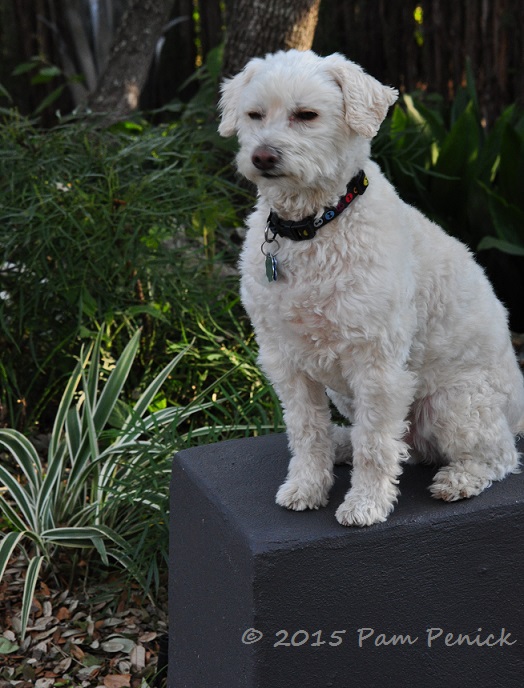 I couldn't resist snapping a few pics of Cosmo, sitting sphinx-like on the wall. That's more flax lily and 'Soft Caress' mahonia behind him.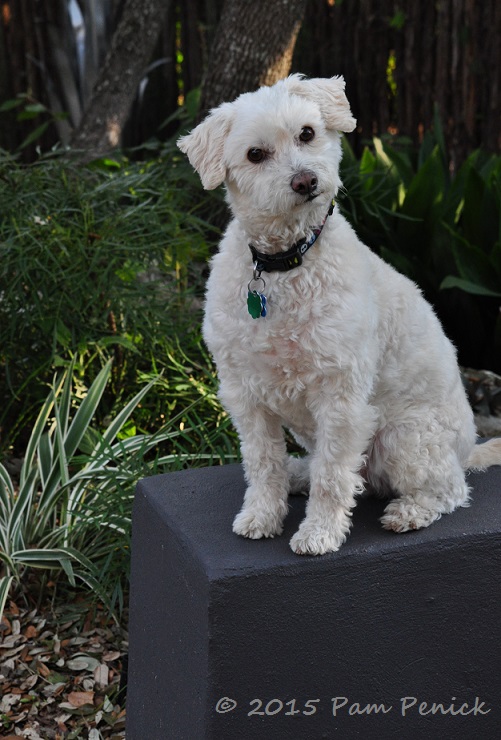 Squirrel?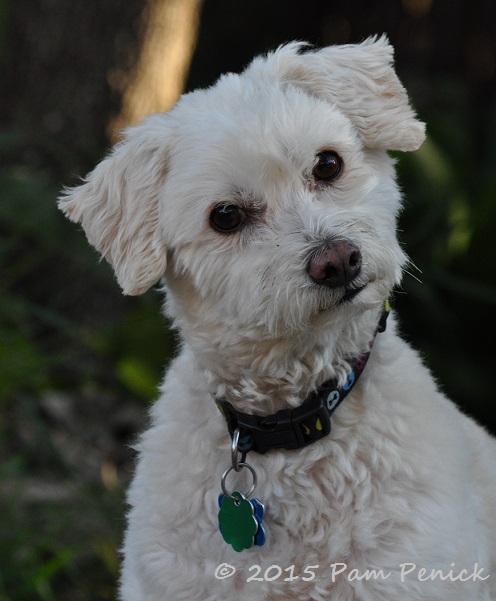 What a handsome boy!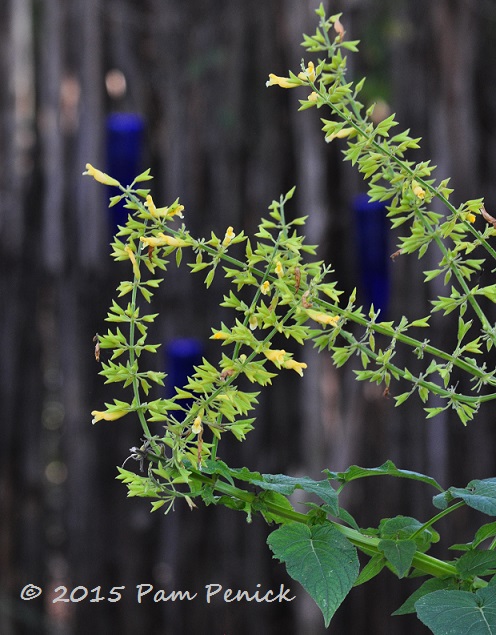 I can't believe forsythia sage (Salvia madrensis) is still blooming this late in the season. Its spade-shaped leaves have a raspy, cat's tongue texture.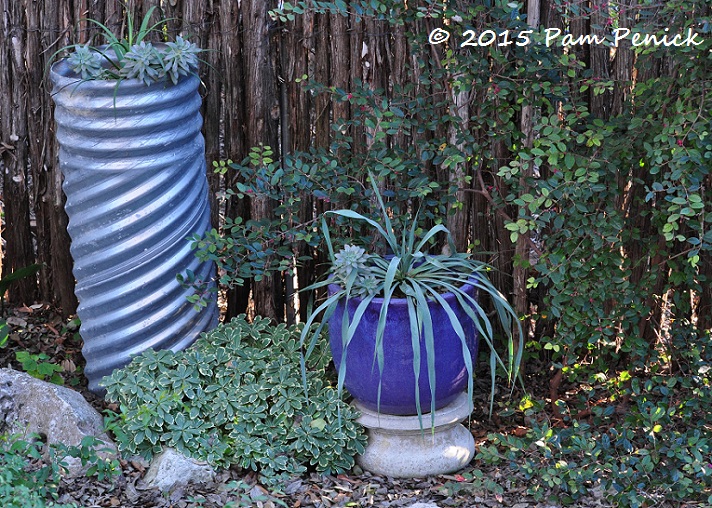 I'm enjoying this combo of potted succulents, 'Cream de Mint' pittosporum, and 'Sizzling Pink' loropetalum. Paleleaf yucca (Yucca pallida) shines in the purple pot, along with a sprig of cold-hardy ghost plant (Graptopetalum paraguayense). In the culvert pipe, a shade-tolerant squid agave (Agave bracteosa) is still small but will one day sprawl nicely over the edges. More ghost plant crowds around the edges.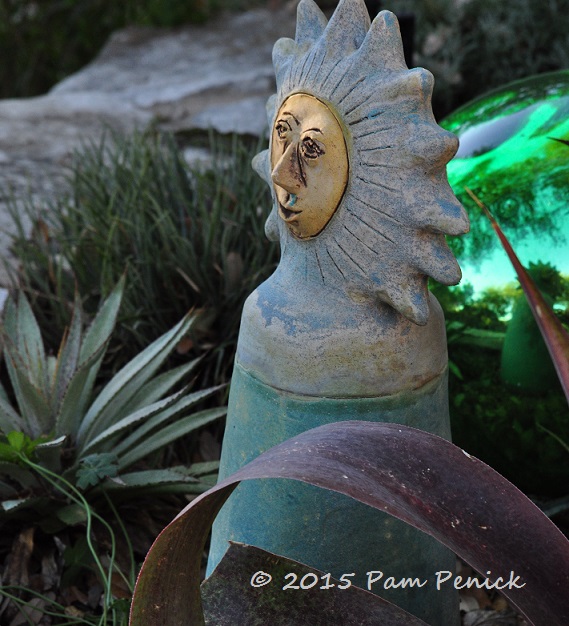 I've always liked this sun person ornament, partly because its sunburst-shaped head reminds me of an agave's form. A purple-leaved 'Macho Mocha' mangave is partly visible in the foreground. A baby winecup (Callirhoe involucrata), 'Bloodspot' mangave, and 'Frazzle Dazzle' dyckia line up behind it.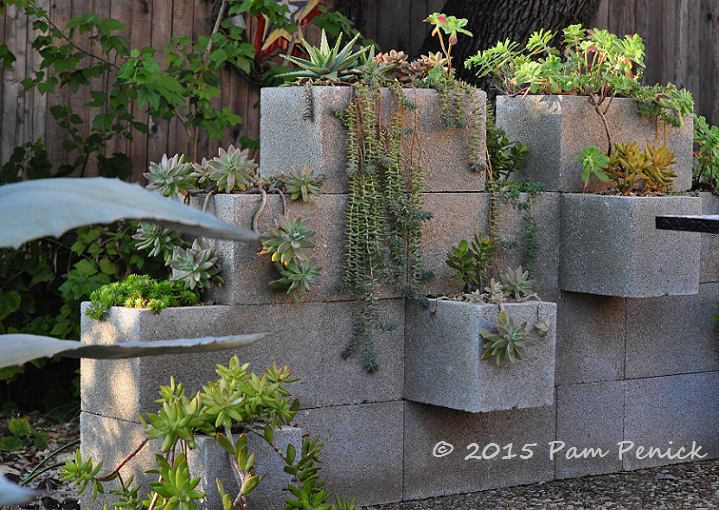 Let's finish the foliage tour with the cinderblock succulent wall (click for the how-to) on the upper patio.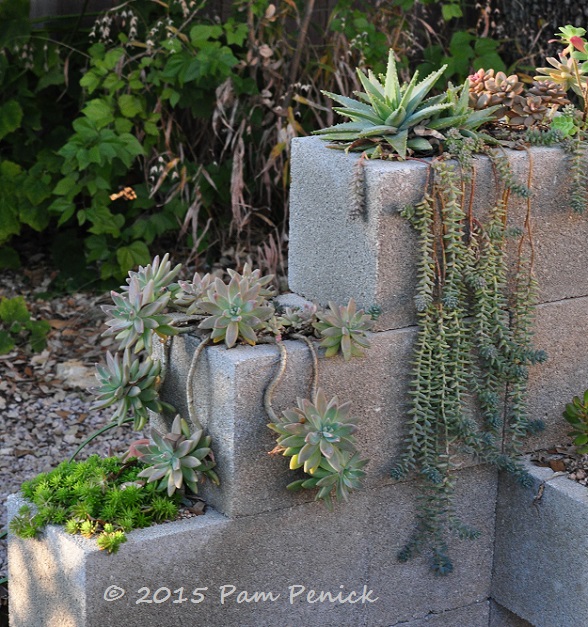 Sans freeze, the succulents are all looking really good.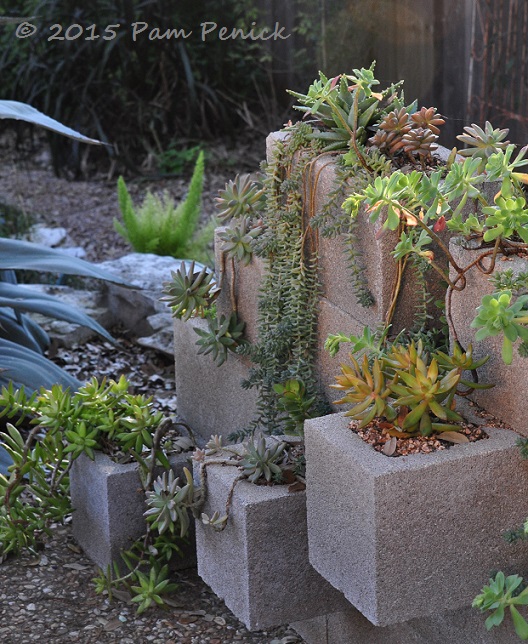 I think the cool weather suits them, so long as it doesn't get too cold.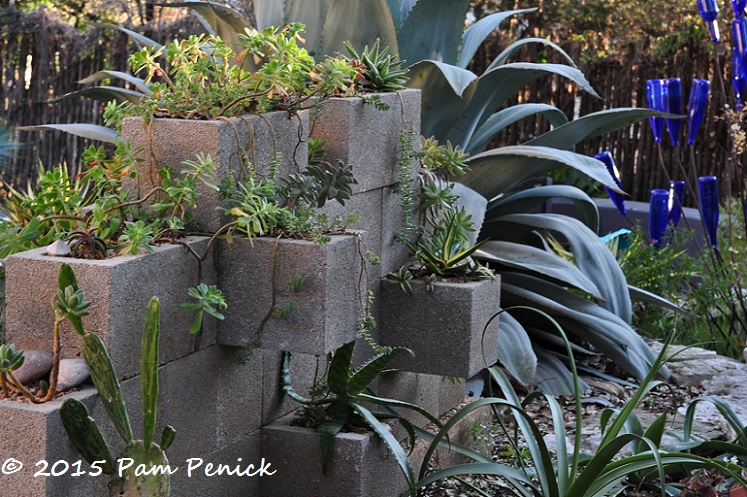 One last view, with Moby looming in the background.
This is my January post for Foliage Follow-Up. Fellow bloggers, what leafy loveliness is going on in your garden this month? Please join me in giving foliage its due on the day after Bloom Day. Leave a link to your post in a comment below. I'd appreciate it if you'll also link to my post in your own — sharing link love! If you can't post so soon after Bloom Day, no worries. Just leave your link when you get to it. I look forward to seeing your foliage faves.
All material © 2006-2016 by Pam Penick for Digging. Unauthorized reproduction prohibited.
posted in
2nd garden--2016
,
Agaves
,
Aloes
,
Bottle tree
,
Containers
,
Dogs
,
Foliage Follow-Up
,
Fountains
,
Garden art
,
Patios & decks
,
Seating
,
Shrubs
,
Succulents
,
Walls
,
Water features
,
Xeric plants