January 13th, 2016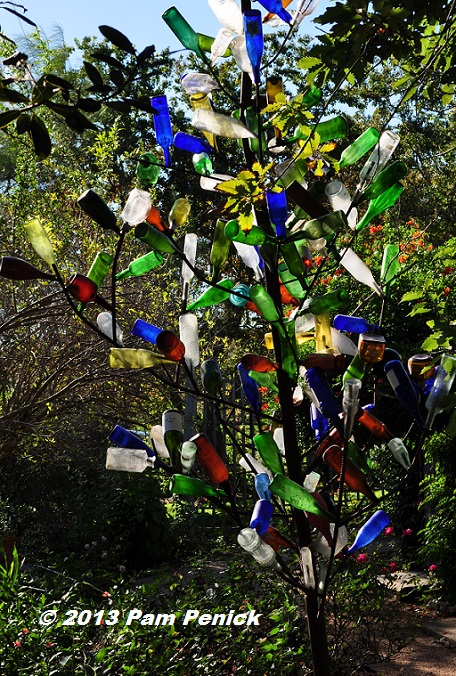 Writer and teacher Paula Panich visited my garden a few weeks ago, and if I hadn't already known she was from California by way of Connecticut — i.e., not a Southerner — she gave it away when she asked what was the story with the blue bottles displayed on rebar stakes.
"The bottle tree?" I asked, then launched into the history of this Southern tradition: how African slaves brought the practice to the South (a tradition that goes back even further, to ancient Egypt, according to Southern garden-culture expert Felder Rushing); how blue bottles were believed to trap evil spirits and keep them out of the house; how bottle trees as folk art spread throughout the South and beyond.
Today bottle trees in all their glorious variations are ubiquitous in Southern gardens, especially those with cottage-garden flair, being an easy way to add affordable sculpture and color. Blue bottles are most commonly used, but I see plenty of green, amber, and clear glass too. They jut from dead tree trunks, perch on nails hammered into branches, cap rebar or plastic stakes poked into the dirt, bristle from raw or painted wooden posts, and brighten metal "trees" purchased from garden shops.
Southerners today still call a certain shade of blue "haint blue" ("haint" comes from the word "haunt," an evil spirit). Paula rightly pointed out that in the desert Southwest, in cities like Santa Fe and Taos, people paint window frames and doors blue for the same reason: a folkloric superstition that it keeps out bad spirits.
To banish any winter dreariness — at least for my Northern Hemisphere readers — let's revisit some of my favorite bottle trees found in gardens in Texas and beyond (click the links for more pictures from each garden), starting with the multicolored bottle tree pictured above. It's one of many charming ornaments in the display gardens at Antique Rose Emporium in Brenham, Texas.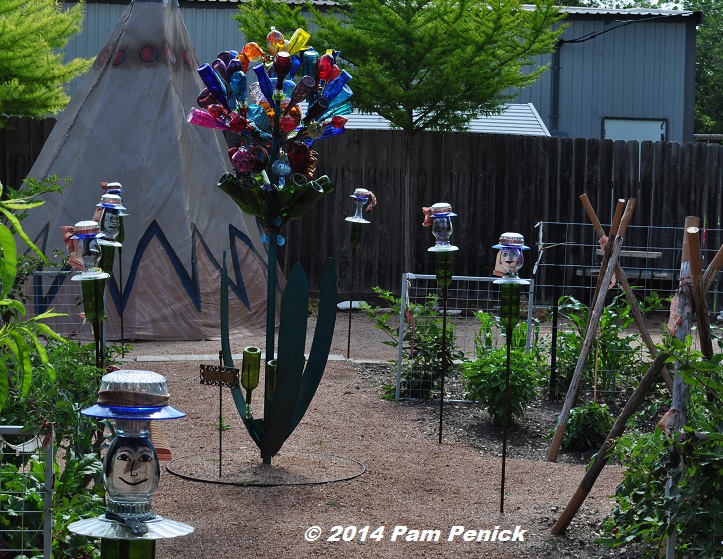 This flower-shaped bottle tree makes a colorful focal point in the Hutto garden of Donna and Mike Fowler.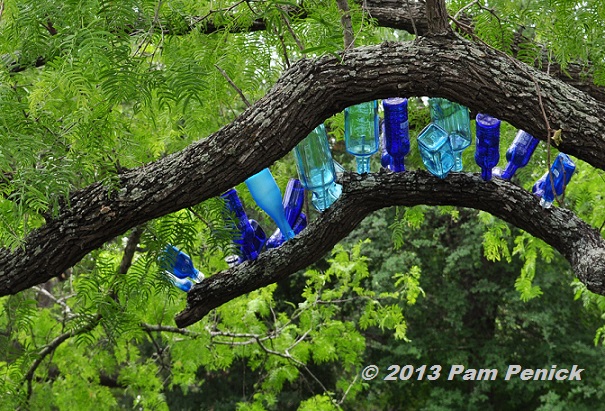 Carriage screws support an assortment of blue bottles on an arching mesquite branch in Lori Daul's Austin garden.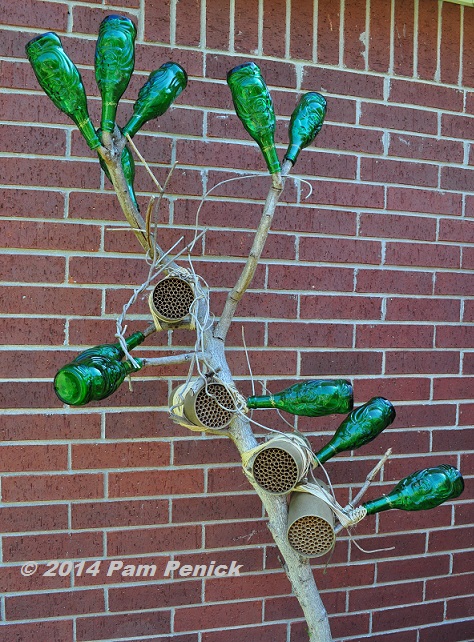 A bottle tree in Vicki Blachman's garden in Pflugerville holds insect hotels and Lucky Buddha beer bottles.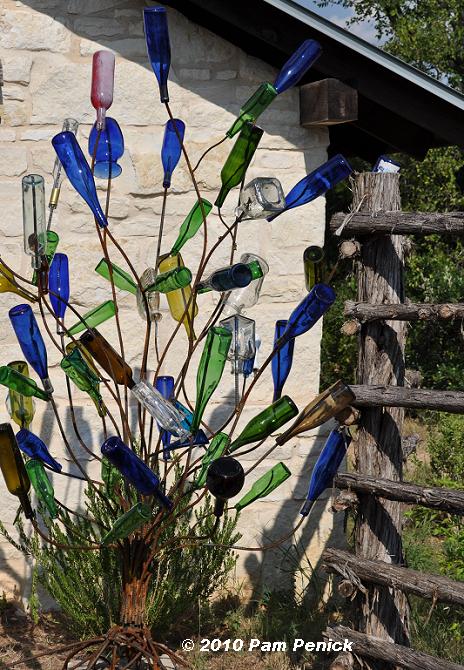 This bottle tree was part of a temporary folk art exhibit at the Wildflower Center in 2010.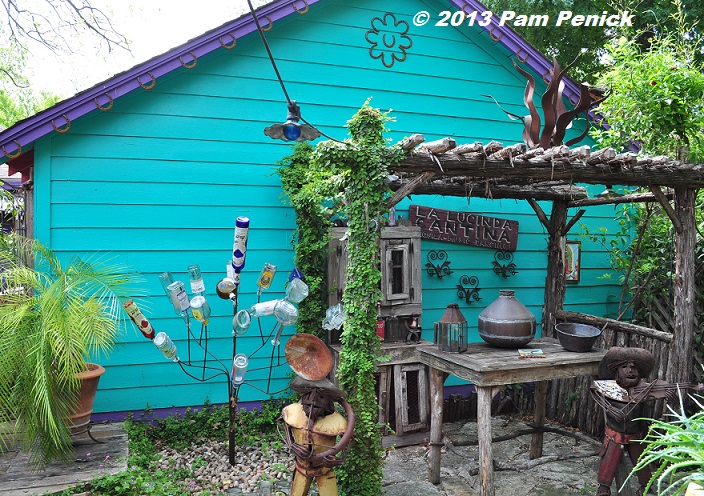 Lucinda Hutson's cantina garden in central Austin celebrates all things tequila, as evidenced by her tequila-bottle tree mulched with corks.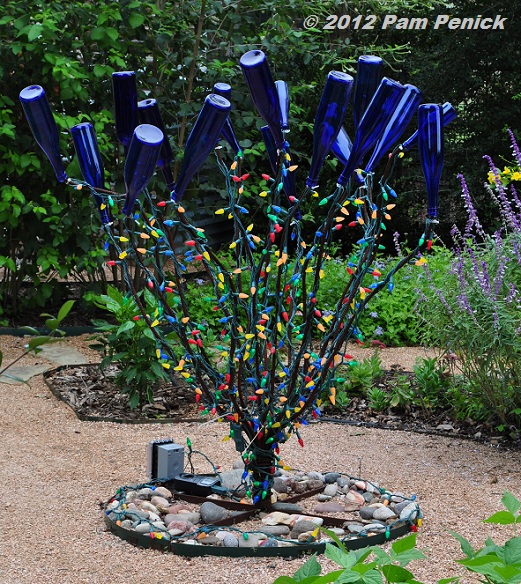 In the garden of Ann and Robin Matthews in southwest Austin, a blue bottle tree wrapped in colored lights anchors a circle-shaped vegetable garden.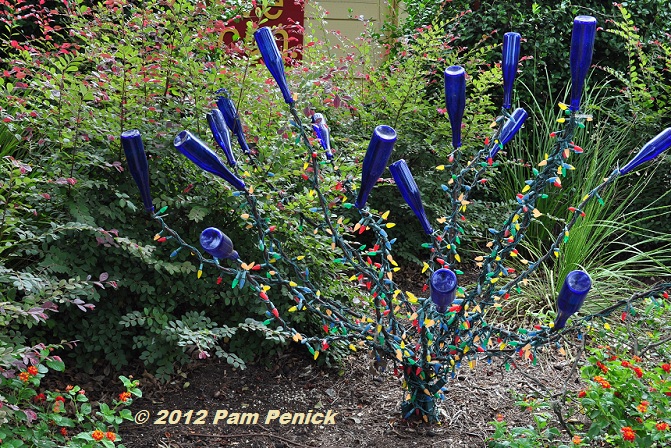 Their next-door neighbor, Donnis Doyle, put a similar bottle tree out front to greet her guests.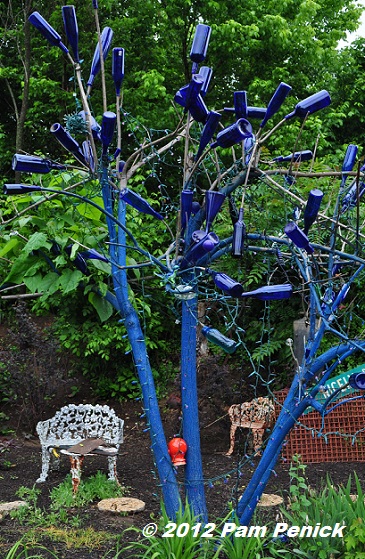 At the Asheville, North Carolina, Garden Bloggers Fling, I visited Christopher Mello's garden and saw a bottle tree that upped the ante with blue paint, bottles, and lights.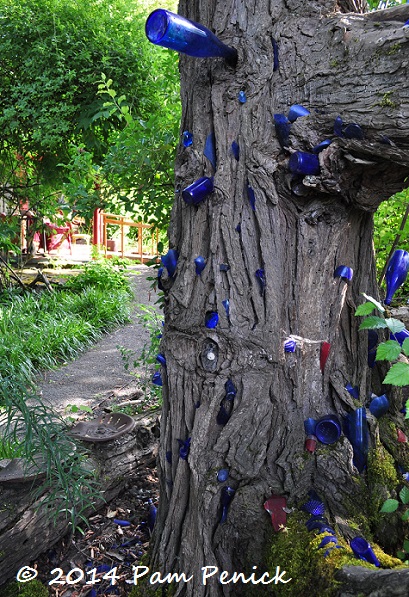 Occasionally I'll encounter a bottle tree outside the South, like this version at Bella Madrona garden in Portland, Oregon. Chunks of cobalt glass emerge from the folds of a massive tree trunk — like the pig's teeth in the wych elm of E. M. Forster's Howards End.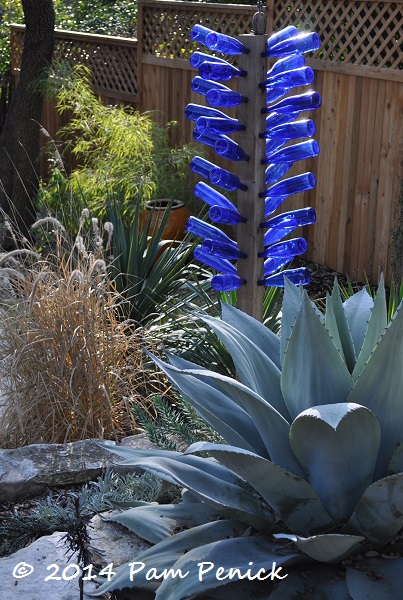 In my own garden (and in my former garden as well), I've made a stylized bottle tree from a cedar post and regularly spaced lag screws. It reminded me of an agave bloom spike.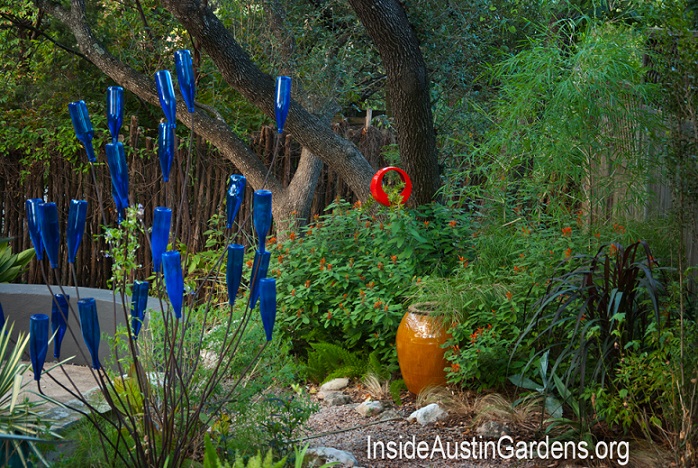 Photo by Lori Daul of The Gardener of Good and Evil
Not long ago, however, I was ready for a change and commissioned a rebar "ocotillo tree" from local metalworker Bob Pool. Looking out my office window, I enjoy it most in the afternoons, when the bottles glow with captured light.
So how about you? Have you ever seen a bottle tree, or do you have one of your own? I'd love to hear your bottle tree stories!
_______________________
Follow Digging via Email
To have Digging delivered directly to your inbox, just click the Follow button at bottom-right. It's super easy, and as a subscriber you won't have to check in to see if I've posted lately.
Upcoming Events and News
Hold the Hose! Join me for my kick-off garden talk for my new book, The Water-Saving Garden, on February 27, at 10 am, at The Natural Gardener nursery in southwest Austin. My talk is called "Hold the Hose! How to Make Your Garden Water Thrifty and Beautiful," and it's free to the public. Afterward I'll have books available for purchase and will be glad to autograph one for you! Dress for the weather, as the talk will be held in the big tent outside.
All material © 2006-2016 by Pam Penick for Digging. Unauthorized reproduction prohibited.