December 16th, 2015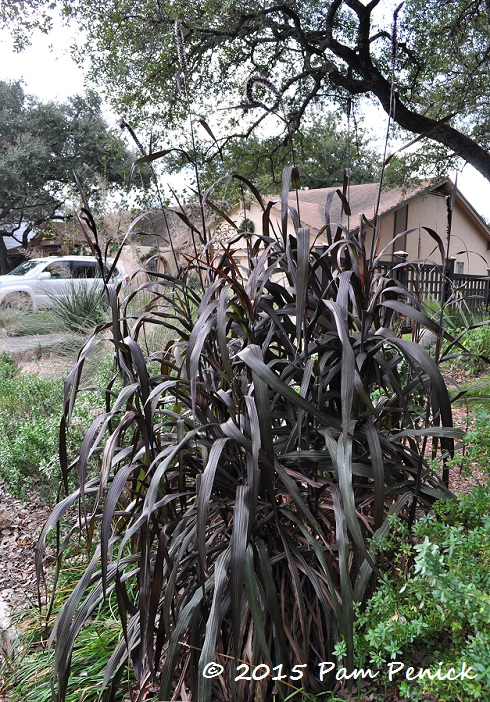 A hard freeze has not yet walloped my garden, but even if it had I'd still be able to enjoy the plants I'm showing today for Foliage Follow-Up. Take pearl millet, aka 'Vertigo' grass (Pennisetum purpureum 'Vertigo'), for example. This was the most-asked-about plant on my garden tour in October, and it still looks handsome today, even though its dark leaves have lost their warm-season luster. A few tufty blooms poke up here and there, which surprised me since I'd read this plant was sterile and wouldn't bloom.
I've been trialing this freebie from Proven Winners in my garden all year. Click for an earlier post I wrote about 'Vertigo'.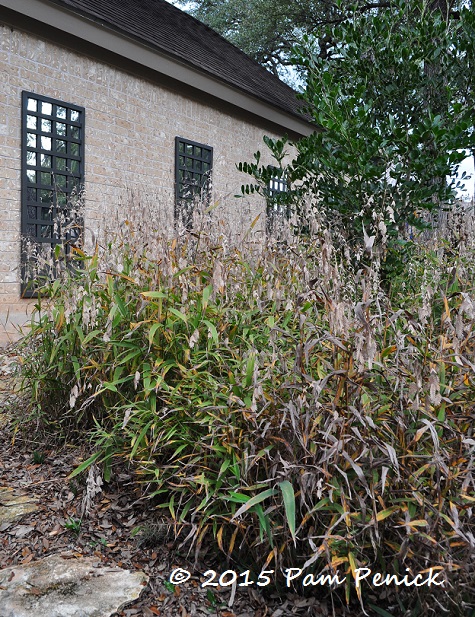 My most shade-tolerant grass is native inland sea oats (Chasmanthium latifolium), which I grow as a tall groundcover in my shady, deer-infested front-side garden.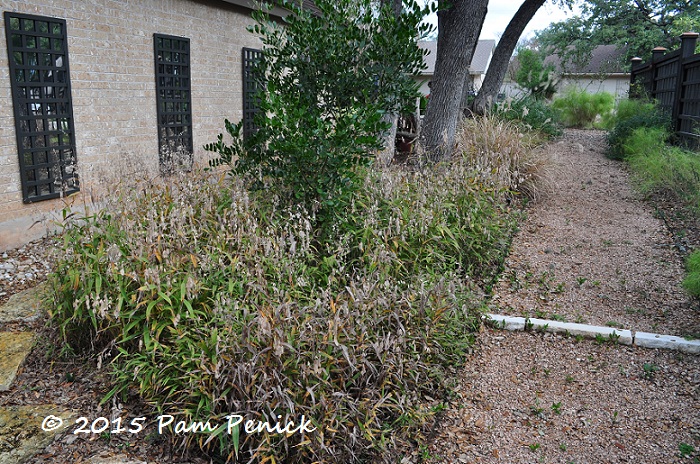 One day the Texas mountain laurel in the middle will be a spreading ornamental, and the sea oats will be the understory. For now the sea oats are the dominant feature. (Ignore the live oak sprouts coming up in the gravel path, please.) I like sea oats in all seasons: fresh spring sprigs to abundant summer leaves to fall's dangling seedheads. I leave it standing until mid-February, and when I whack it back, new sprigs are already coming up.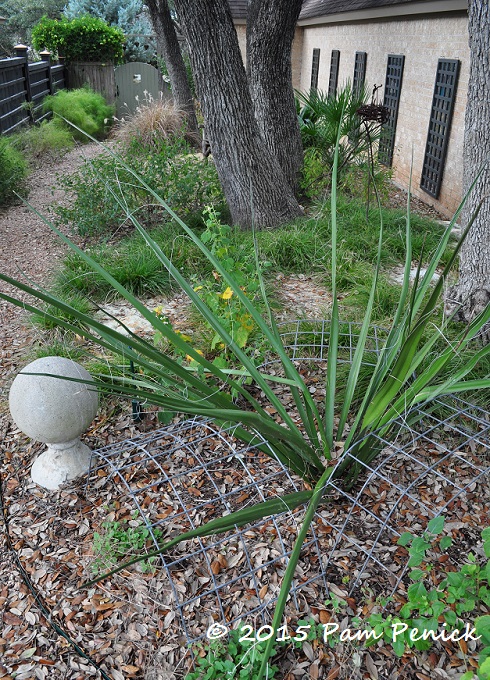 Speaking of deer infestation, a buck has made me very unhappy lately by rubbing its antlers into the crown of my wide-leaf giant hesperaloe (Hesperaloe funifera ssp. chiangii), which after a few years had attained a beautiful, vase-like form and good height. Imagine my stream of muttered curses when I came outside one morning and saw what he'd done: a smashed center, sword-like leaves torn off, and a flattened plant. Too late, I took action, spraying deer repellent, placing these wire plant supports around the plant for (hopefully) some protection and to prop it back up, and putting out my Wireless Deer Fence posts (more on these later). I hope the plant will recover its form next spring.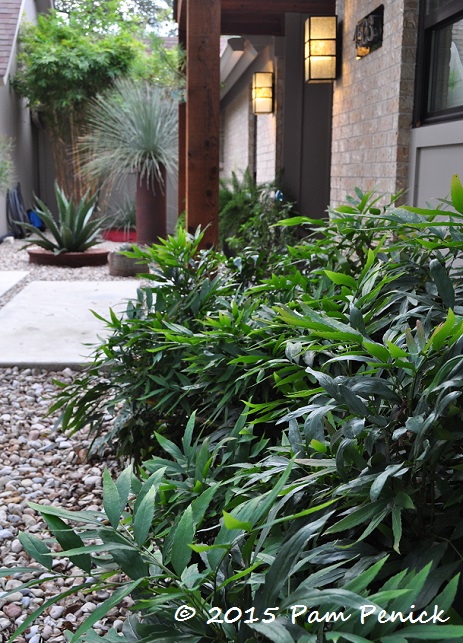 Lastly, the Chinese mahonia (Mahonia fortunei) along the foundation and in a hedge along the property line have responded with vigor to all the fall rain. They've put out a flush of new leaves, shrugged off a fungal or mildew issue that was beginning to concern me, and are looking great again. Sometimes you don't have to do anything but just wait out a problem, am I right?
This is my December post for Foliage Follow-Up. Fellow bloggers, what leafy loveliness is going on in your garden, or one you've visited, this month? Please join me in giving foliage its due on the day after Bloom Day. Leave a link to your post in a comment below. I really appreciate it if you'll also link to my post in your own — sharing link love! If you can't post so soon after Bloom Day, no worries. Just leave your link when you get to it. I look forward to seeing your foliage faves.
All material © 2006-2015 by Pam Penick for Digging. Unauthorized reproduction prohibited.