November 11th, 2015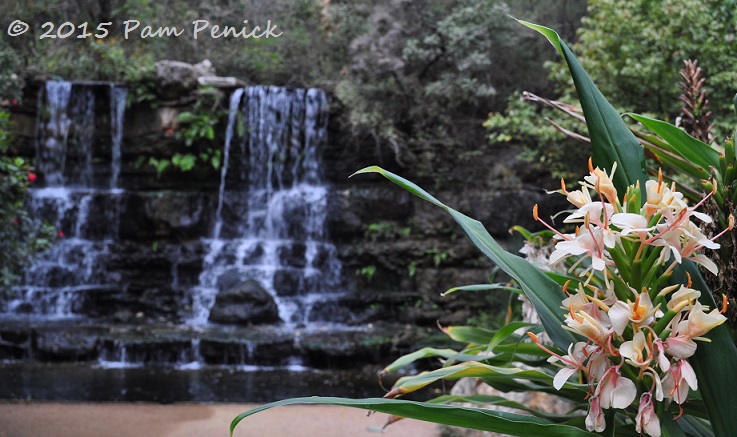 Want to see the original native plants of central Texas? Take a stroll through Hartman Prehistoric Garden at Austin's Zilker Botanical Garden. Designed to resemble a landscape that dinosaurs would have roamed, Hartman represents the late Cretaceous period (which ended 65 million years ago), when the shallow sea that covered Texas began to recede and flowering plants evolved, adding diversity to Jurassic-era, spore-producing plants like horsetail and ferns.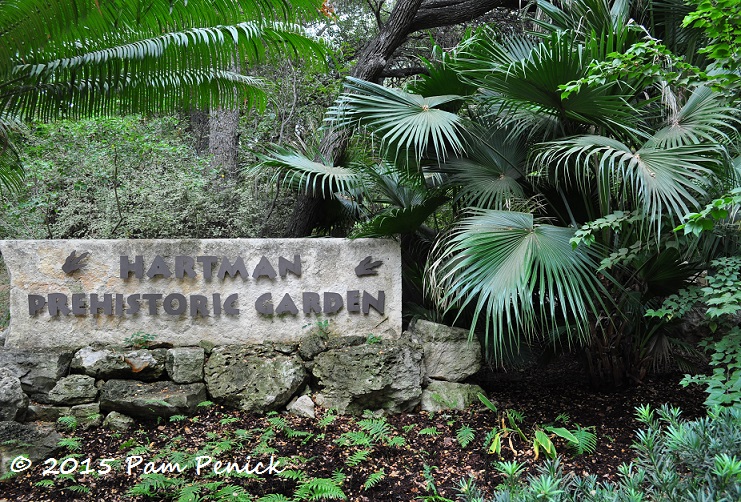 Hartman opened in 2002, and our family visited on opening day. Since then I've watched it grow, and I currently consider it the best garden at Zilker. While the other gardens, including the beloved Taniguchi Japanese Garden, languish without much-needed maintenance, Hartman appears to be well maintained and looked great during my late-October visit.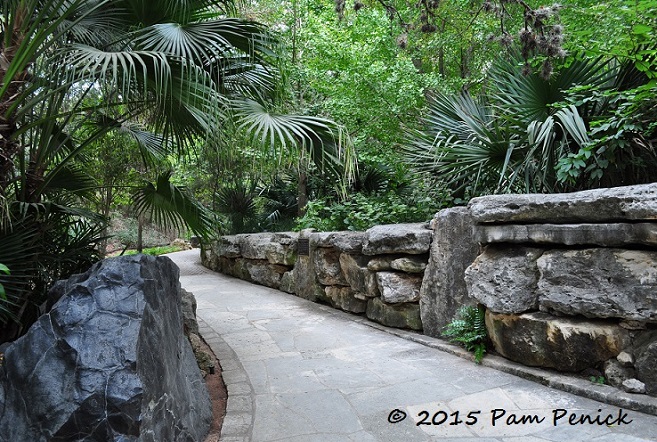 The garden was built to preserve and commemorate dinosaur tracks and an ancient turtle fossil found on the site in 1992. After casts were made of the tracks and fossil, they were re-buried to prevent deterioration due to exposure. Austinites Claudette and David Hartman were instrumental in the garden's creation. Read Linda Lehmusvirta's informative article "Where the Wild Things Were" for more on its history.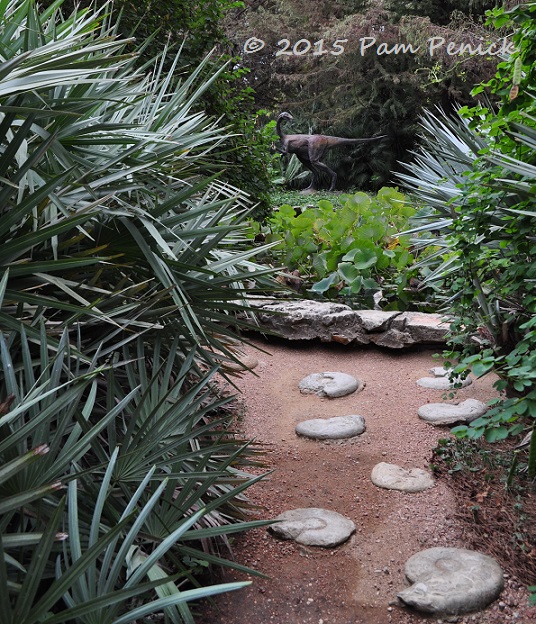 In the 2-acre garden, a pond stands in for the long-lost shallow sea, the existence of which is evident in the ammonite-fossiled limestone that today forms Austin's bedrock. Perched on an island in the pond is…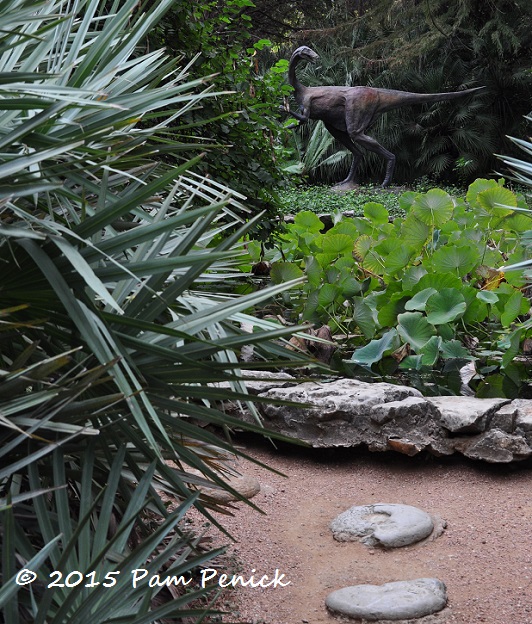 …a life-size bronze of an ornithomimus, the dinosaur whose three-toed tracks were discovered here. Lotus leaves nearly obscure the water at this time of year. I'm making a mental note to visit next summer to see them in bloom.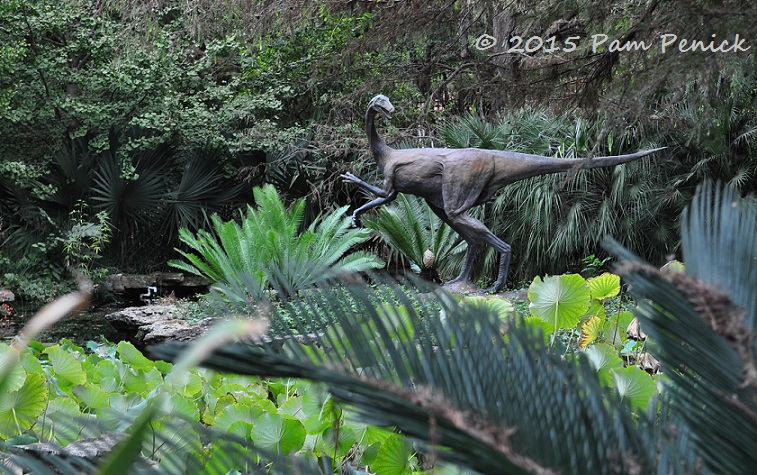 Against a backdrop of palms, cypress, and cycads, the dinosaur makes a surprising and fun focal point.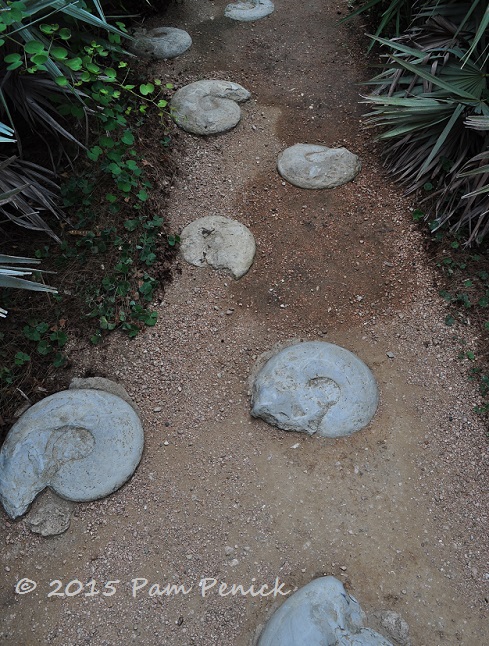 Cast ammonites adorn a decomposed-granite path that leads to the pond.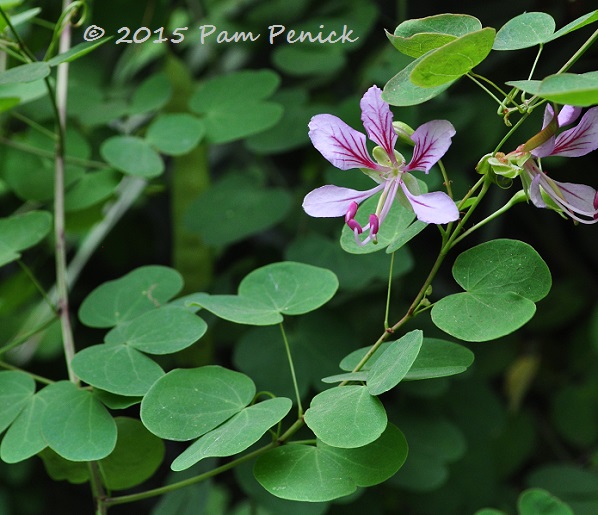 The lushly planted garden holds other surprises, like this lovely orchid vine (Bauhinia yunnanensis).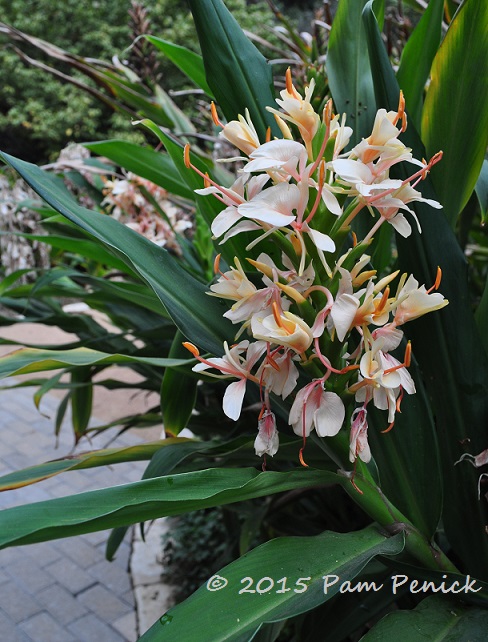 And flowering ginger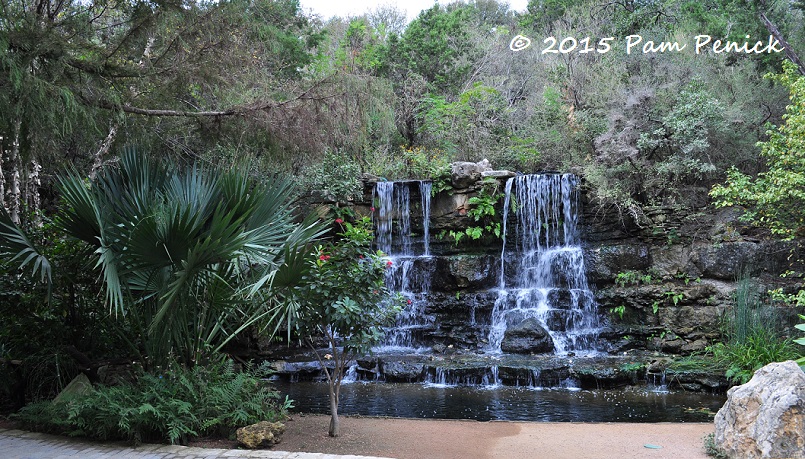 An existing elevation change offered an opportunity to make a natural-looking waterfall. It's about 15 feet high and spills in a double cascade into a pool.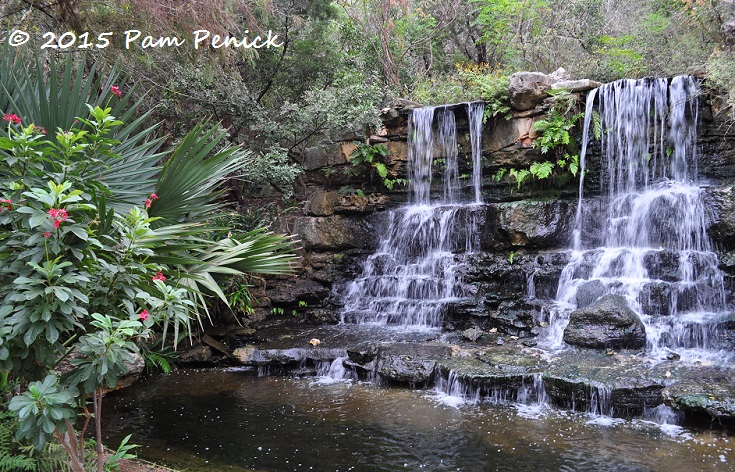 Jatropha integerrima adds a few spots of red amid a largely evergreen garden.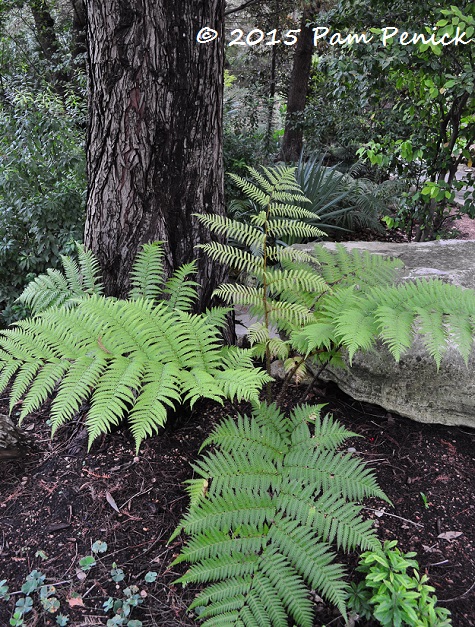 Under the trees, ferns thrive in feathery splendor.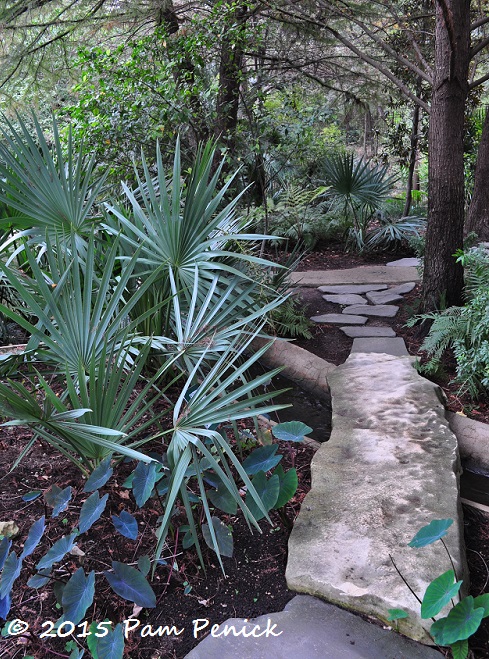 A canal-like stream runs through the garden, crossed here by a limestone-slab bridge. Texas dwarf palmetto (Sabal minor) shows its jazz hands.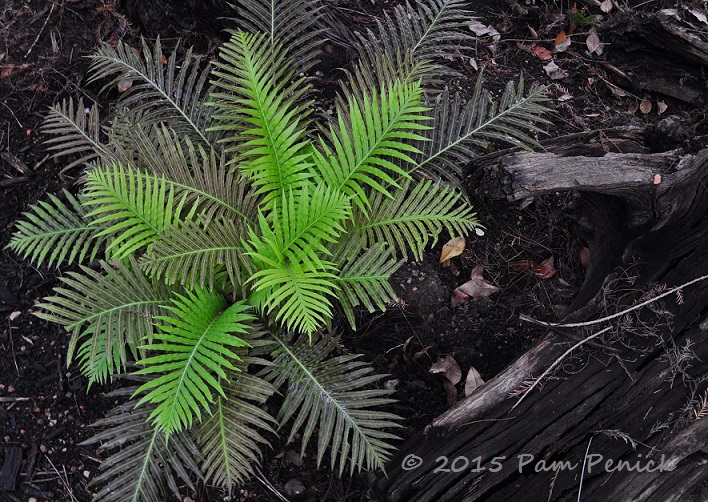 Fern? Cycad?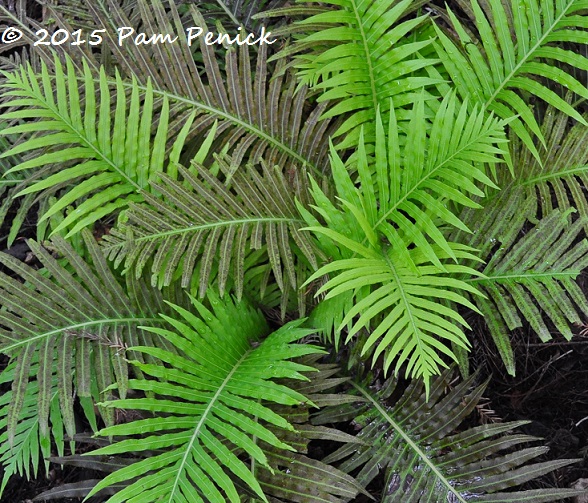 I love the shape and various hues of green.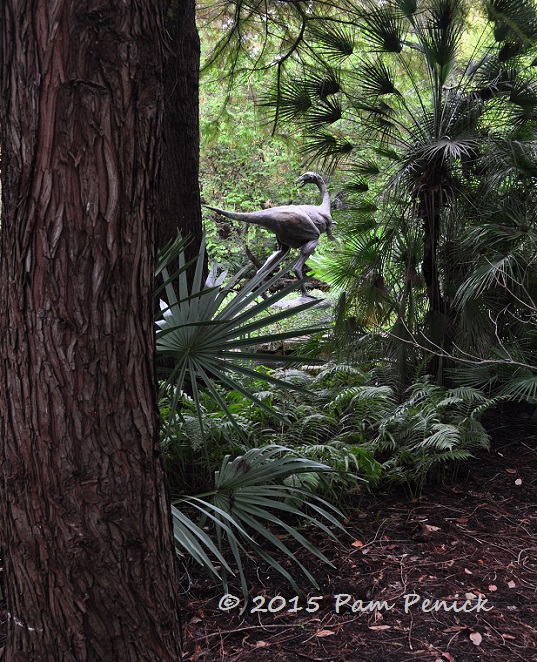 Palms and ferns and a dinosaur — a dramatic combo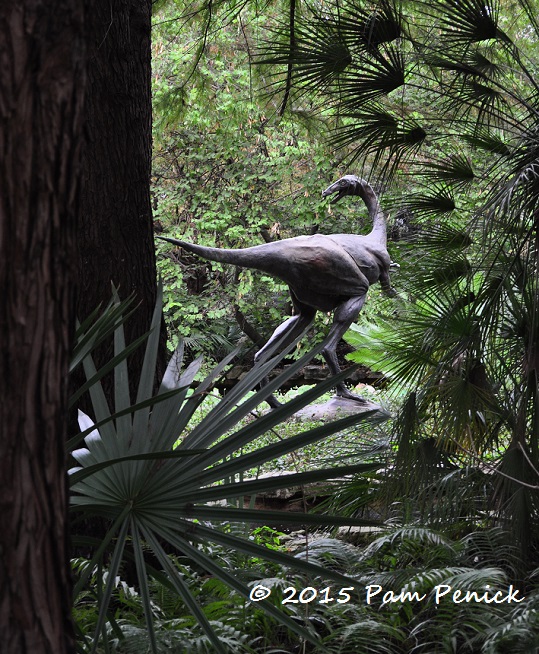 Almost makes you feel you've time traveled, doesn't it?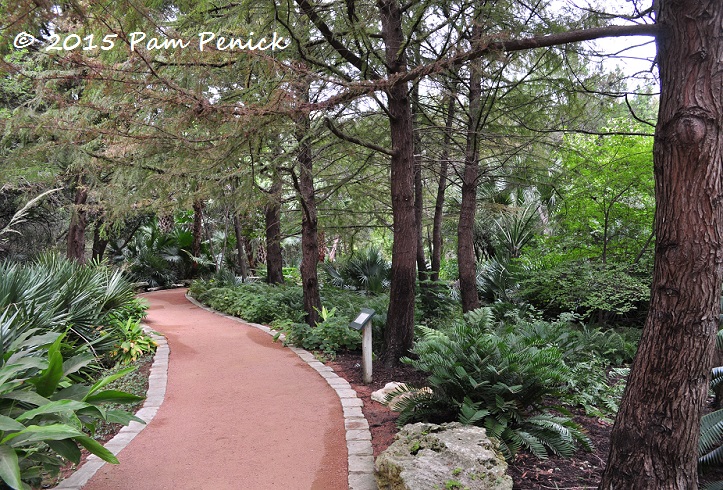 Cypresses line a broad decomposed-granite path that winds through the garden, like those that line Hill Country rivers today.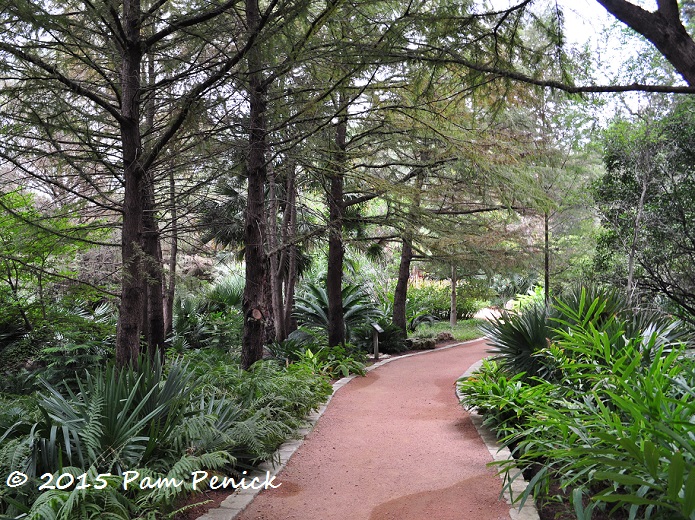 Under the trees, bold foliage rules the day.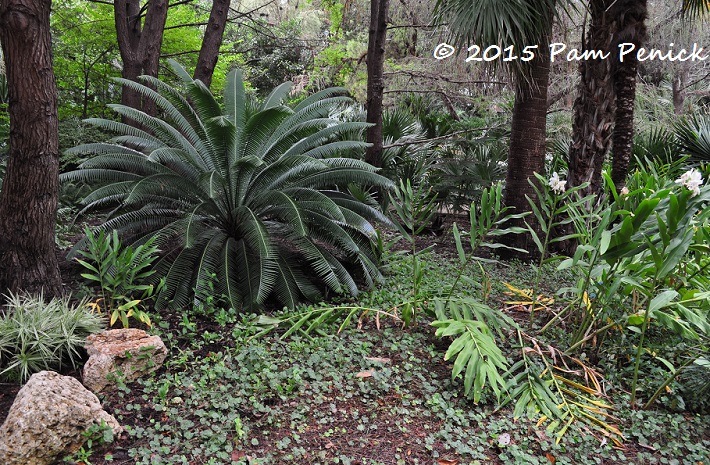 Like this enormous sago palm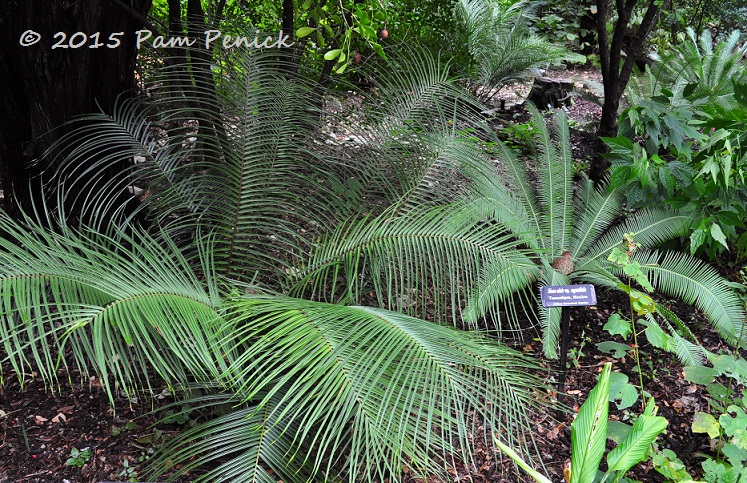 These are awfully pretty too, like gigantic feather plumes: Ceratozamia kuesteriana (left) and Dioon edule (right).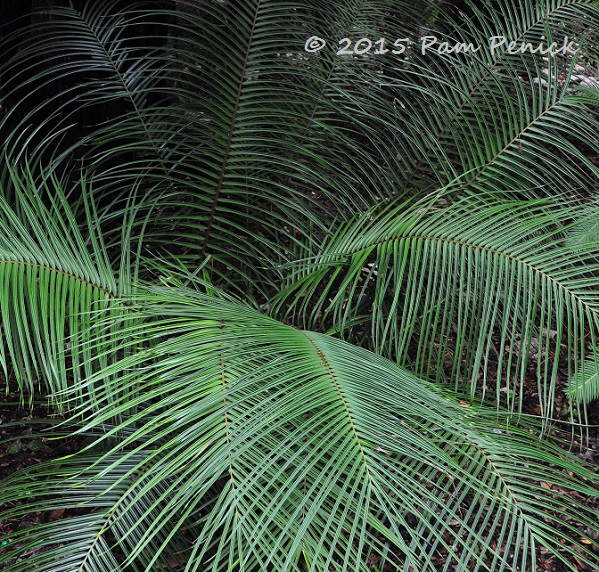 A closeup of the ceratozamia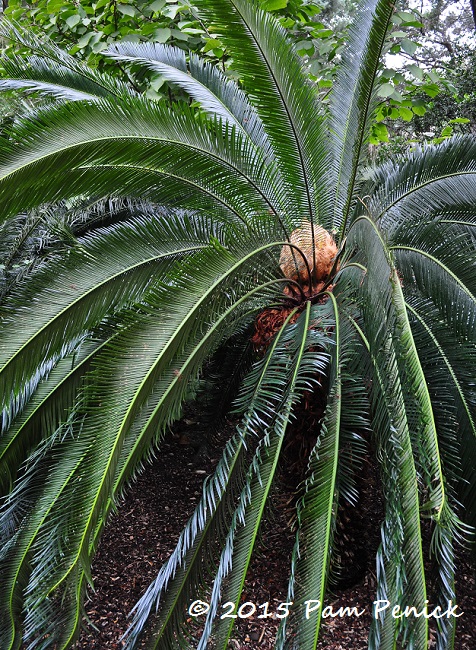 A female sago "in bloom." Sagos, which are primitive plants, don't actually bloom. Males produce a cone, females a ball-shaped megasporophyll. Pollen from the male is dispersed via wind or insects to pollinate the female.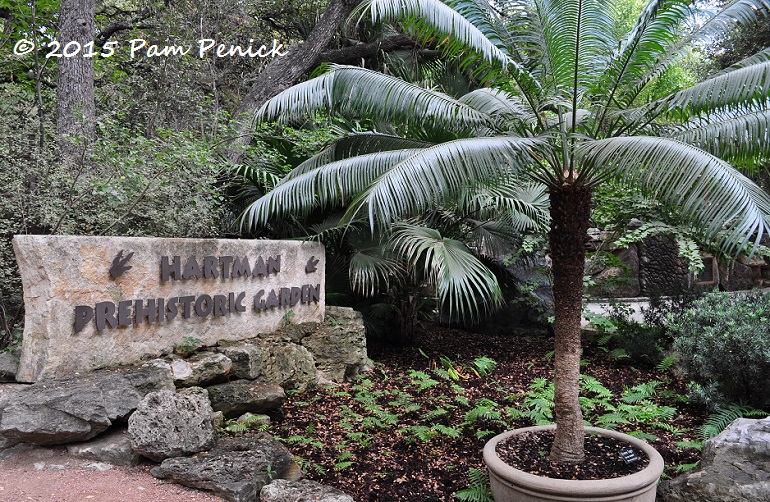 And we're back at the entrance to admire a large, potted queen sago (Cycas rumphii).
Hartman Prehistoric Garden is an unusual and fascinating garden. Take a trip back in time and see it for yourself, or simply click for my earlier posts:
Hartman Prehistoric Garden is cycad-delic, March 2011
Zilker Botanical Garden: Hartman Prehistoric Garden, October 2007
All material © 2006-2015 by Pam Penick for Digging. Unauthorized reproduction prohibited.
posted in
Botanic/Public Gardens
,
Bridges
,
Containers
,
Flowers
,
Garden art
,
Garden tours 2015
,
Groundcovers
,
Lizards
,
Palms/Cycads
,
Paths
,
Ponds
,
Rock
,
Sculpture
,
Trees
,
Vines
,
Walls
,
Water features
,
Water gardening
,
Waterfalls