October 19th, 2007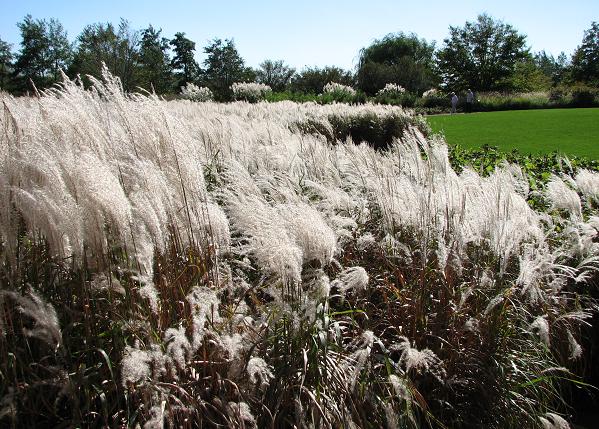 Miscanthus sinensis 'Purpurascens' (Flame Grass)
At the Chicago Botanic Garden last week, we bypassed several other gardens in order to see Evening Island before we had to catch the train back to town. It wasn't yet evening when we crossed the bridge onto this 5-acre island garden, but the afternoon sun was setting alight the sweeps of grasses.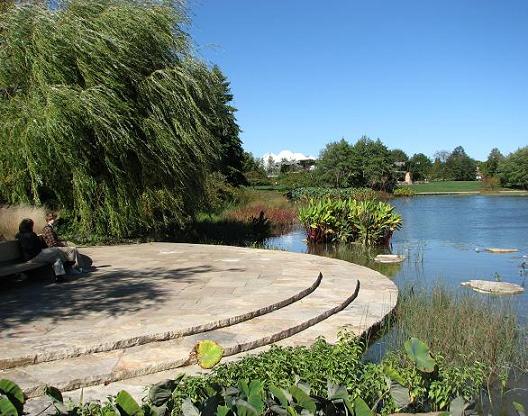 Two bridges access Evening Island. We crossed on the Serpentine Bridge (sorry, no photo), which undulates across the water from this curving, stone overlook.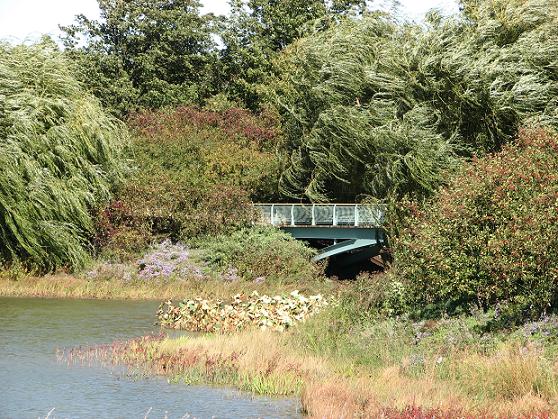 The Arch Bridge offers passage through the willows. See the wind in the willows?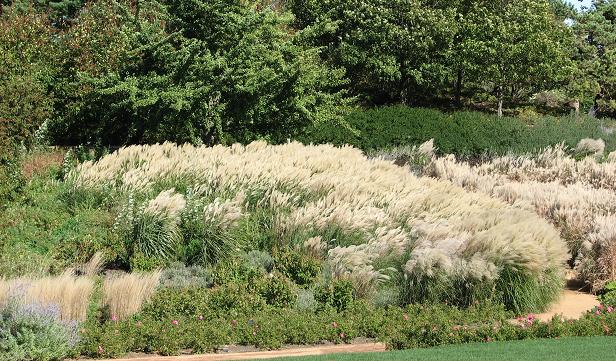 The stars of this garden are the ornamental grasses, making autumn a perfect time to visit. The perennials planted alongside them—echinacea, Russian sage—had mostly gone to seed, eliminating their color from the composition. But that allowed the spotlight to shine fully on the grasses, and they were amazing.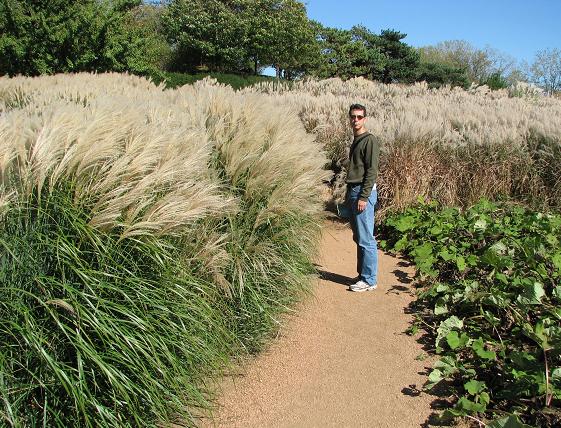 As you walk up the hill amid the grasses, you nearly disappear into them. My 6-foot tall husband patiently provides a sense of scale in this photo.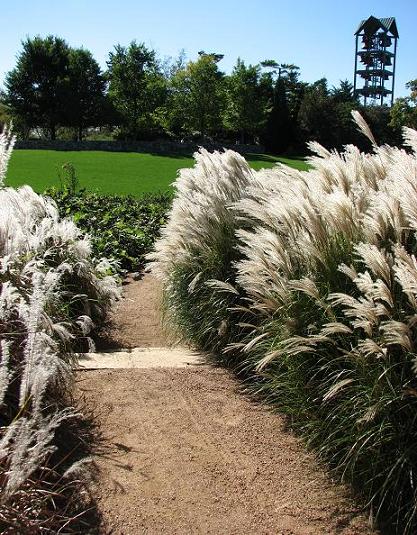 Over the miscanthus, the Carillon (bell tower) is visible.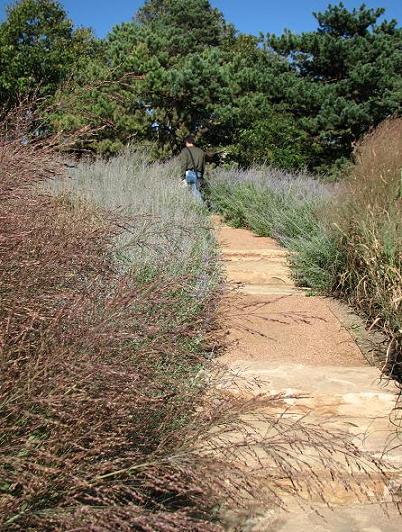 Panicum virgatum 'Dallas Blues' (switch grass), with Russian sage in the background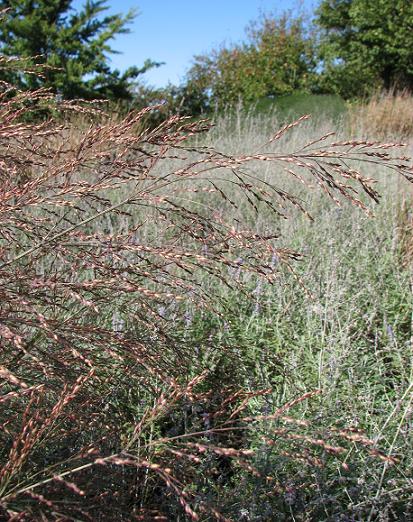 A close-up of the panicum's coppery inflorescence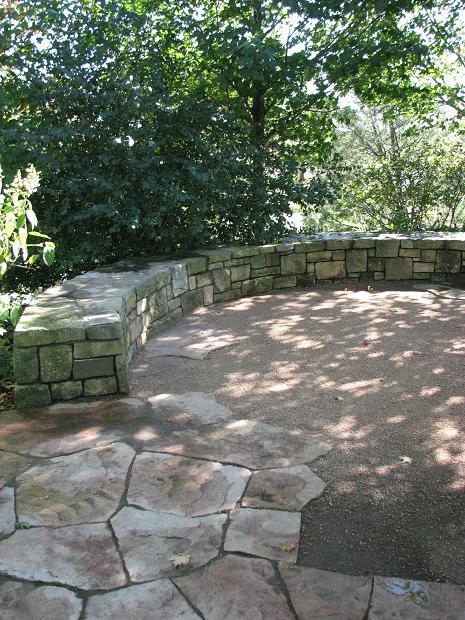 Passing through the grasses and under a grove of trees at the top of a hill, you find the Council Ring, two low, curving stone walls.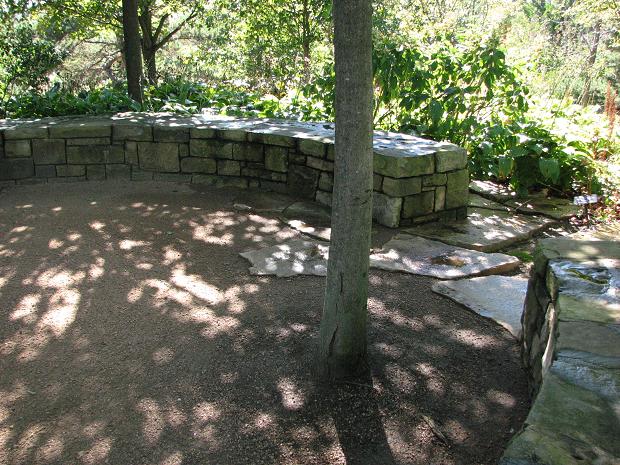 A cool place to rest and reminisce on a day well spent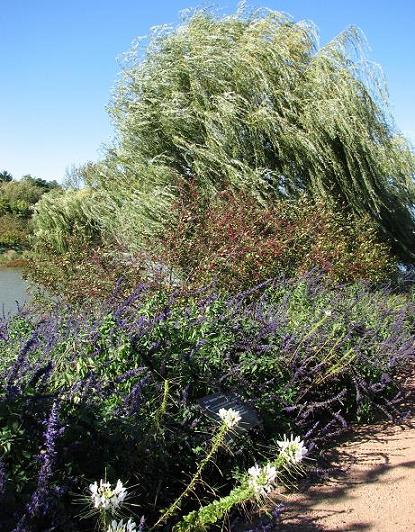 This lakeside combination caught my eye on the back side of the hill.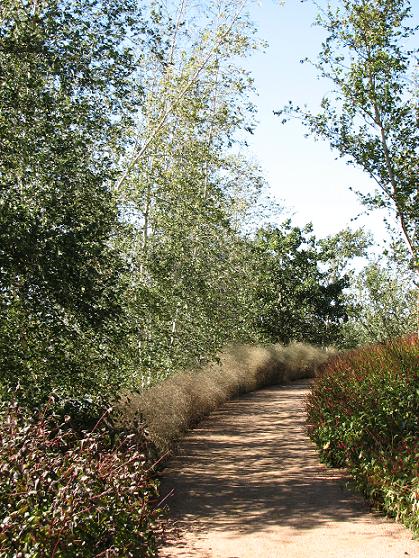 Trains won't wait, so it was time to go. But the beauty of this New American-style garden was the perfect end to a lovely day exploring the botanic garden. When I think back on how much of it we didn't see, even after six hours, I know I'll have to plan another trip to Chicago someday. Next time, maybe in spring.
To see photos from the other gardens I visited at Chicago Botanic Garden, click here.