October 29th, 2015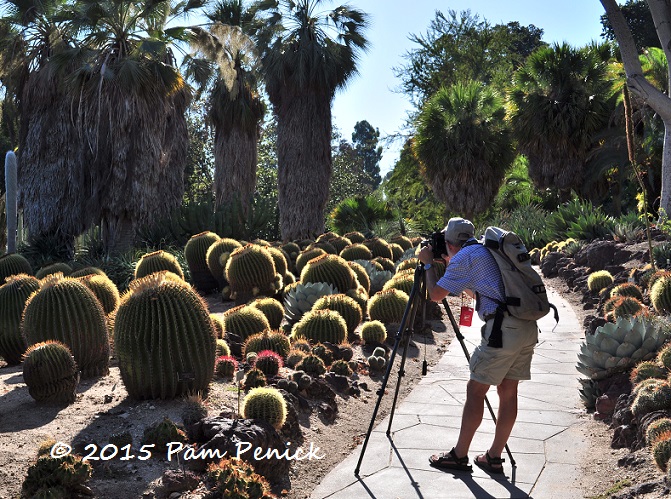 The Huntington gardens near Los Angeles have, for years, been on my wish list of botanical gardens to visit. So I was thrilled to see an afternoon visit and after-hours photoshoot offered on the itinerary of the Garden Writers Association symposium on September 20.
Unfortunately, it was surface-of-the-sun hot that day, 103 F (39.4 C). By my mid-afternoon arrival, I realized, to my dismay, that I was completely uninterested in touring the much-anticipated Huntington under the glare of an unforgiving Death Star. Chagrined, I hid out in the gift shop for an hour. Lest you think this a travesty, I assure you that the Huntington's is the most incredible garden gift shop I've ever been in. How I wish I'd taken photos to show you. But I simply browsed in A/C-contented bliss.
As the sun dipped toward the horizon, however, I realized that I needed to suck it up and get out there. I mean, this was the Huntington! And so as the early-bird GWAers were straggling back, sweat-stained and flushed, to the gift shop and an after-hours bar (courtesy of the good folks at the Huntington), I finally ventured forth, prepared to melt for the beauty of the gardens.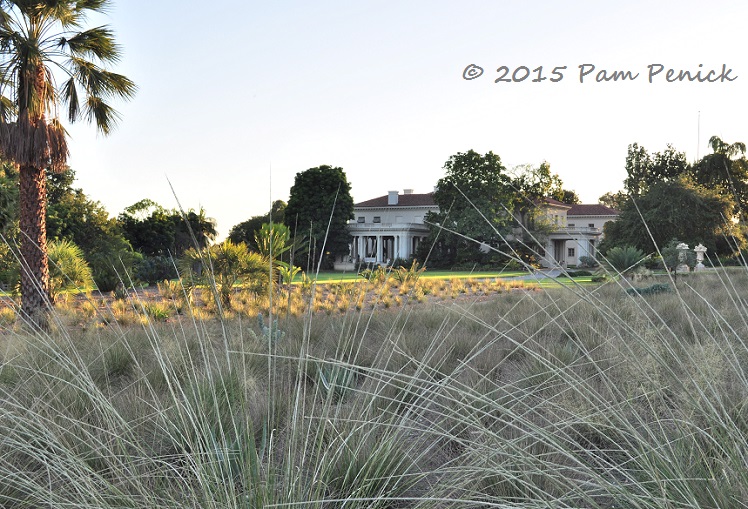 And beautiful they are. As described by GWA, the Huntington was "[o]riginally the private estate of railroad magnate Henry Huntington (1850-1927), with a grand Beaux Arts mansion as its centerpiece….[T]he research and cultural institution houses world-class collections, including Gainsborough's famous portrait of The Blue Boy, a Gutenberg Bible, and a 15th-century illuminated manuscript of Chaucer's The Canterbury Tales. Surrounding the estate are 120 acres of breathtaking grounds that showcase more than 15,000 different kinds of plants in a dozen specialized gardens."
I did not see any of the indoor masterpieces. The garden was my sole focus. As it closed to regular visitors at 4:30 pm, those of us with GWA badges were allowed to stay on until 7 pm, giving the photographers among us a chance to shoot the garden in the kinder light of late afternoon and early evening.
Palm and Desert Gardens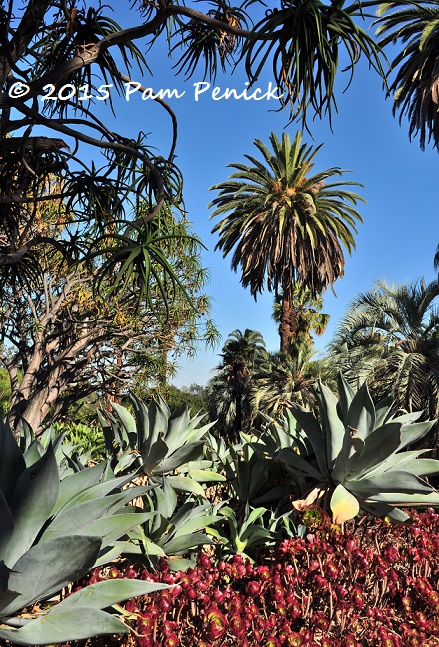 I headed straight for the famous Desert Garden, figuring the afternoon light would be good filtering through spiny plants, and passing through the dramatic Palm Garden along the way.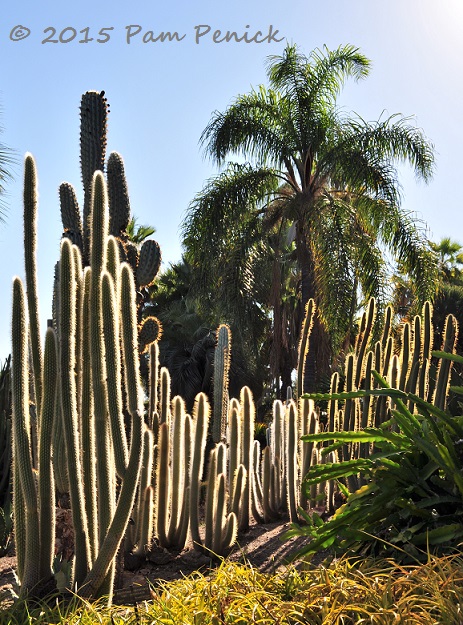 The sun was still intense when I reached the Desert Garden, but as I'd hoped, it was incandescing the cactus.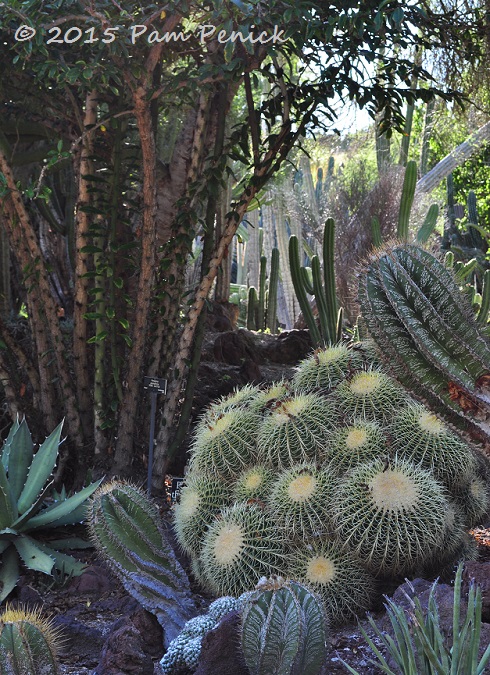 As with the Lotusland cactus garden, it was like visiting a strange planet. At 10 acres and with 2,000 species of succulents and cactus, the Desert Garden is worthy of hours of poking around (pun intended). But amid the rocky beds and asphalt paving, the heat was like standing next to an open oven, and I ended up spending only about 45 minutes here.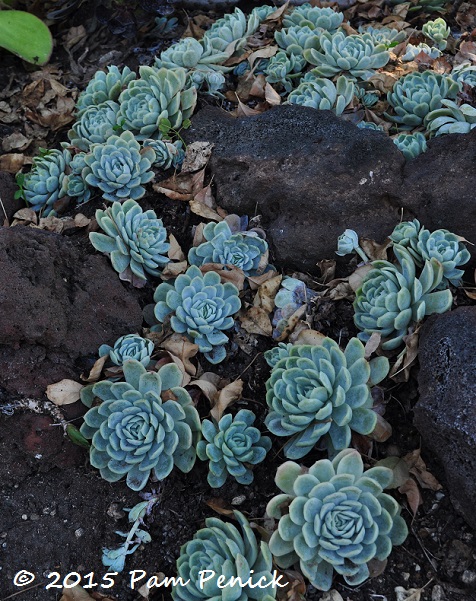 Still, I saw many beautiful plants, like these blue echeverias creeping among black lava rock.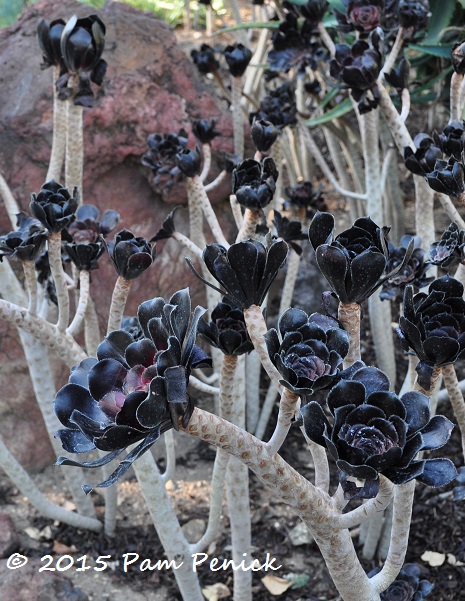 And aeoniums so black they looked scorched by the heat.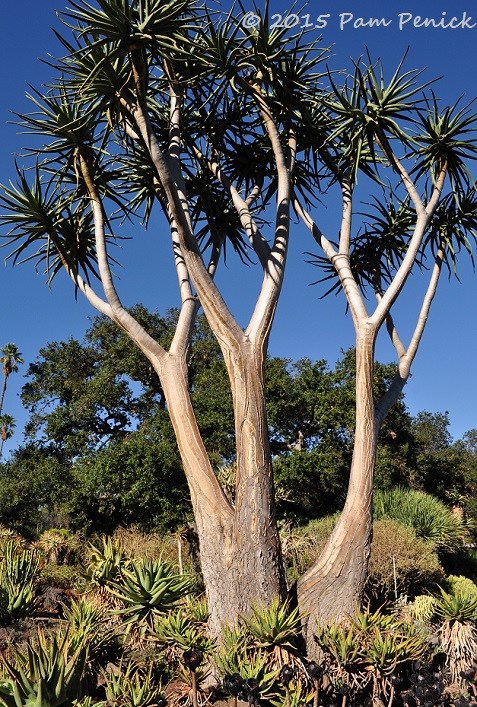 Otherworldly tree aloe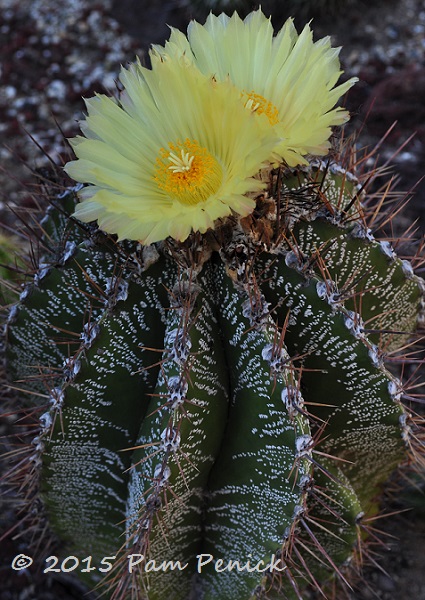 And barrel cactus in brilliant flower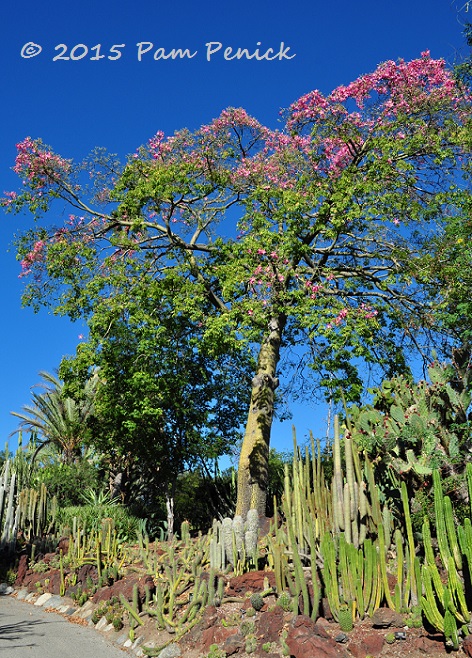 High in this floss silk tree's branches, a flock of green parrots chattered amiably.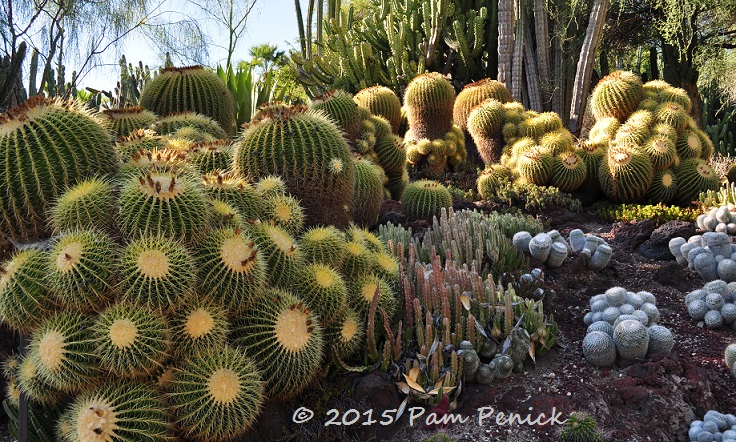 Nearby, golden barrel cactus clustered in extravagant masses.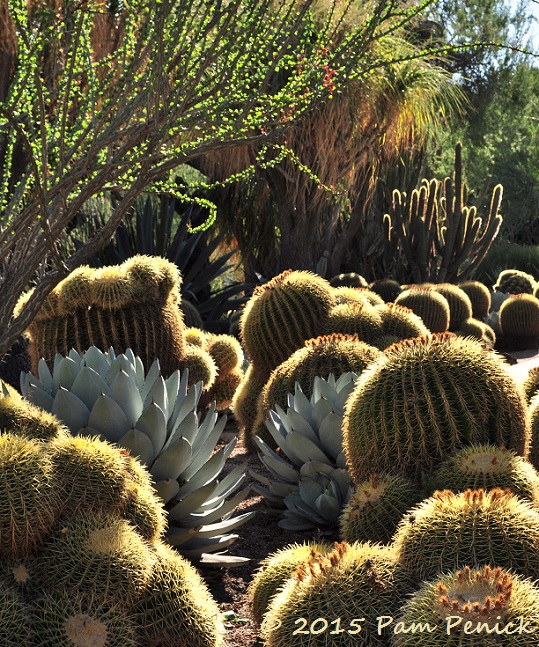 I'd never seen so many barrels, not even at Desert Botanical Garden.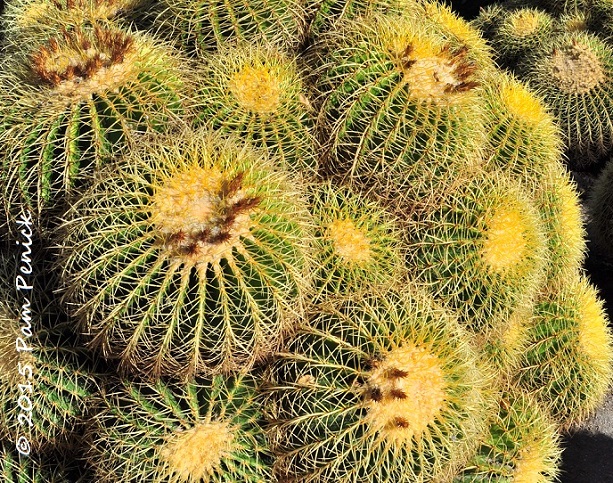 I didn't even know they grew this way, clustered one upon another in great, spiny mounds.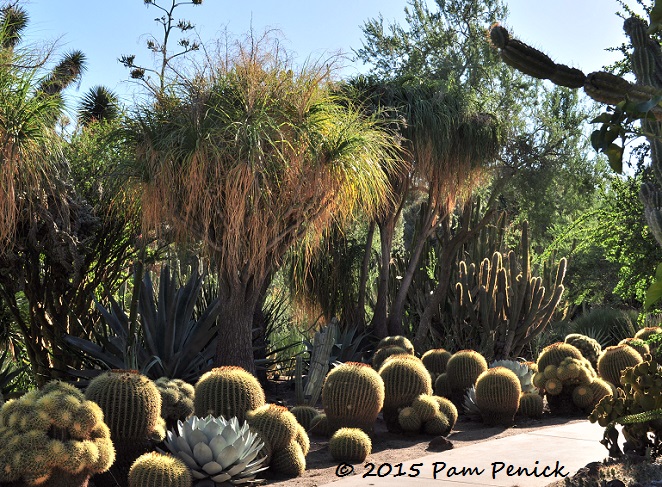 They littered the path edges like beach balls after a pool party, and each wore a golden halo in the afternoon light.
Lily Ponds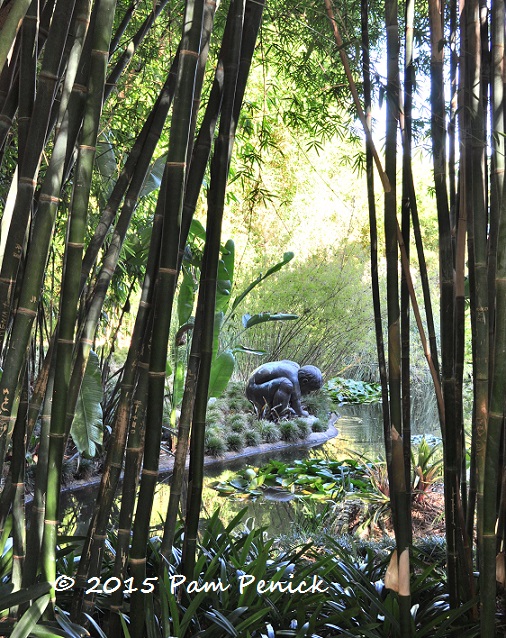 Seeking shade, I happened next upon the Lily Ponds garden. I could hardly imagine a more different experience from the radiating heat and dynamic plant arrangements in the Desert Garden.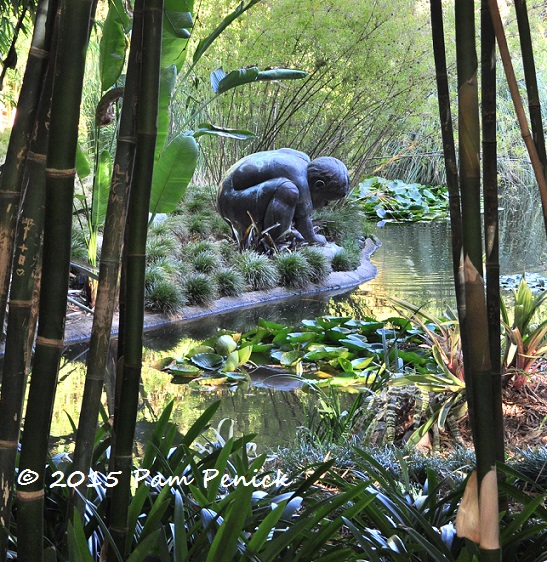 Here, the mood was serene, green, and cool, thanks to a tranquil pond and stands of rustling bamboo.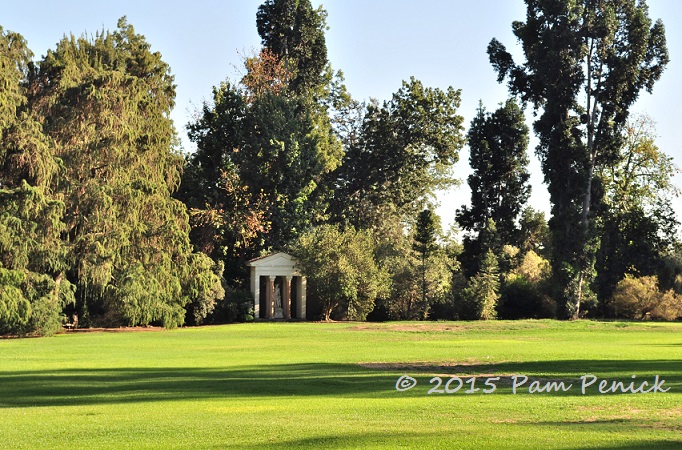 I rested there a while before heading into the sun again, crossing a large lawn with a temple-like folly. What a mood shift, from one garden to the next!
Subtropical and Australian Gardens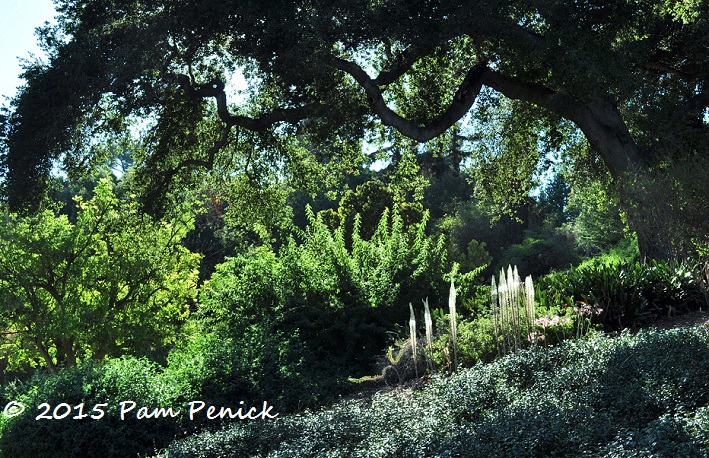 Glancing at the map I decided to see the Australian Garden next, and I passed the Subtropical Garden along a path facing directly into the ferocious setting sun. This made for great lighting effects on plants like white-flowering sea squill (Drimia maritima) growing under live oaks…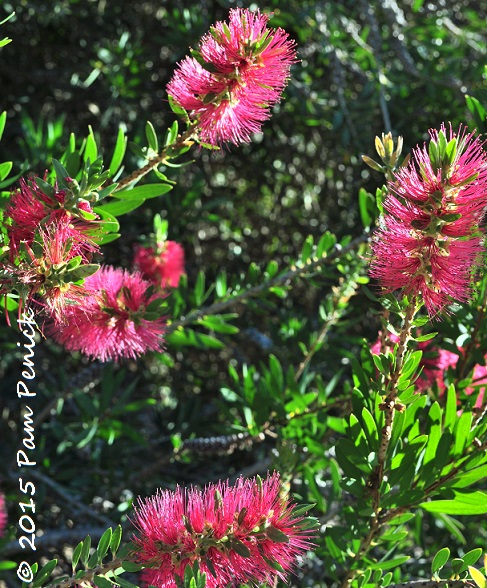 …and bottlebrush, as I neared the Australian Garden.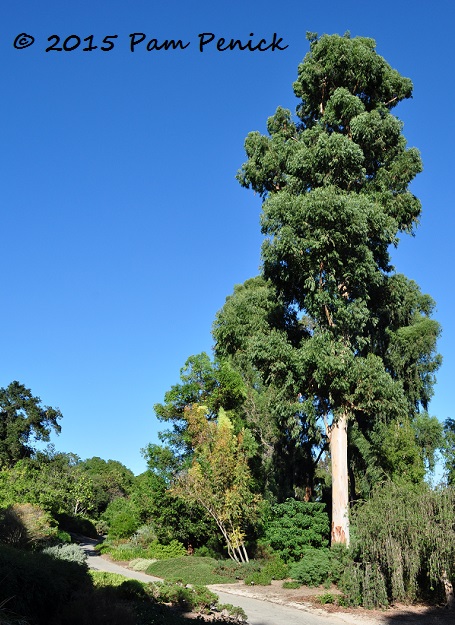 But by the time I got there, I was cooked, and the garden didn't look particularly shady, so I just kept trudging toward a towering wall of bamboo that promised coolness and relief.
Japanese Garden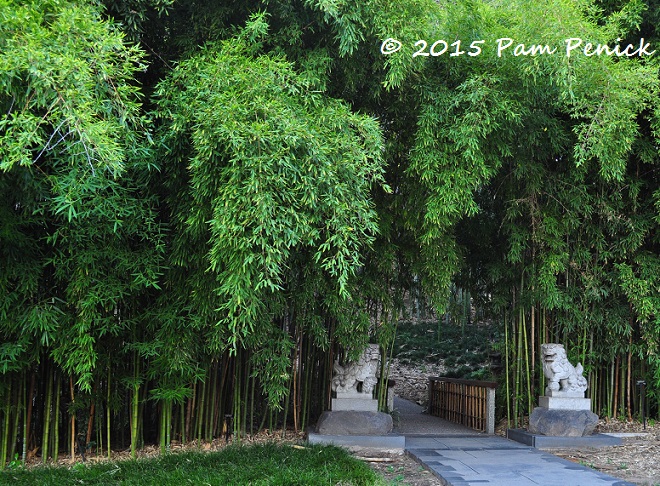 Ahh, a leafy green wall tall enough to block the sun! The narrow entry from this direction might be easy to miss, were it not for the foo dogs (stone lions) guarding the path.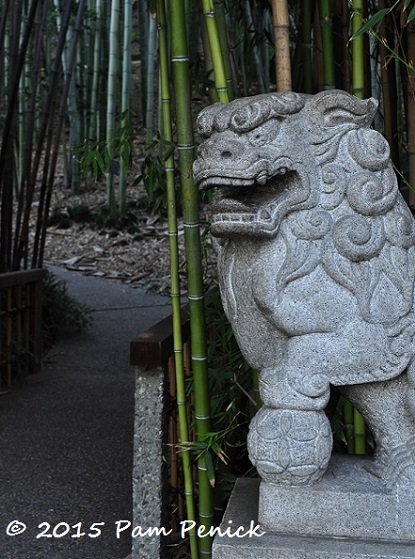 Roar!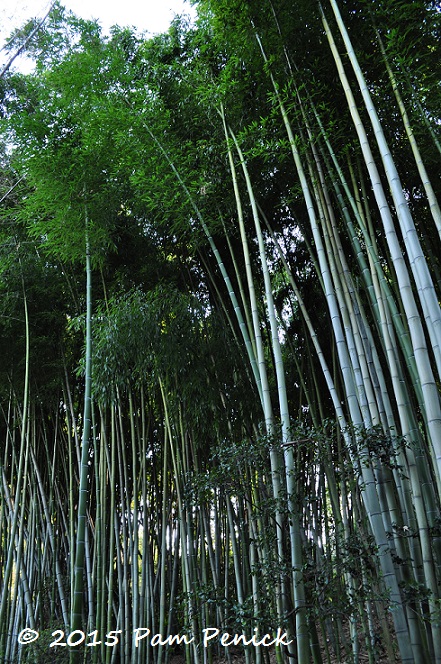 I entered the Japanese Garden through a mysterious bamboo forest of swaying culms and rustling leaves.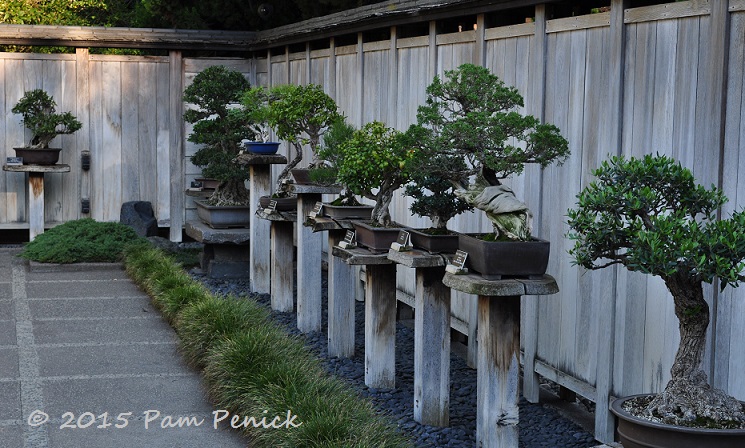 Climbing steadily uphill, I came to a paved courtyard with a collection of bonsai displayed on wooden stands.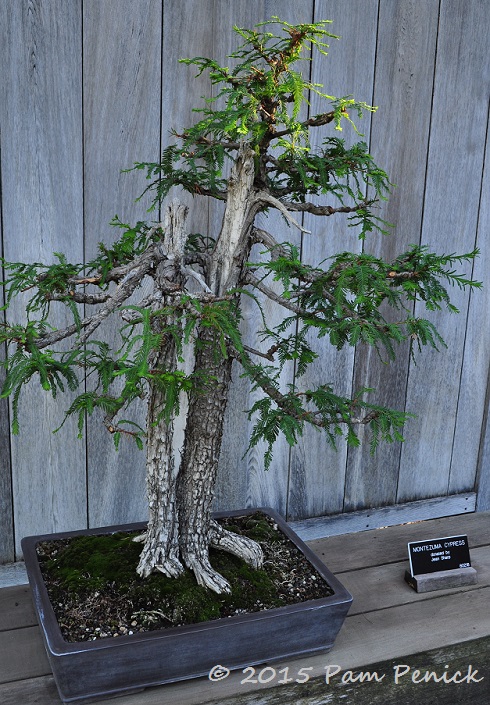 Montezuma cypress in miniature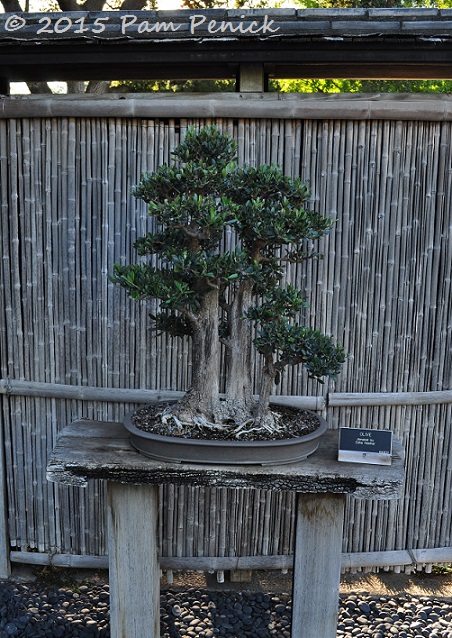 And olive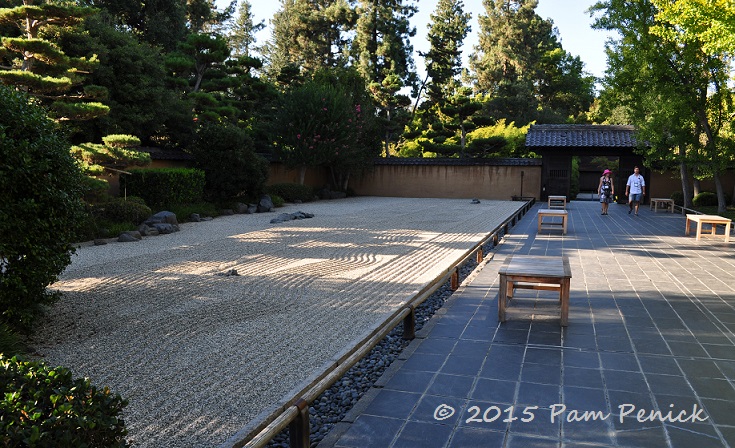 Next I strolled through a meditative Zen courtyard, with raked white gravel, boulder islands, and cloud-pruned trees.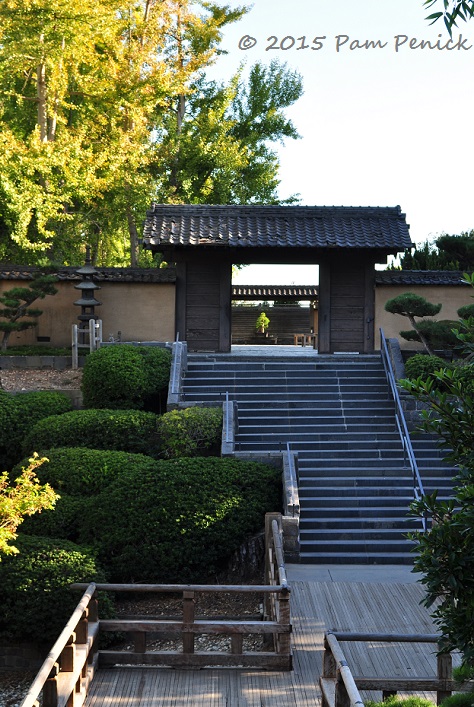 A grand stair, zigzagging along one side, exits the Zen garden, and from here I entered the main garden.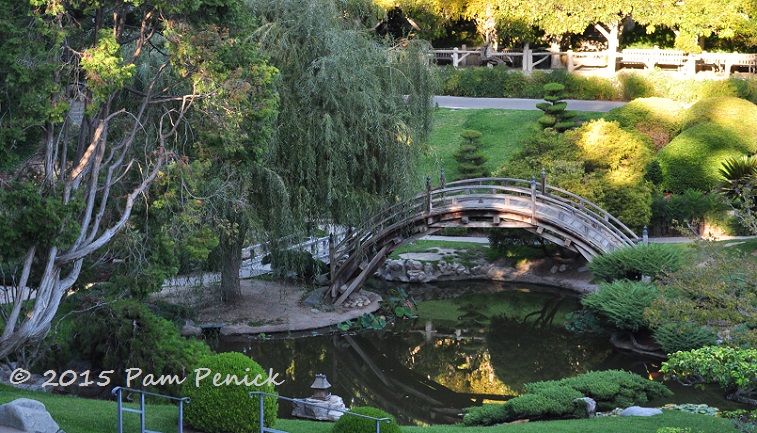 Completed in 1912, the tranquil Japanese Garden includes a tall, arching moon bridge and reflecting pond. It was growing lovelier by the minute as the hateful sun sank behind the trees.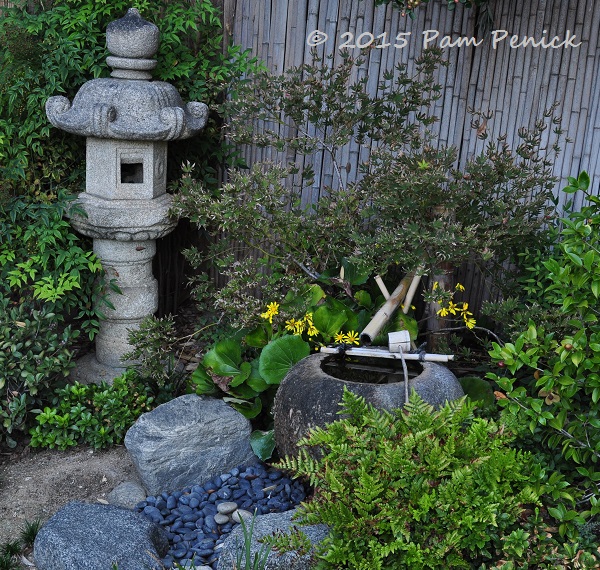 Intimate vignettes, like this tsukubai fountain…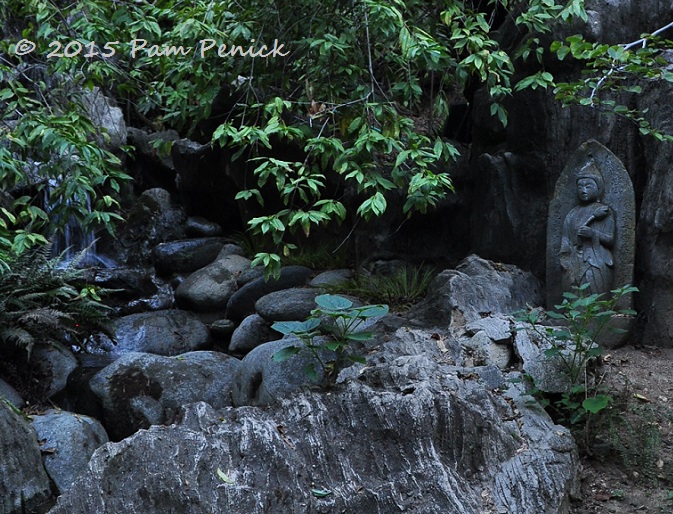 …and carved figure near a tumbling stream, made for delightful discoveries along the winding hillside path.
Chinese Garden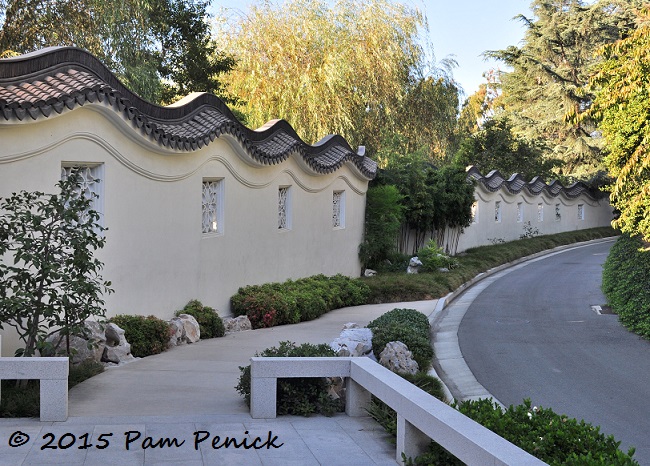 As the terrain leveled out, I came upon the Chinese Garden, enclosed along one side by an undulating, tile-roofed white wall.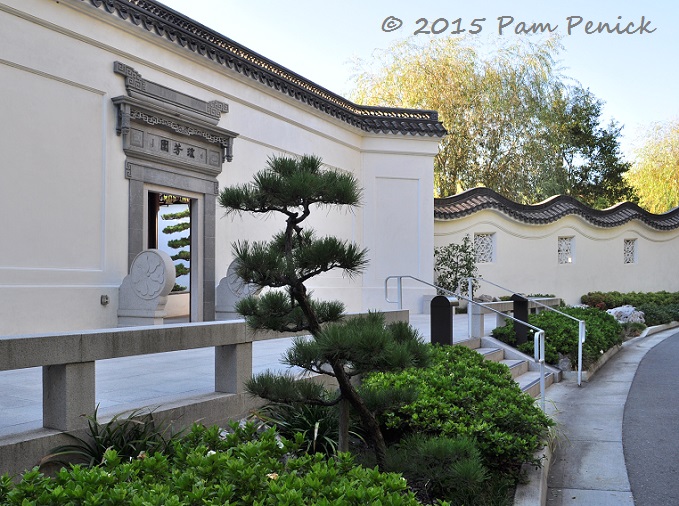 Known as Liu Fang Yuan, the Garden of Flowing Fragrance, the Chinese Garden opened to the public in 2008 — a century after the Japanese Garden.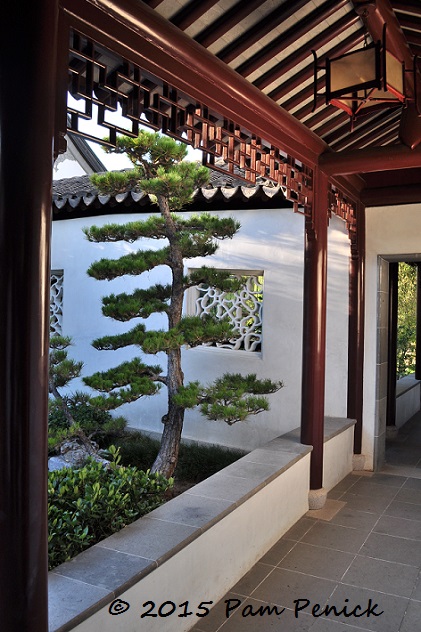 Having twice visited the Lan Su Chinese Garden in Portland, I knew to expect covered walkways leading to a series of paved courtyards with intricate details.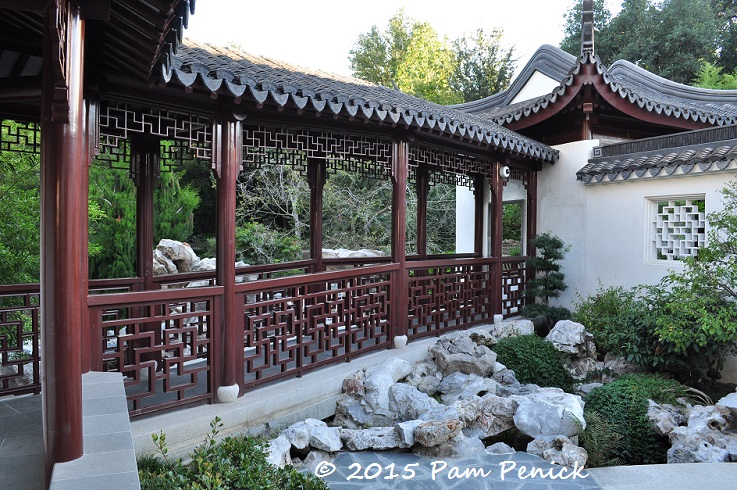 What I didn't anticipate was being completely alone with the garden. It was all mine.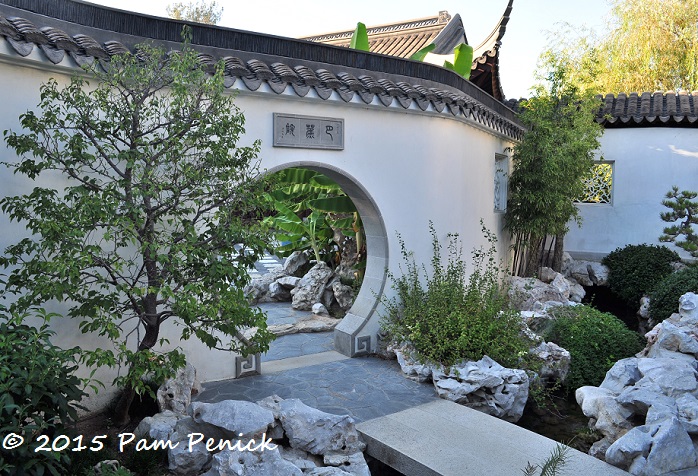 The light was soft as dusk came on.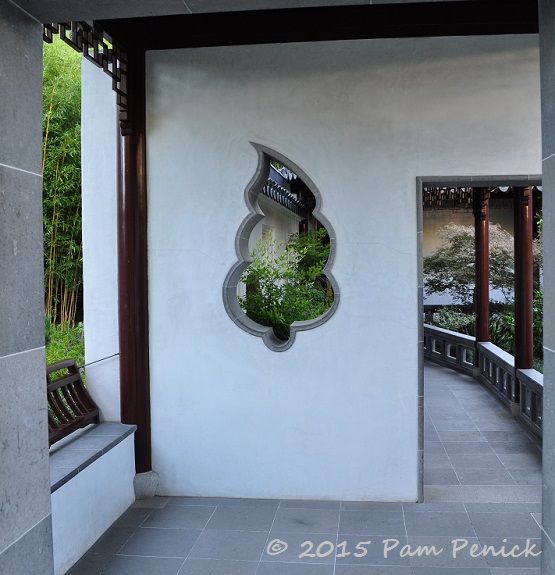 A beautiful detail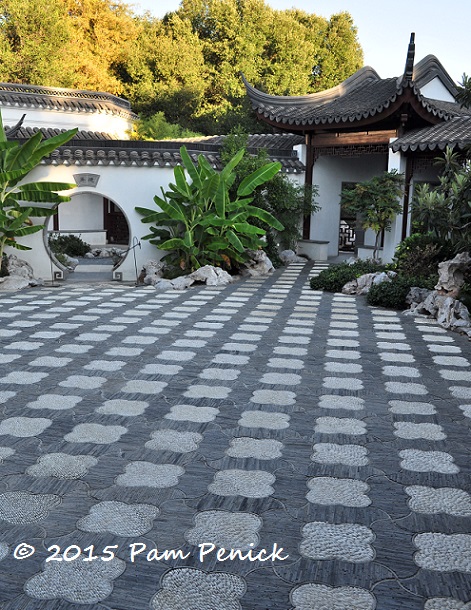 Pebble mosaic courtyard — and banana trees by the moon gate?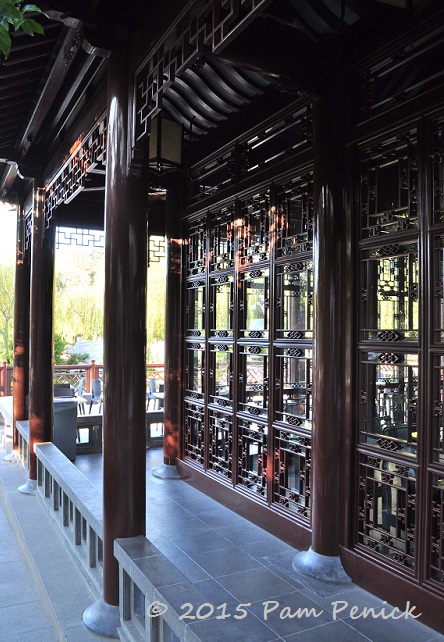 The teahouse was closed for the day, but I admired the woodwork…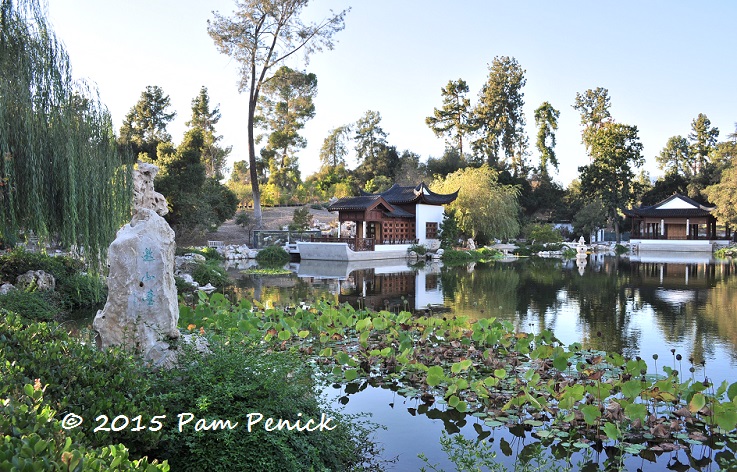 …and rested on its terrace, which overlooks a picturesque lake. The building that resembles a boat, at center, is part of a phase two addition to the garden, currently under construction.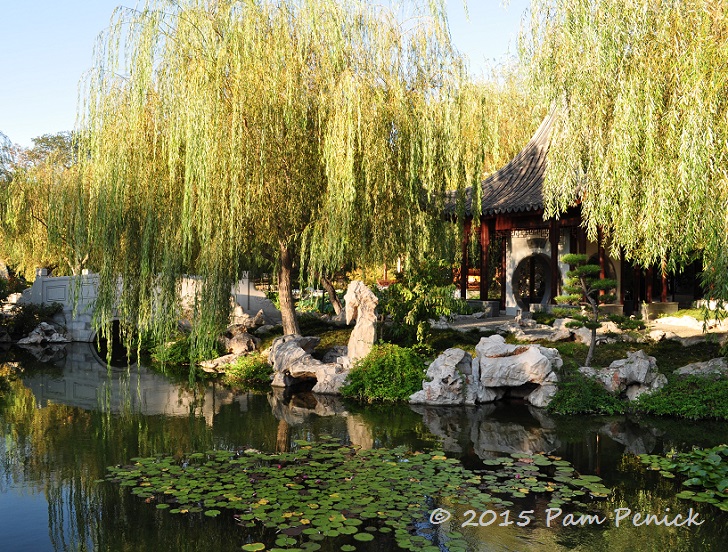 Along the opposite side of the lake, a pavilion known as Terrace of the Jade Mirror shelters amid weeping willows.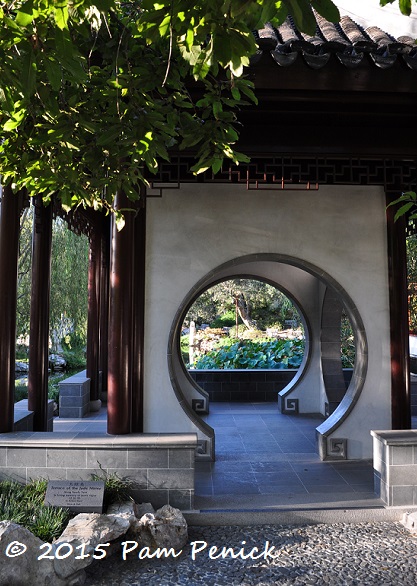 Moon gates invite you through it.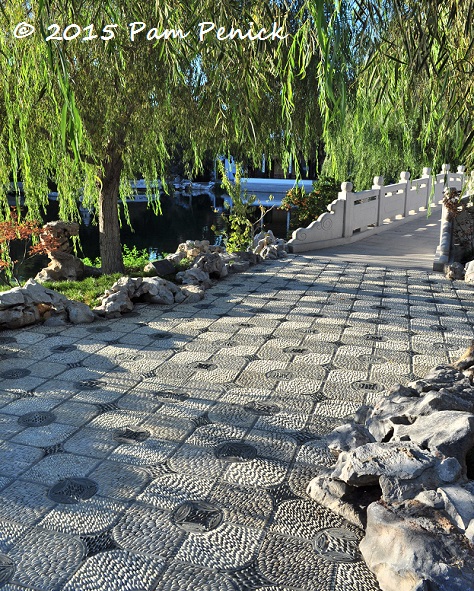 Another pebble mosaic path and a carved stone bridge lead on. Note the limestone rocks arrayed along the edges — similar to the holey limestone we have here in central Texas.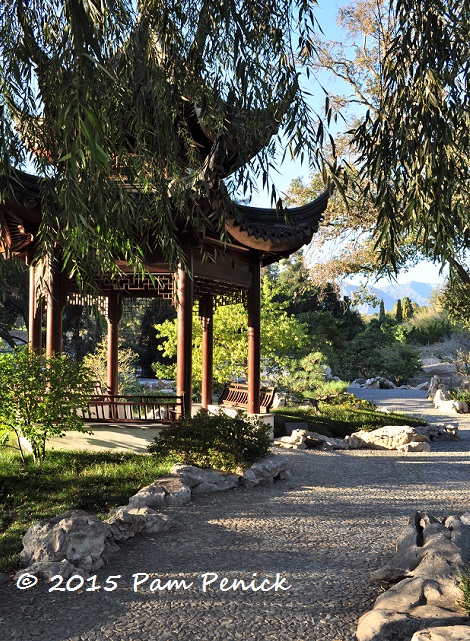 Pavilion of the Three Friends comes into view here, with a fine view of the San Gabriel Mountains in the distance.

And the three friends? According to Chinese tradition, bamboo, pine, and plum are considered the three friends of winter for the pine and bamboo's evergreen foliage and the plum's early spring flowers. Together, explains the Huntington's website, they symbolize fortitude, integrity, and resilience.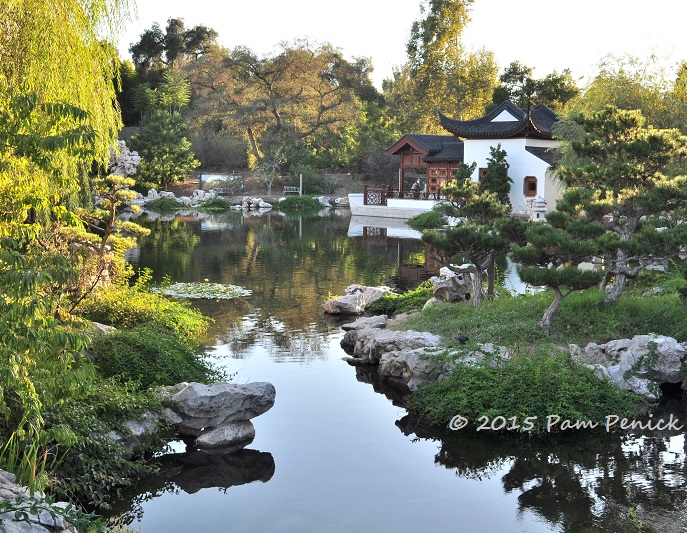 One last look. The Chinese Garden surprised me by turning out to be my favorite part of the Huntington gardens, in part, no doubt, due to the perfect golden hour during which I visited.
North Vista and Camellia Garden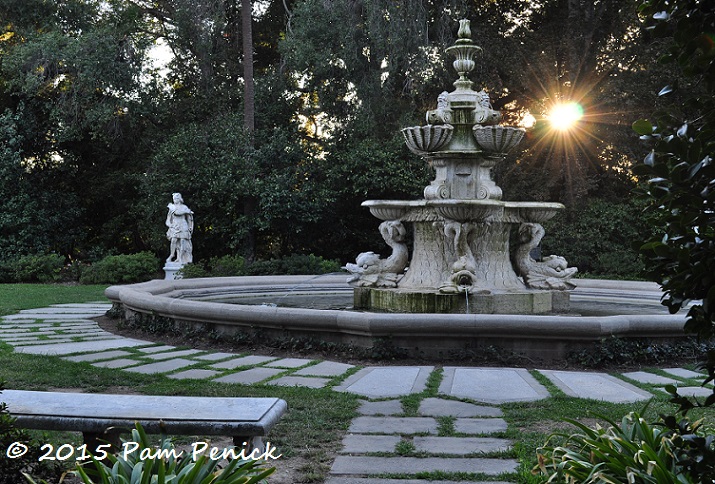 The light was still sweet as I made my way through the Camellia Garden via the North Vista, a vast lawn anchored at one end by this baroque fountain adorned with carved fish and shells. The website explains, "The Italian fountain had been brought to England in the early 18th century and remained there until it was purchased by Henry Huntington in 1915. It was shipped from New York in 48 boxes that filled an entire railway car. Oddly enough, the fountain arrived without assembly instructions and with a few extra pieces. It eventually was installed five years after the completion of the main house (ca. 1916)."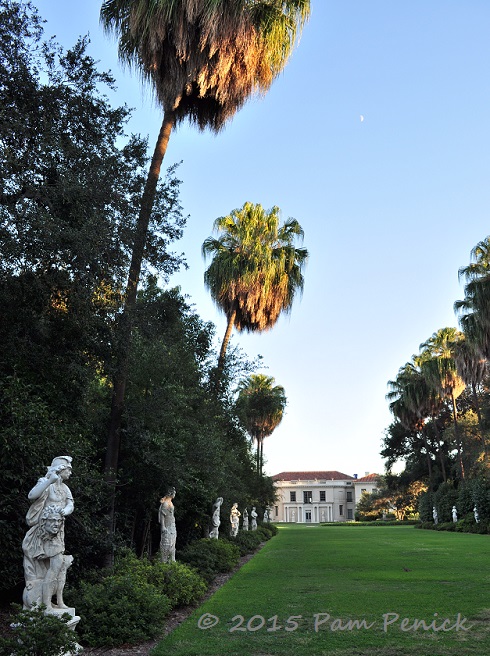 The lawn is lined with 18th-century sculpted figures, camellias, and palms, and at the opposite end sits the former home of Henry and Arabella Huntington, which today houses part of their art collection.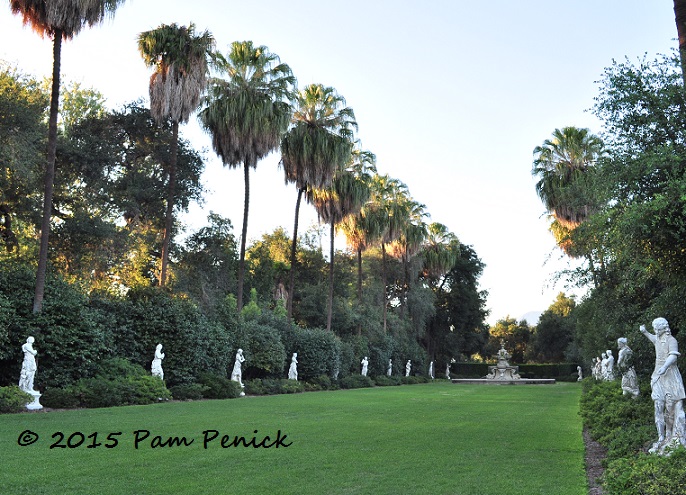 I'm sure this garden sees most of its traffic in winter, when the camellias bloom, but it's lovely in its summer greens too — although that lawn no doubt requires a lot of water to remain so green. The tall, skinny palms lend a distinctly California vibe to all the classicism.
California and Celebration Gardens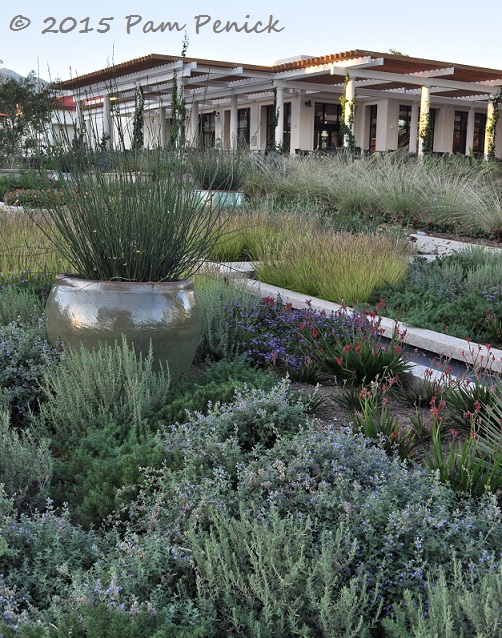 As the sun set and the staff prepared to close up, I straggled back, blissed out, toward the entrance, passing through the Mediterranean-style Celebration Garden, which is part of the water-wise California Garden. A shallow rill descends along a series of terraces formally planted with lavender, grasses, kangaroo paws, and other dry-adapted plants.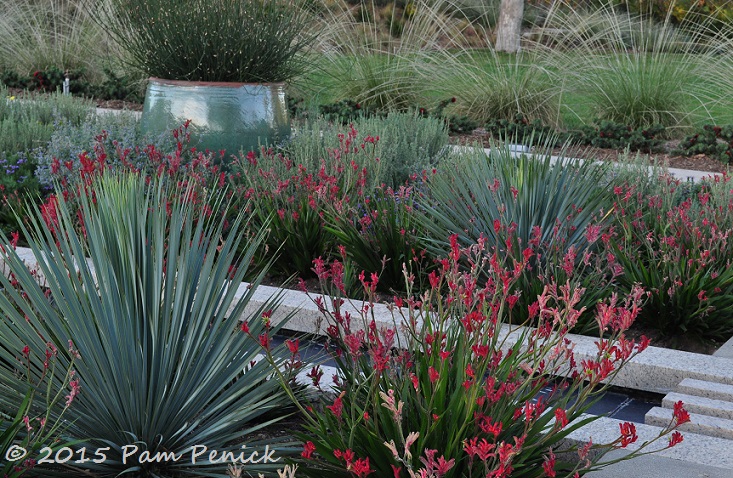 Red kangaroo paws looks especially pretty against cool-blue yuccas.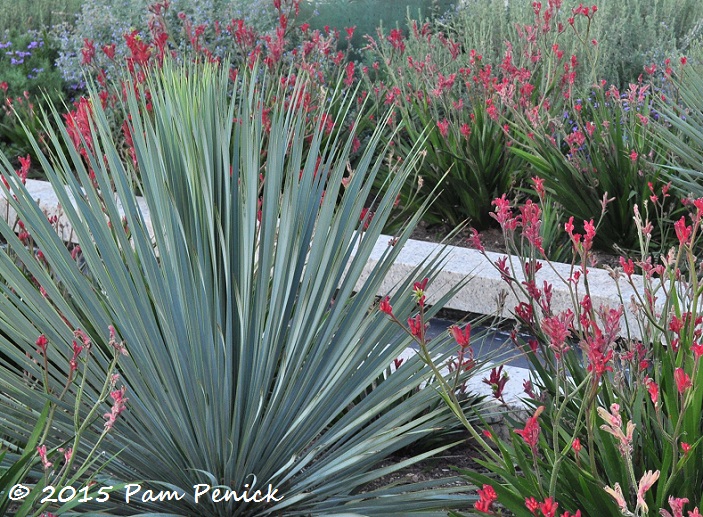 I would imitate this in a heartbeat if kangaroo paws tolerated Austin's humid summer climate.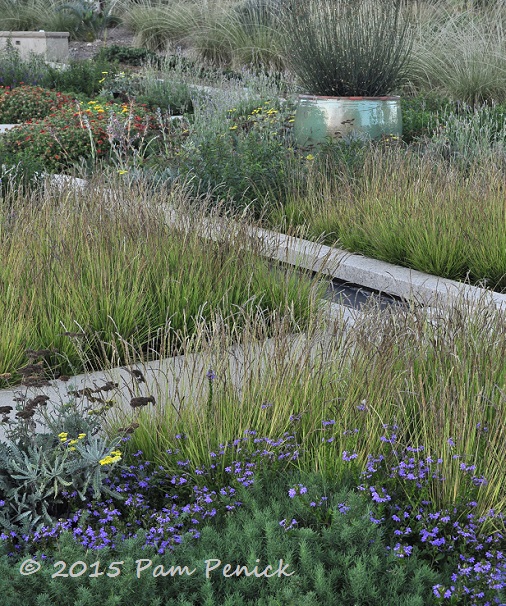 The grasses looked great too.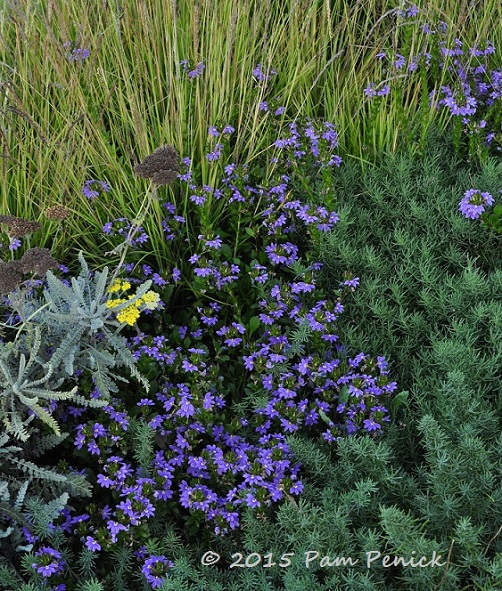 I love this combo, although I recognize only the yellow-flowering yarrow. Anyone know what the purple flowers are (update: looks like Scaevola aemula; thanks, Lara!), and is that a euphorbia at lower right?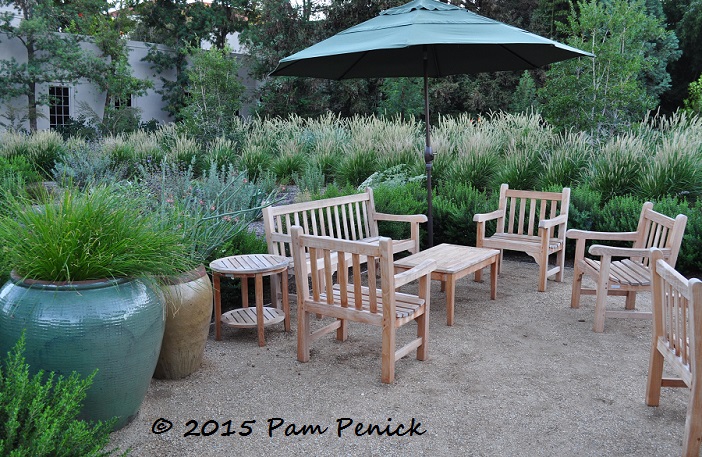 Closer to the entrance, the garden loses its formality with casually inviting seating areas tucked amid billowing grasses.
The Huntington truly is an amazing collection of plants beautifully designed. I'm so glad I had a chance to explore it after-hours, and I hope you've enjoyed this very long recap.
Gift Shop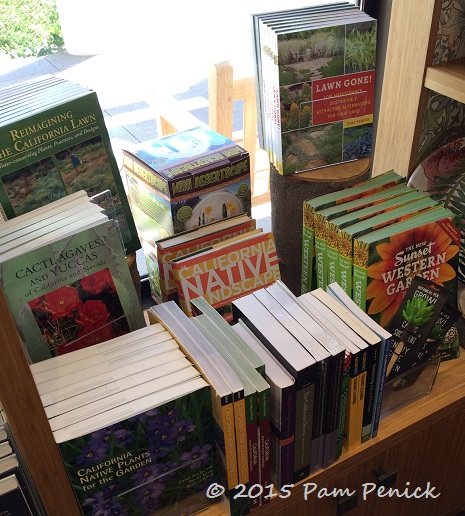 Part of my hideout time in the gift shop was spent autographing copies of my book Lawn Gone!, which I spotted prominently displayed as soon as I walked in the door.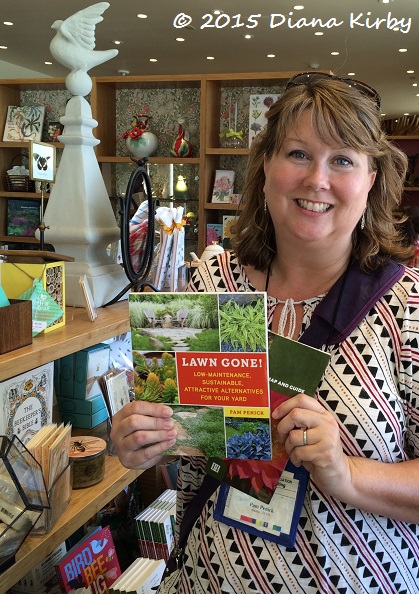 How exciting! My thanks to the Huntington for carrying it and for treating us at GWA to a very special after-hours visit.
That wraps up my series of Los Angeles-area garden tours. Click through for a look back at the beautiful Volk Garden, which has a borrowed view of the Huntington. You'll find links back to my other L.A. garden posts at the end of each post you follow.
All material © 2006-2015 by Pam Penick for Digging. Unauthorized reproduction prohibited.
posted in
Agaves
,
Aloes
,
Bamboo
,
Bonsai
,
Books
,
Botanic/Public Gardens
,
Bridges
,
Cactus
,
Chinese garden
,
Containers
,
Desert
,
Fences
,
Fountains
,
Garden art
,
Garden structures
,
Garden tours 2015
,
Grasses
,
GWA
,
Japanese garden
,
Lakes
,
Lawn Gone!
,
Lawns
,
Nurseries & Shops
,
Palms/Cycads
,
Paths
,
Patios & decks
,
Photography
,
Ponds
,
Rills
,
Rivers & creeks
,
Rock
,
Sculpture
,
Seating
,
Succulents
,
Travel
,
Trees
,
Walls
,
Water features
,
Water-Saving Garden
,
Windows
,
Xeric plants
,
Yuccas