October 17th, 2007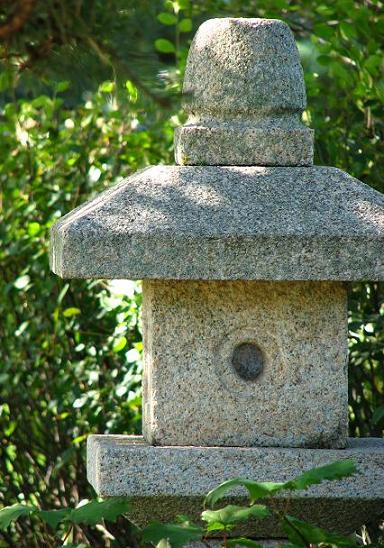 One of my garden goals is to learn more about Japanese gardens, ideally through a trip to Japan. (Have you noticed that I like to travel?) Last spring I was inspired by Tom Spencer's beautiful garden photos from Japan. Despite my appreciation for their quiet, reflective beauty, however, I still don't quite get these stylized gardens. I lack the key to their meaning. So exploring the Japanese Garden at the Chicago Botanic Garden last week was a bit like looking at a beautifully illustrated book whose text is printed in a foreign language.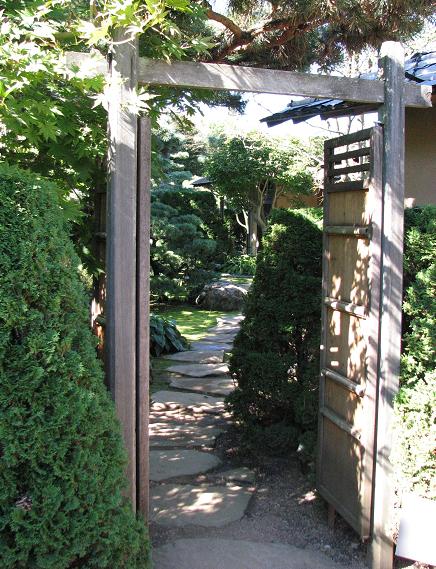 In Japanese gardens, I find myself drawn to the ornament, to the hardscaping, rather than the plants, which often remind me—I hate to admit it—of business-park plantings. Here, a simple gate opens into a mossy courtyard with a trickling bamboo fountain.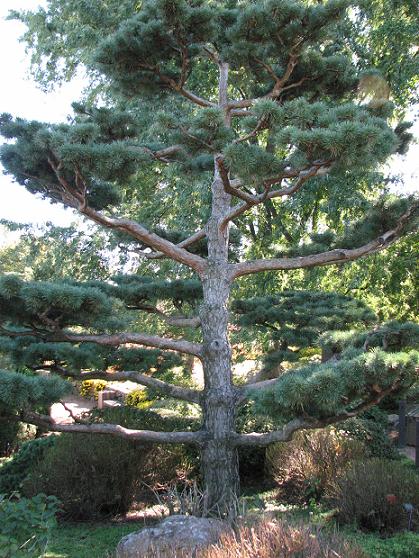 A stately focal point near the entrance to the garden, this sculpted pine commands a view of the hillside.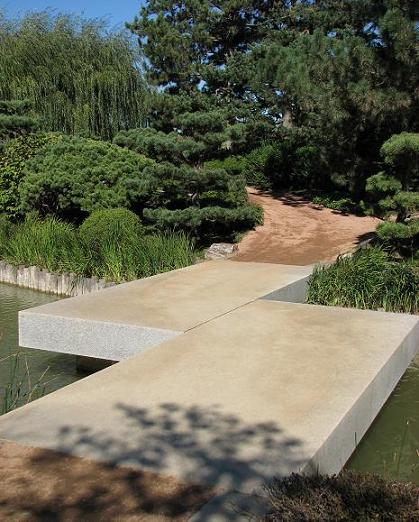 A zigzag bridge, so built to stymie demons, leads from one island to the next—from Island of the Auspicious Cloud to Island of Clear, Pure Breezes. Three islands make up the Japanese Garden, but only two can be explored. The third, inaccessible to mortals (visitors, anyway ; staff must ferry themselves across the lake in boats), is wryly named Island of Everlasting Happiness.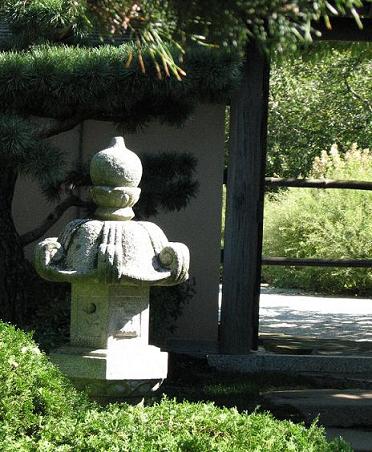 Thirteen stone lanterns mark focal points in the garden.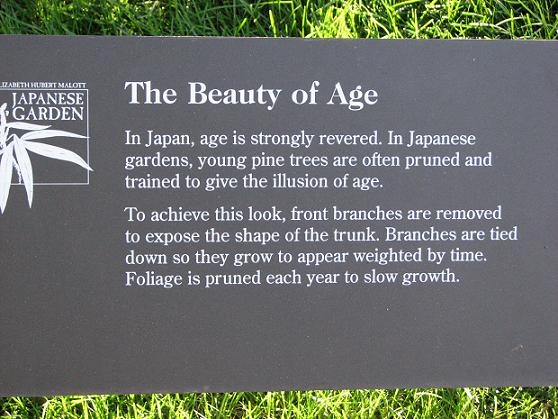 Hmm, maybe Japan would be the place to retire . . .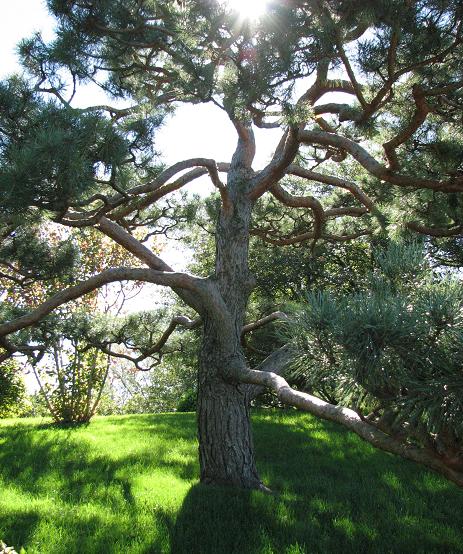 Contorted pine. I'd love to have this in my garden.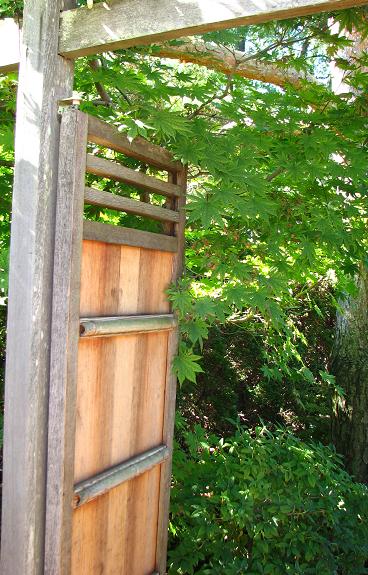 A charming gate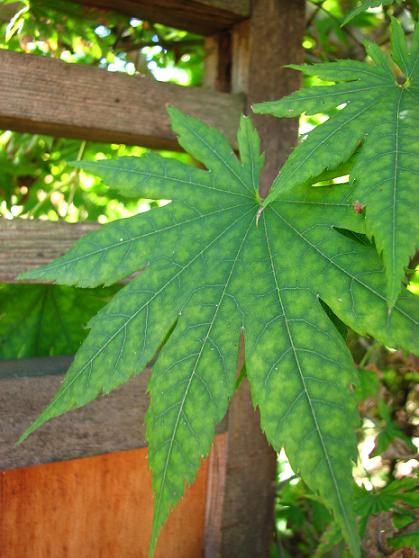 Maple leaf
An exuberant group of schoolchildren followed us through the Japanese Garden, obliterating its tranquility. I'm glad the kids got to see the garden (the girls were all clutching tiny bouquets of flowers cut for them by generous staff members). Maybe a future gardener was among the rowdy bunch, soaking up inspiration. However, for us it meant that we hustled through and soon climbed a hillside path to another part of the garden.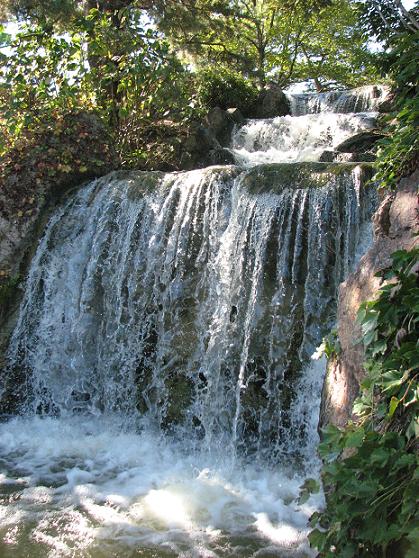 Just outside the Japanese Garden, a grand waterfall cascaded down rocky ledges.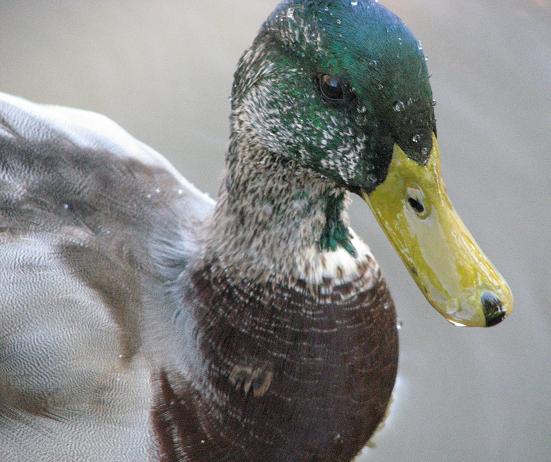 At the bottom, where the water rippled into the lake, this duck watched us with a beady, shrewd eye, wanting to be fed, I suspect.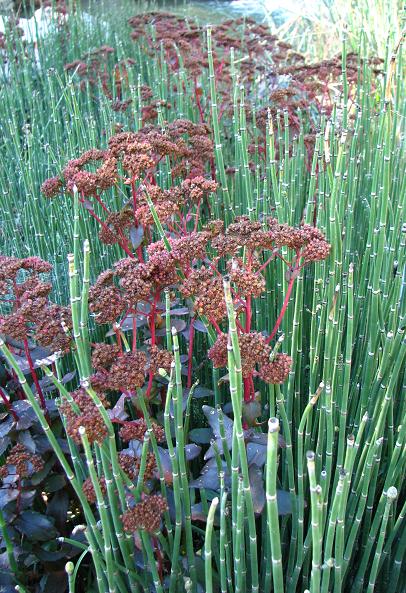 I like this unique combination of sedum and horsetail. How does this work? Sedum likes dry feet, and horsetail likes damp. Can anyone identify the sedum for me? Maybe it's something else altogether. Update: It is Sedum 'Purple Emperor.' Thank you to Mr. McGregor's Daughter for the ID.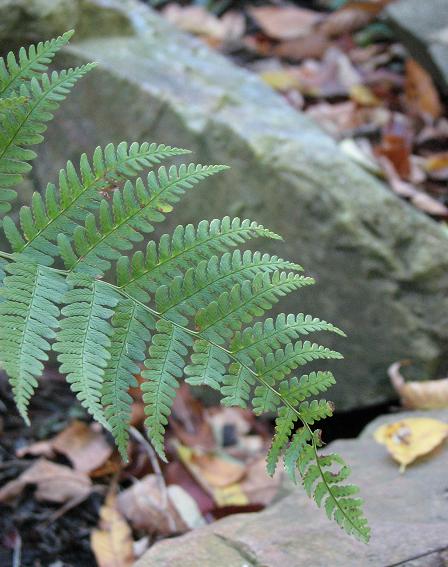 On the hillside, a dainty fern contrasted beautifully with hard stone.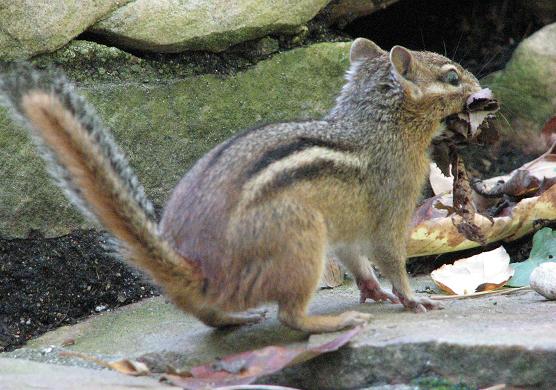 Under one of the stones, a chipmunk had dug a burrow, and he darted back and forth across the path with bundles of seeds or leaves in his mouth, storing up for winter or feathering his nest.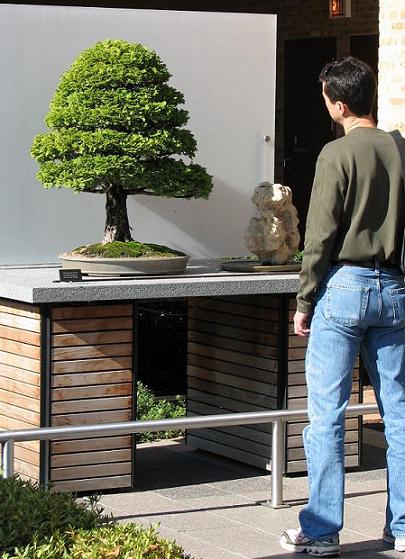 Earlier that morning we'd stumbled upon the garden's extraordinary Bonsai Collection. I'd read about the collection months ago in a magazine but forgotten that it was housed at the Botanic Garden. So it was a real treat to walk into this courtyard and see the display that I'd read is one of the best in the world.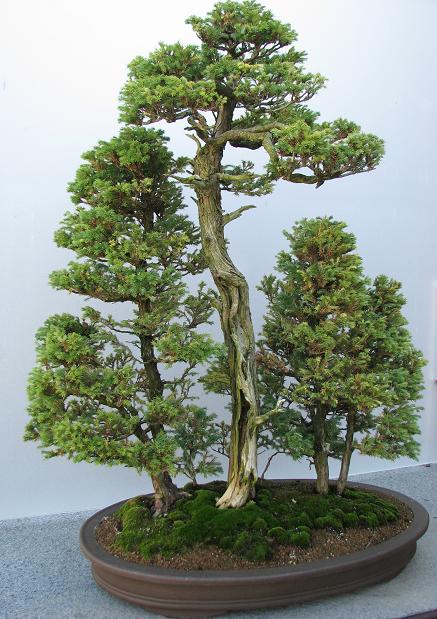 This miniature forest was my favorite. But I was also intrigued to see single trees and shrubs that commonly grow in Austin, like crepe myrtle and loropetalum, turned into tiny, wizened trees.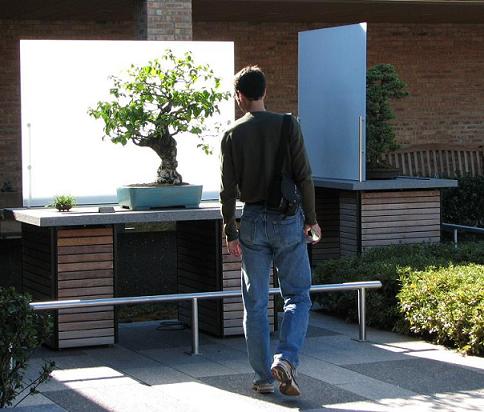 According to the guide, bonsai are intended to be viewed from the front, so scrims conceal the backs from view. Nearly 200 bonsai make up the collection, and they are rotated through the outdoor displays spring through fall. In the winter they reside in greenhouses.
Click here for yesterday's tour of the English Walled Garden . Next up is the colorful Circle Garden.
posted in
1st garden--2007
,
Arbors
,
Birds
,
Bonsai
,
Botanic/Public Gardens
,
Bridges
,
Doors
,
Garden tours 2007
,
Gates
,
Japanese garden
,
Paths
,
Travel
,
Water gardening
,
Waterfalls
,
Wildlife