October 16th, 2015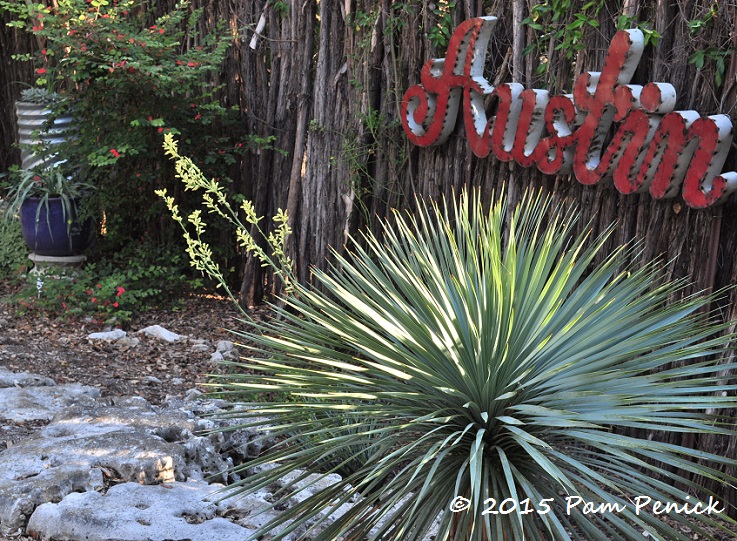 A new yellow Hesperaloe parviflora peeks around a Yucca rostrata in the lower garden.
I've attended many a garden tour, but I had no idea how much work prepping for one requires. Not because anyone tells you to, but because your own sense of perfectionism kicks in when you imagine strangers examining your garden.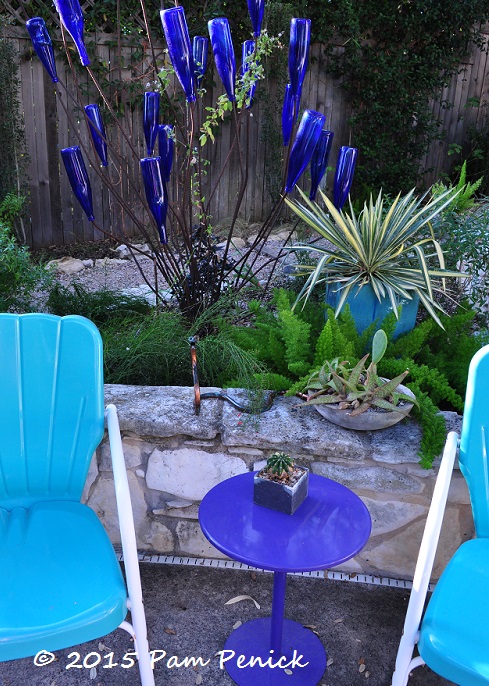 Tomorrow my garden will be open to the public for the first time. What has that meant? A year-long push to finish a few projects, the addition of lots of plants and garden art, and many extra hours spent each week (even during the broiling summer — yes, me!) pruning, tidying, and generally fussing over my garden in a way I don't normally bother with. For the past 4 days, I've worked in the garden nearly every waking hour.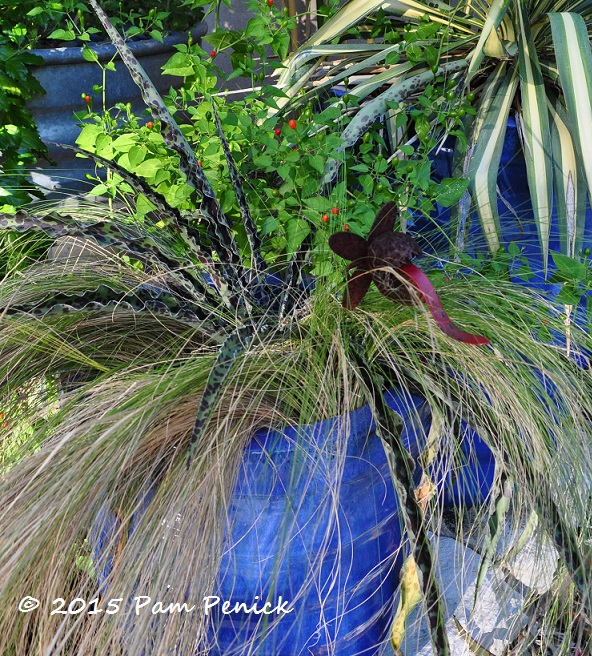 'Chocolate Chips' manfreda with Mexican feathergrass and chile pequin
All of this is to say that a garden prepped for garden tour is not a normally maintained garden. I knew this. But now I understand it. When you finally stop fluffing, it's not because there's nothing left to do. Oh no, the garden, sponge-like, can always suck up more of your time and money. No, you finally stop because you're out of time. And thank goodness for that. Tomorrow I'll be relieved to put aside the tools and hose and finally welcome visitors into my garden. Talking with fellow gardening enthusiasts, or even the merely curious, will be a fun change of pace. I'm ready!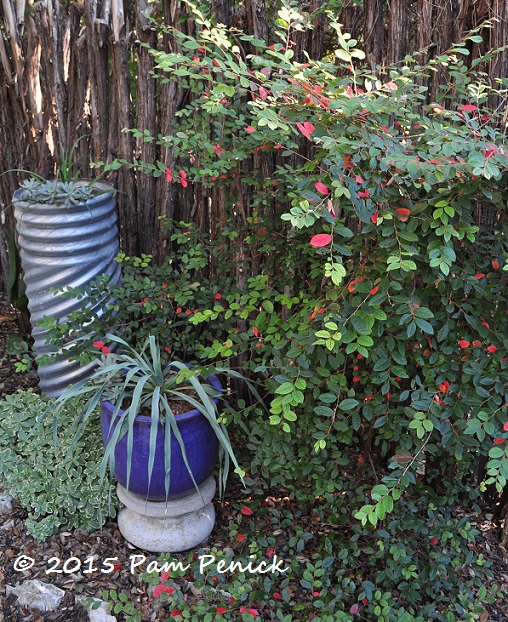 Today, however, is a day to celebrate the importance of foliage in the garden. For Foliage Follow-Up, I prowled the back garden last evening, taking a few pictures of foliage that caught my eye. Like this Loropetalum chinense 'Sizzling Pink', which, as a bit of fall color, sports a handful of crimson leaves among the normal array of green and purplish-hued ones.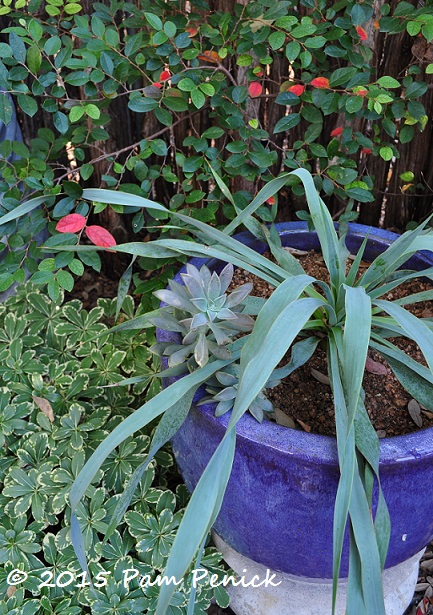 A foliage-only combo: paleleaf yucca (Y. pallida) and ghost plant (Graptopetalum paraguayense) in the purple pot, with 'Cream de Mint' pittosporum and the loropetalum.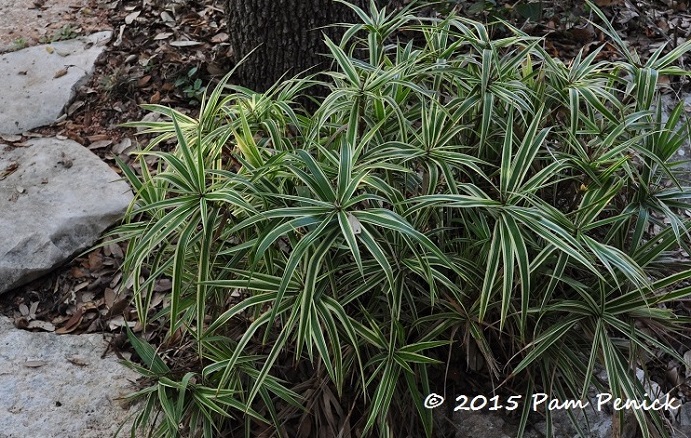 I love green-and-white striped 'Sparkler' sedge, which grows well in the root-clogged dry soil around live oaks. What a beautiful plant.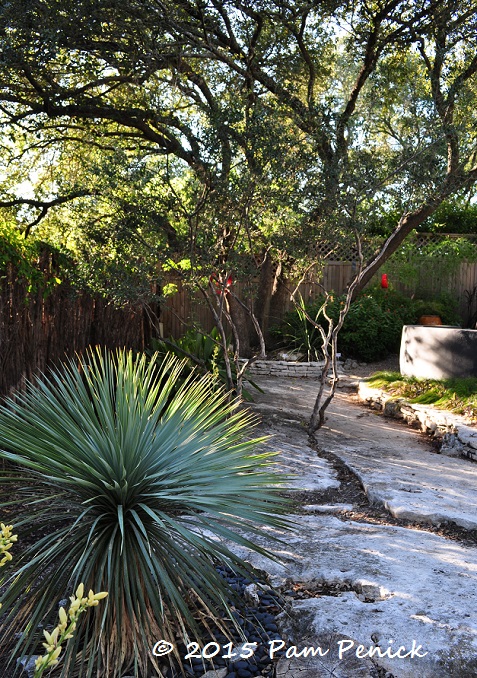 This is the long view of the lower garden, where exposed slabs of limestone form a natural path. Texas persimmon (Diospyros texana) in the foreground and live oak in the background are part of my garden's canopy of trees.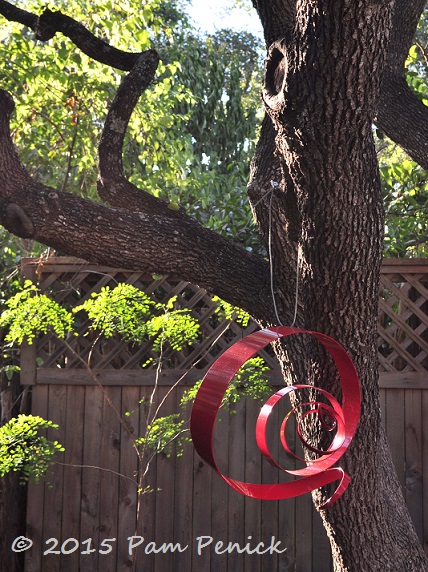 And just for fun, here's a new piece of garden art. My sister and her wife gave me this dynamic ribbon sculpture from Joshua's Native Plants in Houston for my birthday. I hung it from one of the live oaks, where I can admire its bold color and form at eye level.
This is my October post for Foliage Follow-Up. Fellow bloggers, what leafy loveliness is going on in your garden this month? Please join me in giving foliage its due on the day after Bloom Day. Leave a link to your post in a comment below. I really appreciate it if you'll also link to my post in your own — sharing link love! If you can't post so soon after Bloom Day, no worries. Just leave your link when you get to it. I look forward to seeing your foliage faves.
_____________________________
Austin-area gardening friends, come to the Inside Austin Gardens Tour this Saturday! My garden will be on tour, along with 6 others. Tour tickets may be purchased at each garden for $5 each or $20 for all. I'll also have autographed copies of my book Lawn Gone! for sale ($20), if you're looking for fall reading or an early holiday gift.
Inside Austin Gardens Tour
Saturday, October 17, 2015
9:00 am to 4:00 pm
All material © 2006-2015 by Pam Penick for Digging. Unauthorized reproduction prohibited.
posted in
Bottle tree
,
Containers
,
Foliage Follow-Up
,
Garden art
,
Garden tours 2015
,
Grasses
,
Paths
,
Sculpture
,
Seating
,
Shrubs
,
Signs
,
Succulents
,
Trees
,
Walls
,
Xeric plants
,
Yuccas