October 14th, 2015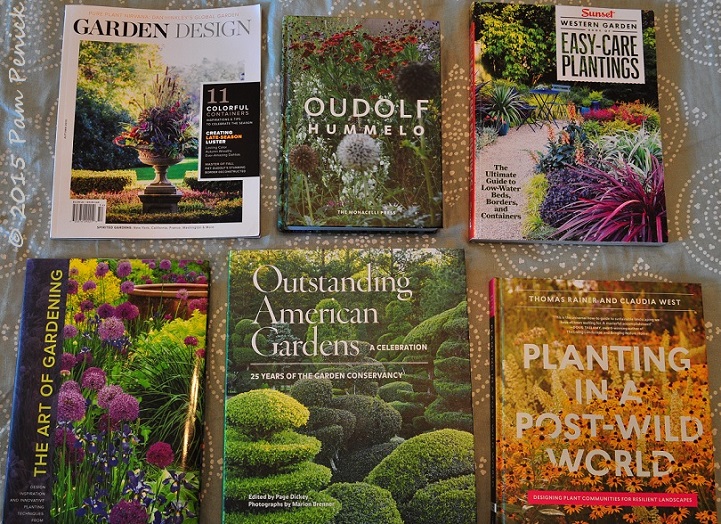 I'm going to need a bigger bedside table.
Here's what I'm reading right now, and just look at this awesome selection of design-oriented gardening books (and one magazine). I expect to review some of these in coming months, after the garden-tour craziness is behind me. But in case you're starting to make your holiday wish list, I thought I'd go ahead and share these with you. All but two I bought for myself; Hummelo was sent for review, and my DH gave me Planting in a Post-Wild World for my birthday. I mention this just so you know I've put my money where my mouth is on these publications.
Garden Design magazine. One issue of this quarterly, ad-free, "bookazine" will keep you in great garden reading for weeks. The current issue includes in-depth articles about designing for drought, Piet Oudolf's immersive planting style, plant explorer Dan Hinkley's garden, and more. Variety, depth, and gorgeous eye candy. What more do you need from a gardening magazine?
Hummelo: A Journey Through a Plantsman's Life by Piet Oudolf and Noel Kingsbury. This is the story of Piet Oudolf's evolution from beginning designer to renowned plantsman and founder of the New Perennials movement. I've gotten a bit bogged down in the extensive detail about Oudolf's early years establishing his nursery and design business, but even so, I'm intrigued by the impact of community in shaping the designer he is today. This is a book I'll come back to soon.
Sunset Western Garden Book of Easy-Care Plantings: The Ultimate Guide to Low-Water Beds, Borders, and Containers. Sunset's focus on the West excludes central Texas, but it still has relevance to the gardening we do here. Drought, heat, sustainable gardening, and an emphasis on outdoor living are covered, and plenty of gorgeous garden photos illustrate various elements of design. I eagerly read through this one already and will go back and do a slower perusal this fall.
The Art of Gardening: Design Inspiration and Innovative Planting Techniques from Chanticleer by R. William Thomas. Chanticleer stole my heart when I visited several years ago, and so I eagerly snapped up this book, written by head gardener Bill Thomas and photographed by the talented Rob Cardillo, when it came out. I'm learning so much about how Chanticleer's creative gardens are imagined, planted, and maintained. I'm engrossed and carrying this book with me everywhere right now.
Outstanding American Gardens: A Celebration: 25 Years of the Garden Conservancy. Showcasing "eight gardens the conservancy has helped preserve and 43 of the more than 3,000 private gardens across the country that have been opened to the public through its Open Days Program," including the Austin garden of James David, this book looks like an eye candy extravaganza with photos by Marion Brenner. I look forward to reading it and hope there'll be plenty of commentary about the gardens as well.
Planting in a Post-Wild World: Designing Plant Communities for Resilient Landscapes by Thomas Rainer and Claudia West. This book is getting a lot of buzz in the design community, and it's next on my reading list, after I finish the Chanticleer book. I've followed co-author and landscape architect Thomas Rainer's insightful blog, Grounded Design, for years and am sure his book will be as intelligently written.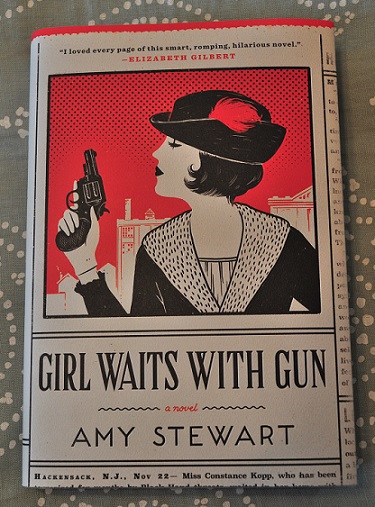 Girl Waits with Gun by Amy Stewart. Although this isn't a gardening title, I include it because it's written by Amy Stewart, better known as the author of Wicked Plants and The Drunken Botanist, and because this fun story recently kept me entertained on a long plane ride home from L.A. Unlikely heroine Constance Kopp is a no-nonsense, battle-ready recluse who gets sucked into a cat-and-mouse drama with a nasty gangster. Set in 1914 and based on a true story, Girl is Amy's first venture into historical fiction. Her talent for story-telling turns a dusty historical news clipping into a lively detective novel.
Are you reading any of these? If not, add them to your list! And why not tell me what gardening titles you're reading?
_____________________________
Austin-area gardening friends, come to the Inside Austin Gardens Tour this Saturday! My garden will be on tour, along with 6 others. Tour tickets may be purchased at each garden for $5 each or $20 for all. I'll also have autographed copies of my book Lawn Gone! for sale ($20), if you're looking for fall reading or an early holiday gift.
Inside Austin Gardens Tour
Saturday, October 17, 2015
9:00 am to 4:00 pm
All material © 2006-2015 by Pam Penick for Digging. Unauthorized reproduction prohibited.