October 11th, 2007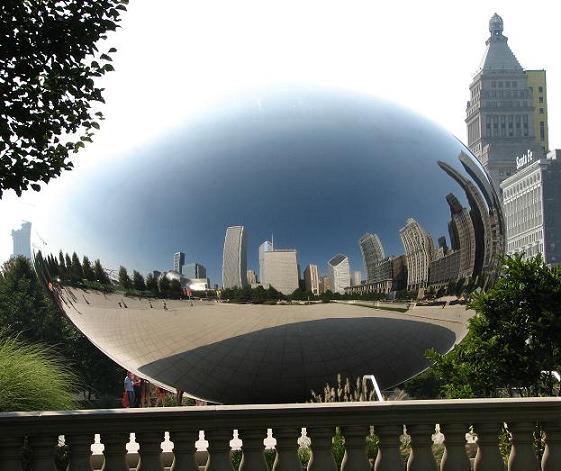 Cloud Gate, popularly known as the Bean, in Millennium Park
I would return to Chicago for the gardens alone. From street-corner planting boxes filled with tumbling perennials and annuals to prairie-style Lurie Garden to the vast Botanic Garden, Chicago had my head swiveling to take it all in. My husband and I flew up for the marathon, which he ran on Sunday despite dreadfully hot conditions, and we stayed for two more days to sightsee. It was a first visit for both of us.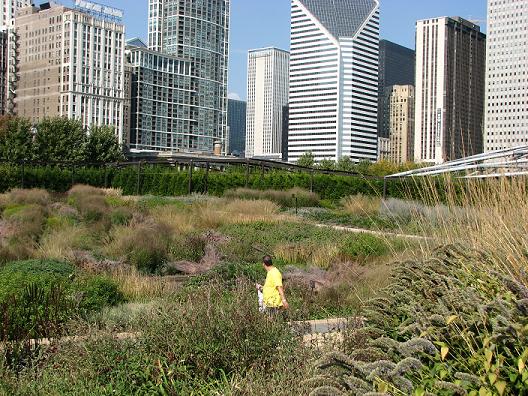 After watching the race from several locations on Sunday morning, I walked to Millennium Park to meet my husband at the finish line. Along the way, I came upon the magnificent stainless-steel sculpture Cloud Gate, pictured at top, and Lurie Garden, an open vista of ornamental grasses and prairie perennials sheltered by a tall, evergreen hedge, the skyscrapers beyond providing a second vertical backdrop.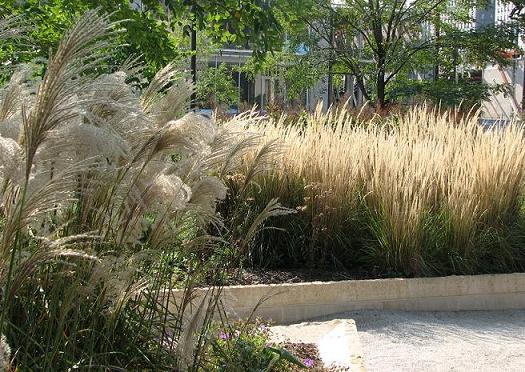 In collaboration with Gustafson Guthrie Nichol Ltd., Piet Oudolf designed the perennial planting, and his signature sweeps of grasses glowed incandescently in the late-morning sunlight, in glorious peak bloom.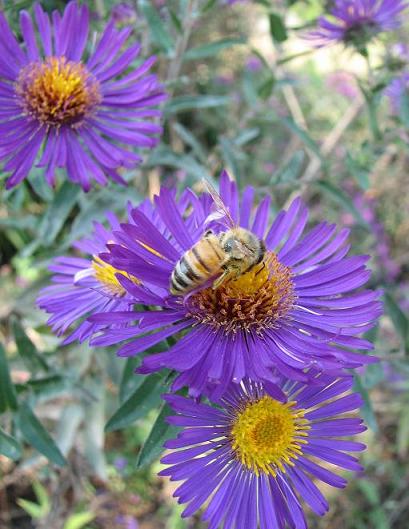 Despite its proximity to the finish line, where the heat-plagued marathon straggled to an end, Lurie Garden was nearly deserted, to my delight. I wandered along its paths, stopping to take in the large views and the close-ups, like this aster.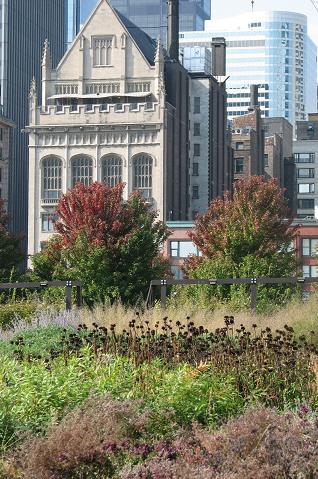 Old and new buildings stand shoulder to shoulder beyond the garden. In the foreground, the rust, copper, and tan hues of autumn play across the grasses, perennials, and ornamental trees.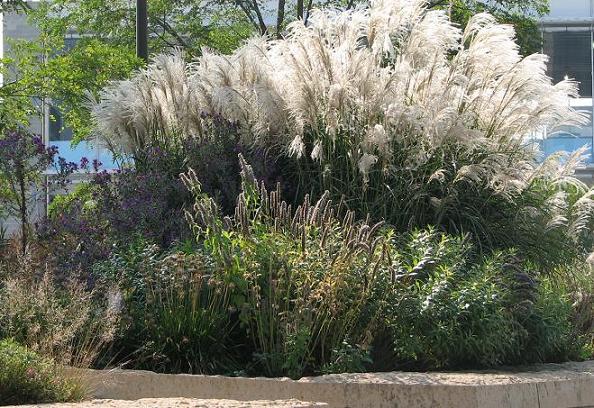 More grasses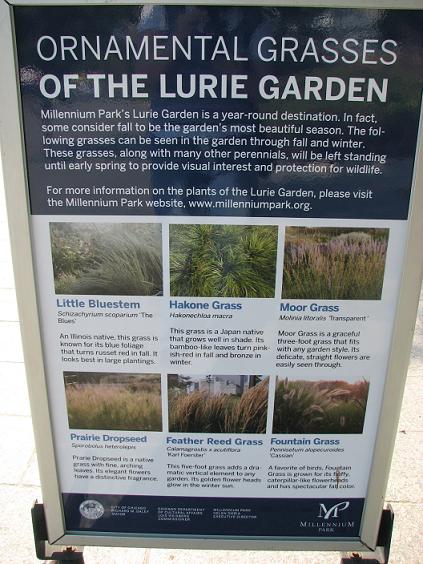 A seasonal sign helpfully identified the dominant grasses, a mix of exotic and native.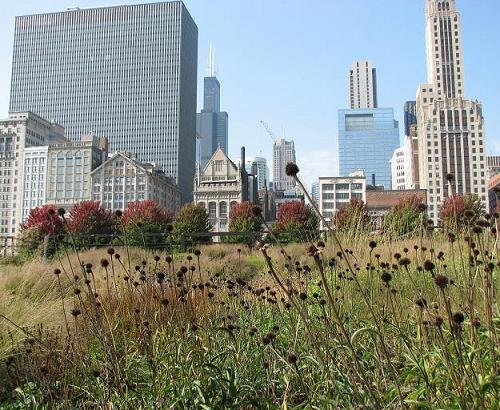 Coneflowers, gone to seed, stand erect and distinct like skyscrapers in miniature.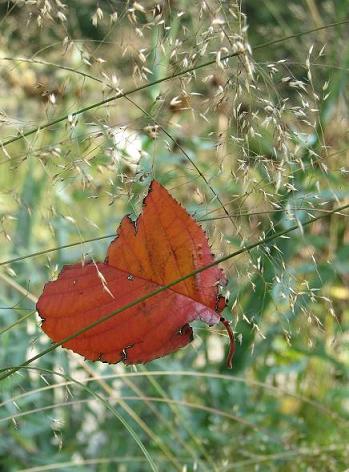 Although the temperature didn't reflect it, fall had arrived in Chicago.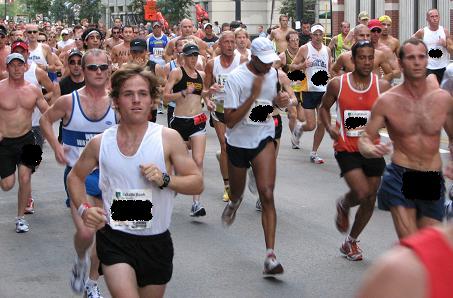 Earlier that morning, I watched the runners fly past at approximately the 1-mile mark. The heat hadn't yet taken its toll.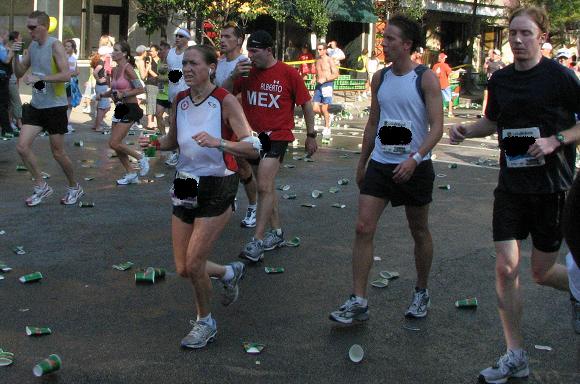 But by the 12-mile point, the fatigue and strain was evident. Hordes of runners pressed on anyway, bless 'em, and we spectators, sweaty just standing there and watching, cheered them on. It's inspiring to watch a marathon. Don't ask me to run one though.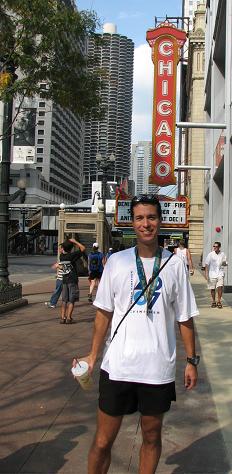 After the race, limping back to the hotel, one happy runner shows off his hard-earned finisher's medal.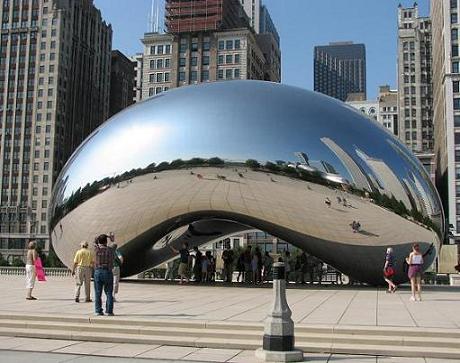 Click for my first post about the gorgeous Chicago Botanic Garden, where we spent most of Tuesday. I'll leave you with another photo of the Bean.
Update: Click here for my post about Lurie Garden in spring bloom.