September 25th, 2015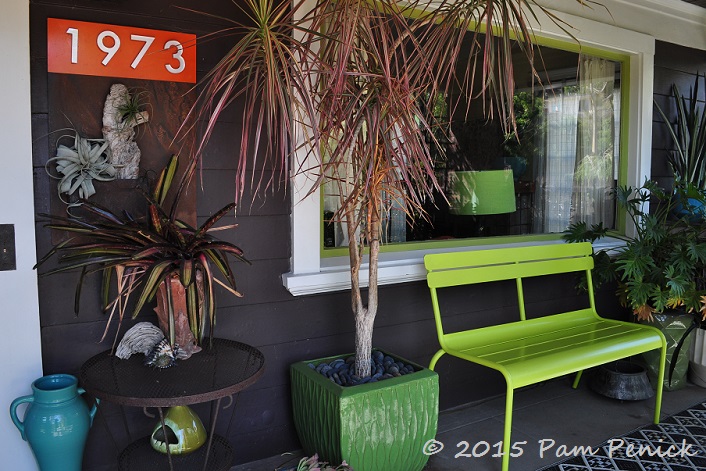 I was in Los Angeles/Pasadena last weekend for the annual Garden Writers Association symposium, and boy oh boy, do I have some cool gardens to show you! Not all were on the GWA tours, which were limited to 3 private gardens and one public garden (the fabulous Huntington). My friend and traveling companion Diana Kirby and I spent two days prior to GWA visiting blogging friends and seeing their gardens as well.

One of these was the home garden of Annette Gutierrez, co-owner of the lust-inducing garden shop Potted and all-around fun and wildly creative person. We'd been online friends before I met her at the Garden Bloggers Fling a few years ago, and she generously arranged a day of private garden visits for us, starting with her own stylishly livable garden on a palm-lined street of 100-year-old bungalows in the Hollywood Hills.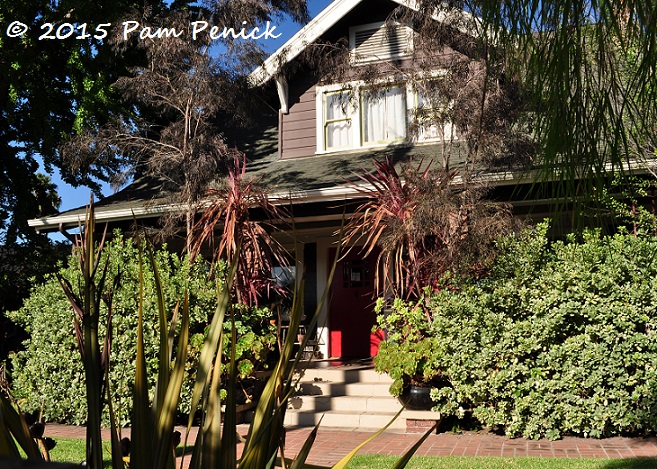 Our mid-morning arrival during a heat wave of sunny, 100-degree days made photography a challenge, but we were eager to see it all. Here's the streetside view of Annette's charming home. A pair of giant pittosporums shelters and shades the front porch. The pinky-purple cordylines towering over the entry steps announce that a playful gardener lives here.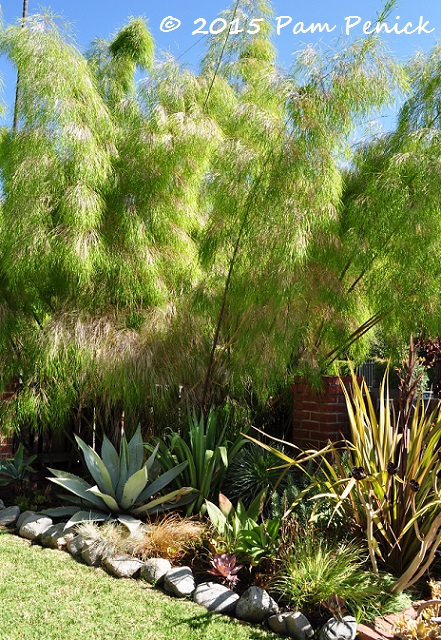 A small lawn bordered by xeric beds fronts Annette's house, and I was swooning over this corner screen of Mexican weeping bamboo (Otatea acuminata aztecorum). Be still, my heart! This is how it's supposed to look, instead of the straggly canes in my own garden, which have endured multiple winter die-backs.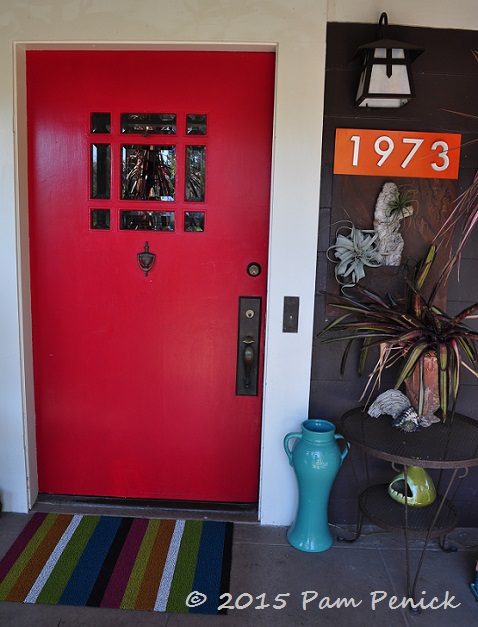 And then there's the front porch, which is essentially Potted style distilled to its colorful, playful, plant-displaying essence. How could you ever enter this door and not feel cheerful?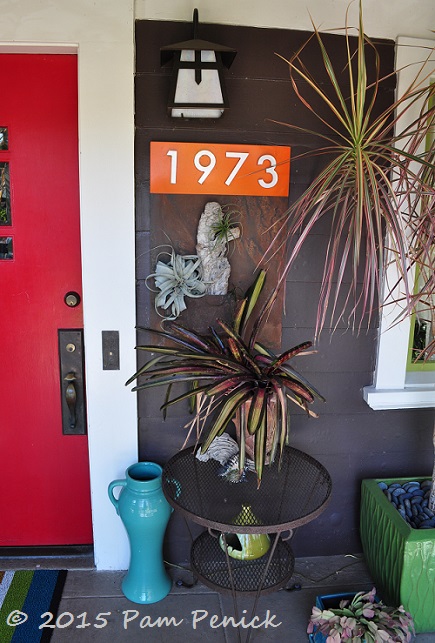 A rust-colored City Planter with an orange address plaque and tillandsias sets the stage. Below, on a small table, a potted bromeliad and dracaena (?) add strappy lime and pink accents.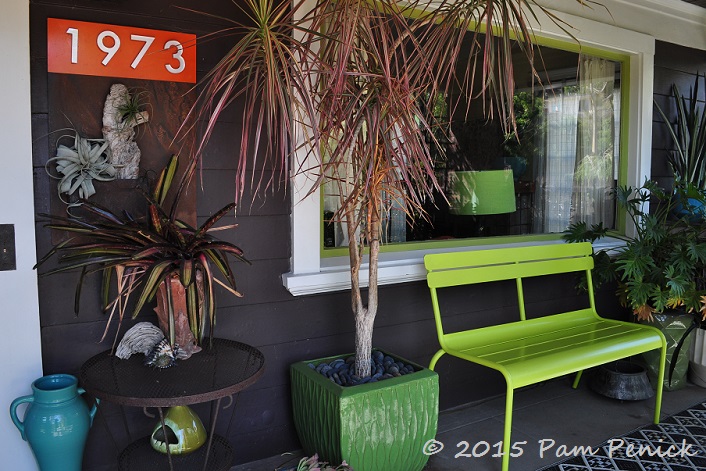 A wider view shows a lime-green bench picking up the window trim color. Also, notice how Annette has mulched the green potted plant with Mexican beach pebbles set on edge — lovely!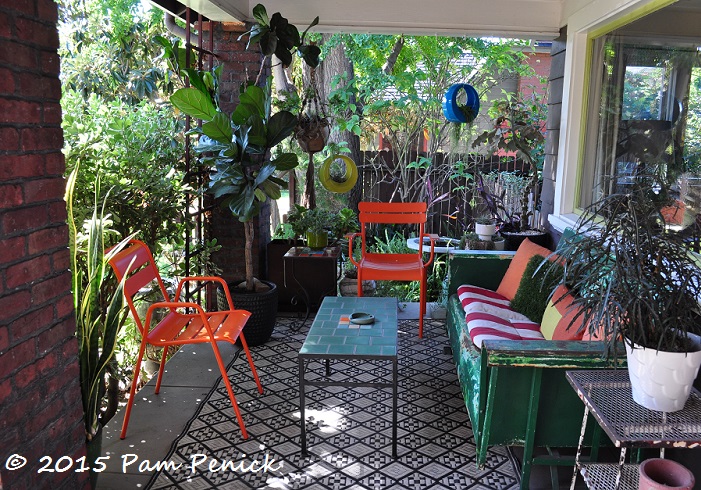 To the left, orange Fermob chairs and a vintage green glider invite lounging behind the pittosporum hedge.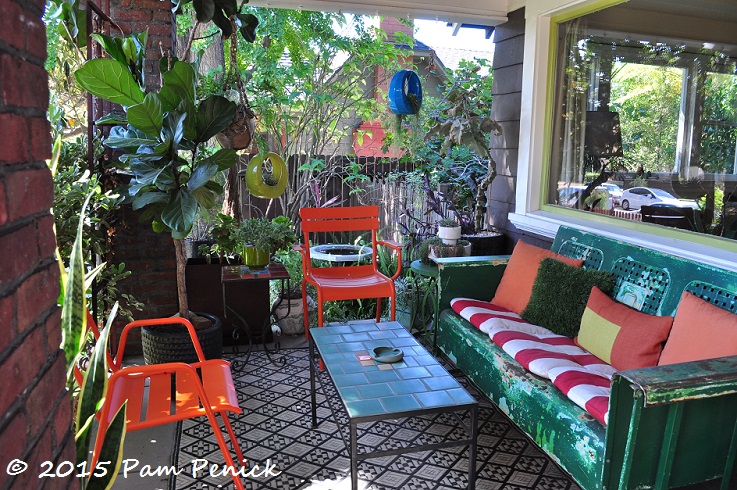 Chartreuse and sky blue Circle Pots hang from the porch ceiling, adding another pop of color as they display cascading succulents.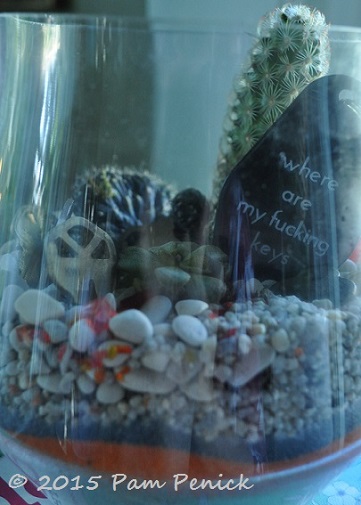 Avert your eyes if the f-bomb offends you. Annette gave us a tour of her home's beautiful, mod-meets-midcentury interior, and I couldn't resist snapping this laugh-inducing terrarium in the guest room. She said a friend made it for her because she's always losing her keys.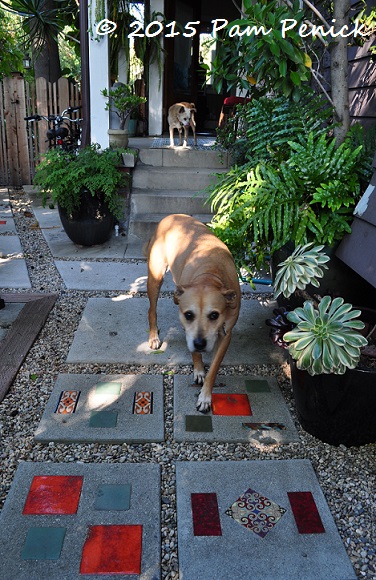 Next we went out a side door to explore a shady patio where Annette said the idea for Potted was hatched. She and her partner, Mary, spent a summer figuring out how to make these tile-inset pavers, and by the time they perfected it, they'd decided to open a garden shop together. The pups are Marley (cautiously approaching the stranger with the camera) and Phlea (standing on the side porch).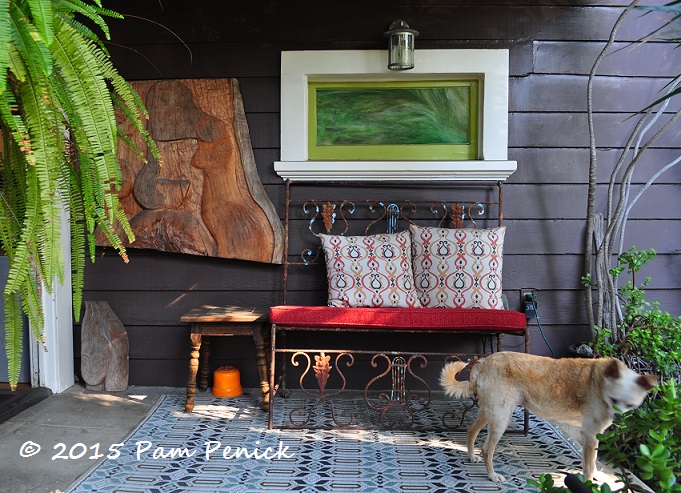 The side porch: I love this quiet, artful vignette. Phlea is pretty cute too.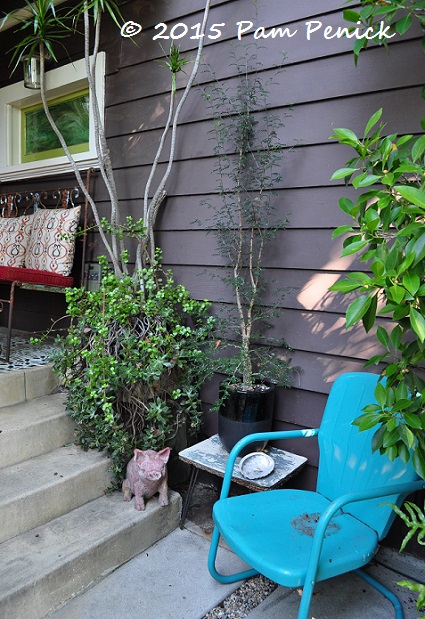 Every space has something to look at, even the steps. Annette also likes to put seating throughout her garden, as do I. Chairs make great decor, even if you rarely sit in them.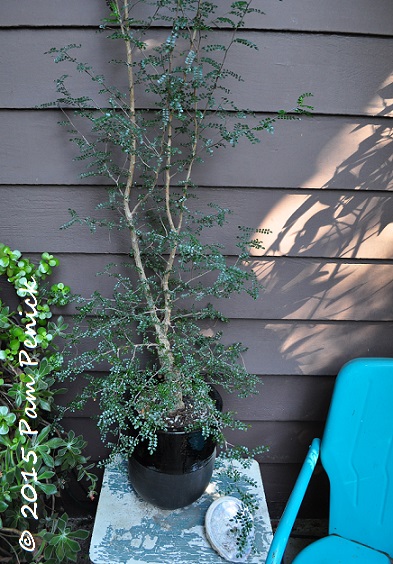 The eggplant-colored siding makes a nice backdrop for her plants and accessories.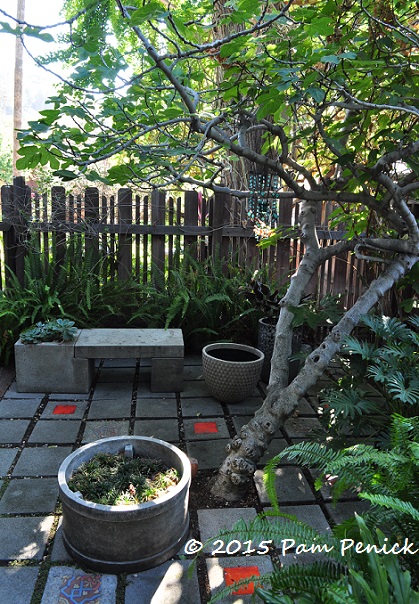 A fig shades the small patio, which is paved with Annette's and Mary's pavers.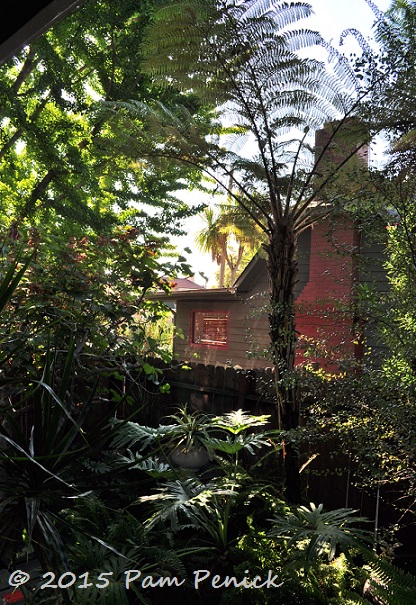 Big-leaved plants, like philodendron and tree fern, give this space a lush, rain-forest appeal.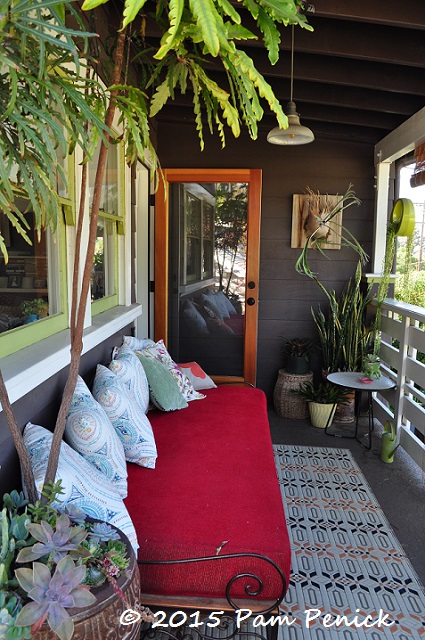 Upstairs, a covered porch off the master bedroom invites afternoon naps on a red-cushioned daybed. It overlooks the backyard swimming pool.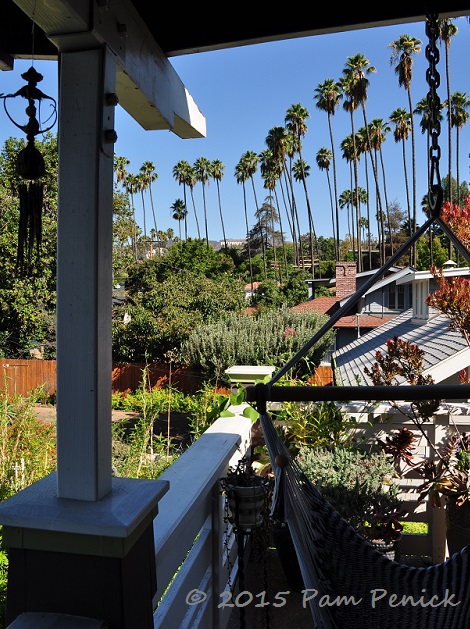 Turning around and looking lengthwise across the porch, you see iconic Los Angeles palm trees and…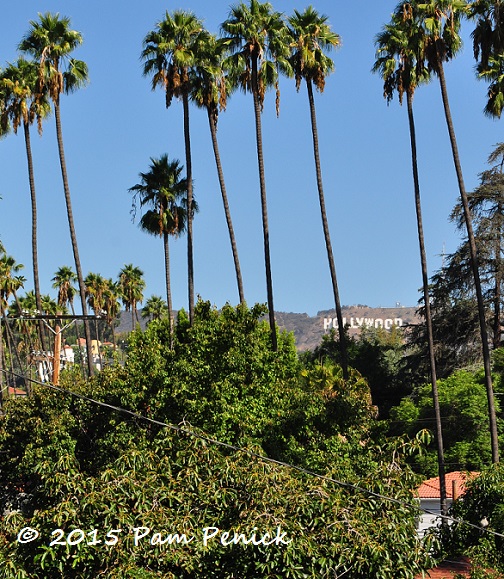 …yes, it's the Hollywood sign. What a view!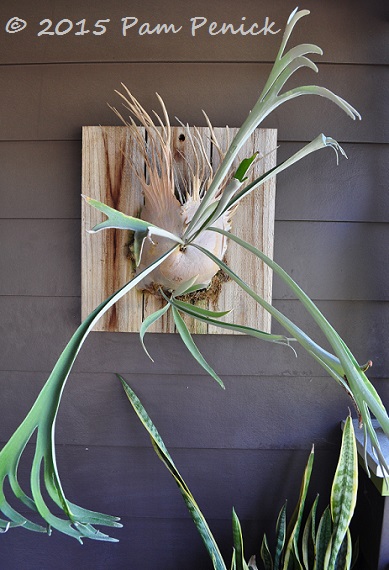 Staghorn fern enjoys the bright shade of the porch.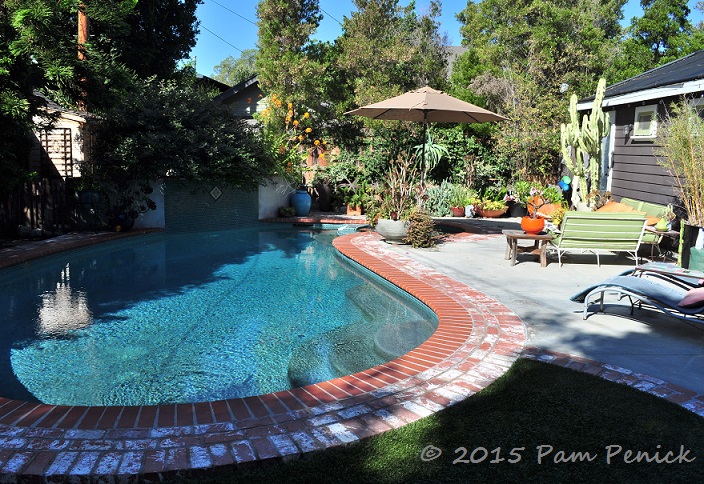 The back garden is, I suspect, where Annette and her family spend most of their time. The back wall of the house is a series of glass doors, which fold open to allow for that much-envied indoor-outdoor California lifestyle. The curvy, brick-edged pool looked very inviting on this hot day. A tiled wall at the back of the pool is a colorful focal point and gives privacy. At the right is a guest house, plenty of seating, and lots of potted plants.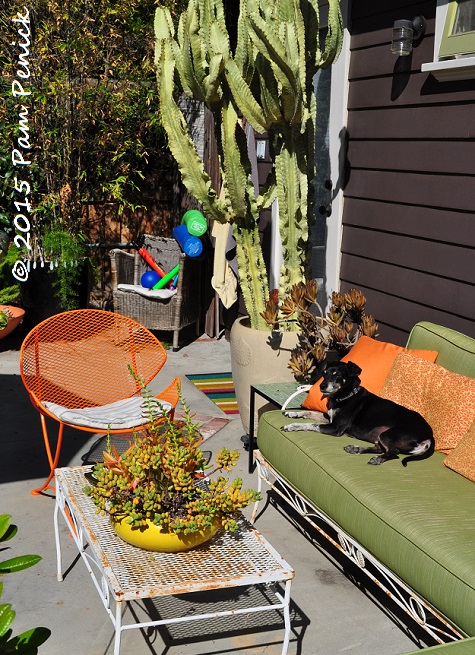 Annette's third dog, Amos, made himself comfortable on a sofa and didn't mind posing for pictures. Look at that gigantic euphorbia (?) behind him.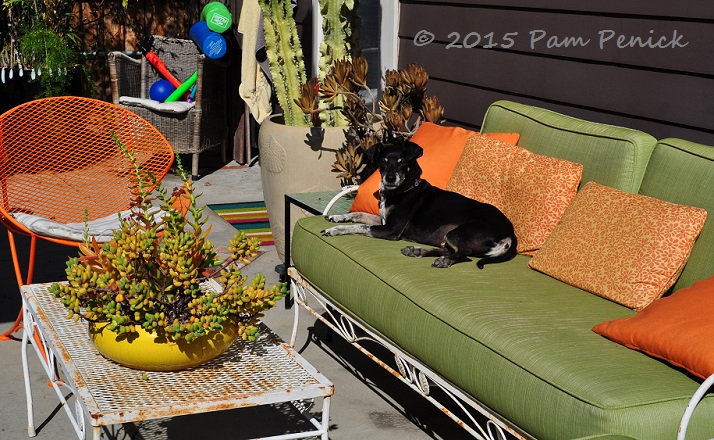 I also love the golden succulent in the yellow dish planter on the coffee table.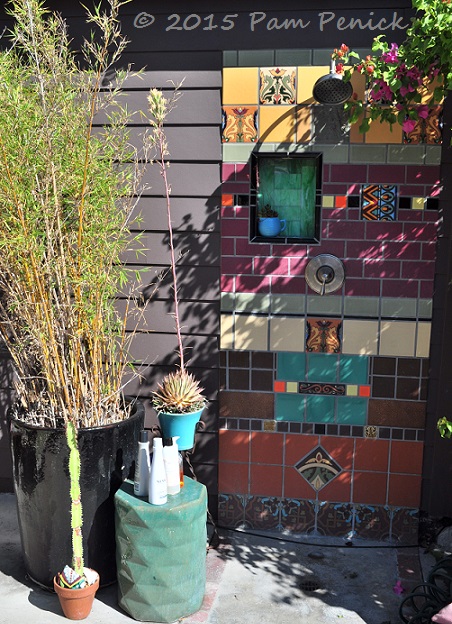 A tiled outdoor shower gives swimmers a beautiful place to clean off.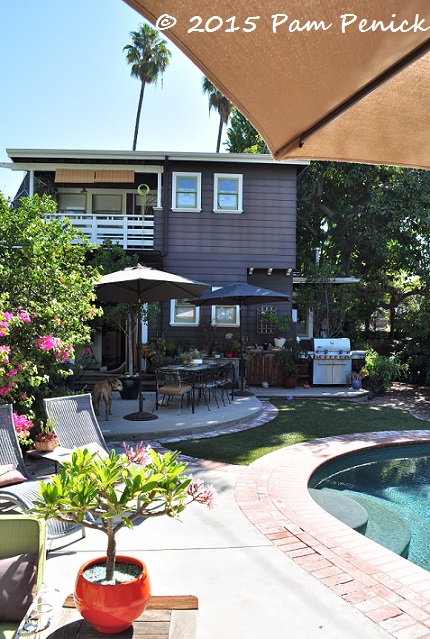 Looking back toward the house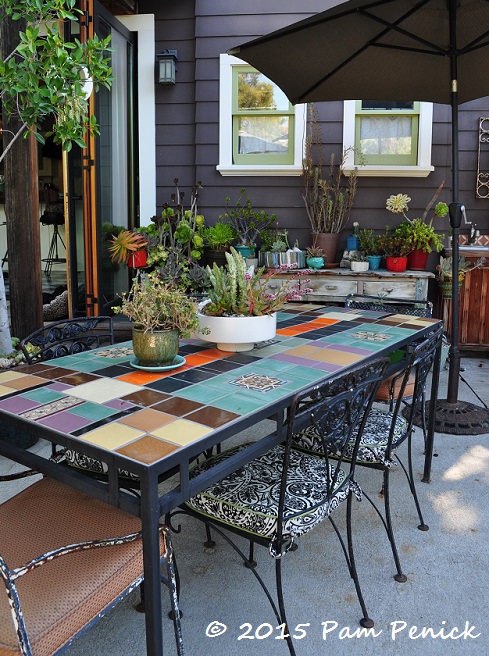 On the back patio, just off the kitchen, a pretty tiled table of Potted design offers space for outdoor dining. Freestanding umbrellas provide shade.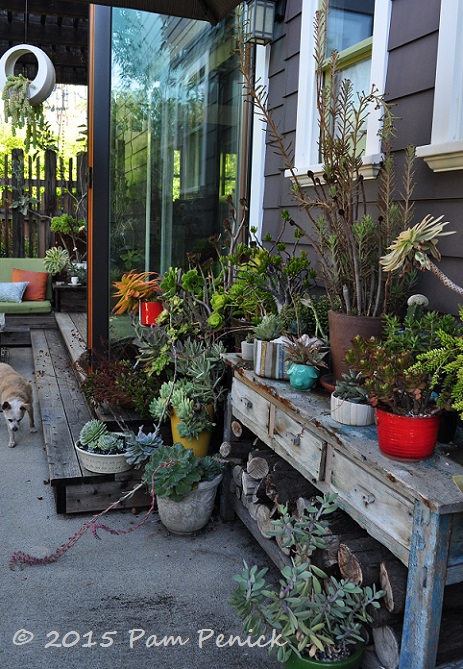 A rustic wooden buffet holds a collection of potted succulents, with more crammed in on the back steps.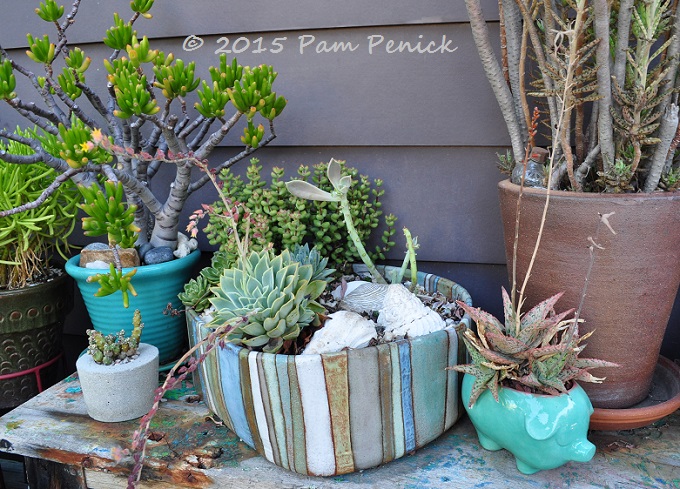 Esther pots are a favorite of mine. In fact, I bought an Esther bowl while at Potted later that day. (Click for my 2013 post about Potted.)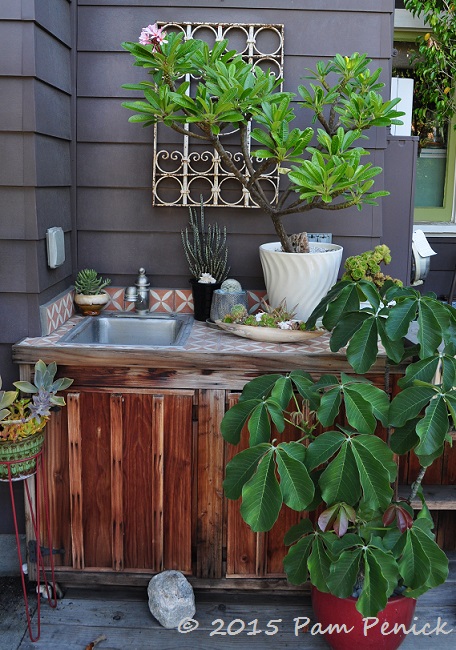 Annette said cheerfully that she'd taken over the outdoor sink her husband wanted for backyard cookouts. It does make a terrific display space for more plants.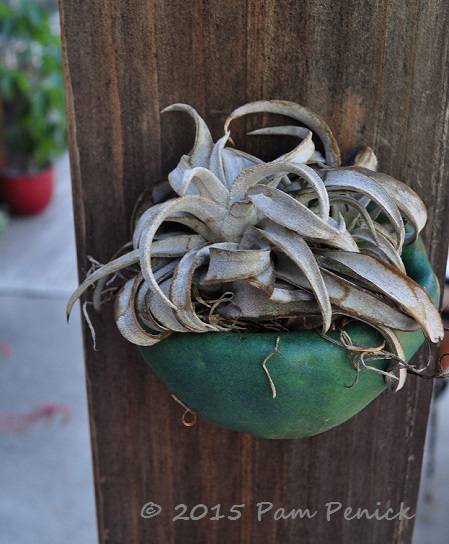 Really, every place in Annette's home and garden is a perfect space for a potted plant.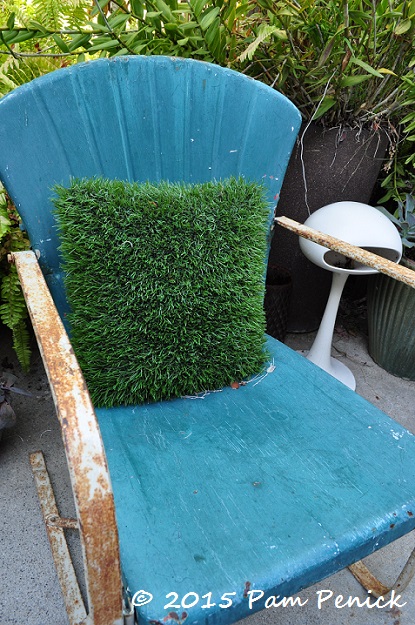 I admired this faux grass pillow, which Potted used to carry. Talk about downsizing the lawn!

A small brick patio holds a Cazo fire pit (wish I had one!) and a few chairs, for chilly evenings. Annette's daughter, years ago, decorated the little playhouse visible at right. The fun, Annette told us, was all in the decorating, and after it was done, her daughter never used it. That's OK. I agree that most of the fun is in the decorating too.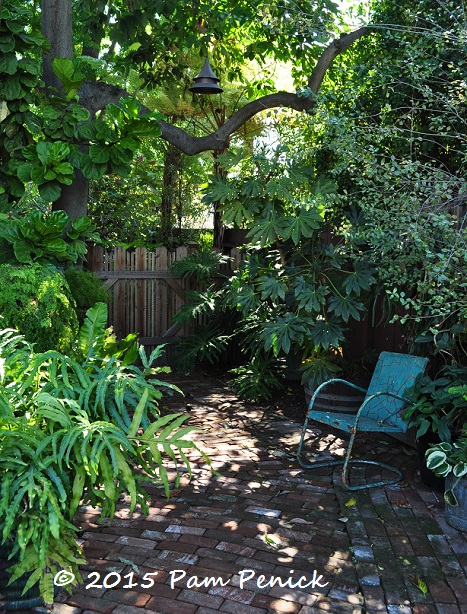 The garden transitions into shade along the side of the house. Beyond the fence is the side garden with the fig tree that I showed you earlier.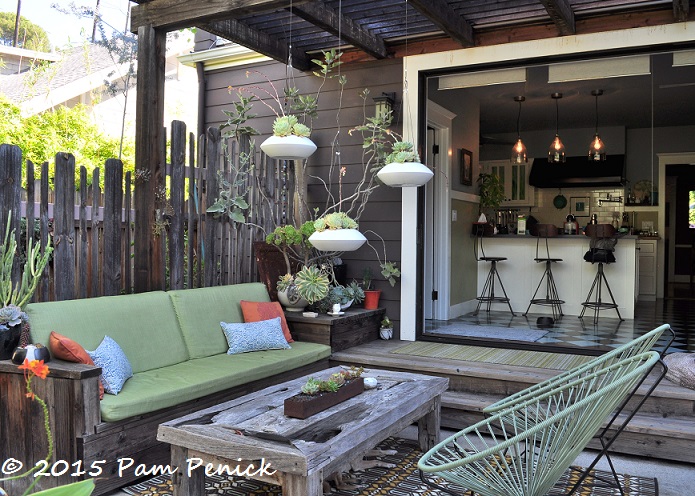 While the pool grabs your eye as you step outside, here's where I'd spend all my time relaxing: a comfortably furnished seating area right off the kitchen. Three white Orbit Planters hang at eye level above the wooden coffee table, displaying pale green succulents. Acapulco chairs offer comfy seating but don't take up much space visually.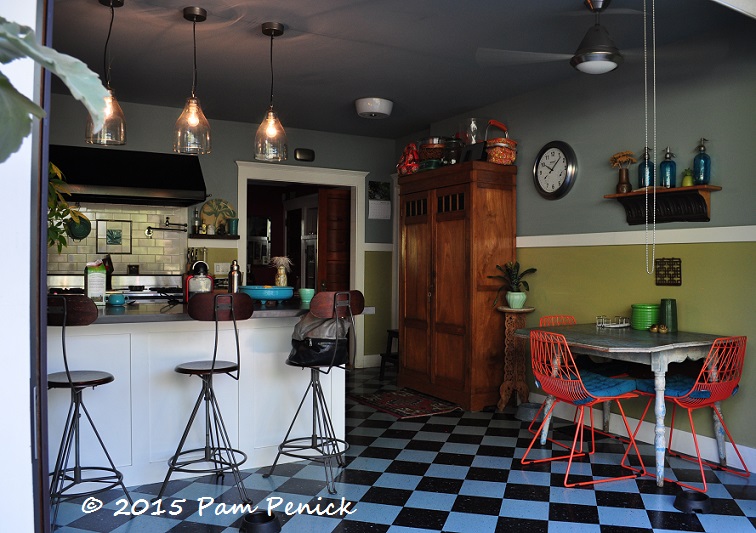 A peek into Annette's delightfully styled kitchen. With the glass doors folded out of the way, it's fully open to the back yard.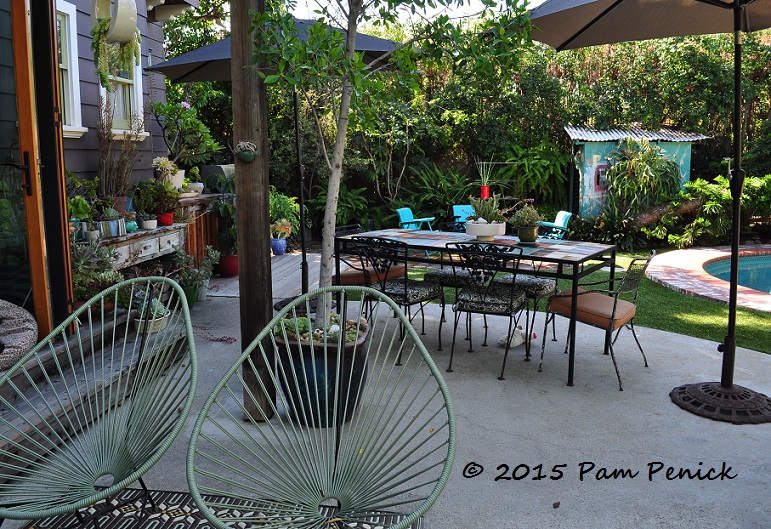 Looking across the dining patio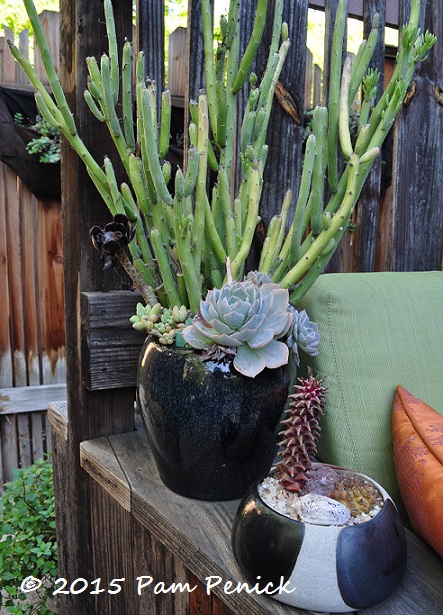 Every nook, cranny, and shelf is used to display Annette's potted creations.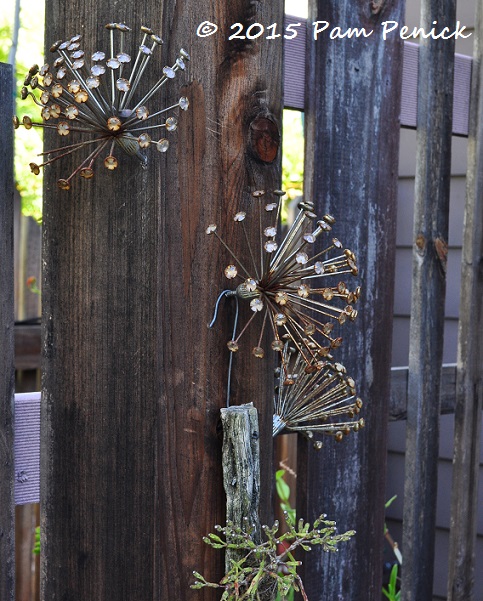 Nail-head alliums?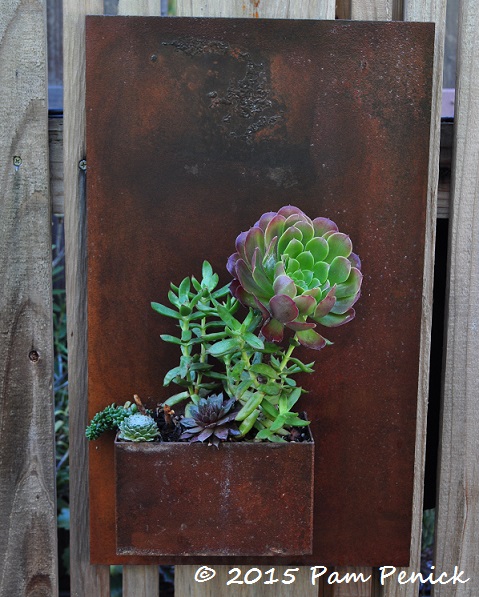 Another City Planter filled with succulents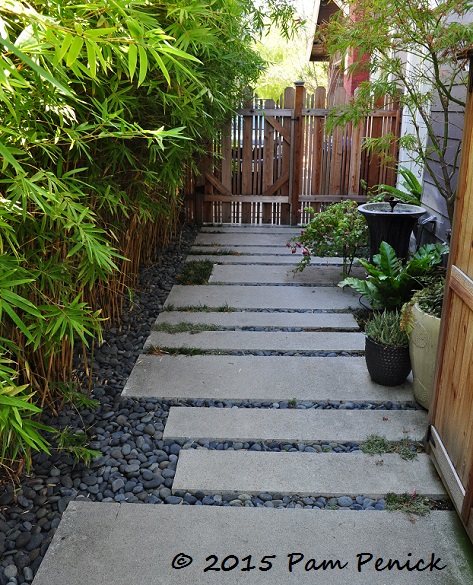 The side yard, which contains Annette's potting supplies and a work bench, is anything but utilitarian with this eye-catching path of poured concrete and Mexican beach pebbles. A trimmed hedge of bamboo provides privacy and a green view from interior windows. The driveway lies beyond the gate.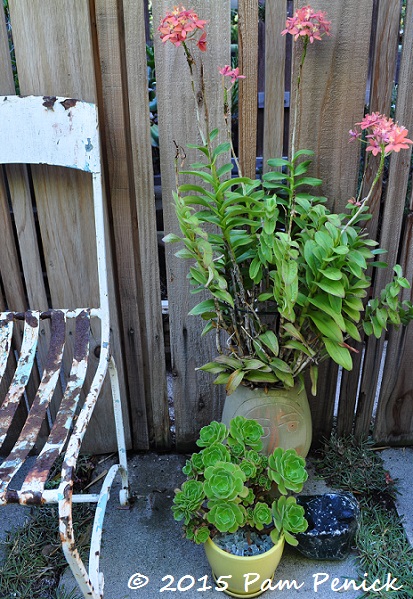 Another pretty vignette
Huge thanks to Annette for the delightful and inspiring home and garden visit, and for arranging for us to visit several of her friends' gardens as well. More on those coming soon!
Up next: The ocean-view garden of Kris Peterson, an L.A. blogging friend at Late to the Garden Party.
All material © 2006-2015 by Pam Penick for Digging. Unauthorized reproduction prohibited.
posted in
Agaves
,
Arbors
,
Bamboo
,
Cactus
,
Color
,
Containers
,
Decor
,
Dogs
,
Doors
,
Fences
,
Firepits
,
Garden art
,
Garden tours 2015
,
Gates
,
Lawn Gone!
,
Lawns
,
Outdoor showers
,
Palms/Cycads
,
Paths
,
Patios & decks
,
Porch
,
Seating
,
Signs
,
Succulents
,
Swimming pools
,
Terrarium
,
Tillandsias
,
Travel
,
Trees
,
Views
,
Windows
,
Xeric plants