September 10th, 2015
Saxon Holt
regularly shares his expertise and inspir- ational images on
his blog
and at
Gardening Gone Wild
, helping to educate the next generation of garden photographers, many of whom, like myself, are bloggers or Instagram sharers. In addition to his skill with the camera, he's a fine teacher who recently published (and promptly won a
Garden Writers Association
award for) an e-book called
Good Garden Photography
. Since then he's published two more e-books about garden photography and has another ready to drop, all through his website
PhotoBotanic
.
I had the pleasure of meeting Saxon at Garden Bloggers Fling a few years ago. He's got a great concept going with PhotoBotanic, and I'm delighted to help him publicize his e-books as part of a blog tour and giveaway.
Here's how the blog tour works: Saxon is guest posting on 6 blogs this week, and today he's here at Digging! I challenged Saxon to write about photographing gardens in intense sunlight, as we central Texans so often must do. Please read on for his Death Star photography tips, specially written for us. Following Saxon's guest post, stick around to enter a giveaway for his e-book!
How to Photograph in Death Star Lighting, by Saxon Holt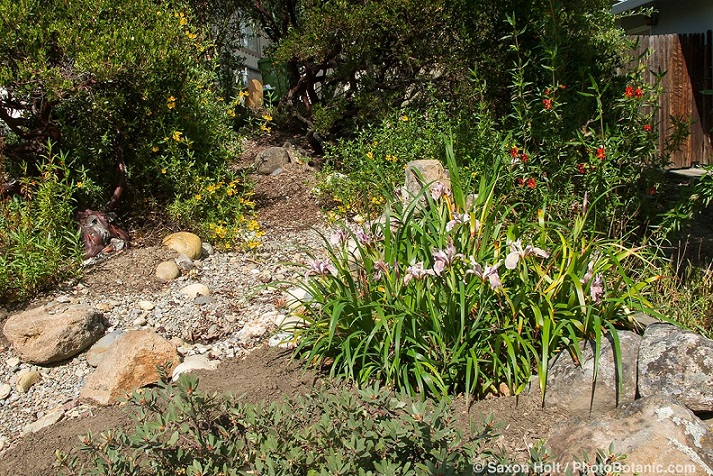 The best advice for taking pictures in bright, hot light can be summarized in one word: don't.
The human eye can see detail in shadows and can compensate for the bright highlight areas, but a camera sensor does not have the dynamic range to register all the information the eye can see on a sunny day.
The hot rays of the sun come to earth in unbending parallel beams — death star light, a term I will forthwith steal from Pam. In dry, arid climates especially, where there is no humidity to bend the light into shadows, the sun bores into gardens. The camera sees black contrasty holes or garish steely colors with no softness or subtlety.
So avoid the sun; but keep reading for a sunscreen tip to follow. Hope to shoot on cloudy days, or plan for very early or very late in the day. Late in the day, after the sun sets, is a surprisingly nice color of light. I urge photographers to use tripods to help compose careful photos, but it is especially important if you want to shoot in soft light late in the day.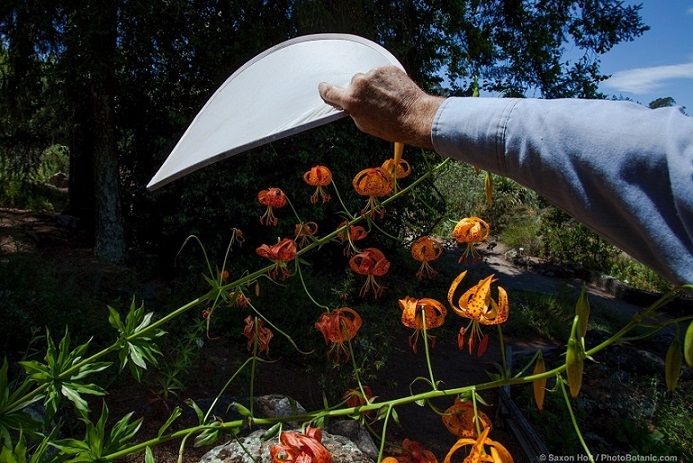 But sometimes you simply have to shoot in the bright light of our star. If you only want to shoot a close-up of a flower, leaf, or fruit on the vine you can use a sunscreen, literally. A small flexible diffusion disc, found at any decent camera store, and held between your subject and the sun will soften the light so perfectly it will seem like a photographer's studio.
Here I am holding a disc above a lily in a public garden, where I had one chance on one day to get a photo.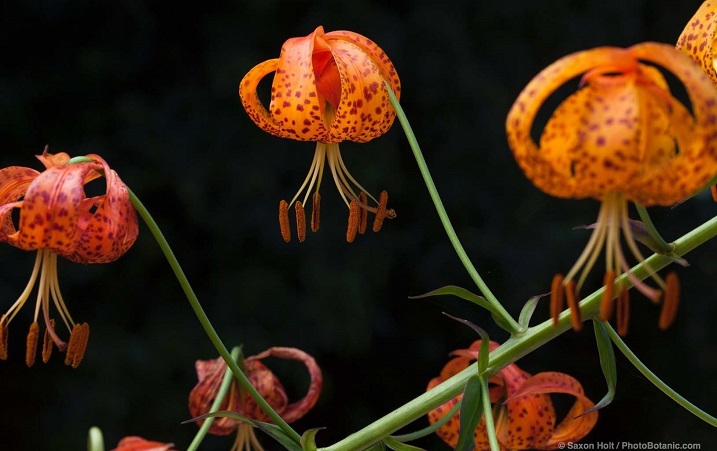 Note I used the dark shade of distant trees to advantage.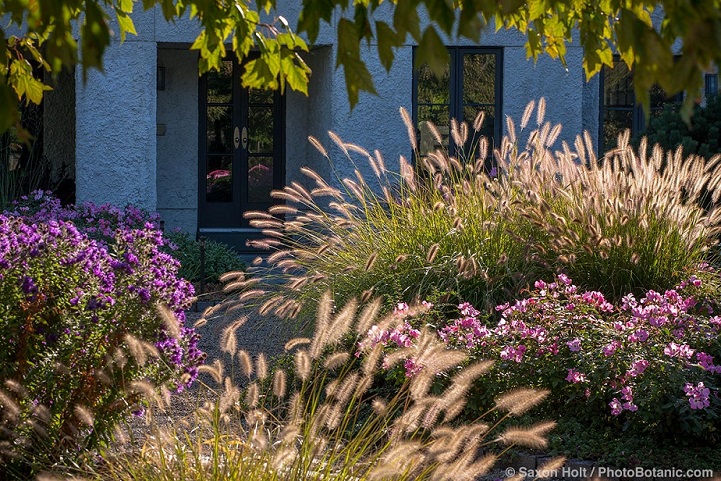 If you need to shoot a wide area of the garden and can't wait for the sun to go down, try using back light, my favorite trick. Photographers were once told to shoot with the sun behind us but, ughh, that's ugly. Backlight is much more interesting, shooting toward the sun, light behind the scene. You need to be careful to shield the lens from direct rays, but backlight can be great in gardens where the sun creates a rim light around plants or even transparent glow through a leaf or flower.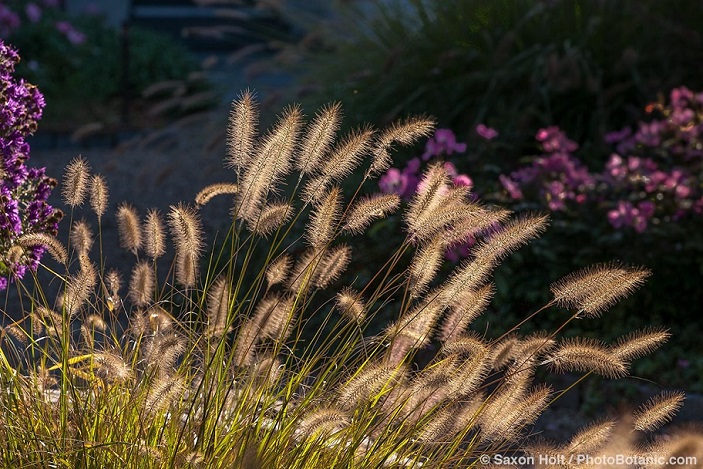 Again, as in the lily photo above, you can use the dark shady area, where the camera is unable to capture detail, to your advantage, in areas where you don't want detail.
Do try to avoid the worst light in the very middle of the day, but you can find ways to let even sunny light work for you when it starts coming in from an angle and creates some shady areas for backgrounds. I think we can learn to love even death star light.
–Saxon Holt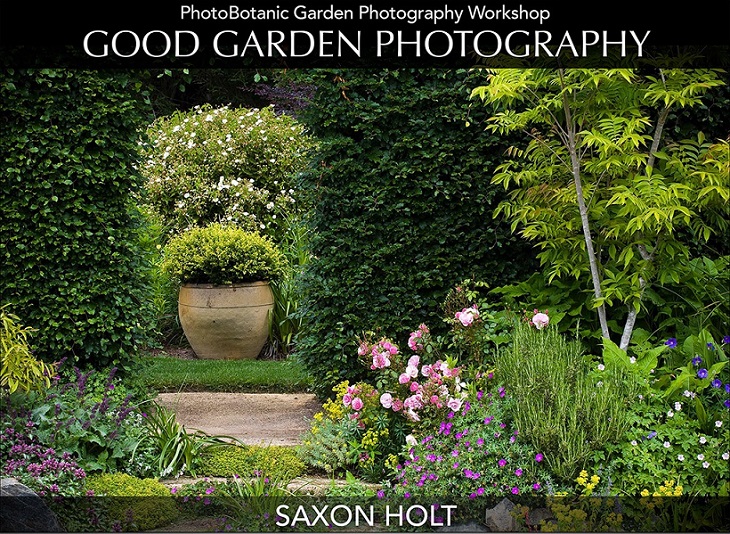 And now for your chance to win a free download of Good Garden Photography, the first e-book in Saxon's Garden Photography Workshop Series! If you've never read an e-book, it's simple; anyone with a computer or an iPad can download and read it, after placing an order online. For this giveaway, Saxon is doubling the excitement by offering his e-book for free to two winners from Digging!
GIVEAWAY
Simply leave a comment on this blog post to enter. One comment per person, please. The deadline for entering is 11 pm on Wednesday, September 16. I'll draw two winners at random and announce their names the next day on this post. Good luck!
For more chances to win — and more photography tips from Saxon — please visit the other blogs on the blog tour:
Wednesday, 9/9, Red Dirt Ramblings
Thursday, 9/10, Digging
Friday, 9/11, J Peterson Garden Design
Monday, 9/14, North Coast Gardening
Tuesday, 9/15, Cold Climate Gardening
Wednesday, 9/16, Garden Rant
Saxon is also hosting an end-of-summer photography contest where you can put your new skills to work. Visit Gardening Gone Wild on September 25 to submit your photo entry.
UPDATE: The giveaway winners, chosen via Random Number Generator, are #53 Michaele Anderson and #63 Gwen Rose. Congratulations, Michaele and Gwen! I'll send you an email to get your confirmation. And thanks to everyone for entering.
All material © 2006-2015 by Pam Penick for Digging. Unauthorized reproduction prohibited.
Acclaimed garden photographer