July 1st, 2015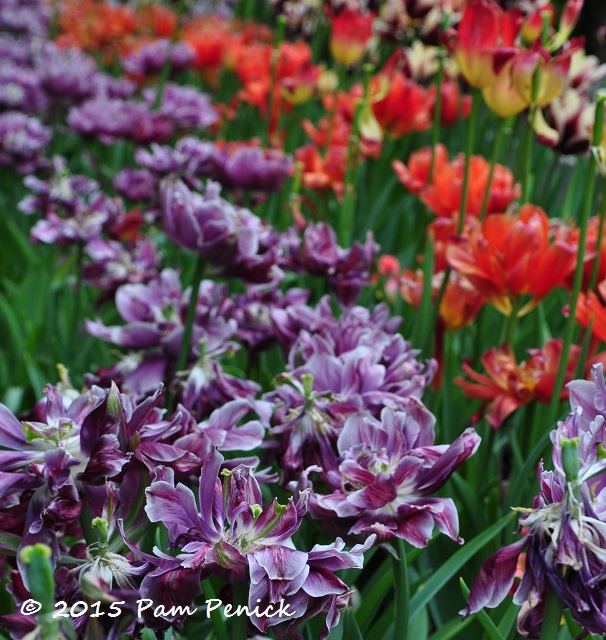 Wherever I travel, I enjoy visiting local botanical gardens. So I was happy to see that Toronto Botanical Garden would be our final stop — including a catered dinner — on the recent Garden Bloggers Fling in Toronto, Ontario, Canada.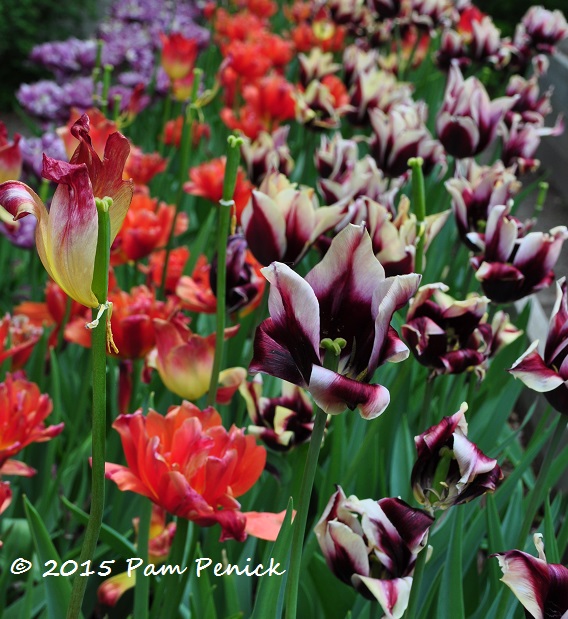 Upon arrival we 70 garden bloggers were treated to a zingy, high-energy talk and container-design demonstration by the talented and funny Paul Zammit, director of horticulture at TBG. Afterward we were set loose to explore the gardens until dinnertime. I'll start my virtual tour with masses of tulips in a rainbow of colors. Because…tulips in June!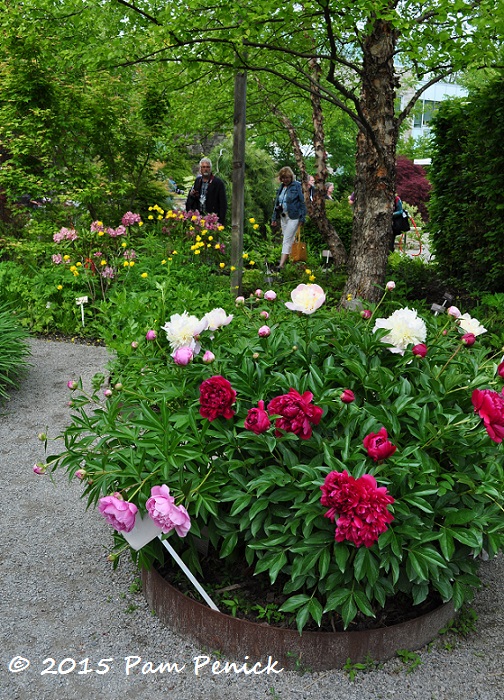 There were peonies too, in all their improbably large, frilly glory.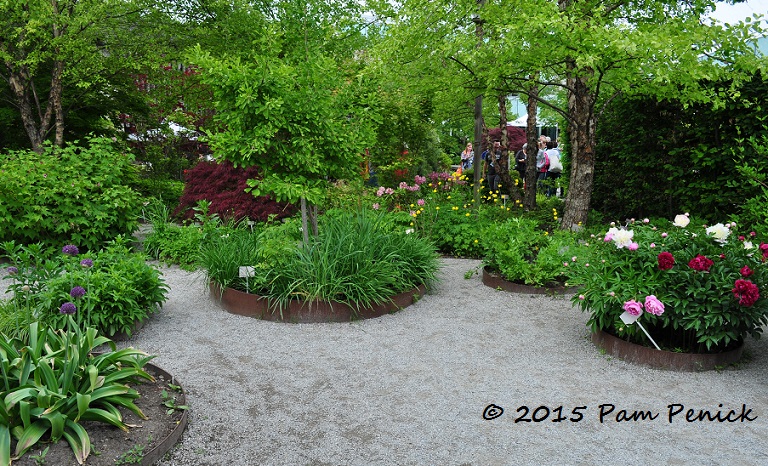 Dare I admit that a peony always reminds me of an overstuffed chintz armchair? I swear, it's not Southern-gardener-can't-grow-them sour grapes either. I do admire, however, these steel planter rings. I'd put those in my garden! Oh wait, I already have.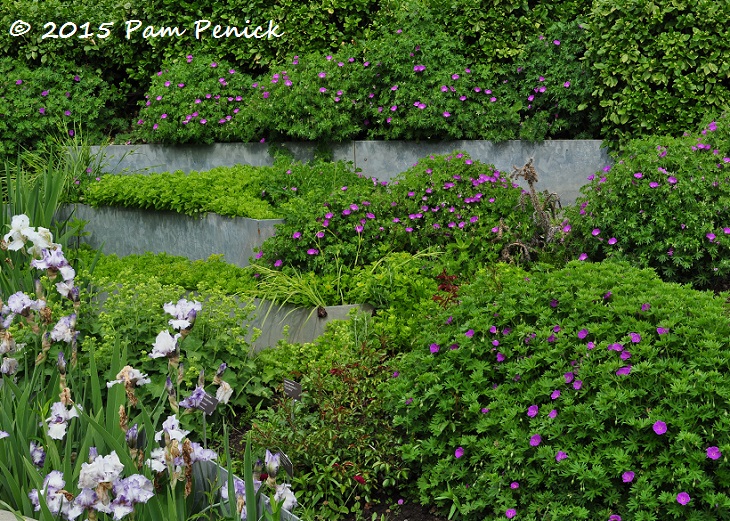 I also loved this terraced garden, with sheets of galvanized steel creating tiered planting beds.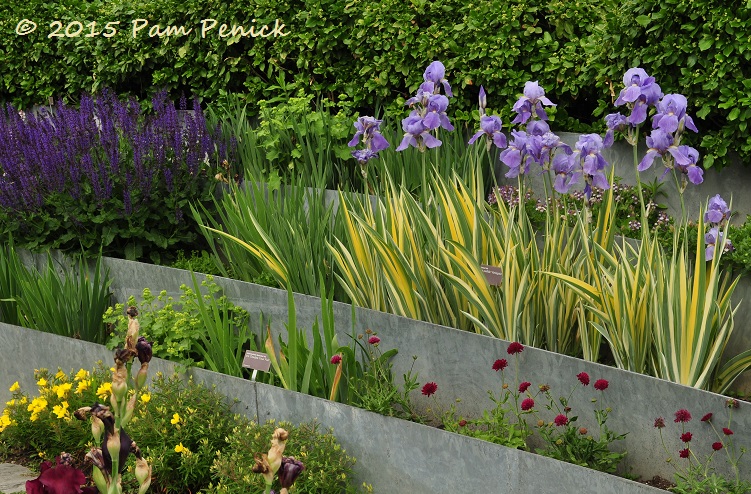 Doesn't this just sing?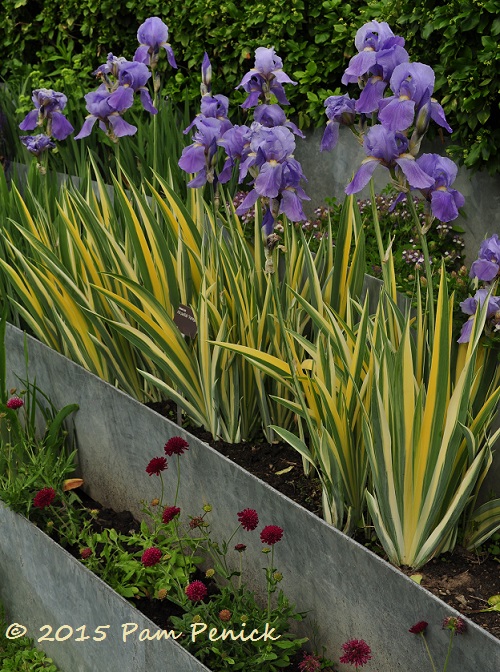 I love, love, love these zippy variegated iris.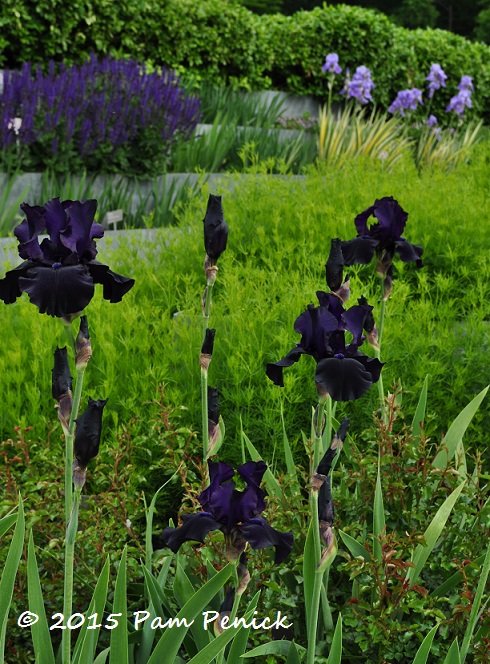 Dark purple iris adds depth to the scene.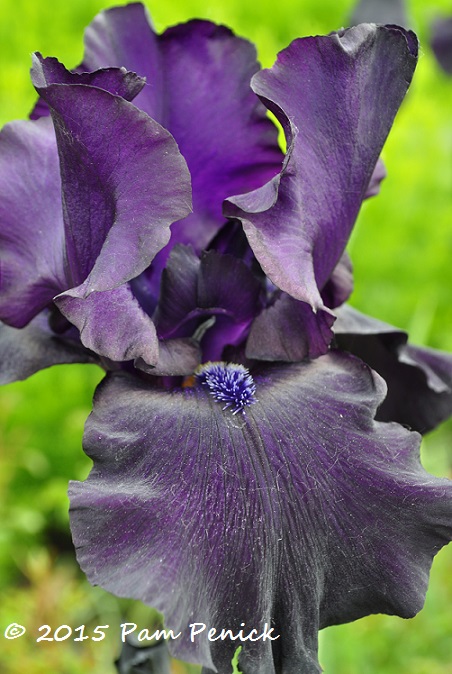 As dramatic as a thundercloud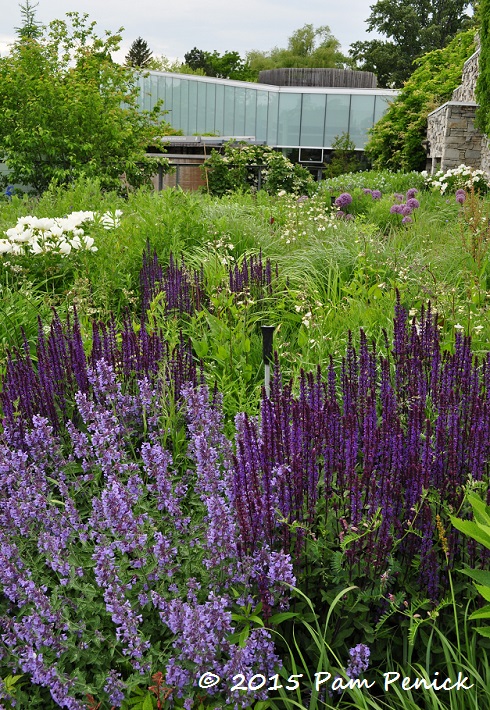 Purples were also coloring the entry garden, which was designed by the famous Dutch designer Piet Oudolf. (Oudolf also designed the High Line garden and Lurie Garden, both of which I've blogged about.)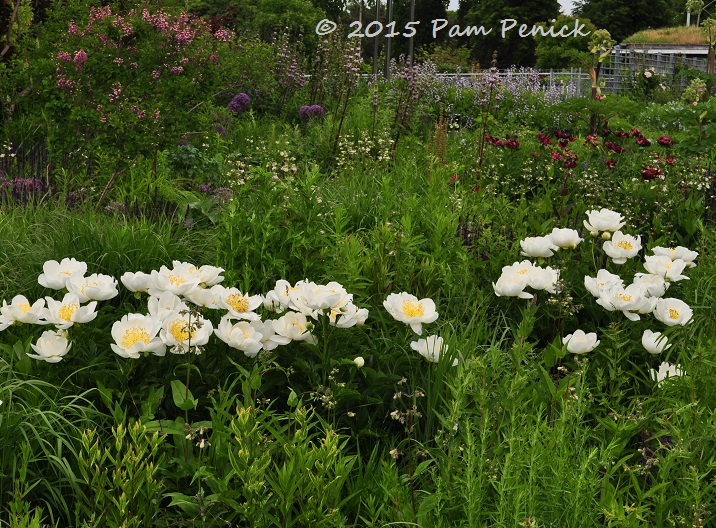 Fried-egg peonies flounced through the meadowy spring garden.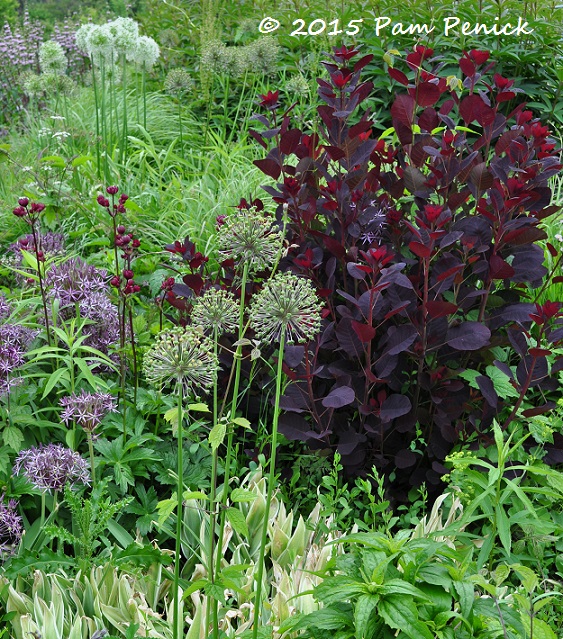 Purple alliums and burgundy smoke tree — a match made in heaven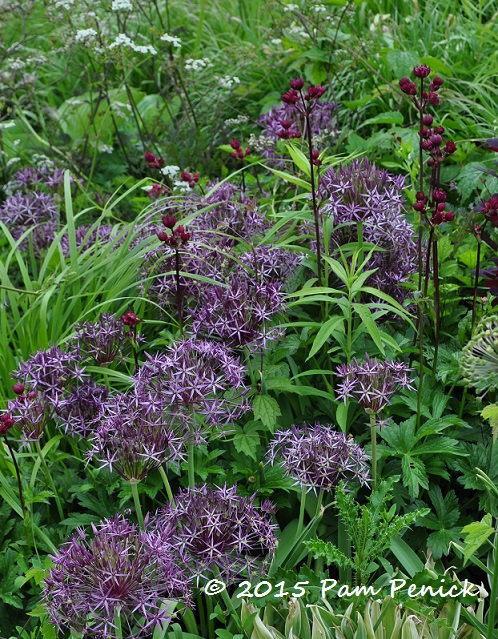 Like stars fallen to earth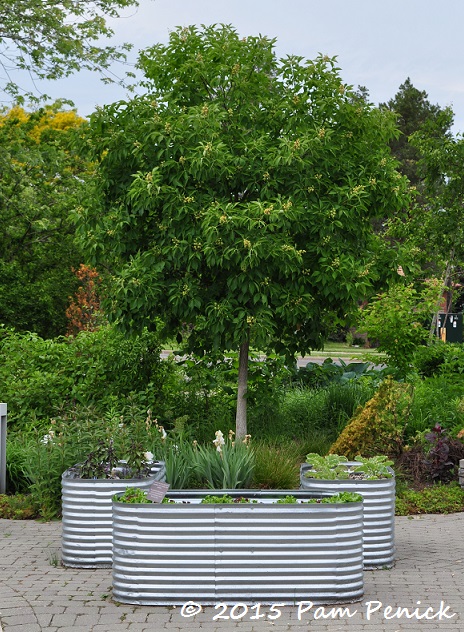 In a small demonstration garden — stock tank planters! I quite like this formal arrangement, with a tree centered at back.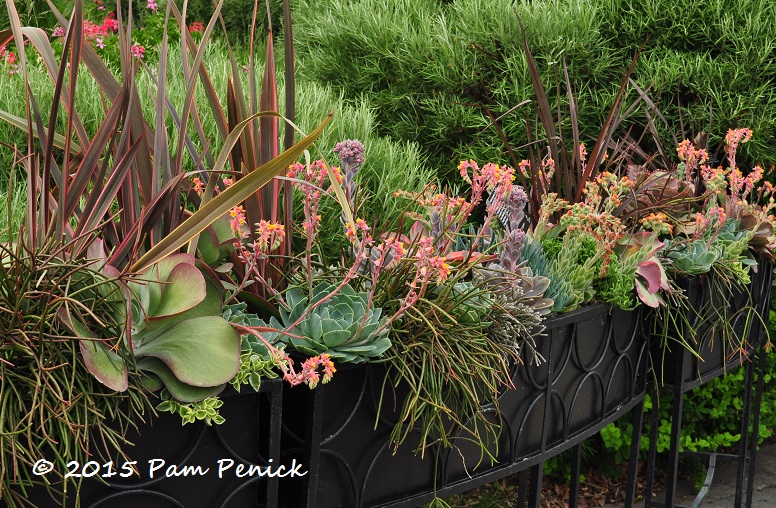 Paul Zammit's container arrangements appeared throughout the gardens, like this gorgeous succulent planter in sunset hues.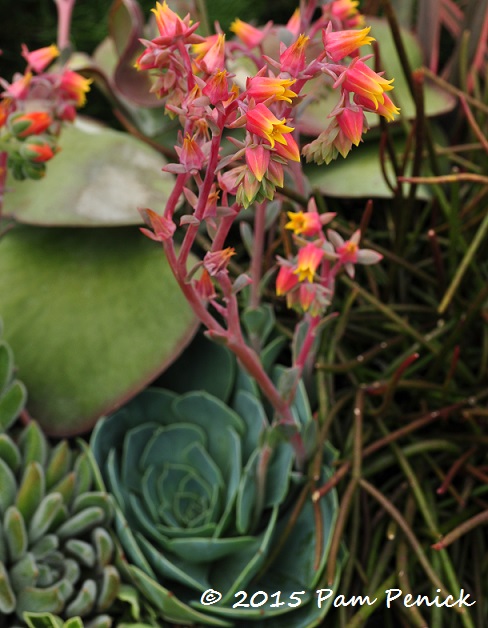 Echeveria was in bloom.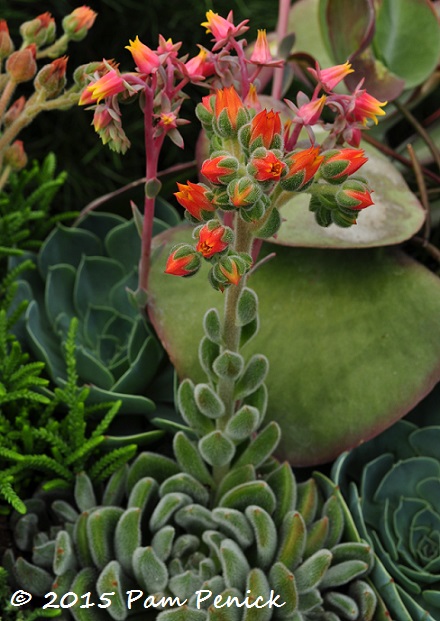 Fuzzy leaves and kissy-face orange blooms — what's not to like?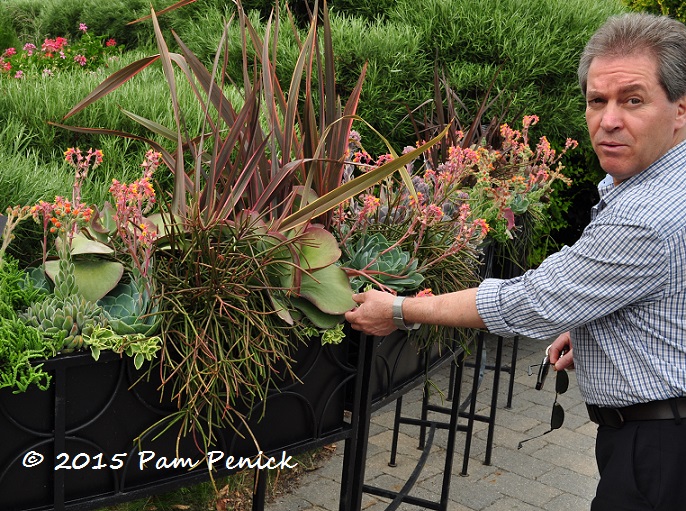 While I was taking photos, a passing visitor stopped to admire this container too. He reached out to pinch a paddle plant (Kalanchoe), and then turned to me and said, "Feel it. It feels like meat."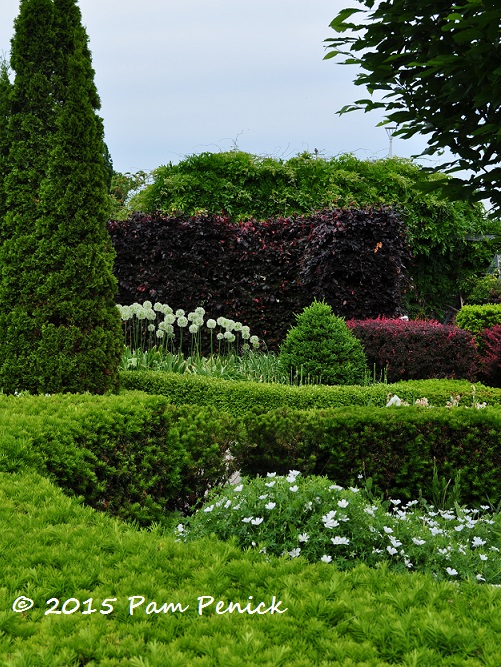 By now my appetite was whetted, but I explored on, wanting to see the whole garden before dinnertime.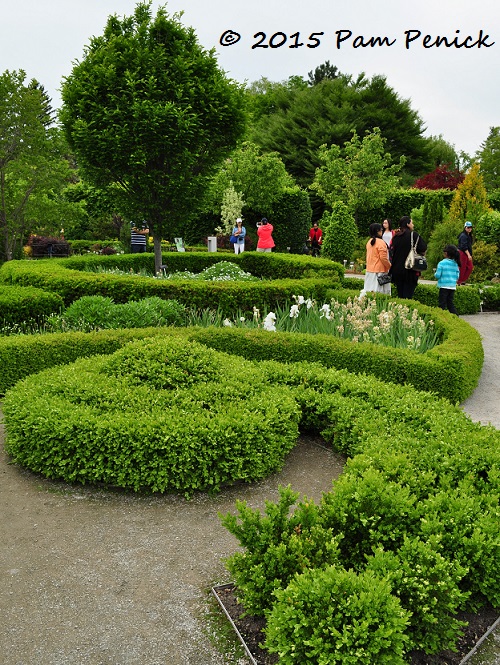 The garden is not quite 4 acres — very small for a botanical garden — but the director has ambitious plans for expansion into the city-owned parkland next door.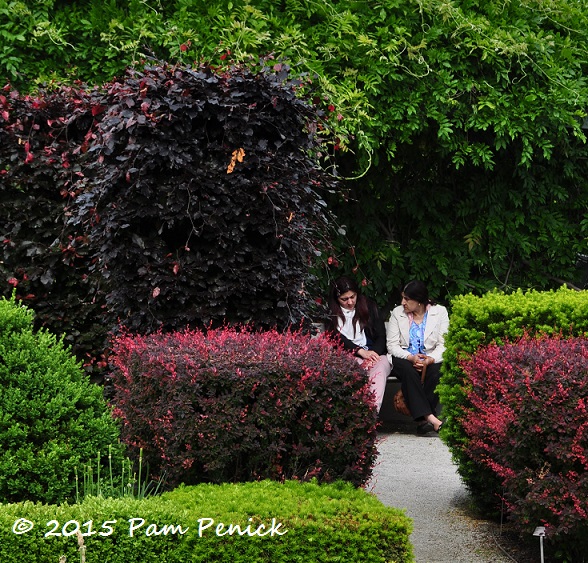 The garden had attracted a lot of visitors that day, and I enjoyed seeing how other people explored and used the gardens. Two women had a tête-à-tête in the clipped hallways of the knot garden.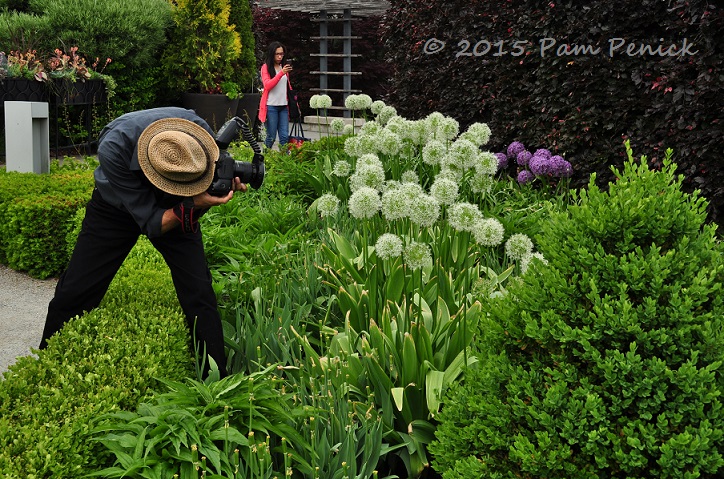 Other photographers were busy capturing their own vignettes.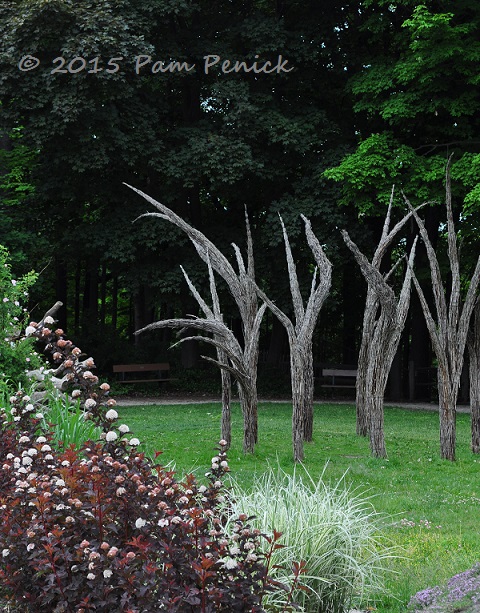 On a small lawn, a cluster of what looked like dancing trees caught my eye — part of a temporary art installation by W. Gary Smith. Austinites may be familiar with his work, as he designed the new family garden at the Lady Bird Johnson Wildflower Center.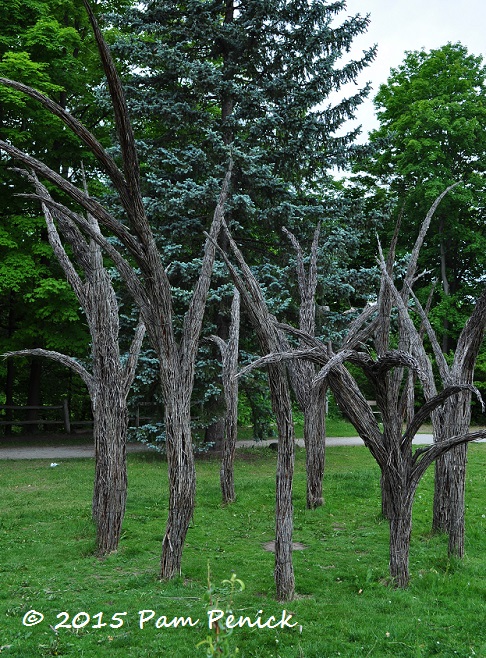 According to TBG's website, Stooks & Punes — I think Punes is the tree-like portion that remains — is constructed of natural materials found on-site, and it's "a precursor to the design phase for the TBG's proposed new children's garden, which will also be designed by W. Gary Smith."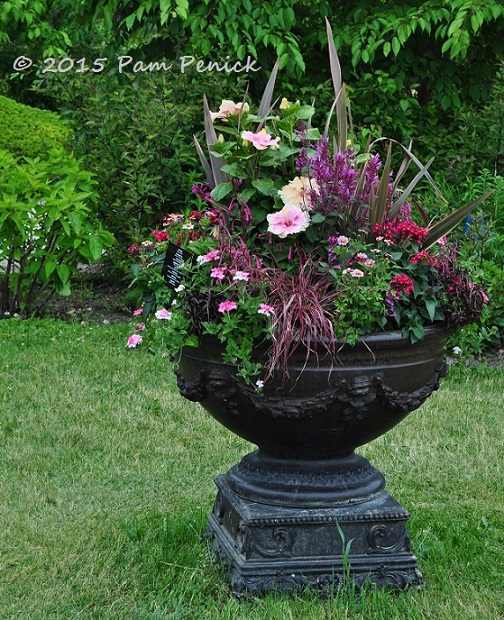 Another of Paul's planters, I assume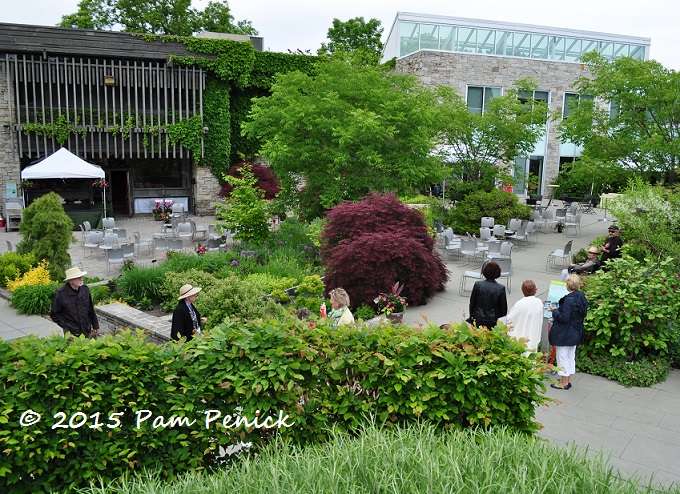 When we arrived, tables were set up for us in a lovely outdoor courtyard. But as clouds rolled in threatening rain, staff members made a quick change of plans and moved the tables indoors. I was sorry not to get to eat outdoors but grateful not to have to wear a rain slicker to dinner.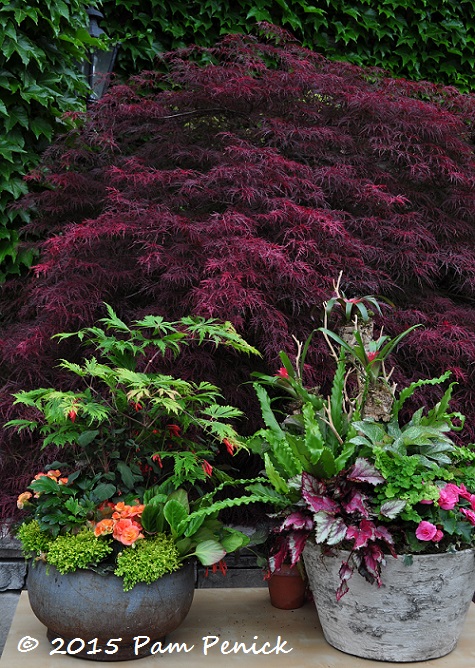 More of Paul's creations graced the courtyard, and burgundy Japanese maples made the perfect backdrop for them.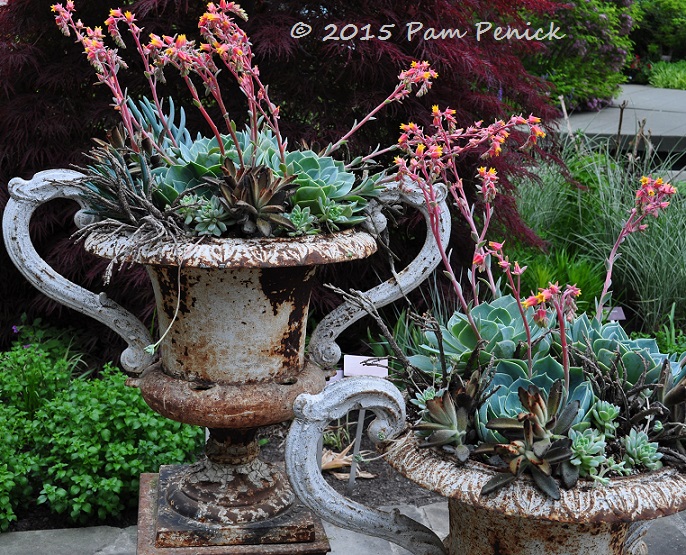 I loved them all, but especially these Victorian urns stuffed with sea-glass-colored succulents.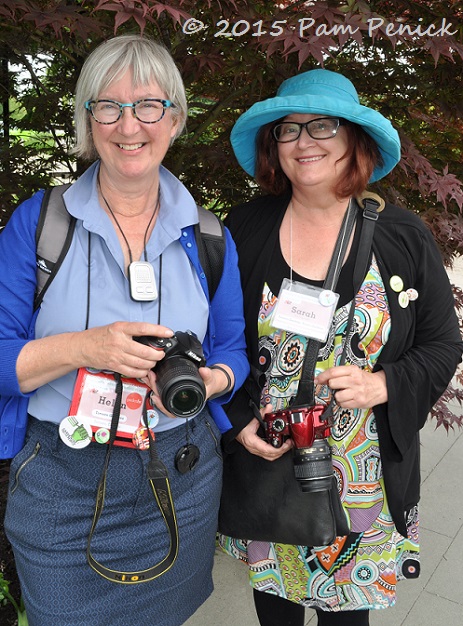 I hope you've enjoyed my posts about the Toronto gardens we visited during the Garden Bloggers Fling this year. Enormous thanks to Helen Battersby (left) of Toronto Gardens, who headed up the Toronto Fling planning committee, which also included Sarah Battersby (right), also of Toronto Gardens; Lorraine Flanigan of City Gardening; and Veronica Sliva of A Gardener's World. These hard-working women did a terrific job of showing us their city's gardens and green spaces. Hats off to them for a great tour!
If all of this has got you thinking about attending next year's Fling (open only to garden bloggers), it will be held in Minneapolis, Minnesota. As with Toronto, I look forward to attending in another city I've never visited. Meanwhile, if you'd like to follow the links back through my Toronto posts, starting with an artful wildlife garden, click here.
All material © 2006-2015 by Pam Penick for Digging. Unauthorized reproduction prohibited.