May 19th, 2015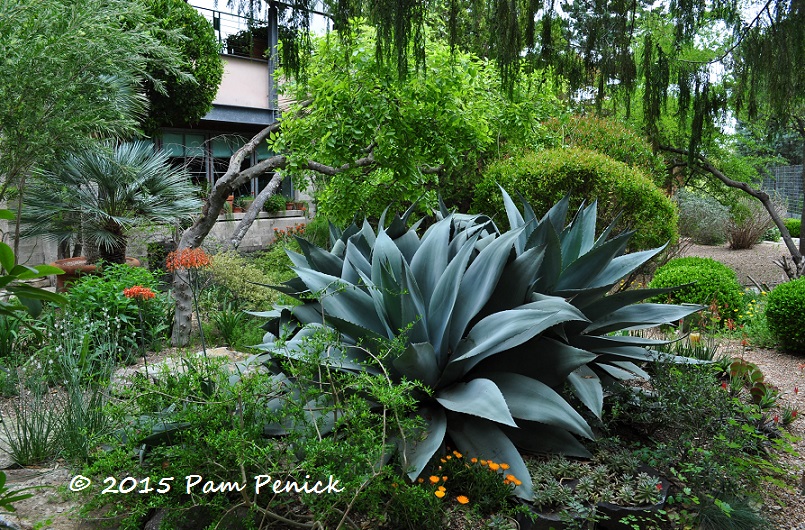 James and Gary's entry garden, a gravel garden featuring agaves, aloes, succulents, and other dry-adapted plants from around the world
After 36 years devoted to creating an extravagantly plant-rich, terraced, one-of-a-kind garden on two acres in Austin's Rollingwood neighborhood, landscape architect James David and his partner Gary Peese are leaving it all behind. Their home — an elegant, contemporary hideaway with a detached, modern concrete studio — is on the market, and they've already begun work on a new home and garden in Santa Fe, New Mexico.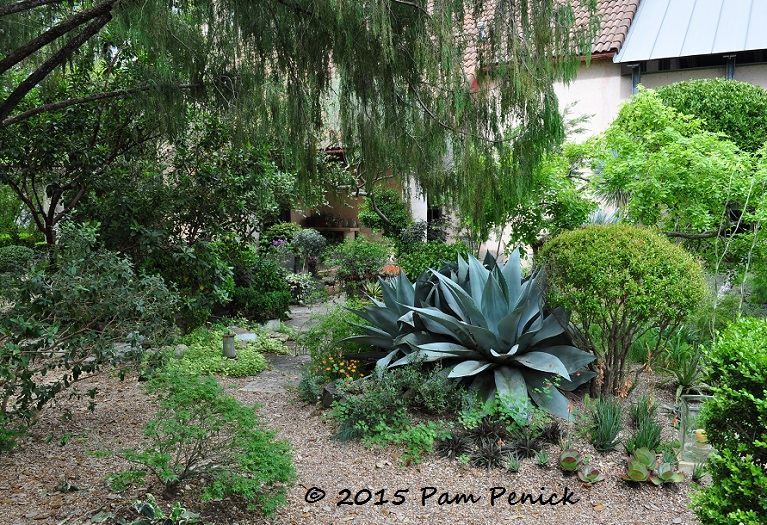 Entry garden, with a fringe of Cupressus funebris, aka Chinese weeping cypress (I think), framing the scene
I was invited to visit in late March, when the live oaks were alight with new chartreuse leaves and the Texas mountain laurels were dripping with fragrant blossoms. James gave me a tour of the garden, rattling off botanical names so fast I caught only a few of them, and then invited me into his studio for a brief interview about leaving the garden.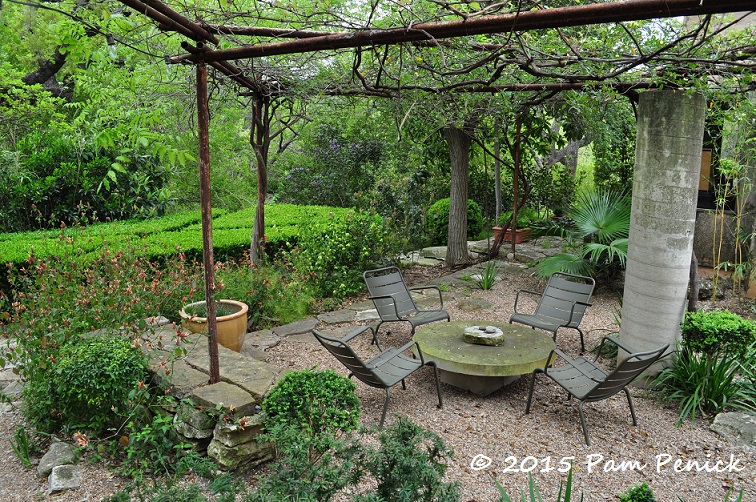 Arbor made of crisscrossing steel pipes with concrete posts, to the left of the entry garden
He told me he is 71 and ready for a new adventure, cooler weather, and a smaller garden. He and Gary have already spent two summers in Santa Fe, remodeling two houses and making plans to build a house on a vacant lot they purchased. Their future garden is, for now, mainly wildflowers, said James.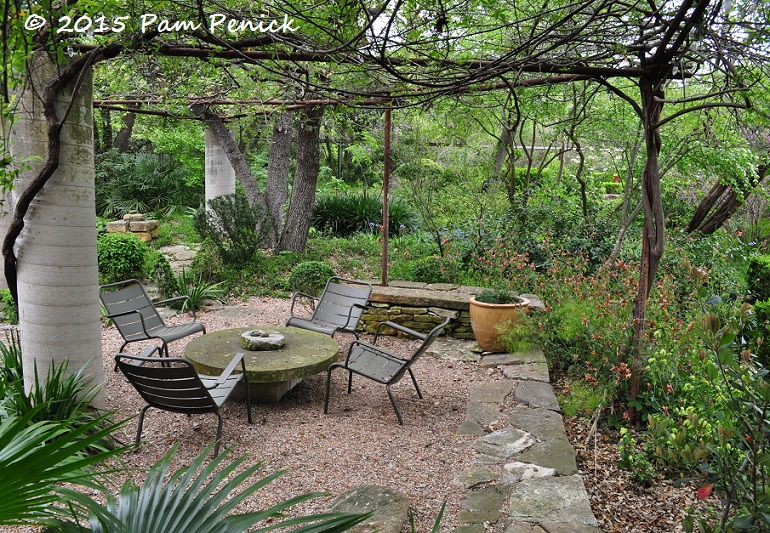 Shrimp plant (Justicia brandegeana) blooms around the patio, but the largely evergreen garden screens the nearby road from view
I imagine Santa Fe, which recently opened a new botanical garden, will be very happy to have them. Their departure will be Austin's loss. James and Gary's influence on the gardening scene in Austin is huge. For nearly three decades they owned and operated the iconic garden shop and boutique nursery Gardens (now closed) and David/Peese Design, a garden design studio that's given many well regarded designers in Austin and beyond their early training.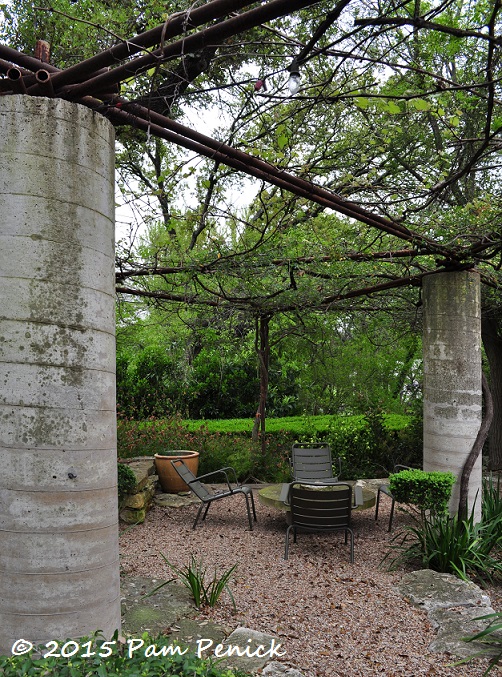 James has also served for many years as chairman of the Garden Conservancy's Open Days program and has opened his own garden to the public many times. I've posted about my Open Days visits twice, in October 2006 and October 2010. Thanks to James and Gary's generosity, attendees of the inaugural Garden Bloggers Fling enjoyed a private tour in 2008.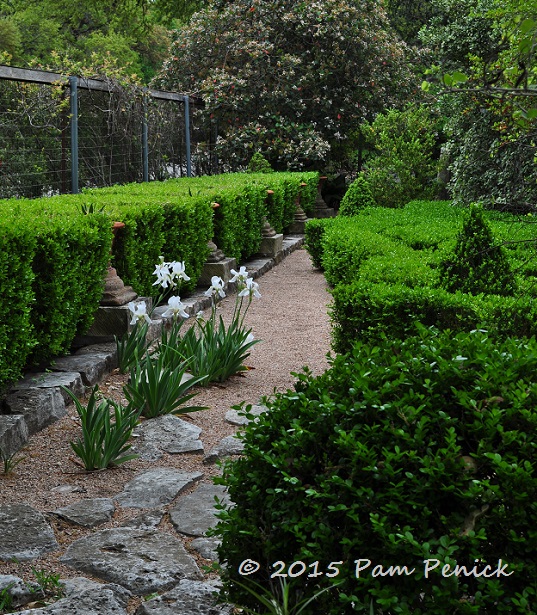 White irises mark the final resting place of four of James and Gary's pet cats
Since I've never gardened anywhere longer than 7 years, I can hardly fathom the depth of garden making that goes into a 36-year-old garden. James is the primary designer and gardener. (Gary told me he is more of a vegetable gardener, tending the kitchen gardens near the house.) James's avidity for new and different plants — "if you love the plant you'll find a place for it," he declared in a Martha Stewart video about his garden — is reined in by a classic approach to design.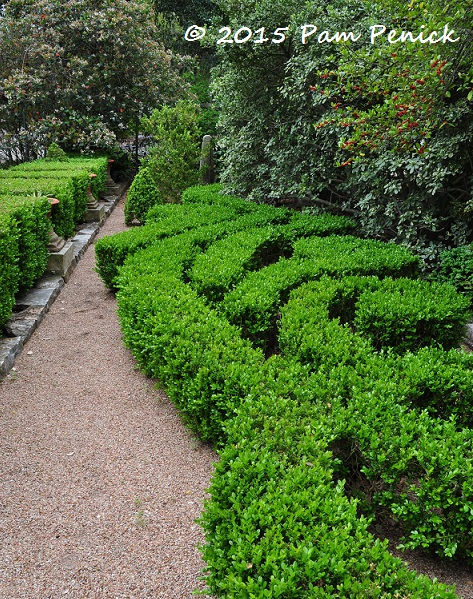 Boxwood pruned into an embroidery of loops and curves
Evergreen hedges, strong hardscape structure, formal axes that lead the eye and focal points that arrest it — these elements create compelling views from inside the home, lead one on a journey of discovery along numerous tempting paths, and provide multiple places to stop and enjoy the garden.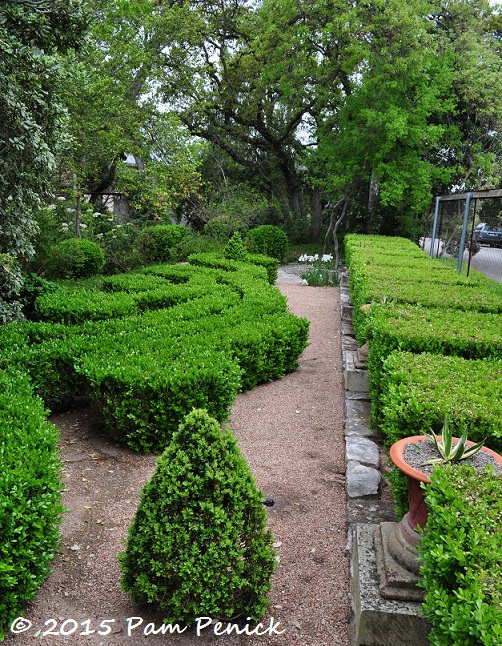 Let's follow a few of the paths together, starting here at street level and working our way around the house, down to the lowest level of the back garden, and back up. This formal parterre garden along the street…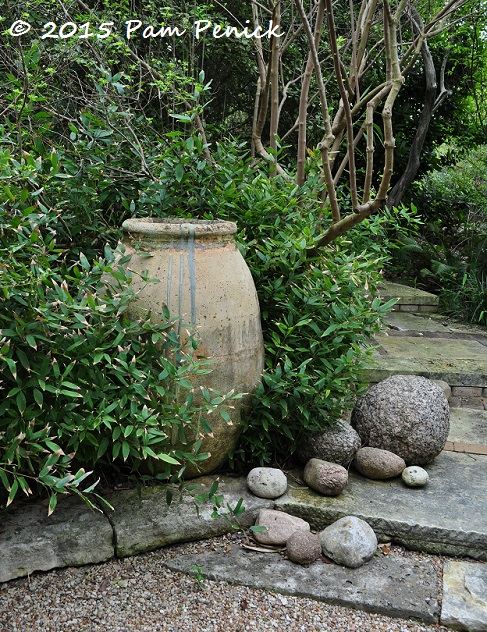 …is accessed on one end via a curving, shallow stair. At its foot, an olive jar and round stones attract the eye amid evergreen shrubs.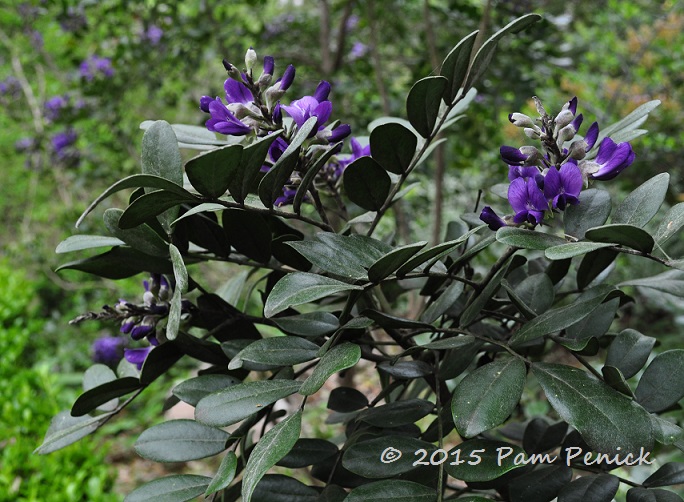 An especially dark purple Texas mountain laurel (Sephora secundiflora) caught my eye here.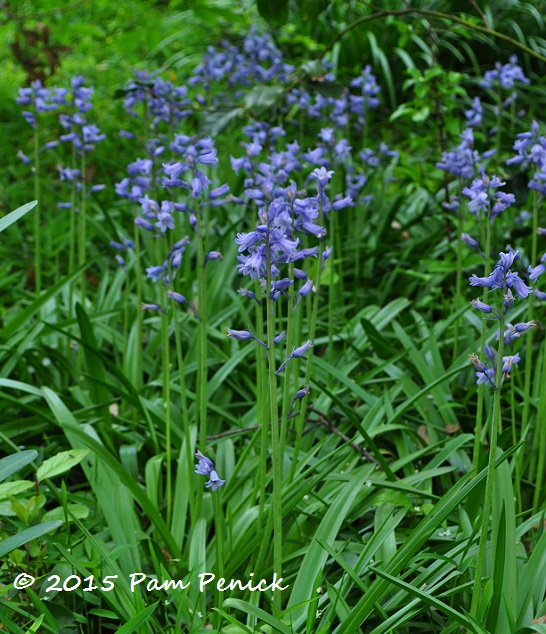 In the shade, tall stems of blue flowers reminded me of English bluebells. Could these be Spanish bluebells (Hyacinthoides hispanica)?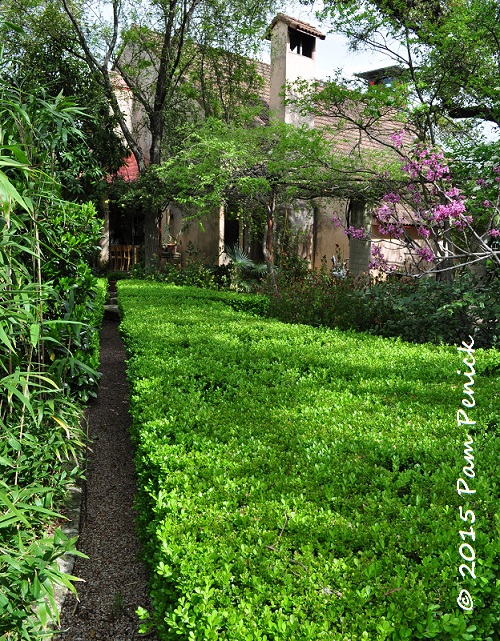 A very narrow path leads from the olive jar through a plane of clipped boxwood (a substitute for a lawn's negative space, James told me) toward a side patio on the house. I find this path a bit narrow for comfort, but James said he enjoys the feeling of moving through the plants. Maybe if you have a man's narrow hips? I sidled through.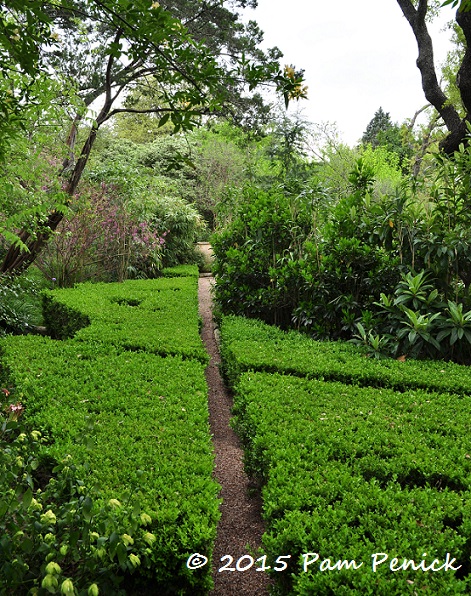 Stopping at the patio and looking back toward the olive jar, the view is entrancing. Those leading lines…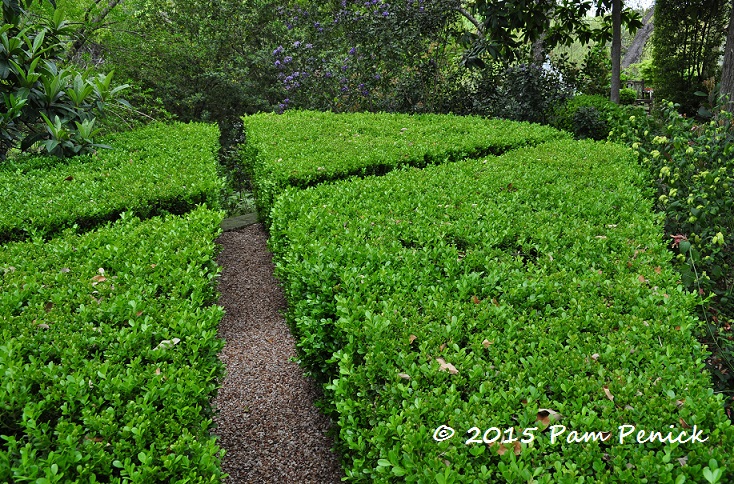 …they work to pull you in multiple directions.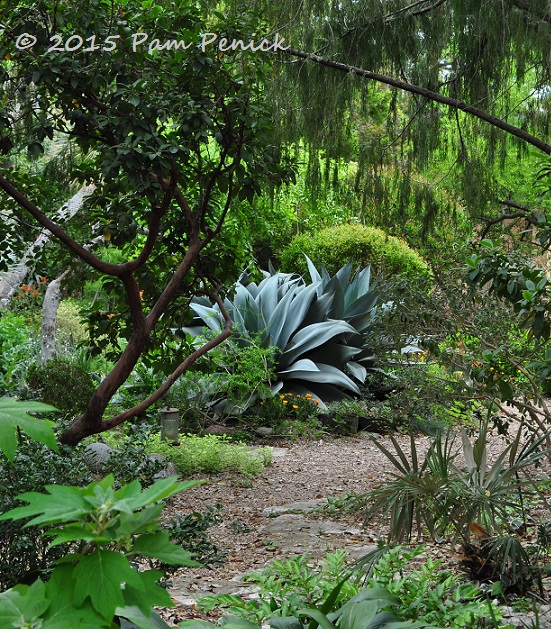 Let's head back to the entry garden…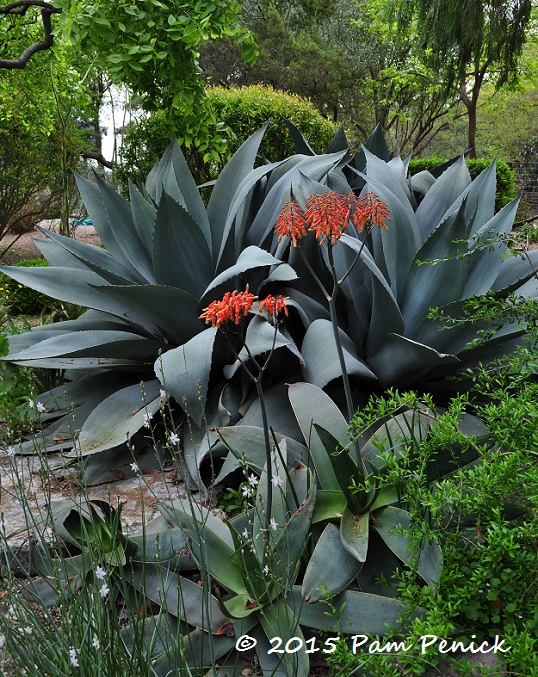 …to admire those gorgeous agaves again. Aloes were blooming too.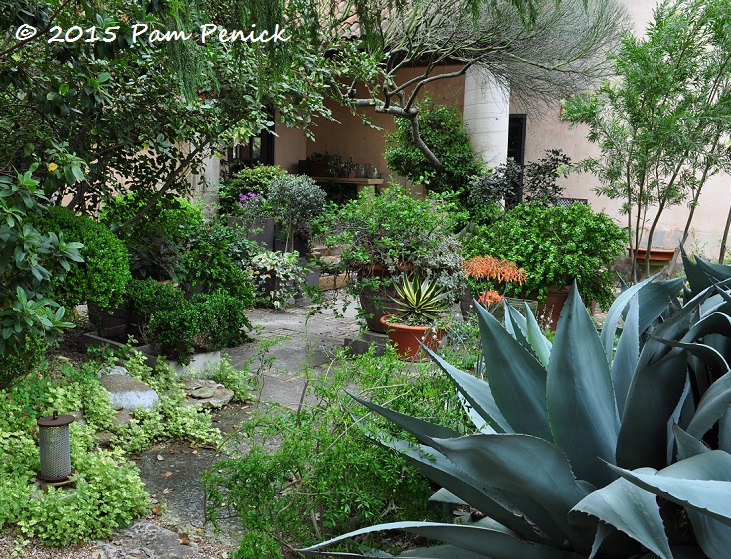 Visitors are immersed in the garden before they even reach the front door.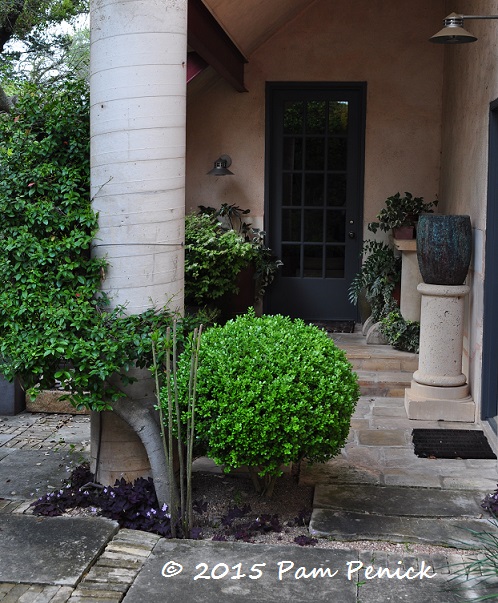 The front door is sheltered under a narrow porch and set modestly to one side.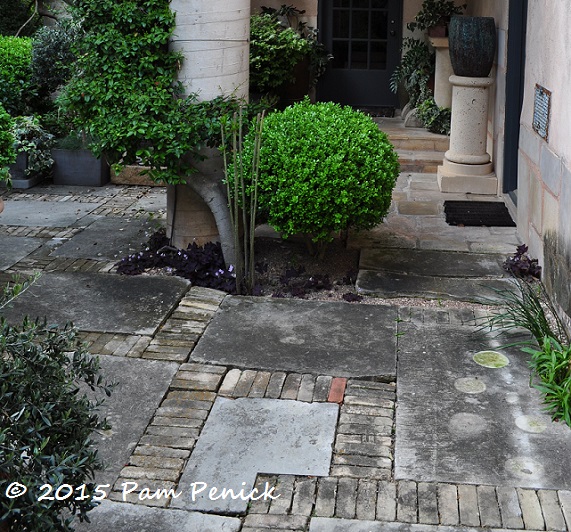 A patchwork of paving materials imposes a linear design on the intimate entry court, softened by planting pockets.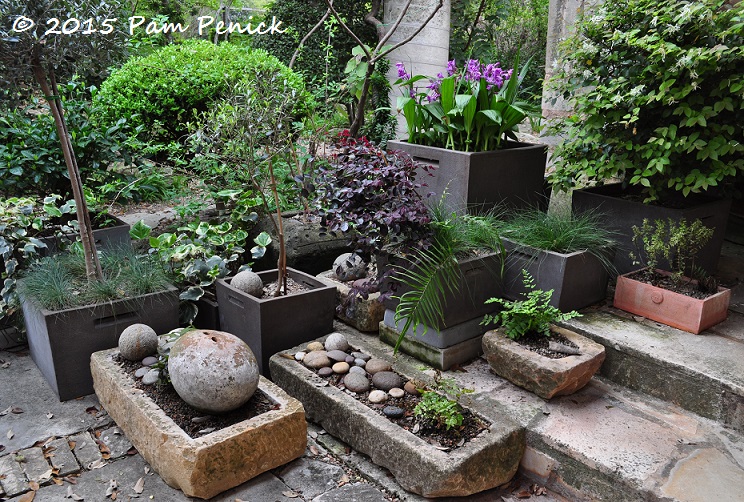 At the front steps, a dozen rectangular pots and troughs cluster for impact. A collection of spherical stones adds a contrasting shape.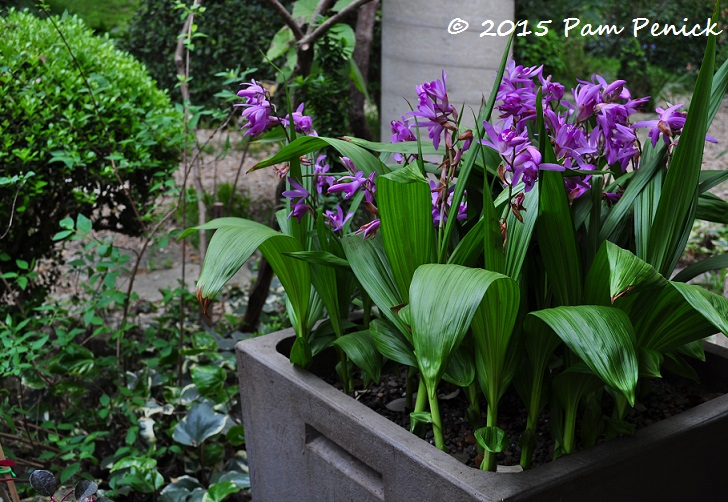 Chinese ground orchid (Bletilla striata) in spring bloom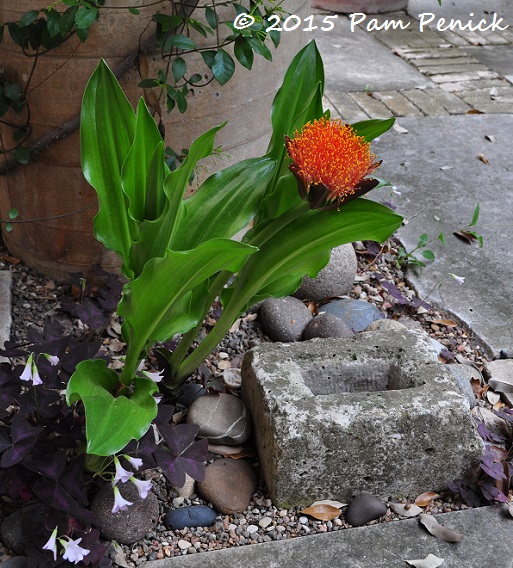 Some sort of protea? Scadoxus puniceus var. natalensis (thanks, Astra and John)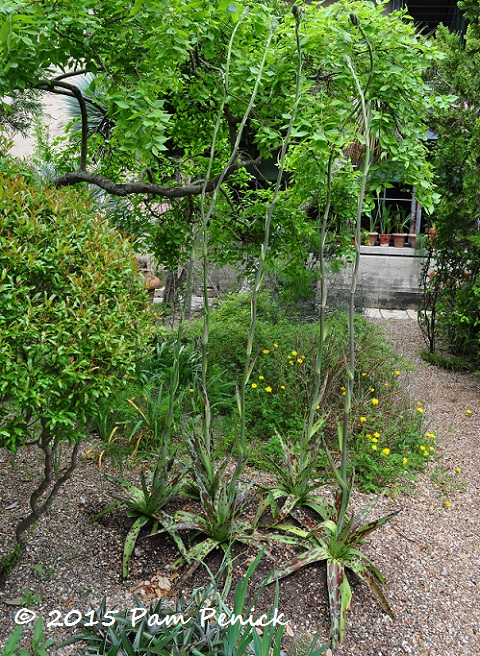 Texas tuberose (Manfreda maculosa) sending up towering bloom spikes, backed by native ranunculus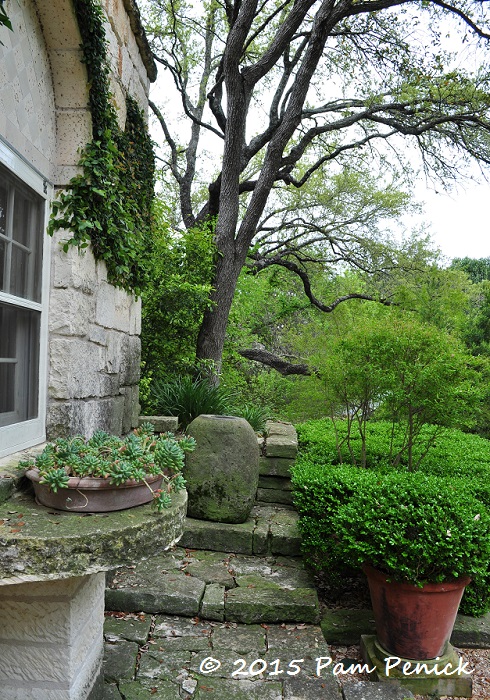 While the street side of the property is relatively flat, in back a steep natural ravine has been tamed with a series of elegant stone and gravel terraces, including this narrow one along the foundation. A semicircular stone console table under a window displays a pot of succulents.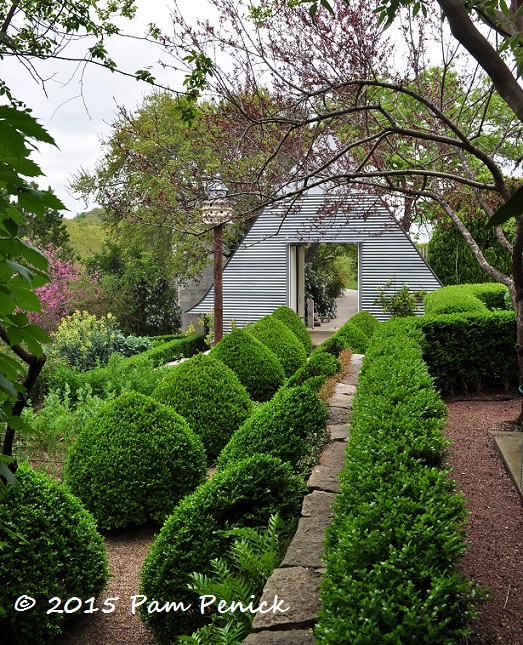 Along one axis parallel to the house, a double line of squat, pyramidal boxwoods leads to a pyramid-shaped shed with a dogtrot-style doorway running through the middle.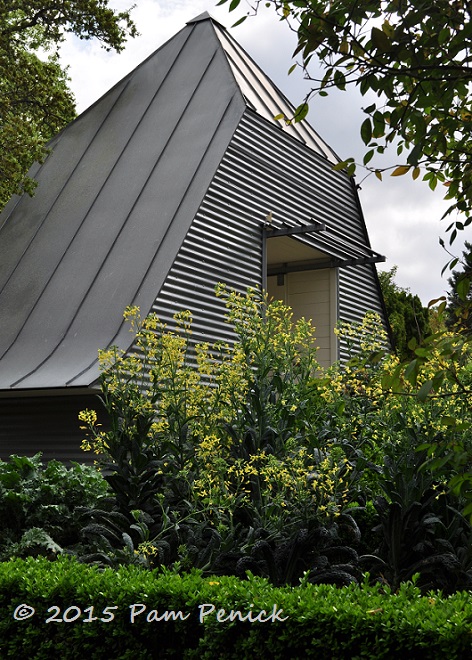 Sheathed in galvanized metal siding and roofing, it's a striking focal point from several paths, including this one that runs below it.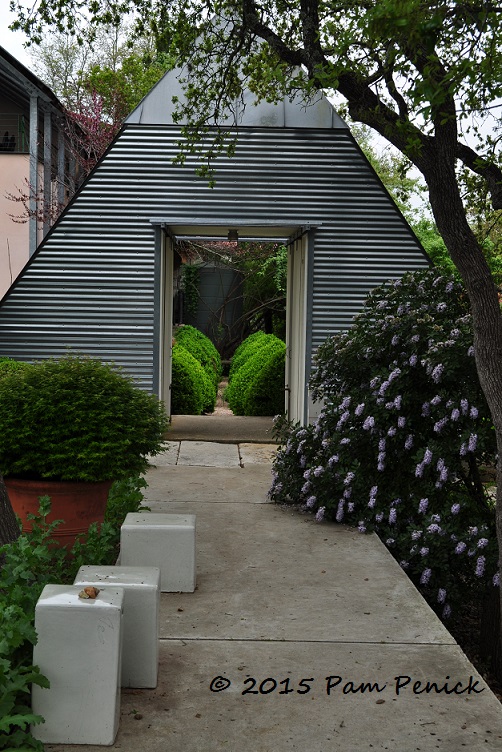 Pass through the open doorway and you come to a stone walk that leads to the detached studio (which I'll show in part 2). This is the view looking back through the pyramid shed. A Texas mountain laurel in full, fragrant bloom leans on the path.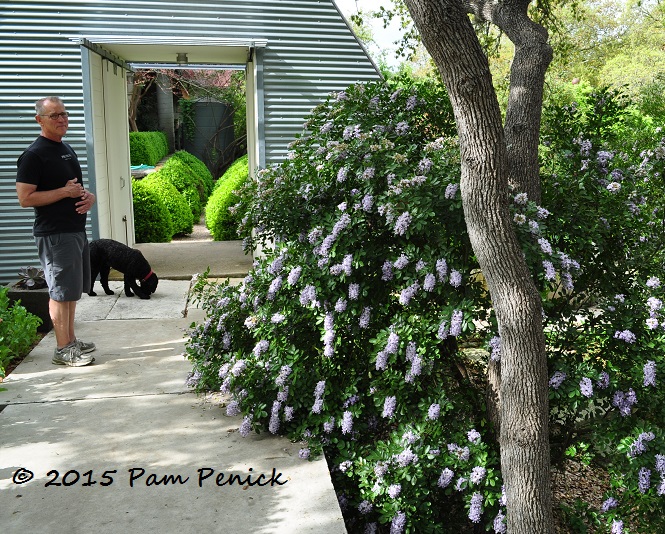 Another view, with Gary and their dog Alice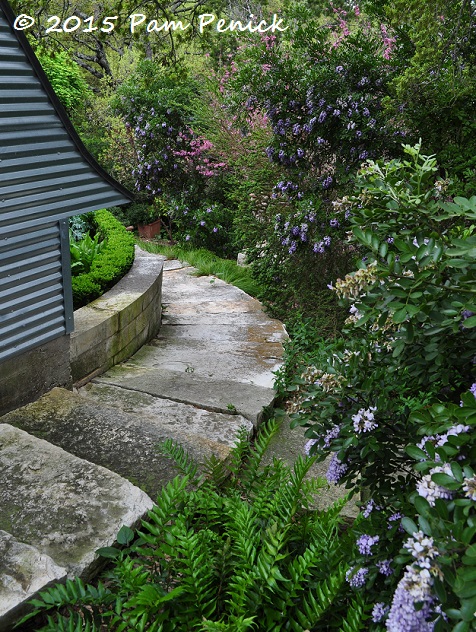 Taking the lower path back around the pyramid shed…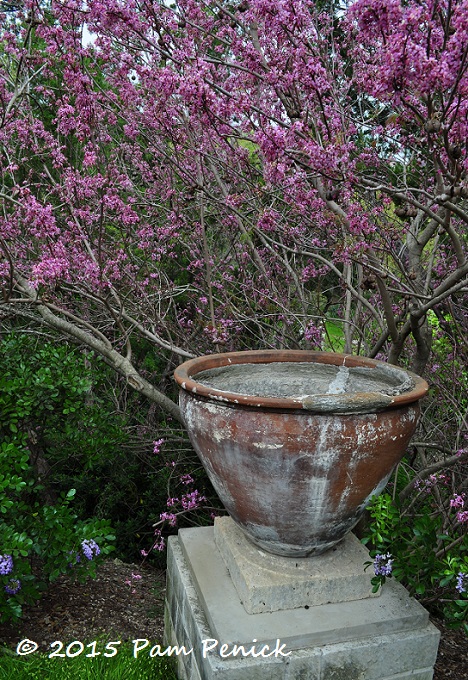 …you come to this vignette. Under a flowering Mexican buckeye (Ungnadia speciosa), a weather-aged pot sits empty atop a limestone plinth.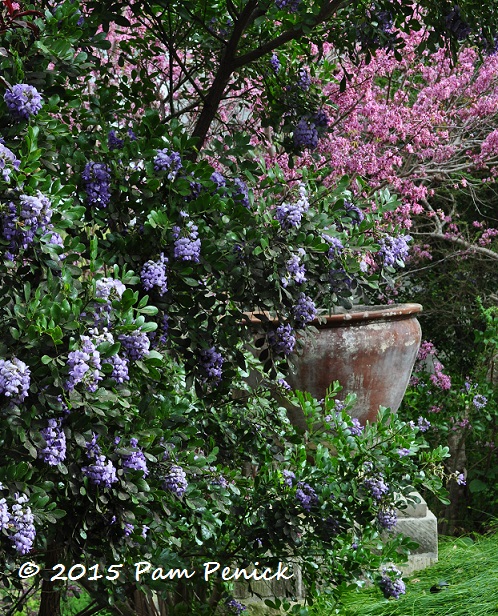 Texas mountain laurel and Mexican buckeye are native, spring-flowering trees that make a pretty pair.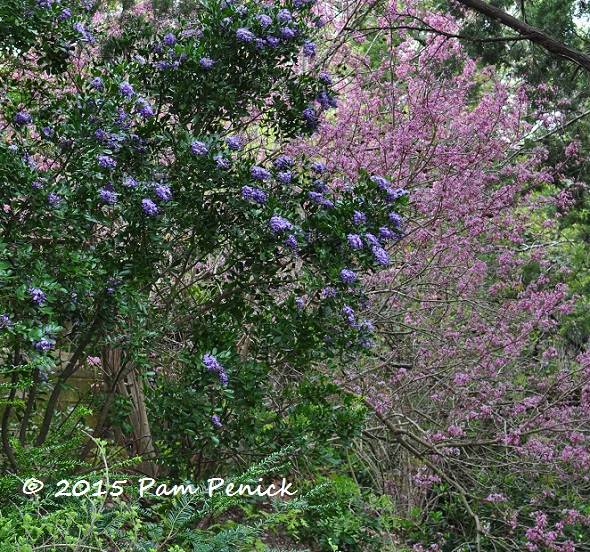 Another view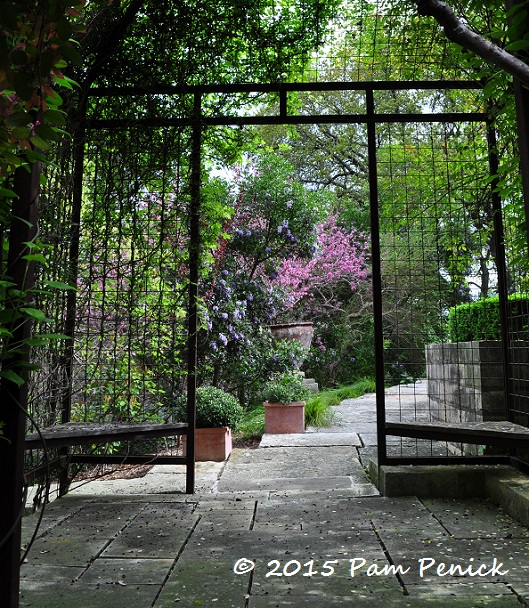 Ahead, the path straightens and enters a pyramid-shaped, trellis-walled gazebo. Triangular benches in each corner offer a place to rest and enjoy a lovely view back to the empty pot on the plinth — centered, you'll notice, in the doorway of the gazebo.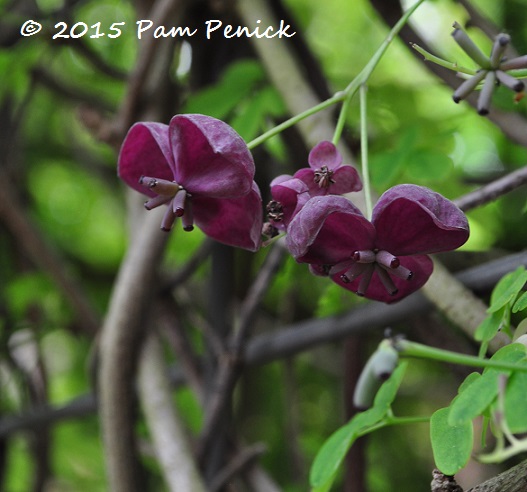 Chocolate vine (Akebia quinata) climbs the gazebo, its clusters of burgundy flowers dangling like parachutes. I'd love to see the sausage-shaped fruit that follows in the fall.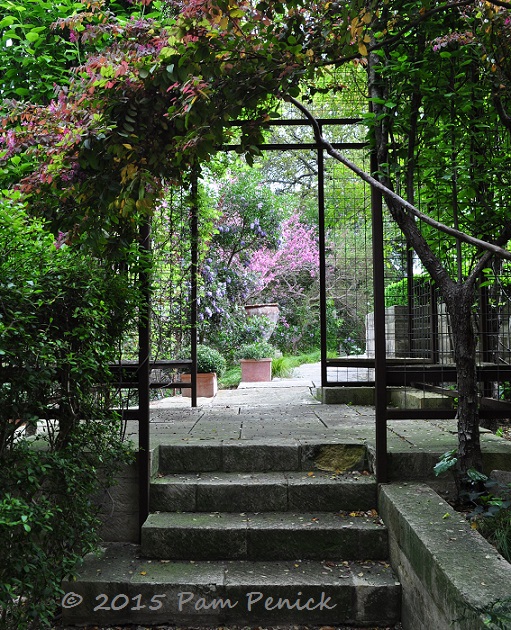 A wider view of the trellis gazebo shows a Chinese fringe flower (Loropetalum chinense) pruned up tree-form, its burgundy leaves offering a color echo of the chocolate vine's flowers.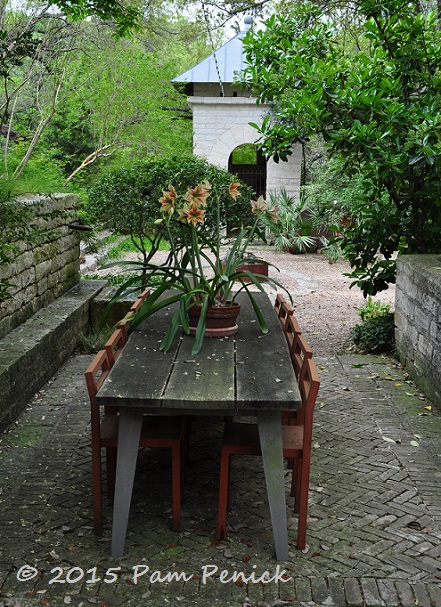 Turning the opposite direction, the axis continues parallel to the house, leading to a secluded dining table hemmed in by low retaining walls. A double line of string lights tracks above the space to the dovecote structure that terminates the sight line. On the right, behind the lower wall…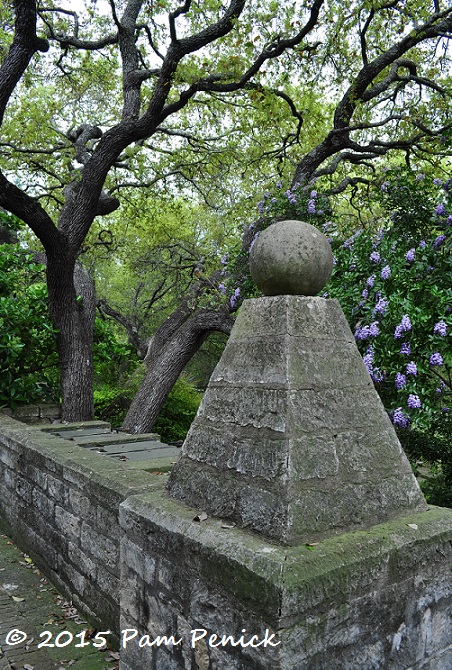 …is a built-in BBQ for entertaining. An oversized stone finial echoes the pyramid shapes that appear throughout the garden.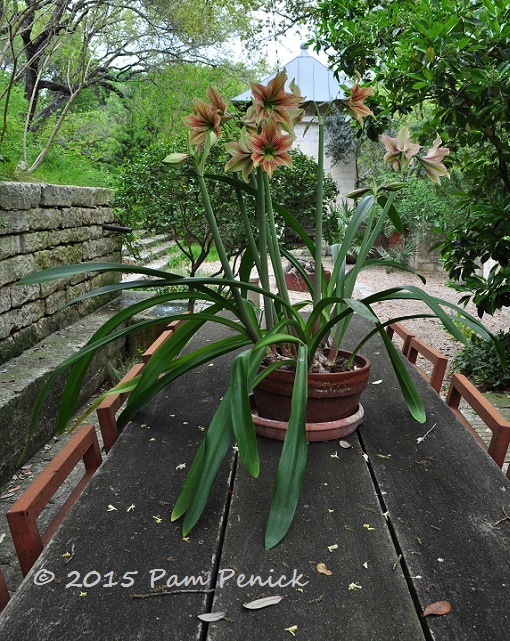 On the wooden table, a beautiful potted amaryllis echoes the burnt orange of the metal chairs.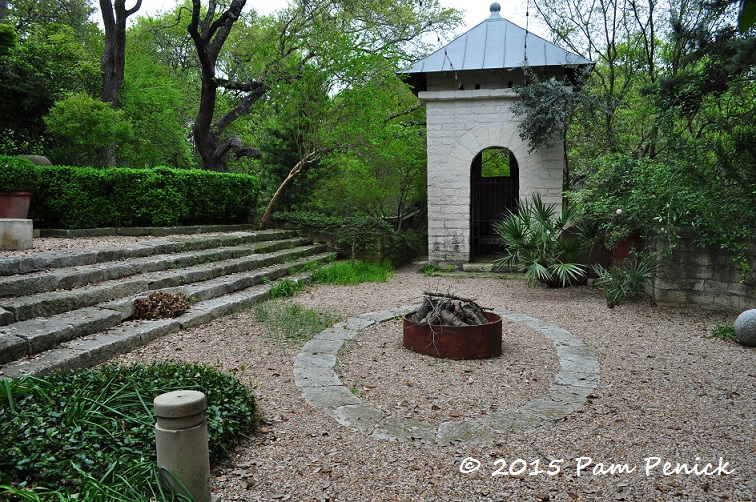 Beyond the table a gravel courtyard with a steel fire pit offers another gathering place. It's also the center of a perpendicular, downward-leading axis from the back of the house through the lower garden, which I'll show in part 2. The shallow steps at left lead up to the house and the street-side garden. Turning to the right you'd see the most dramatic view of the whole garden: a grand staircase with a rill running down the center that leads to a large pond. Coming up next!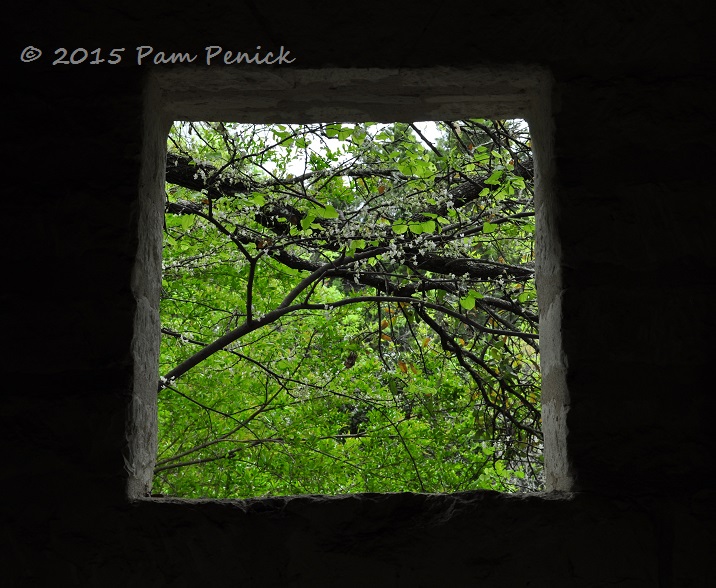 I'll end part 1 with a framed view of spring-green trees, as seen through the limestone dovecote window…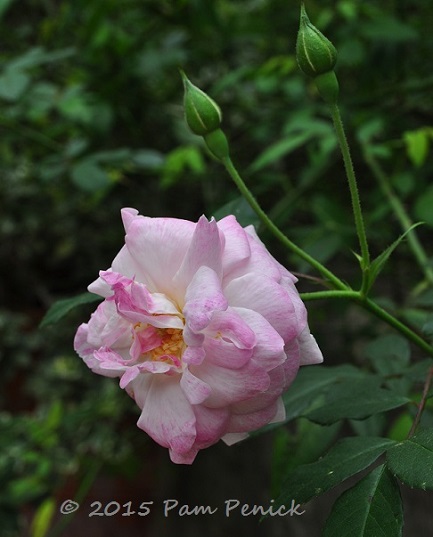 …and a sweet pink-and-cream rose.
Up next: Part 2 of my farewell visit to James David's garden
All material © 2006-2015 by Pam Penick for Digging. Unauthorized reproduction prohibited.
posted in
Agaves
,
Aloes
,
Arbors
,
Bulbs/Rhizomes
,
Cactus
,
Containers
,
Decor
,
Design
,
Doors
,
Firepits
,
Garden structures
,
Garden tours 2015
,
Hillside
,
Lighting
,
Palms/Cycads
,
Paths
,
Patios & decks
,
Pruning
,
Rock
,
Roses
,
Seating
,
Sheds
,
Shrubs
,
Spring color
,
Succulents
,
Trees
,
Trellis
,
Vines
,
Walls
,
Windows
,
Xeric plants