July 5th, 2009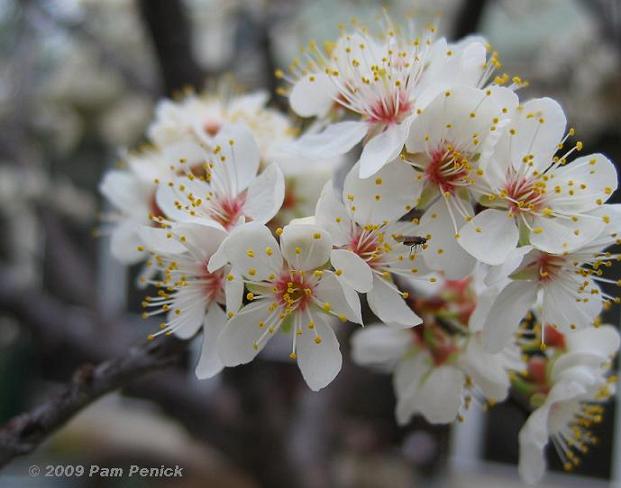 Mexican plum (Prunus mexicana ), a native Texas tree with satiny gray bark, blooms in late February or early March in Austin. When in flower, it's hugely popular with pollinators of all types, particularly bees but also tiny flies like the one visible here.
This is my entry for Gardening Gone Wild's Picture This photo contest. July's theme is Flowering Trees, and photographer Rob Cardillo will be judging. Go to GGW to check out Rob's own luminous image of a solitary redbud amid a cathedral of tall tree trunks.
Looking through my files for flowering trees, I noticed that I have almost no images of the most commonplace mid-summer flowering tree in Austin, the crepe myrtle. Why do I neglect such a beautiful tree, especially one hardy enough to bloom all summer in withering drought and heat such as we've been experiencing for a month? Let's just say it's a matter of not seeing the tree for the forest of crepe myrtles around town. I vow to pay better attention and work on getting a few images of the hot-pink crepe myrtle blooming like mad outside my kitchen window.
Are there certain flowering trees you gravitate to with your camera, time and time again? Which ones do you pass over in a "familiarity breeds contempt" sort of way?
All material © 2006-2009 by Pam Penick for Digging. Unauthorized reproduction prohibited.