March 19th, 2015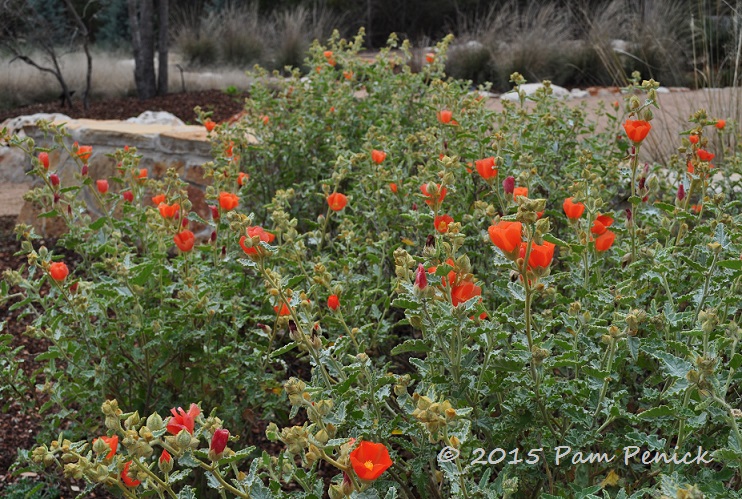 With a hat tip to Phoenix landscape architect Steve Martino, who coined the phrase "weeds and walls" to describe his design style — planting native plants for toughness and building walls for structure — here are some of the beautiful weeds and walls at Austin's own native-plant showcase, the Lady Bird Johnson Wildflower Center. I visited yesterday to see the early spring show, like gray globemallow (Sphaeralcea incana).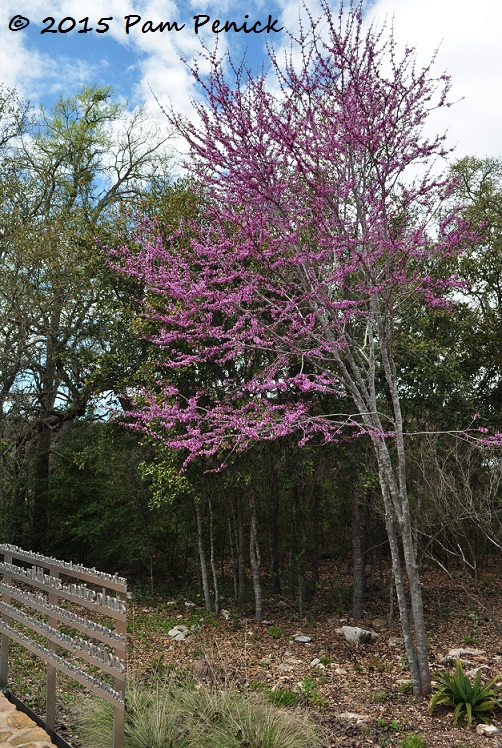 Native trees are at peak bloom all over town, and the Wildflower Center was colorful with Texas redbuds (Cercis canadensis var. texensis)…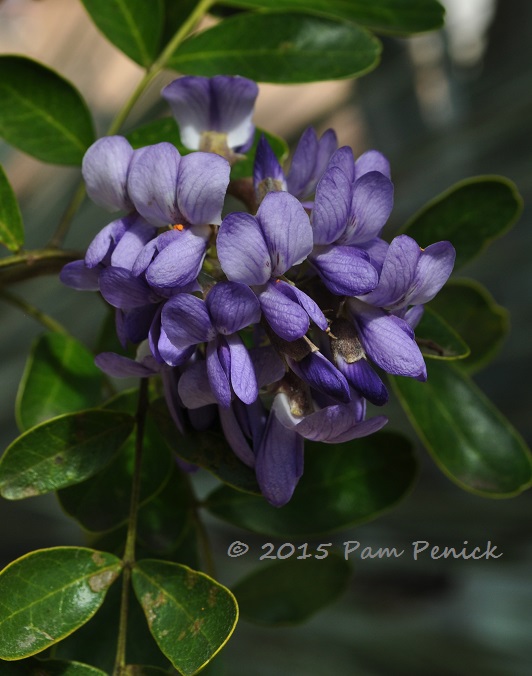 …grape Kool-Aid-scented Texas mountain laurel (Sophora secundiflora)…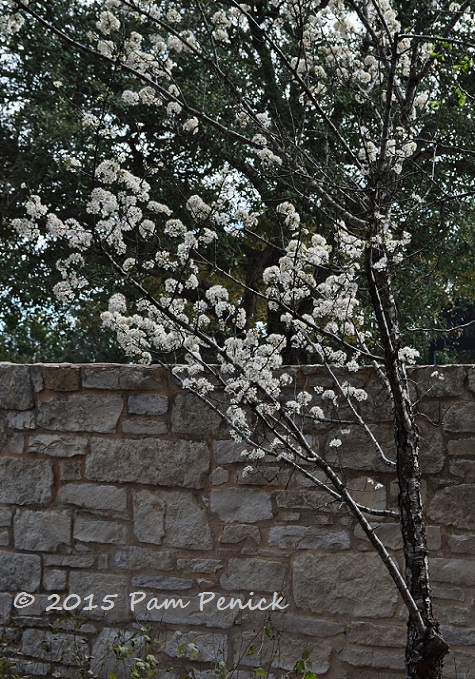 …and Mexican plum (Prunus mexicana).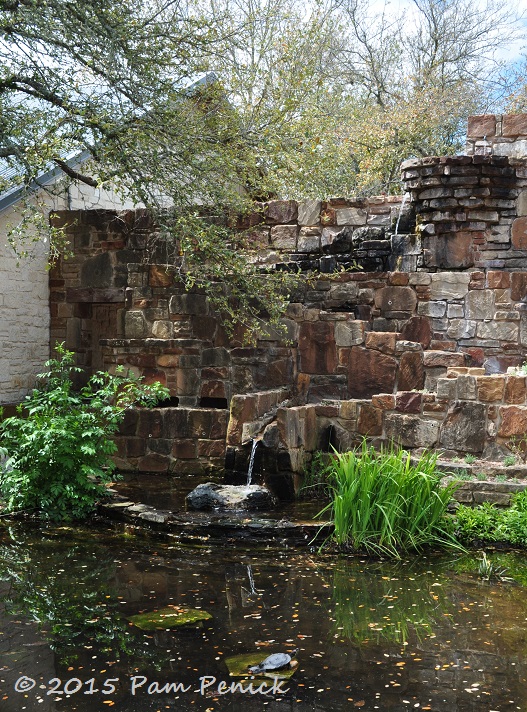 The entry gardens are framed with fabulous stone walls that reference the architecture of Texas's Spanish missions and German settler homesteads. This one contains a zigzagging sluice for recirculating water to spill into a pond.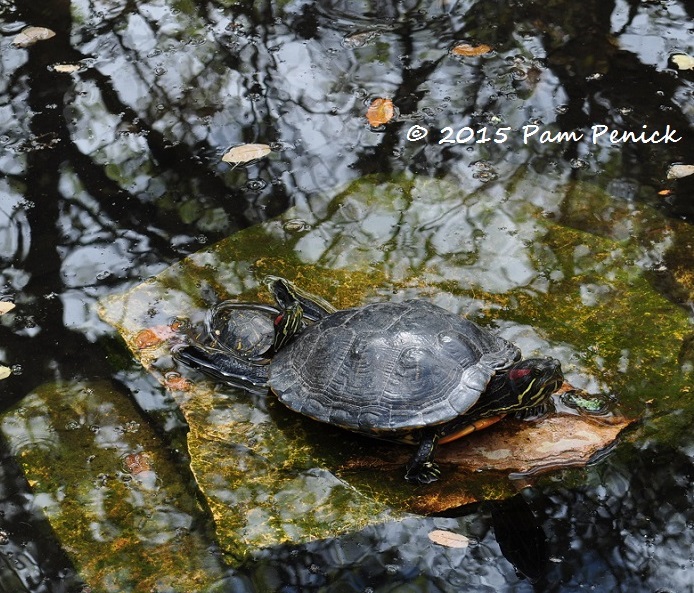 Two red-eared slider turtles, including a baby turtle resting its head on the back of another's shell, were basking on a rock, enjoying the warm spring sunshine.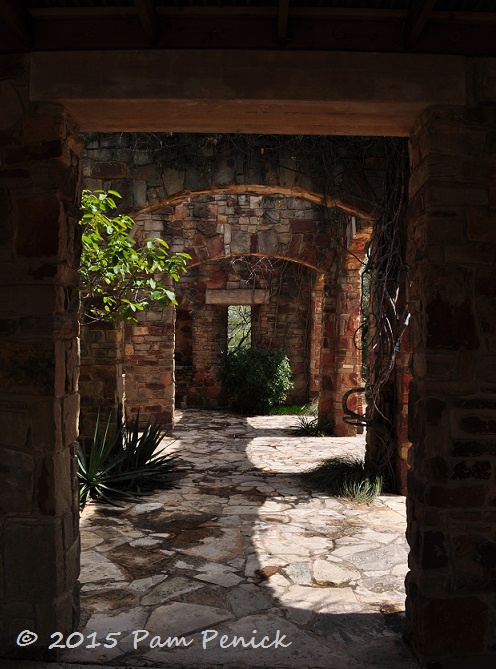 Arched and linteled walls frame a long view to a window.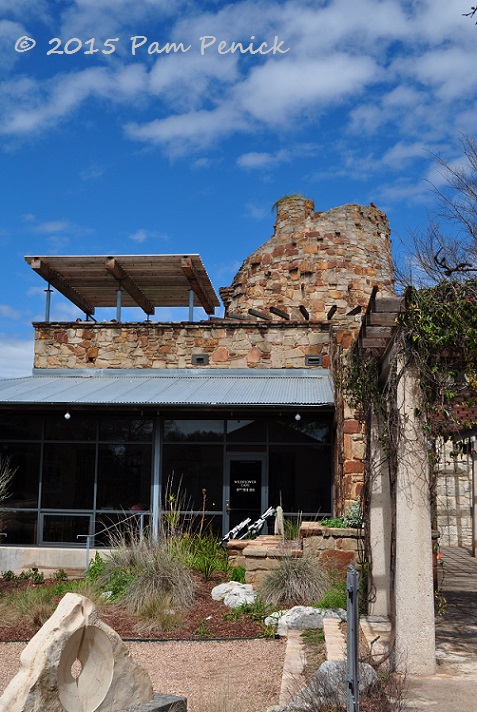 In the central plaza, a spiraling cistern tower (yes, it collects and stores rainwater) is the signature building of the Center. The cafe's rooftop seating offers a place to enjoy the view, but you can also climb all the way to the top of the tower for sweeping views of the surrounding landscape.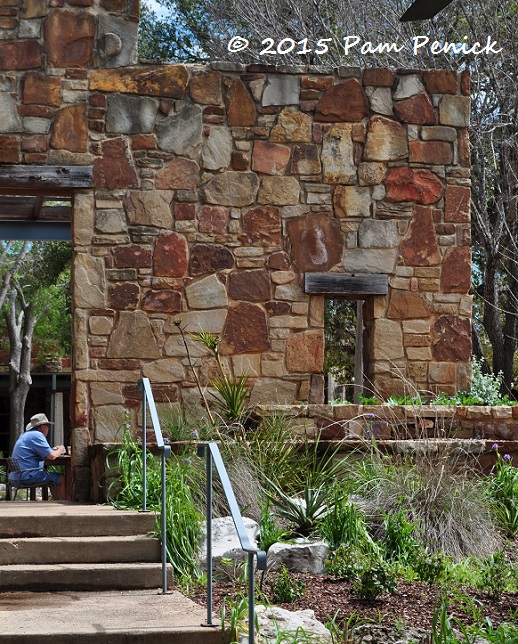 This wall extends from the cafe and used to contain a dripping water feature in the stone window, which supplied a narrow trough of water below. I just noticed yesterday that the water feature is gone, and the trough is now filled with plants. I wonder what instigated the change?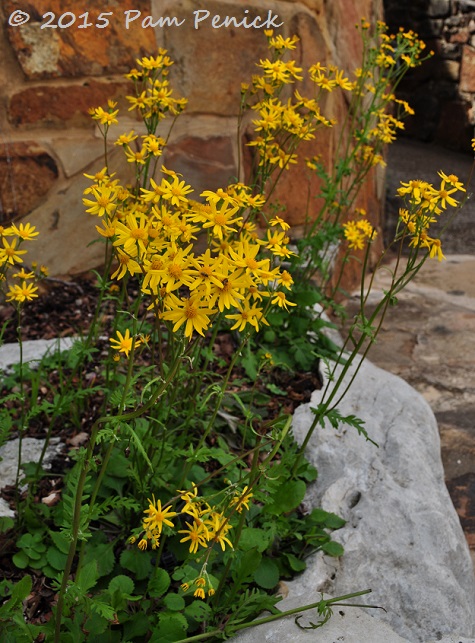 Golden groundsel (Packera obovata) grows at the base of the tower — and was in bloom throughout the gardens.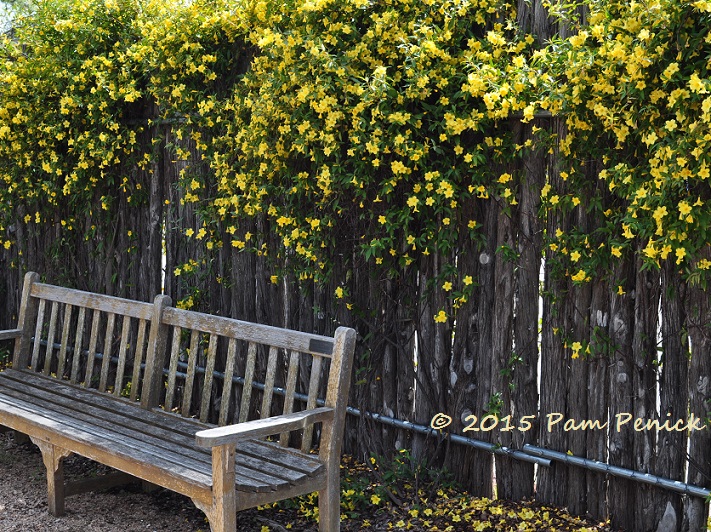 In the children's Little House garden, Carolina jessamine (Gelsemium sempervirens) swathed a coyote fence in fragrant yellow blossoms.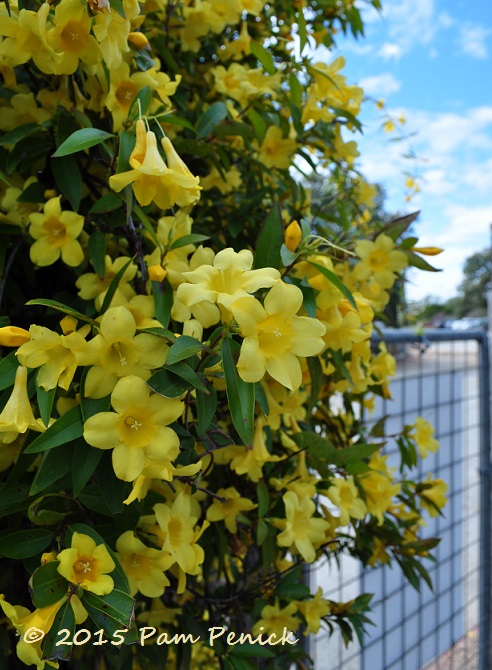 Inhale…and ahhhh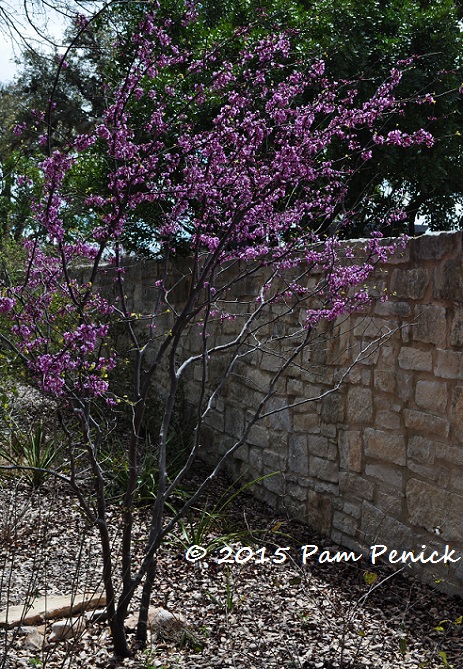 Limestone walls mark the entrance to the demonstration gardens, where a flowering Texas redbud arches toward the light.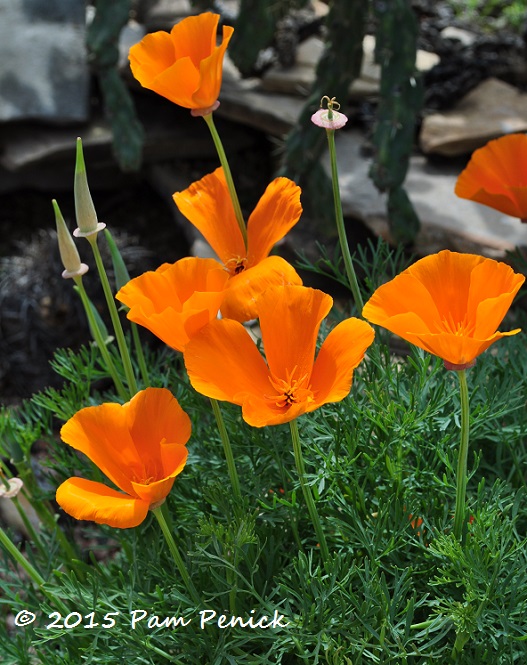 Blazing orange California poppies (Eschscholzia californica) add hot color to a gray-green cactus bed.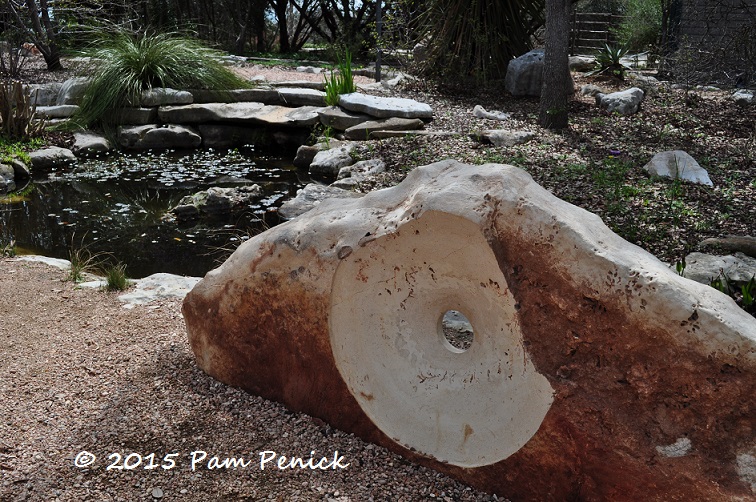 At another pond near the butterfly garden, I stopped to admire this Roger Foster "ocular" sculpture, carved from native limestone. Foster's sculptures are currently on display throughout the garden, but you may remember seeing one in Lee/The Grackle's garden too (click for my tour of Lee's East Austin garden).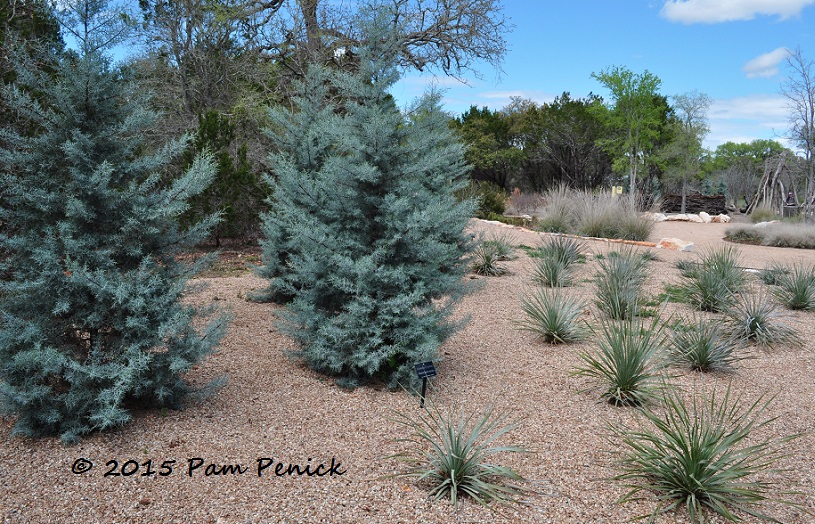 It's been almost a year since the new family garden opened to the public, and I enjoyed seeing how the plants have grown. This silver-blue bed contains 'Blue Ice' Arizona cypress (Cuppressus arizonica var. glabra) and Wheeler's sotol (Dasylirion wheeleri). Nice, but wouldn't it be fun to see a smattering of California poppies in here to liven things up in spring? Or ground-covering winecup?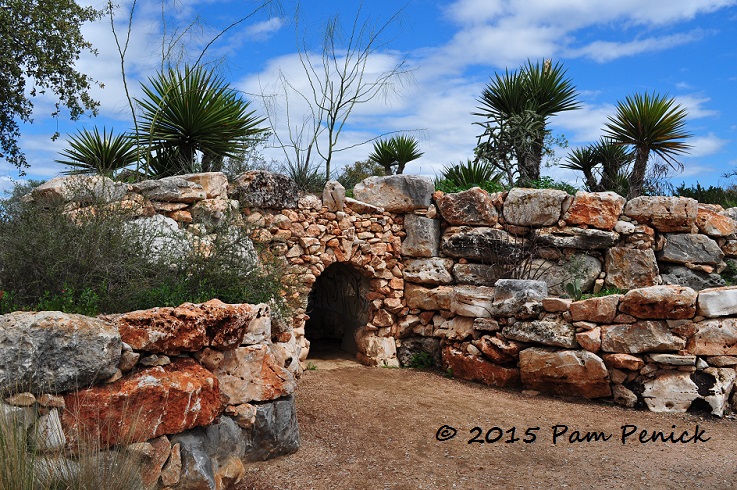 Walls of massive limestone blocks build up raised beds of sky-reaching yuccas and create "pictograph"-adorned tunnels and caves for children to explore.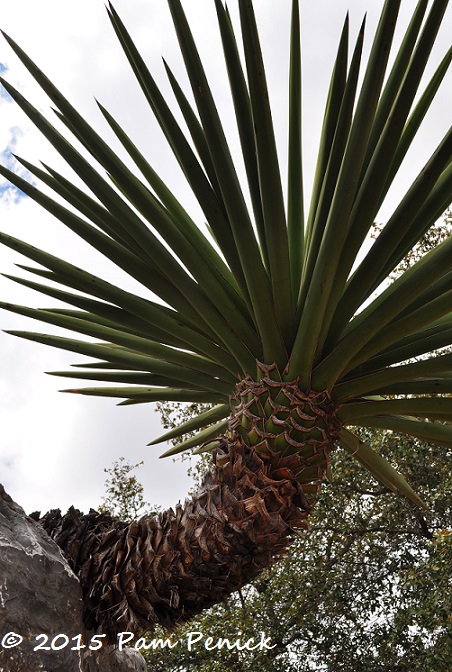 Spanish bayonet (Yucca faxoniana), I think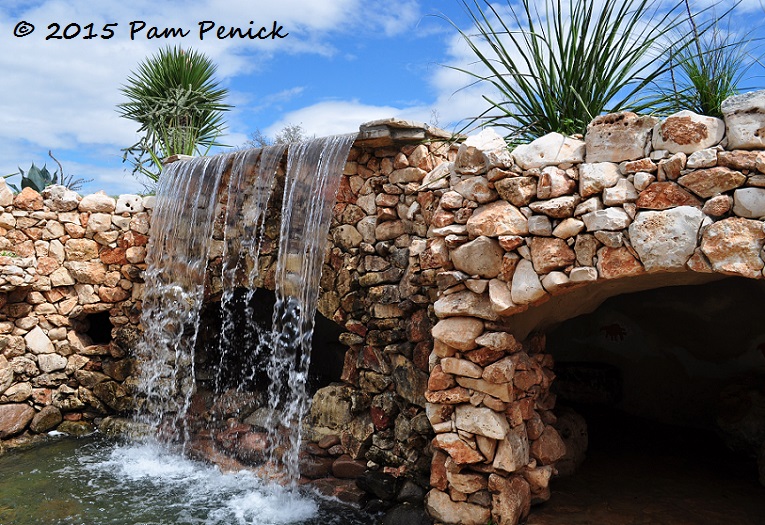 Caves beckon youngsters to explore behind a waterfall.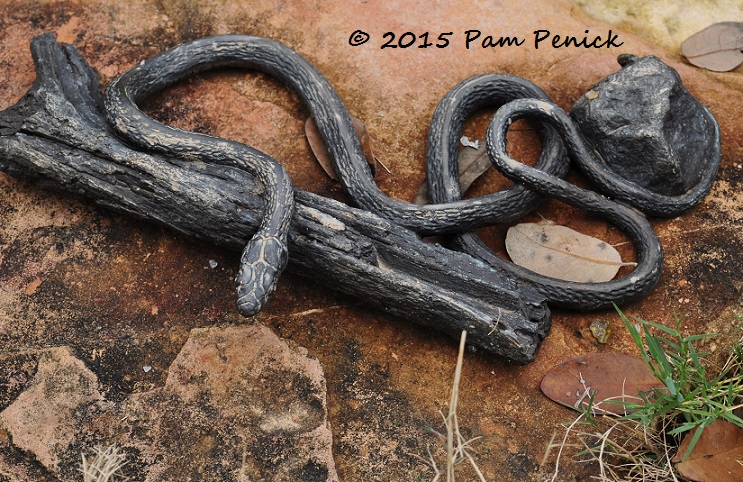 Bronze sculptures of animals are placed throughout the family garden, including this one I hadn't noticed before.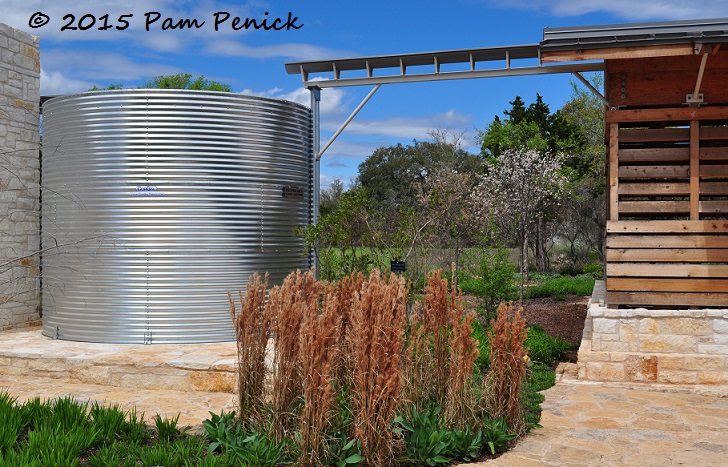 Water collection is an important feature at the Wildflower Center. I love these galvanized-steel cisterns — so handsome. A rain garden around it collects the overflow.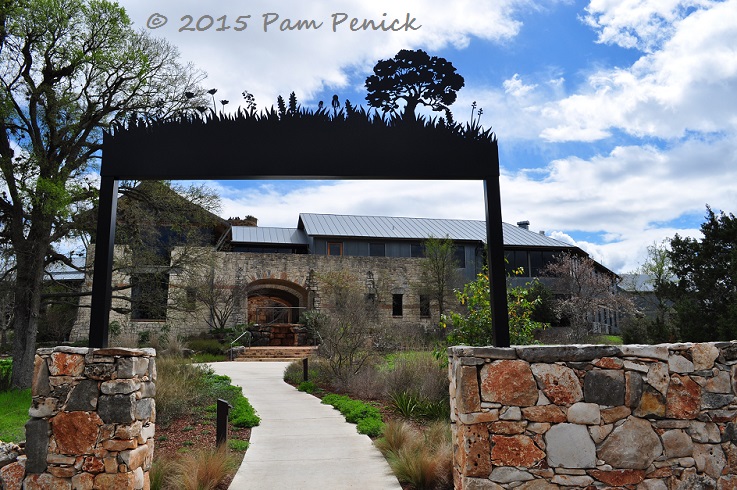 If you haven't been to the Wildflower Center lately, or ever, it's well worth a visit. In another few weeks, wildflowers will be at peak bloom, including bluebonnets, but the WC has a lot more going on than just wildflowers. It'll teach you to love our native Texas "weeds." And the walls aren't bad either.
__________________
I'd love to have your vote in the Better Homes and Gardens 2015 Blogger Awards. Skip through to the Gardening category, select Digging, and then skip to the last page for your vote to be counted. You can vote as much as you like. Thanks for your support!

All material © 2006-2015 by Pam Penick for Digging. Unauthorized reproduction prohibited.
posted in
Annuals
,
Arbors
,
Botanic/Public Gardens
,
Caves
,
Children's gardens
,
Fountains
,
Garden art
,
Garden structures
,
Ponds
,
Rain garden
,
Rock
,
Sculpture
,
Seating
,
Spring color
,
Texas natives
,
Trees
,
Vines
,
Walls
,
Water conservation
,
Water features
,
Waterfalls
,
Wildflowers
,
Wildlife
,
Windows
,
Xeric plants
,
Yuccas