March 5th, 2015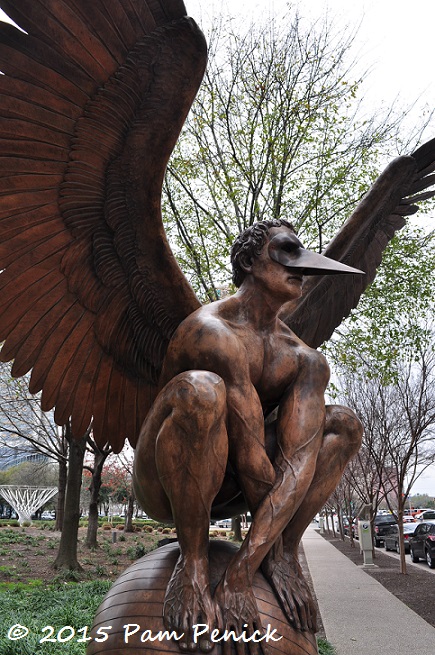 Archivaldo
One reason I was eager to visit Houston last weekend was to see Mexican sculptor Jorge Marín's "Wings of the City" exhibit, which after months on display downtown at Discovery Green Park was ending on March 3rd. Nine of Marín's bronzes — mainly life-sized male figures, many of them winged, atop rectangular pedestals or orbs — were placed prominently throughout the park, making for a pleasant, artful stroll despite the chilly, gray day.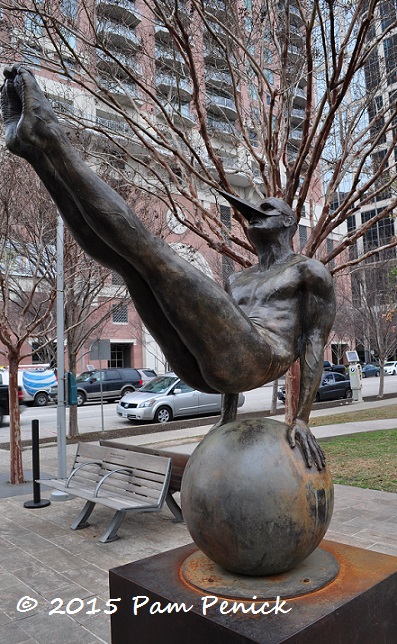 Equilibrista 90 Monumental
The figures are wonderfully detailed and realistic but also mysterious: bird-like masks obscure some of their faces.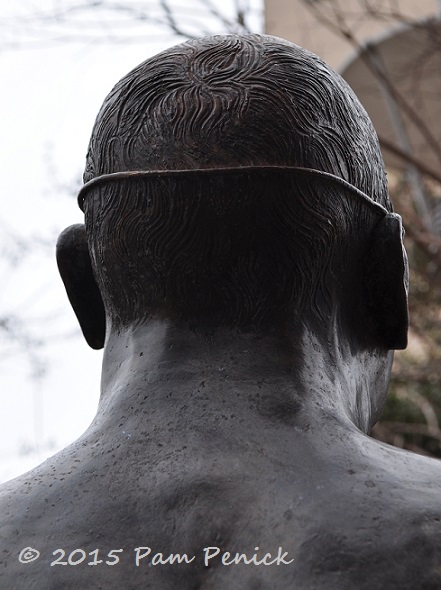 Detail of the man's hair and the mask's string on Equilibrista 90 Monumental.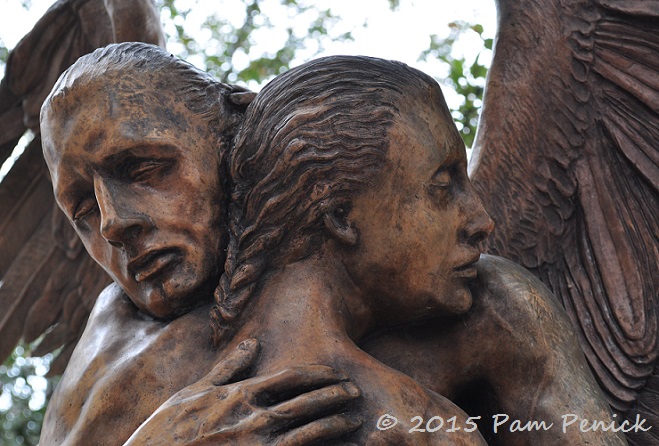 Abrazo Monumental
When faces are revealed, they are filled with emotion, as with these embracing figures.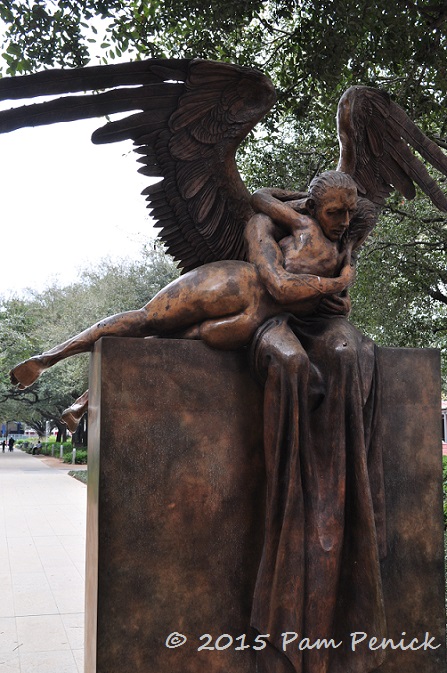 Abrazo Monumental contained the only female figure in the exhibit.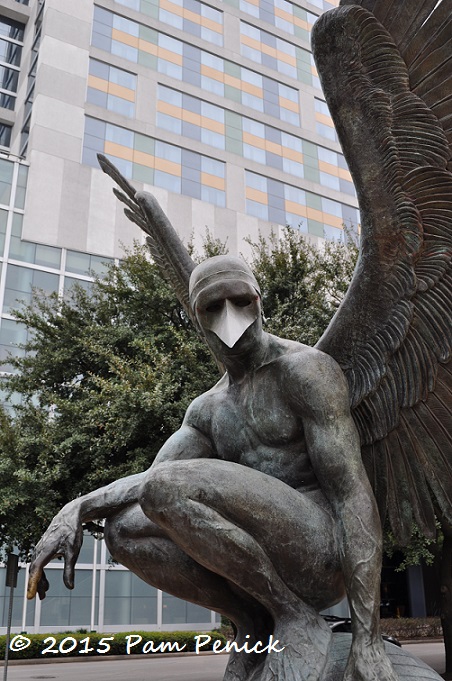 Angel Perselidas Monumental
This angel figure, masked like a bird, crouches in a relaxed but watchful pose atop an orb, looking down at you as you pass. His right forefinger, rubbed by passersby, gleams gold.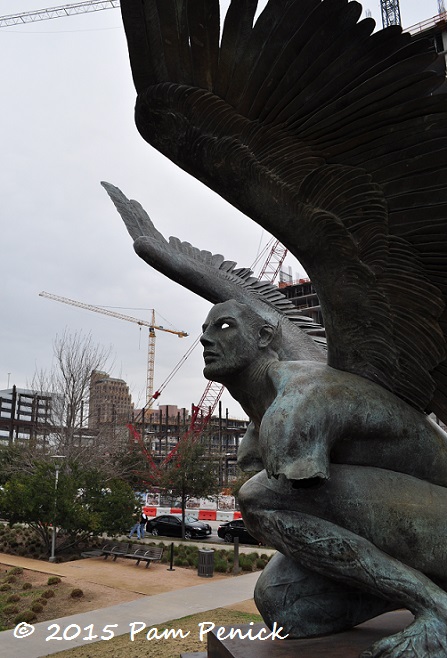 The ruined figure of El Tiempo, or Time, was elevated above the park on a central knoll.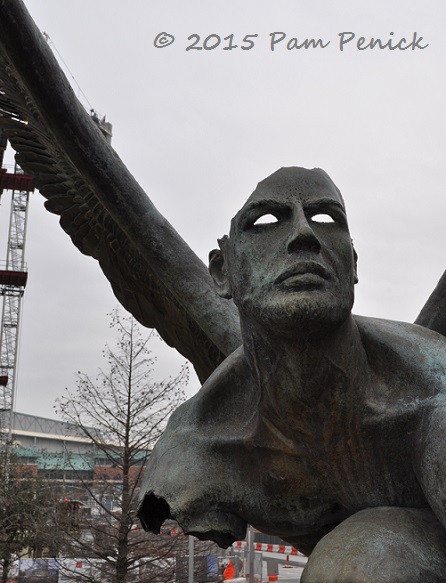 With his head cracked open to the sky, his eyes come alive with a blank gaze — the sky as seen through his mask of a face.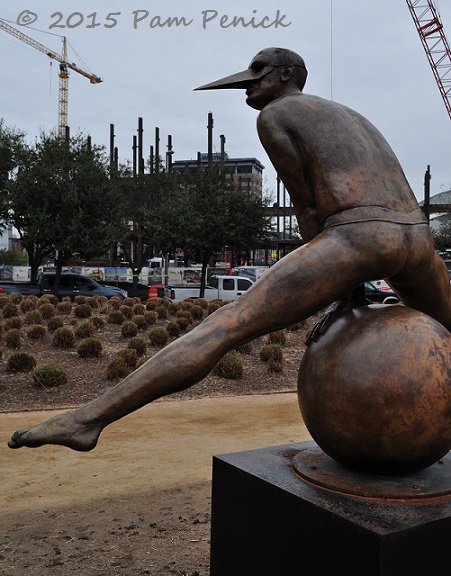 Split Monumental is one of three gymnast figures, as opposed to the winged angels that made up the rest of the exhibit.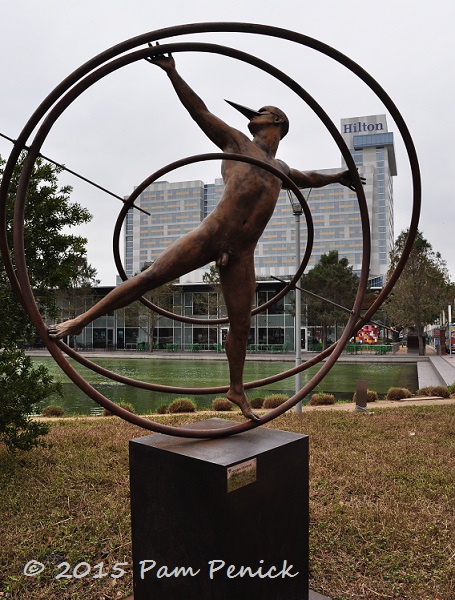 Hombre Universal Monumental
The third gymnast is a masked nude in a sphere of moving rings, reminiscent of Leonardo da Vinci's Vitruvian Man. Ironically, I'd heard about the exhibit due to a controversy about this piece reported by a Houston news station, in which a few locals complained about the artistic nudity in a park frequented by children. I can't really imagine there was much controversy about this — I mean, have people not ever seen images of Michelangelo's David? — especially in a city as large and multicultural as Houston, but you never know.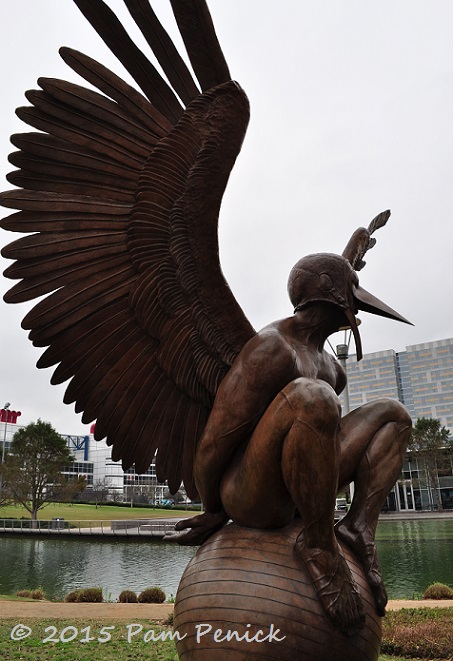 Bernardo Oriental Monumental
At any rate, we thought the exhibit was marvelous and were glad to have caught it.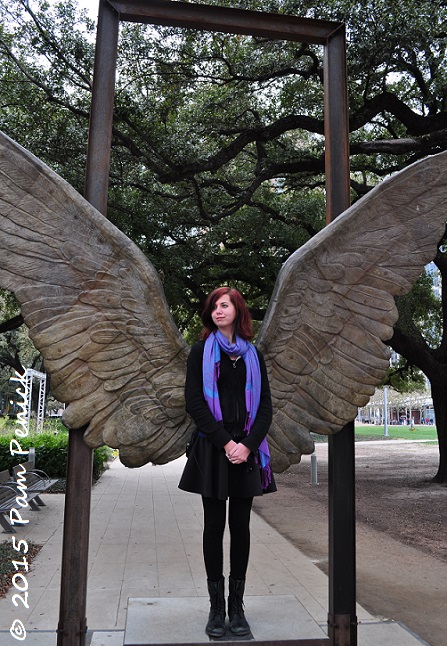 The only non-figure piece in the exhibit was Alas de Mexico: simply a pair of framed wings atop a stair-stepped pedestal, clearly inviting you to become part of the exhibit yourself. The interaction between this piece and the public was delightful to observe, and of course we took turns posing too. My daughter makes a lovely angel or superhero or whatever one wishes to imagine of these symbols of power and grace.
__________________
I'd love to have your vote in the Better Homes and Gardens 2015 Blogger Awards. Skip through to the Gardening category, select Digging, and then skip to the last page for your vote to be counted. You can vote as much as you like. Thanks for your support!

All material © 2006-2015 by Pam Penick for Digging. Unauthorized reproduction prohibited.