February 25th, 2015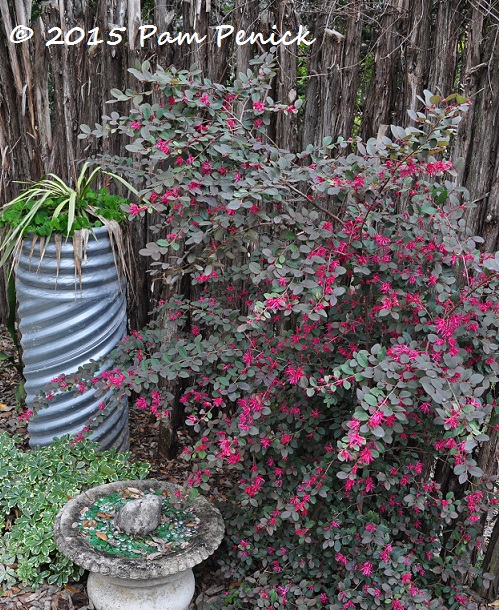 As winter and spring duke it out in late February, Chinese fringeflower (Loropetalum chinense) starts strutting its stuff, flashing hot-pink, strappy-petaled flowers amid its dusky-purple, evergreen leaves. Dark foliage is kind of rare in central Texas — our native and adapted plants tend to have gray-green and silver-blue leaves, an adaptation for surviving heat and drought — so the wine-colored leaves of this Asian shrub are a welcome addition to our gardens.
Pictured here, in the lower garden along my back fence, is Loropetalum 'Sizzling Pink', which has grown quickly to about 5 feet tall, with an open branching habit and fairly vertical form. Without the fuchsia blossoms, it blends in a bit too well with the rough cedar posts that line our old chain-link fence, but I like the way it pops against the culvert-pipe planter. A light background would be better for showing off its dark leaves.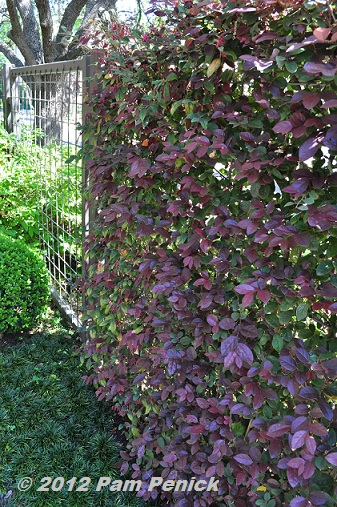 Loropetalum is versatile. I've seen it espaliered along a wire fence in the Lofgren-Bayer Garden in Houston.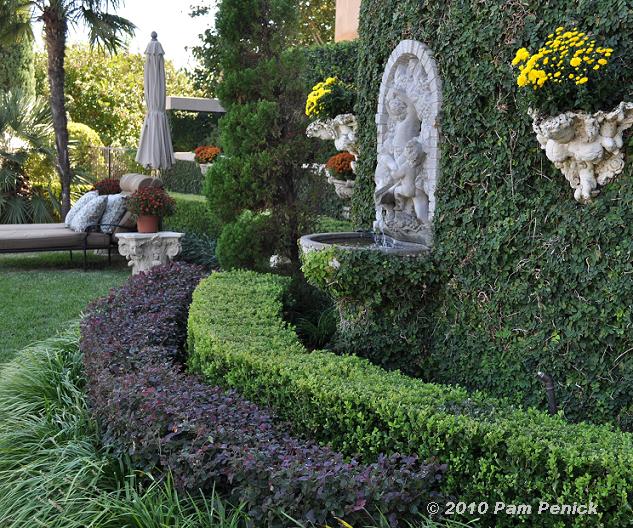 And it makes a beautiful clipped hedge, as seen in the Jones Garden here in Austin.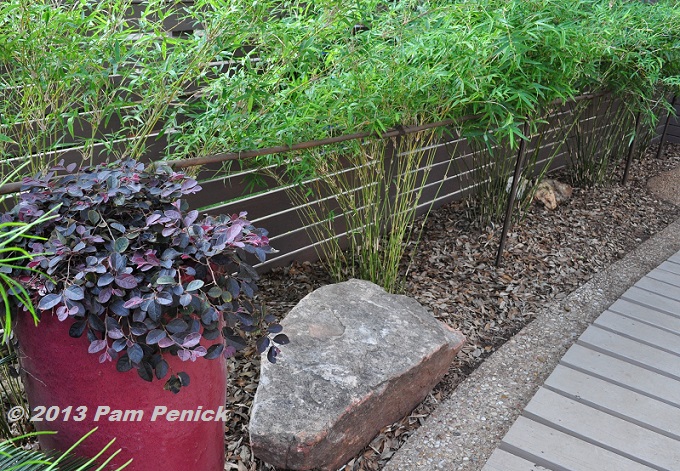 Taller varieties can be left shrubby or clipped up tree-form, like a small crepe myrtle. A fairly new cultivar called 'Purple Pixie' is perfectly sized for containers (as seen in Cyndi Kohfield's garden) or as a groundcover, but I confess I've killed three of the 'Purple Pixie' and have given up on it.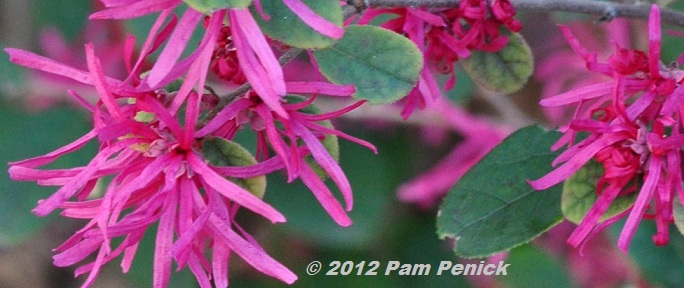 Three larger cultivars are doing quite well for me, however. Aside from 'Sizzling Pink' (shown at top), I'm growing 'Plum' and 'Rubrum'. All prefer morning sun/afternoon shade or dappled shade in our hot, humid climate. The leaves tend to lose the rich purple coloring in too much shade, but full sun can bleach out the leaves and stress the plants. Given a little shade they are reasonably drought tolerant once established (excluding 'Purple Pixie', in my experience), and deer ignore them in my garden.
Chinese fringeflower is quite handsome, especially in bloom. But I often see large varieties planted as foundation shrubs, which quickly outgrow their intended size, so choose with care and look for dwarf cultivars unless you plan to hedge them.
Note: My Plant This posts are written primarily for gardeners in central Texas. The plants I recommend are ones I've grown myself and have direct experience with. I wish I could provide more information about how these plants might perform in other parts of the country, but gardening knowledge is local. Consider checking your local online gardening forums to see if a particular plant might work in your region.
All material © 2006-2015 by Pam Penick for Digging. Unauthorized reproduction prohibited.