February 13th, 2015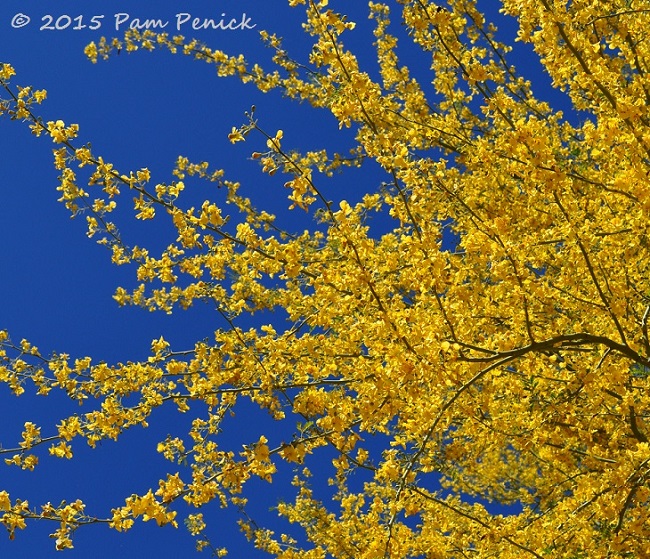 For all you snowbound readers up north or eager-beaver gardeners down south, you'll find lots of floral sunshine in this post, which I've been holding onto since last spring. During my Phoenix visit last April, my friend Noelle, aka AZ Plant Lady, took me to some water-saving gardens around town, including the beautiful grounds at Arizona State University's Polytechnic Campus in Mesa.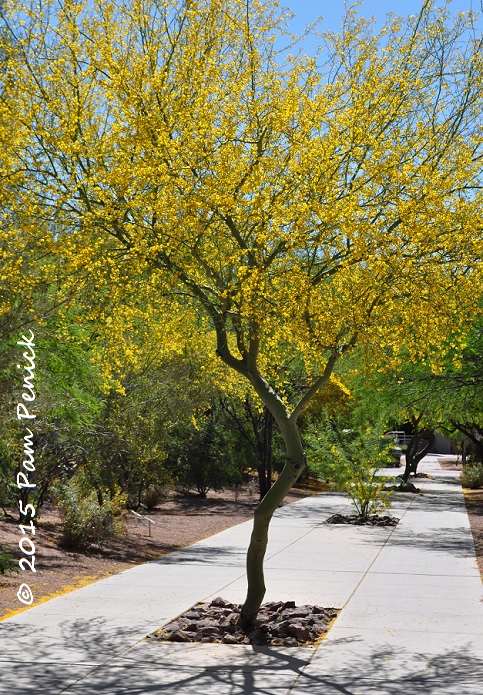 The campus, formerly an Air Force base, was originally a bleak expanse of hot paving and river rock. Austin's own Christine Ten Eyck ripped up the paving (repurposing some of it as garden benches and paving-stone paths) to create a garden of flowering native plants that provide shade and feed pollinators, welcoming courtyards, vine-draped arbors, and creative water harvesting.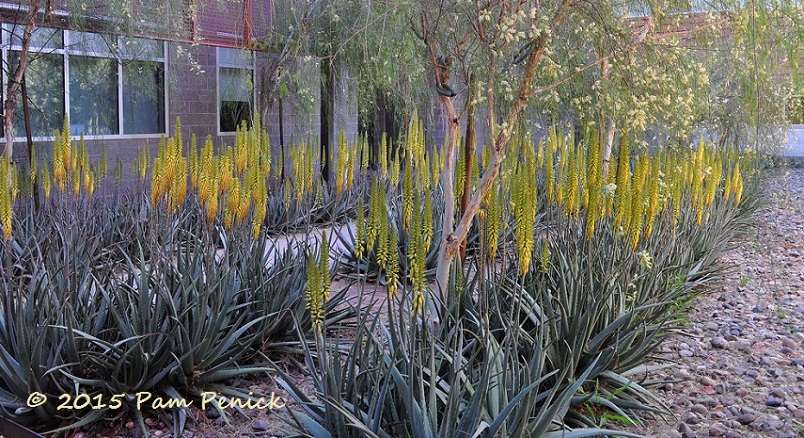 In 2012, the American Society of Landscape Architects (ASLA) recognized the garden with an Honor Award. As Ten Eyck's project narrative explains,
Our team reviewed the campus master plan which had a decidedly Ivy League approach to the campus design and developed a new master plan strategy for the project. We reinvented what a campus could be in the unique region of the Sonoran desert which only receives 7″ of rainfall a year.
7 inches of rain — that is not very much. Yet plants like aloes and palo blanco trees grow well here with minor supplemental watering.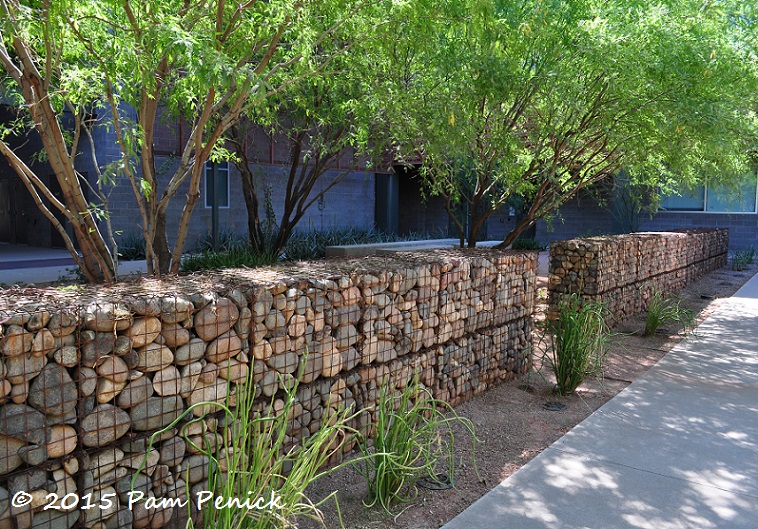 The river rocks that once made inhospitable paving now fill courtyard-defining gabion walls, which also shade plant roots from summer's heat.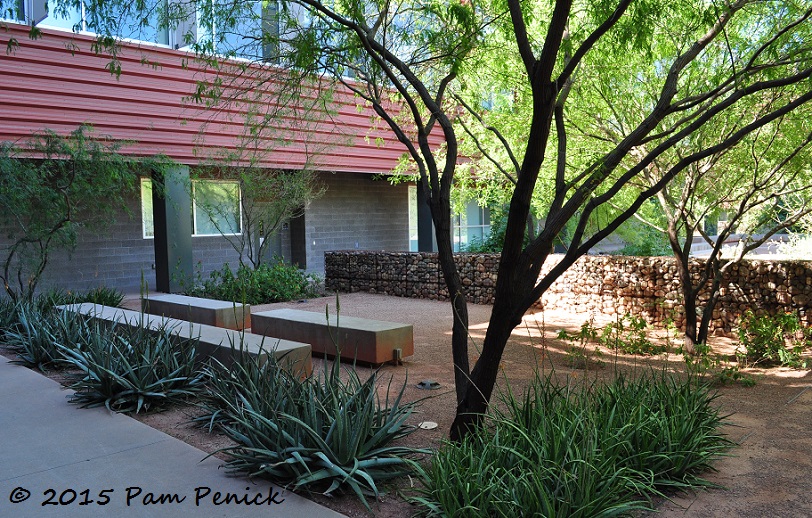 Cooling shade, enclosure, and places to sit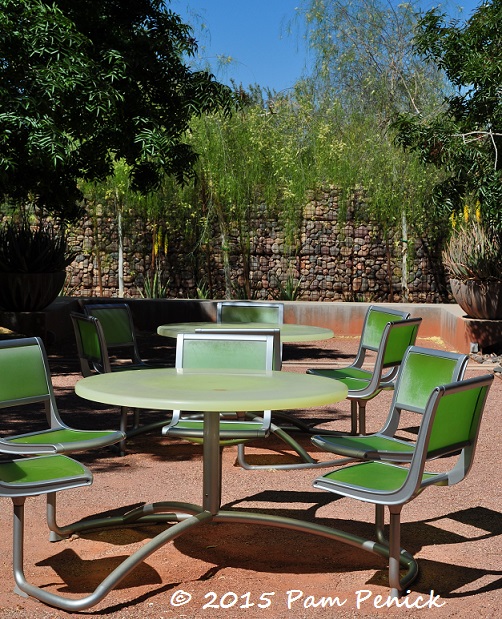 Tall gabion walls echo interior walls, sheltering an outdoor dining or studying area, with eye-catching green seating.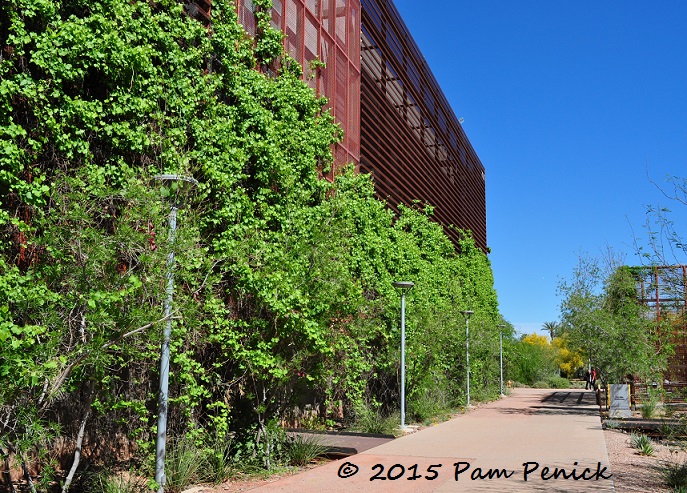 Some of the buildings are enclosed by a metal scrim, presumably for shade and to support high-climbing vines, which shelter the buildings from the desert sun. Noelle identified the vine as grape ivy (Cissus trifoliata).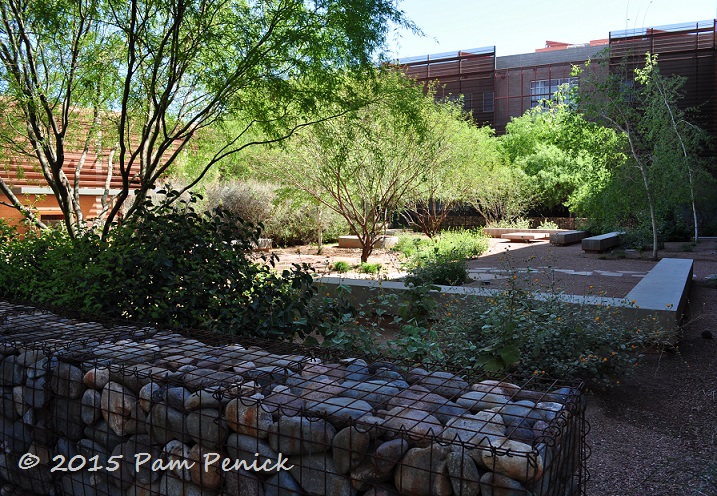 This large courtyard is paved with stabilized decomposed granite, which allows rainwater to percolate through. Clean-lined concrete benches invite relaxation.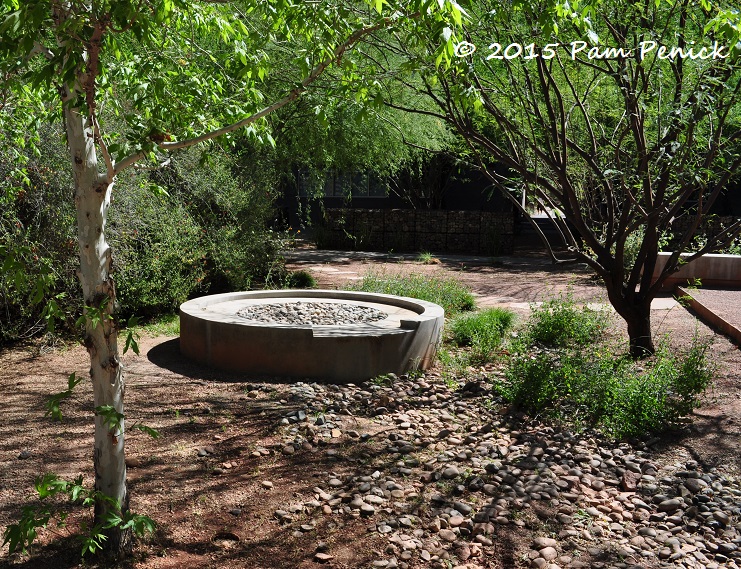 A concrete cistern filled with river rock collects rainwater, when it comes, and spills it into a dry creek. I confess I'm not exactly sure how this sort of cistern works, since it's raised above ground level. How does rainwater fill it? Maybe it's pumped up from underground pipes?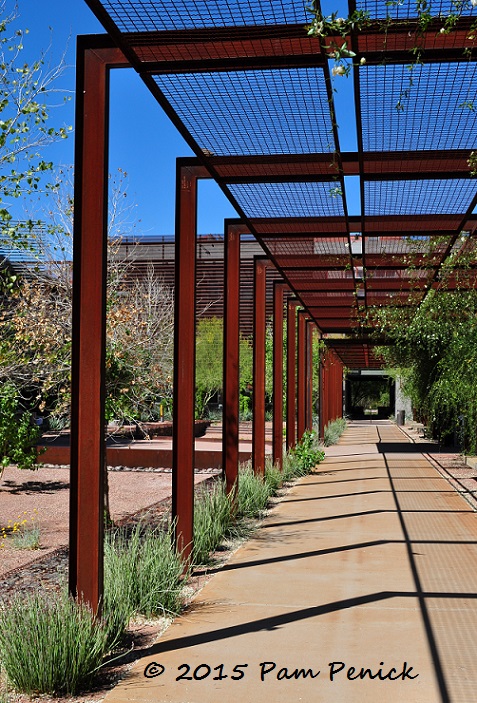 Industrial-style Corten arbors line walkways for shade. Interesting shadows are a bonus.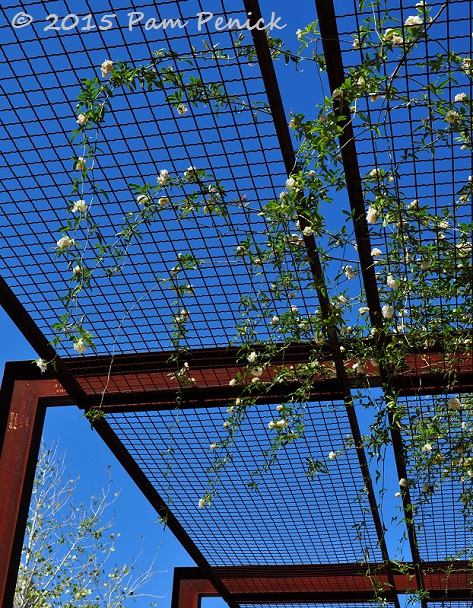 Lady Banks roses climb the arbors, softening the steel with cascades of ruffled flowers.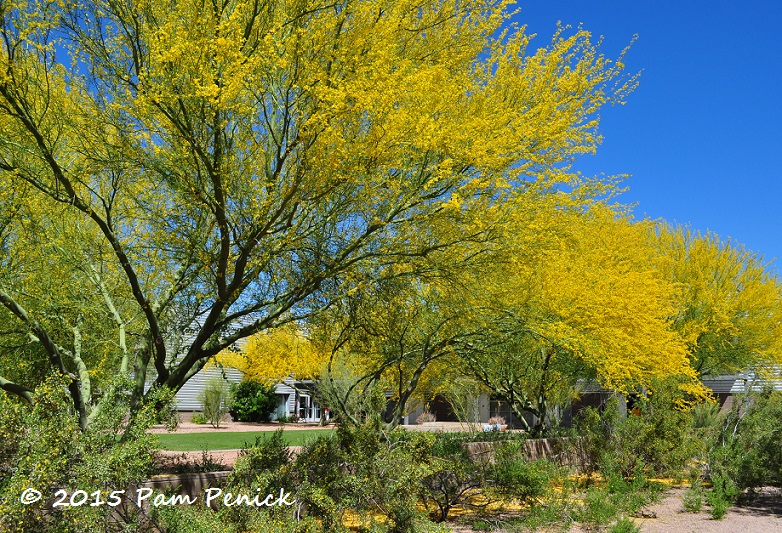 But the showiest flowers were blooming in the bare branches of palo verde trees, which glowed like secondary suns all over campus, and indeed all across Phoenix during my early April visit.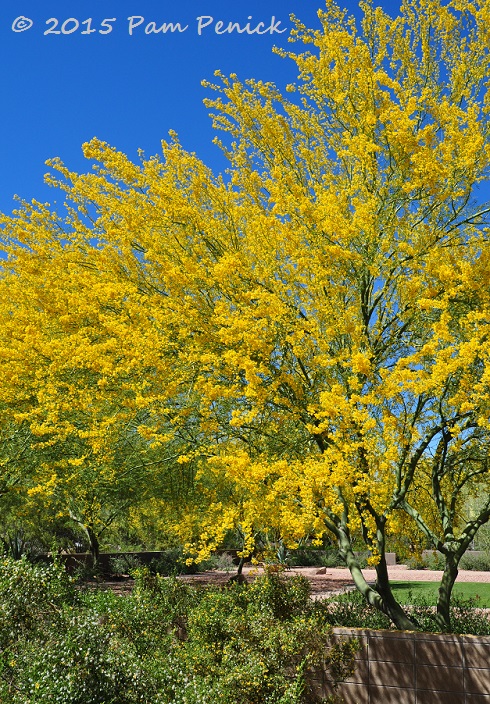 I'm familiar with the charms of forsythia from my Carolina childhood. But this — forsythia times 100!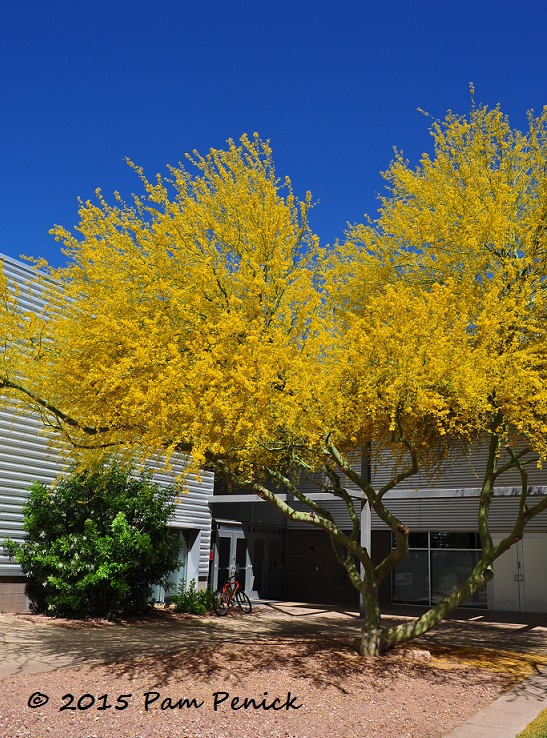 I could not get enough of it, those golden trees glowing against a cloudless, blue desert sky.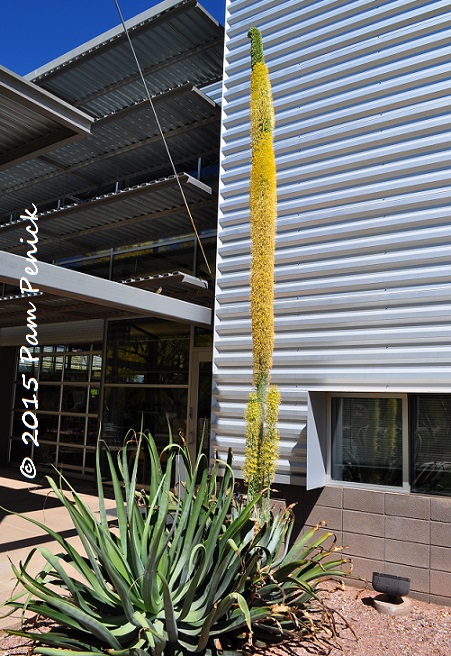 Yellow is the color of spring in Arizona, for along with the palo verdes I saw octopus agave (A. vilmoriniana) in towering bloom…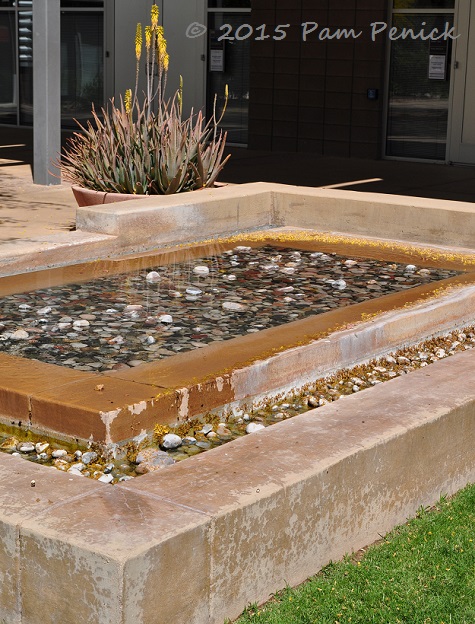 …and aloe vera (Aloe barbadensis), with its subtler spires.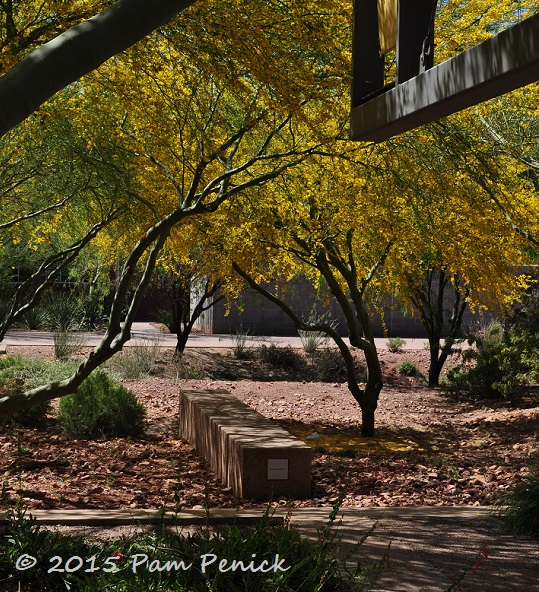 More palo verdes shade a water-collecting basin and a long concrete bench.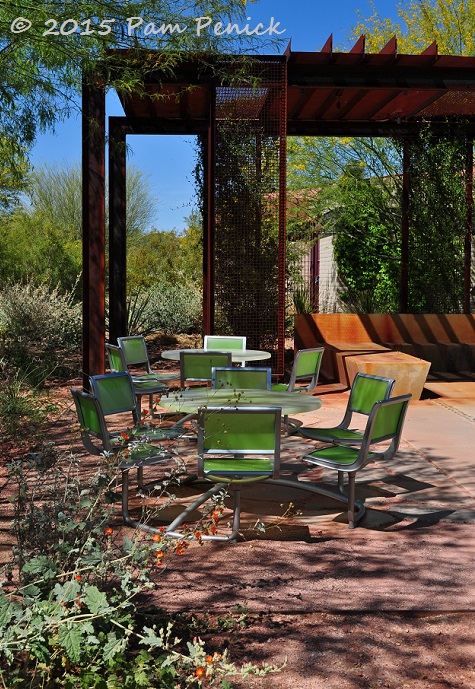 Another high steel arbor shades an L-shaped banco, while more of those green dining sets invite socializing or studying.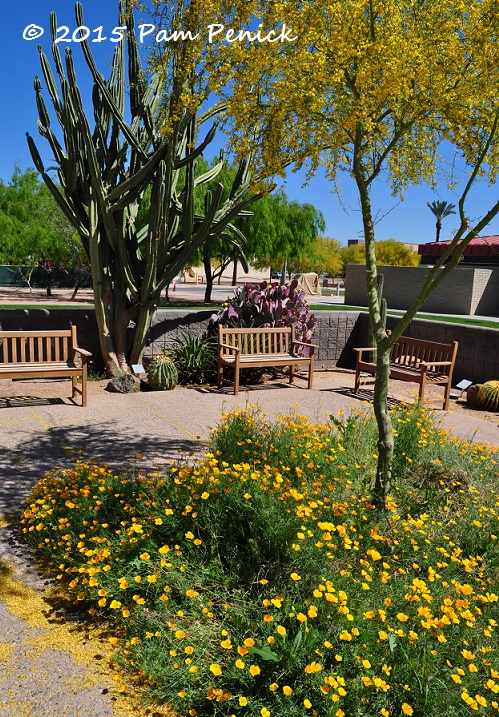 This sunny courtyard near the parking lot was ablaze with California poppies and a palo verde, with a Cereus peruvianus (thanks for the tentative ID, Janis), barrel cactus, and purple prickly pear adding year-round structure.

A Spanish-style tiered fountain drips musically along a broad walkway. Ten Eyck, who is exceedingly water conscious with her designs, has told me she believes in using water sparingly but symbolically in dry climates to evoke an abundance that isn't there, and to visually cool gardens.
It's a shame that the City of Austin doesn't agree and has banned the running of municipal and residential fountains for the past several years as a water-conservation measure. A small fountain is almost a spiritual gesture in a hot climate, and birds, insects, and other wildlife depend on artificial water sources when creeks run dry. But that's a rant for another day.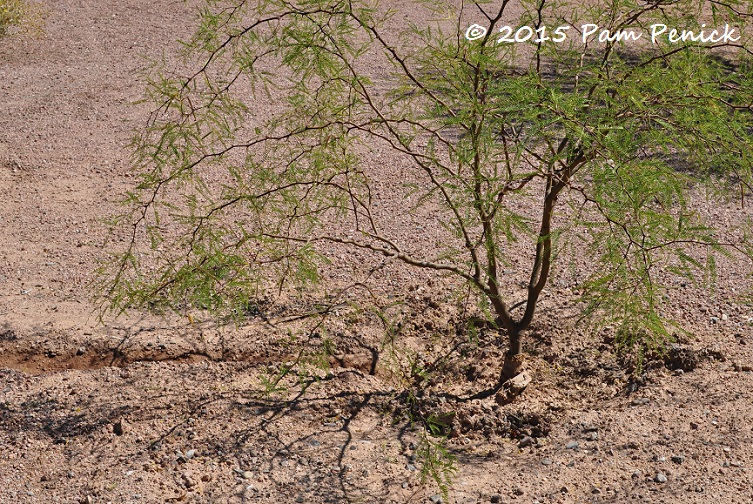 Even desert plants need water to get established, and a simple trench effectively delivers runoff water to this young mesquite.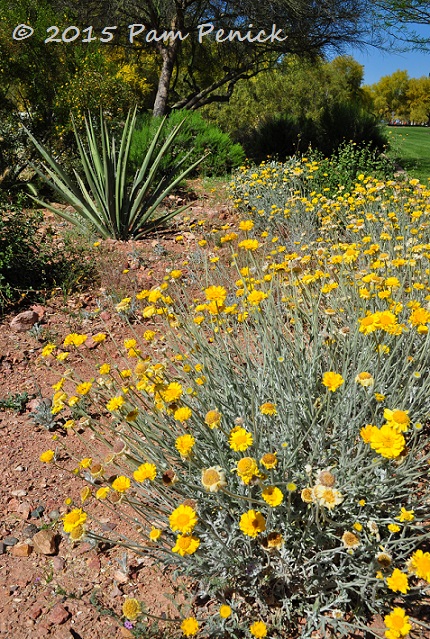 The entire garden is an inspiring example of how to make a hospitable garden with not a lot of water in a harsh climate. My thanks to Noelle for showing it to me!
If you're interested in sustainable gardening in the desert, you might like to visit Underwood Family Sonoran Landscape Laboratory at the University of Arizona in Tucson. I didn't visit that one this time but hope to one day. Also see my post about Scottsdale's inspiring Xeriscape Garden. Both are, like the Polytechnic campus garden, designed by Ten Eyck Landscape Architects.
All material © 2006-2015 by Pam Penick for Digging. Unauthorized reproduction prohibited.
posted in
Agaves
,
Aloes
,
Arbors
,
Cactus
,
Containers
,
Desert
,
Design
,
Dry Streams
,
Fountains
,
Garden tours 2015
,
Paths
,
Patios & decks
,
Roses
,
Seating
,
Spring color
,
Succulents
,
Sustainable Gardening
,
Travel
,
Trees
,
Trellis
,
Vines
,
Walls
,
Water conservation
,
Water features
,
Water-Saving Garden
,
Xeric plants