January 16th, 2015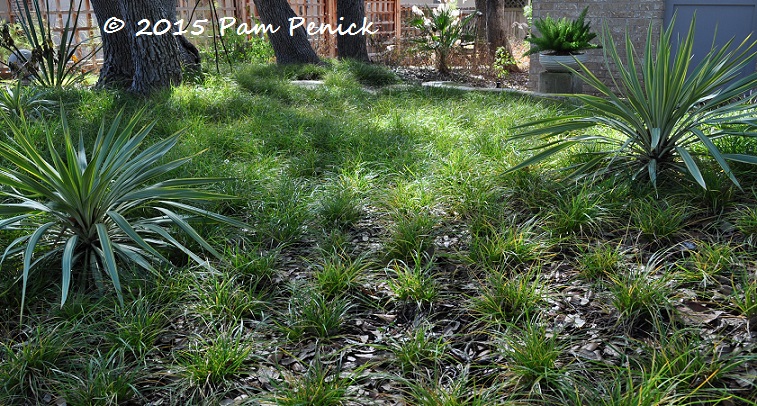 It's a new year in the garden, and I haven't really been out in it for a while. An unusually long stretch of cold, gray days had me feeling like I was in Seattle, and let me tell you, it made me feel pretty gray myself. But yesterday the sun came out, the skies turned blue, and with a pleasant chill in the air it was the stuff of winter-in-Texas dreams. So let's kick off Foliage Follow-Up for 2015! I'll start with my ever-so-slow-growing Berkeley sedge (Carex divulsa) lawn, studded with a few lemon-lime 'Margaritaville' yuccas. I love this little sedge lawn so much more than when it was St. Augustine grass, and I only have to mow twice a year (with a quiet, battery-operated mower). Yippee! If you're curious about the palm in the middle-back, it's a Mediterranean fan palm (Chamaerops humilis), which will eventually fill that spot with tropical-looking foliage.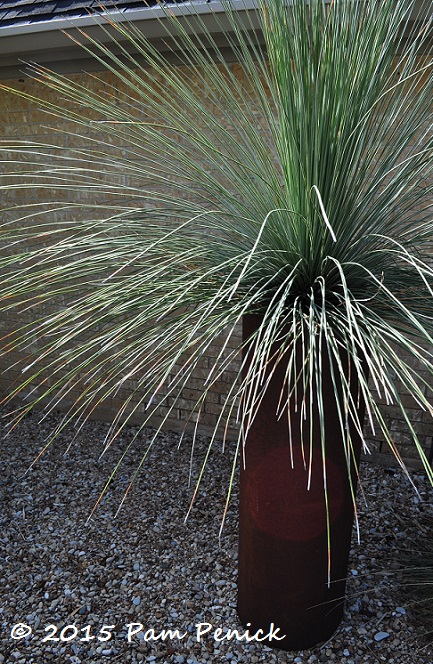 My pipe-planted toothless sotol (Dasylirion longissimum) is an FFU favorite of mine, but I have to show it off again but it looks so freaking fantastic, like a giant's fiber-optic mood lamp shimmering by the front door. I felt like I was taking a chance on this plant when I bought it at Big Red Sun exactly 3 years ago, but boy has it paid off.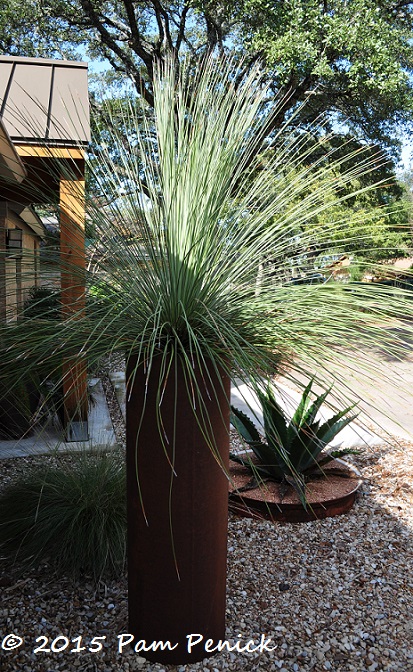 At the time (and even today) I rarely saw toothless sotol planted around town, and I wasn't sure how it would hold up, especially in such an elevated, tight spot. However, it sails through winter freezes and blistering hot summers and only requires watering maybe once every two weeks in summer. I do think that sharp, sharp drainage and lots of sun is key to making it happy. For a laugh, here's my post about my pipe-planting goof, but you can also see how much it's grown since I planted it.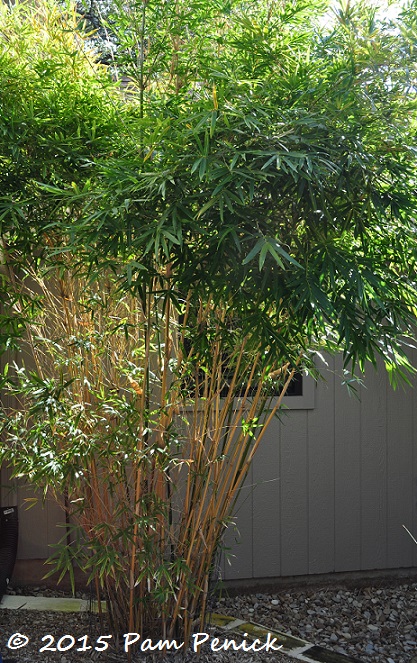 In the same space, softening a corner and screening the laundry room window from the western sun, is 'Alphonse Karr' bamboo, which I'm enjoying much more since I took the time to prune it up and show off its golden "legs" last fall. I need to stay on top of the pruning. Bamboo gets waaaay out of hand if you don't, even clumping bamboo like this.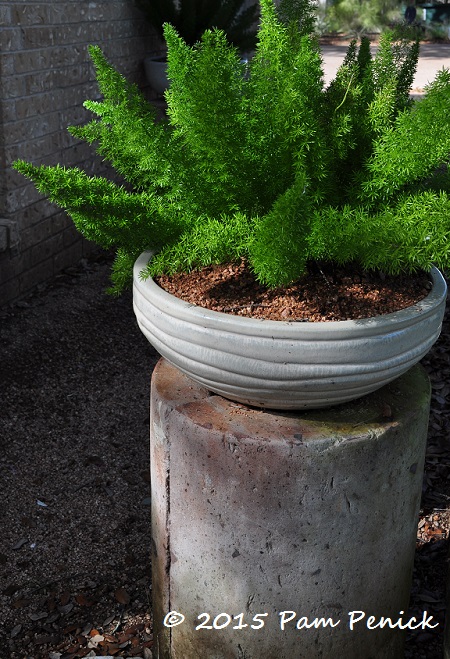 Foxtail ferns (Asparagus meyeri) in white pots sit atop short cantera stone columns gifted to me by my gardening friend Randy. (Thanks again, Randy!)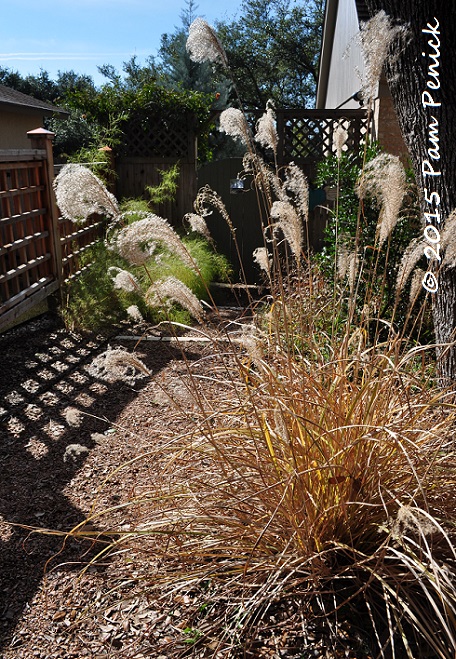 More golden foliage is glowing in the newish front-side garden, courtesy of two variegated maiden grasses (Miscanthus sinensis 'Variegatus'). Particularly observant readers may notice a lot more sunshine in this area now. Yes, indeed! While having my oaks trimmed last fall, I convinced my neighbor to have the arborist remove a half-dead, truly pitiful, tree-sized red-tip photinia from her side yard. Its trunk was at least a foot in diameter, and coppery, dead leaves clung to it all year, plus it was leaning over my new fence. Once it came down, the whole space was opened up, and now this part of the garden gets a good dose of morning sun, which should make everything quite happy.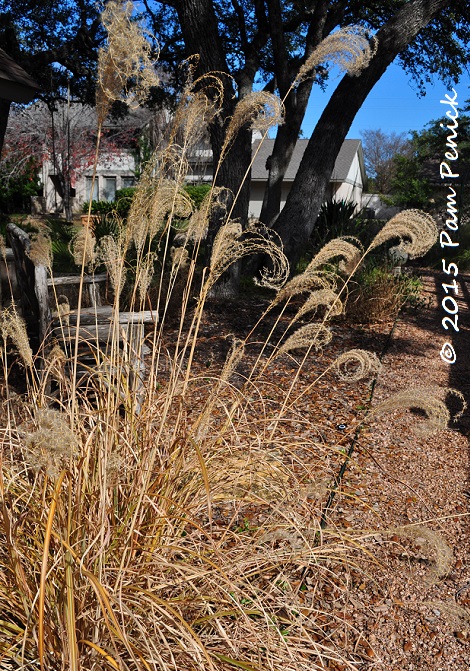 What kind of foliage is making you happy in your January garden? Please join me for Foliage Follow-Up, giving foliage plants their due on the day after Bloom Day. Leave a link to your post in a comment below. I really appreciate it if you'll also link to my post in your own — sharing link love! If you can't post so soon after Bloom Day, no worries. Just leave your link when you get to it. I look forward to seeing your foliage faves!
All material © 2006-2015 by Pam Penick for Digging. Unauthorized reproduction prohibited.
posted in
2nd garden--2015
,
Bamboo
,
Containers
,
Fences
,
Foliage Follow-Up
,
Grasses
,
Groundcovers
,
Lawn Gone!
,
Palms/Cycads
,
Xeric plants
,
Yuccas