June 5th, 2009
Mr. McGregor's Daughter's garden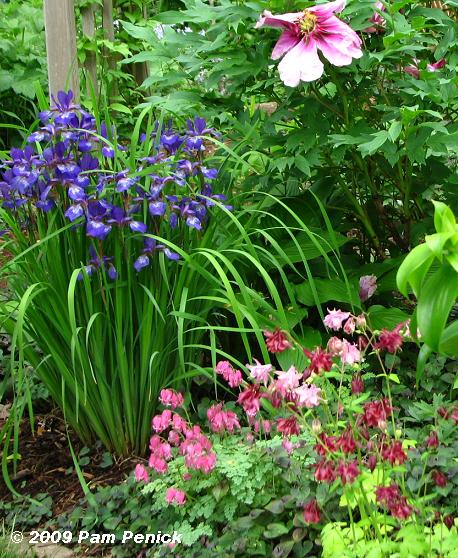 On Thursday before Chicago Spring Fling, Mr. McGregor's Daughter invited those she knew were arriving early to visit her garden, Squirrelhaven.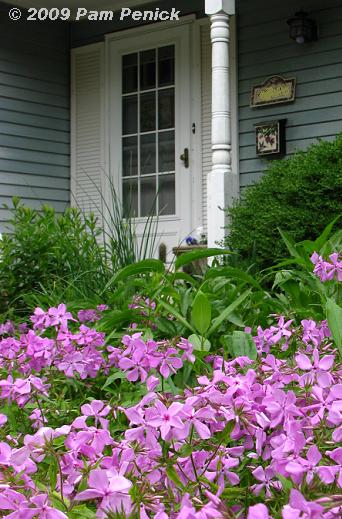 Several of us took the train from the hotel that afternoon and were met at the station by an open-armed, excitedly yelling MMD, who squeezed us into her car and drove us to her home, where we spilled out into her garden and started oohing and aahing and snapping photos. Above is a rabbit's-eye view of her entry garden with phlox. The photo at the top of the page is from her back garden.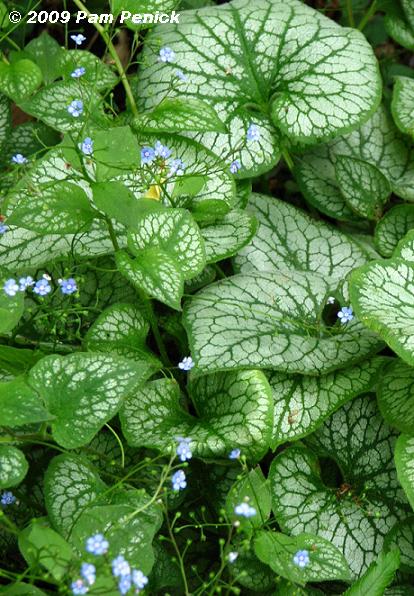 I hadn't realized from reading her blog just how long and skinny her garden is. It's a challenging layout, but she's created a garden that draws you through it with paths and trellises. I knew it would be shady, and I love the way she uses bright leaves to lighten up the dark corners.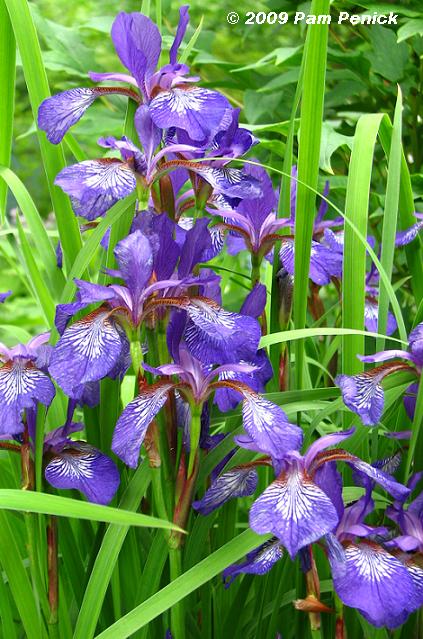 Her irises were in bloom, putting her garden squarely in spring, whereas Austin has already moved into summer. It was wonderful to revisit spring again, especially the cooler temperatures that prevailed during our visit (generally low 70s for the high).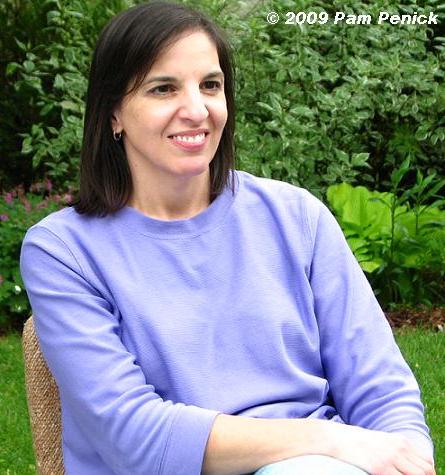 Thanks for your hospitality, MMD! Nary a squirrel did I see, but your garden is truly a haven.
Carolyn Gail's garden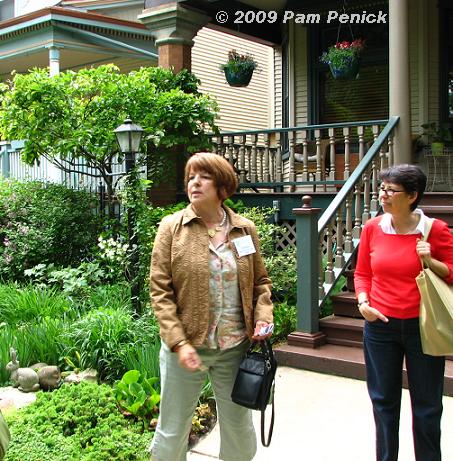 Another intimate garden visit occurred on Saturday, during the official Spring Fling bus tour. Garden designer and blogger Carolyn Gail met us for a delicious Mediterranean lunch at Andies and then graciously welcomed us into her small town-garden—all 50 or so of us. If that many tromping feet and snapping cameras made her nervous, she didn't show it, and we all made our way into her back garden for a brief rest, a painting giveaway (lucky Frances won Carolyn's lovely painting), and a free potted petunia from Proven Winners.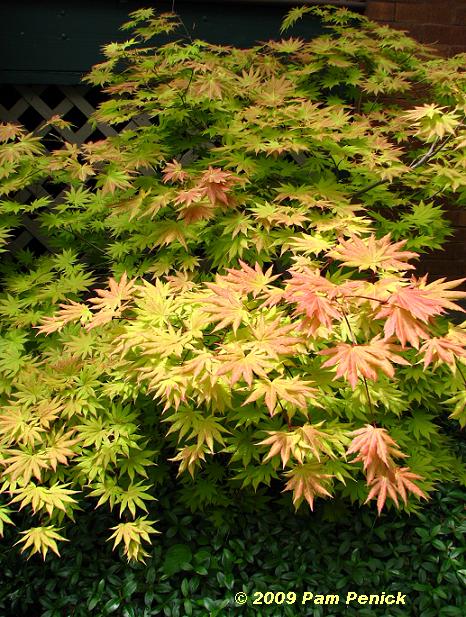 It was so crowded with Spring Flingers that I slipped back out to the charming front garden, where this Japanese maple was stealing the show with autumnal-looking spring foliage. I ran into Dee there, who knows all about growing Japanese maples in Oklahoma and hotter climates, and we talked for a bit. She can give you the scoop on this one, I bet. I've already forgotten the name.
Update: The name is Acer japonicum 'Autumn Moon', a hybrid of 'Full Moon.' Thanks for the ID, Carolyn Gail!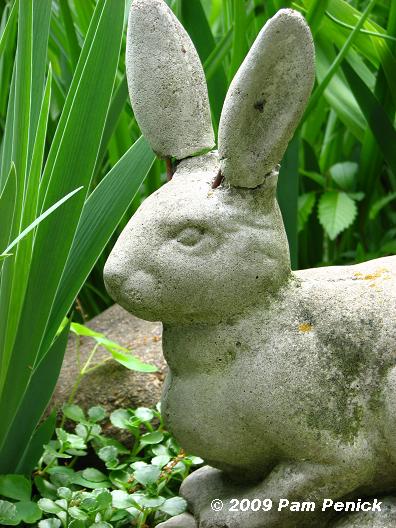 This cute rabbit ornament is better than having the real thing in your garden.
Thank you, Carolyn Gail, for welcoming us into your restful garden oasis in the city.
Ginkgo Organic Gardens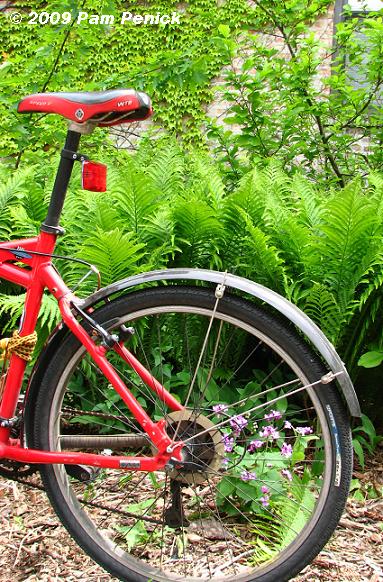 Another stop on Saturday's tour was Ginkgo Organic Gardens, a community garden squeezed into the footprint of a torn-down brownstone. I like seeing bikes in gardens—sustainable, non-polluting transportation to go with the sustainable gardening, right?
Volunteers at Ginkgo grow around 1,500 pounds of produce annually, which they donate to nonprofit organizations serving low-income Chicago neighborhoods. One of the founders gave us a tour of this remarkably successful community garden. Check out the blog Ginkgo Gardens Journal about its operations.
All material © 2006-2009 by Pam Penick for Digging. Unauthorized reproduction prohibited.