November 25th, 2014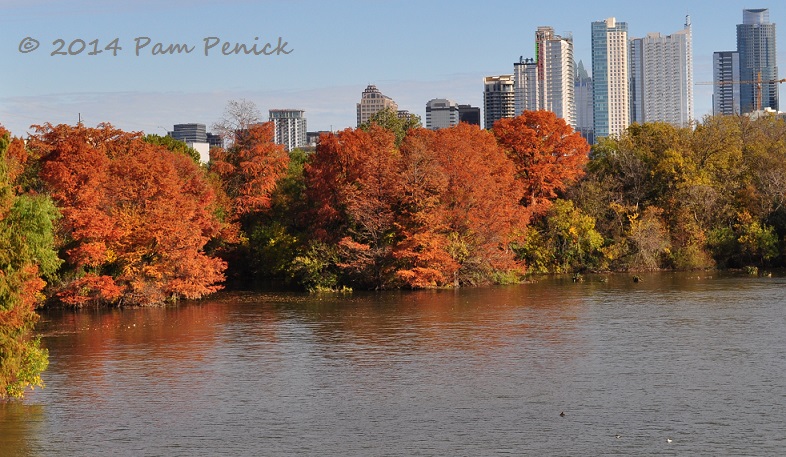 After sightseeing and shopping on vibrant South Congress Avenue on Sunday, yesterday my dad and stepmother joined me for a post-lunch, 3-mile walk around Lady Bird Lake. Rusty orange bald cypress, golden cedar elm, and fiery red crepe myrtles have set the shore ablaze. This is as good as it gets in Austin, folks, so if you can spare an hour or two, go! — don't miss it.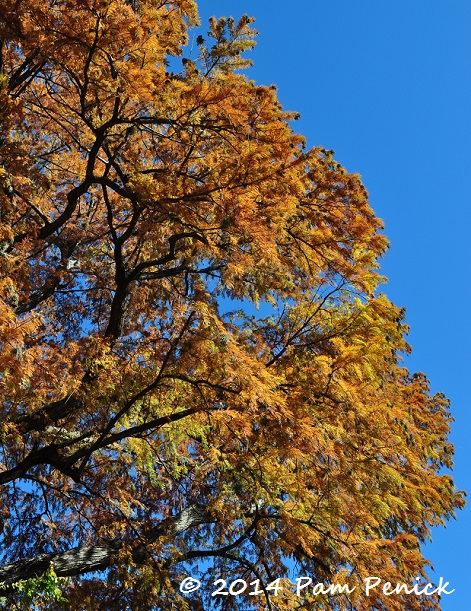 Washed clean by a cold front that had slipped in overnight, the sky was a blue dome and the perfect backdrop to the hundreds of majestic bald cypresses lining the shore.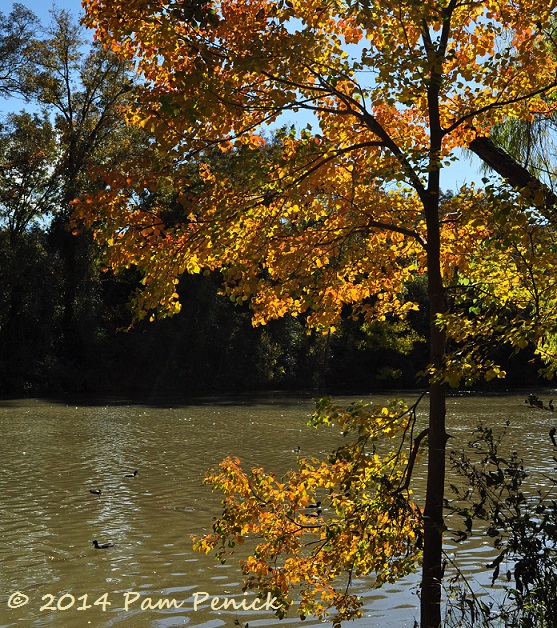 Barton Creek, where it flows into Lady Bird Lake, was looking a bit muddy — and very full — following the heavy rain on Saturday.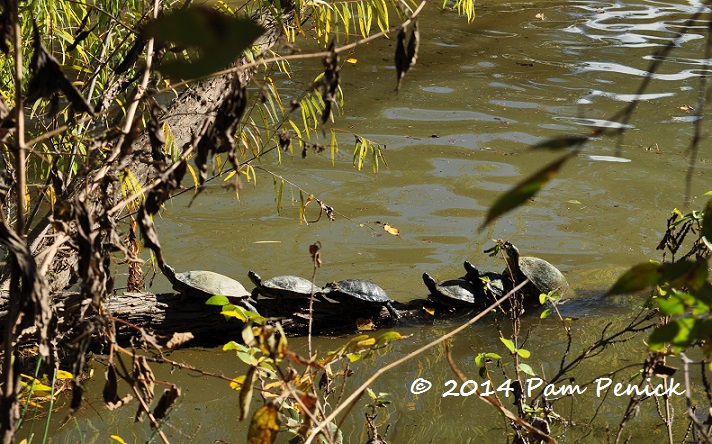 Turtles were sunbathing on fallen logs, as turtles do.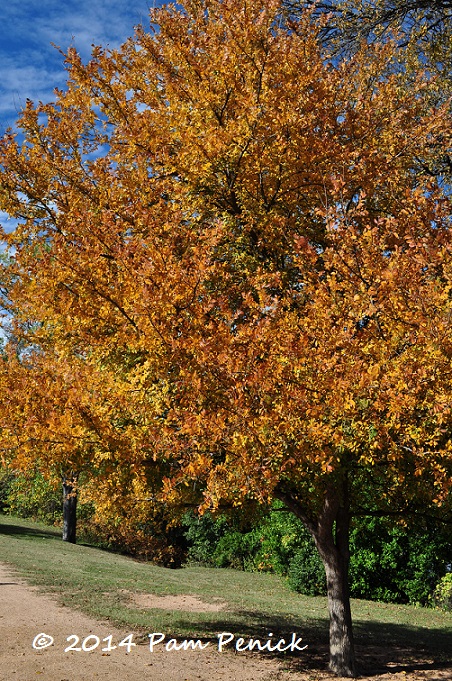 Native cedar elm (Ulmus crassifolia) is one of my favorite shade trees, partly for its beautiful and reliable fall color.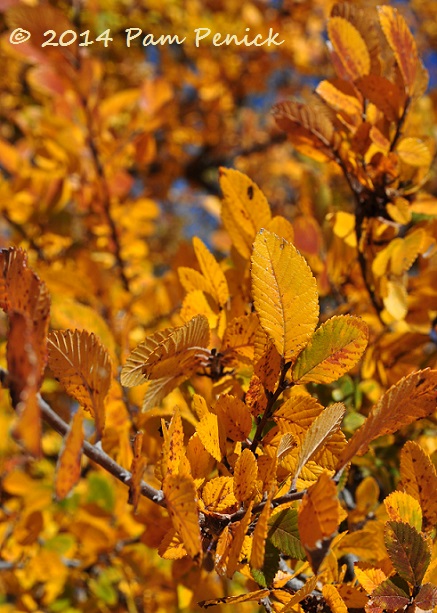 This year, right now, they are just spectacular.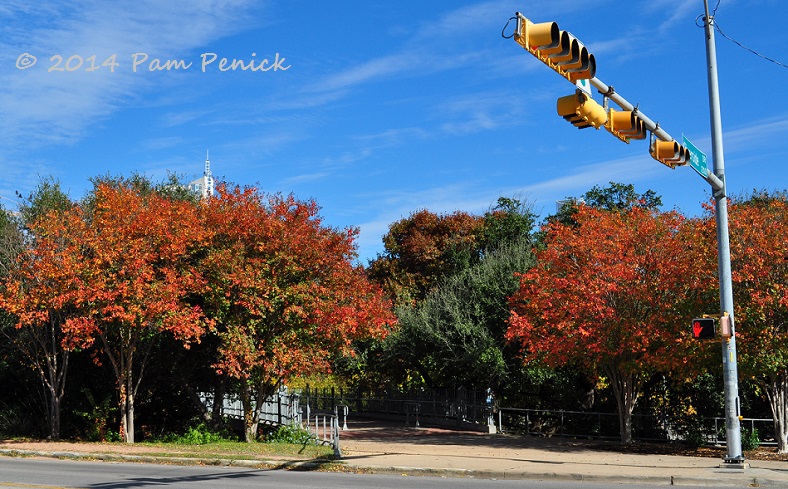 Crepe myrtles, so ubiquitous in Austin that I almost don't notice them in riotous bloom in the summer, are now on fire with red foliage, renewing my admiration.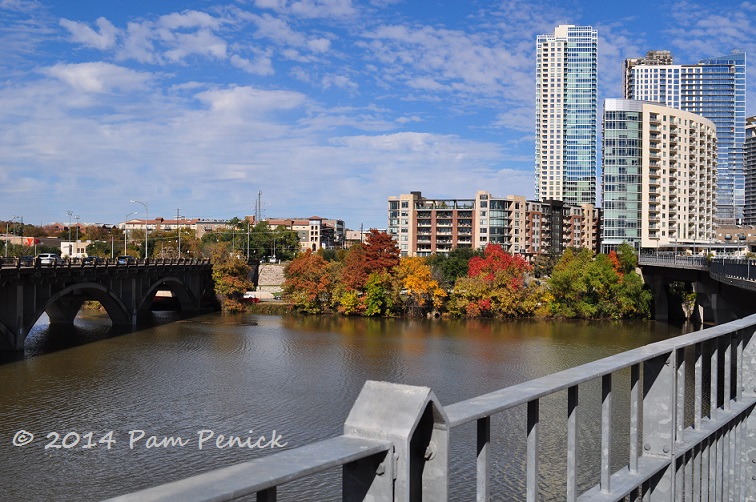 Crossing the lake on the Pfluger Pedestrian Bridge, we enjoyed views of the trees and new condos popping up like mushrooms north of the river. I realize I've called this body of water both a lake and a river, but that's what it is and how Austinites talk about it. The Colorado River was dammed decades ago for flood control, and the resulting constant-level lake, which still looks like a river and has a current, was called Town Lake until 2007, when it was renamed in honor of Lady Bird Johnson. We use it as a point of reference — is something north or south of the river? — and longtime residents often still call it Town Lake. Lady Bird Lake (and nearby Barton Springs, which feeds into the lake) is the heart of Austin.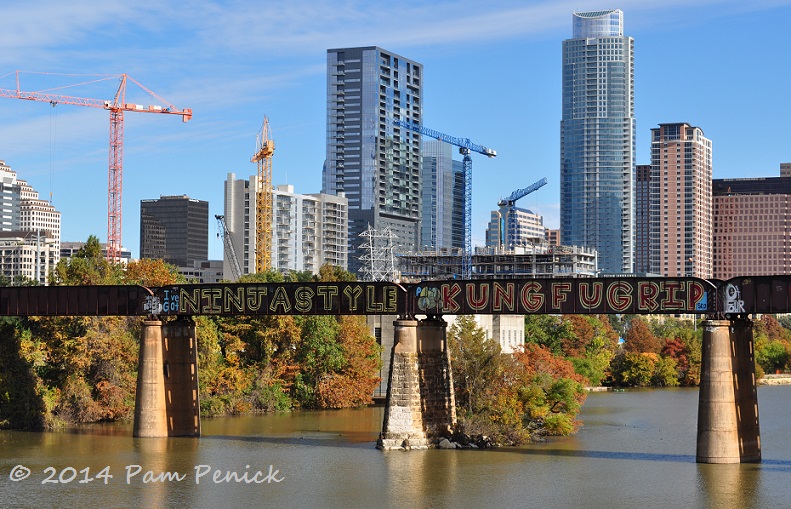 A flock of the state bird of Texas is visible downtown (the crane — haha). Graffiti artists have been busy on the railroad trestle.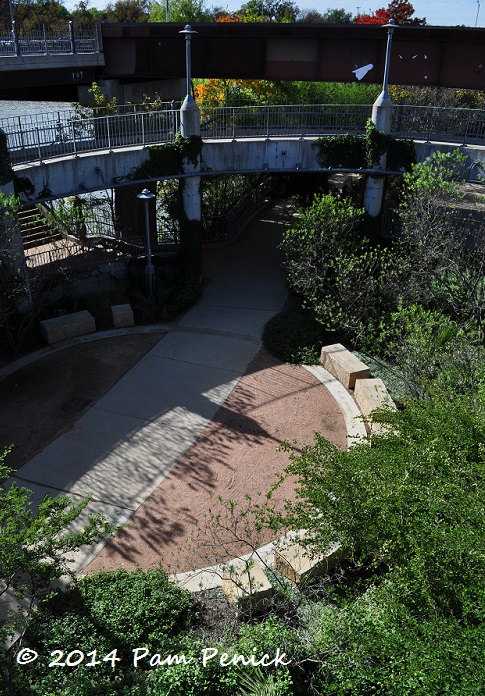 Exiting the Pfluger Bridge via the spiral ramp, you see a native-plant garden designed by Christine Ten Eyck (click for a tour of Ten Eyck's personal garden). I like how she expanded the concrete sidewalk with a circle of decomposed granite surrounded by limestone-block benches. On a smaller scale, this would be a great treatment for a residential front walk.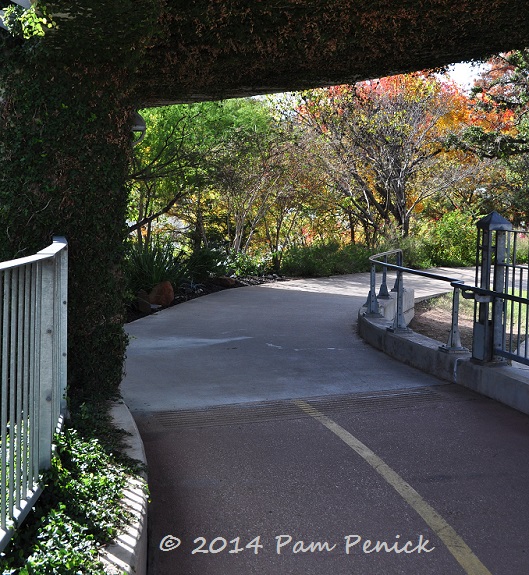 Heading back now on the north side of the lake…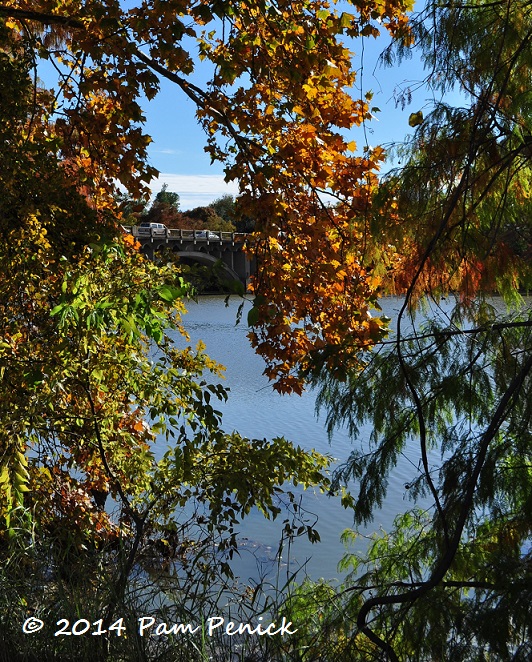 …I spotted the historic Lamar Boulevard Bridge through the trees.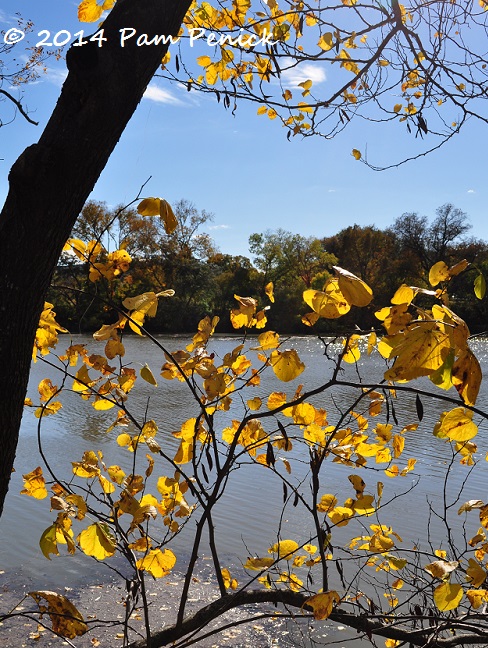 More beautiful leaves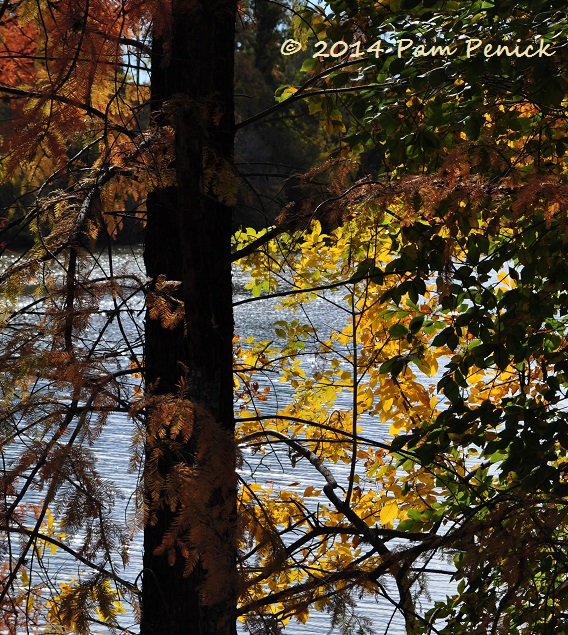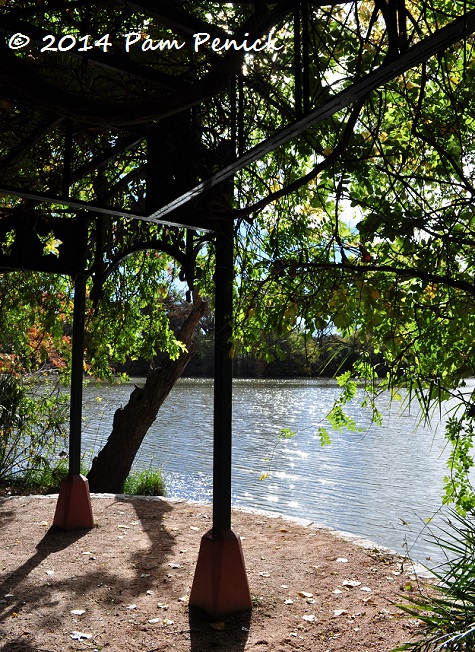 Arbor-shaded views beckoned us to stop and just look.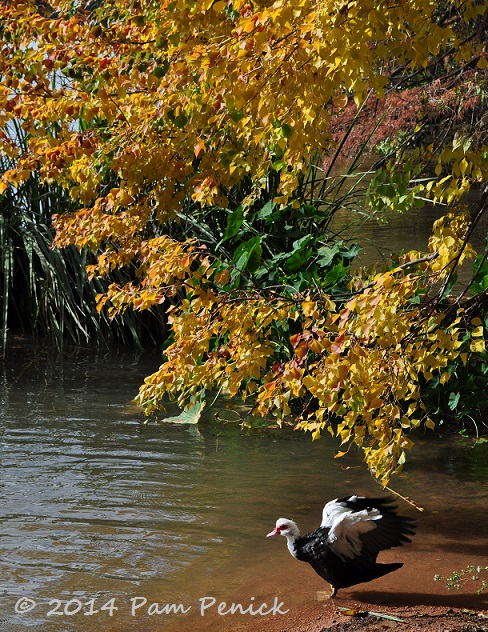 To our right, a duck was preparing for a swim. That water's got to be getting chilly!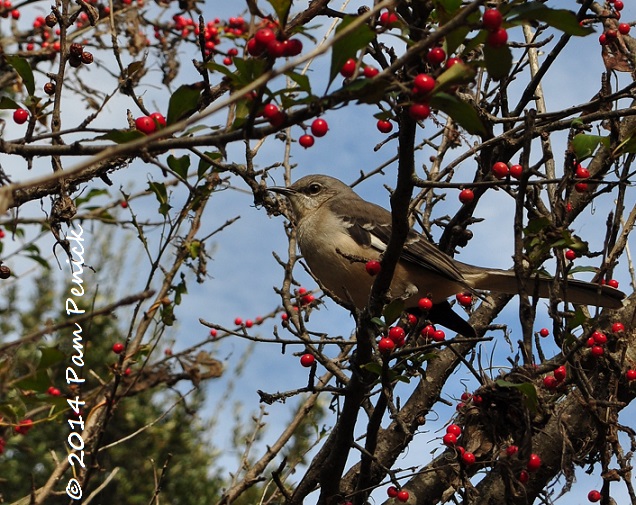 In a berry-laden possumhaw holly (Ilex decidua), a mockingbird — our true state bird — was feasting on them as if they were popcorn at the movies.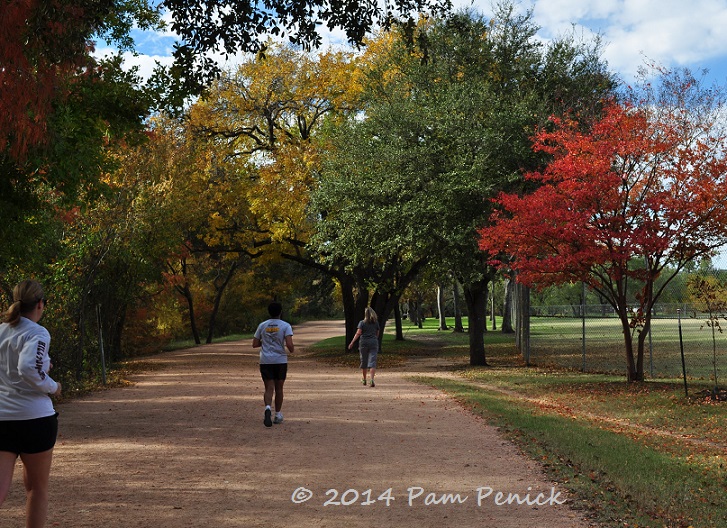 I hope all these healthy runners were appreciating the foliage and the views as much as we were on our leisurely stroll.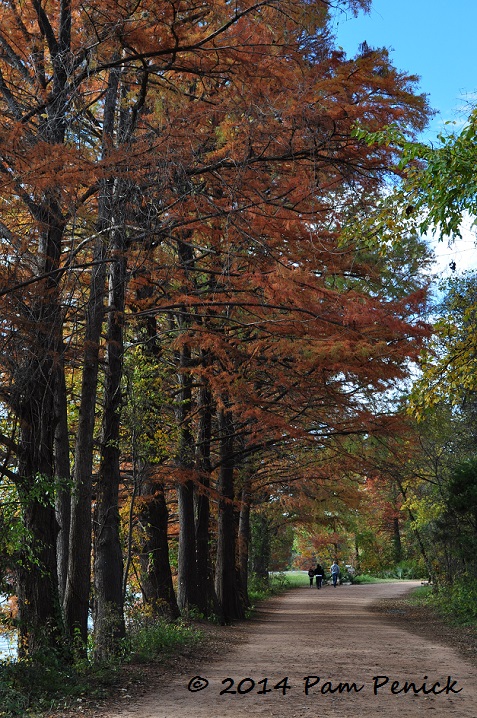 Native bald cypress (Taxodium distichum) lines the banks like cathedral columns.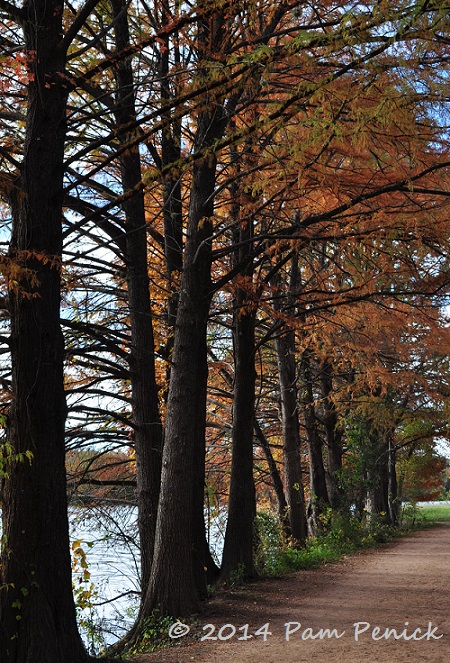 Inspired by natural bald cypress allees, Austinite Tom Spencer planted a double line of bald cypress in his former garden. It was lovely.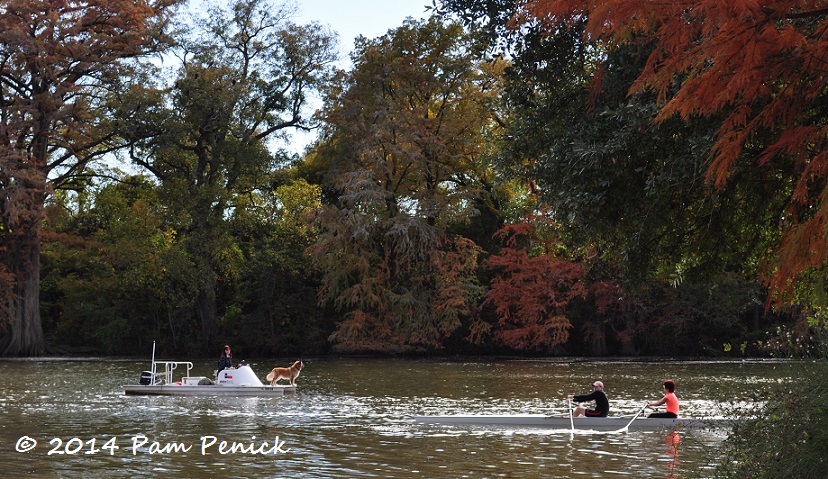 Novice scullers were being coached on how to row. Look at that dog at the front of the coach's boat — he appears very attentive, doesn't he?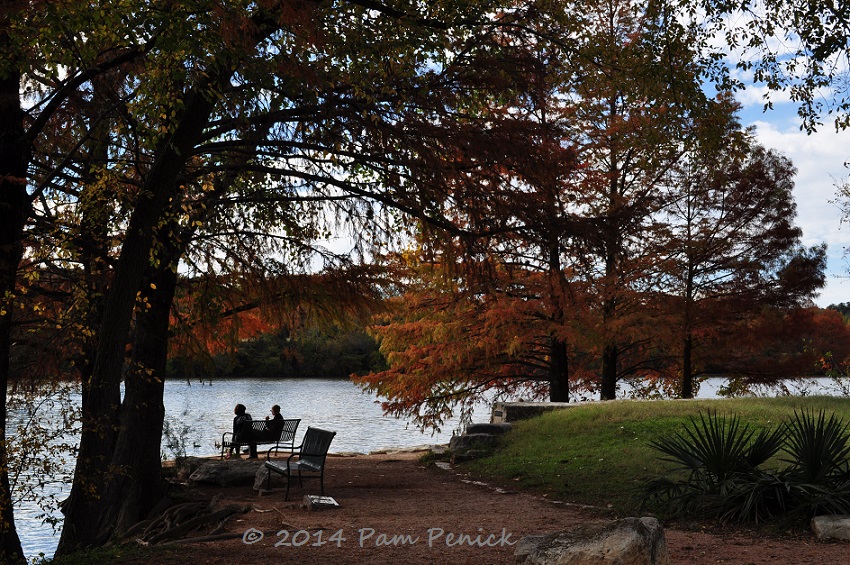 Other visitors were keeping the benches warm.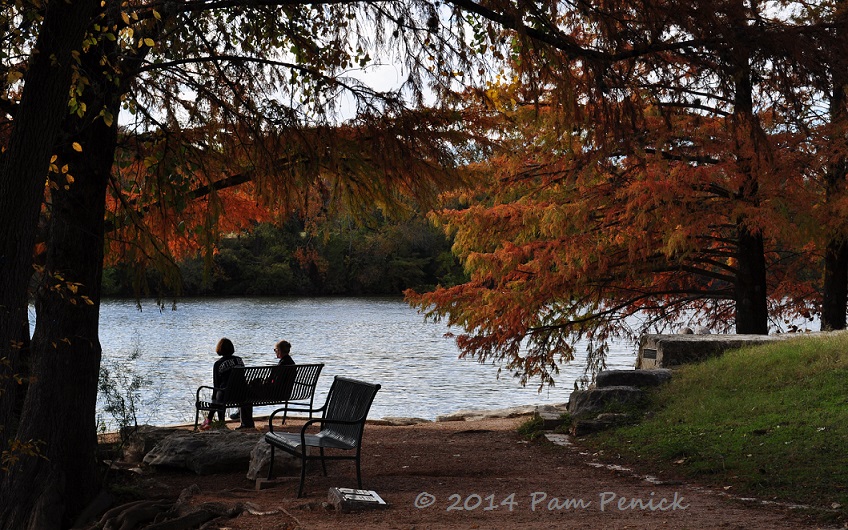 What a lovely spot for a chat.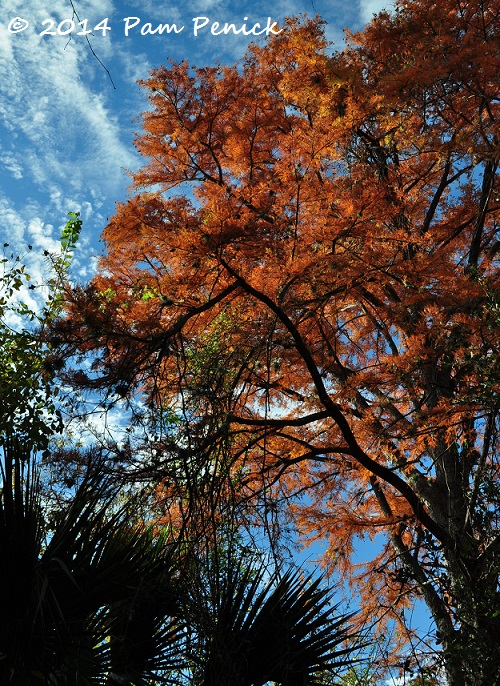 Bald cypress and dwarf palmetto (Sabal minor). Though called dwarf, these native palmettos can still reach 10 feet tall. They are very slow growing, however.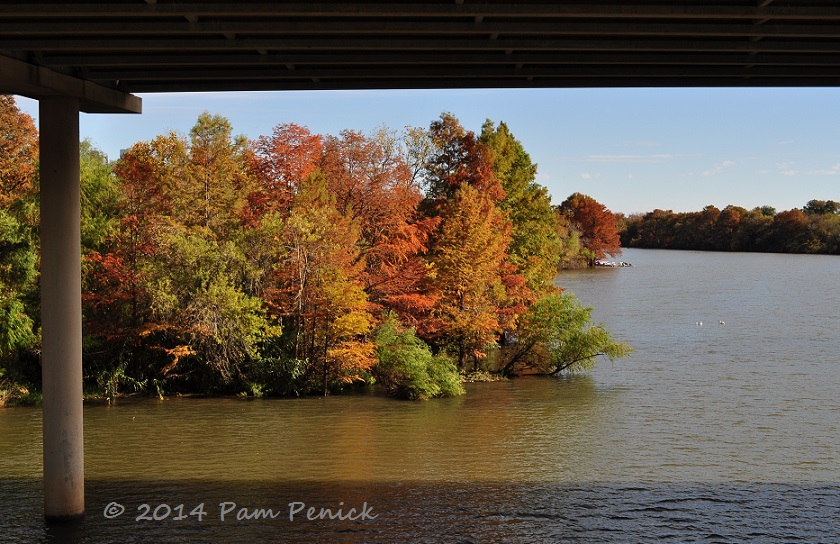 Crossing the lake one last time under MoPac Expressway, I stopped to admire a gold, orange, and green tapestry — very 1970s, now I think about it.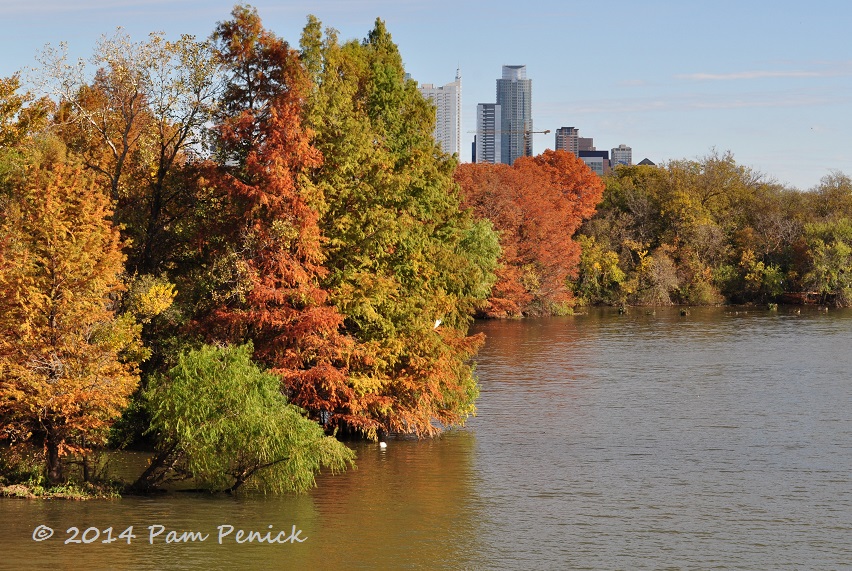 Downtown buildings peek up behind the trees.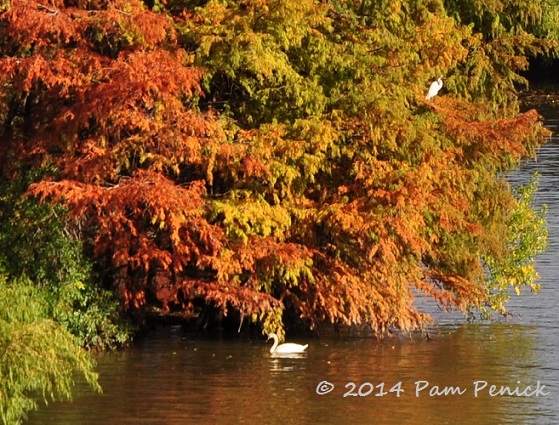 A swan and egret were enjoying this spot too.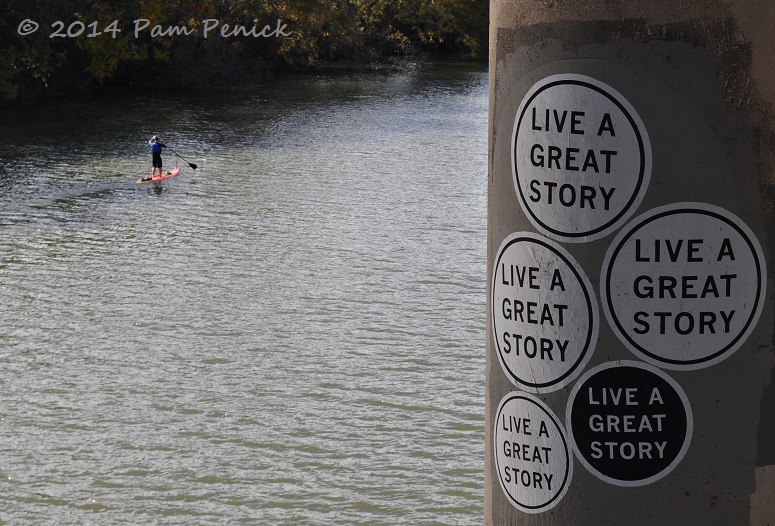 Turning to face west, away from the city, I watched a paddleboarder work his way upstream. This is where I photographed slackliners balancing high above the water on another beautiful autumn day.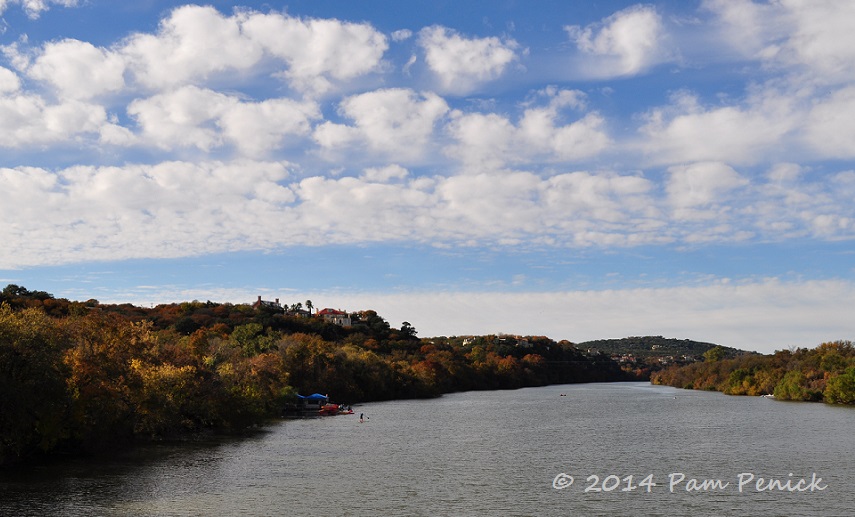 Days like this make you happy to be alive, living your own great story.
All material © 2006-2014 by Pam Penick for Digging. Unauthorized reproduction prohibited.
posted in
Arbors
,
Berries
,
Birds
,
Bridges
,
Fall color
,
Keep Austin Weird
,
Lakes
,
Palms/Cycads
,
Parks & greenbelts
,
Paths
,
Rivers & creeks
,
Seating
,
Sky
,
Texas natives
,
Trees
,
Views
,
Wildlife