June 2nd, 2009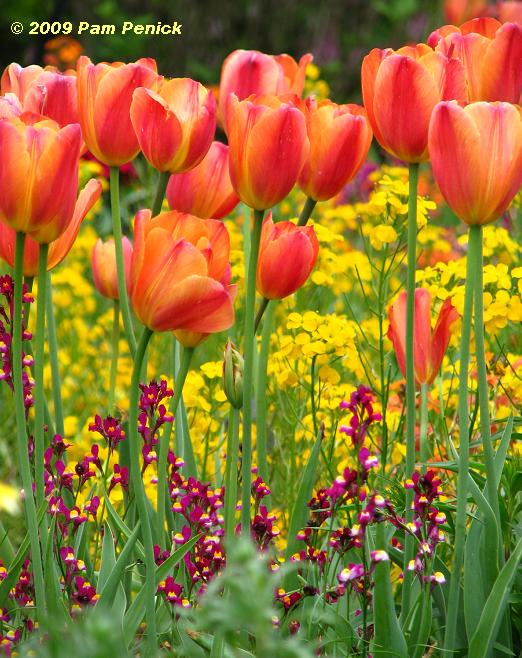 Tulips and toadflax
Where to begin? Yesterday afternoon I returned to Austin from the second annual Garden Bloggers Spring Fling, held in Chicago this year, feeling dazzled by all the spring-blooming Windy City gardens, hoarse from talking so much with friends old and new, and dog-tired from all the walking, gabbing, train-hopping, and late evenings. Then I downloaded my photos and found I'd taken more than 400, so I just gave up last night and hit the sack.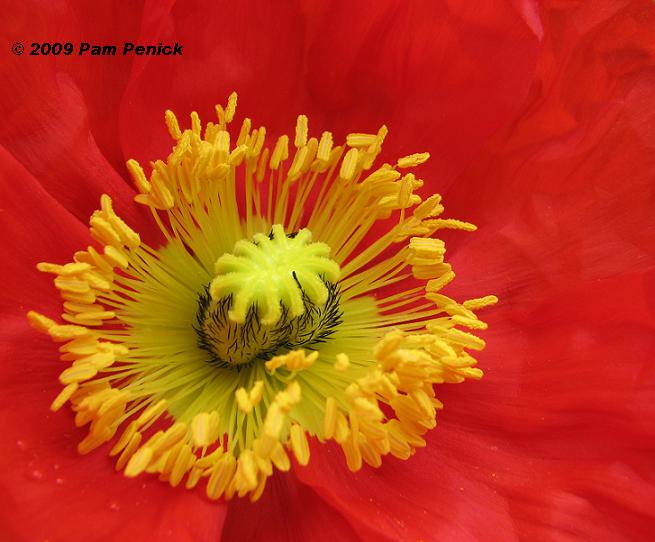 Poppy
It'll take a while to wade through all my photos to try to convey what we saw during Spring Fling, but I wanted to start off with the Chicago Botanic Garden because it's one of my favorite public botanical gardens, it's gorgeous no matter the season, and the staff was so welcoming of the visiting bloggers. Denise Corkery greeted us with enthusiasm and gave us free tickets to various attractions at the garden, and she wrangled the early arrivals together for a group photo on the entry bridge.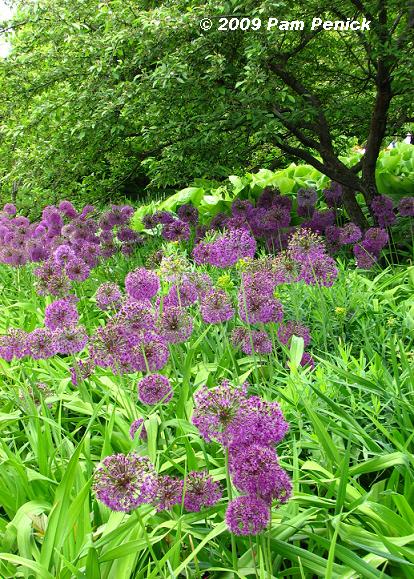 Alliums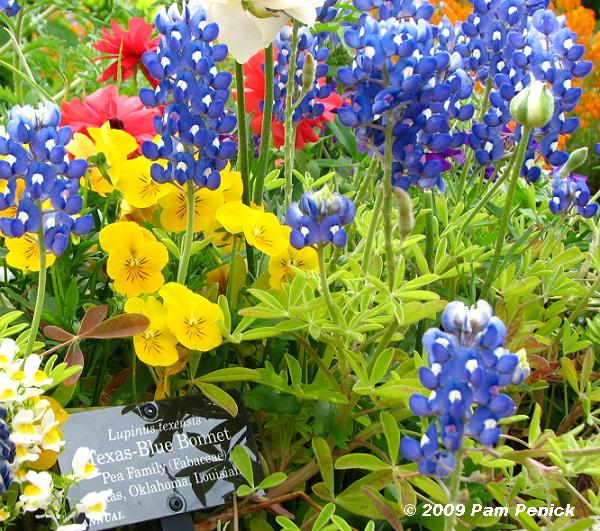 We were set loose around 9 am, and since we had only a few hours to see this huge garden, several of us opted not to take the 35-minute narrated tram tour, though the overview sounded nice, but rather just start exploring. We were immediately rewarded with color, form, structure, and even a little bit of home: Texas bluebonnets.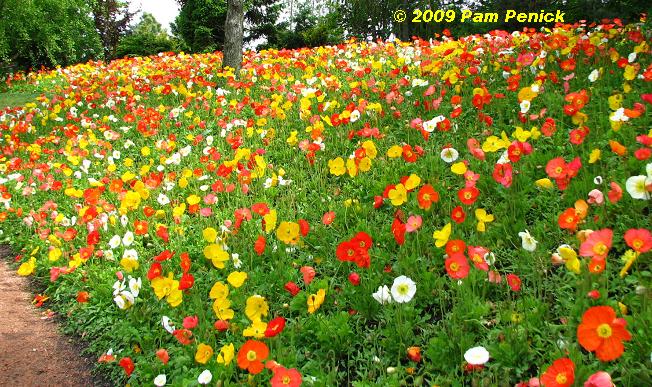 You'll see this hillside of poppies on every Spring Flinger's blog if they visited the CBG. Photos cannot convey how overwhelming the sight of them was, especially as the sun lit up their tissue-thin petals.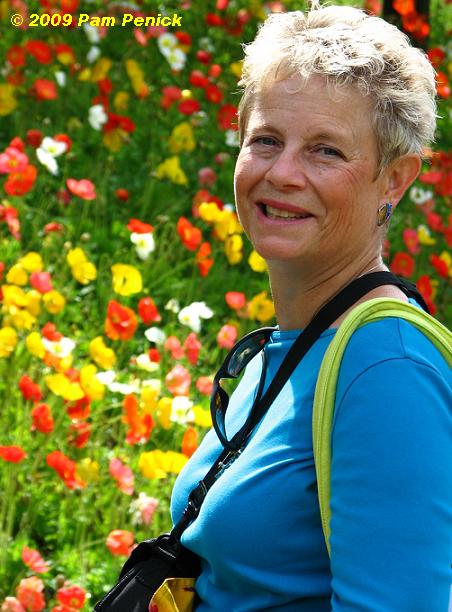 Cindy (From My Corner of Katy) was always as colorfully clad as the poppies.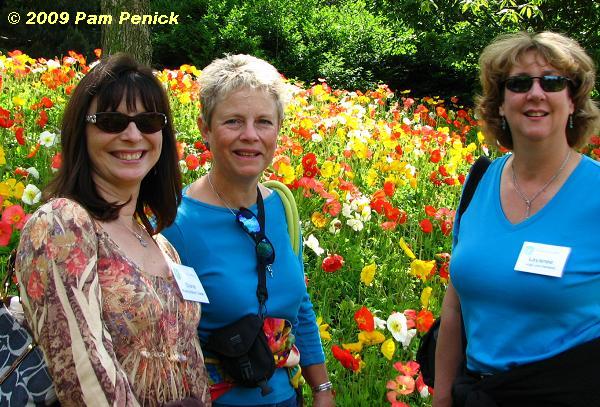 Diana (Sharing Nature's Garden), Cindy, and Layanee (Ledge and Gardens). I was thrilled to meet the elegant and mischievous Layanee, who was thwarted in her attempt to join us at Spring Fling Austin last year. We'd spoken by phone a couple of times, including one fun radio interview (and she has delighted in pointing out my southern accent, but girlfriend, you've got quite a northern accent too!), but hanging out with her was one of the highlights of the weekend for me.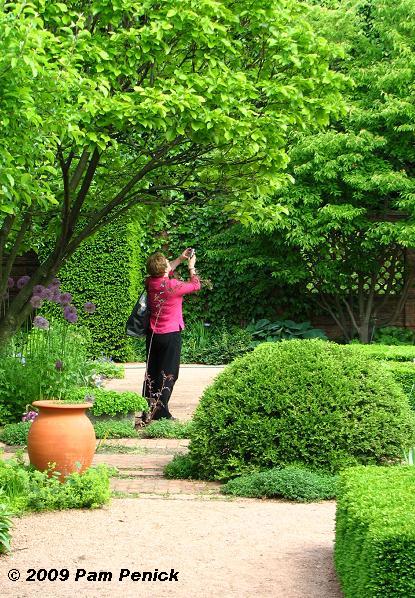 Amid the riots of color, there were more serene gardens to explore, like the green-cloaked English Walled Garden, which fellow Spring Flinger Beth Botts (Growing in Chicago) was photographing.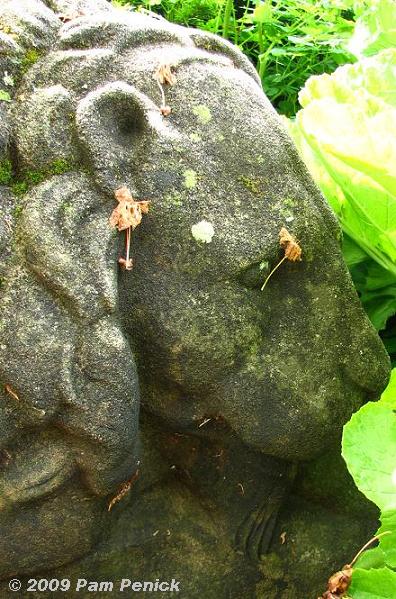 "Cuddly Lion"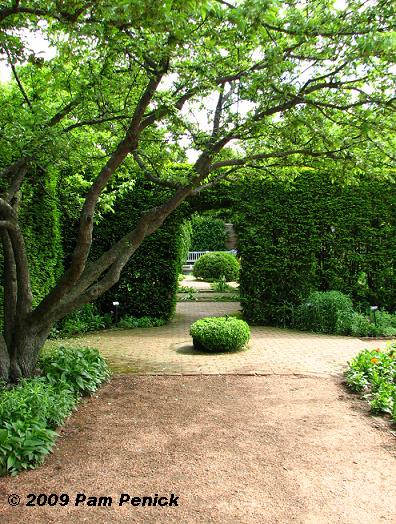 Beautiful garden rooms were delineated by walls and hedges.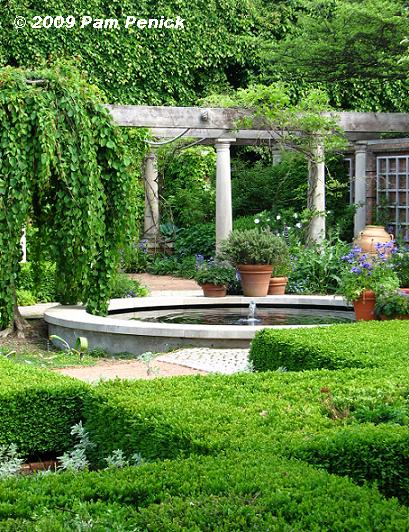 A pond with a fountain anchored a sunny room with a pergola and a checkerboard of boxwood and new-growth artemesia.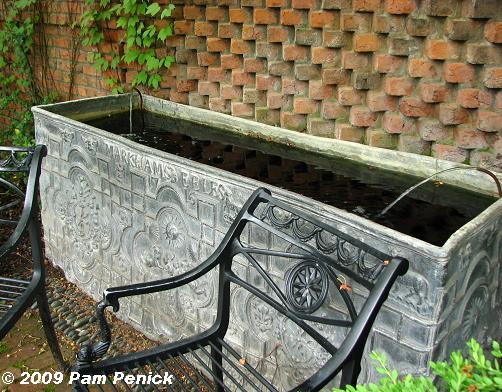 Another water feature—an old lead basin, by the looks of it. If you'd like to see pics of the English Walled Garden in October, click on the link for my visit in the fall of 2007.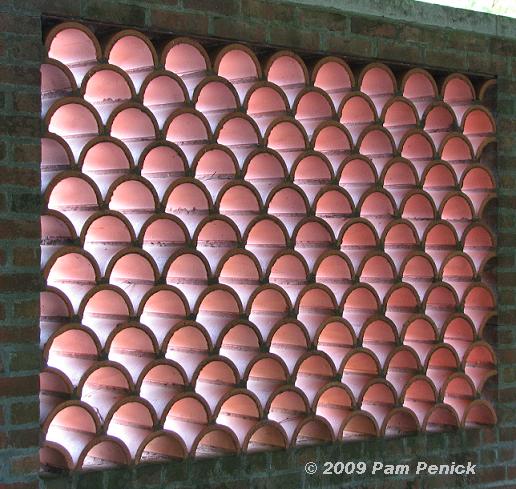 A beautiful tile window in a brick wall allows glimpses into the walled garden.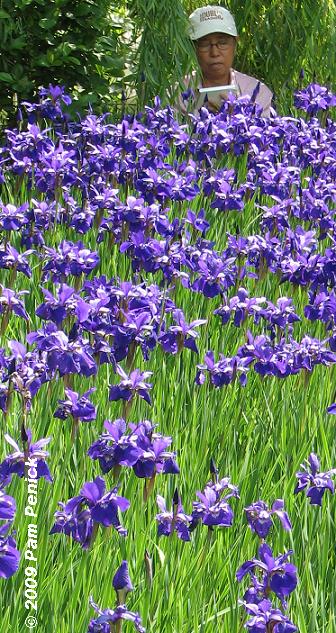 In the Japanese Garden, pond-side irises nearly hid this person sketching or taking notes at close range.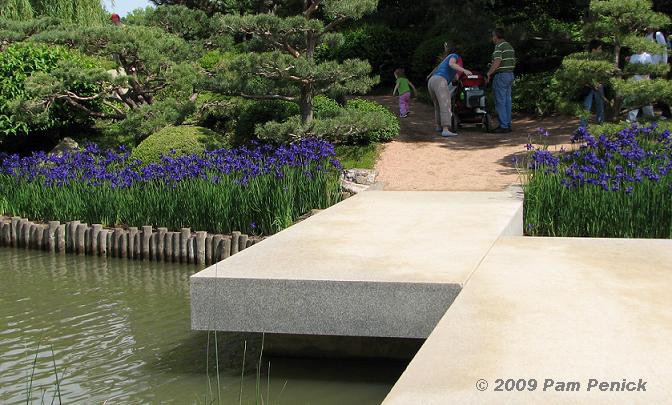 Another look, as well as a zigzag bridge that makes you pay attention to where you're putting your feet.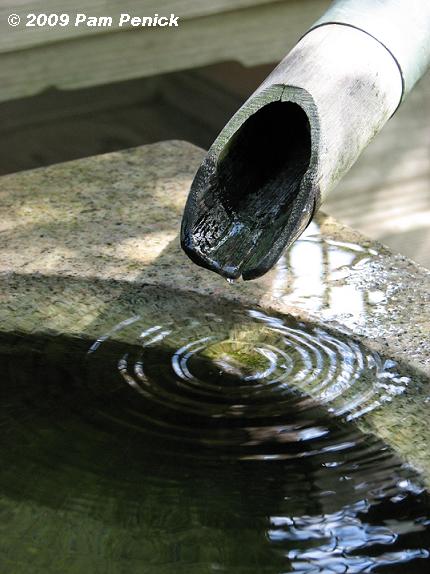 A bamboo water spout steadily dripped into a stone basin in a small courtyard garden. If you'd like to see pics of the Japanese Garden in October, click on the link for my visit in the fall of 2007.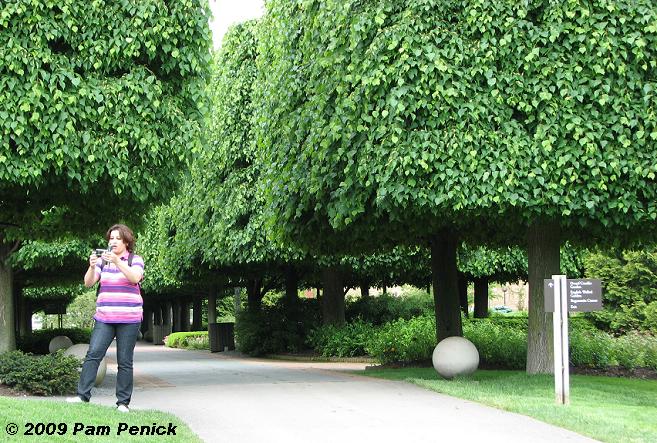 Pleached trees in another part of the garden looked very European and kept the path shaded and cool.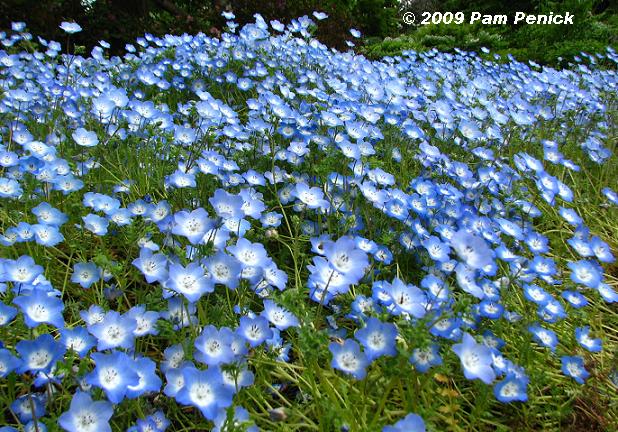 Baby blue eyes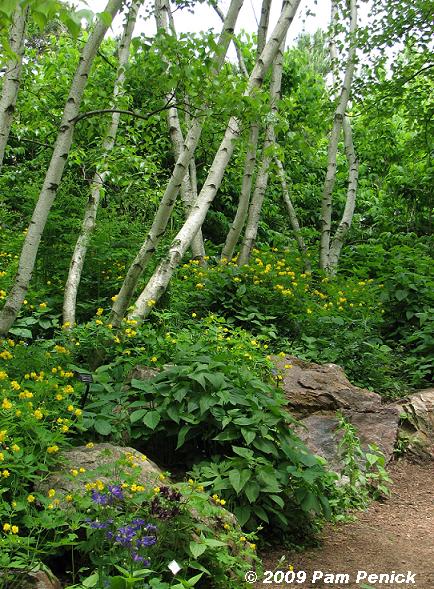 In the Sensory Garden, Diana and I walked a woodland path through beautiful, white-trunked birch trees.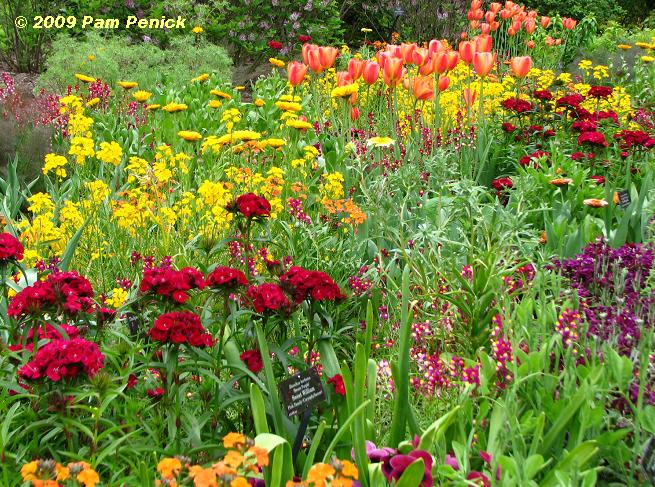 But we really loved this hot border along a sunny stretch. I like the way the dark reds, bright yellows, and coral-oranges work together.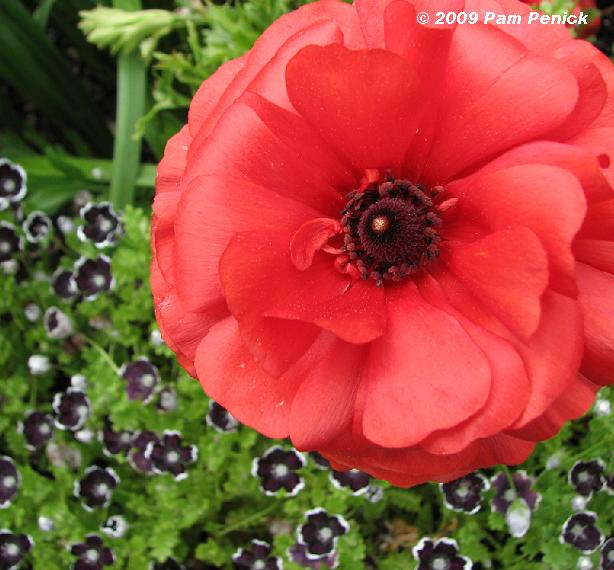 I can never resist hot-colored flowers.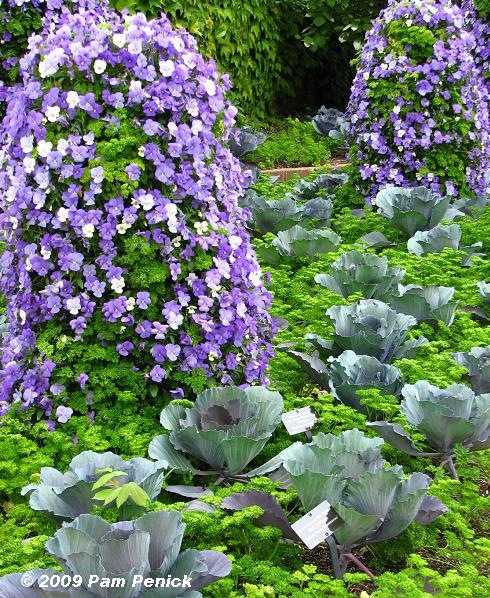 Persuaded to visit the Vegetable Garden, I was surprised and delighted by these viola-parsley towers underplanted with cabbages and more parsley.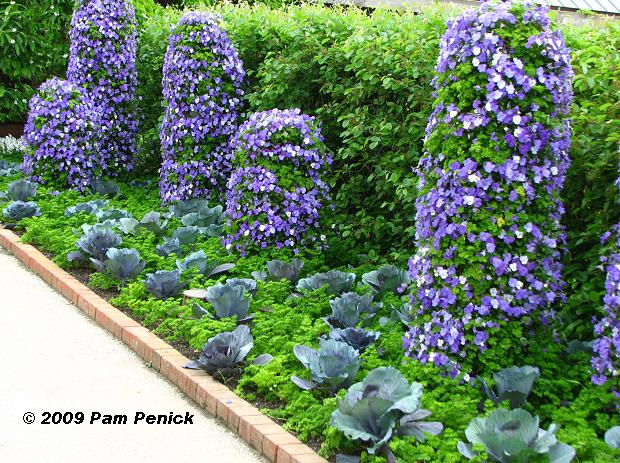 This is not just vegetable gardening. It's good design!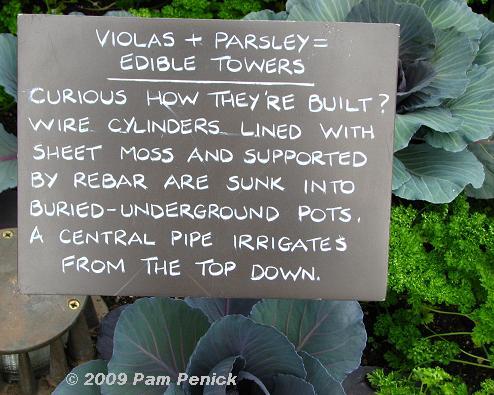 A helpful sign explained how the viola towers were constructed and maintained.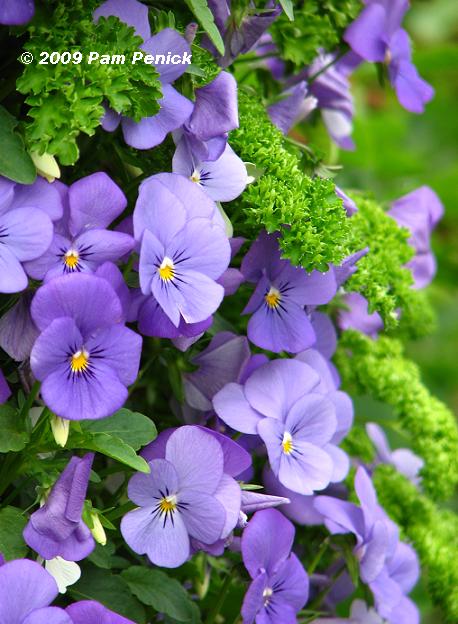 Sweet (and edible) violas.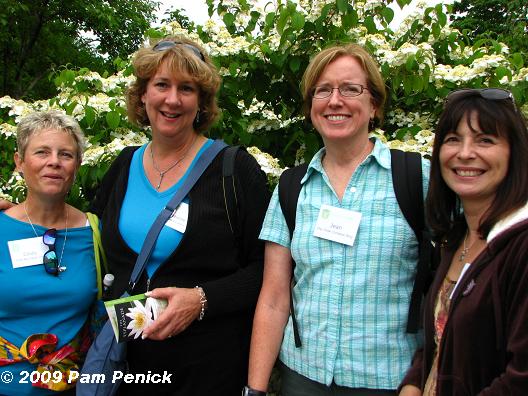 Cindy, Layanee, new friend Jean (Dig, Grow, Compost, Blog), and Diana. I had such fun hanging out with them—and so many others—during Spring Fling. An opportunity to meet, network with, and befriend fellow garden bloggers—that's what Spring Fling is about. The gardens are the icing on the cake. And I do love icing.
My sincere thanks to the Chicago Spring Fling committee who worked so hard to put this event together.
All material © 2006-2009 by Pam Penick for Digging. Unauthorized reproduction prohibited.