October 24th, 2014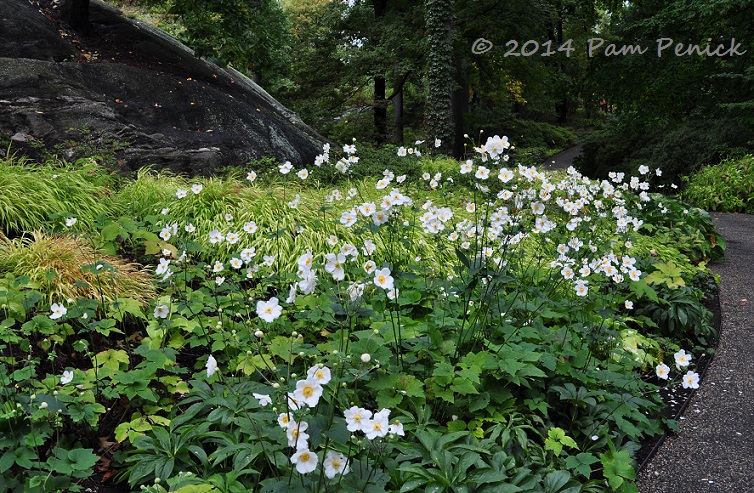 After touring Wave Hill on October 11, my daughter and I took the train to the New York Botanical Garden. Although both NYBG and Wave Hill are located in the Bronx, mass transit between the two ate up some time, and we had tickets to a Broadway show that evening. We knew we wouldn't be able to stay long enough to see all 250 acres and 50 gardens.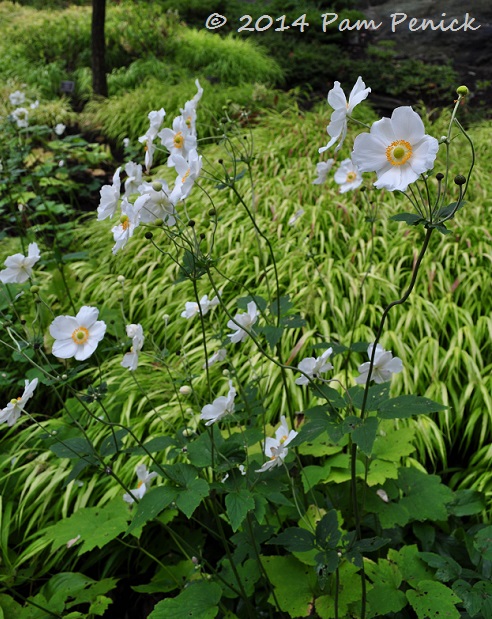 Rather than stress about it, we explored at random, taking paths that wound around enormous boulders fringed by Japanese forest grass and white anemones and into woods tinged yellow and orange.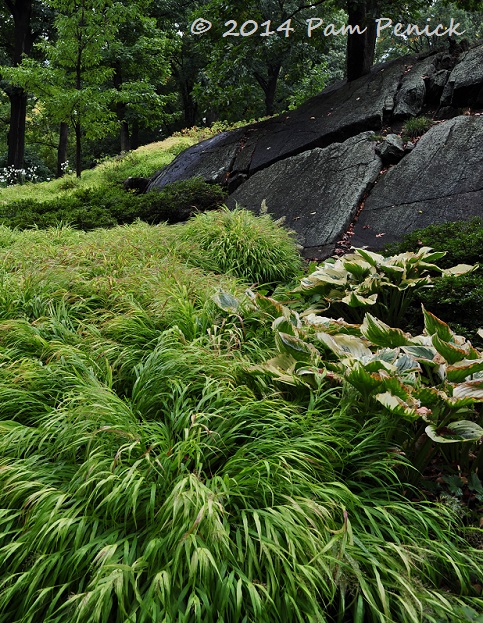 The afternoon was overcast and chilly, but the morning rain had ended, and we saw more people here than we had at Wave Hill. From a nearby sports arena we heard an announcer's voice, cheers, and air horns. The cool weather, turning leaves, and game noise reminded me of fall days in the Southeast, where I grew up.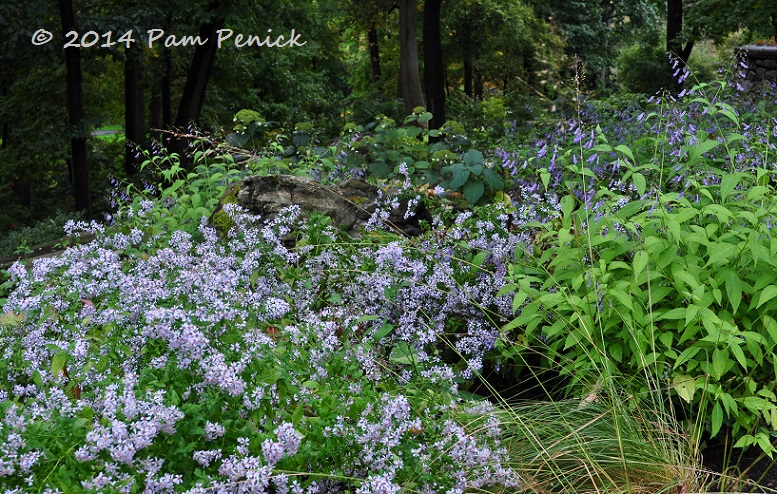 All that we lacked was the smell of wood smoke in the air.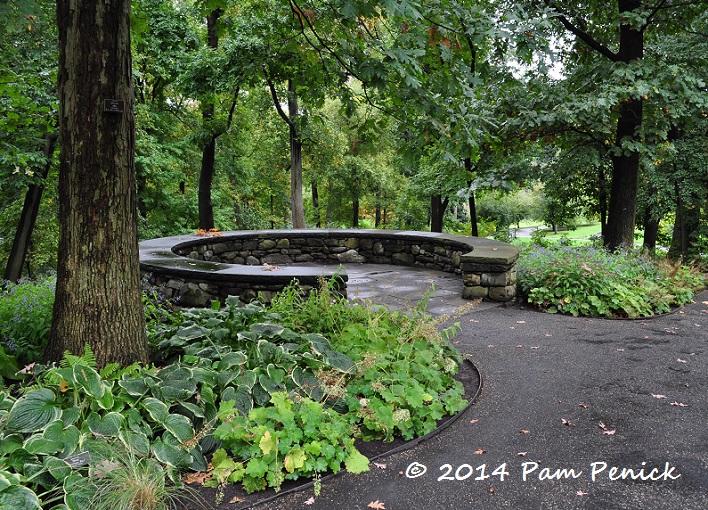 I've admired council rings since first encountering one at Chicago Botanic Garden's Evening Island. Wouldn't it be lovely to have one in a home garden, with a fire pit in the middle?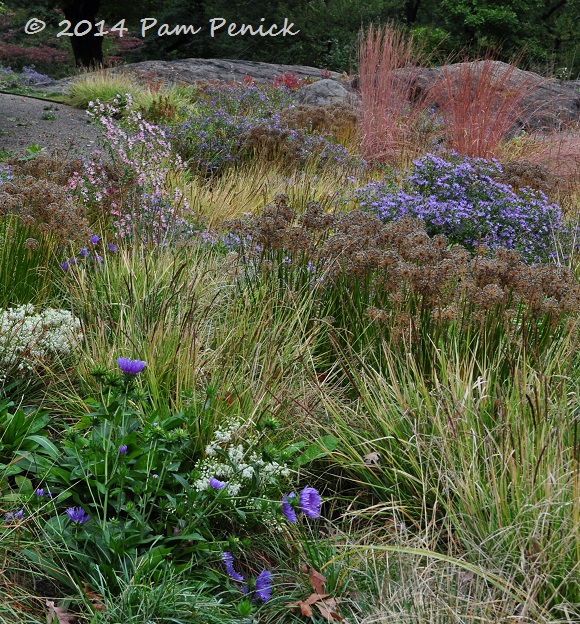 I loved this meadowy scene atop a boulder-strewn rise.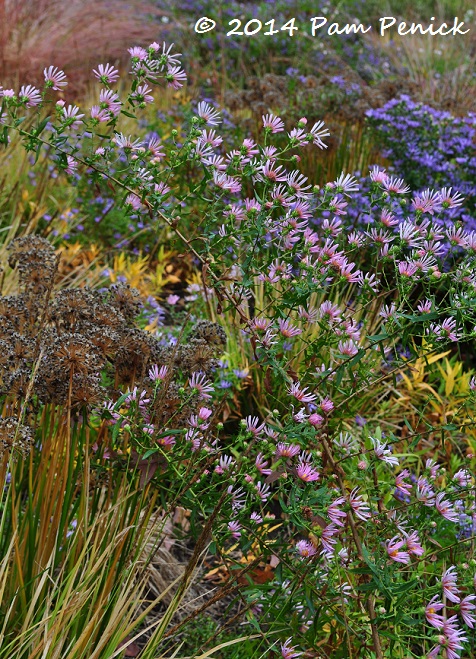 It was one of the prettiest areas we saw.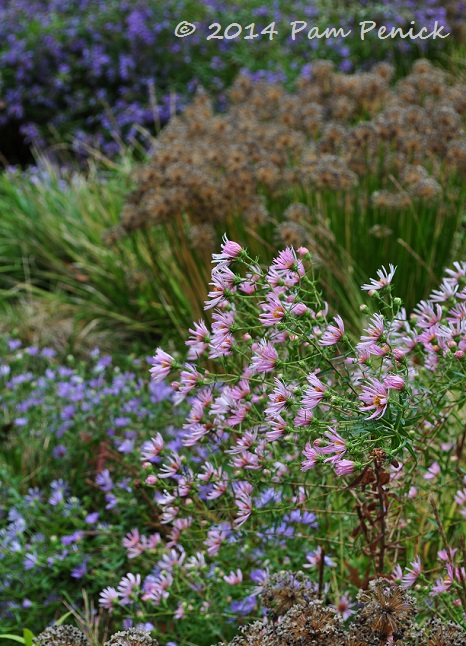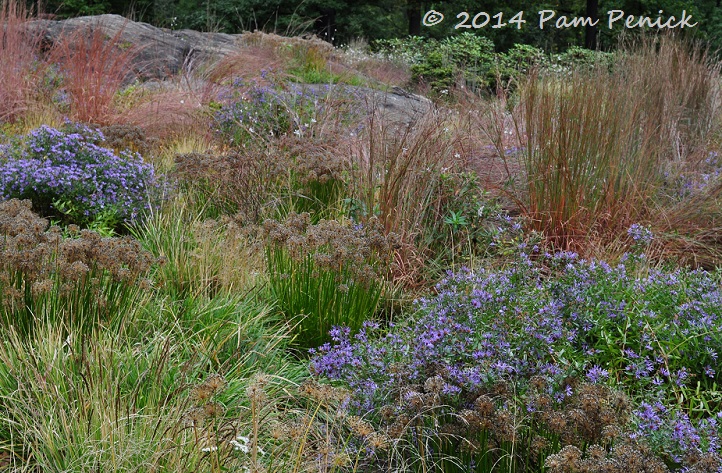 Grasses, garlic chives gone to seed, asters, and pink daisies combined in a tapestry of fall color.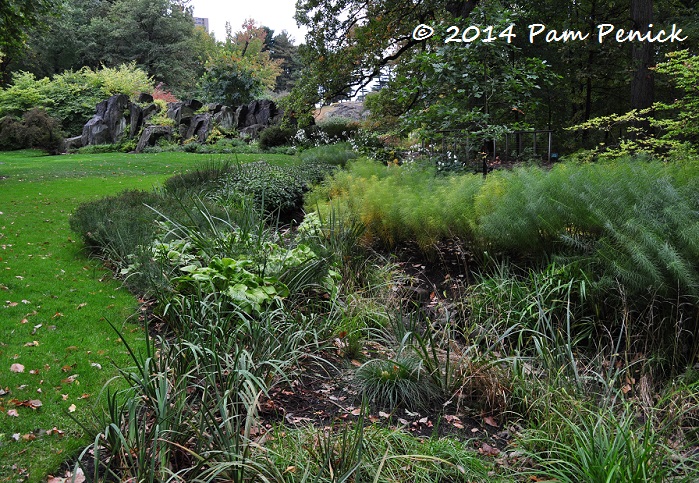 In a lower part of the garden, a swale for collecting and funneling rainwater leads the eye to a mound of vertical boulders.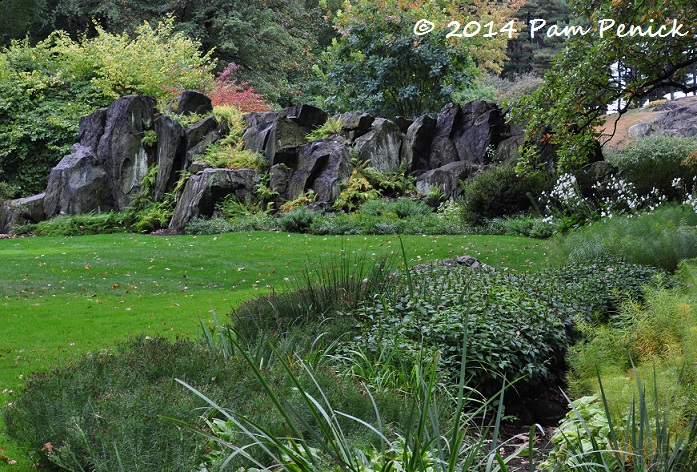 A closer look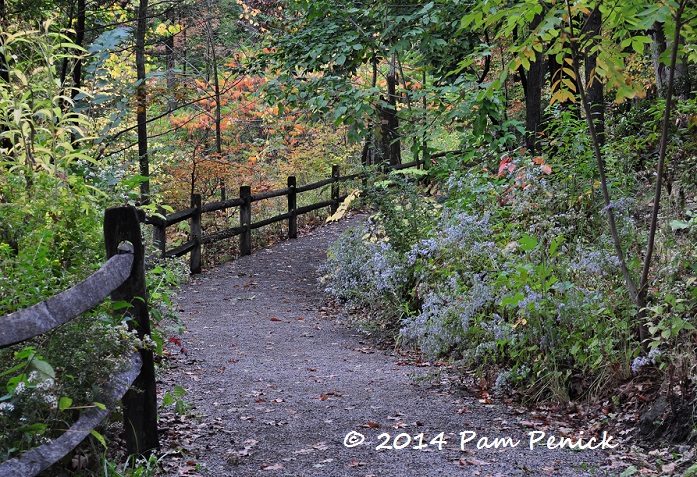 Woodsy paths beckoned with leaves just starting to turn.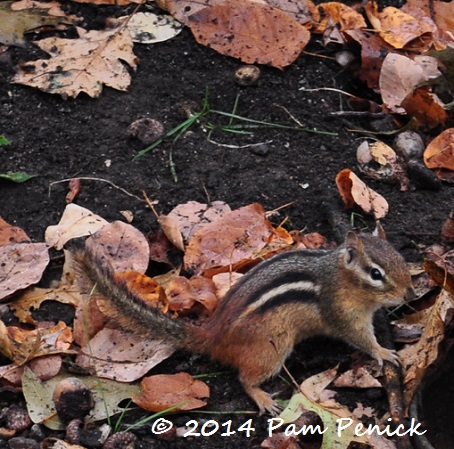 Chipmunks scurried here and there, collecting nuts for winter…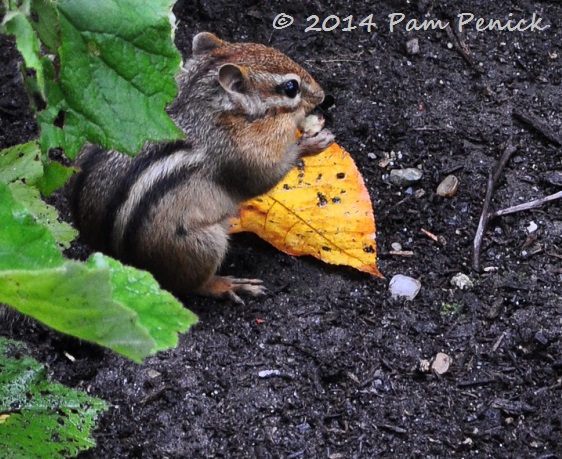 …and stopping to eat one or two.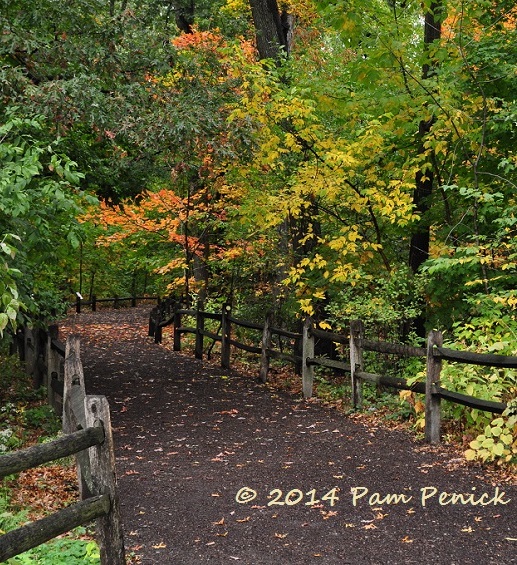 Who could resist a path like this? Not us.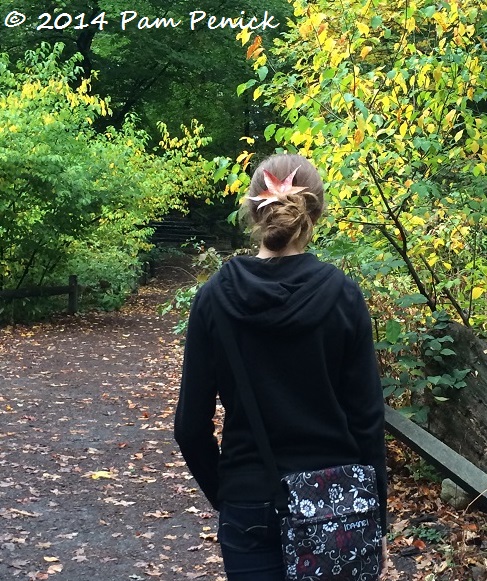 My daughter picked up a fallen leaf and made a hair ornament of it.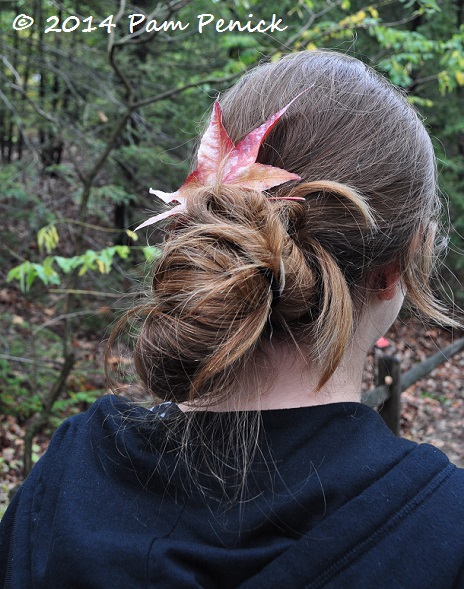 Nothing bought in a store could be as pretty.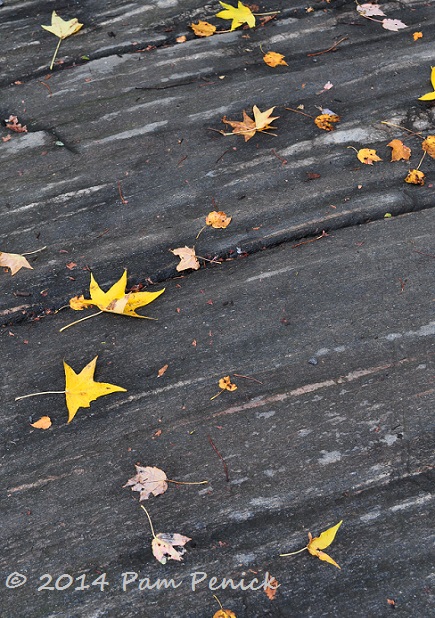 Fallen leaves adorned the ground too.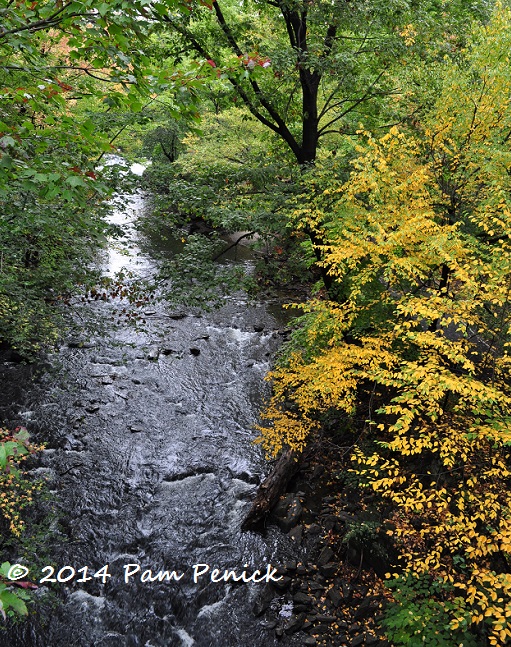 On a bridge high above a creek we looked down on more golden trees.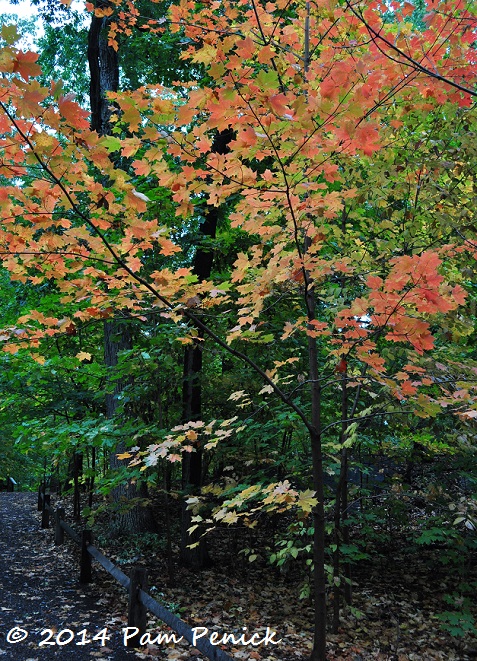 We saw a few reds as well.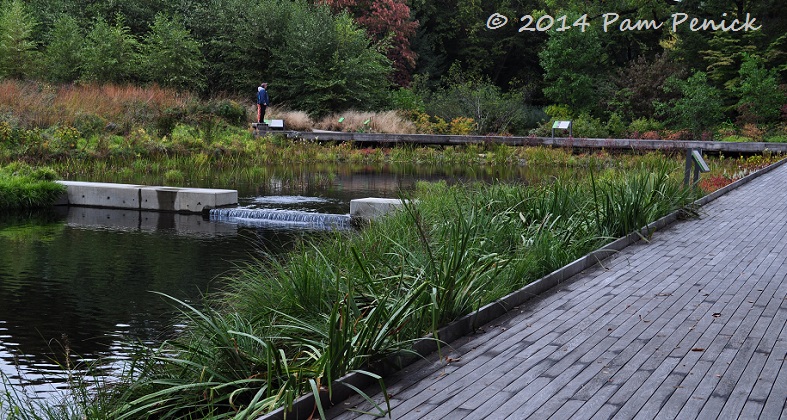 A lovely native plant garden with a large pond offered a boardwalk stroll…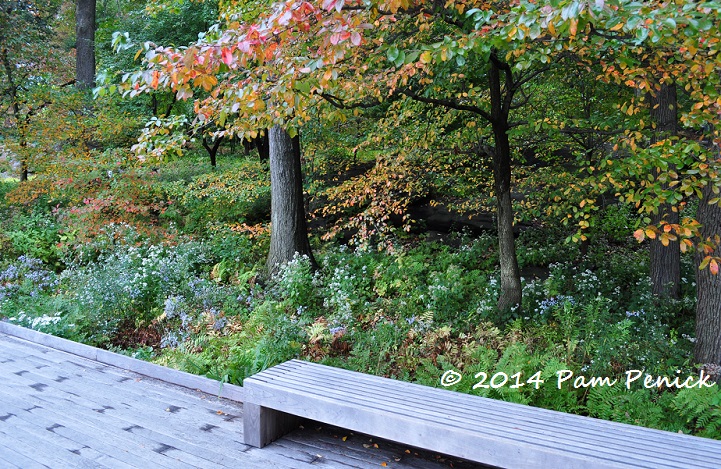 …past woodland borders with plenty of fall color.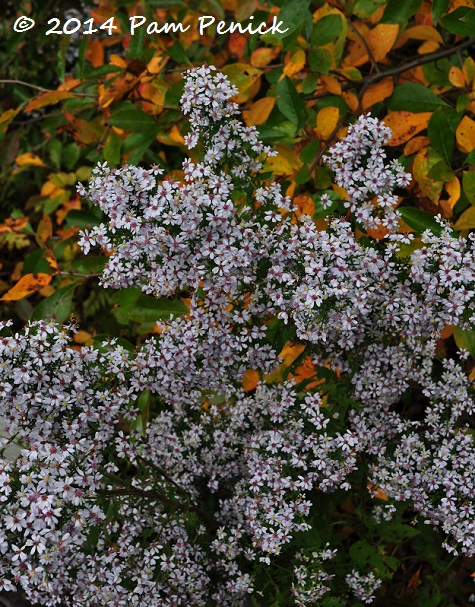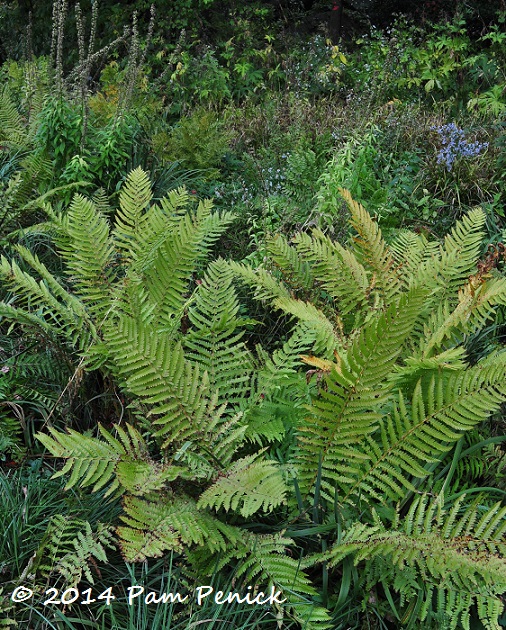 Ferns were still green then but probably not for long.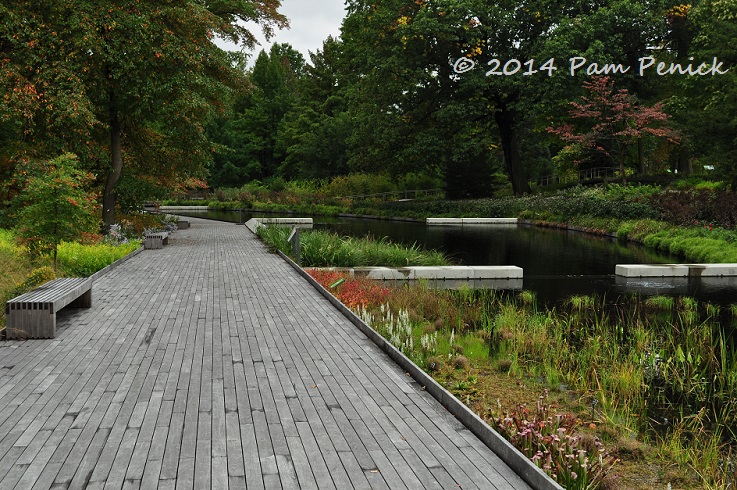 At the sunnier end, we noticed a swath of colorful pitcher plants in the mucky soil along the decking.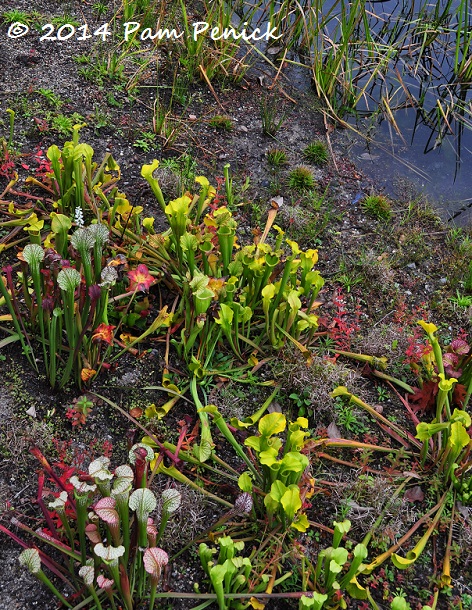 Aren't they lovely?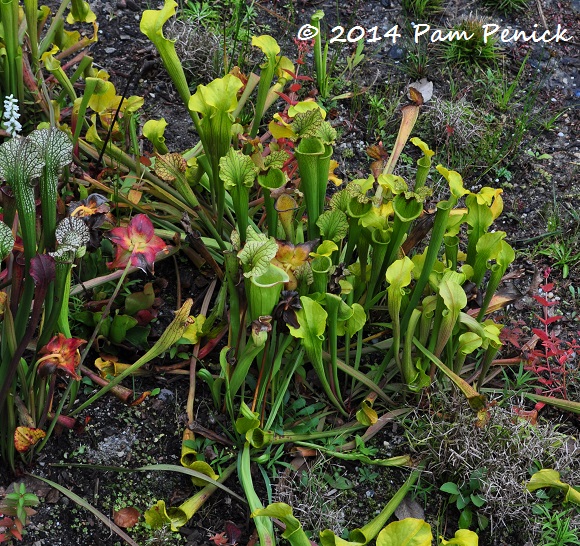 I'm noticing pitcher plants everywhere these days, especially in container plantings. Are they the plant du jour, wresting the crown away from tillandsias?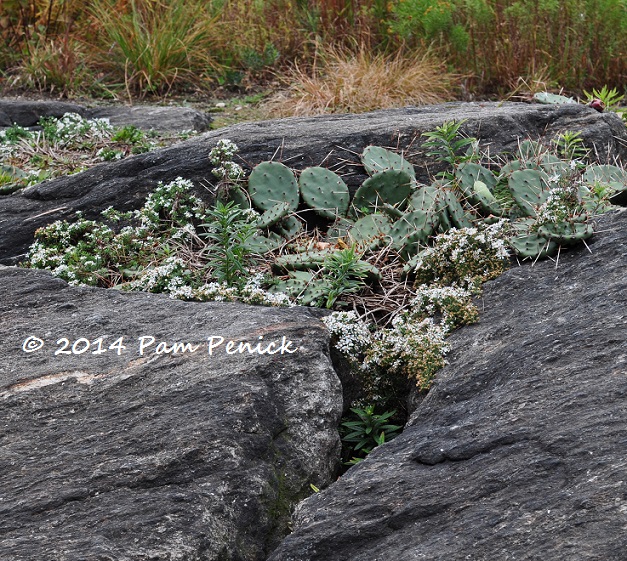 From wet-loving plants to dry-loving, this garden has it all. Devil's tongue (Opuntia humifusa) looks quite happy, even in New York (yes, it's native), nestled amid heat-reflecting boulders.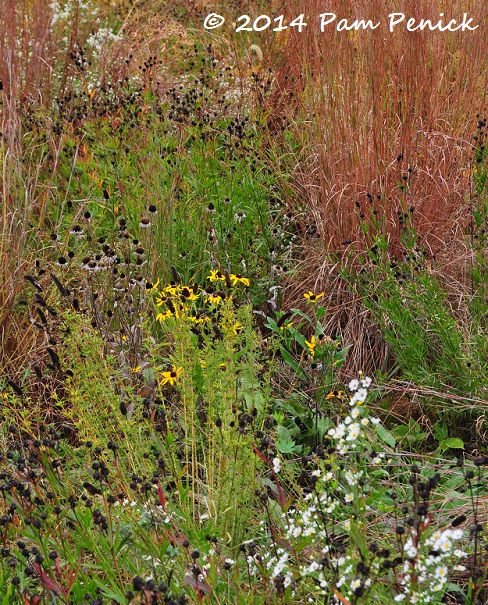 This must be a birder's paradise with so many food sources, including coneflowers and grasses gone to seed.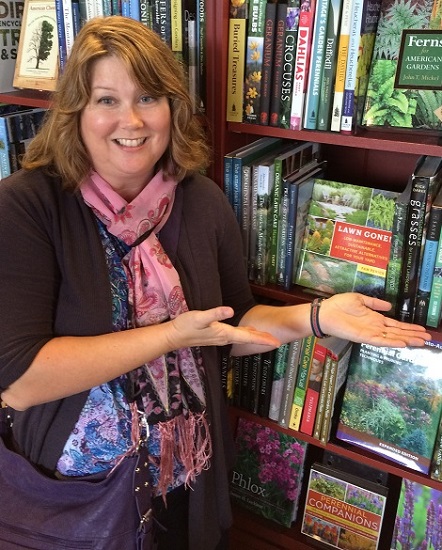 I wish I'd taken a few photos inside the gift shop, which was quite nice and very large as botanical garden gift shops go. An extensive gardening book section captivated me for a while, and imagine my delight when I saw that they carried my book, Lawn Gone! — and it was even displayed face out! I swear I didn't turn it that way for the picture.
I hope you've enjoyed my garden visits from New York. For a look back at Wave Hill (1 of 2 posts), click here. And for my extensive write-up of the High Line (1 of 2 posts), click here.
All material © 2006-2014 by Pam Penick for Digging. Unauthorized reproduction prohibited.