October 22nd, 2014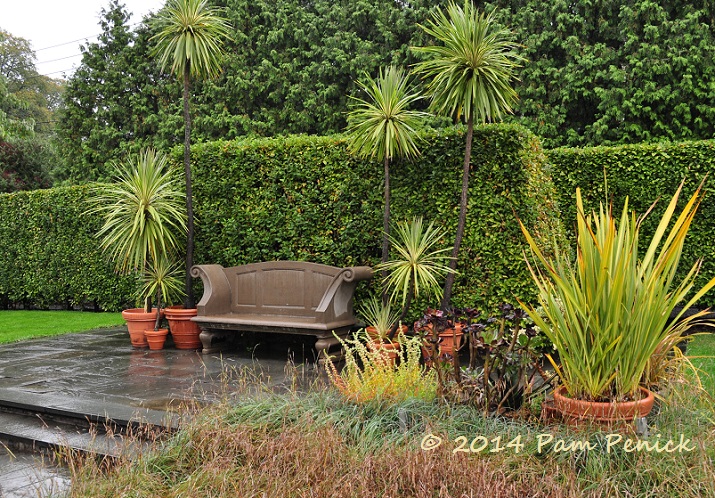 Wave Hill, an estate garden in the Bronx in New York City, which I visited on October 11, was romantically blowsy in the Pergola, Elliptical, and Flower Gardens near the entry. But it got a bit bolder, even Hollywood, in the Aquatic and Monocot Gardens.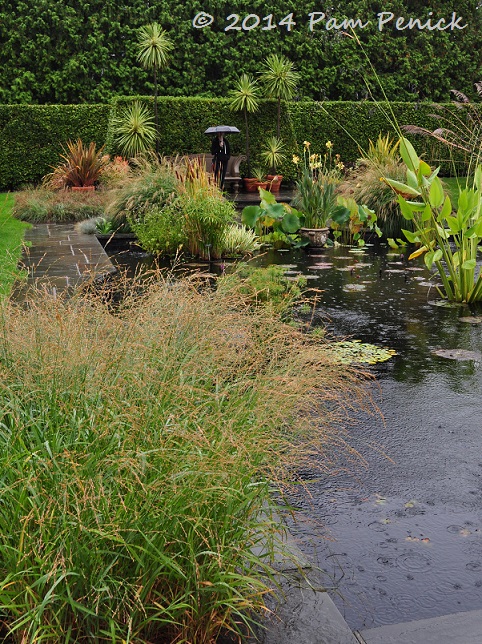 These two gardens share a large, hedged "room" that visually separates them from the rest of the gardens. I'm nuts about those Dr. Seussian yuccas at the far end, their pincushion heads atop skinny trunks of varying heights. Like golden fireworks exploding against dark-green hedges, you can almost hear them going pow Pow POW! My daughter, standing with her umbrella, provides a sense of scale.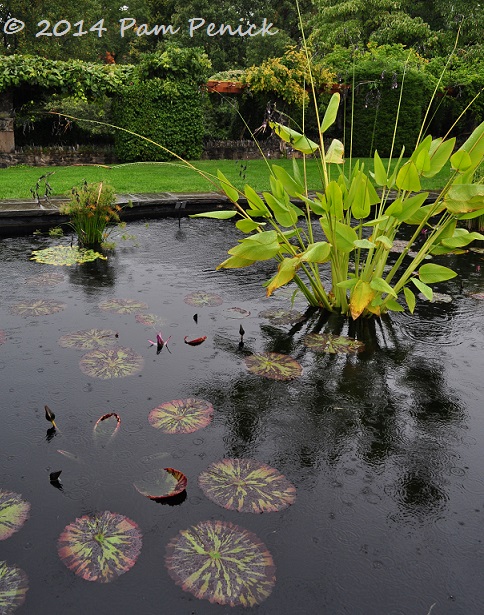 Although first frost couldn't be far off, the pond plants were still full and lush. The water lily even had buds, though they were closed tight against the chilly rain.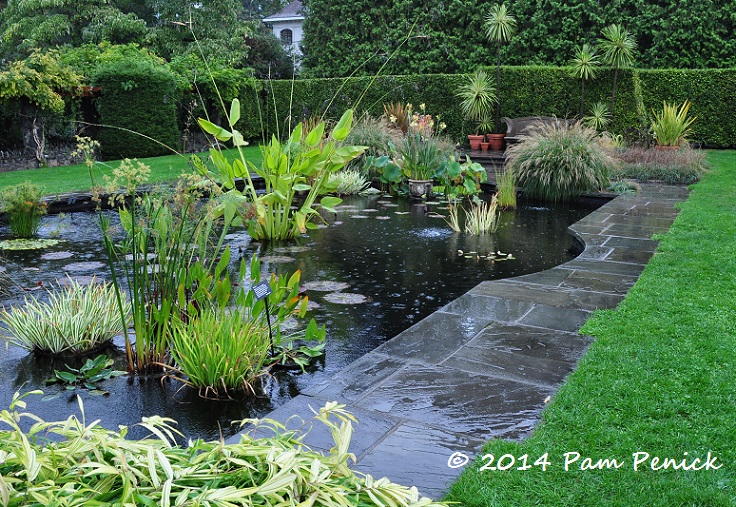 Large, arching grasses with rosy plumes anchor each end of the pond…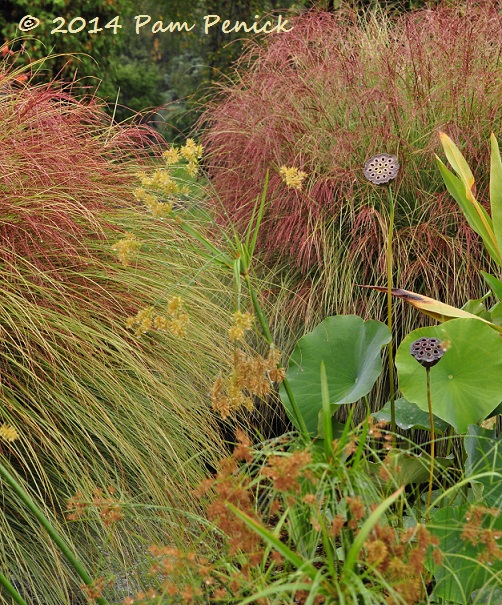 …adding to the beautiful fall show.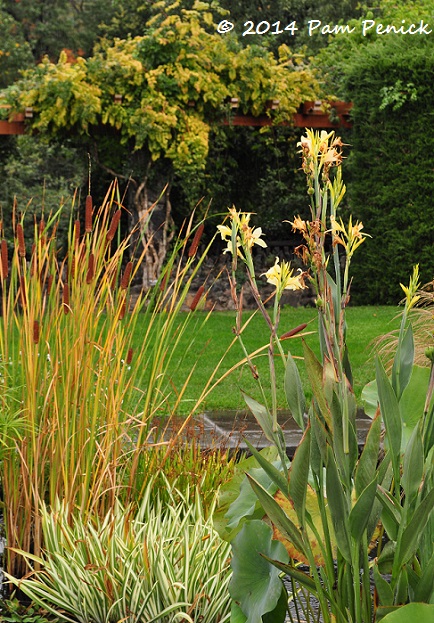 Golden and variegated foliage cozies up to butter-yellow flowers for a nice color echo.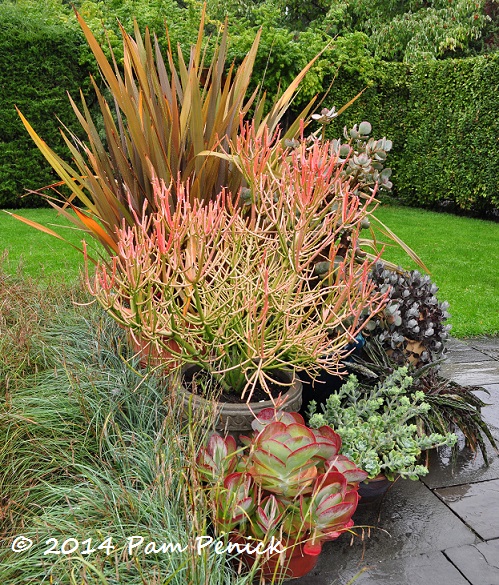 Clustered pots of tropicals by the bench offer sun-kissed color and bold foliage.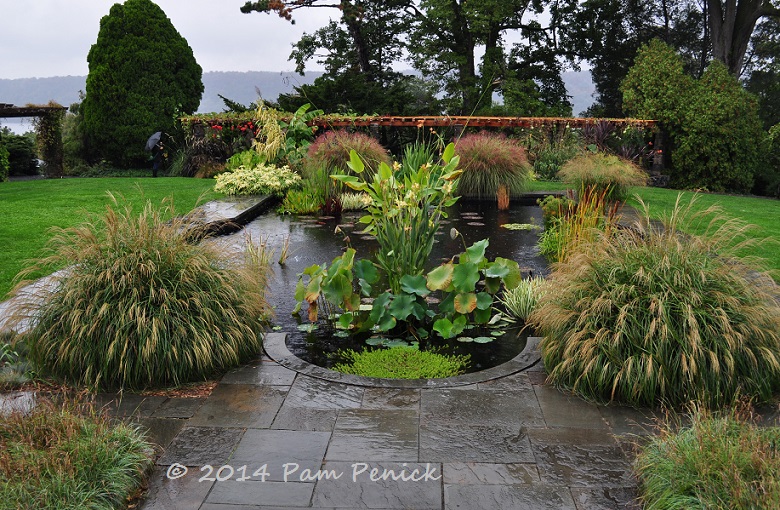 It's formal symmetry done beautifully. The long pergola at the far end of the pond is part of the Monocot Garden.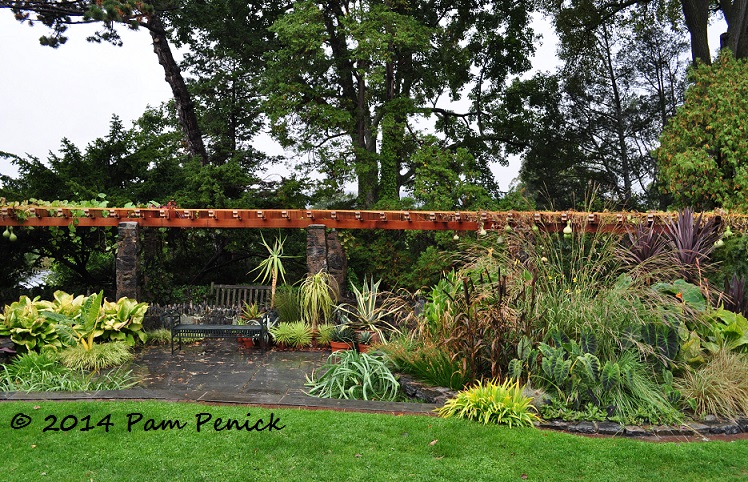 I won't bore you with the definition of monocot (the garden's website explains; maybe you know, but I had to look it up). Let's just say this garden is all about bold foliage.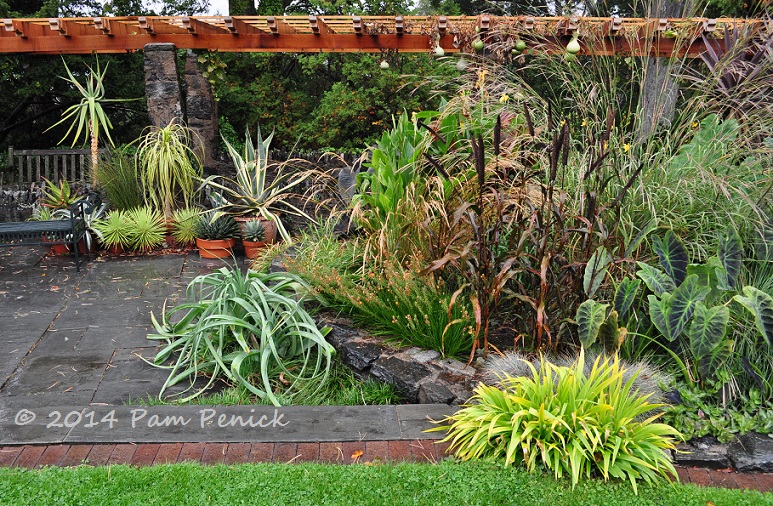 Spiky and tousled heads of agaves in pots mingle with grasses, colocasia, bulbine, and other interesting foliage plants for a display that might even look at home in Austin.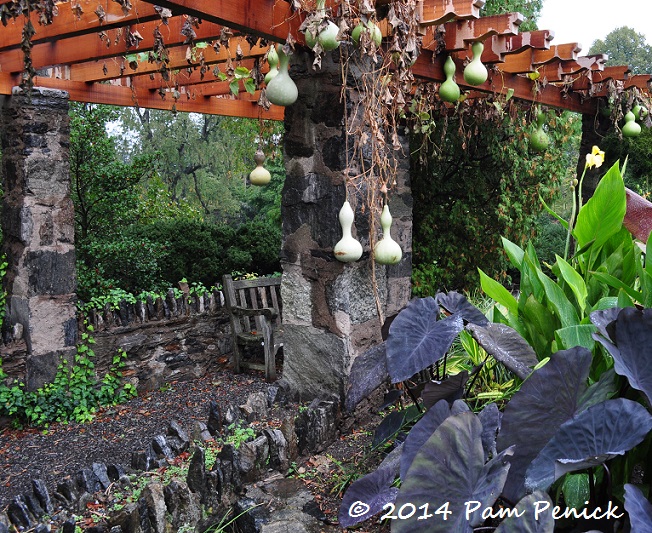 Gourds dangle from the pergola, just begging to be turned into birdhouses.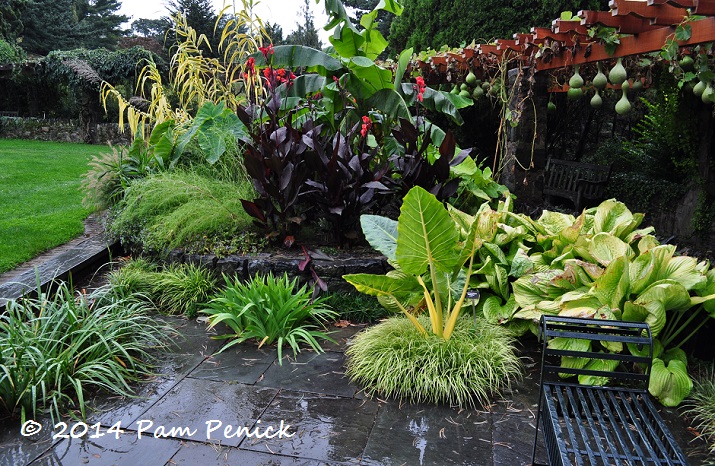 Chartreuse foliage and a nearly black canna add to the drama.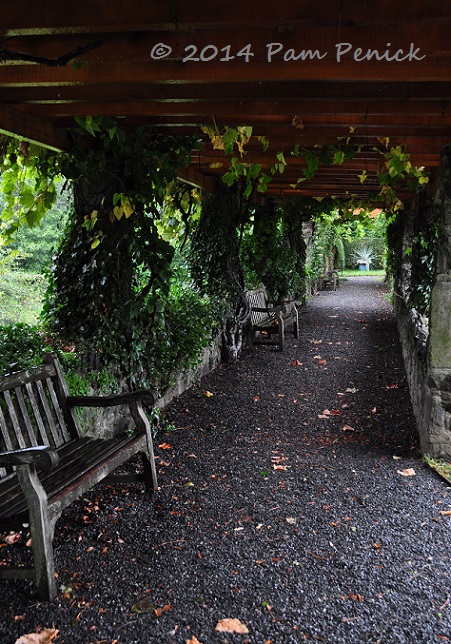 We took shelter from the rain under the long pergolas that line each side of the pond garden.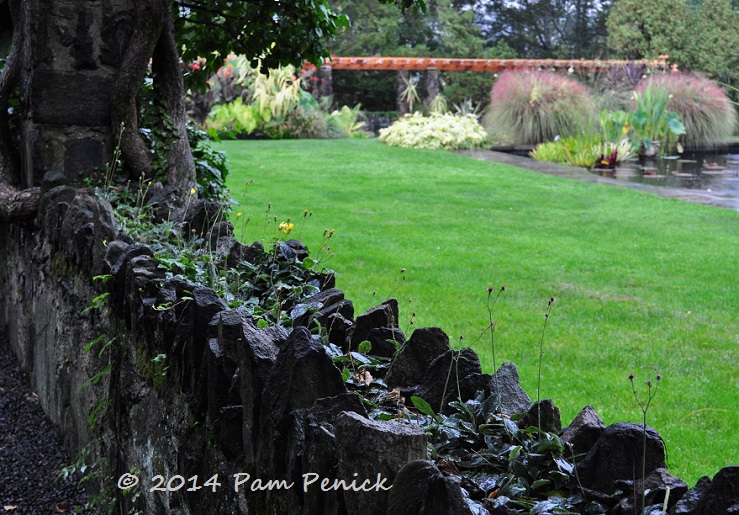 No planting opportunity is overlooked, not even cavities in the toothy stone walls that edge the pergolas.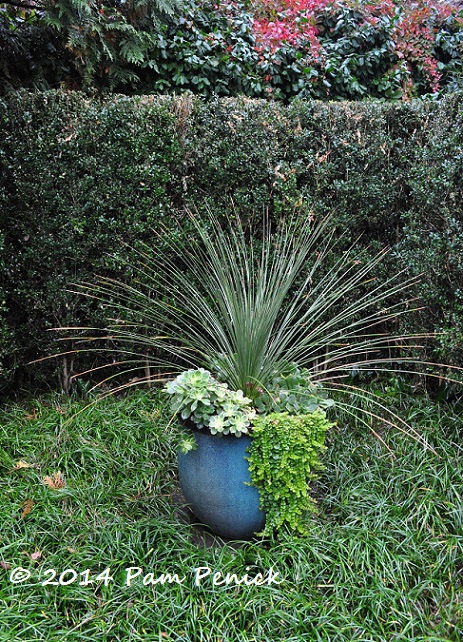 The two pergola walks lead to stunning focal-point containers backed by a green hedge and set amid a grassy groundcover. This may be toothless sotol (Dasylirion longissimum) with small succulents.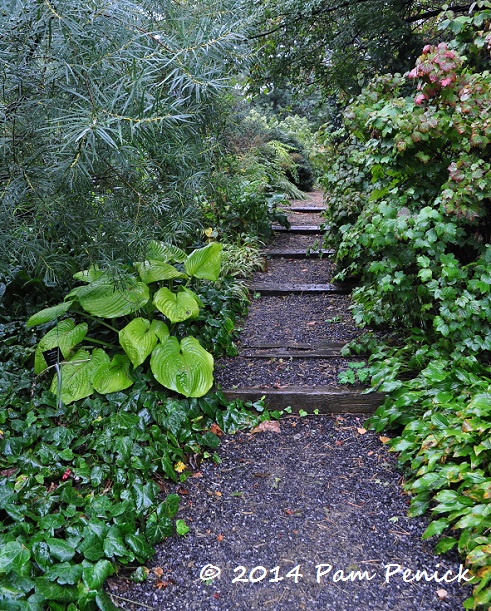 By now the rain was really coming down, so we ran up a shady path to a covered pergola, where we shook off the rain, sat on a bench, and admired the view.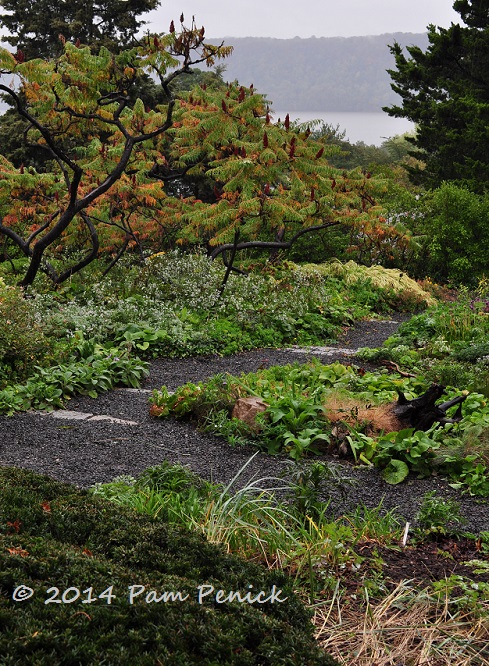 That's the Hudson River in the distance.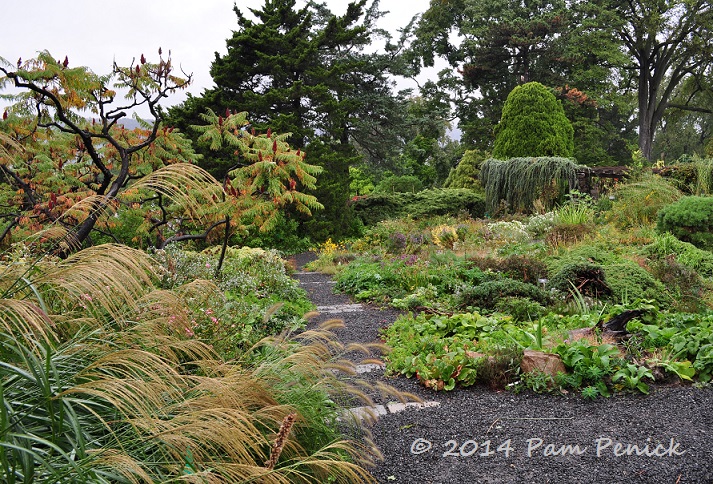 This is the Wild Garden, which, according to the garden's website, "was inspired by the informally planted English wild gardens as championed by William Robinson (1838-1935), an influential nineteenth-century author and garden designer."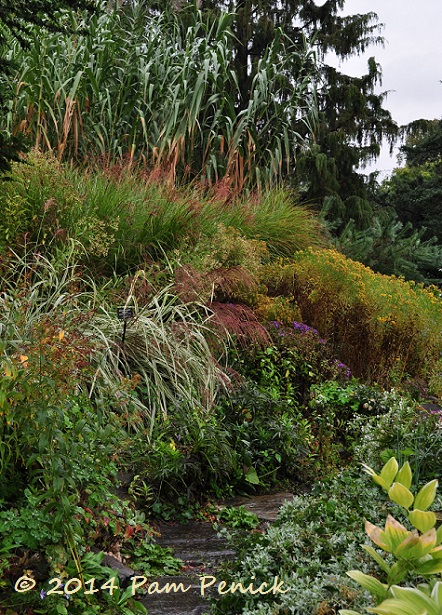 Tiers of tall grasses and cane climb the hilly edge of the garden.

Lovely combos like these were starting to show fall color.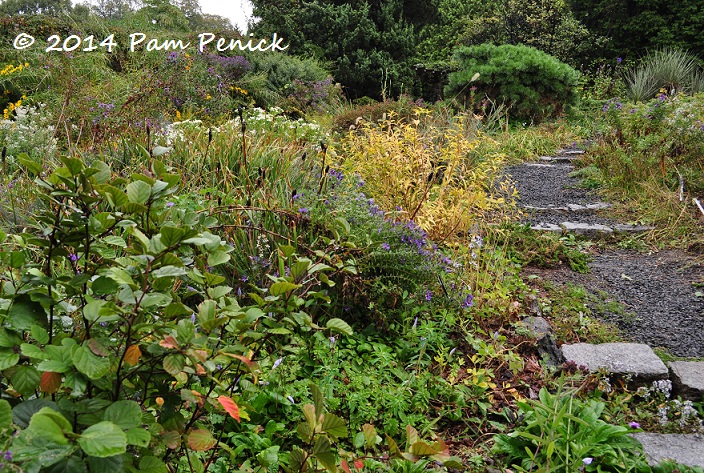 This meadowy, forest-edge view reminds me a bit of the Oudolf design on the High Line.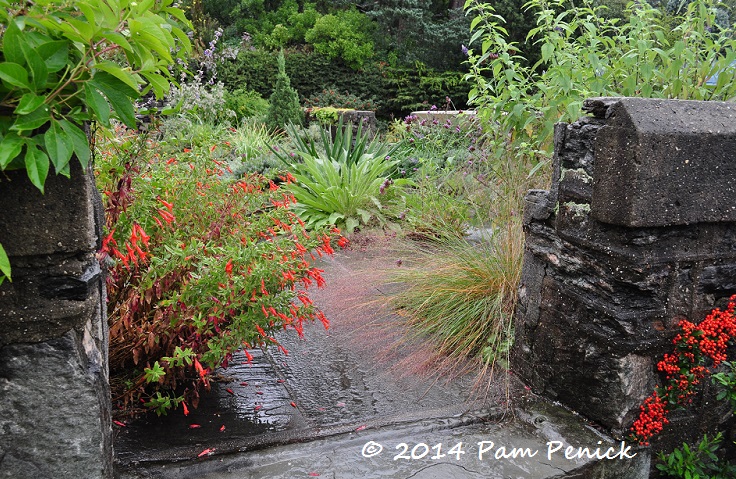 Just downhill from the Wild Garden, planted in the ruins of a former greenhouse, you enter the Herb and Dry Gardens.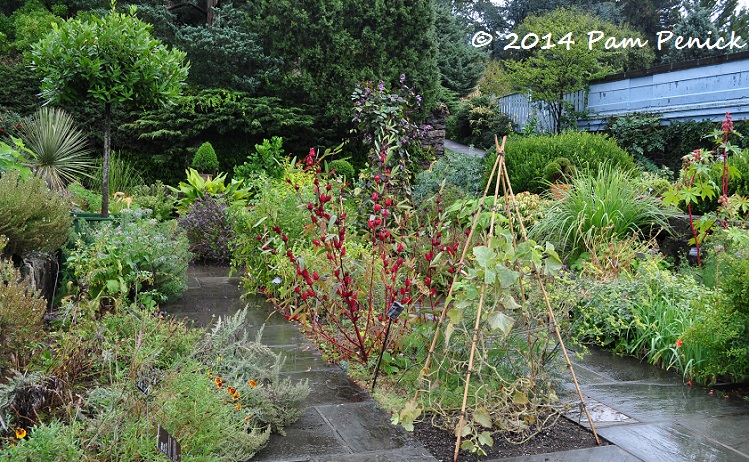 Stone paving and walls retain and reflect heat and give this garden strong structure.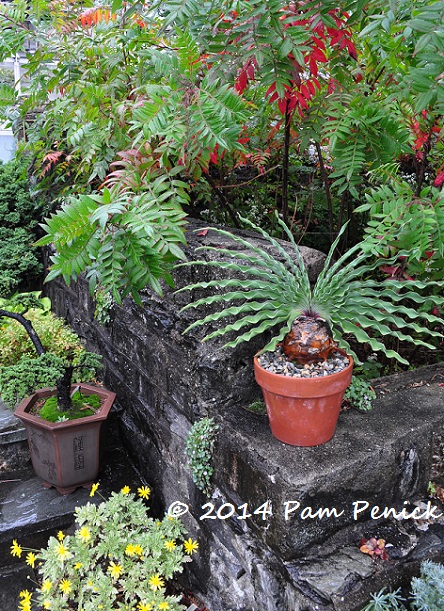 Climbing the stone stairs…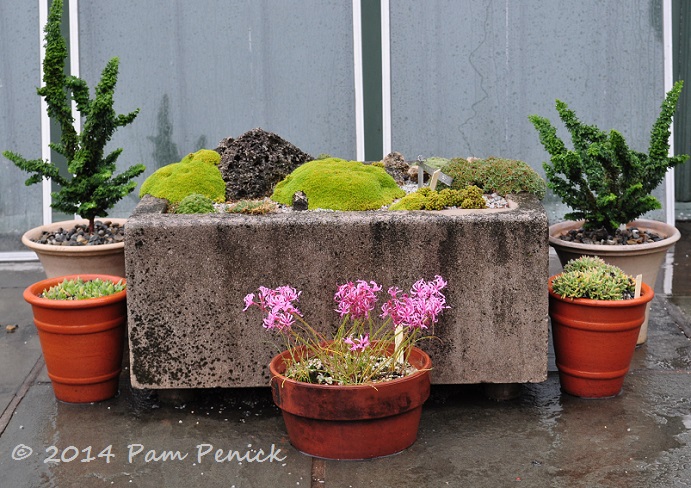 …you reach the Alpine House, where beautifully arranged troughs display rock-garden plants.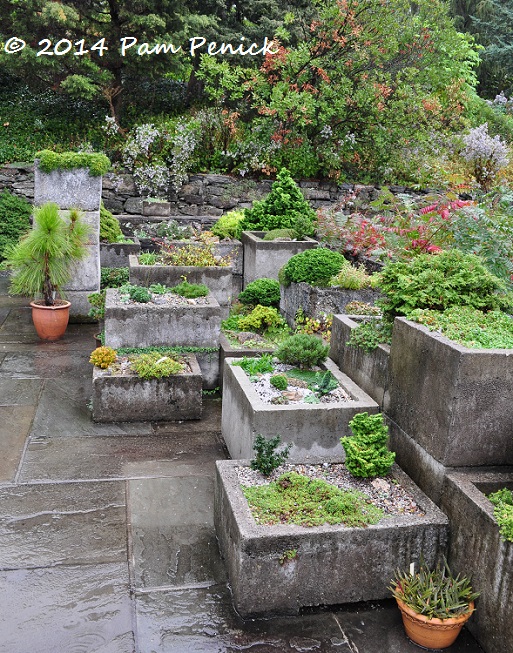 Just look at all these! They reminded me of an elegant, English version of my own succulent cinderblock-wall planter.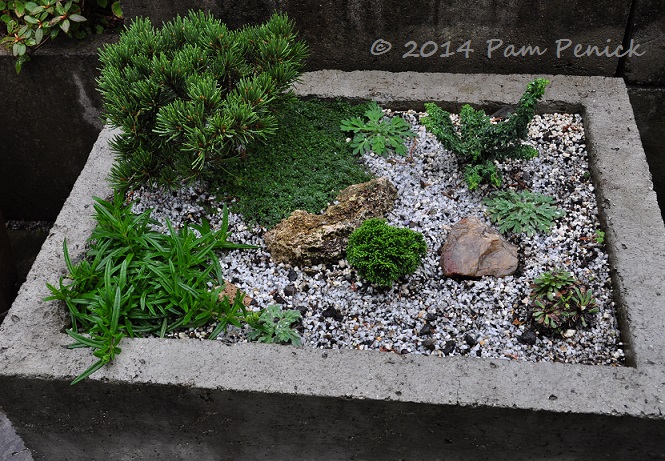 The effect is like a bonsai landscape.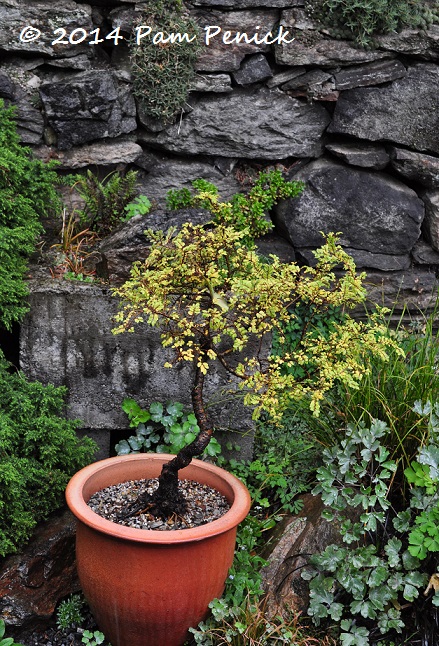 Diminutive, gnarled trees in pots were ready to blaze into fall color too.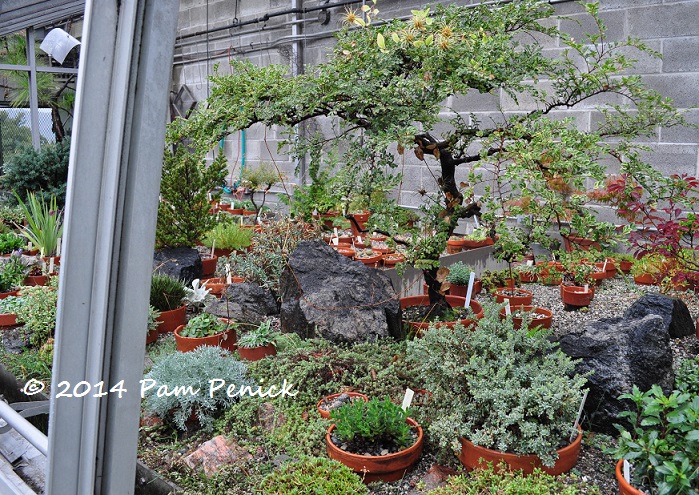 Inside the Alpine House, viewable through large, open windows, more rock-garden plants are displayed in pots amid artfully placed boulders.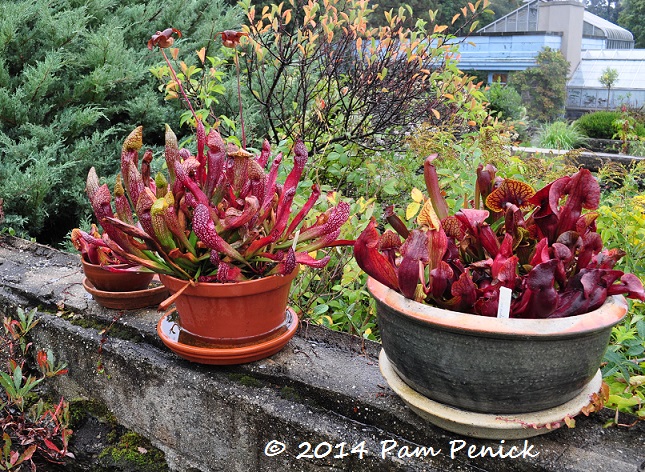 Pitcher plants, hooded and open-mouthed like a chorus of cobras, enjoy a sunny spot on a wall nearby.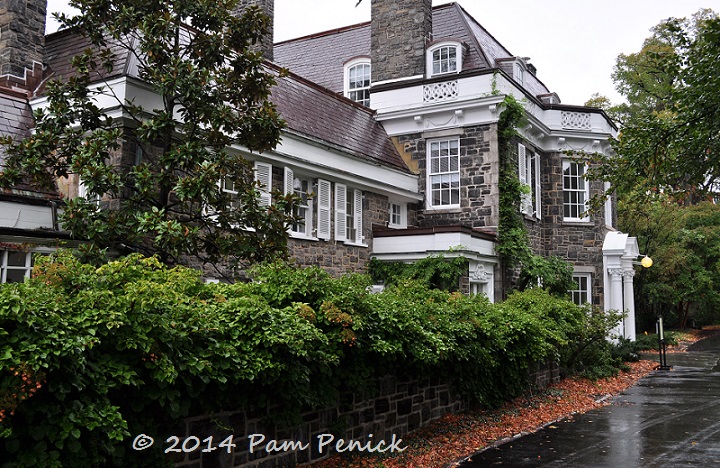 To escape the chilly rain, we had lunch in the cafe, located inside this lovely, old home.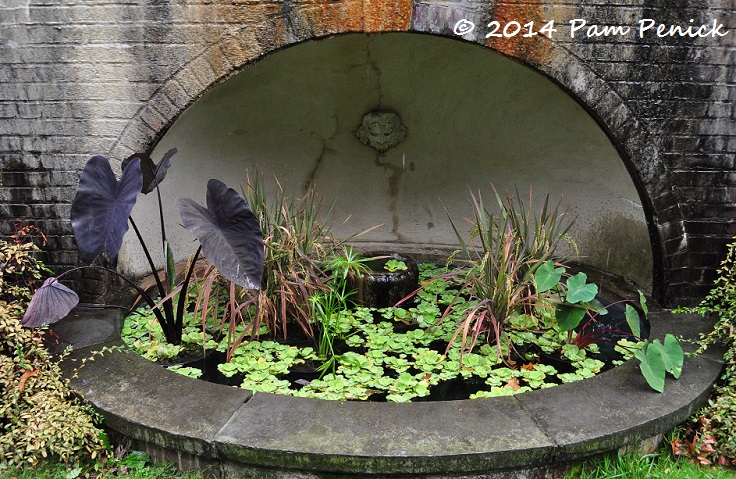 Behind the other house on the property, beneath its rear terrace, we discovered this charming grotto pond.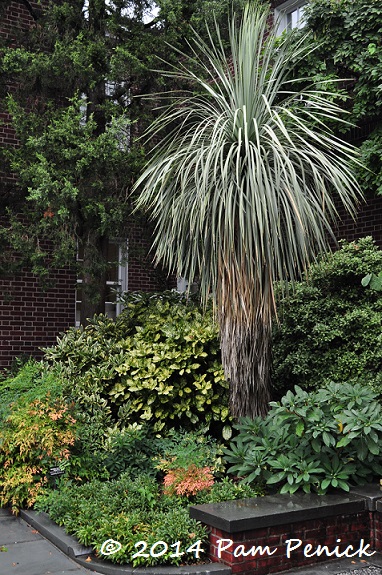 A tall, trunking yucca or nolina out front reminded me of home, though it was incongruously set amid woodland-style shrubs.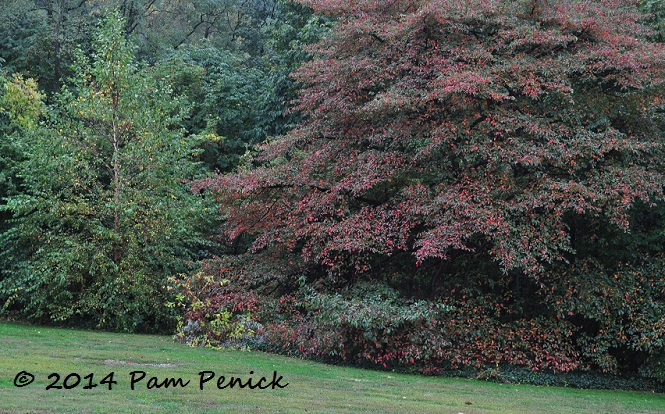 A lawn sloped off to one side, framed by trees in pointilist, early-fall color.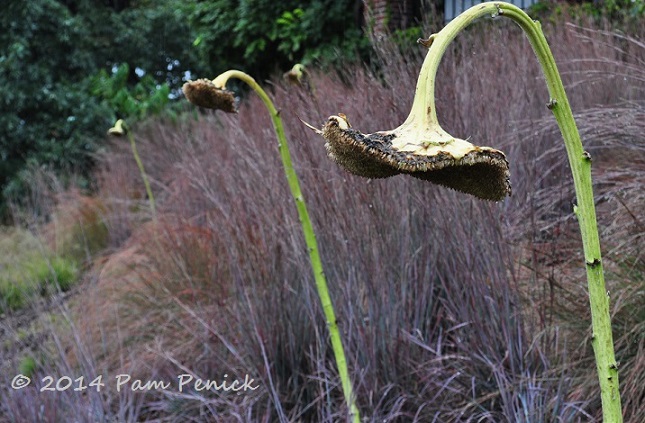 Nodding, sleepy sunflowers were feeding a flock of birds until we walked up. Little bluestem was blushing at their knobby knees.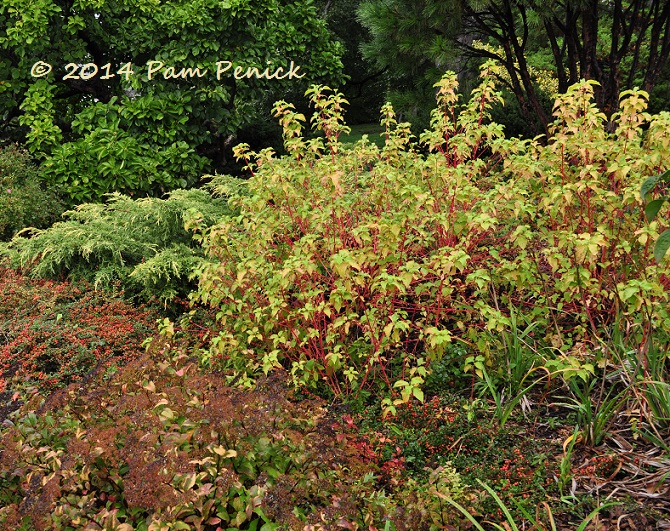 More fall color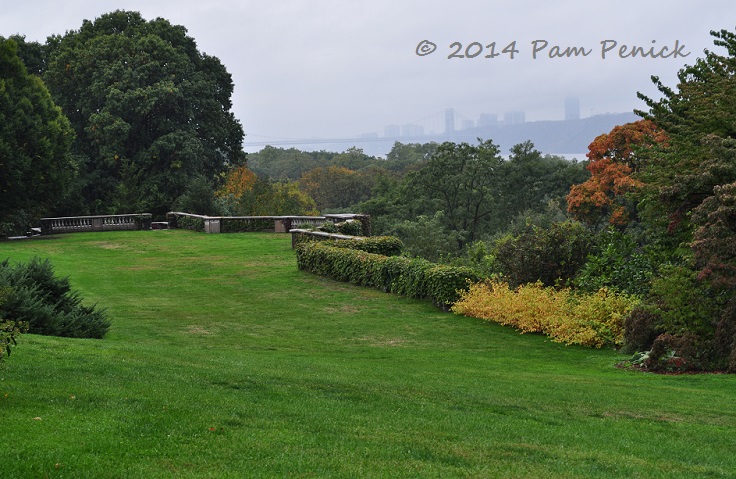 As the rain pattered to a stop and the mist began to lift, we took a last long look at the view across the river. The Palisades and tall buildings on the opposite side were coming into clearer view.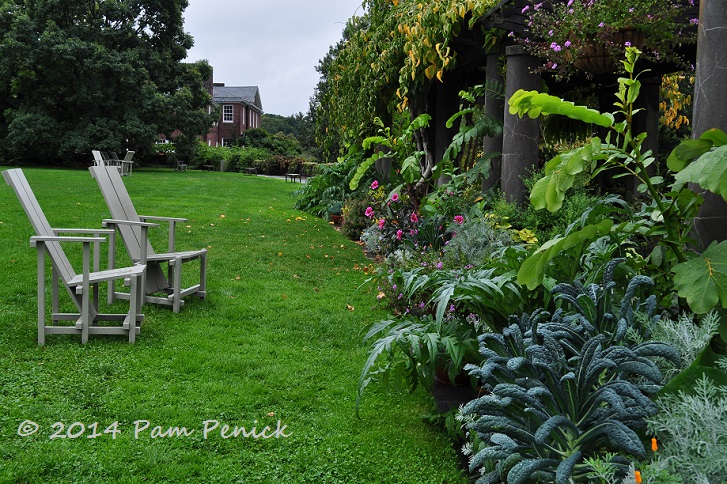 On a drier day we'd have sat for a while in the Wave Hill chairs.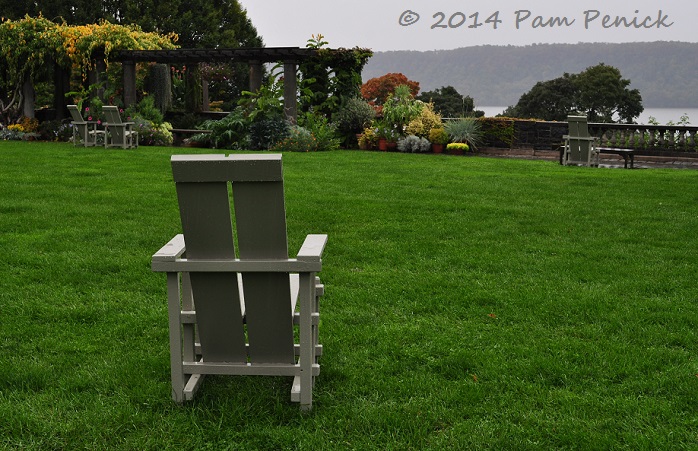 But I didn't really mind the rain. It let us pretend the garden was ours for a couple of sweet hours.
Up next: An autumn stroll through New York Botanical Garden. For a look back at Part 1 of my visit to Wave Hill, click here. For my tour of the High Line park and garden in Manhattan, click here.
All material © 2006-2014 by Pam Penick for Digging. Unauthorized reproduction prohibited.
posted in
Agaves
,
Arbors
,
Bonsai
,
Botanic/Public Gardens
,
Carnivorous plants
,
Containers
,
Fall color
,
Garden tours 2014
,
Grasses
,
Lawns
,
Paths
,
Ponds
,
Rivers & creeks
,
Rock
,
Seating
,
Succulents
,
Travel
,
Trees
,
Tropicals
,
Views
,
Vines
,
Walls
,
Water features
,
Water gardening
,
Windows
,
Yuccas