October 16th, 2014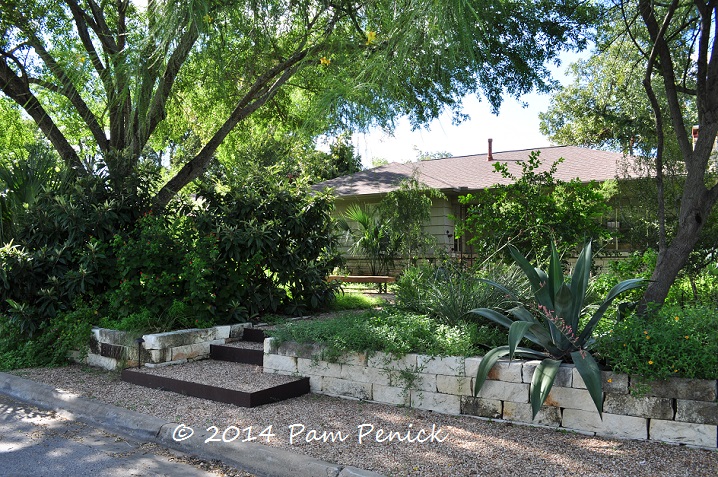 Earlier this month I visited the East Austin garden of Lee Clippard, blogger at The Grackle, and his partner, John. The first fall rains had just arrived, following a relatively mild summer, so their foliage-centric garden of native plants was looking lush and green. I'd never have guessed, if Lee hadn't told me, that he didn't once irrigate his garden all summer, aside from a one-time spot watering of a wilting American beautyberry just off the front porch.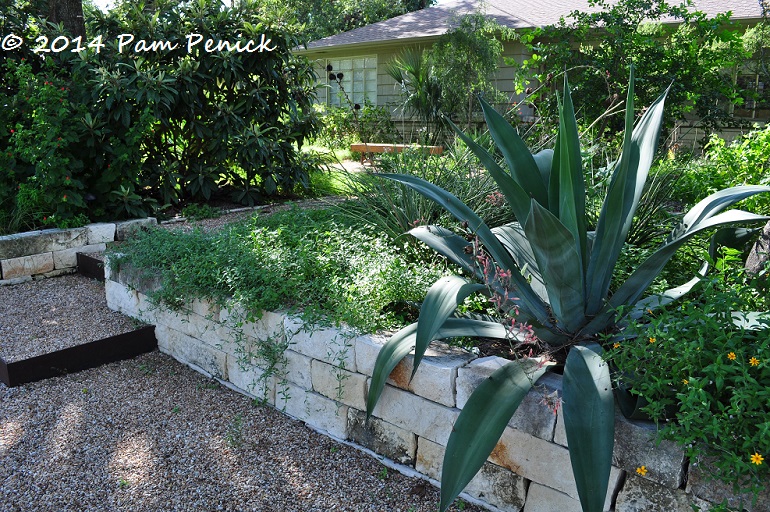 Smart plant choices make the no-water garden possible, although of course even these drought-tolerant natives must have water to get established. Once established though, the plants are on their own. Lee chucks the ones that don't thrive and adds more of those that do.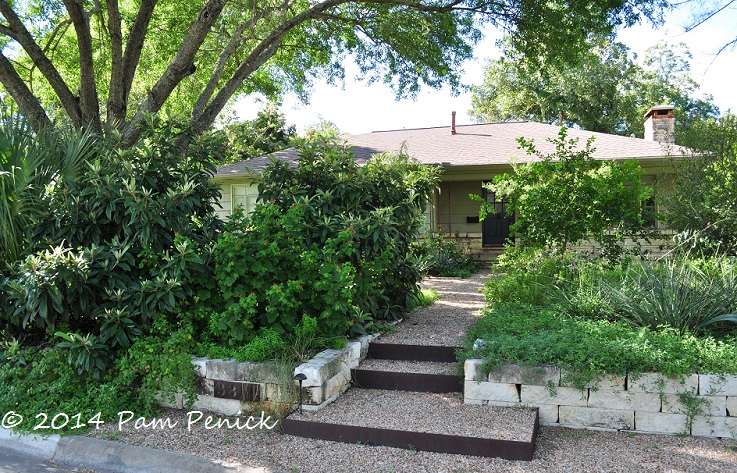 You might recognize Lee's garden from my book, Lawn Gone!; I profiled his garden in an early chapter. Lee screened the front garden with shade-tolerant foliage plants like palms, loquat, and Turk's cap to give privacy and a sense of enclosure to a small gravel patio and to create green views from their windows.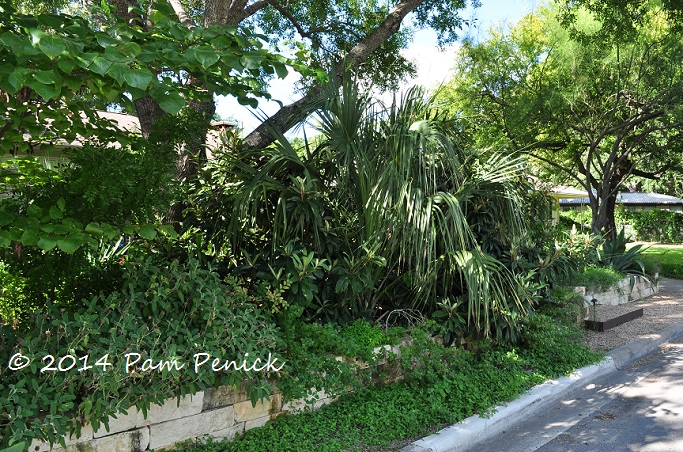 Streetside, all that textural foliage makes for a secret-garden effect. What's on the other side?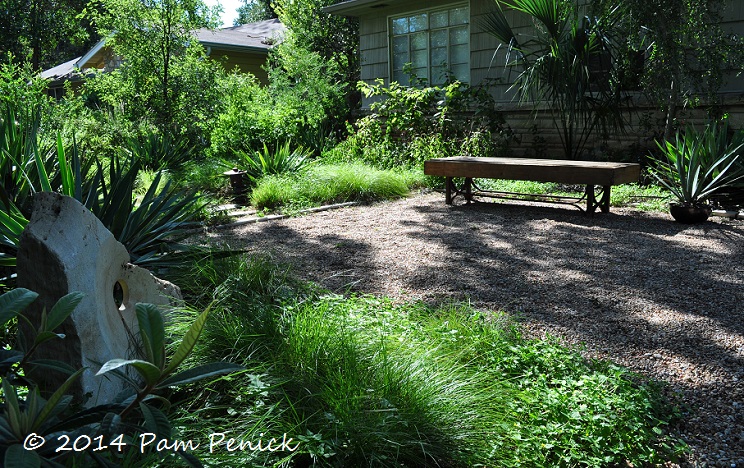 Entering the front garden you see a rectangular gravel patio edged with chopped limestone. A patio set used to sit here, but now there's just a simple, wooden bench, very Zen.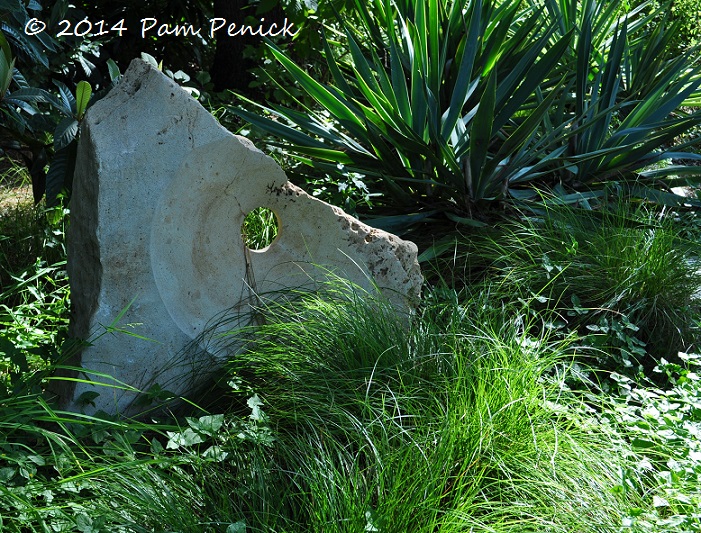 A triangular stone sculpture sits in a soft patch of Texas sedge (Carex texensis) along one corner of the patio, framed by loquat and paleleaf yucca (Yucca pallida).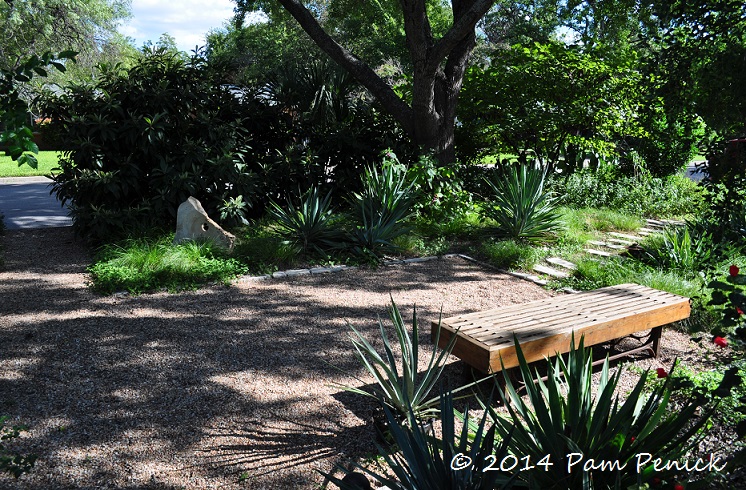 It's a serene, inviting space framed by sedge and yuccas, with leafy shrubs along the perimeter screening the street from view. The stone path at right makes a friendly path for the mailman to cut through from the neighbor's yard.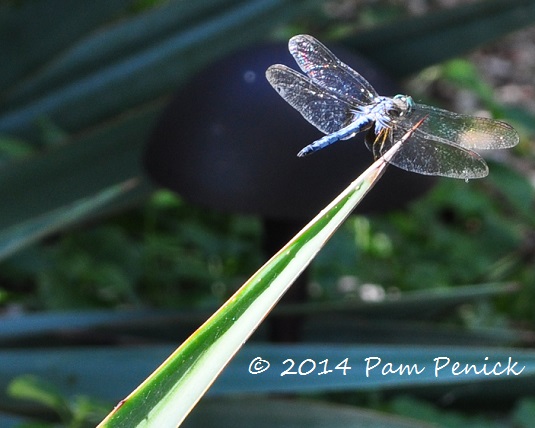 Lee gardens with a goal of attracting wildlife, with flowering prairie plants like coneflower where he has more sun along the driveway, and plenty of roosting and nesting places for birds, insects, and other beneficial wildlife.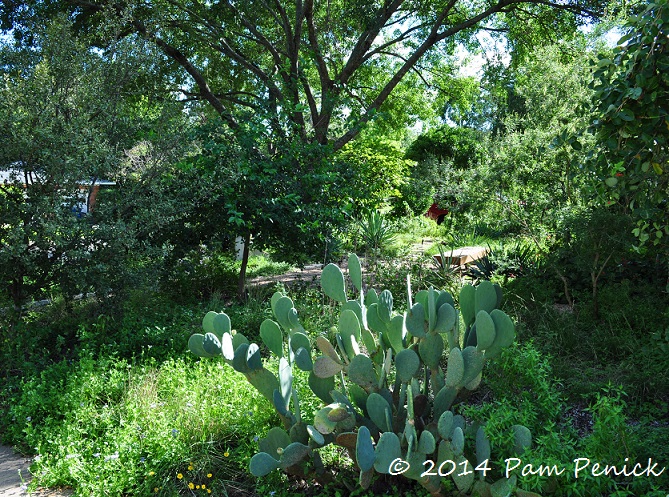 He lets plants stand after they go to seed in order to provide food for birds. A large spineless prickly pear adds structure to this "wilder" section of the garden.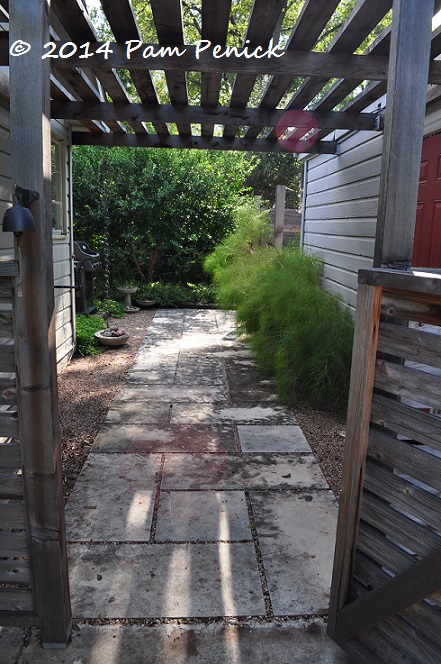 Around back, a wood-slat arbor and gate invite you into the back garden. Spanning the gap between house and detached garage, the arbor offers shade from the Death Star and enclosure for their dog. A lovely cut-stone path set in gravel draws the eye and foot into the space.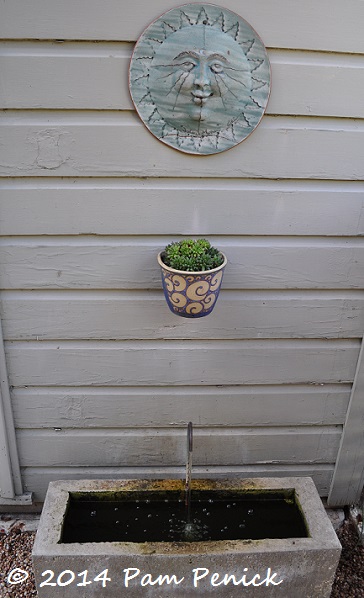 To the right, on the wall of the garage, a trough fountain with a small copper spout pours a thin stream of water that seems to cool the sizzle of a hot day.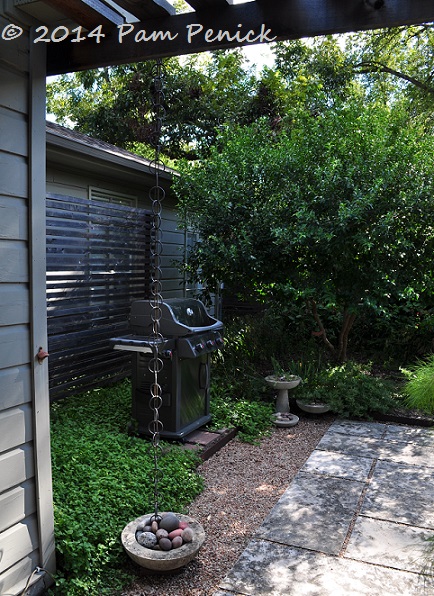 Ahead, a grilling station is set up near the back door, which leads to the kitchen. Hanging from a corner of the eave, a rain chain directs rainwater, when it comes, to a bowl filled with colorful, egg-shaped river rocks.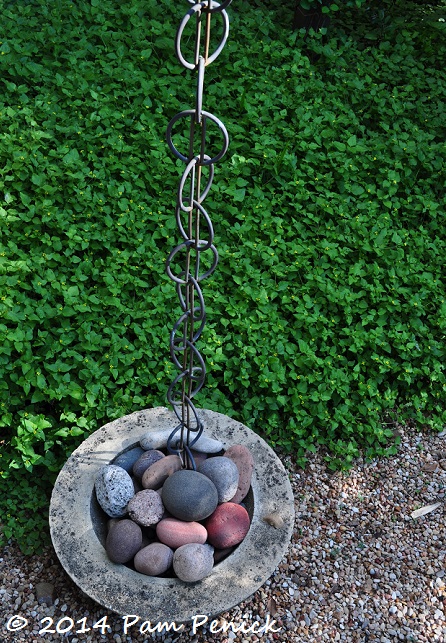 Native horseherb (Calyptocarpus vialis), considered a weed by some, provides a low-maintenance, no-water groundcover.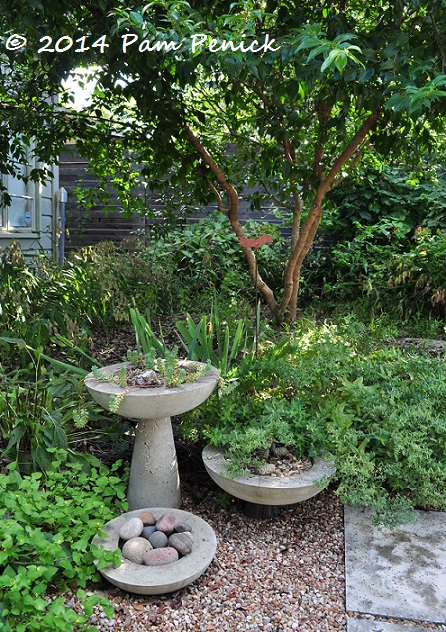 I think Lee made these concrete bowls, which he uses as succulent planters and to hold pretty river rocks.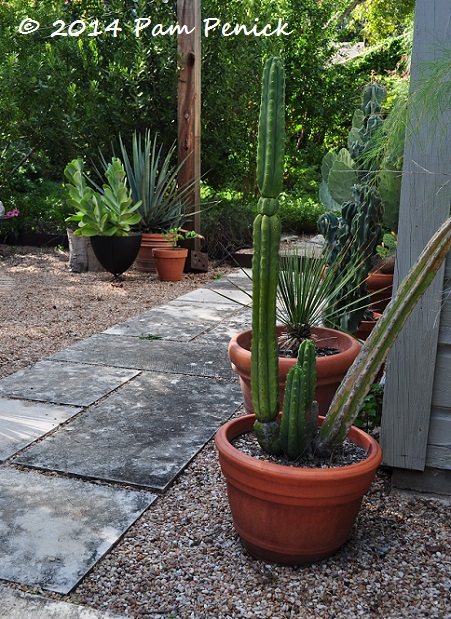 The stone path makes a right-angle turn behind the garage, leading to a gravel patio and, farther along, to an herb garden. Here at the corner, terracotta pots of cactus and succulents attract the eye…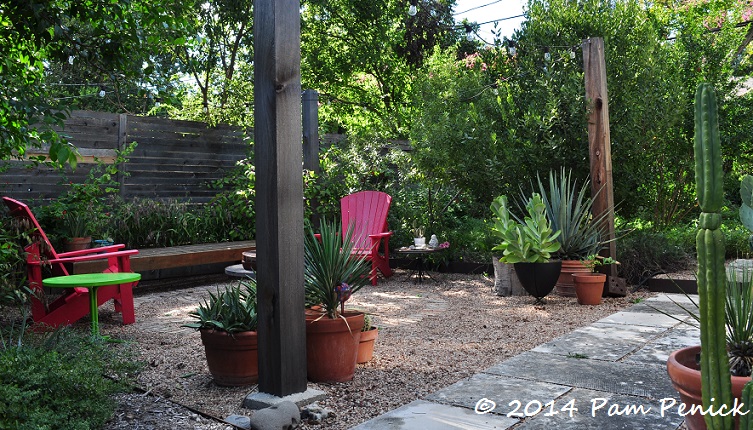 …and soften the base of four cedar posts that support a "ceiling" of string lights around the gravel patio.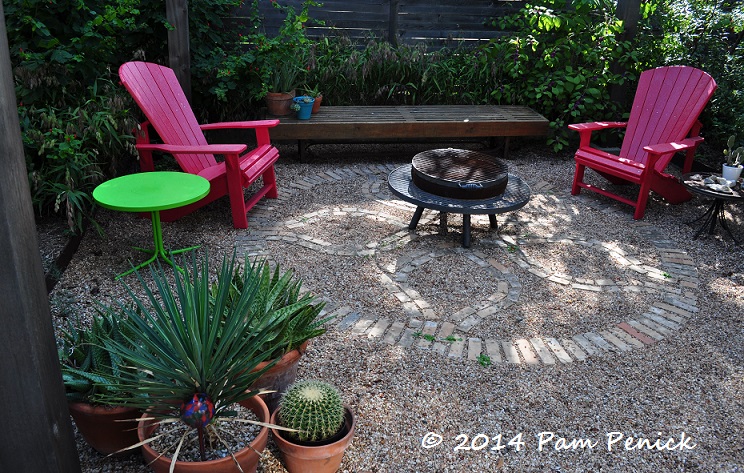 Lee and John inherited the mortared-brick Celtic knot with the house, but they enlarged the patio space around it to make more room for entertaining. It's a beautiful focal point for their patio.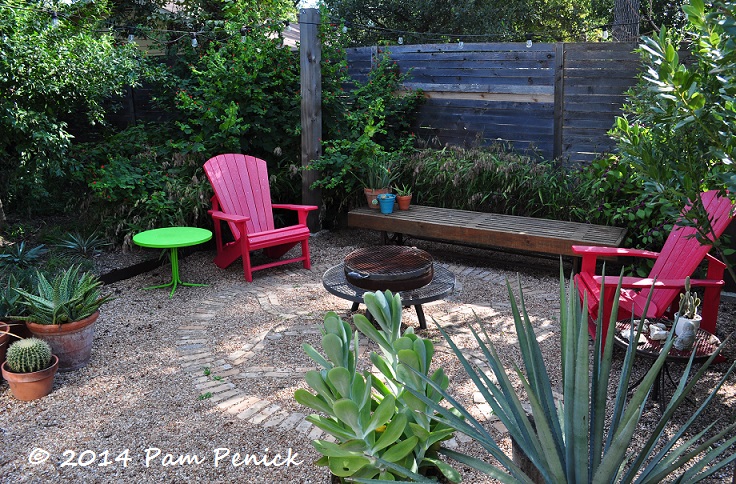 They made the 8-foot-long wooden bench themselves. It's backed by a fringe of inland sea oats (Chasmanthium latifolium).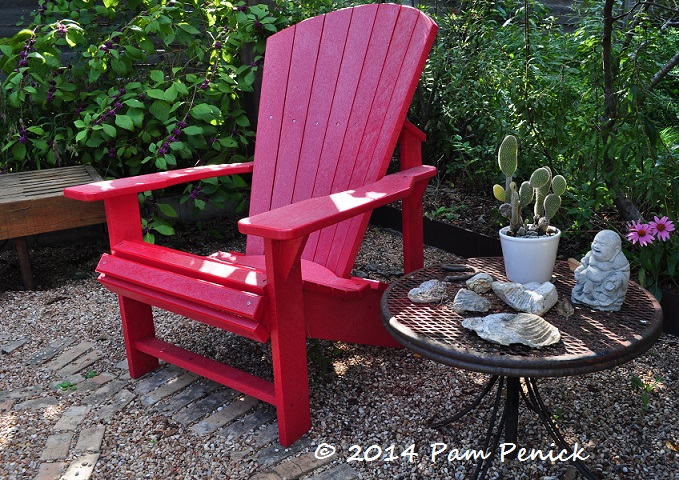 Red, recycled-plastic Adirondacks add hot color.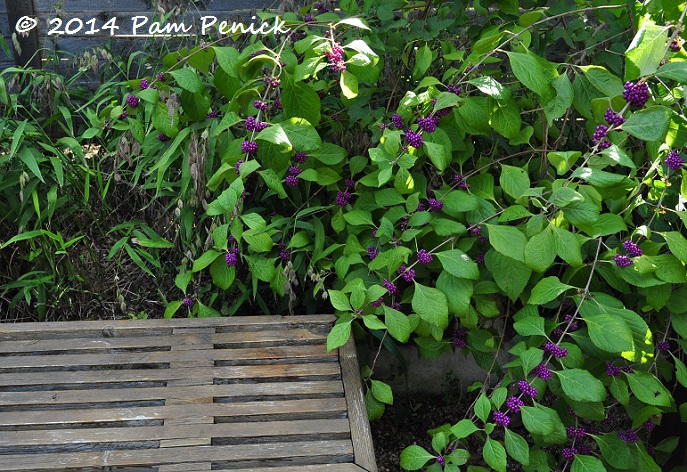 The purple berries of American beautyberry (Callicarpa americana) add plenty of rich color too.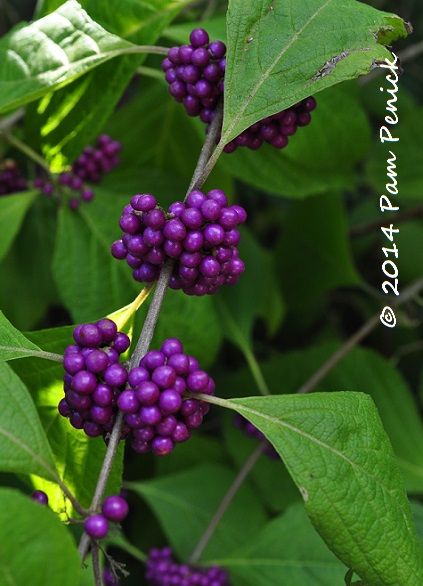 Enjoy them while you can, before the mockingbirds find them!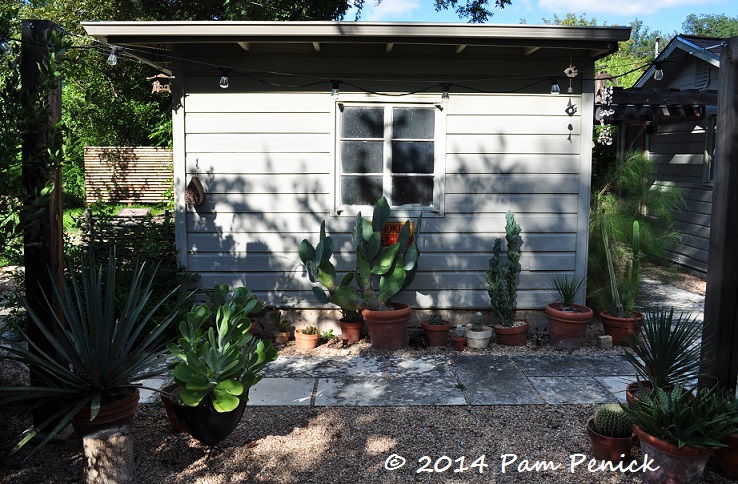 The back of the garage is a place for Lee to showcase his potted-plant collection. He and John also use the wall (hung with a sheet, I assume) for showing outdoor movies with friends.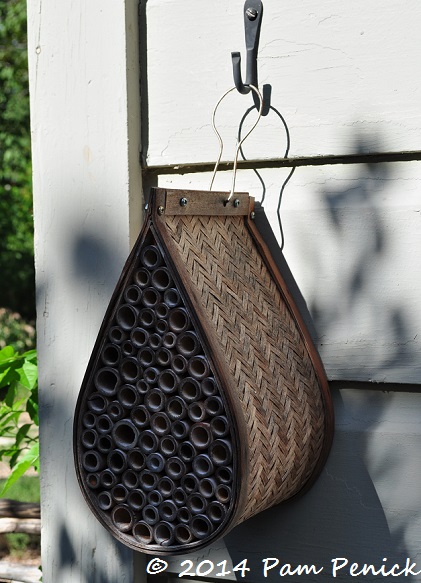 An insect hotel hangs from the corner of the house, part of Lee's effort to attract bees and other beneficial bugs.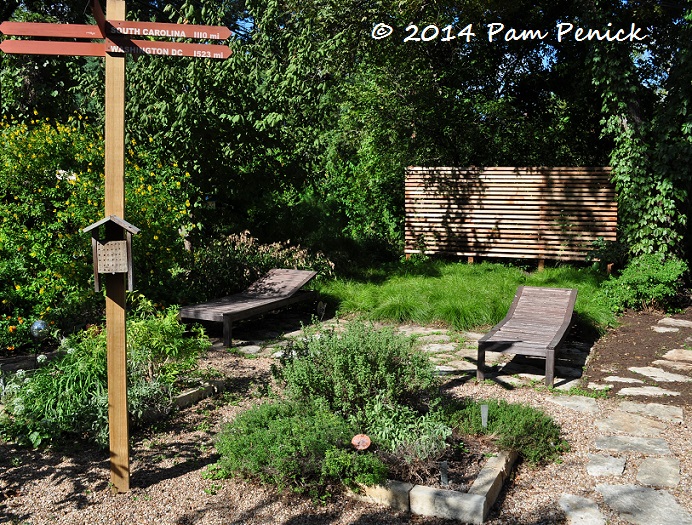 Behind the garage, Lee and John made a small, raised-bed herb garden. Anchoring the space is a signpost pointing to places that have special meaning to them. Wooden chaise lounges offer a place to catch a little sun, and a wooden-slat screen hides a view of the neighbor's yard. In front of the screen, a tufted lawnette of Texas sedge (Carex texensis) makes an emerald groundcover.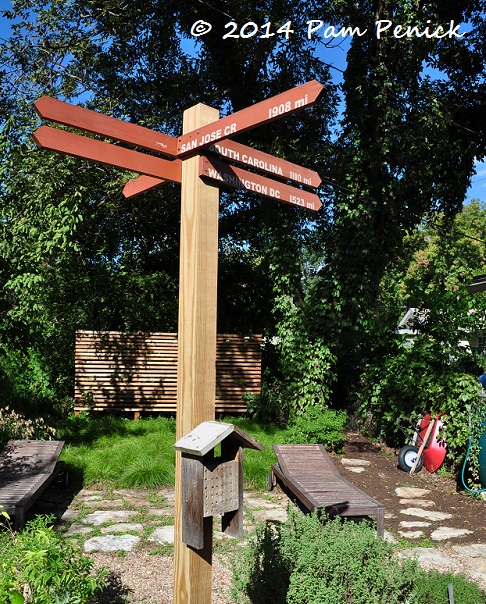 We live in a big country, don't we? A thousand miles, at least, whether you head for the East Coast or the West.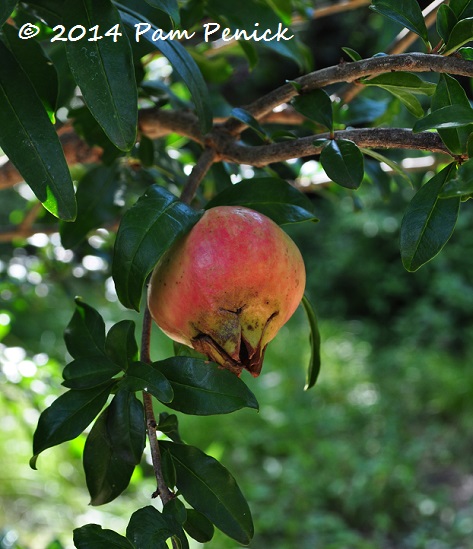 Pomegranates are ripening.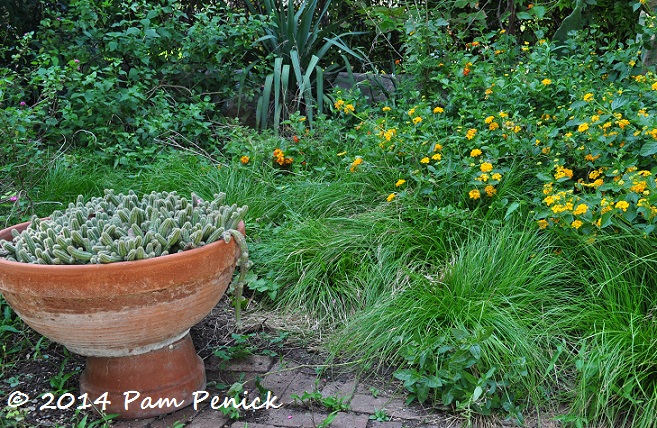 And lantana is blooming — more fall color that attracts butterflies.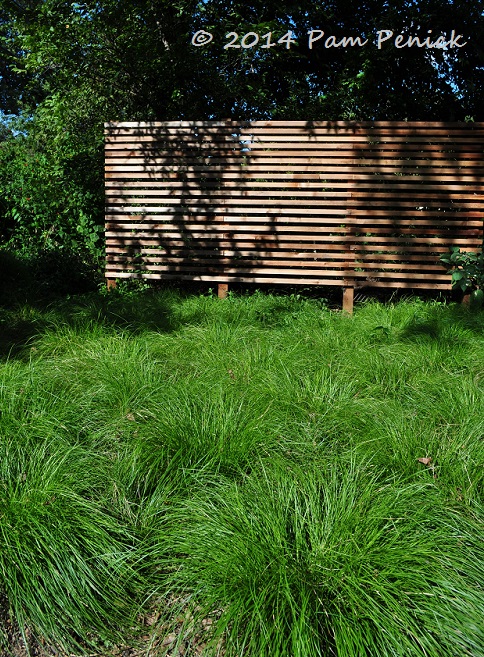 And here's another look at the Texas sedge lawnette.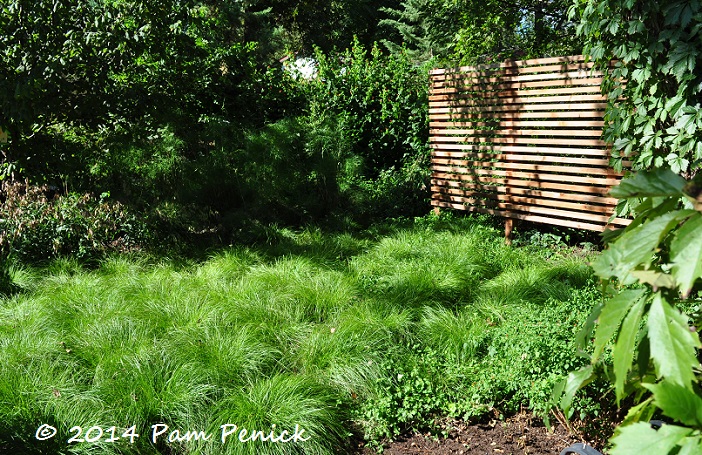 I love that quilted look.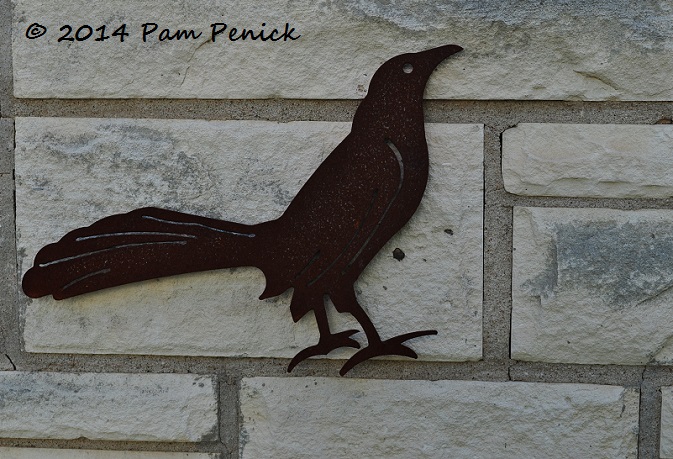 A metal grackle is a reminder that this is the home of The Grackle blog. If you haven't ever read it, do. Lee's posts are always thoughtful and beautifully photographed, with good information about wildlife and native-plant gardening and Tex-Zen design.
My thanks to Lee and John for sharing their inspiring waterwise garden with me again. Readers, if this has whetted your appetite for more, click for my spring 2012 visit to Lee's garden. Also, see Lee and John discuss the design of their garden on Central Texas Gardener.
This is my October post for Foliage Follow-Up. I'd love to know what lovely leaves are making you happy in your October garden (or one you've visited). Please join me for Foliage Follow-Up, giving foliage plants their due on the day after Bloom Day. Leave your link to your Foliage Follow-Up post in a comment. I really appreciate it if you'll also include a link to this post in your own post (sharing link love!). If you can't post so soon after Bloom Day, no worries. Just leave your link when you get to it.
All material © 2006-2014 by Pam Penick for Digging. Unauthorized reproduction prohibited.
posted in
Agaves
,
Arbors
,
Berries
,
Birds
,
Cactus
,
Containers
,
Decor
,
Dragonflies
,
Edibles
,
Fences
,
Foliage Follow-Up
,
Fountains
,
Garden art
,
Garden tours 2014
,
Grasses
,
Groundcovers
,
Lawn Gone!
,
Lighting
,
Palms/Cycads
,
Paths
,
Patios & decks
,
Rock
,
Sculpture
,
Seating
,
Sustainable Gardening
,
Texas natives
,
Trees
,
Trellis
,
Water conservation
,
Water features
,
Xeric plants
,
Yuccas