September 19th, 2014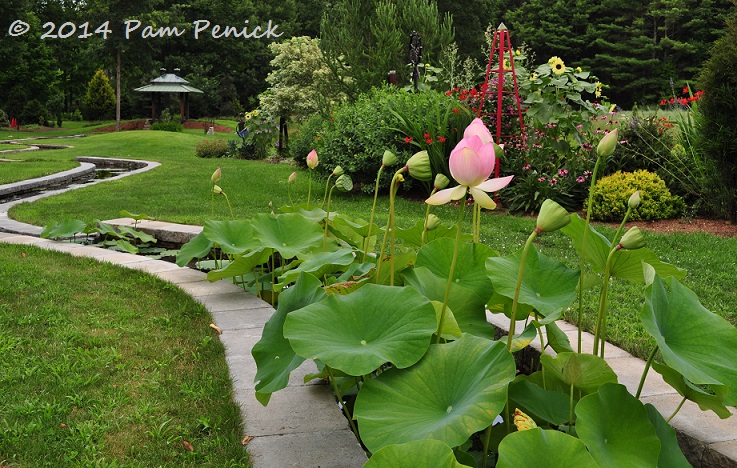 Acres of poison ivy and scrub brush had overrun the old dairy farm in Lee, New Hampshire, when Jill Nooney and her husband, Bob Munger, purchased it in 1980. Undaunted, the couple began a decades-long process of clearing weeds and making planting beds, eventually creating a 20-acre garden of formally structured axis views; intimate, hedged garden rooms; undulating, English-style borders; a meadowy vista; a wriggly rill and ponds; a dark-fantasy woodland garden; an Asian teahouse; and, throughout, inviting, sit-a-while viewing platforms and patios.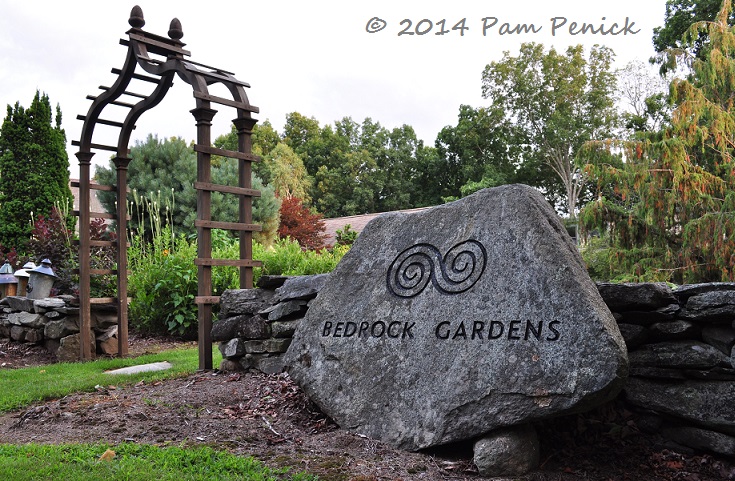 Underfoot, exposed ledge stone gave Jill and Bob a name for their creation, Bedrock Gardens.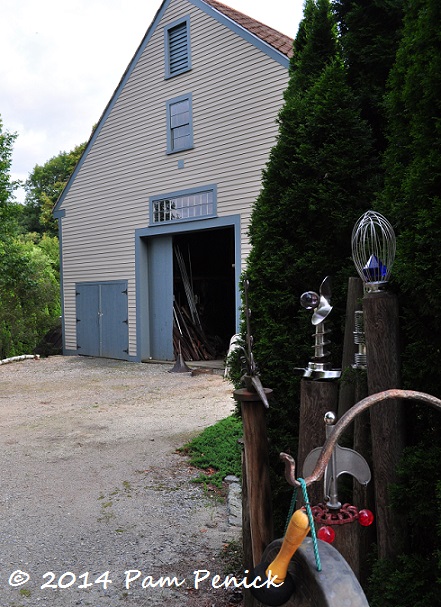 Aside from designing and planting Bedrock's extensive gardens herself, Jill is a clinical social worker and an artist who turns found objects and old farm equipment into one-of-a-kind sculptural pieces, which she sells through her company Fine Garden Art. Bob, a retired physician, is her "problem solver," the garden's builder and fix-it man who created the numerous water features and structures and provides muscle as needed. Each says they couldn't have made the garden without each other. They are a truly complementary team.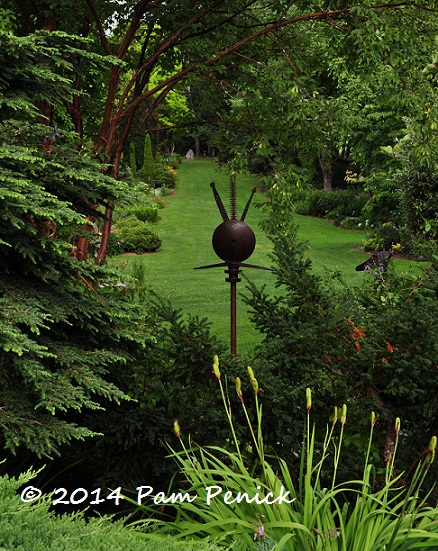 My family and I were lucky enough to visit during our New Hampshire vacation this summer. Our travel schedules unfortunately kept us from meeting the owners in person, but Jill kindly invited us to come on our own one day to get photos for a Garden Design article I was writing.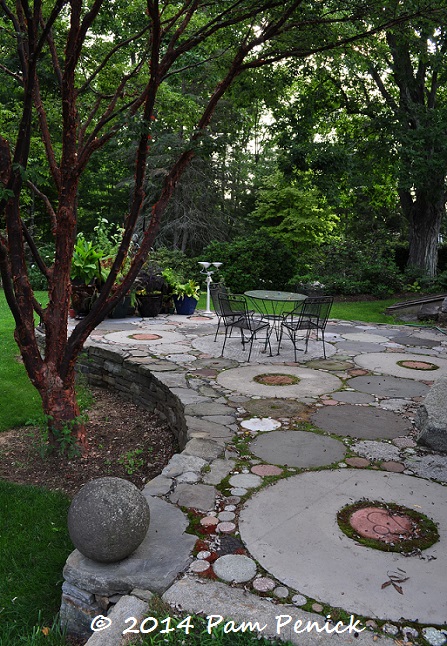 We arrived on a late July day just before sunset and roamed where we liked, drawn along by long axis views, Jill's sculptures, and creatively designed spaces like the Circle Patio, which Jill and Bob pieced together from an old millstone, concrete rounds, and small granite circles cut out of countertop slabs for faucet plumbing, which Jill got for free from a local granite supplier.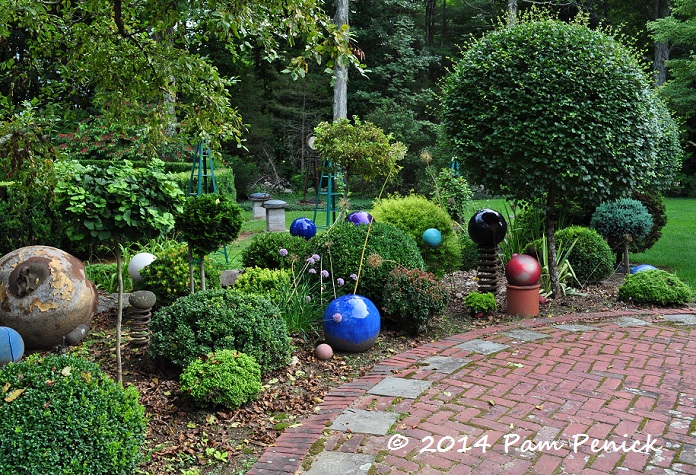 Next to the Circle Patio is Jill's smile-inducing All-You-Need-Is-Balls Garden, with spherically clipped shrubs and trees, globe-shaped flowers like allium, and an assortment of ceramic and glass balls.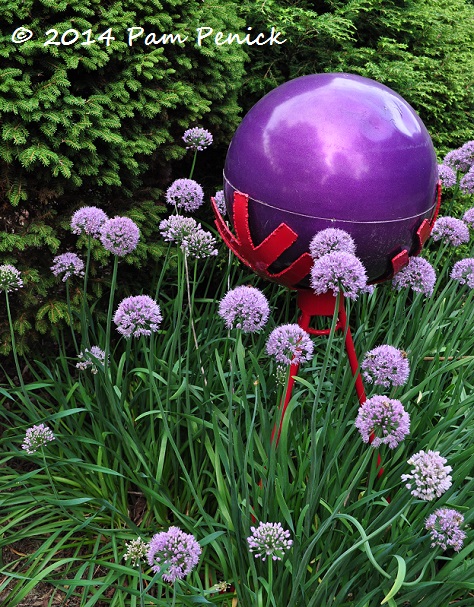 Jill is having fun, playing with color and form, blending art and plants to create a fanciful garden journey.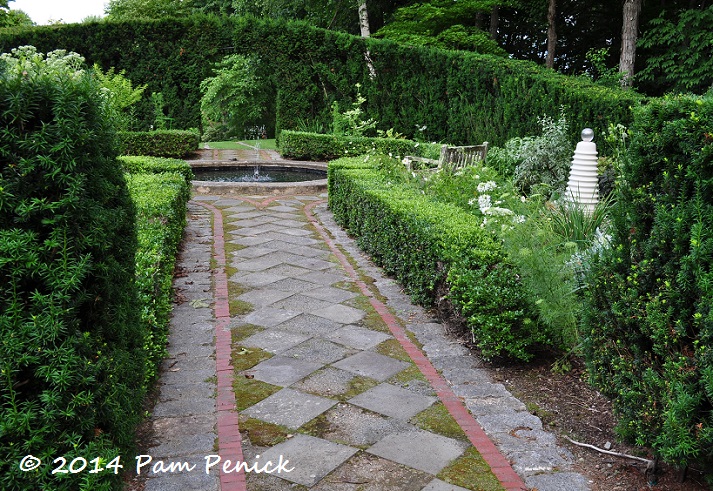 A lawn off the Balls Garden leads to a more formal space, a white-flowering parterre garden with an arched doorway cut into the yew hedge at the far end.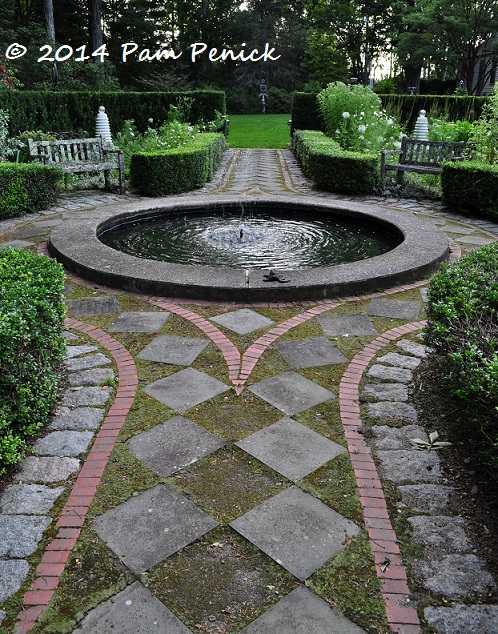 Looking back the way we came: symmetry and an axis view toward one of Jill's sculptures.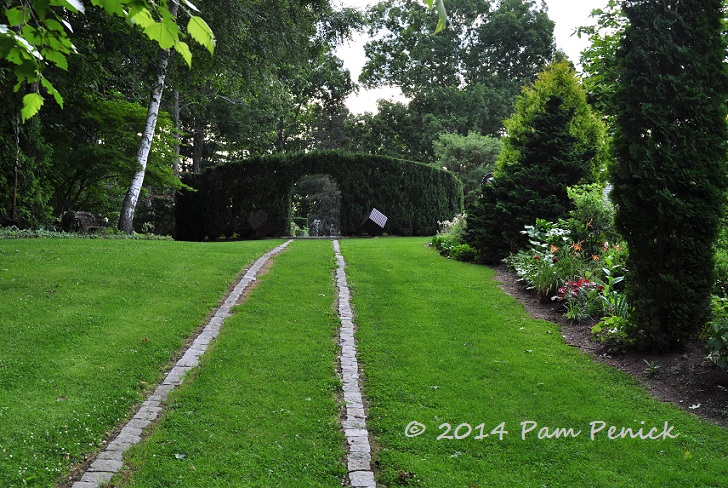 The theatrical hedge doorway leads downhill, with cobblestone tracks directing the eye along the axis view.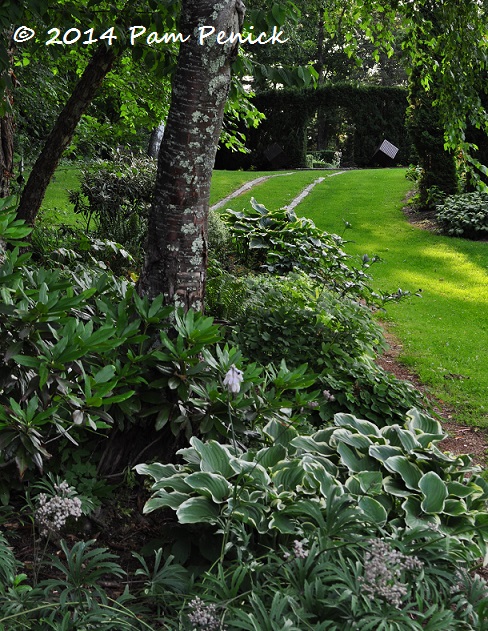 Following the tracks, you come to a shade garden under a wooded border. But before we head any further down this path…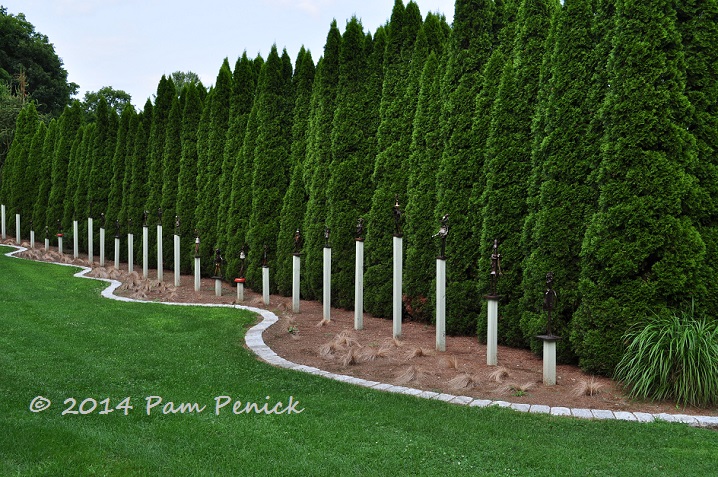 …let's go back to the sunnier gardens that appear to your left as you exit the parterre garden. A tall hedge of arborvitae screens the main garden from view of the house, and the property's cavernous old barn from view of the garden. The hedge serves as an emerald frame for a sine-wave display of foot-high metal figures balanced atop wooden posts.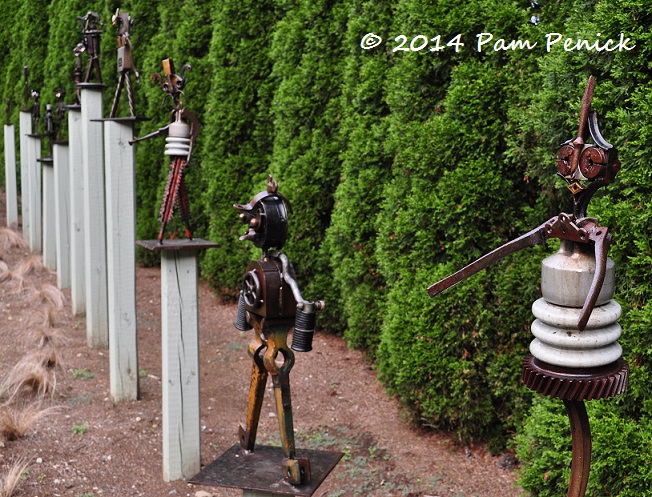 Each one is unique…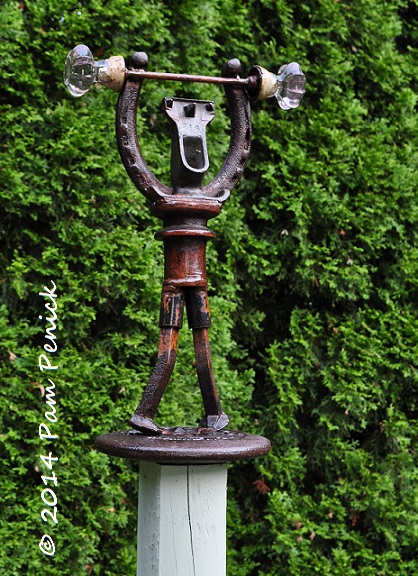 …made of whatever spare pieces Jill could find.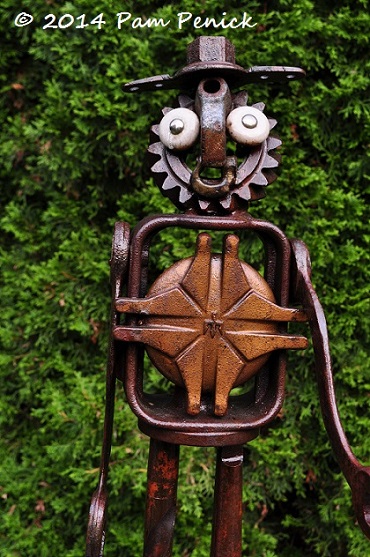 Aren't they fun?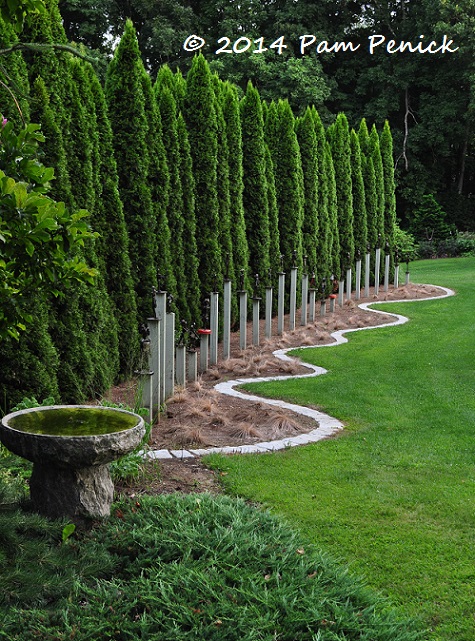 Looking back in the other direction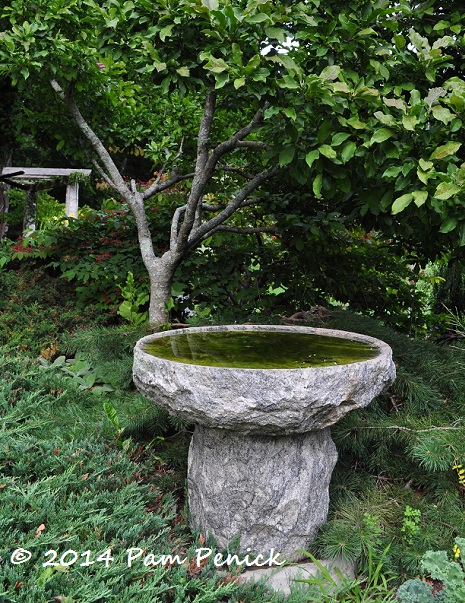 At this end, a carved-stone basin of water recalls the bedrock theme, and in the distance you see a pergola, which begs to be investigated — and I did. But first I want to lead you…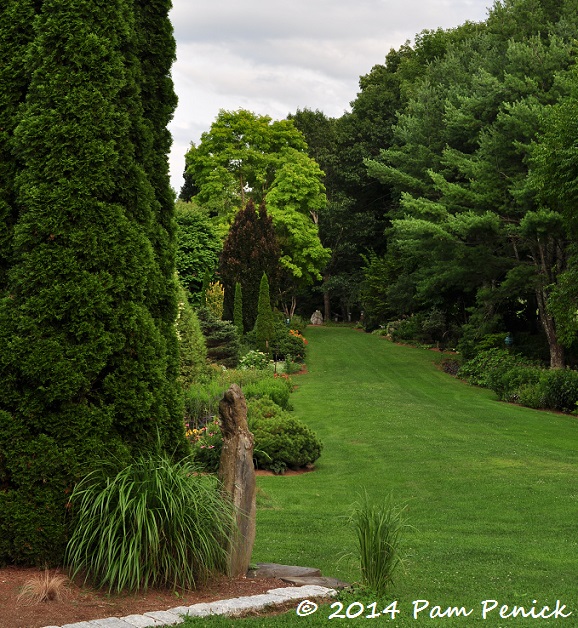 …around the arborvitae hedge, past a quick peek at a long axis view down to Hex Rock, the pale, upright boulder in the distance…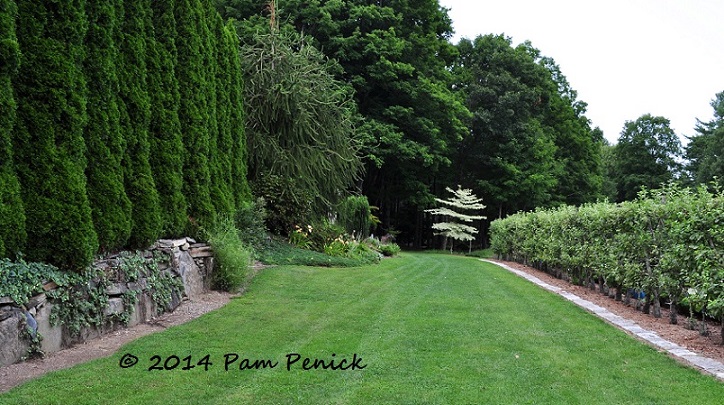 …to the next level of the garden, just below a stone wall and the hedge. A fence of espaliered apple trees edges a long, narrow lawn, and the view terminates at a variegated dogwood tree, which glows like moonlight against the dark-green woods — proving that a well-placed plant can be used just like sculpture in attracting the eye and terminating a sight line.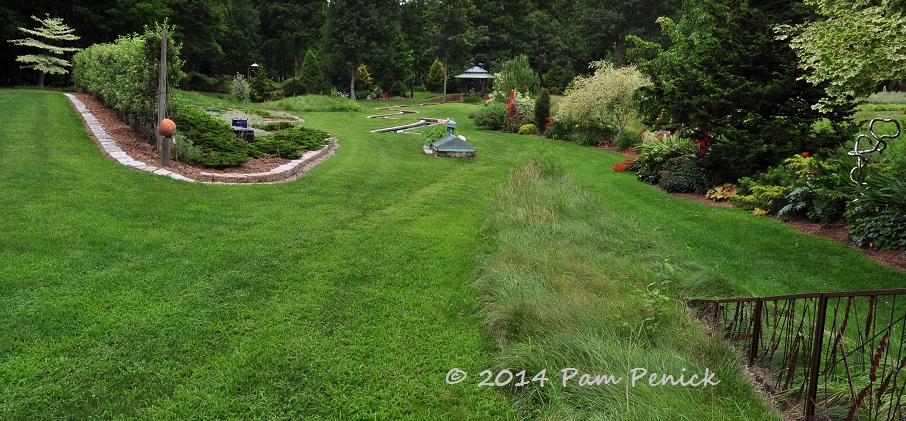 Like the arborvitae hedge, the espalier fence screens the rest of the garden from view, so as you enter this more-expansive space you experience a feeling of delight. Or at least I did.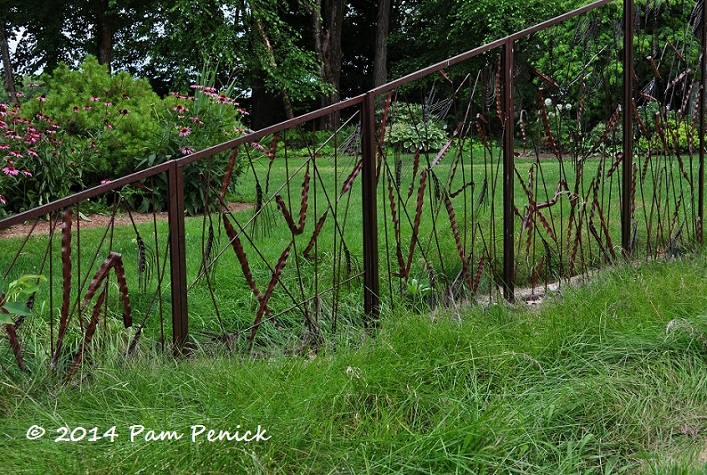 At right, a wedge-shaped metal screen with a cattail motif set in a bed of shaggy grasses introduces the idea of a bog garden.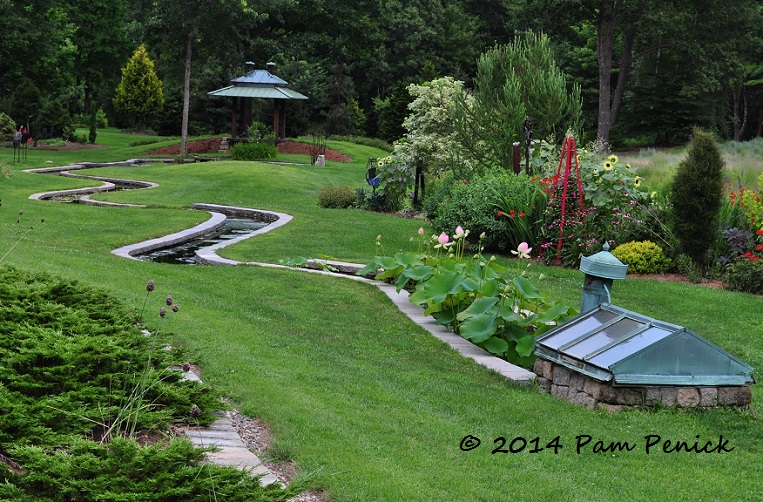 It points the way to a captivating, eely rill, which Jill and Bob have dubbed the Wiggle Waggle. This curvy, 200-foot channel flows from the Spring House to the CopTop covered patio in the distance. Both structures are capped by old copper-framed skylights.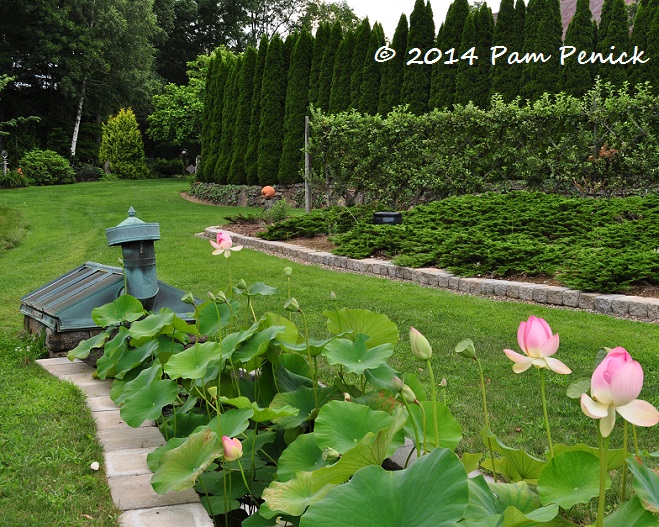 Lotus bloom with abandon in the Wiggle Waggle, their ruffled-parasol leaves held high above the water.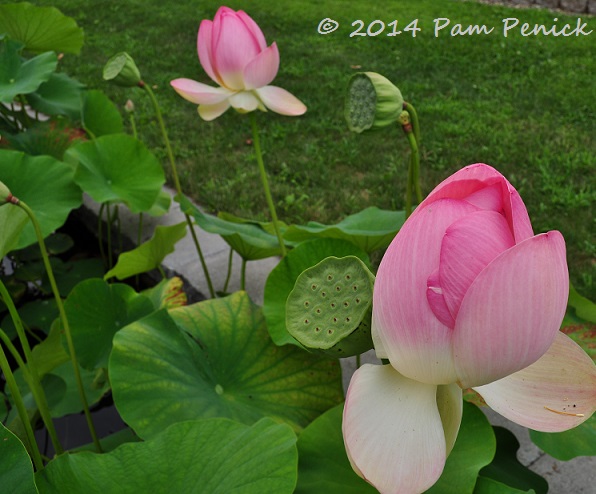 Their blossoms are like fat, pink cheeks you want to pinch.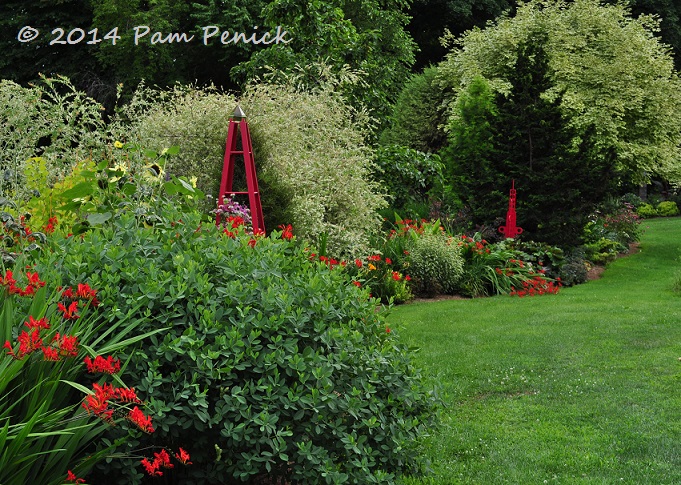 Undulating alongside the rill is the Garish Garden, so-called by Jill for the riot of perennial color. But, red-lover that I am, it didn't look garish to me. I loved the red crocosmia and sculptural pieces skipping along the border's edge, backed by frothy, variegated trees and shrubs.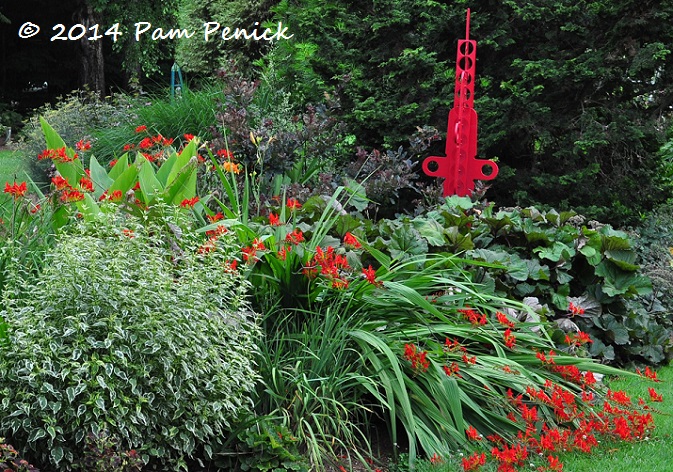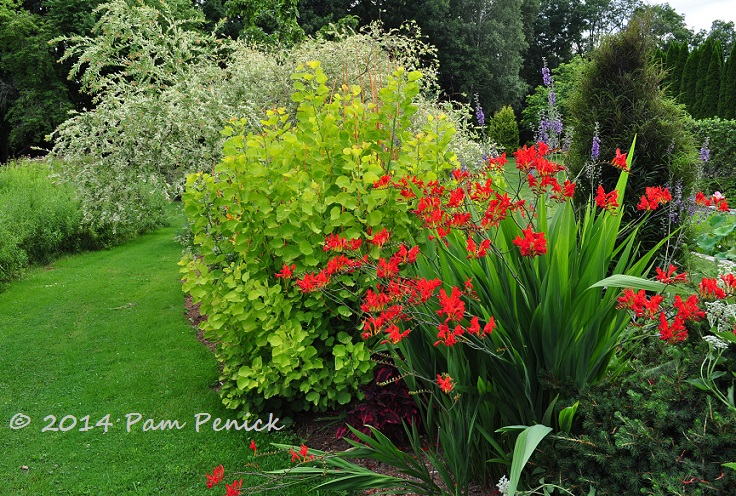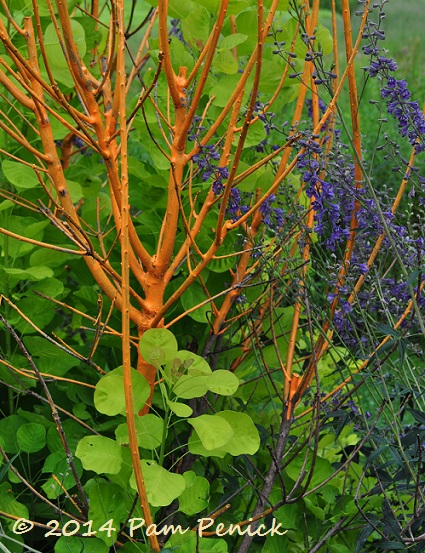 Even dead plants can be painted a fun color.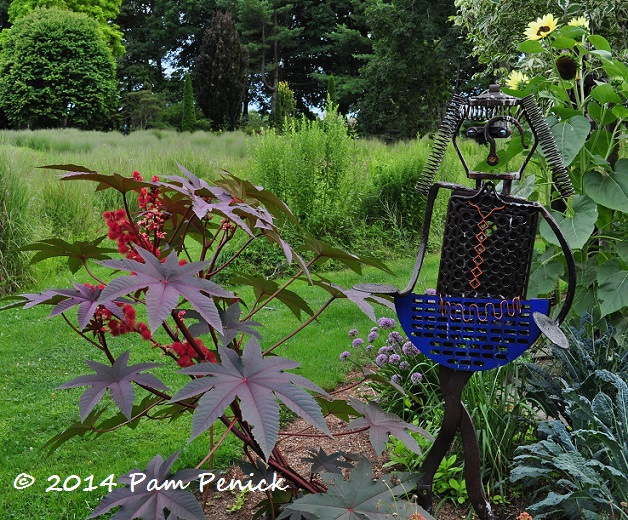 One of Jill's pieces — like something out of The Jetsons — poses flirtatiously next to the bold leaves of castor bean.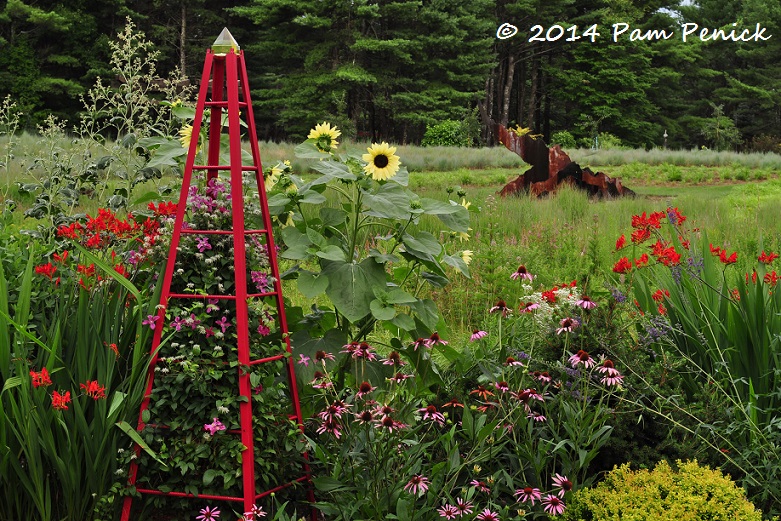 Looking through the border you get a glimpse of GrassAcre, a central meadow anchored by the sculpture SyncoPeaks, inspired, Jill told me, by Japanese brush paintings of layered mountain views. In the foreground is another of Jill's pieces, a powder-coated tuteur made of angle iron and rebar, with a replica deck prism from Mystic Seaport on top. She sells these in various colors.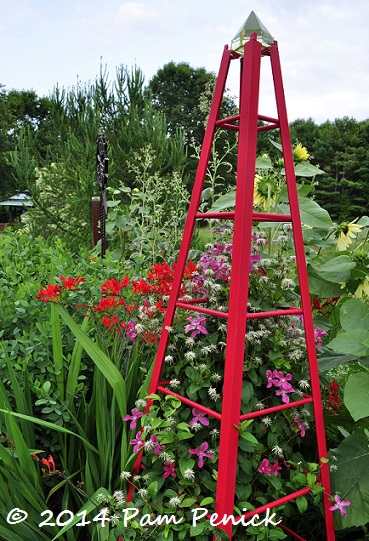 Another view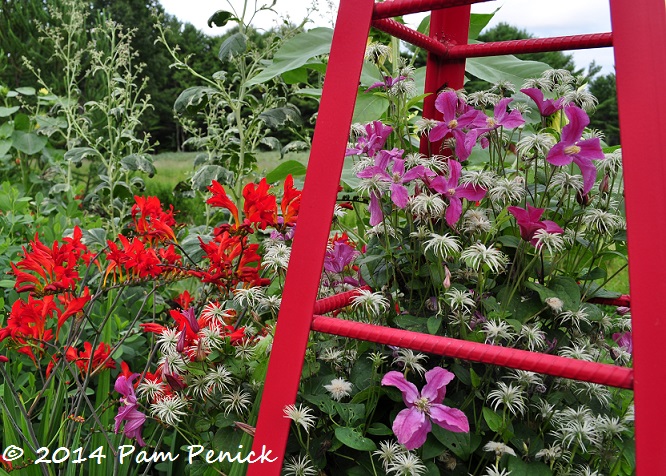 Do pink and red clash? Not to my eye.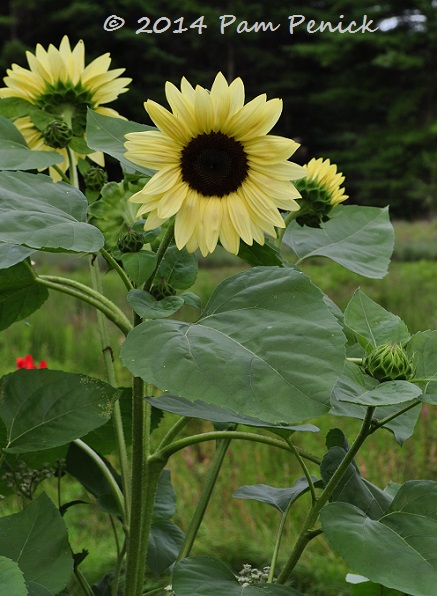 A few sunflowers stand tall in the border too.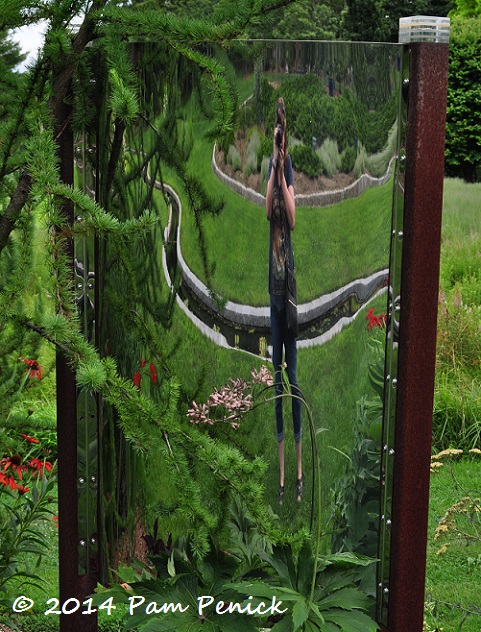 A funhouse mirror — a borrowed piece, not one of Jill's — struck me as a good place for a selfie.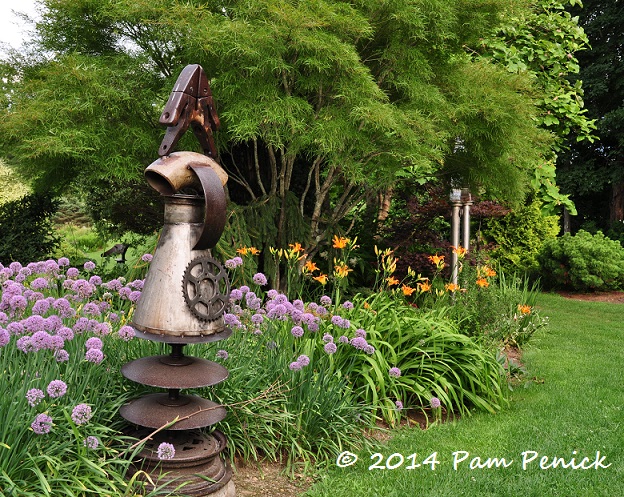 Other sculptures, some for sale and some not, appear along the length of the border.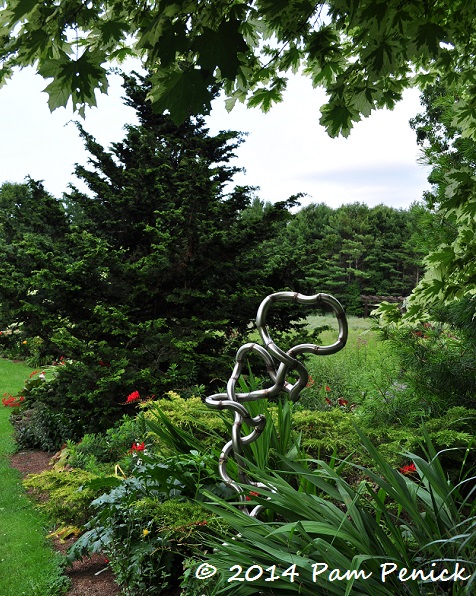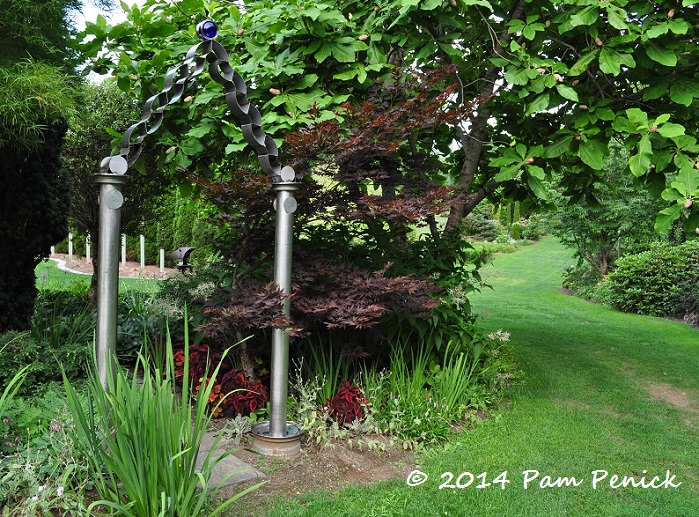 Jill makes garden arches too. The columns on this one came from an old printing press.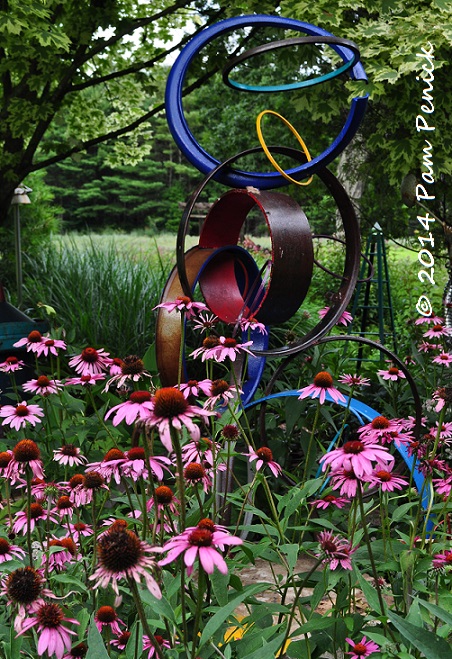 I fell in love with her Ring Toss sculpture, which looks great in a bed of round-top purple coneflower.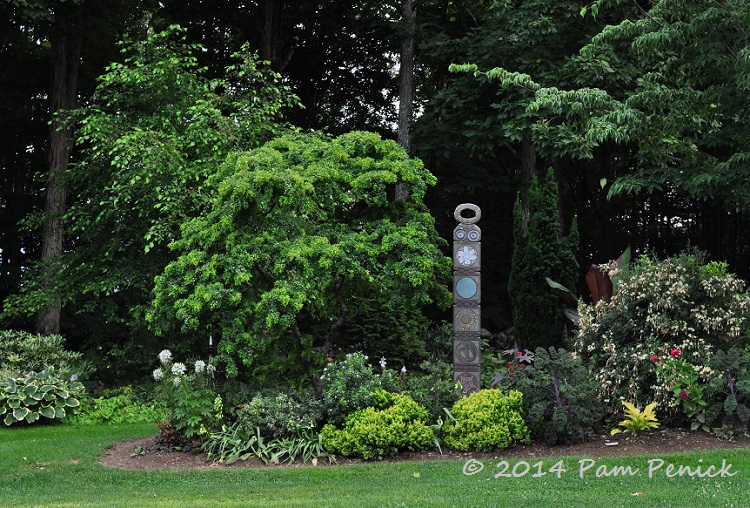 I like this totem pole too, a slab of mahogany that Jill spent one winter carving and painting.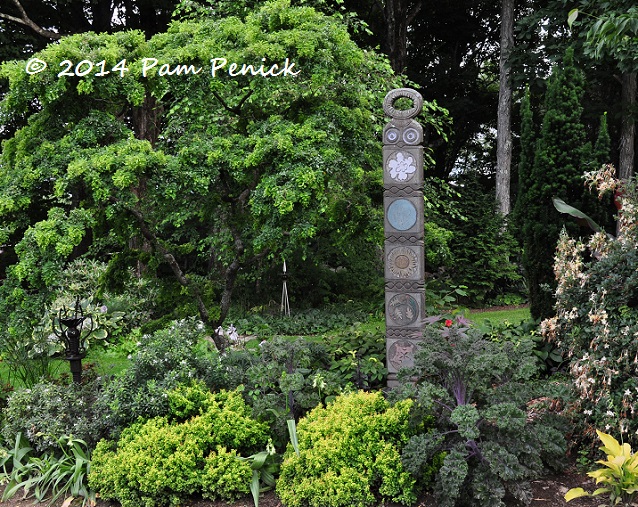 The engraved, painted images on this side represent the seasons. On the back are carvings representing the elements.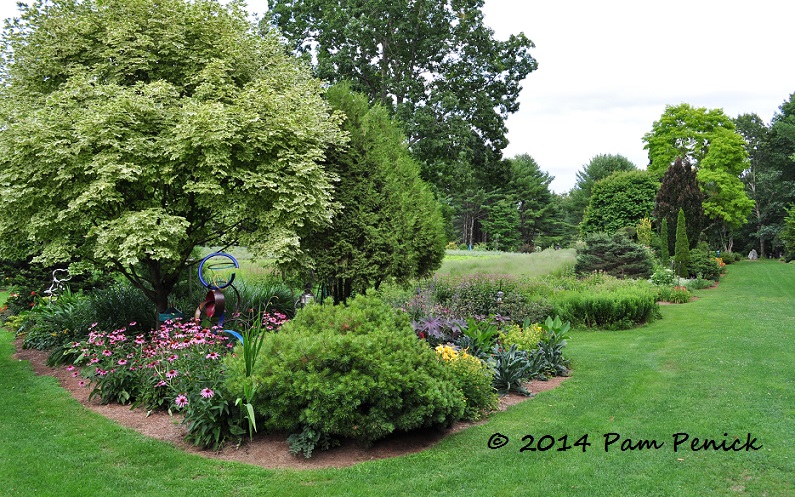 Here's a wide view of the border where it turns the corner and joins the axis view looking toward Hex Rock.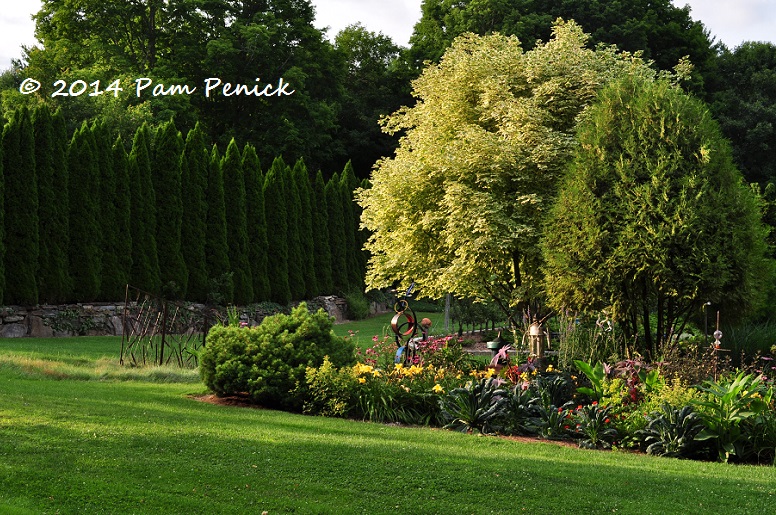 And from a different perspective, with the setting sun gilding the tips of the arborvitae hedge.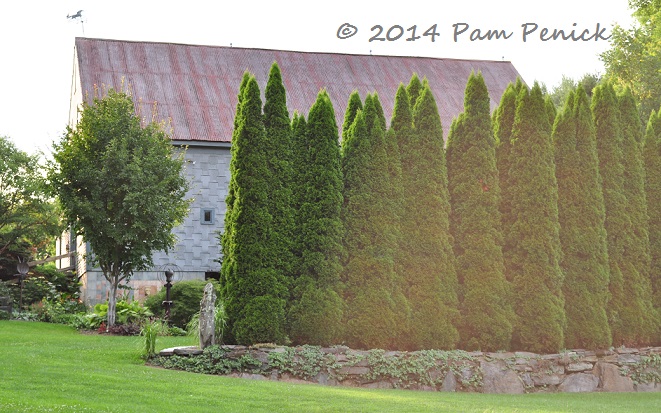 That barn behind the hedge is 200 years old and was the repository for many of the old tools and farm equipment that Jill repurposes into her art.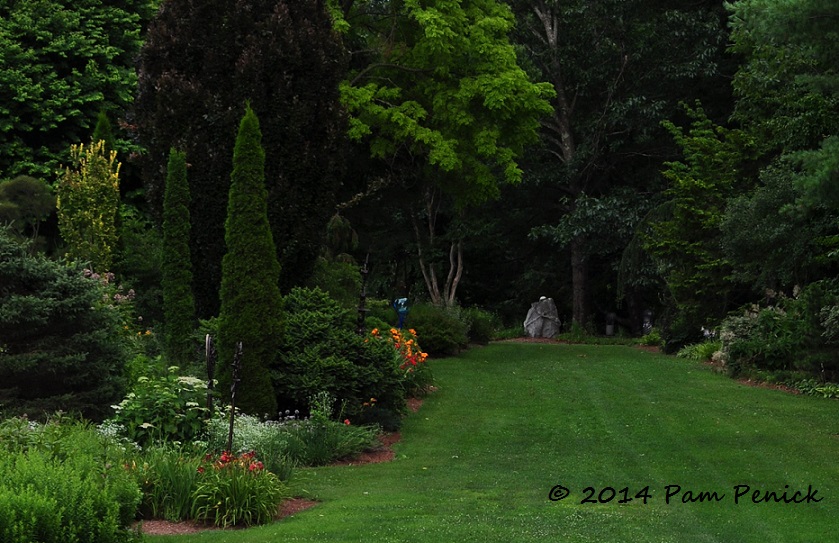 Turning back to the long axis, with Hex Rock at the end to draw the eye. I found this so beautiful, with layers of lushness and foliage color — rich burgundies, golden yellows, and deep greens — that we just can't match in gray-green central Texas.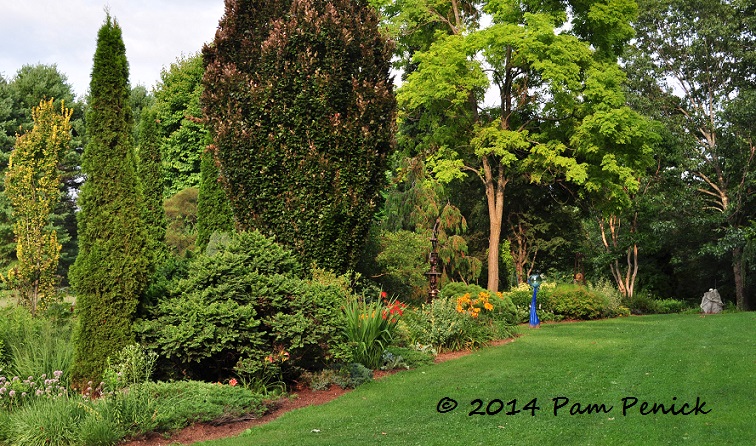 The golden columnar elm at left is Ulmus x hollandica 'Wredei'. The green pyramidal trees are Thuja occidentalis 'Degroot's Spire'. And the large, dark-leaved tree is a European beech cultivar, Fagus sylvatica 'Red Obelisk'.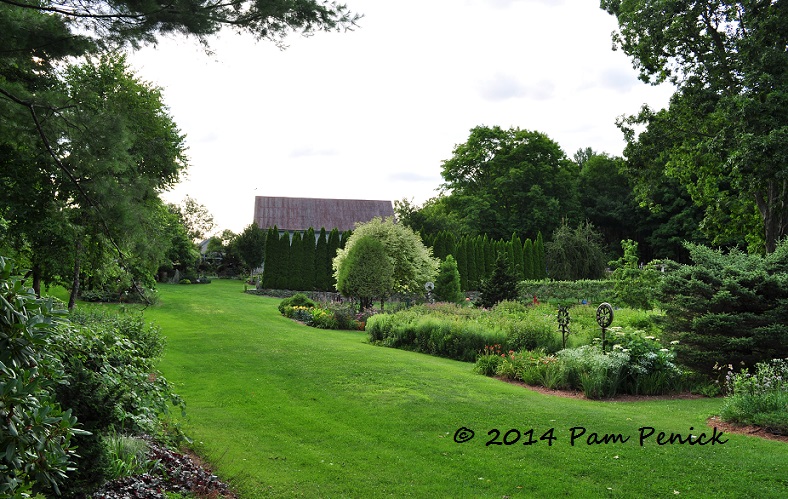 Looking back up the long lawn toward the barn, a lovely view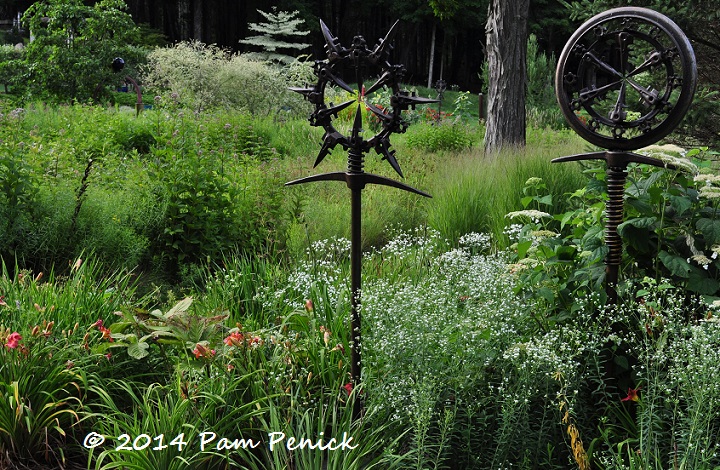 More of Jill's art — solid pieces amid frothy flowering plants.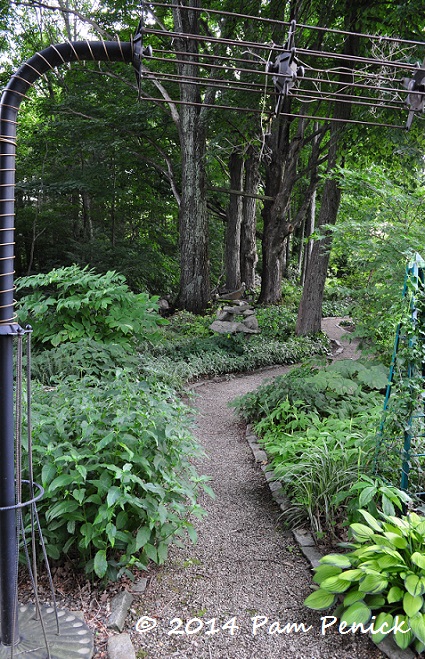 At left, under a narrow band of trees between Jill and Bob's garden and a neighboring horse pasture, a shade garden invites you in with a quirky arbor and winding gravel path.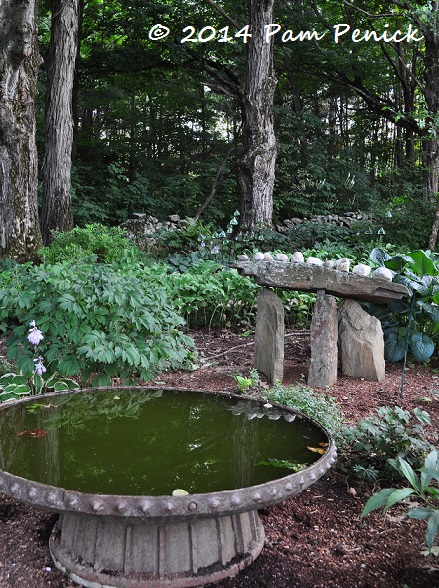 Another pool of water in a large dish reflects the surrounding trees. A sort of mini Stonehenge stands behind it.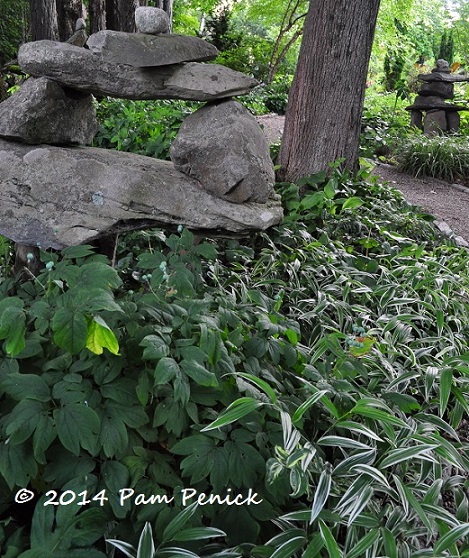 Stones stacked and balanced into sculptures, some with windows, stand along the path's edge like waymarkers. They were inspired, says Jill, by cairns atop New Hampshire's Mt. Washington.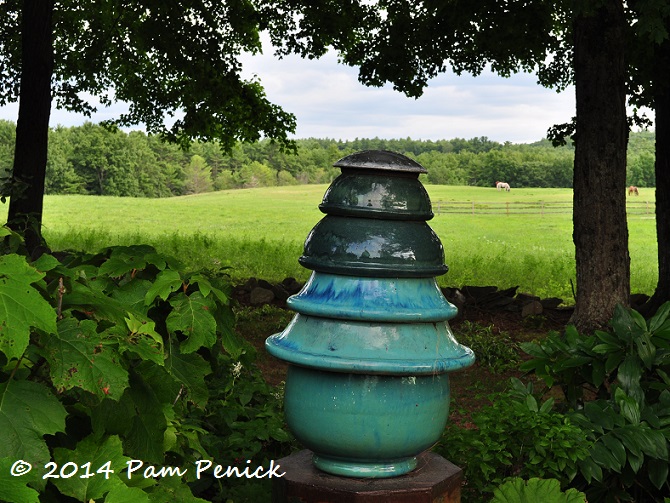 A pagoda-like stack of glazed pots or bowls, set on an octagonal pedestal, calls attention to the borrowed view of the neighboring horse pasture.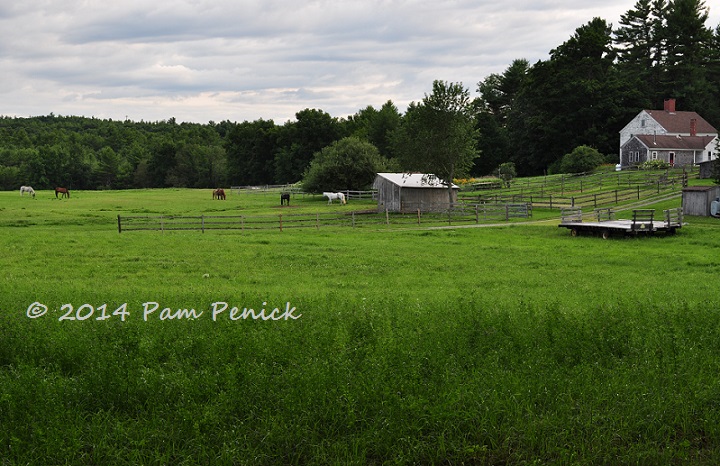 Chairs made of old farm equipment (not pictured), placed at the edge of the garden, overlook this bucolic view.
This ends part 1 of my tour of Bedrock Gardens. Stay tuned for part 2, which includes the eerie Dark Woods, a teahouse garden, ponds, GrassAcre, and more.
FYI, if you're close enough to visit, Jill and Bob open their garden to the public every third weekend from May through October, including this weekend. A suggested donation of $8 per adult (children are free) goes to the Friends of Bedrock Gardens public charity, which is working to transition Bedrock to a public garden.
All material © 2006-2014 by Pam Penick for Digging. Unauthorized reproduction prohibited.
posted in
Annuals
,
Arbors
,
Daylily
,
Farms
,
Garden art
,
Garden structures
,
Garden tours 2014
,
Grasses
,
Lawns
,
Paths
,
Patios & decks
,
Ponds
,
Prairie/Meadow
,
Rills
,
Rivers & creeks
,
Rock
,
Sculpture
,
Seating
,
Travel
,
Trees
,
Trellis
,
Views
,
Vines
,
Walls
,
Water features
,
Water gardening