August 24th, 2014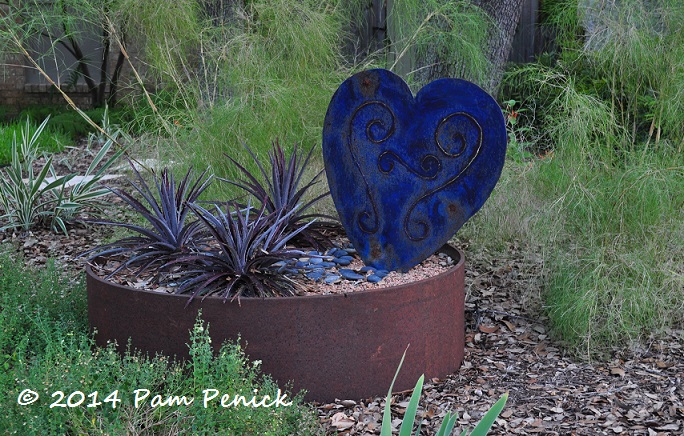 Whew! After writing 16 posts about Portland gardens, each containing scads of photos of summer-lush and richly blooming borders, I'm somehow ready for a return to my own Death Star-blasted garden. August is my least favorite gardening month here in Austin. I'm over the heat. I'm over the humidity. I'm over, over, over summer.
And yet there's love, still, for the garden as it patiently — much more patiently than I — awaits the reviving touch of fall.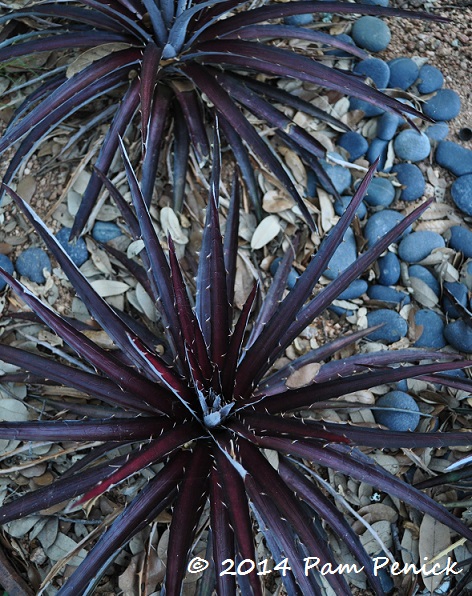 Last evening I strolled through the front garden at sunset, taking a closer look than I've done in weeks. The trio of 'Burgundy Ice' dyckia (two are replacements after the cold snap last winter) is looking quite sharp.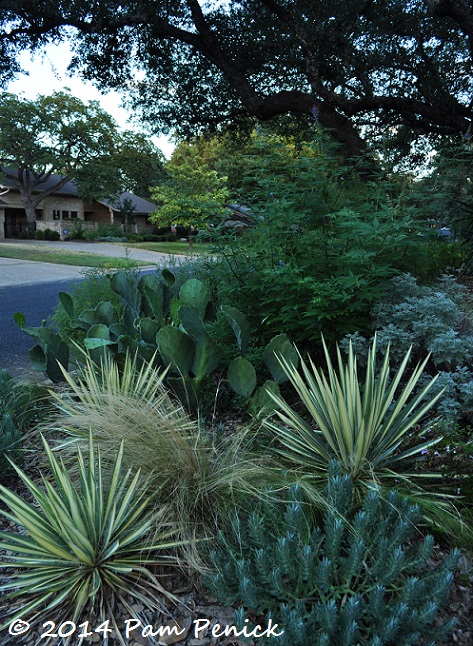 The west side of the driveway-island bed is looking good too despite my neglect. 'Color Guard' yucca, gopher plant (Euphorbia rigida), Mexican feathergrass (Nassella tenuissima), wavy prickly pear (Opuntia), 'Powis Castle' artemisia, and Vitex agnus-castus don't ask for much except sun and an occasional deep watering to look their best, even in summer.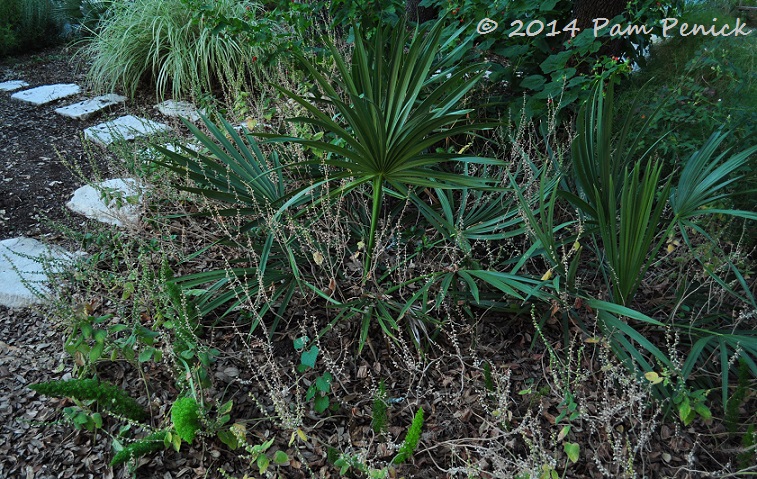 In the shade of the live oaks, heartleaf skullcap (Scutellaria ovata) has gone to seed, leaving a trio of Texas dwarf palmettos (Sabal minor) to strut their stuff. They'd look better if I trimmed back the spent skullcap, but oh well.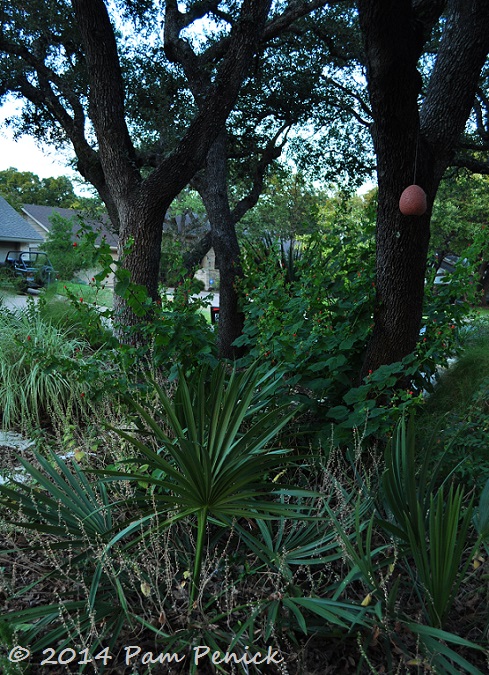 A different view. Those sabals are putting on some height this year! Turk's cap (Malvaviscus arboreus var. drummondii), one of my few dependable summer bloomers, screens the street behind the palmettos.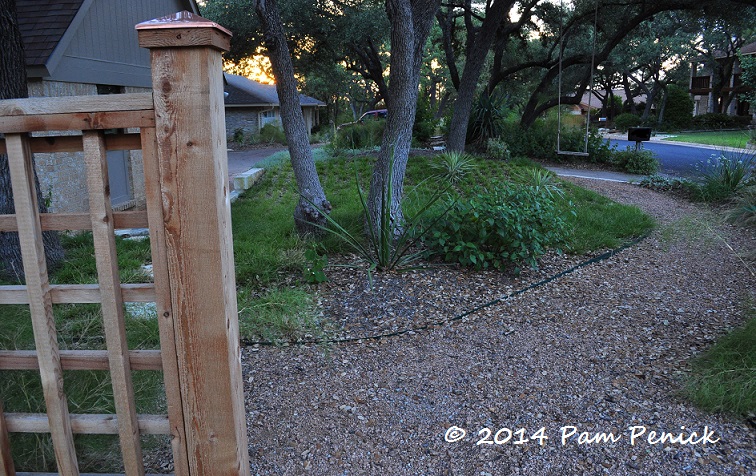 Here's the long view across the front garden and Berkeley sedge lawn, as seen from my neighbor's yard (the fence runs along the property line). I think I'm going to Outlaw Gardener-up that bare spot in front of the giant hesperaloe (Hesperaloe funifera) — maybe a few colorful Mexican gazing globes?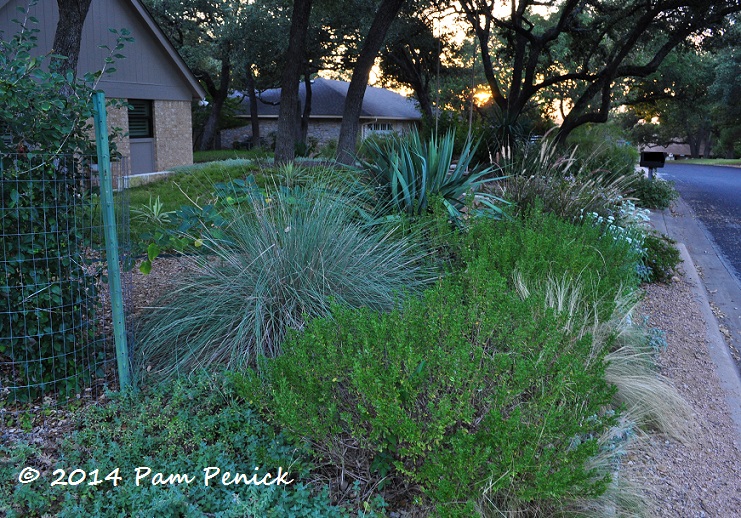 And here's the long view as seen from the curb: a garden of deer-resistant grasses, salvias, yucca, and herbs. The caged tree at left is a young possumhaw holly (Ilex decidua), which I'm still protecting from deer. Every day I tell myself to get out here and whack back those autumn sages (Salvia greggii) by one-third, for better shape and fall bloom, but every day laziness wins out. Maybe tomorrow.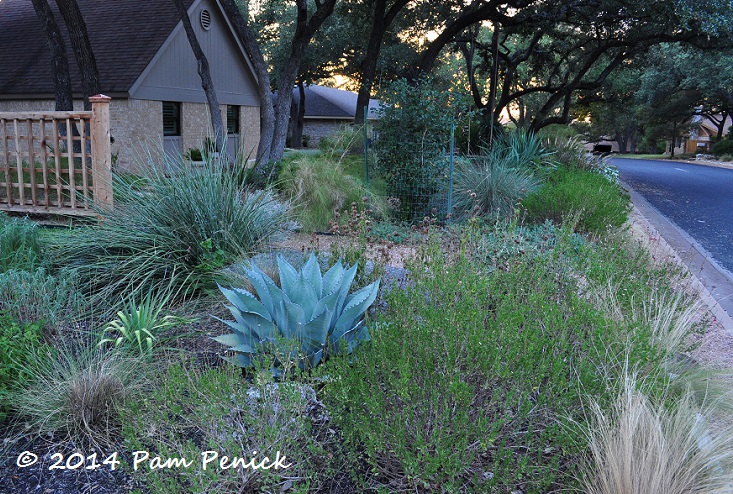 Stepping back about 15 feet into my neighbor's driveway, you can see how her garden and mine blend together. I planted this for her a few years ago, and we share the decomposed-granite path that runs between our gardens from the street to the fence, and which continues into my garden. (She opted not to continue it around the back of her bed to her driveway, but that could be added later to reduce even more lawn and improve accessibility.)
Taking stock, I see that the 'Whale's Tongue' agave has grown tremendously, but three Gulf muhly grasses (Muhlenbergia capillaris) have not thrived. Two have been removed, and the last one needs to go. My neighbor planted a softleaf yucca (Y. recurvifolia) to fill the gap; I would not have chosen to place the yucca so close to the agave, but after all it is her yard to play in. Her salvias, like mine, need a good whacking. It's a bit crispy and could really use a deep watering, but overall this is typical for a largely unwatered, native-plant garden in August in central Texas. Fall rains will perk it up.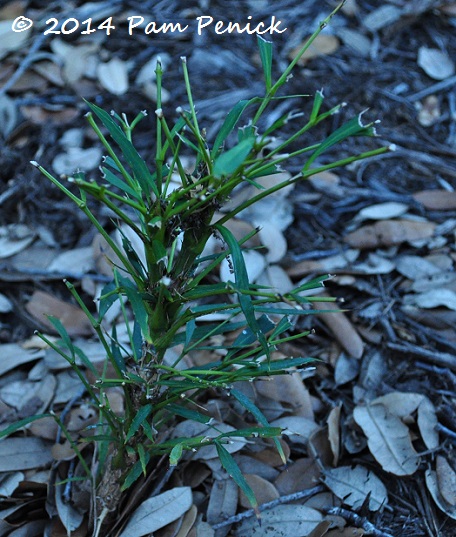 I'm not sure anything will perk up this poor, gnawed-to-a-nub 'Soft Caress' mahonia. I received two beautiful plants from the Sunset Western Garden Collection following the 2013 San Francisco Garden Bloggers Fling. I've had good luck with this plant in shade, and I added the freebies to my new side garden with high hopes. From the start, however, the deer have chomped them, although they've never touched more-established mahonias along the front of my house. Frustrating.
Despite the challenges of August and Bambi, I know I will delight in being outdoors again soon. Just one month to go until the happy gardening month of October! How about you? Are you enjoying or hurrying along these last weeks of summer?
All material © 2006-2014 by Pam Penick for Digging. Unauthorized reproduction prohibited.
posted in
2nd garden--2014
,
Agaves
,
Cactus
,
Containers
,
Deer
,
Dyckias
,
Fences
,
Garden art
,
Grasses
,
Lawn Gone!
,
Palms/Cycads
,
Paths
,
Rock
,
Texas natives
,
Trees
,
Xeric plants
,
Yuccas