August 20th, 2014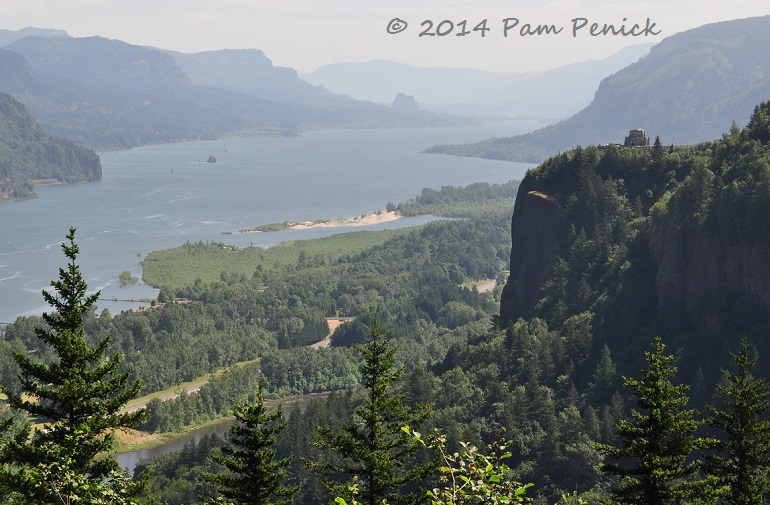 Before the Garden Bloggers Fling in Portland, Oregon, last month, my husband and I took a few days to explore the city and surrounding region. On our last day we rented a car and drove east along I-84 to see the majestic Columbia River Gorge. Vista House, a waystation perched on a promontory overlooking the river (pictured above), is one of many scenic destinations along the way.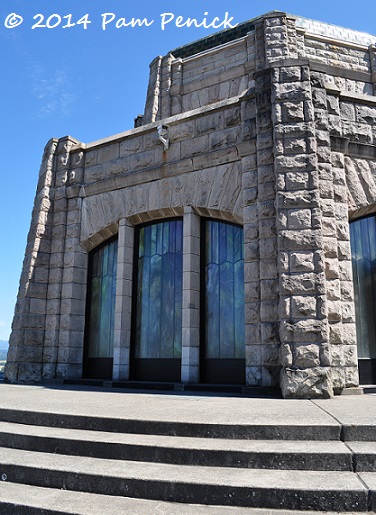 The Art Nouveau-style Vista House, which offers beautiful views, historical information, a gift shop, and of course restrooms.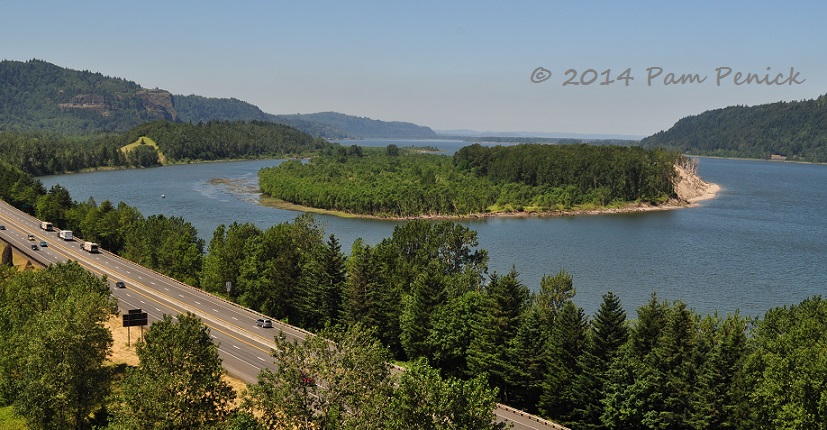 The mighty Columbia has been tamed with dams and made navigable with locks since Lewis and Clark canoed it 200 years ago on their exploratory trek to the Pacific. You can watch barges and other ships chugging along from numerous viewpoints along the highway.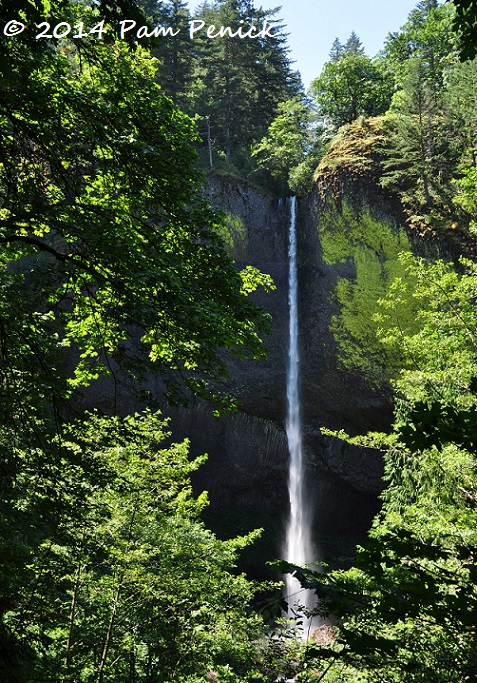 We turned off I-84 onto the Historic Columbia River Highway to see some of the 77 waterfalls on the Oregon side of the river. The 249-foot Latourell Falls, dropping straight down like water poured from a pitcher, is one of the more dramatic waterfalls we saw. A broad patch of yellow lichen covers the basalt wall on the right.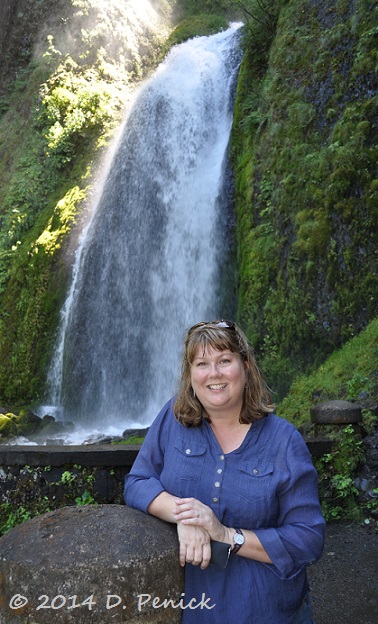 Wahkeena Falls is almost as tall as Latourell at 242 feet, but its rushing cascade is broken by numerous ledges. Climbing uphill a short way to a wooden bridge overlook, we were finely misted by a roaring sheet of water. The chilly spray felt good to me on this hot day but caused David to shiver.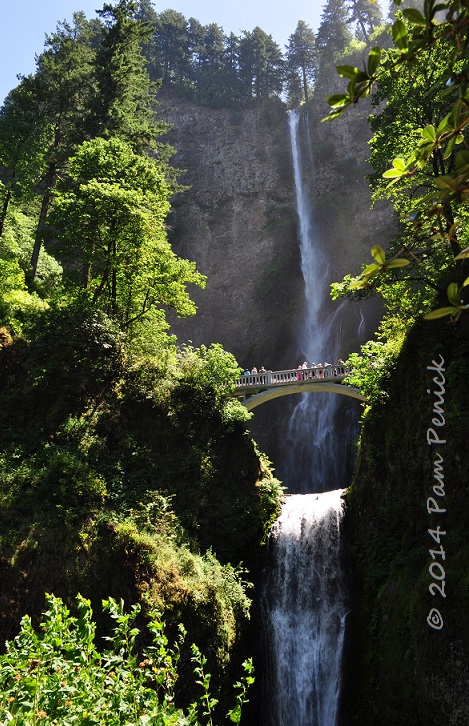 The granddaddy waterfall, Multnomah Falls, is easily reached by car and therefore sees throngs of visitors. With a combined upper and lower falls, Multnomah is the tallest waterfall in Oregon at 620 feet. A picturesque footbridge just above the lower cascade provides a closer, mistier view, and we climbed to experience it as well.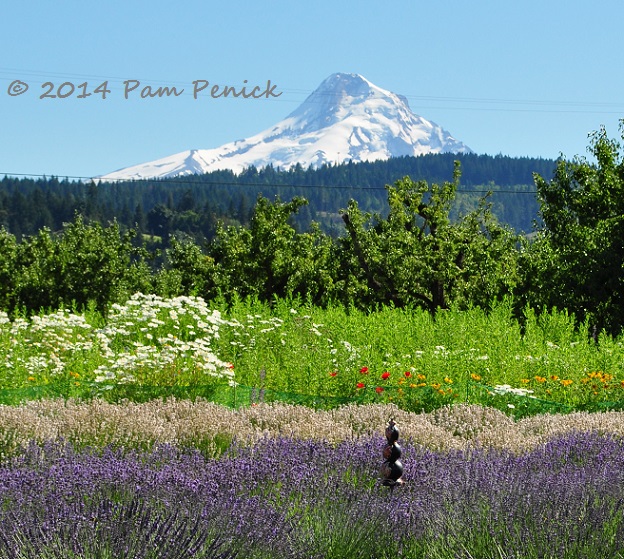 By now we'd worked up an appetite, so we headed to the town of Hood River for lunch at Full Sail Brewing Co., from whose deck you can watch the colorful sails of windsurfers and kiteboarders on the river below. After a tasty burger and brew, we headed south on the area's "Fruit Loop" to visit Hood River Lavender, an organic pick-your-own lavender farm. In full summer bloom, the mounded rows of lavender were beautiful and fragrant. But the view was made spectacular thanks to two snow-capped peaks, Mt. Hood (pictured here) and Mt. Adams, visible south and north across the farm.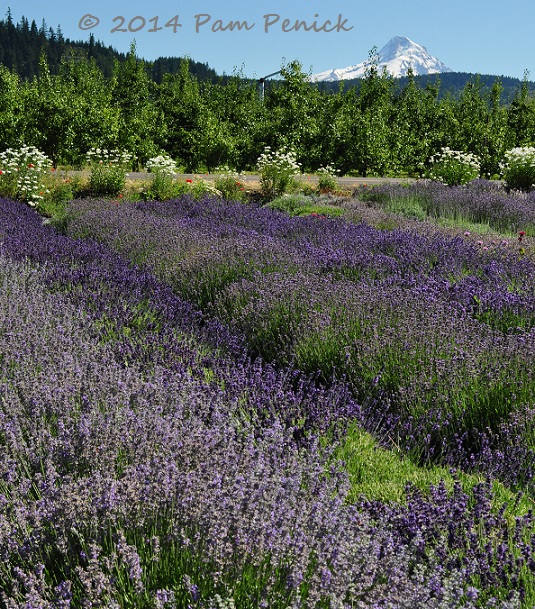 Mt. Hood meets Provence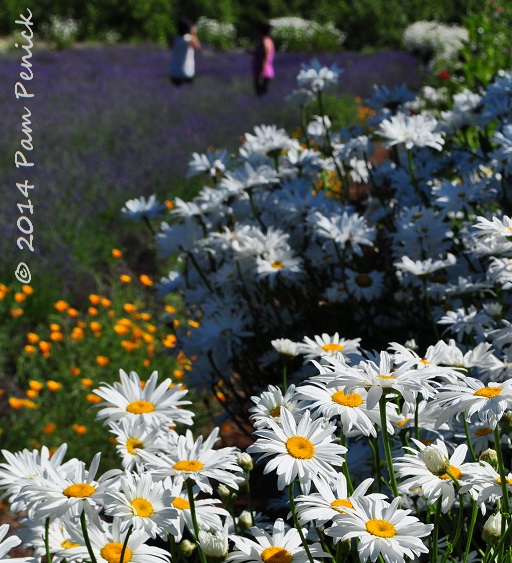 Perennial gardens alongside the lavender rows added more color.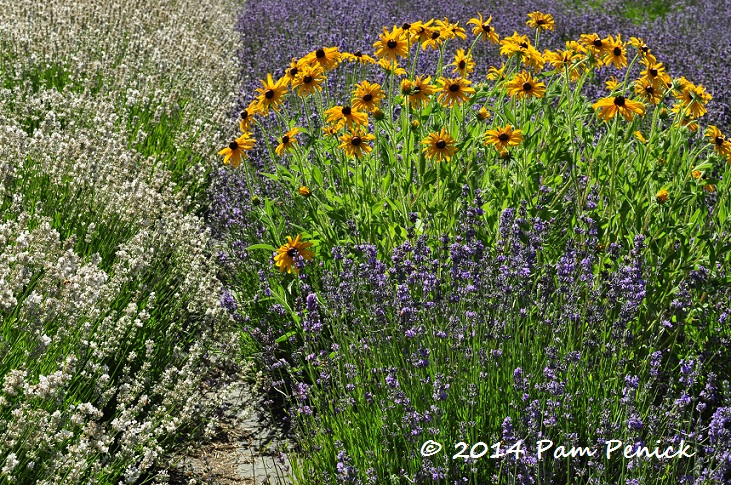 A variety of lavenders are farmed here, including white lavender.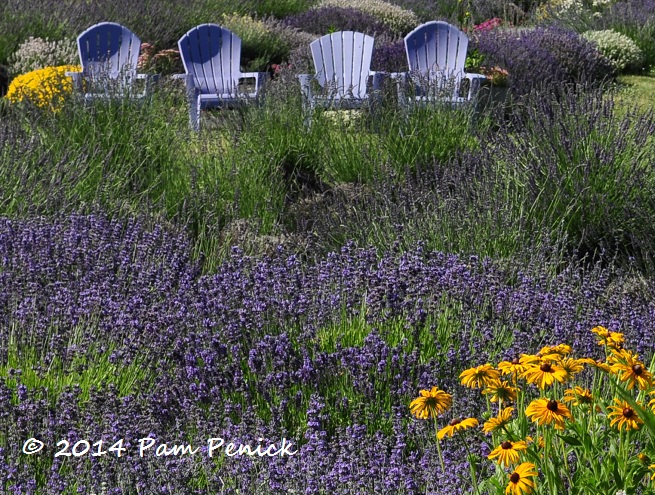 Really, what other color could the chairs be?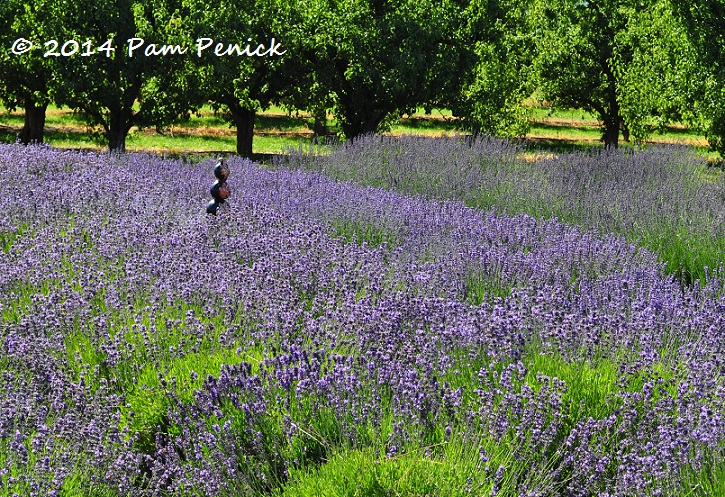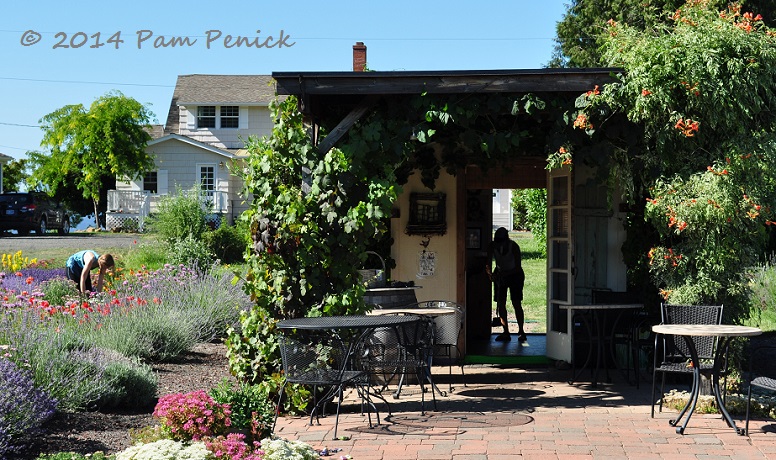 In the small shop, we bought a few lavender sachets for gifts.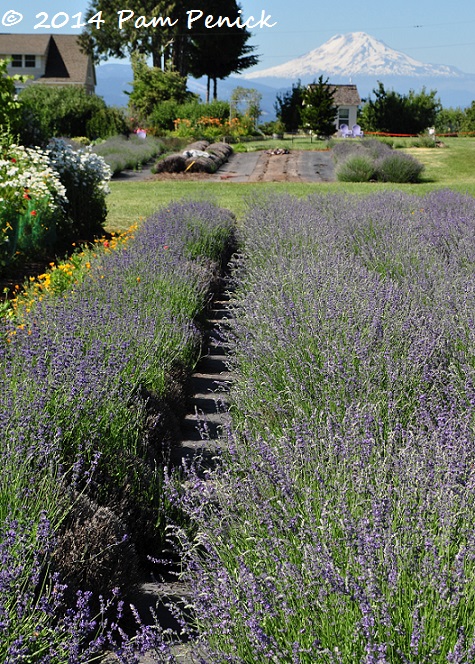 Mt. Adams, seeming to float where the snow line begins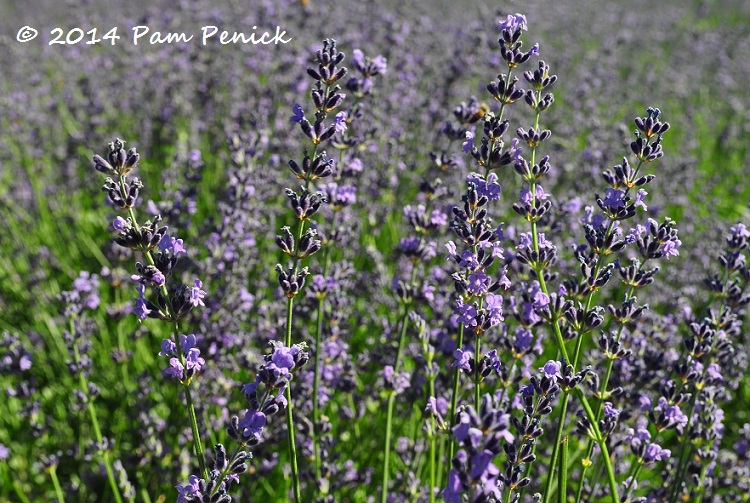 It was mid-afternoon by now, and David had a sudden inspiration: Let's drive to the beach!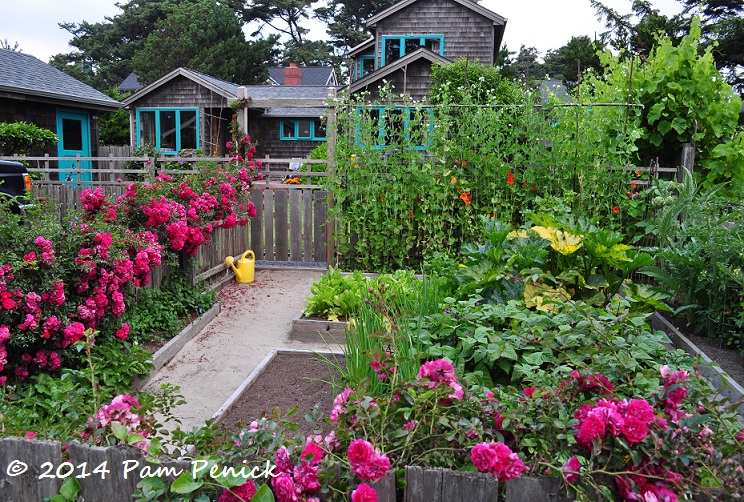 So we did, leaving the mountain views and driving a mere 3 hours back through Portland and then on to Cannon Beach, an impossibly quaint seaside town, where gray-shingled, brightly trimmed cottages with picket-fenced flower gardens nestle along sandy beach roads.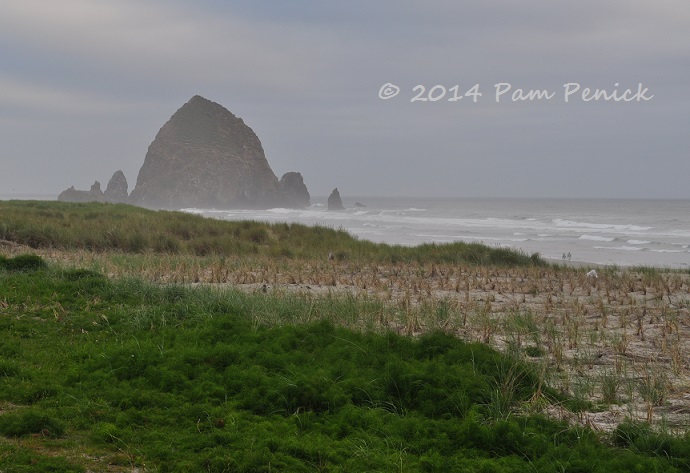 The luckiest overlook this: Haystack Rock, a 235-foot-tall basalt monolith rising from the surf. The smaller rocks around it are called the Needles.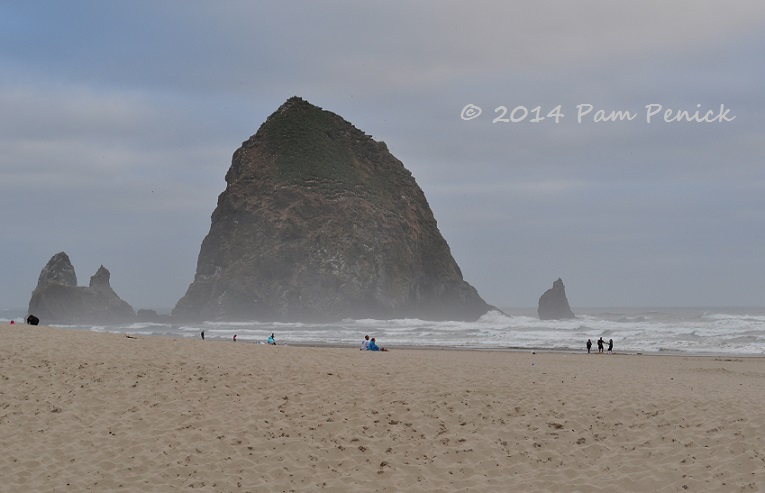 Haystack Rock and a broad swath of fine sand make Cannon Beach a popular tourist destination. But with water temperatures peaking at around 55 degrees F in summer and dangerous currents, the Pacific Ocean does not lend itself to the beach experience I'm familiar with: the bathwater-temp surf and baking sun of South Carolina and Texas beaches. You don't swim here. Instead you wrap up in a sweatshirt and scarf and build a campfire in the sand as the fog rolls in and the light goes gauzy.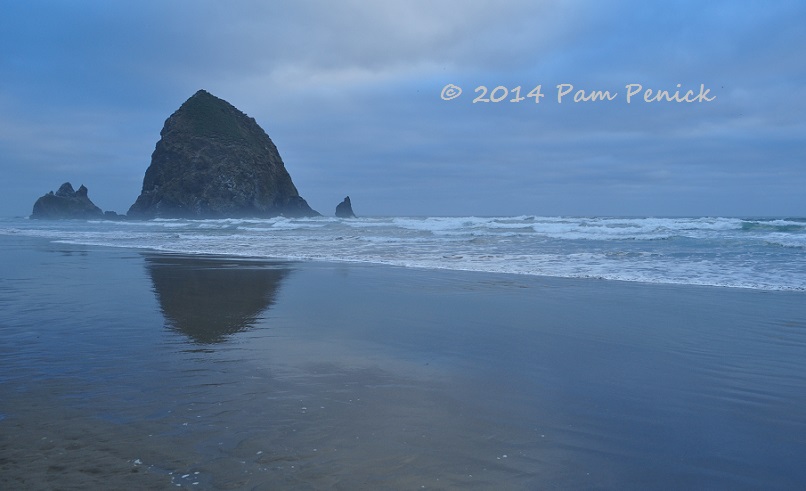 I'd naively thought we might see a glorious sunset over the ocean, but this was even better, moody and dreamy.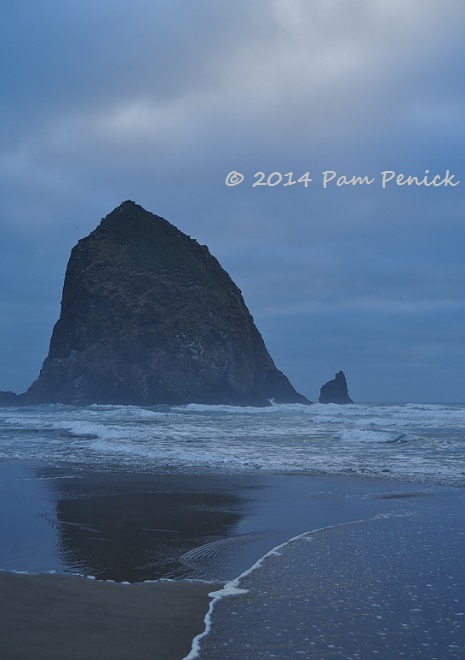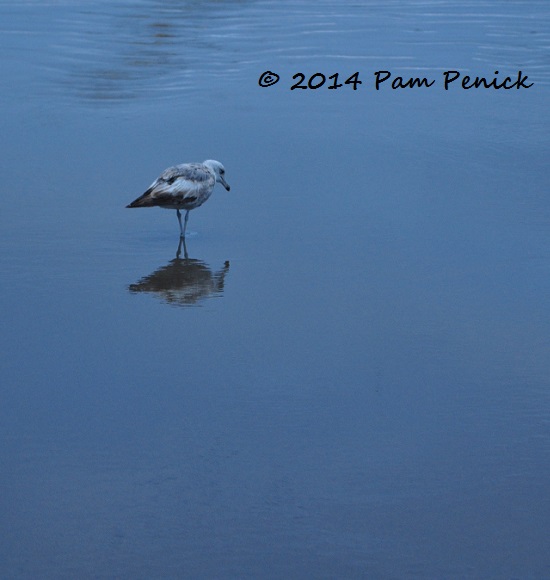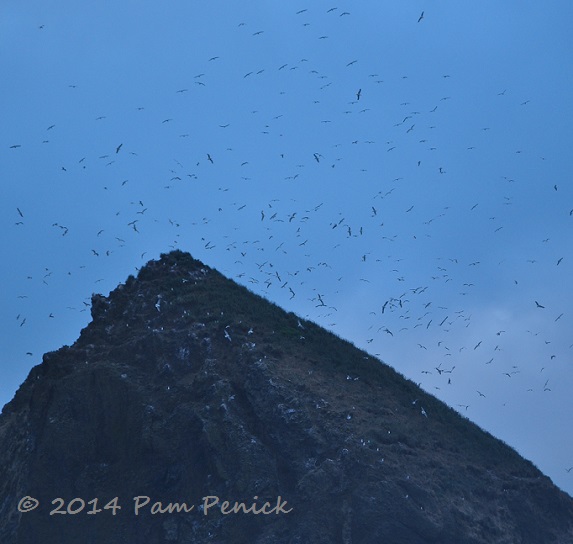 As dusk fell, a colony of seabirds on Haystack Rock settled in for the evening. Suddenly they rose in a squawking tornado, wheeling in disorganized, panicked flight. We stared, wondering what had happened. Could there be a predator up there, we wondered?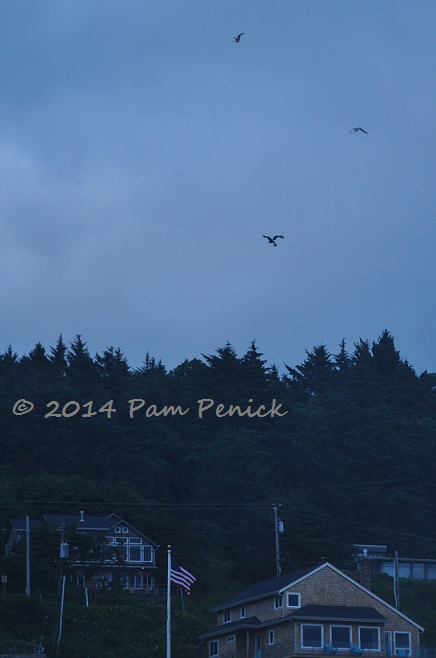 Suddenly David pointed straight up over our heads, and I looked up to see a bald eagle clutching a smaller bird in its talons, flying toward the forest. Two gulls (if that's what they were) gave noisy chase. We watched them disappear over the trees.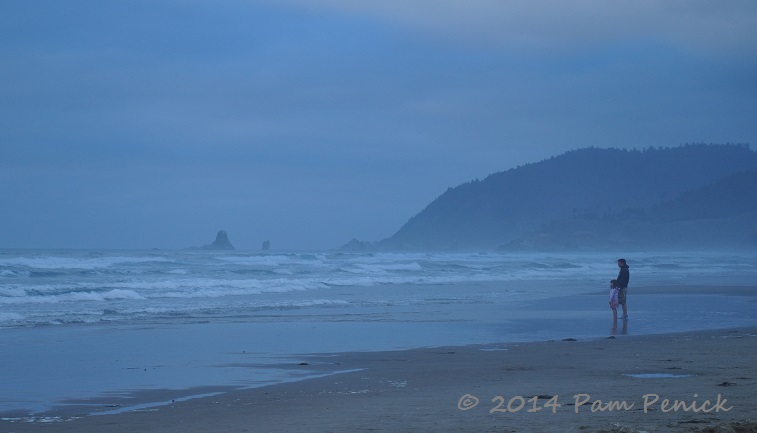 The drama of predator and prey seemed appropriate to the dramatic and rugged beauty of the Oregon shore. Isn't it odd, and wonderful, that we can find peace in such wild places?
I hope you've enjoyed my series of posts from Portland. Thanks for armchair traveling with me! For a look back at mysterious and magical Bella Madrona garden, the final stop on the Portland Garden Bloggers Fling tours, click here.
All material © 2006-2014 by Pam Penick for Digging. Unauthorized reproduction prohibited.
posted in
Birds
,
Bridges
,
Farms
,
Flowers
,
Ocean
,
Parks & greenbelts
,
Rivers & creeks
,
Rock
,
Sculpture
,
Seating
,
Travel
,
Trees
,
Views
,
Waterfalls
,
Wildlife