August 14th, 2014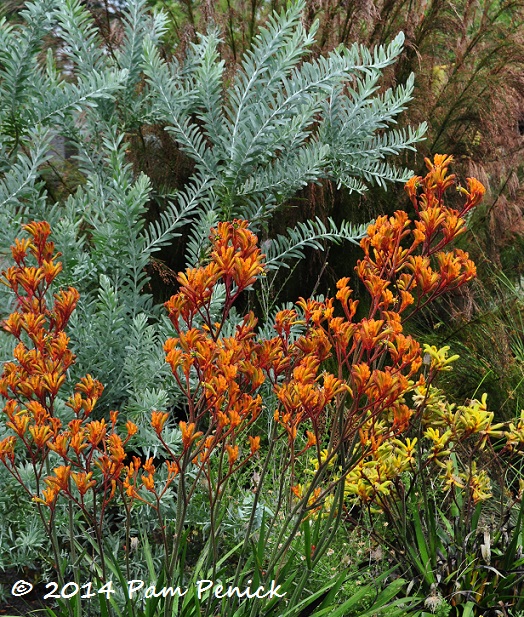 After the barely controlled excess of Floramagoria, the next garden we toured on the Portland Garden Bloggers Fling seemed, at first glance, restrained, even austere. No seating was visible aside from garden walls and steps. With the exception of a few monumental, colorful pots placed as focal points and a striking steel fountain, garden art was nonexistent. But, oh my, the plants are where owner John Kuzma lavishes his artist's palette and experiments with an abundance of dry-climate species you wouldn't expect to see in moist, cool Portland.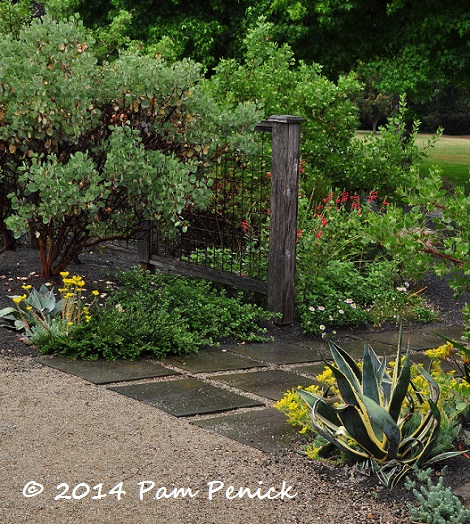 John's suburban half-acre is one of the larger private gardens we visited, but the entry garden is modest in size. An open, gravel courtyard, wood-and-wire fence, and xeric plants like agave and nolina gave this space a very Austin look, at least to my mind. Here's the paver path leading from the street into the fenced courtyard.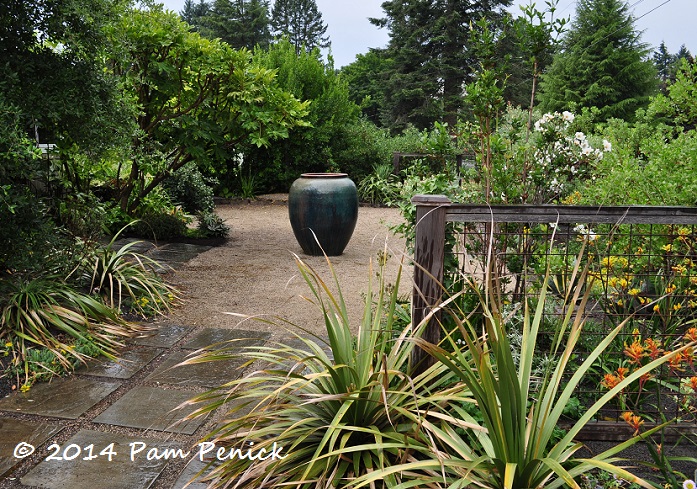 And the side entry from the driveway. A large, blue pot, left empty (such restraint!), provides a focal point from any direction.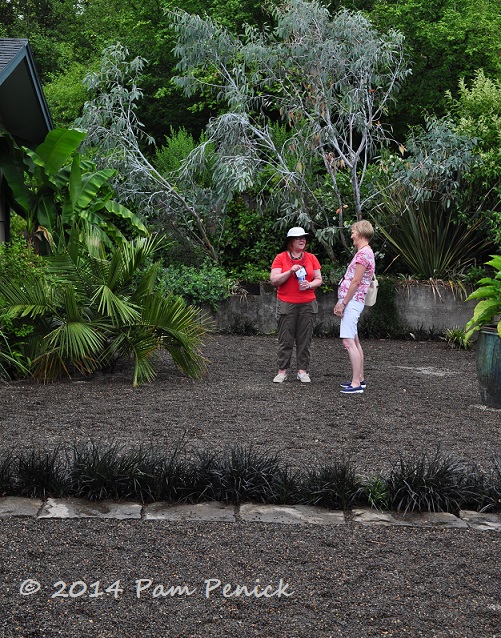 As you enter the back garden, negative space greets you first — gravel, not water-sucking lawn. An expansive, dark-gray, gravel patio flows from the back of the house along the entire width of the lot. Bold-leaved palms, banana, phormium, and agave are planted along the margins, with silvery eucalyptus shining in the border. A straight line of black mondo grass runs like a fuzzy, black caterpillar from…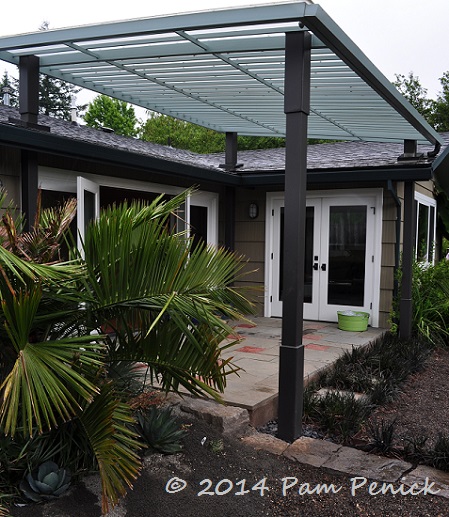 …a small, arbor-shaded patio to…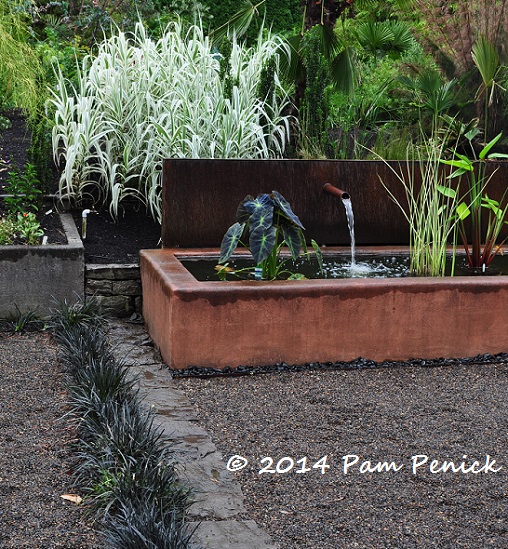 …a contemporary raised pond fed by two pipes projecting from a rusty-steel backplate.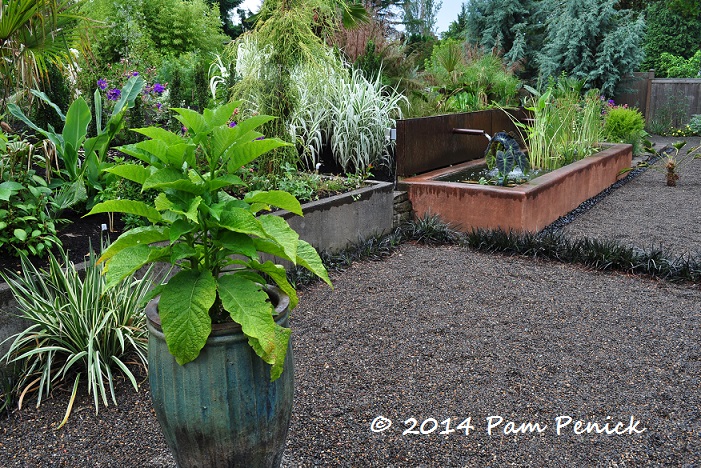 Now you see where John's passion lies. A dramatic foliage garden rises on terraced beds and gravelly berms behind the water feature, creating a feeling of exotic seclusion from neighboring homes, not to mention a fine view from John's living room.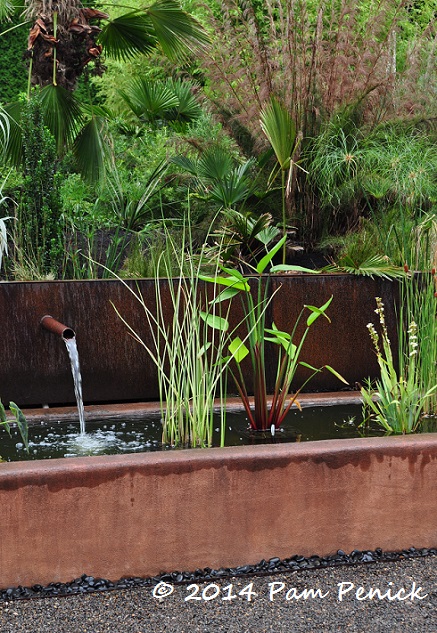 Palms, papyrus, giant cape restio (I think) — this garden is about texture, form, and bold foliage.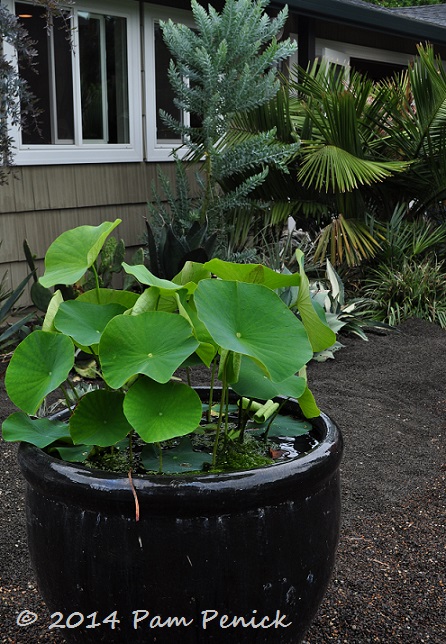 A smaller water feature is as simple as a lotus in a sealed, glazed pot. Mosquito dunks (available at big-box stores and independent nurseries alike) keep a still pond like this free from blood-sucking pests.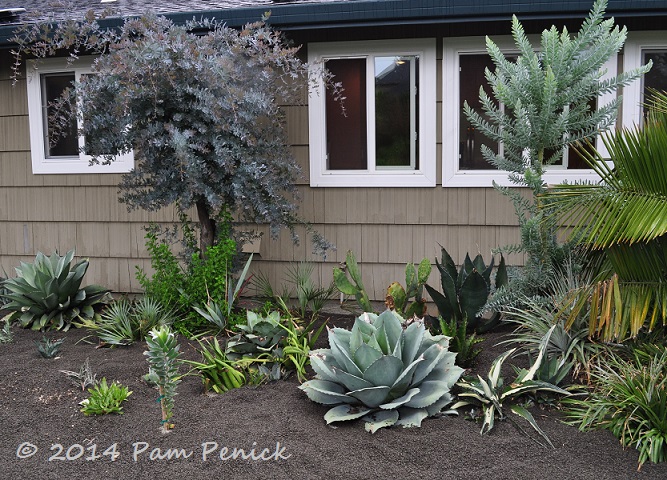 The gravel patio is largely open, but along the foundation of the house agaves and prickly pear (New World natives) mingle with Australian acacias and Mediterranean palms.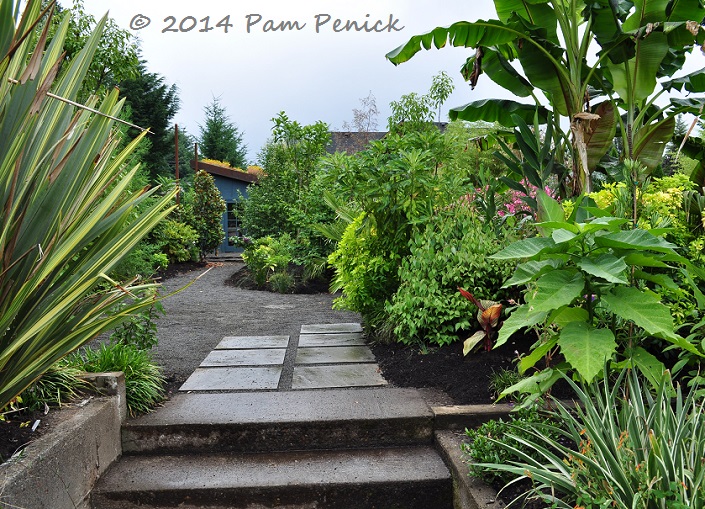 Steps lead up to an abundantly planted, almost prehistoric-looking garden. Despite its apparent lushness, John told us that his 4-year-old garden, designed by Sean Hogan of Cistus Nursery, took a hit in last December's deep freeze.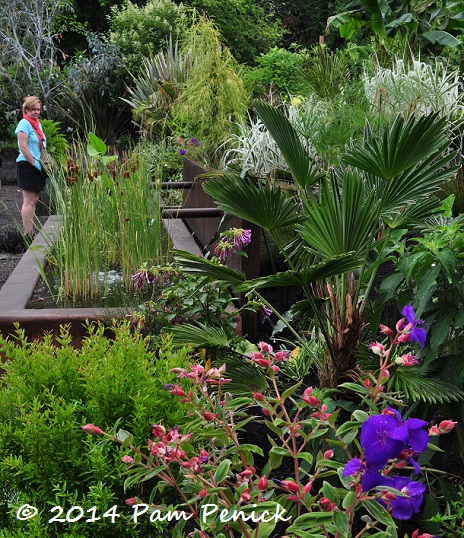 Tammy of Casa Mariposa takes in the scene. (By the way, if you'd like to see a list of Portland Fling attendees and their blogs and locations, click here.)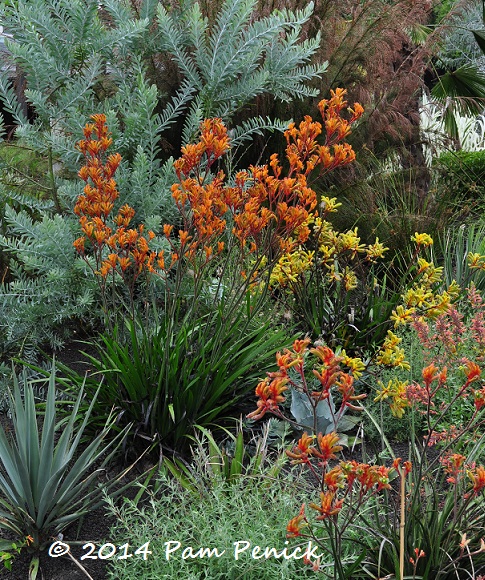 This is where things really get good! Ah, kangaroo paws. How I wish I could grow you in Austin.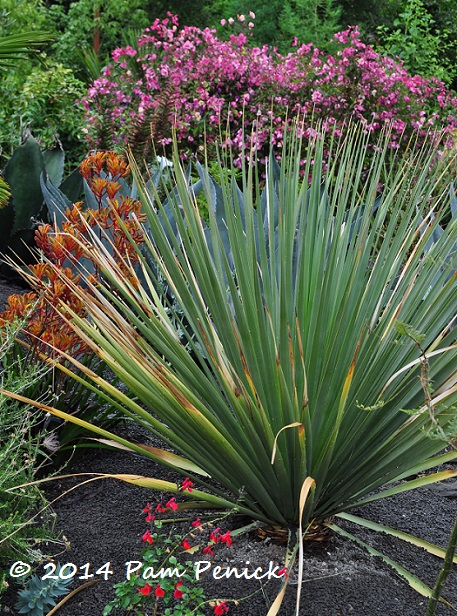 Spiky plants dig John's gravelly berms, which keep them from rotting during Portland's drizzly, gray winters.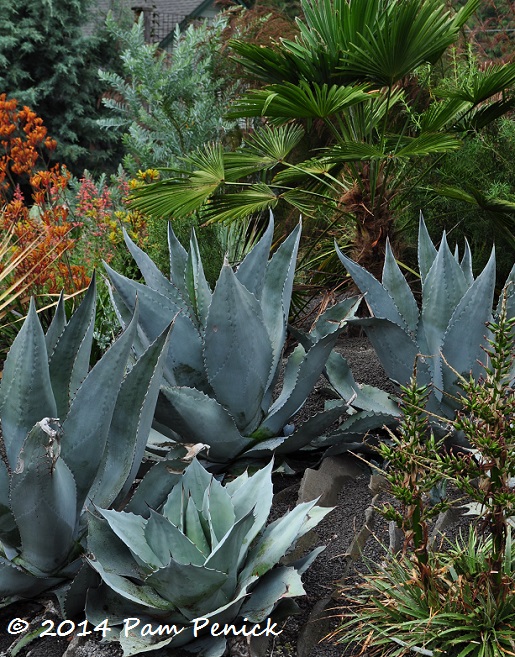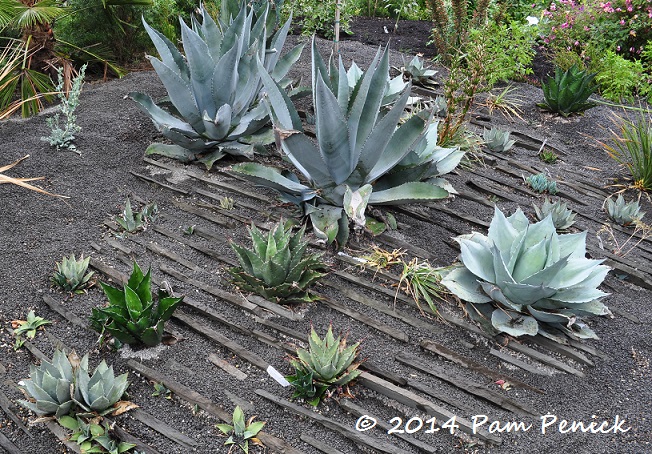 On this large berm, John has made a trendy crevice garden for his agave collection. I'm seeing quite a few of these lately, like at Denver Botanic Gardens and, closer to home, in Shirley's San Antonio garden.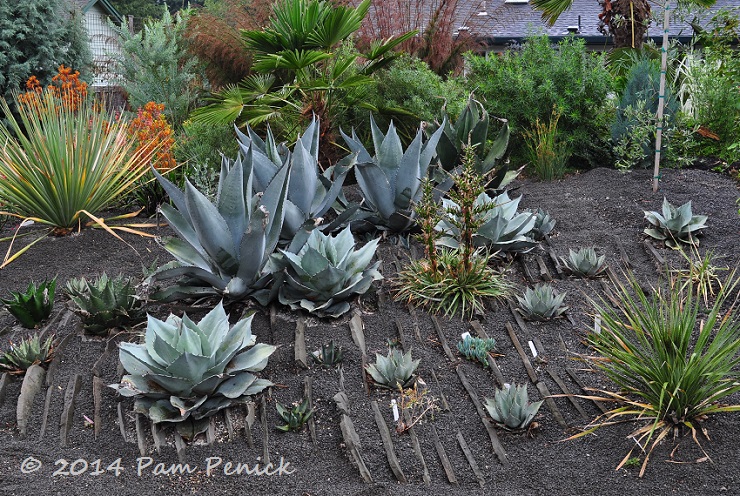 I see a few 'Whale's Tongue' agaves in there — Moby's cousins!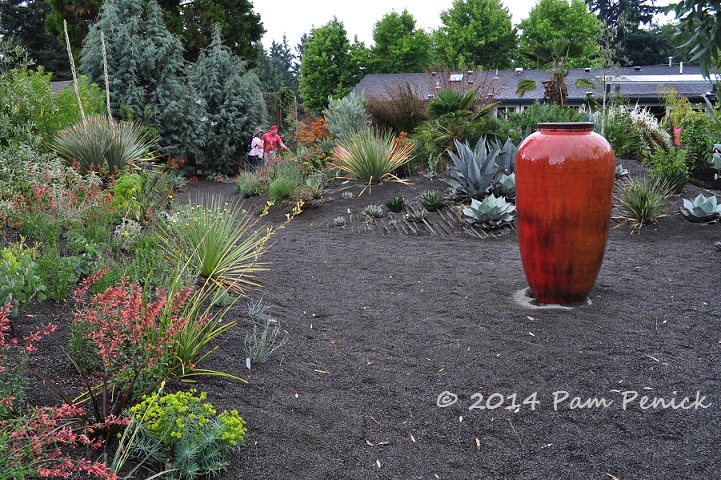 As in the front garden, John uses a big, glazed pot to create a focal point for multiple pathways entering an open space.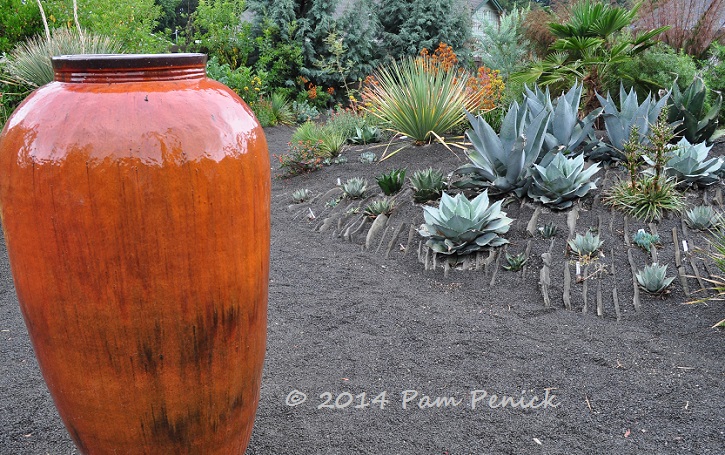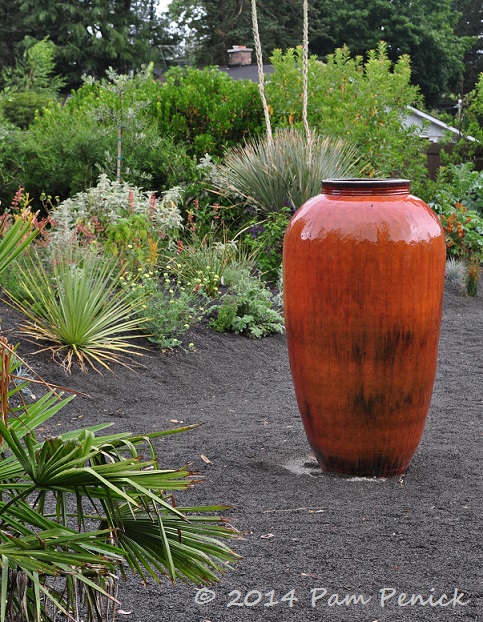 It looks great from every angle.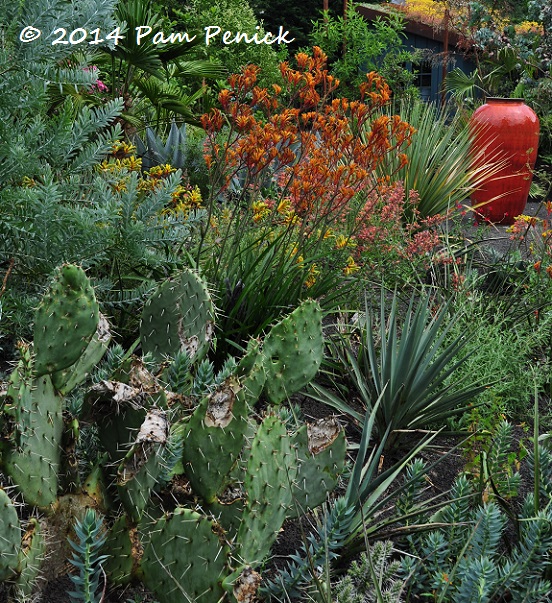 Orange kangaroo paws provide a perfect color echo amid cool-blue yucca, prickly pear, and gopher plant.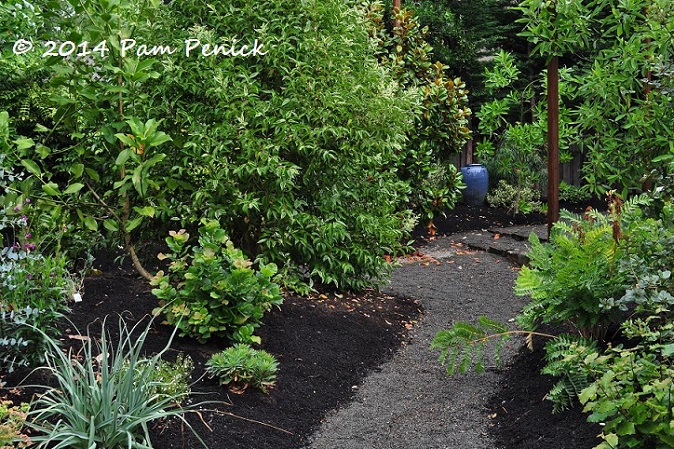 Here's another example, with a blue pot acting as focal point for the end of a path.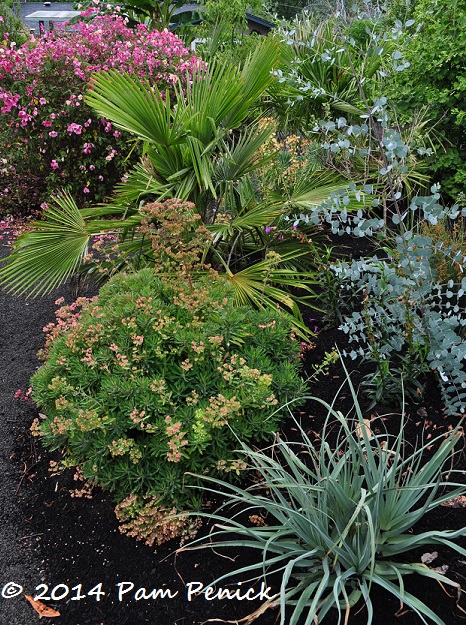 More lushly planted berms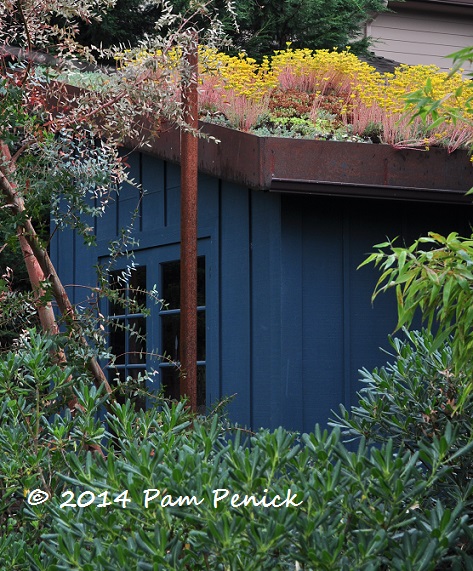 Portland has a friendly climate for green roofs, and we saw a number of them at the Fling, including this charming, sedum-planted one on a blue shed.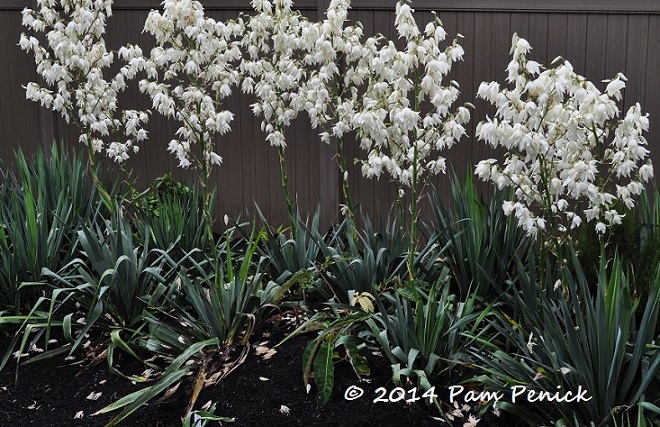 At the rear of the garden, a row of yuccas (Y. recurvifolia, perhaps?) was in creamy-white bloom.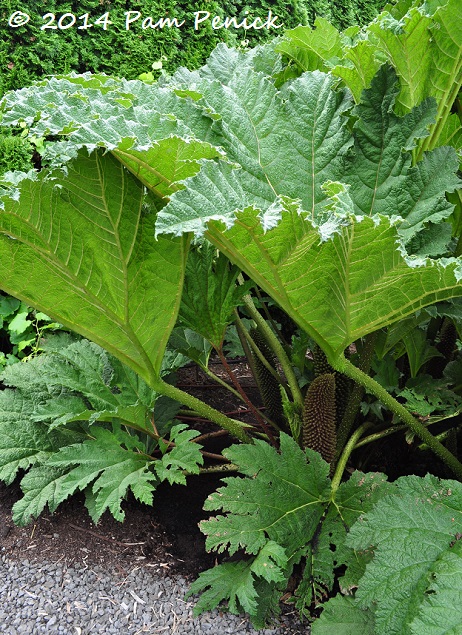 Dramatic gunnera leaves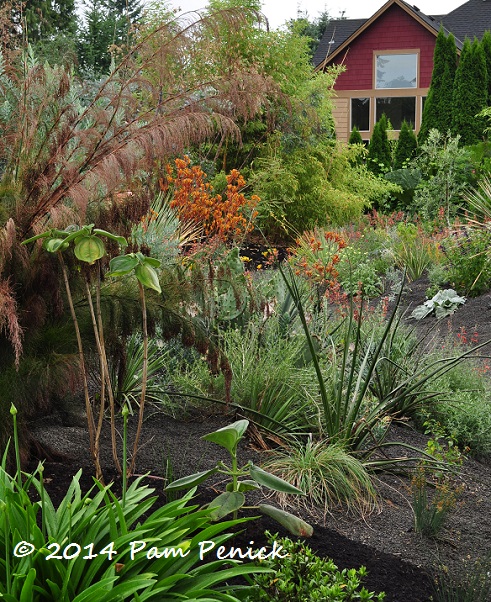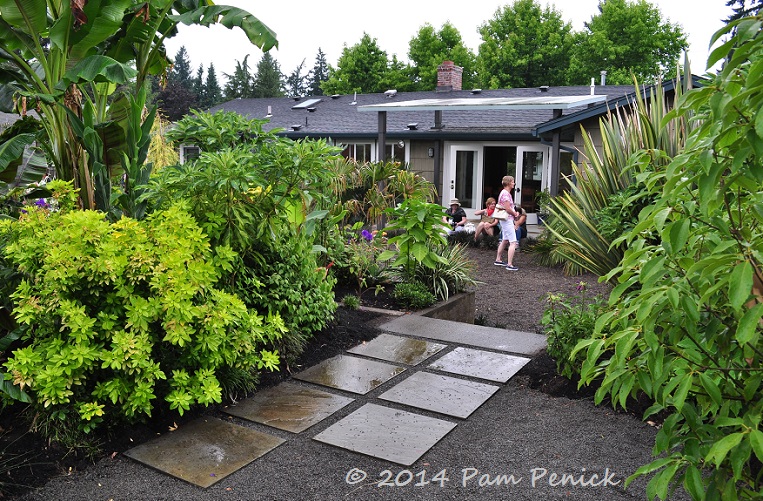 Let's head down to the gravel patio for one last look at the raised pond and fountain.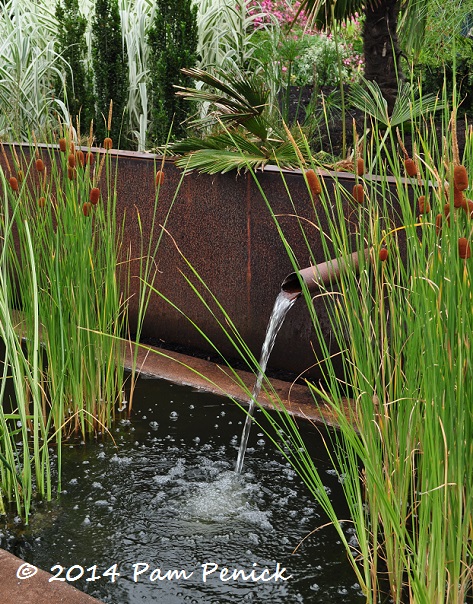 This is a very Austin look, with the rusty metal and raw steel pipes. You'd need a metal fabricator to create this, right?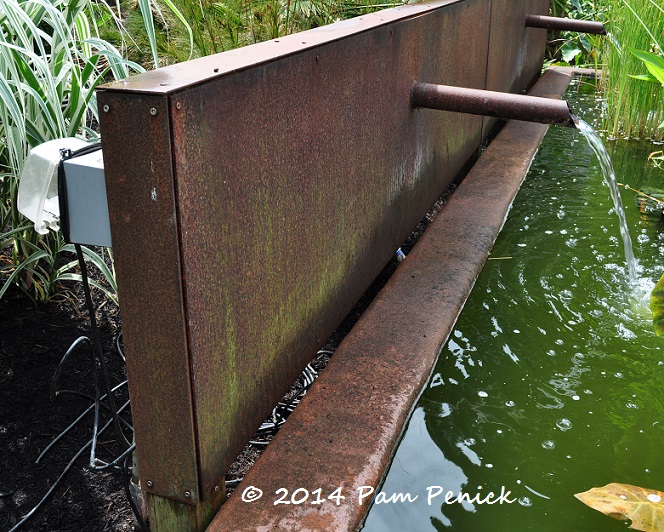 Well, I wonder. From the side I noticed that rather than a solid plate of steel, cut panels are screwed onto wooden posts to create the fountain backplate. The fountain basin itself is concrete, stained to match the steel. You'd still need someone to cut the steel plates, but this could be installed by a do-it-yourselfer, I think.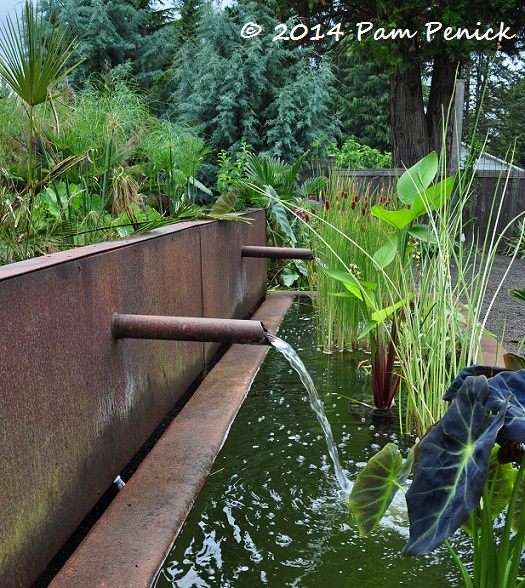 It would make a wow moment in any garden, wouldn't it?
Up next: The romantic, wild-child, mysterious Bella Madrona, our final Fling garden. For a look back at the stunning, whimsical exuberance of Floramagoria, click here.
All material © 2006-2014 by Pam Penick for Digging. Unauthorized reproduction prohibited.
posted in
Agaves
,
Arbors
,
Containers
,
Crevice garden
,
Fences
,
Fling Portland
,
Fountains
,
Garden tours 2014
,
Grasses
,
Green roofs
,
Hillside
,
Lawn Gone!
,
Palms/Cycads
,
Paths
,
Patios & decks
,
Ponds
,
Sheds
,
Succulents
,
Travel
,
Trees
,
Tropicals
,
Water features
,
Xeric plants
,
Yuccas