August 11th, 2014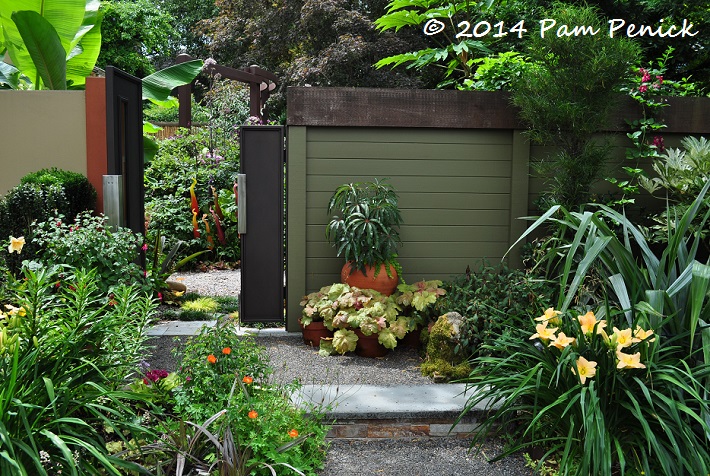 Do you ever fantasize about another gardener living right next door? Linda Ernst and Joanne Fuller are living the fantasy. Aside from being friends and next-door neighbors, they both love to garden, and each tends a beautiful space linked by a friendly gate in back and a continuous path in front. We visited both gardens on the last day of the recent Garden Bloggers Fling in Portland, Oregon. I showed you Joanne's garden last post (visible through the gate, above).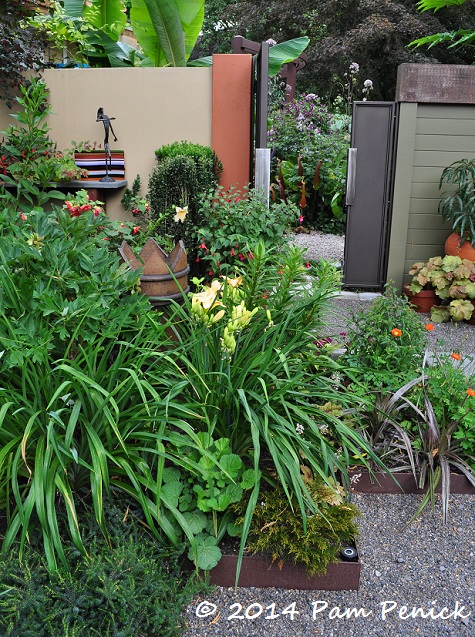 Today I pick up where I left off, by stepping through the steel garden gate and entering Linda's garden.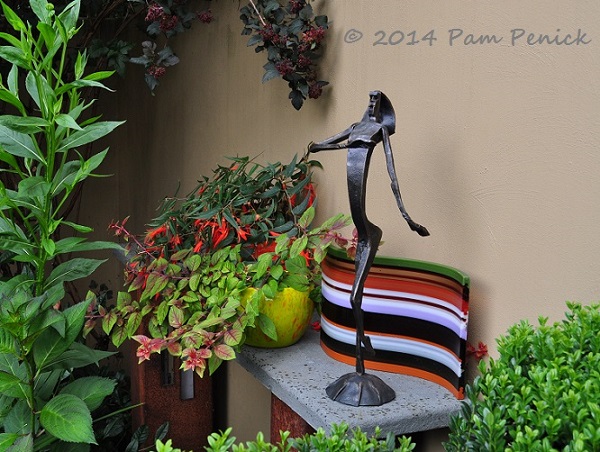 Linda is a fused-glass artist, and many of her pieces have a home in her garden, along with a lovely collection of sculptural art. Representations of women figure prominently in her art collection. In fact she calls her garden Dancing Ladies Garden.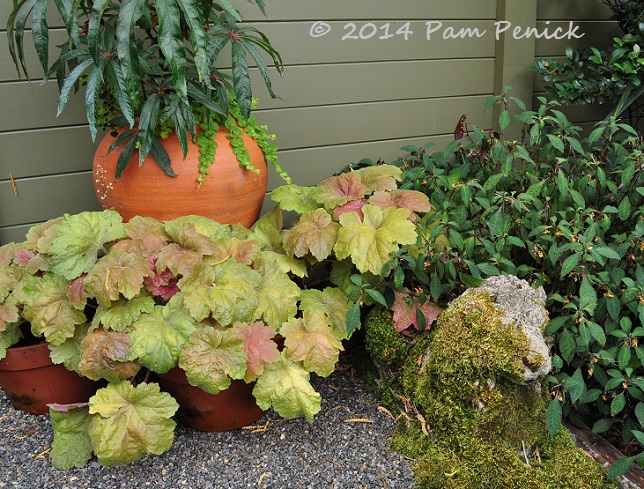 The plant combinations are works of art too, with carefully considered color echoes and contrasting textures and shapes.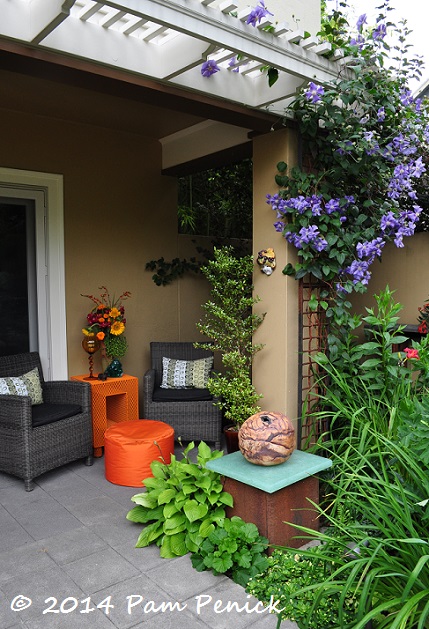 Linda's garden was perfection, with room after room of inviting seating areas, beautifully constructed walls and fences, colorful flower beds, and focal-point art. Here's a covered terrace off the back of the house.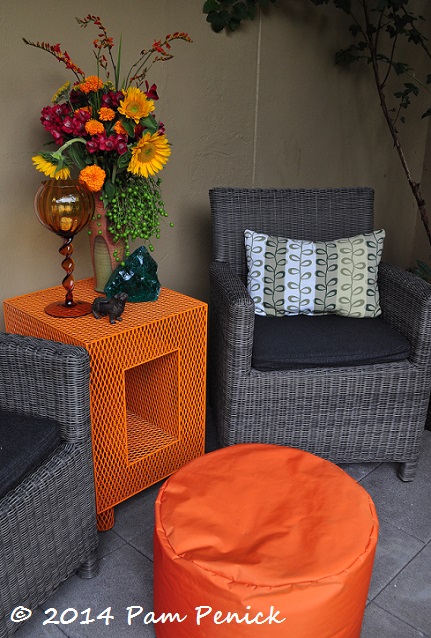 A contemporary orange table gives the space a modern edge.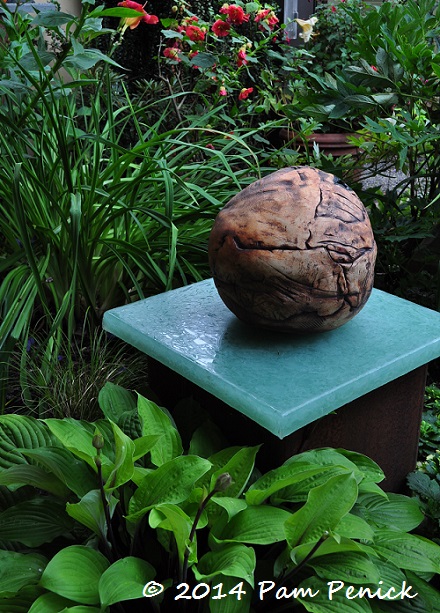 The aqua glass top on the plinth is one of Linda's creations, made from shower-door glass, if I recall correctly.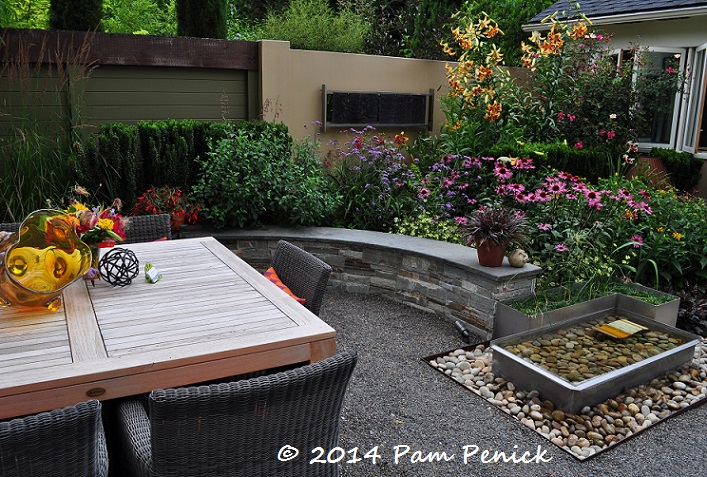 From the covered terrace you look out on a spacious, gravel-floored dining patio. A stacked-stone seat wall curves around back and helps frame a cottagey display of purple coneflowers, towering lilies, rudbeckia, and tall verbena.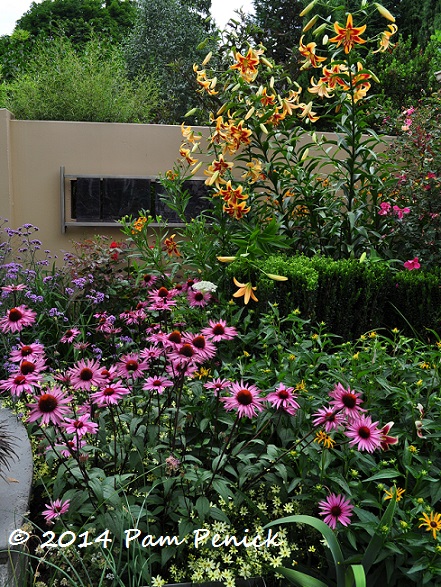 A closer look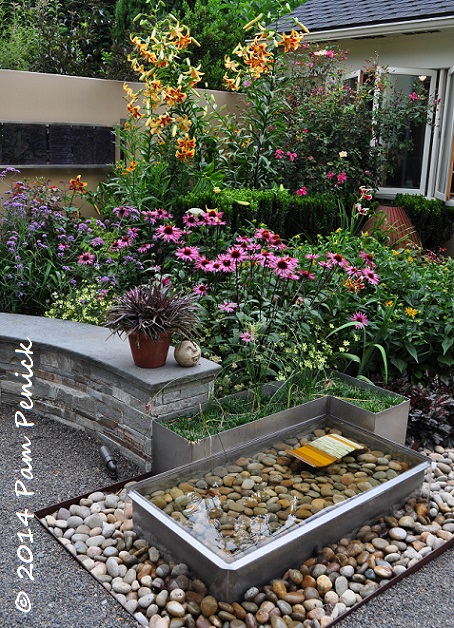 A stainless steel fountain and L-shaped raised bed add a contemporary note to the scene.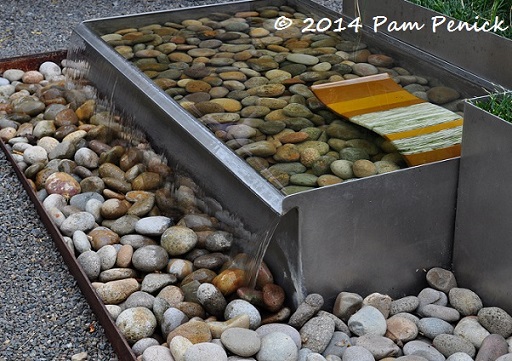 I'm sure that's one of Linda's glass pieces "floating" in the fountain.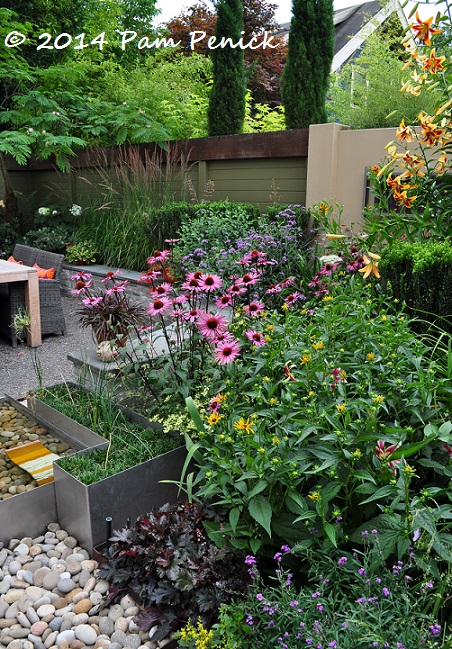 A stucco wall segues into mossy green fencing along the property line.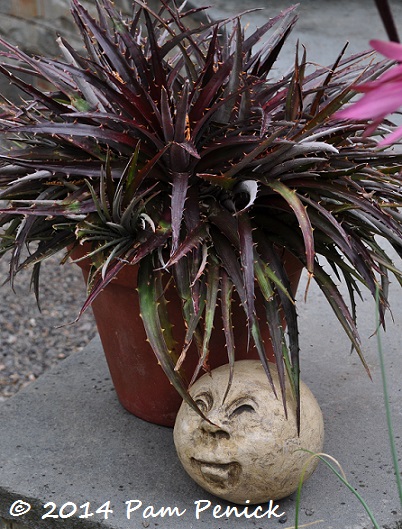 Dyckia and a cute little face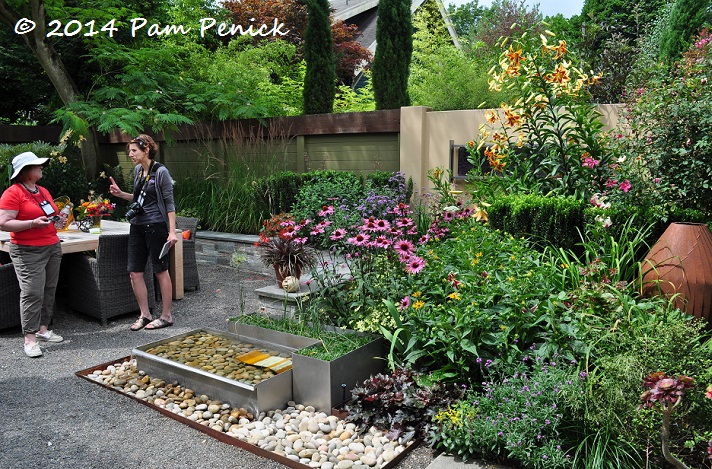 One more look at the back garden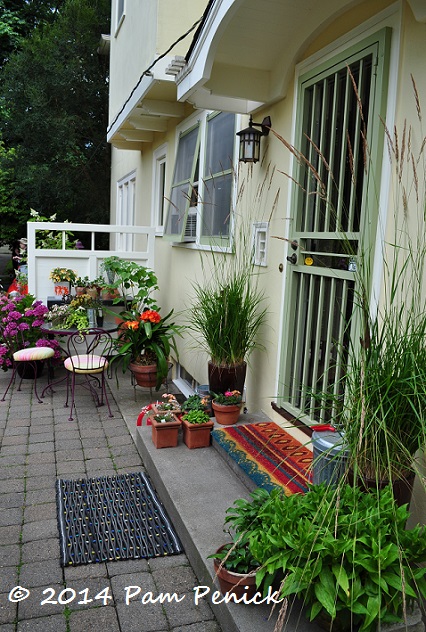 After passing under an arbor we enter the driveway, in which cars are kept at bay in favor of more garden seating. I love this side entry, with its mint-green door, tall potted grasses and other assorted potted plants, and purple bistro set — so inviting! The white fencing panel creates privacy from the street and the car-parking side of the driveway.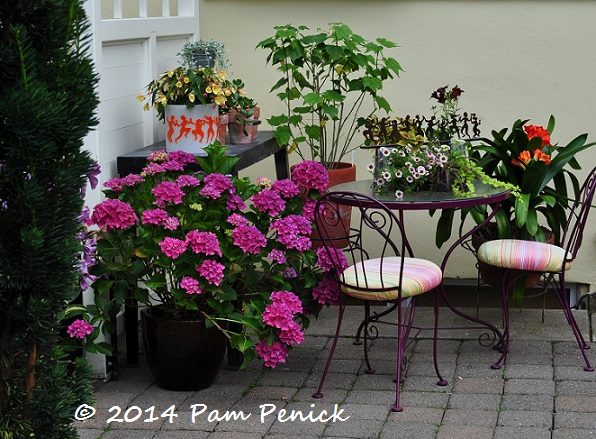 The raspberry-colored flowers echo the purple table and chairs.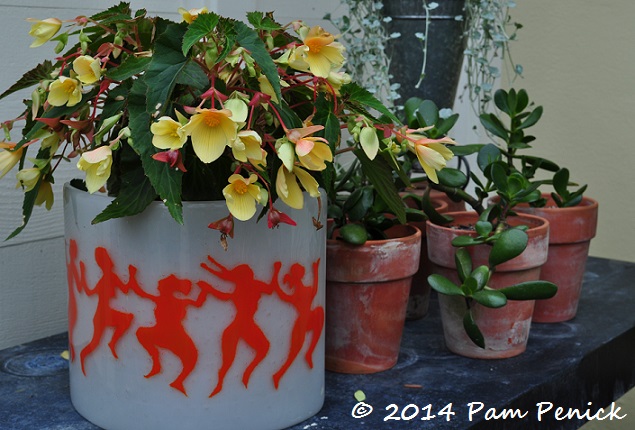 Dancing ladies appear on glass pots…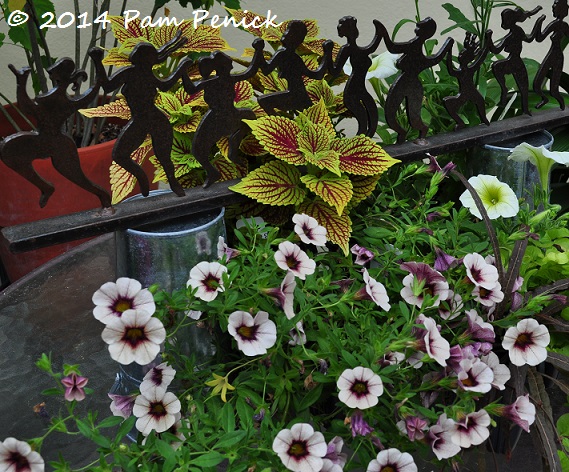 …and steel art.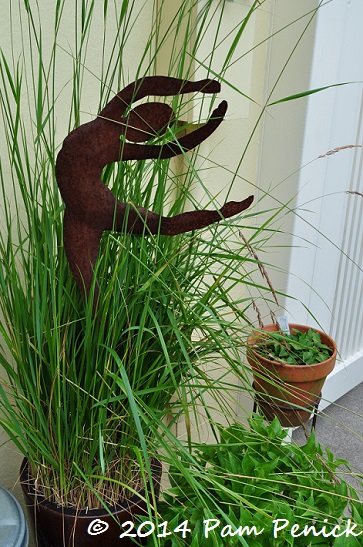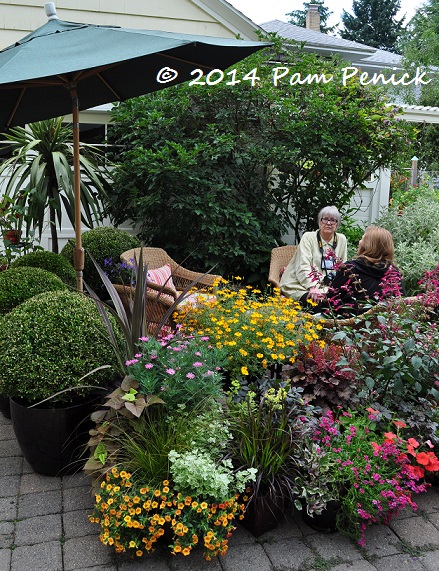 Linda has given up parking in her garage in order to create a container garden and patio in the driveway. Everything can be moved if madness takes her and she decides her car needs a roof more than she needs this delightful patio.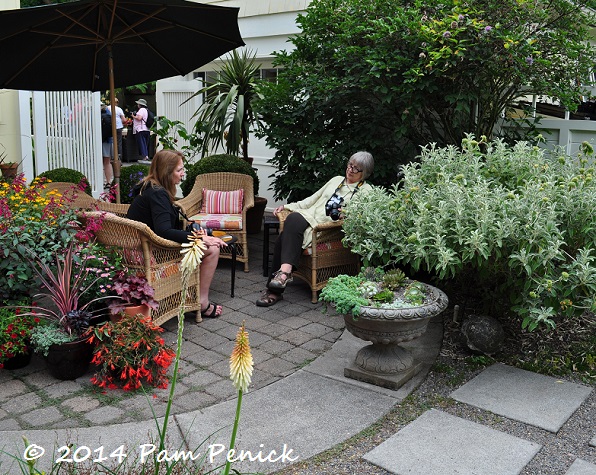 Ally and Ricki enjoying the space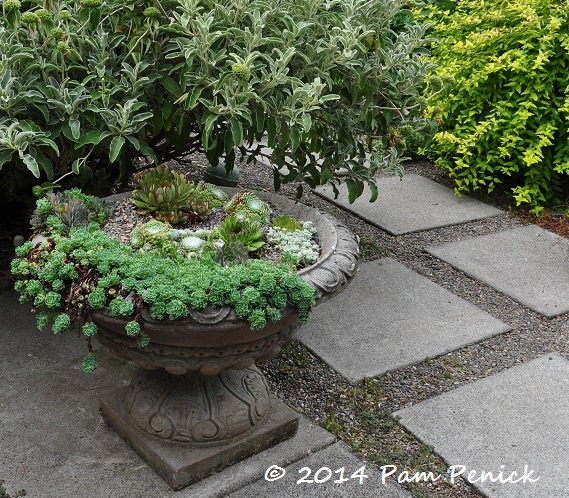 A concrete urn planted with succulents makes a classic accent.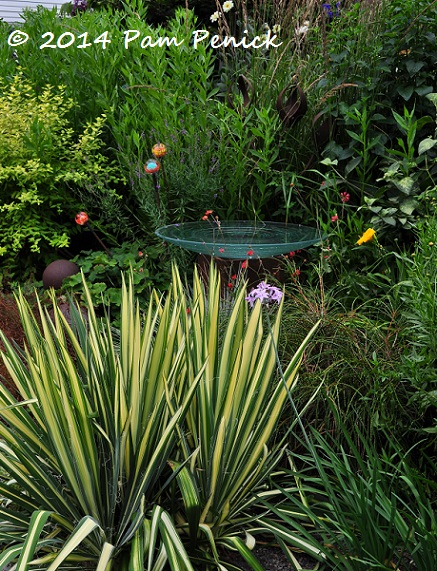 A little more modern is this glass birdbath, with variegated yuccas in front.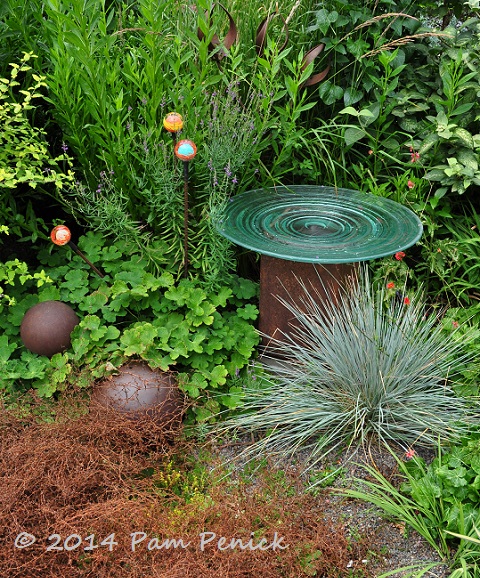 A closer look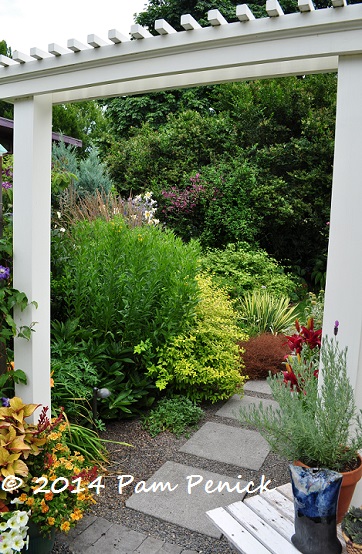 Linda has an extra half-lot next door that gives her space for more garden rooms. An oversized white arbor beckons you onward just past the driveway patio.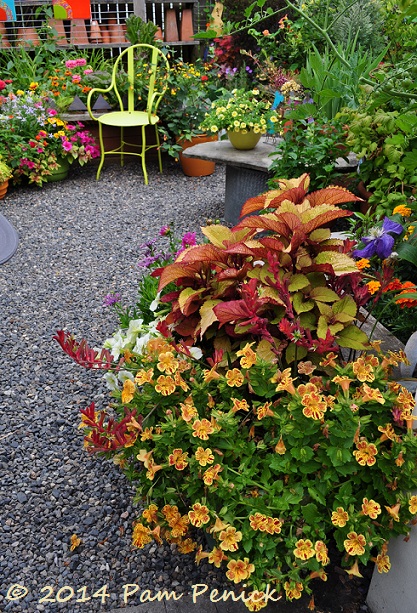 Step through and the world goes technicolor.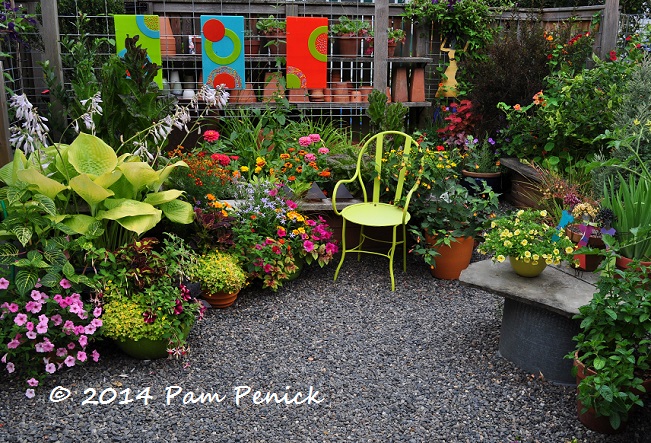 A container garden in shades of chartreuse, hot pink, and golden yellow elicited oohs from our group. Linda's fused glass pieces hang on the cattle-panel trellis, which screens a potting bench.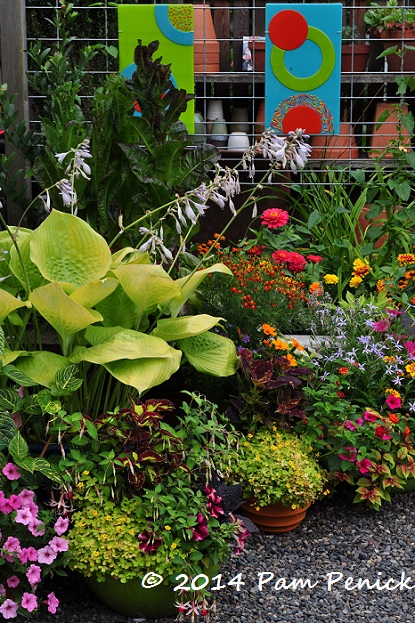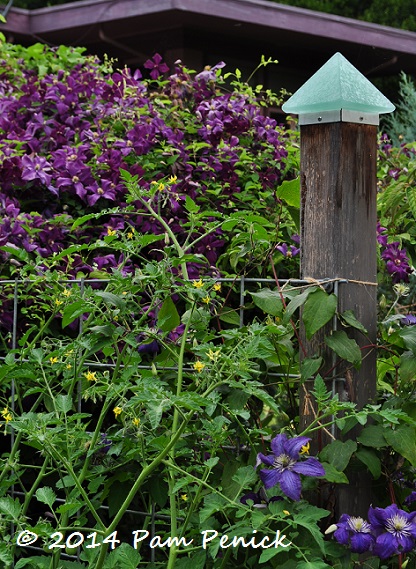 The perimeter fencing, simple wooden posts supporting a wire screen, is given a custom touch with fused-glass post caps. Purple clematis romantically tumbles along the fence.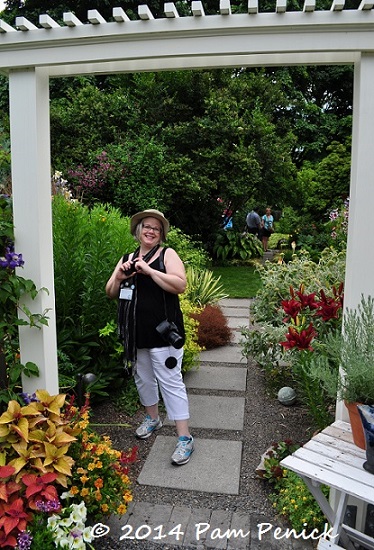 Here's Caroline, giving us a sense of scale with the arbor.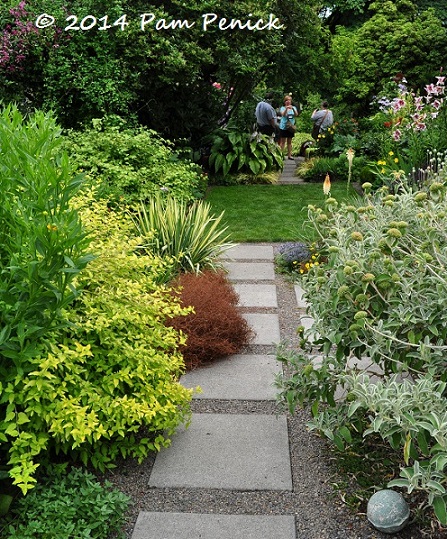 Walking back down the paver path: the driveway patio is to the right, and straight ahead is the only patch of lawn in the whole garden. Beyond that, another garden room beckons.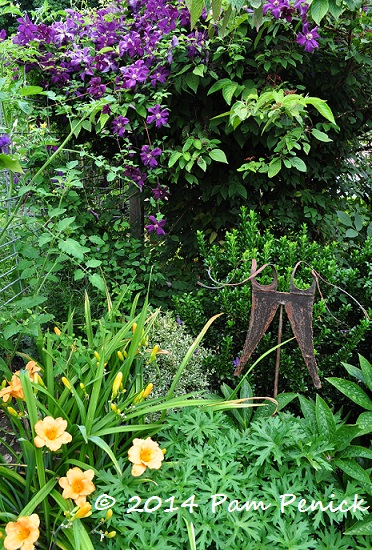 But before we get there, let's admire the vignettes along the way, like this steel sculpture that hints of a woman's form, or at least her clothing.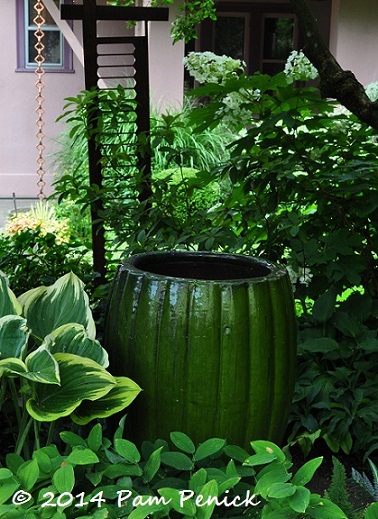 And this green pot tucked into a leafy, green shade garden along the property line, partially screening the neighbor's house.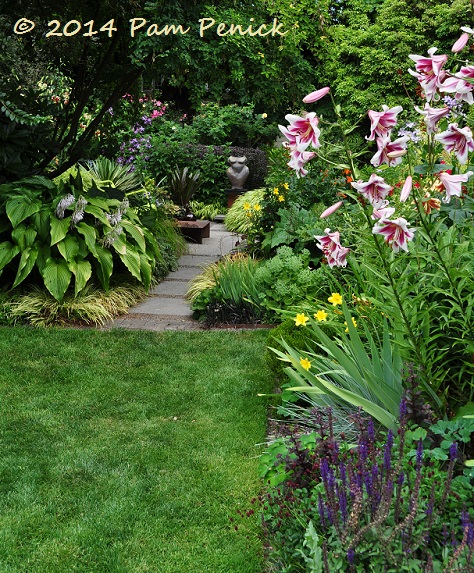 But that velvety lawnette entices you forward. Lilies scent the air. Another paver path leads on.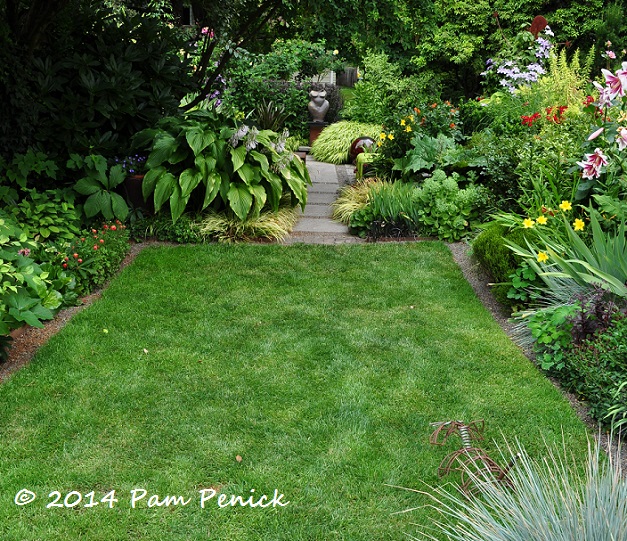 A sculpture at the end of the path is a perfect focal point.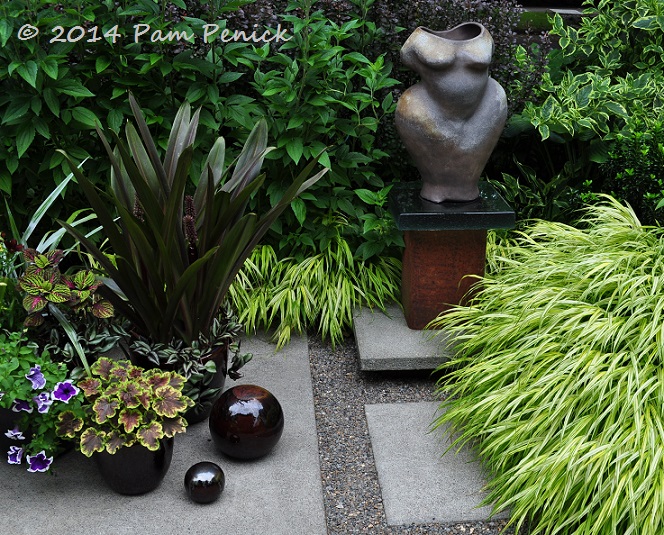 The sculpture is revealed to be a voluptuous torso, elevated on a handsome plinth. The plants, pots, and ceramic balls at left echo its bronze color, while Japanese forest grass adds contrasting chartreuse brightness.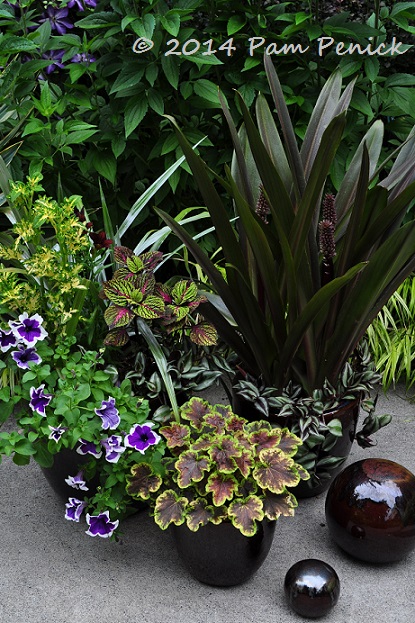 Black beauty!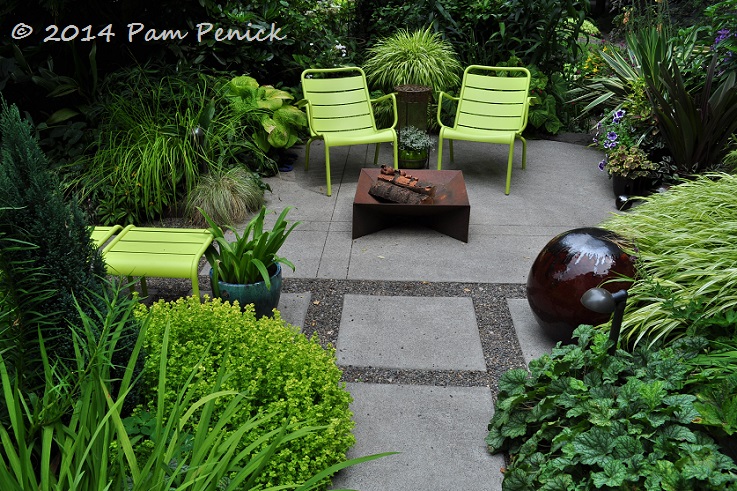 At left of the torso sculpture is a pair of chartreuse chairs and a steel firepit. The surrounding garden is lush foliage in chartreuse and bronze.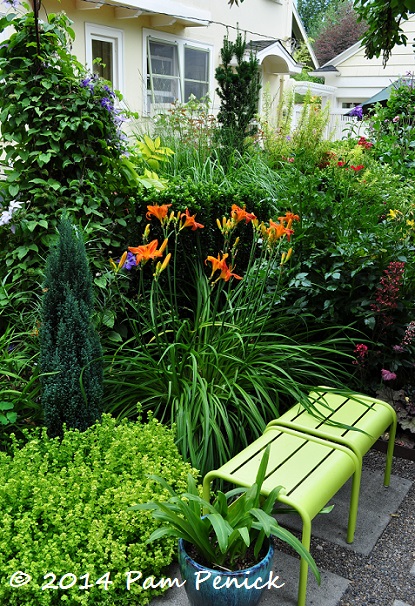 With a little orange thrown in.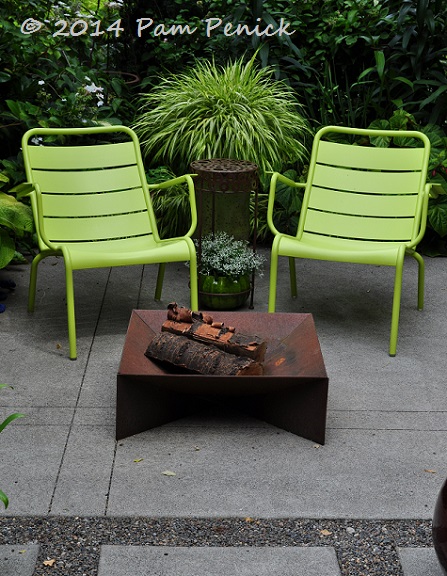 Didn't I see these chairs at Digs Inside & Out, in purple perhaps?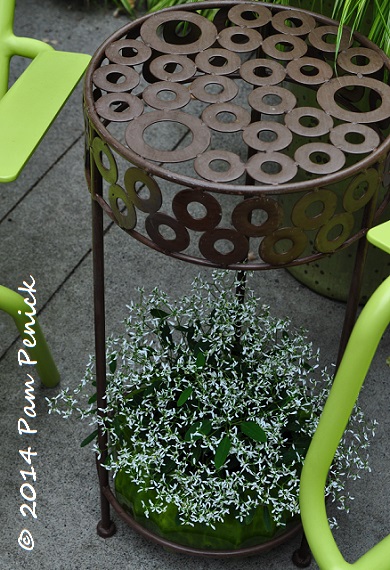 I love this "washer" table, with a 'Diamond Frost' euphorbia on the lower shelf.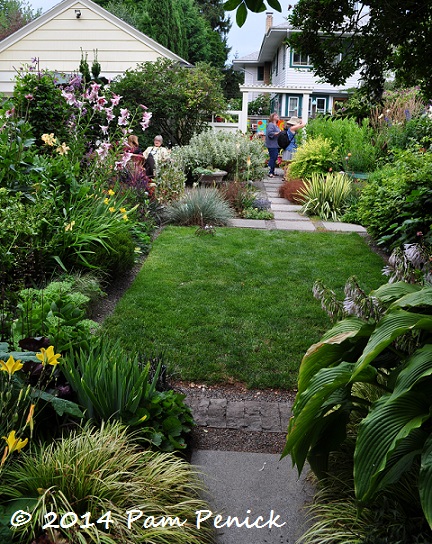 Looking back down the path toward the lawnette and the white pergola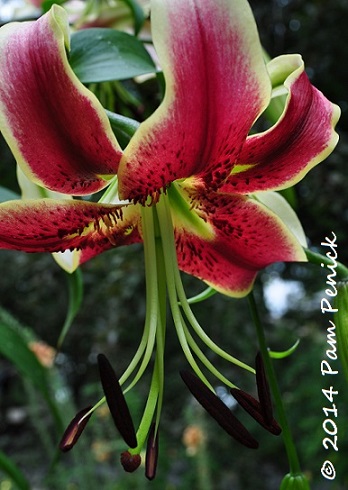 Lily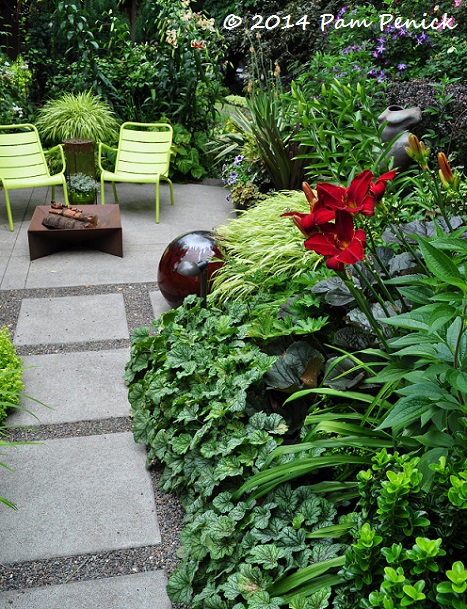 And stepping back a few feet for a longer view of the chartreuse seating and bordering garden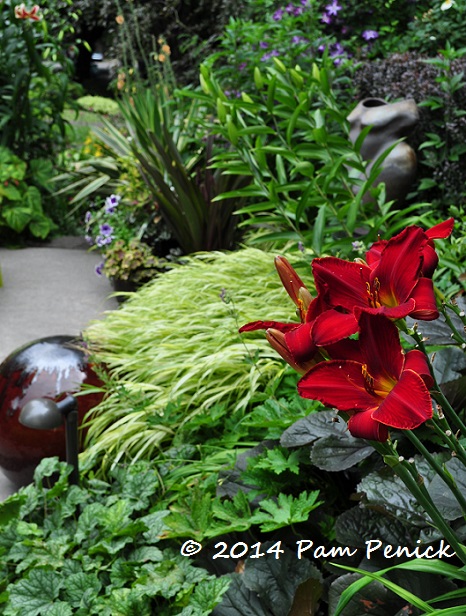 Fabulous!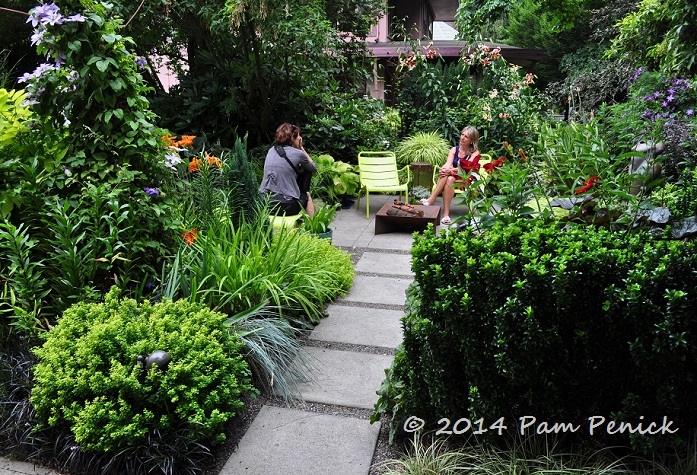 The path I'm backing down leads to the entry garden.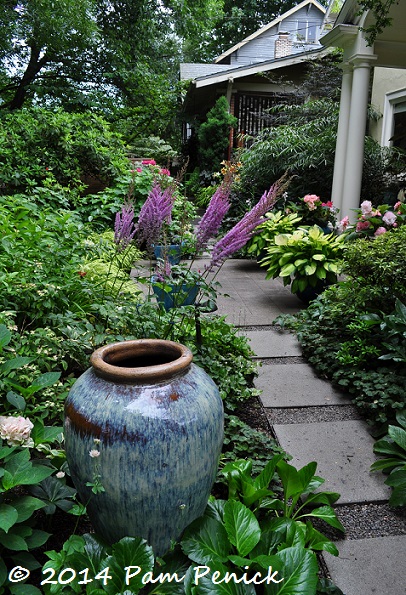 Here it is. The porch with white columns is Linda's. Beyond, the house with the chimney belongs to her friend, Joanne.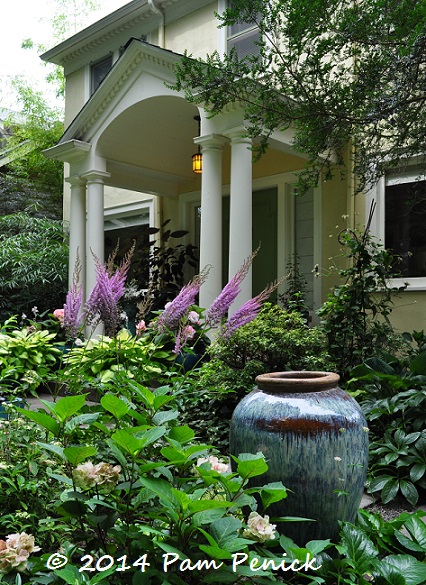 Linda's pale-yellow house is a handsome backdrop to the gardens.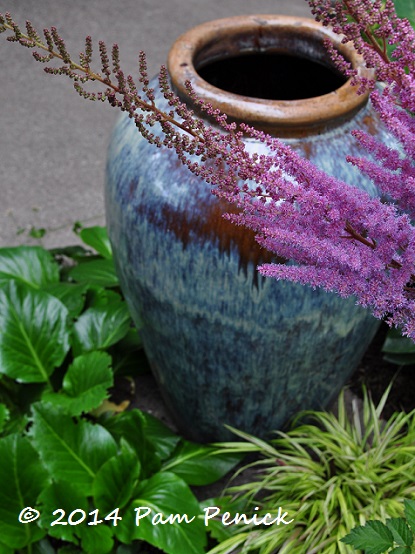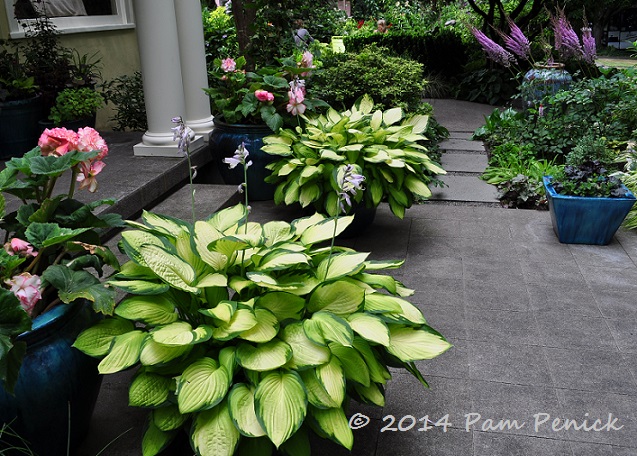 Potted hostas flank the porch steps.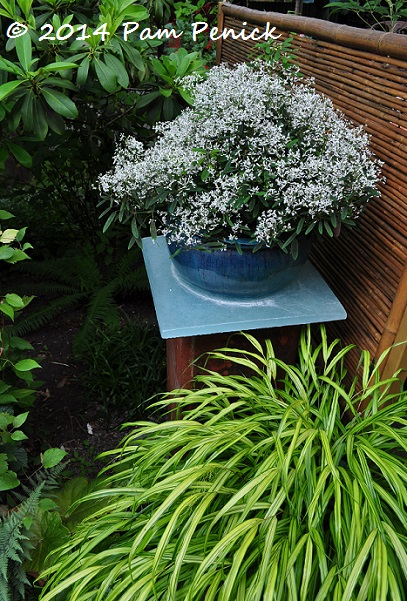 A low, bamboo fence separates Linda's and Joanne's front gardens. Linda has brightened her side with another 'Diamond Frost' euphorbia on a glass-topped pedestal.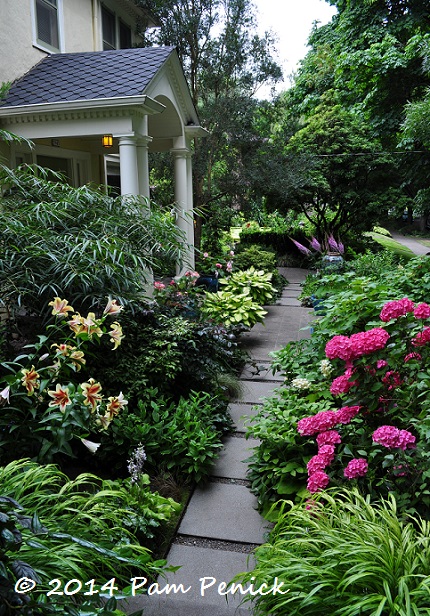 Turning around, at the opening between the friends' gardens, I take in Linda's entry garden once more.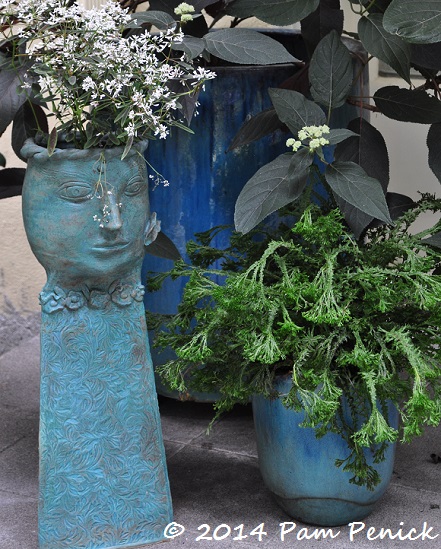 Dancing Ladies Garden, so full of exquisite detail, inviting seating, and beautiful plant combos, was definitely one of my favorites on the tour.
Up next: The spectacularly colorful, exotic, and tongue-in-cheek Floramagoria. For a look back at the artful garden of Joanne Fuller, next-door neighbor to Linda Ernst, click here.
All material © 2006-2014 by Pam Penick for Digging. Unauthorized reproduction prohibited.
posted in
Annuals
,
Arbors
,
Color
,
Containers
,
Decor
,
Design
,
Dyckias
,
Fences
,
Fling Portland
,
Flowers
,
Fountains
,
Garden art
,
Garden tours 2014
,
Gates
,
Grasses
,
Lawn Gone!
,
Lawns
,
Paths
,
Patios & decks
,
Sculpture
,
Seating
,
Succulents
,
Summer color
,
Travel
,
Vines
,
Walls
,
Water features