July 31st, 2014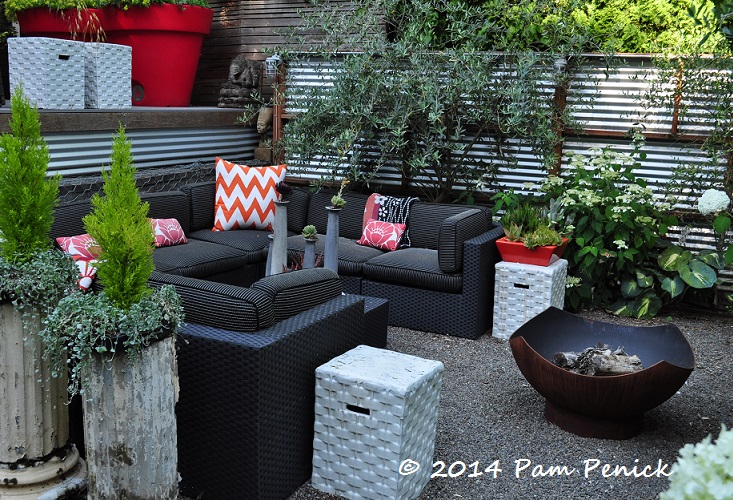 What's black and white and red-orange all over? The stylishly mod yet playful garden of JJ De Sousa, that's what. Owner of Digs Inside & Out home-and-garden shop, which I visited pre-Fling, JJ has an enviable talent for creating inviting, colorful garden rooms, perfect for entertaining, which wrap around her home on two levels. Nothing is pretentious or precious here. JJ spray-paints garbage bins orange and makes them into planters. She encases ordinary concrete pavers in gabion wire to create retaining walls. Gnomes, tentacled planters, and even flying shrimp populate her garden.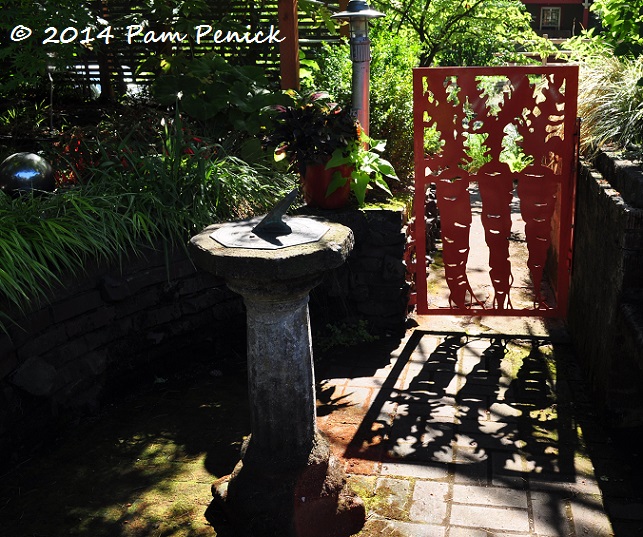 But let's go back to the start — and JJ's carrot-orange front gate. I visited JJ's garden earlier this month on the 2nd afternoon of the Garden Bloggers Fling, held this year in Portland, Oregon. The carrot gate sets the orange color scheme and perhaps fools you into thinking you're entering a front-yard edible garden.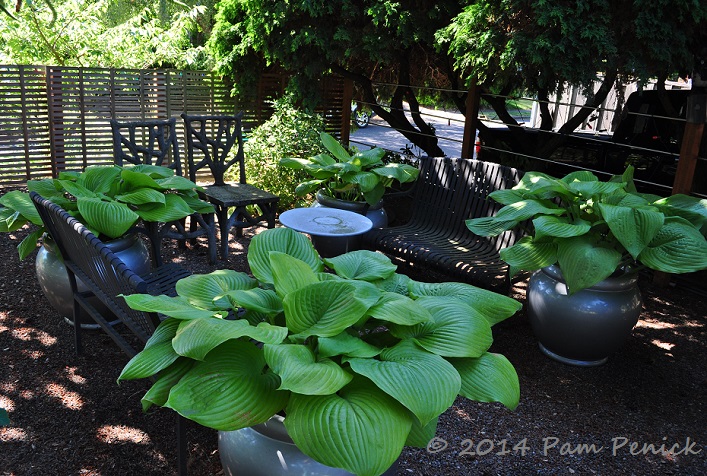 Instead, the gate opens onto a narrow walk bordered on one side by a lush, green shade garden, on the other by a "living room" of garden benches and chairs boldly anchored by four enormous hostas in round-bellied pots. A horizontal, wooden-slat fence screens the street from view.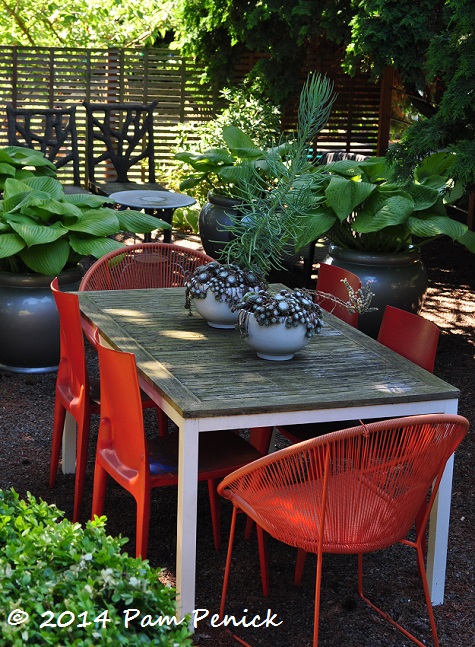 A few feet away, a dining table with spicy orange chairs sets the scene for front-yard entertaining.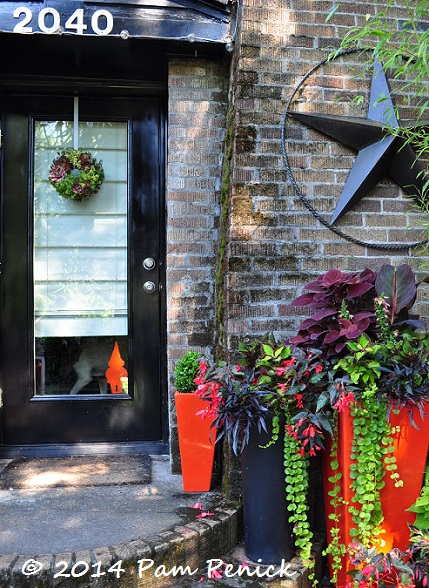 The front walk runs arrow-straight to the front stoop, dressed up with a jazzy assortment of black and red-orange pots spilling over with chartreuse and dark-leaved plants.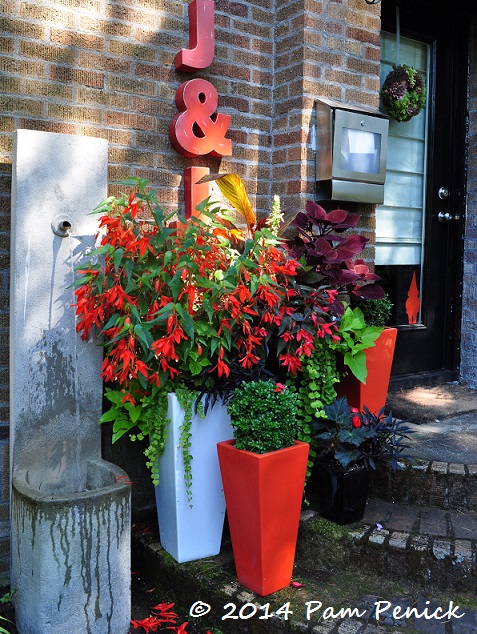 The left side echoes the right, and a skinny fountain masks street noise.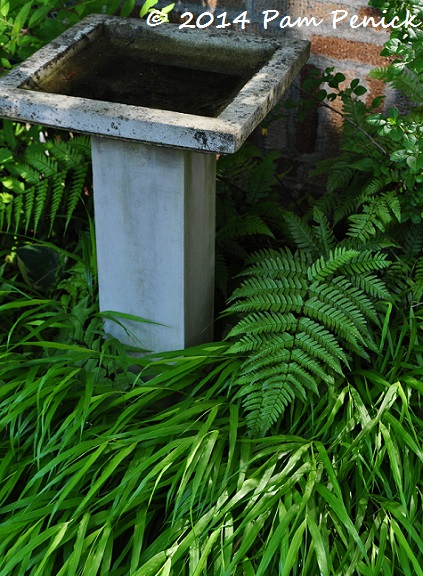 Still water has a place here too — a serene vignette in a foundation-hugging bed of forest grass and fern.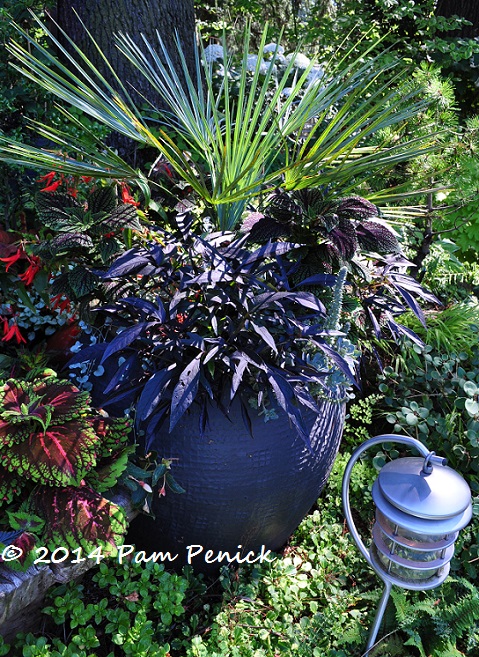 But for the most part, serene is not what JJ is after, as this riotous palm planter attests.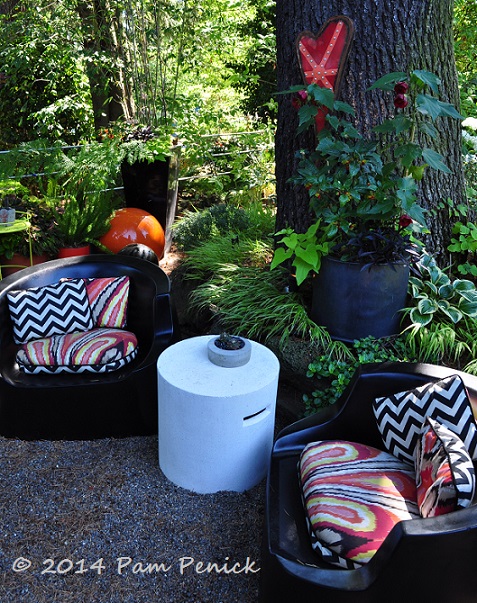 To the right of the front door, JJ has tucked a third seating area into her small front garden, this one consisting of two black mod chairs enlivened with colorful, graphic cushions and a cylinder-style table, backed by a large tree hung with garden art, floored with dark gravel.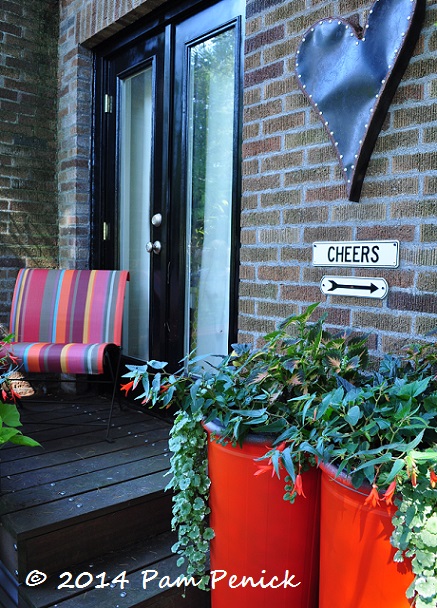 A tiny deck accessed via French doors offers yet another sitting nook, with planters made of bins that JJ spray-painted orange. If you ever thought your garden too small for multiple seating areas or entertaining large groups, JJ's small garden — on a lot that's only 77 by 127 feet — shows you how to do it. She tucks chairs, benches, and tables throughout her garden, easily providing space for 40 people at a time to circulate and converse in comfort.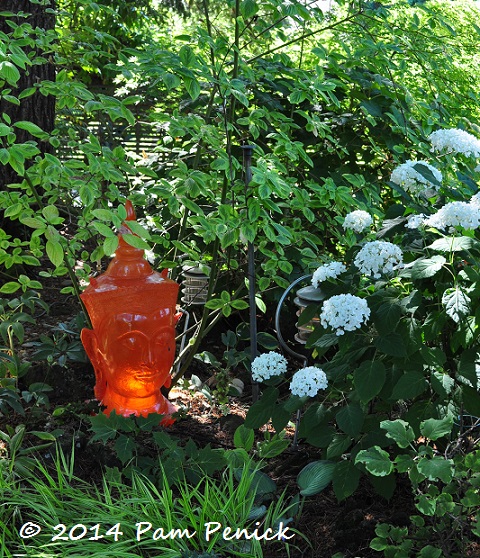 A buddha head — orange, of course — glows in the shade garden.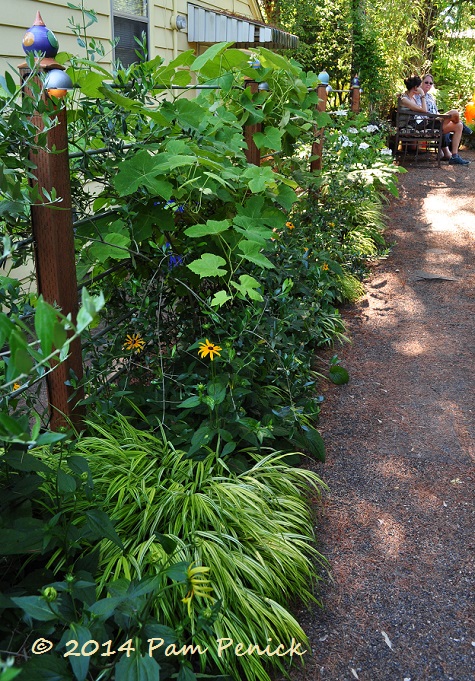 A side fence of horizontal metal rods and wooden posts capped with whimsical, fired-clay finials runs alongside the path to the back garden.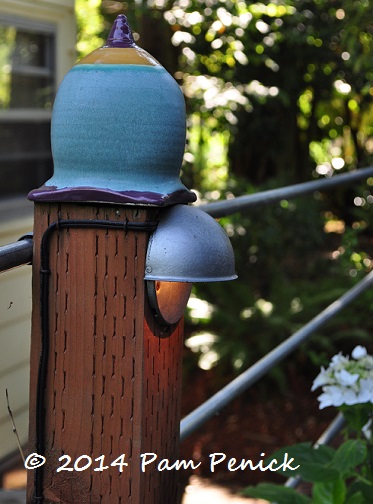 Down-lights are attached to the fence posts to softly illuminate the path. JJ reminded me that lighting is an essential element in a garden — something I need to work on in my own garden.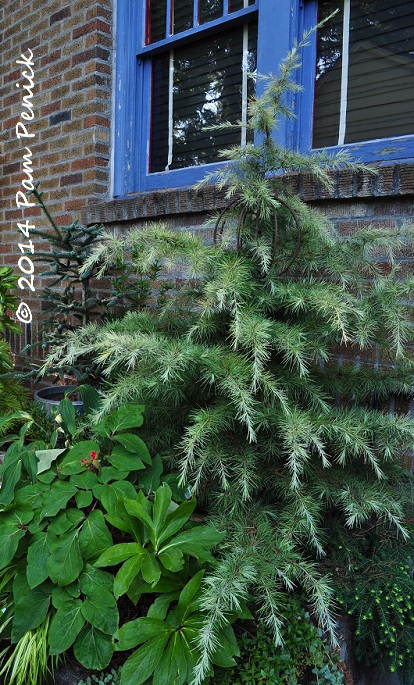 The side garden is not an afterthought but densely planted with interesting and beautiful specimens.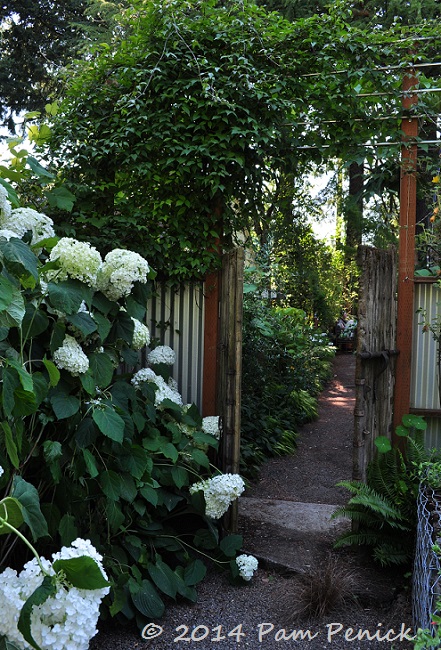 A wood-framed, corrugated-metal fence encloses the back garden, and the gate posts rise high to support an arbor of metal rods draped with a vine. An antique wooden door serves as the gate, which opens to a shining line of white hydrangeas…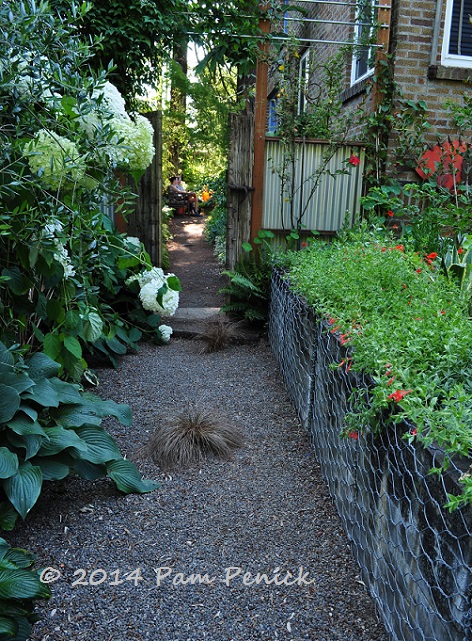 Across the path is a retaining wall creatively constructed of stacked concrete pavers bound gabion-style.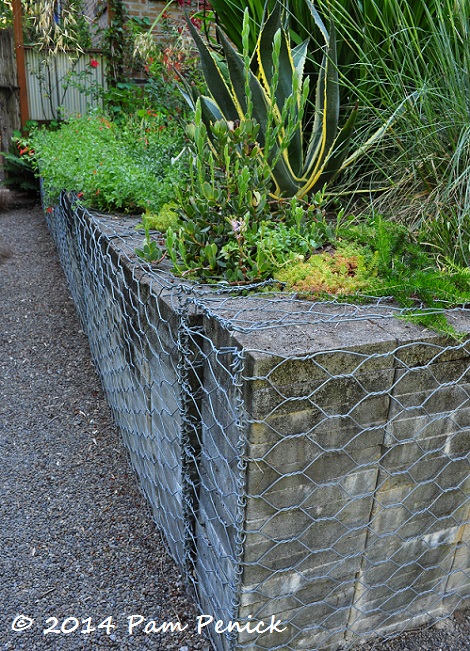 The wall supports an upper-level garden accessed via an elevated deck and patio off the back of the house. Stairs lead up between the wall…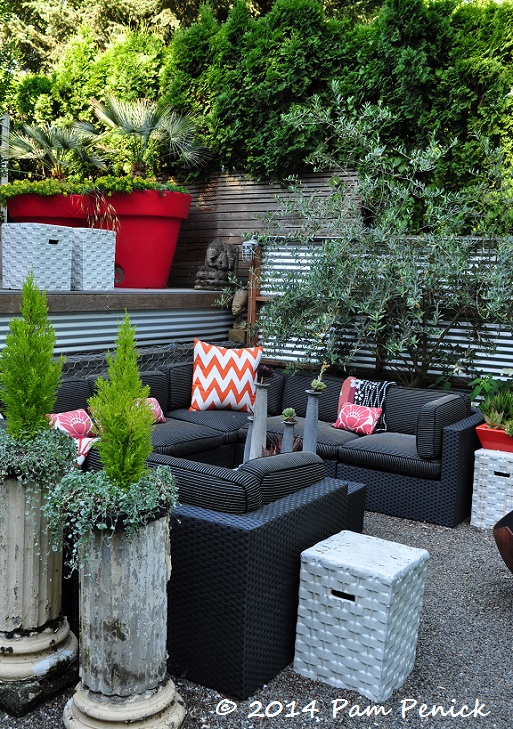 …and a fantastic, ground-level patio with a cushioned sectional sofa and a firepit. How does a cushioned outdoor sofa work in soggy Portland, I couldn't help wondering? Does JJ store the cushions when not in use, or cover them? I should have asked. At any rate, I love it when outdoor seating is as comfortable as indoor seating, giving you every reason to linger outside.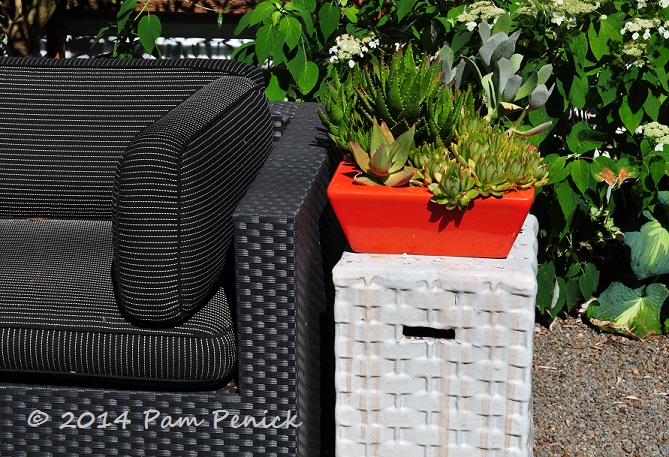 Ceramic "woven" side tables hold orange trays of succulents.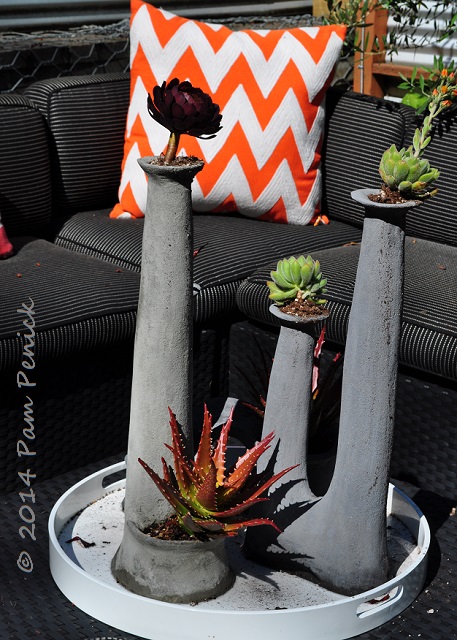 Graphic pillows add zing to the dark sofa. A Dr. Seussian planter holds single succulents up for inspection.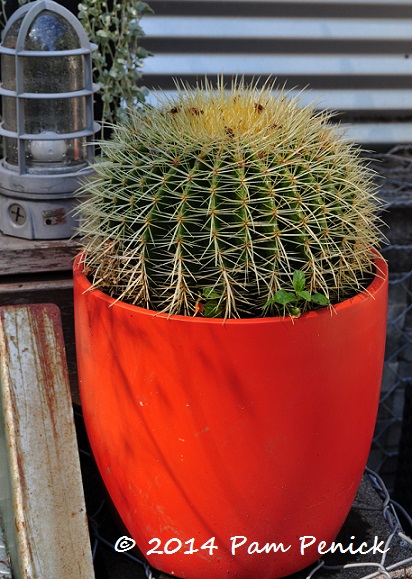 A golden barrel cactus in an orange bullet planter — da bomb!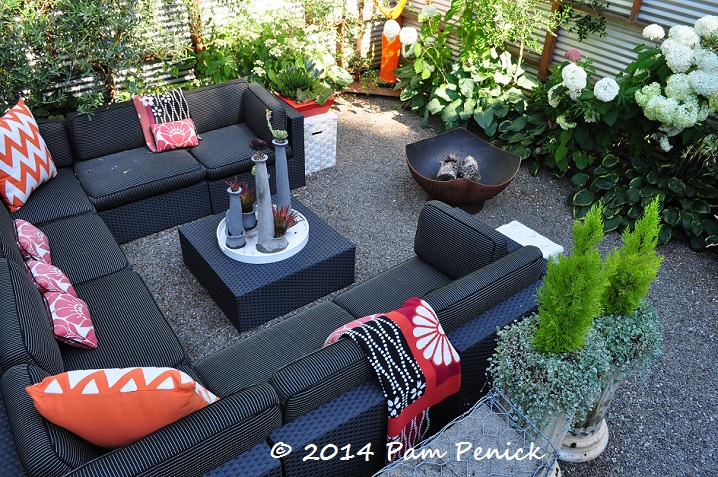 Climbing the steps to the upper level, you get a nice overhead view of the conversation-pit patio.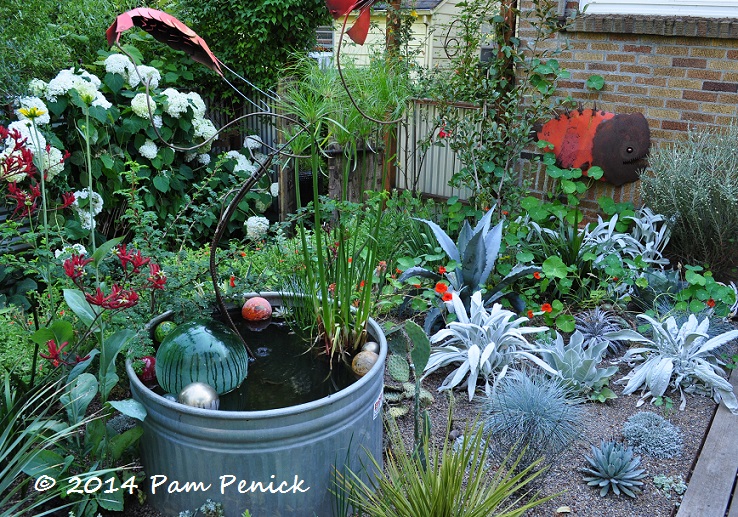 To the right, here's the garden planted atop the gabion-paver wall — a shimmery, silvery dry garden and a stock-tank pond.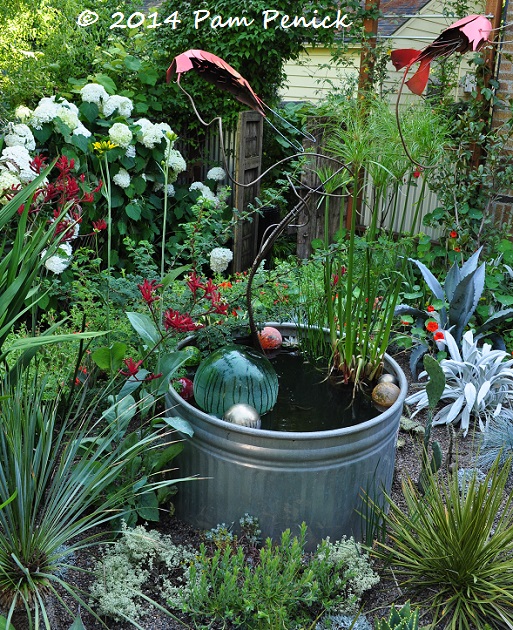 This stock-tank pond just happens to contain leaping shrimp!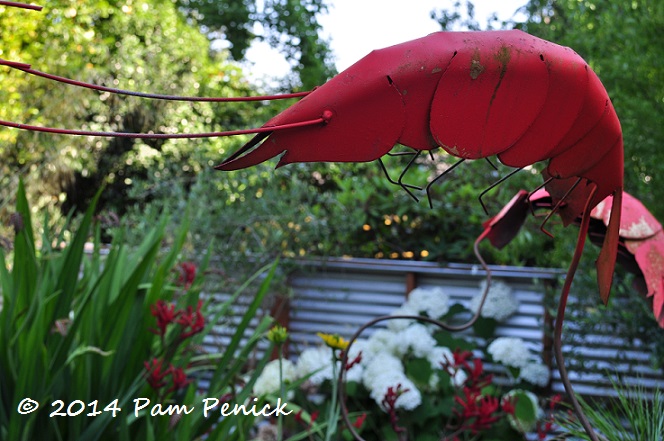 Yes, shrimp. Is this not one of the quirkiest things you've ever seen? I absolutely love it. Someone pointed out that a grevillea was growing next to it — not a plant we grow in Austin, but I'm familiar with its flowers, commonly described as shrimp-like. Delightedly I asked JJ if the shrimp connection was intentional, and she (wisely) said, "Of course!"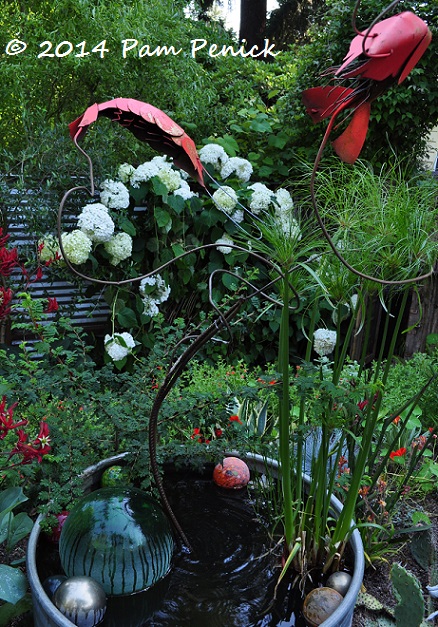 Another view, just because. I like the glass floats too.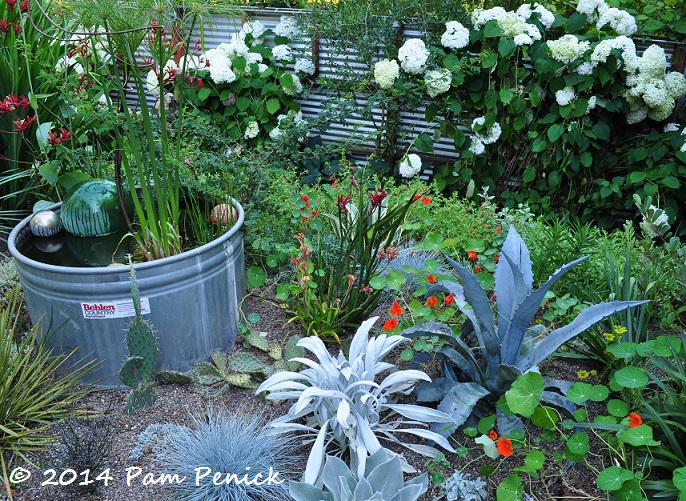 The dry garden contains agave, prickly pear, blue oat grass, kangaroo paws, and a beautiful, fuzzy, silver plant that JJ told me is a new variety of something, but I've forgotten what. Does anyone know? Update: It's Stachys 'Bello Grigio'. Thanks, Alison!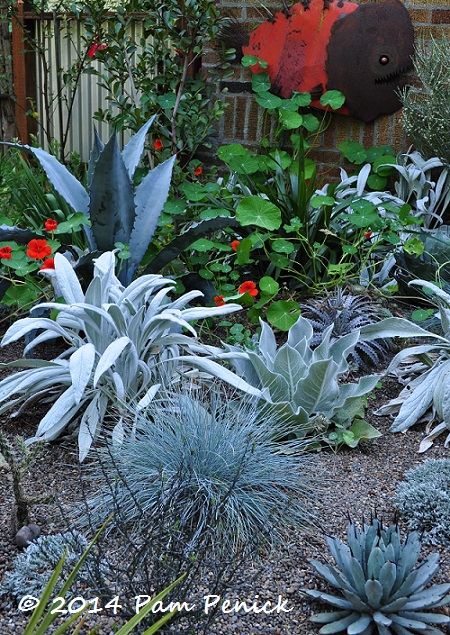 Another view. The metal piranha in the background lights up at night, JJ told me.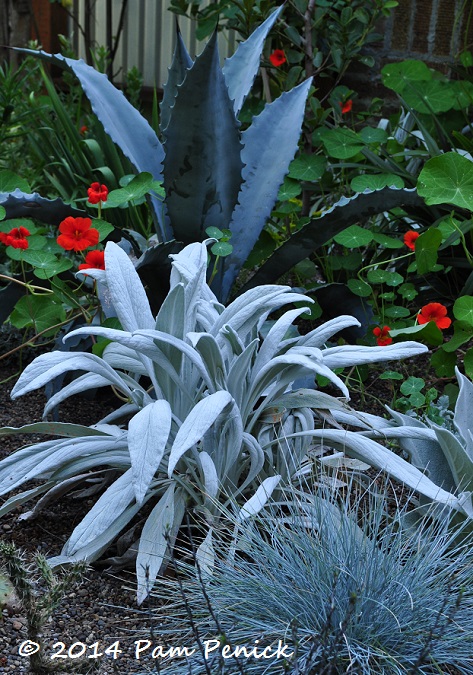 Stachys 'Bello Grigio', with an agave and orange nasturtiums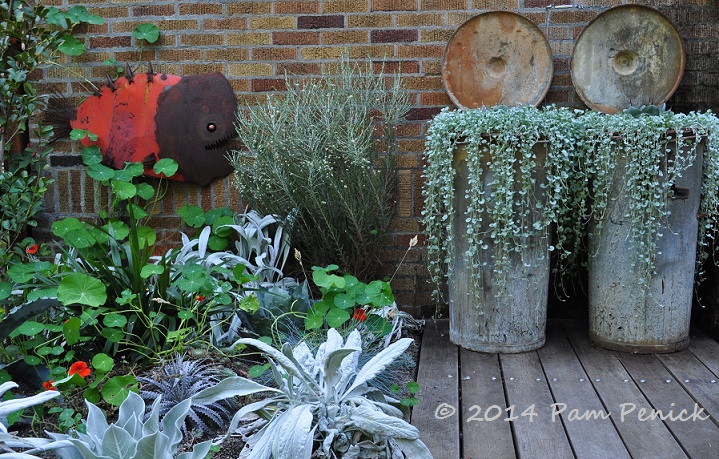 Panning right, two garbage pails with silver ponyfoot spilling out create a vignette that'll make you do a double-take. I notice JJ often uses pairs of pots instead of the usual groups of three in her arrangements.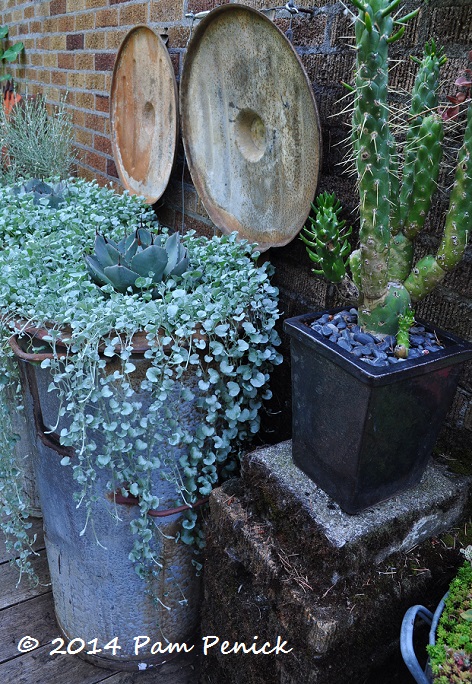 A side view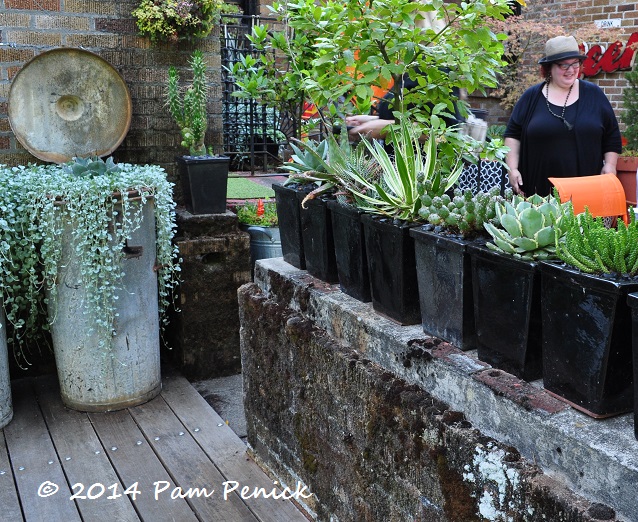 Looking right, a low wall lined with black pots of succulents divides the deck from a concrete patio near the back door. That's JJ in the hat.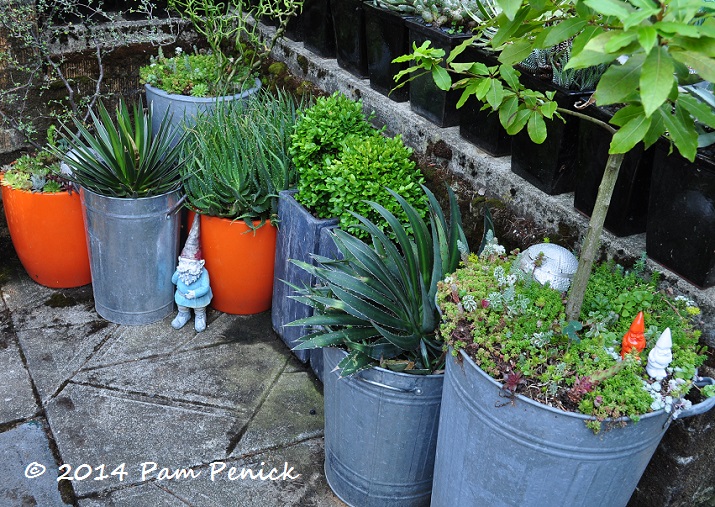 Four pairs of pots and galvanized flower buckets-turned-planters soften a hard corner.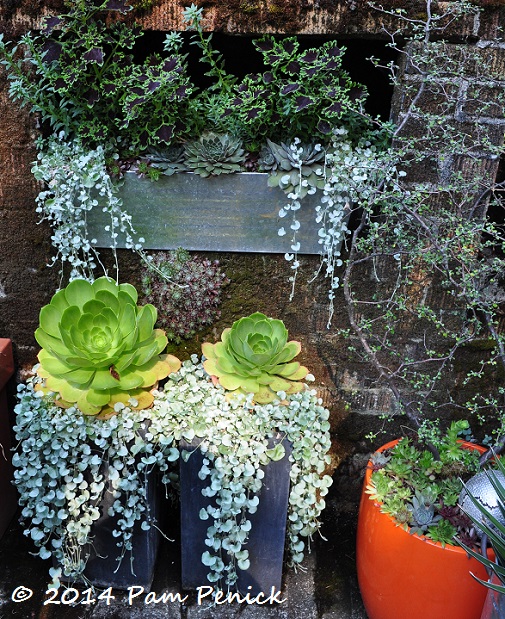 Pots are everywhere in this garden, tucked into niches, sitting atop walls and stairs, hung on fences, adding height to planting beds.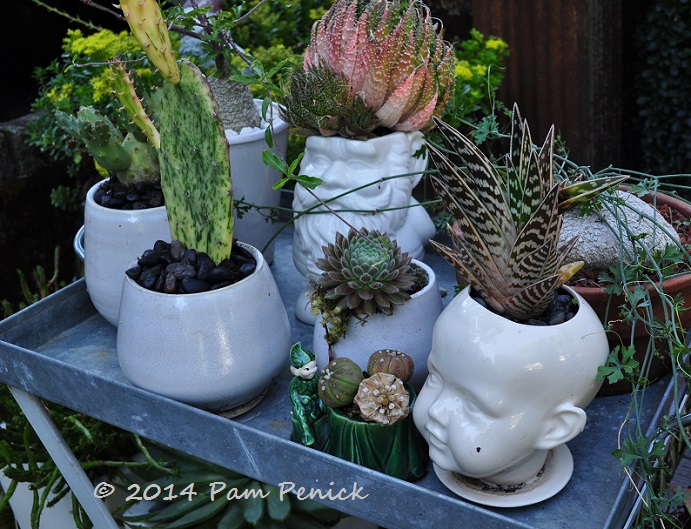 An eclectic assortment of small, white pots, including a baby head, is gathered on a galvanized tray.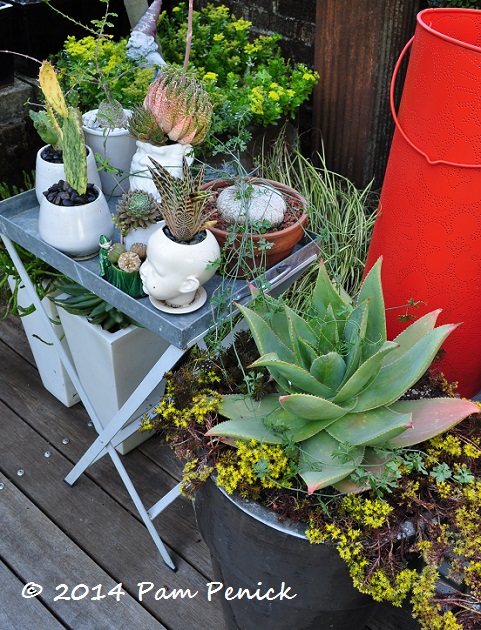 A wider view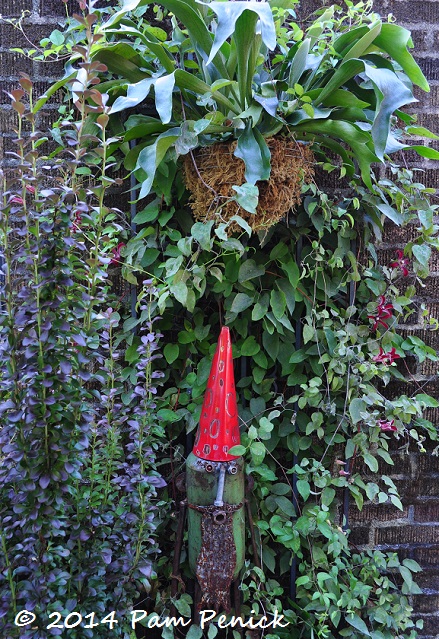 Whimsical garden art adds humor and the delight of discovery as you explore.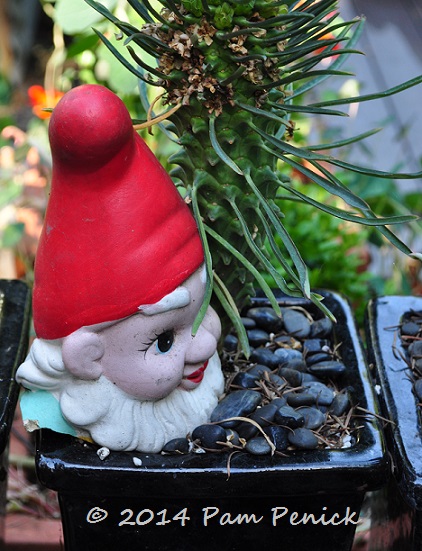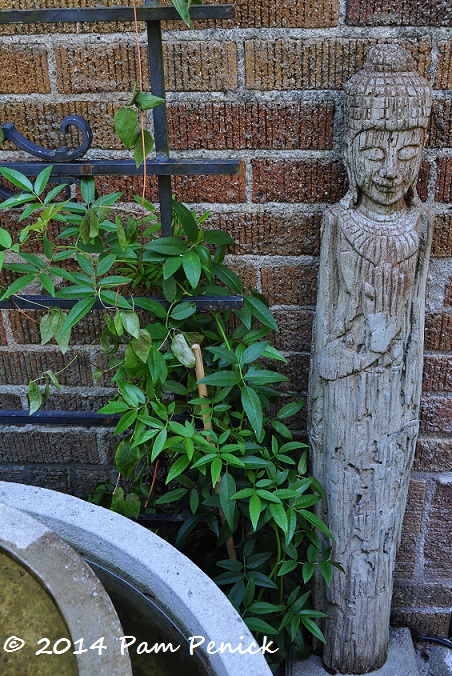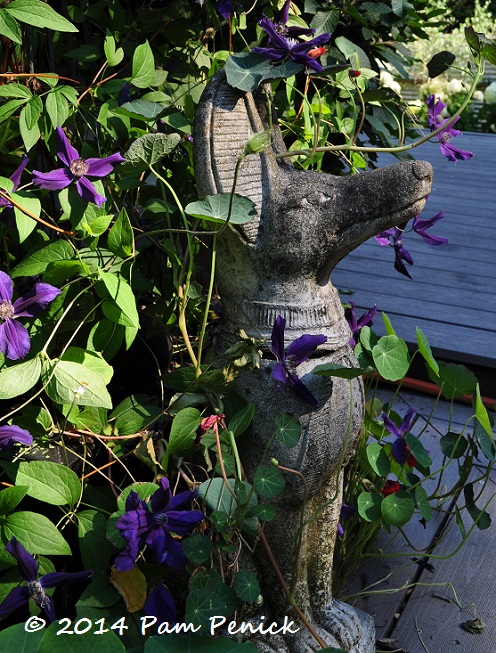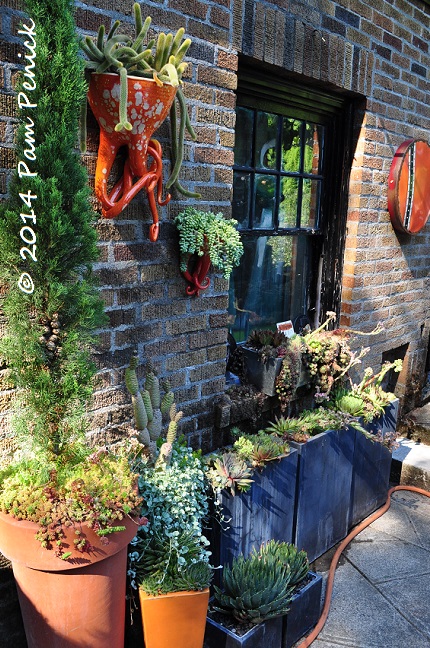 JJ's garden goes vertical, climbing the walls of her home, with fun wall planters and trees in tall pots.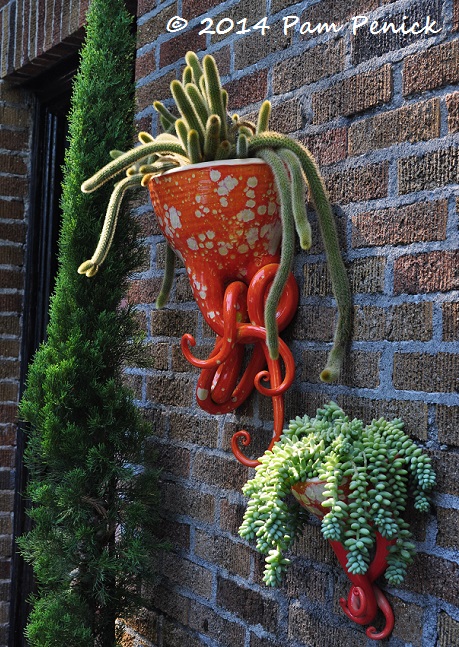 I absolutely coveted one of these squid wall planters when I was in JJ's store, Digs Inside & Out. JJ has two, one planted up with an appropriately tentacle-like rat tail cactus, the other with a trailing sedum.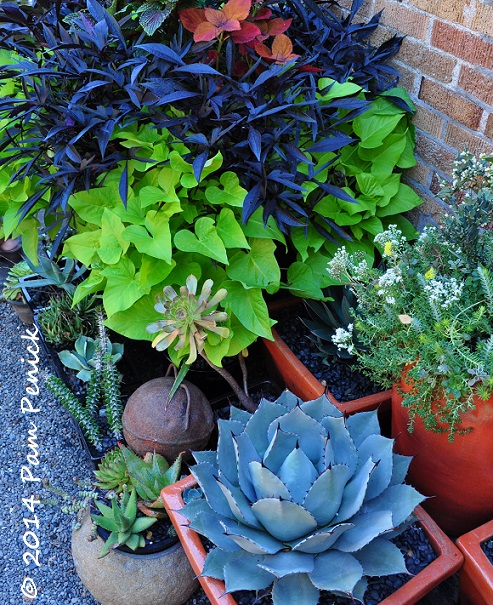 More pots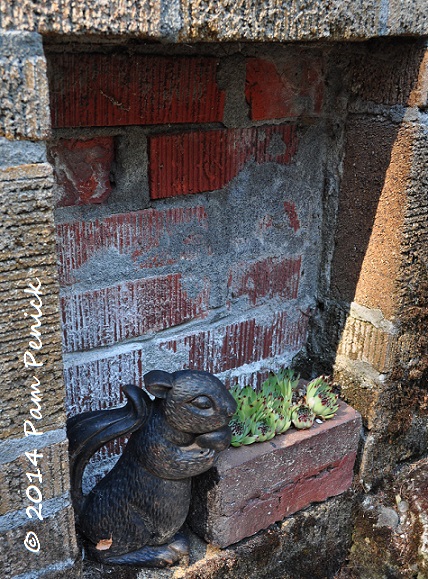 And tucked into a niche, a cast-iron squirrel and — what is that, a planted brick? Adorable!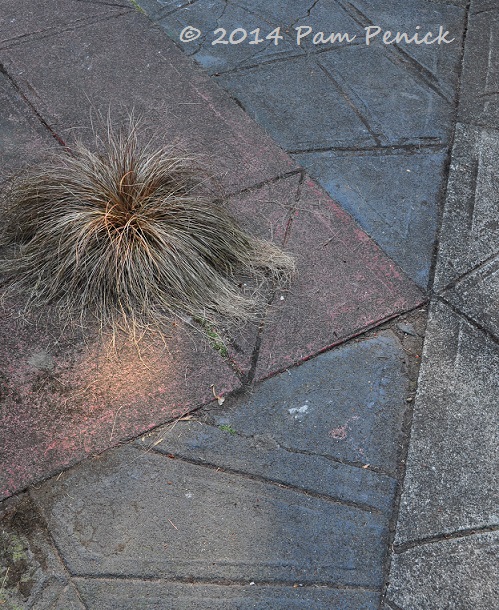 Tawny New Zealand sedges sit like discarded toupees here and there in her patios and paths, planted, I suppose, in small gaps in the paving.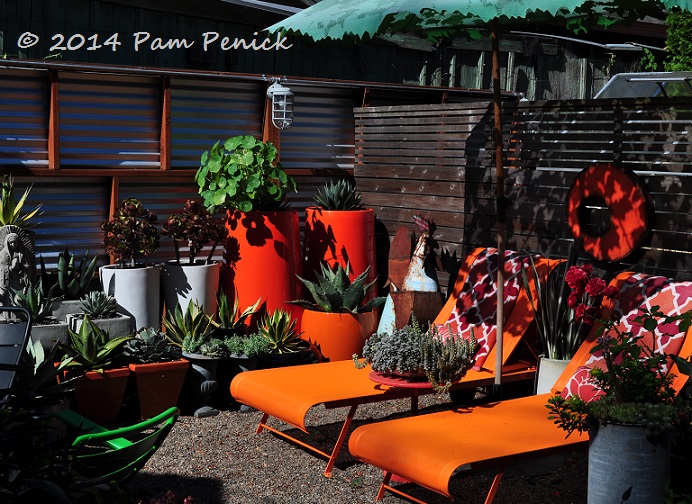 A sunny, orange garden room invites lounging at the far-back corner of the house.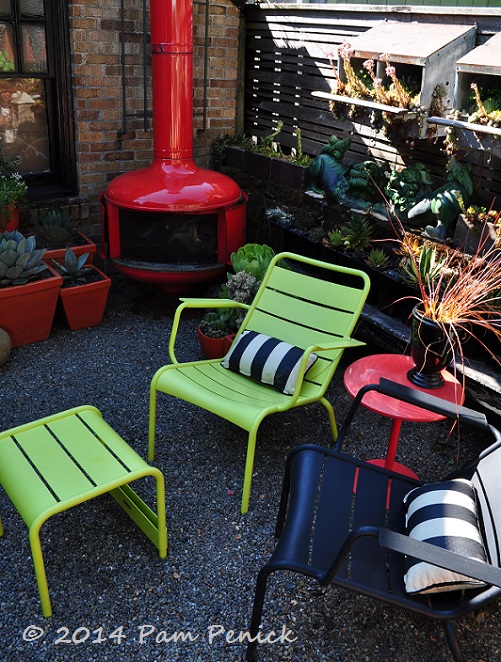 But when nights turn chilly, a tomato-red chiminea stands ready to warm things up. Notice the chicken nesting boxes on the fence planted with hens-and-chicks sempervivum.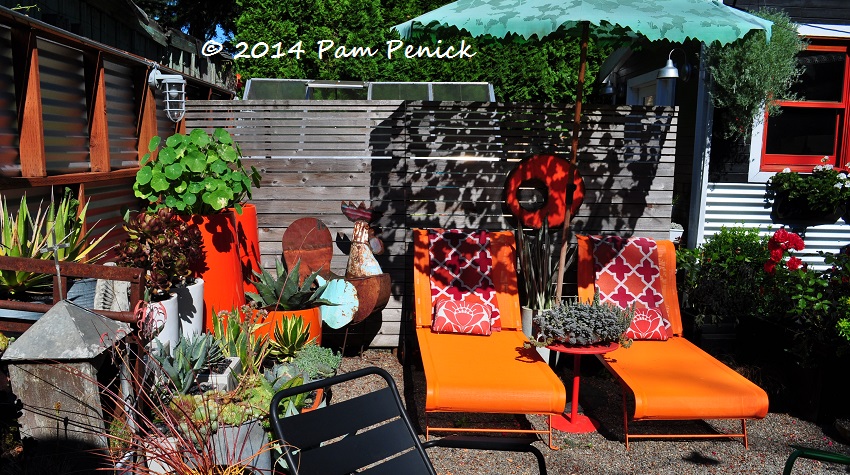 A wide view shows that JJ managed to squeeze in a greenhouse (behind the screening fence) and garden shed into her small garden as well. The shed helps to form one of the walls of this garden room.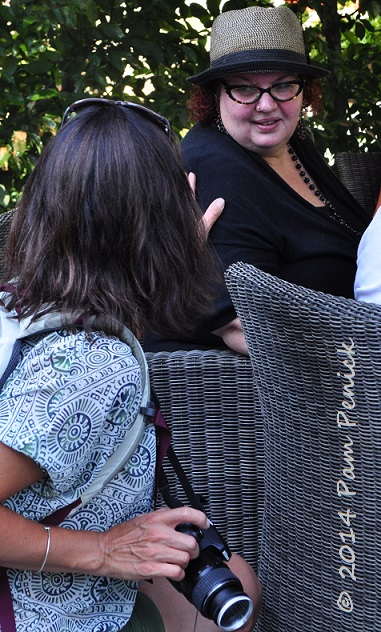 Our group was on the 2nd bus to visit JJ's garden, on an unusually hot day that was just starting to shade into cooler evening temps. JJ welcomed us warmly and gamely answered our questions about plants and her design. Her garden was such an inspiration for me: fun, bold yet intimate, and very liveable.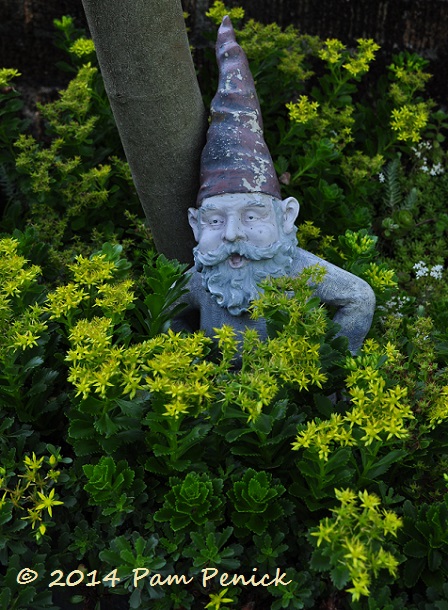 It got my wheels spinning, and I'm already thinking how I might create a few more "rooms" in my own rambling garden.
Up next: The enticingly textural and colorful Chickadee Gardens. For a look back at the spiky plant lust of Danger Garden, click here.
All material © 2006-2014 by Pam Penick for Digging. Unauthorized reproduction prohibited.
posted in
Agaves
,
Aloes
,
Arbors
,
Cactus
,
Color
,
Containers
,
Decor
,
Design
,
Dogs
,
Doors
,
Fences
,
Fling Portland
,
Fountains
,
Garden art
,
Garden tours 2014
,
Gates
,
Grasses
,
Groundcovers
,
Lawn Gone!
,
Lighting
,
Palms/Cycads
,
Paths
,
Patios & decks
,
Ponds
,
Sculpture
,
Seating
,
Sheds
,
Stock tanks
,
Succulents
,
Travel
,
Trellis
,
Vines
,
Walls
,
Water features
,
Xeric plants