July 23rd, 2014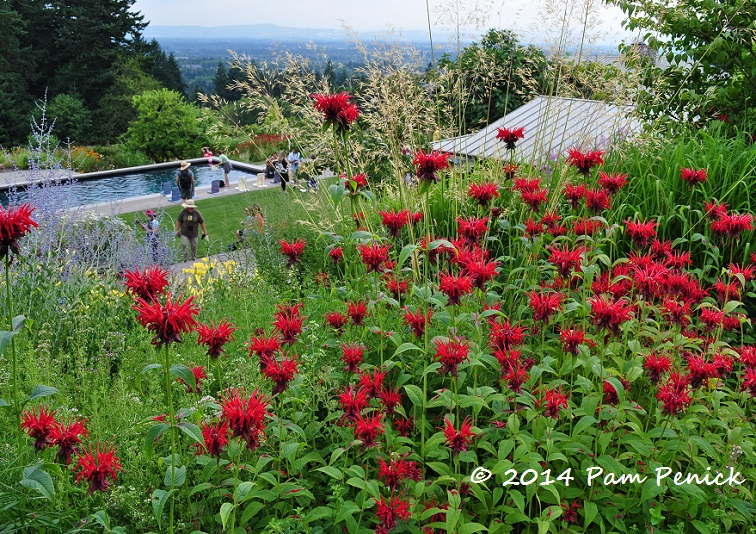 Both buses filled with 80 hot, tired bloggers bumped into a lavender field at the end of the first touring day of the Garden Bloggers Fling in Portland, Oregon, in mid-July. I tiredly thought, "How nice, a lovely field of lavender." But what I didn't realize was that a breathtaking garden awaited just down the hill, perched on an overlook with the hazy, blue undulations of mountains in the distance.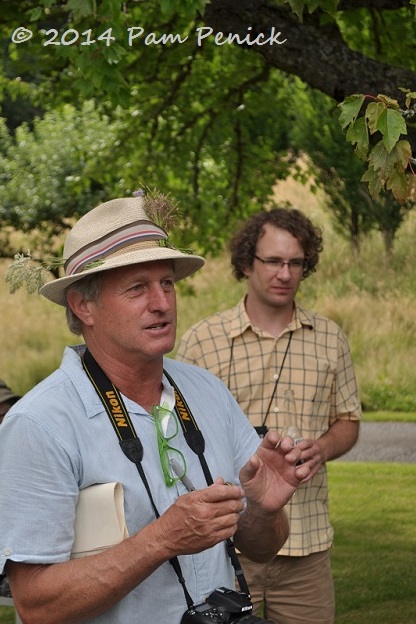 After the appetizer of lavender rows and a hillside stroll through grasses and past olive trees, we paused under a tree where a server stood behind a table, pouring wine. One of our party, a man wearing a straw hat with bouquets of grasses and flowers tucked in the brim, began talking about his recent redesign of sections of the garden. It wasn't until that moment that I realized ornamental grass expert, nursery owner, and author John Greenlee had been touring with us all day.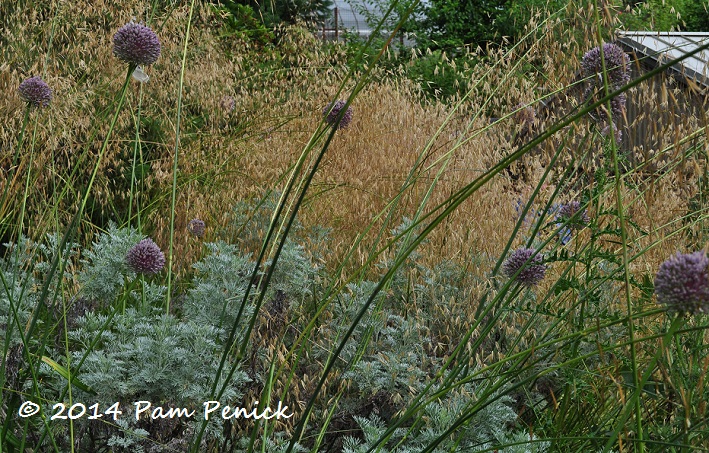 I reviewed John's book The American Meadow Garden in 2011 and am a fan of his inspired work with grasses. Seeing his work in person was a treat.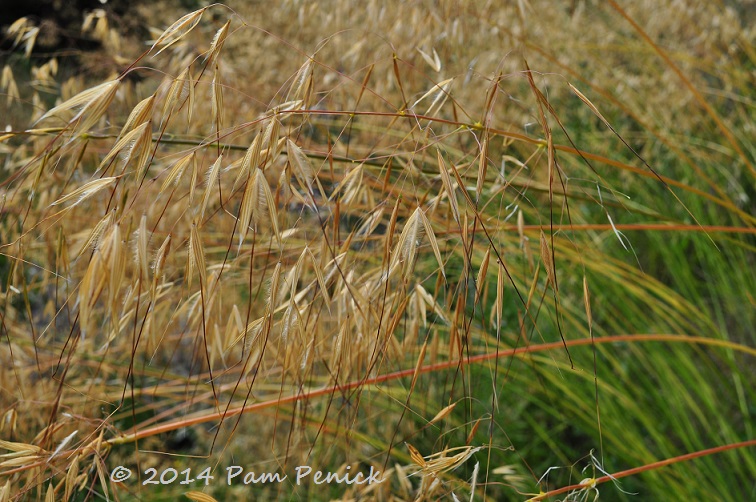 After admiring the tall grasses of the hillside entry…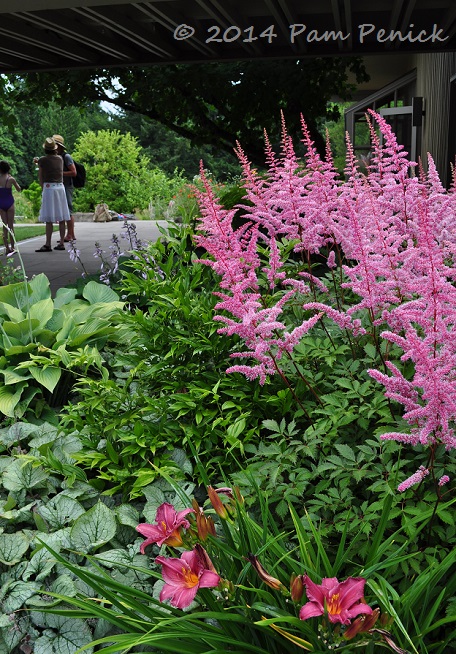 …I stepped through the portico between driveway and house…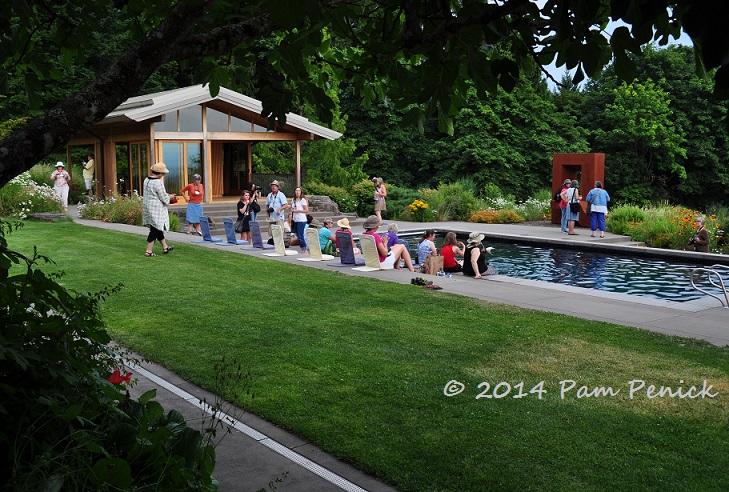 …and entered the "civilized" house garden, zenlike with the clean, angular lines of a yoga house, swimming pool, and rectangular lawn. All my tiredness fell away as I took in the scene.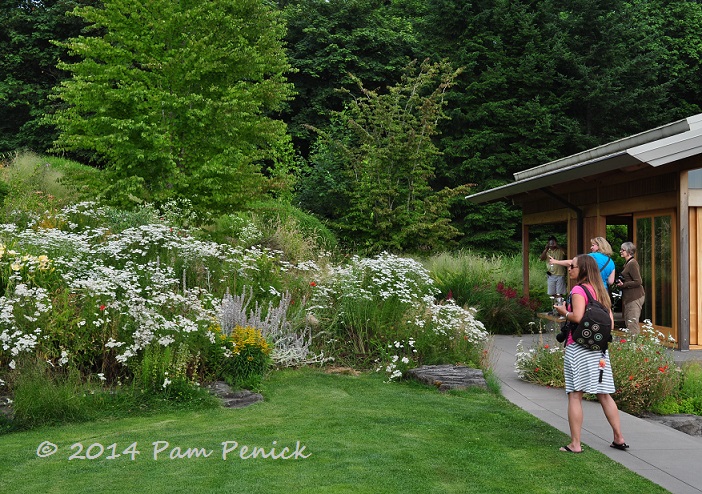 A flowery, grassy garden flowing down the slope above the pool, which attracted all eyes except those with their feet in the pool, is anything but zen. I love its frothy exuberance.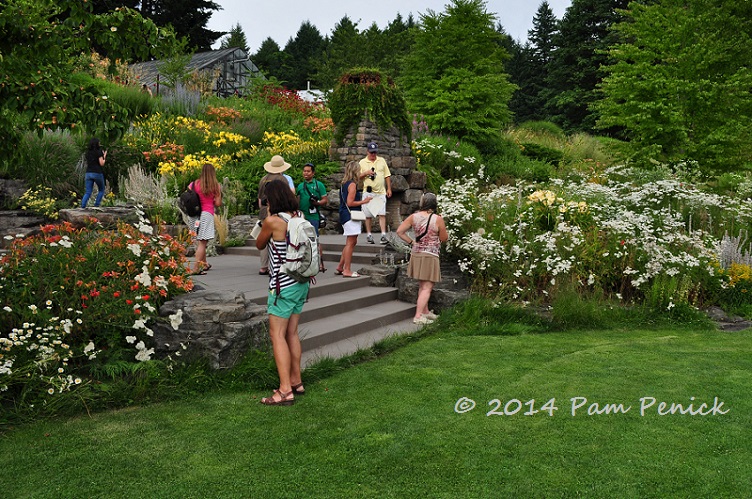 Where the lawn abuts the garden, it takes on the look of a mown space in a meadow — a neat trick. Steps lead up from the lawn to a patio with a vine-draped, stacked-boulder fireplace. From there, a path serpentines its way up the slope to a greenhouse and then back down a different route. The garden, said Greenlee, always wants to revert back to forest. It's a battle to keep it at bay, he told us, in order to create sunny spaces for flowering perennials and meadowy grasses.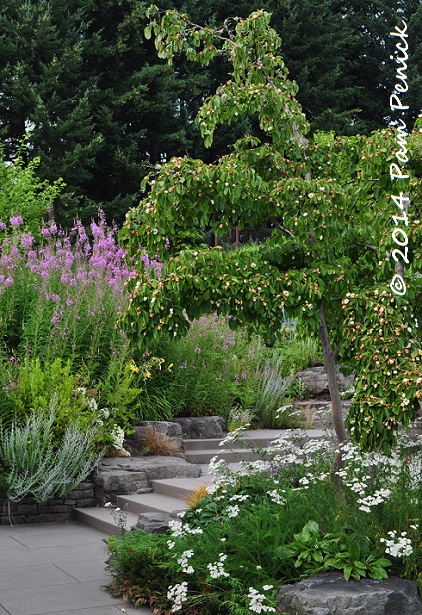 I like how boulders are used to "soften" the angular lines of the steps, blending them into the garden and holding soil in place as well.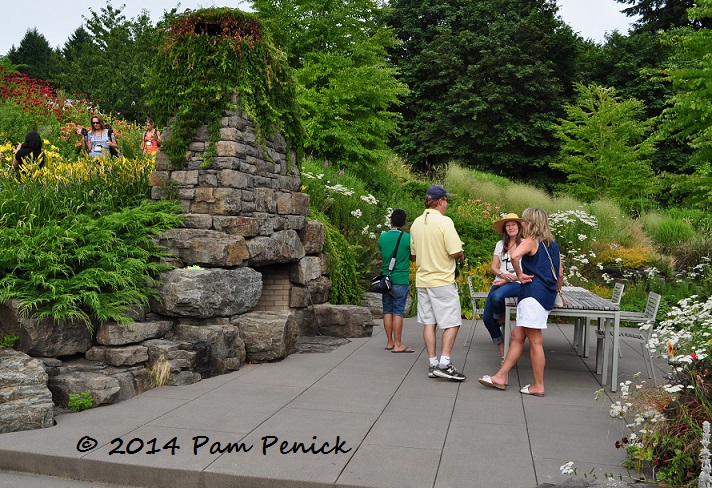 On the patio, there's the amiable Jim Peterson, publisher of Garden Design, his wife Val, and Kate, a Portland blogger.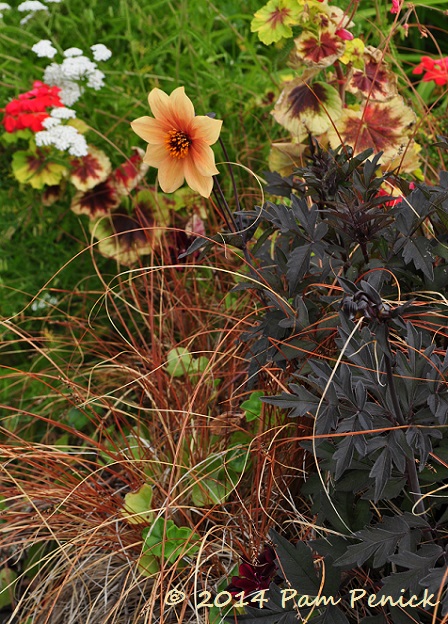 A dahlia-and-sedge vignette by the patio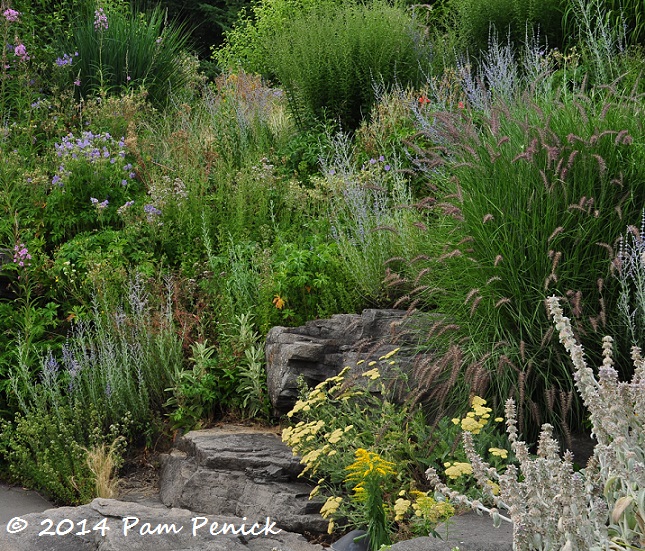 The view up the slope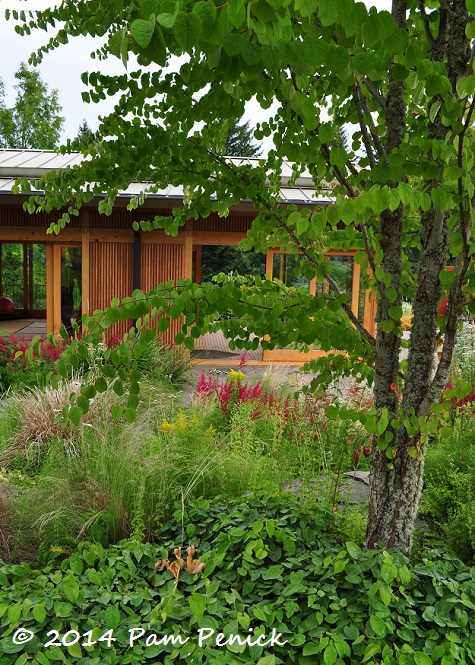 And down to the yoga house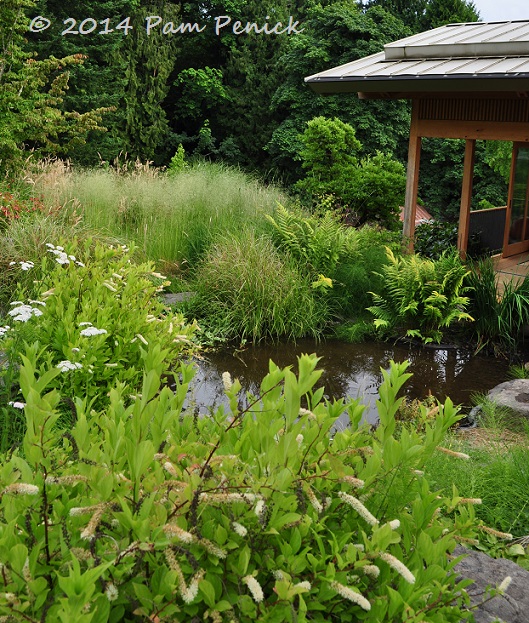 A hidden, tea-stained pond surprises amid grasses and ferns.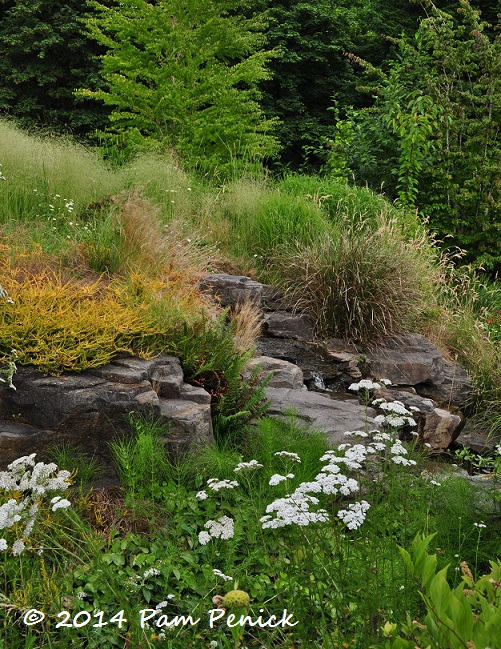 A small stream tumbles down the hill to feed the pond.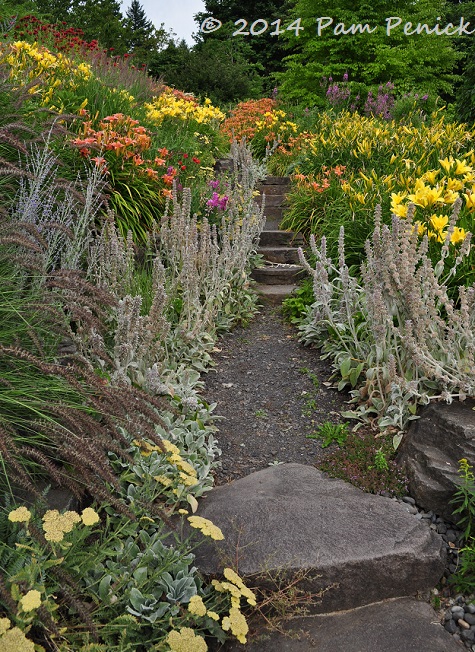 Starting up the hill — shazam! A daylily and lamb's ear gauntlet!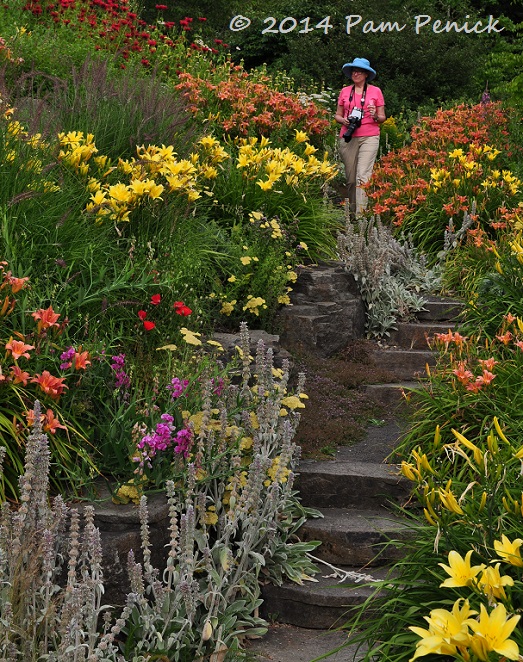 Jean braves it, as colorfully clothed as the daylilies themselves.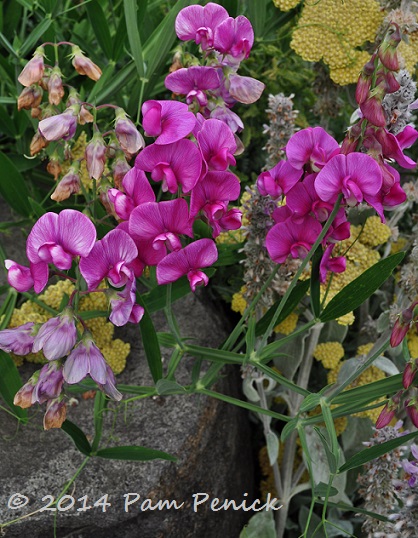 Sweet peas — still blooming in mid-July. I'm used to seeing them in spring in Austin.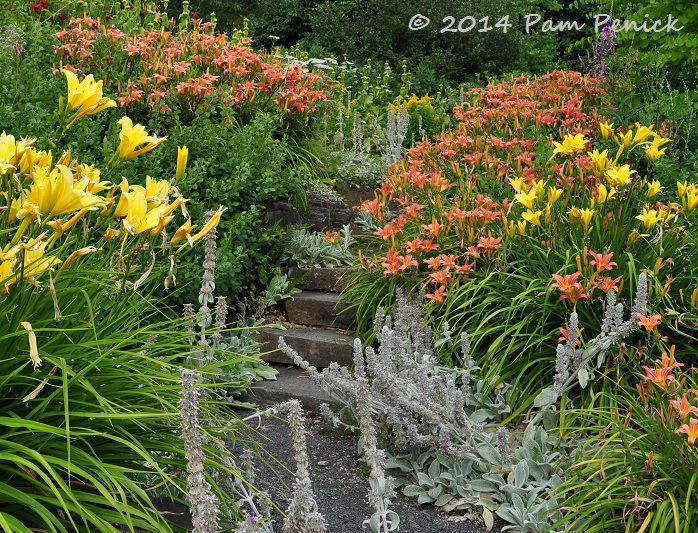 Of course our daylilies are mostly done too, but those in the Pacific Northwest were just getting their groove on.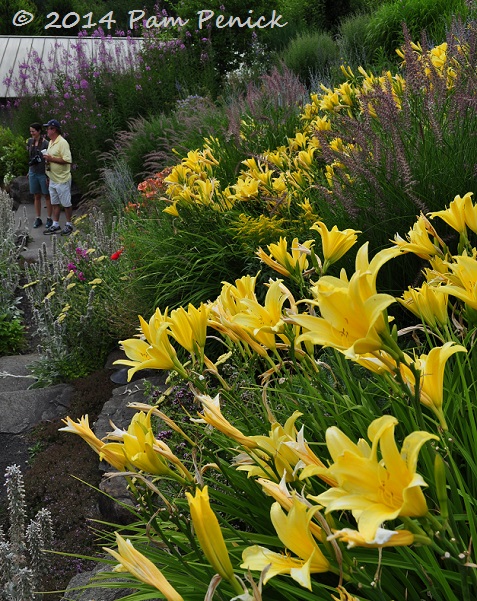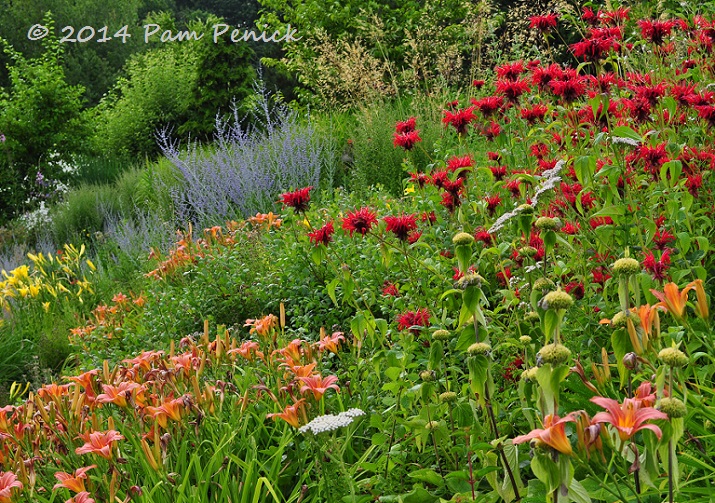 They segue into beebalm, one of my favorites, further up the hill.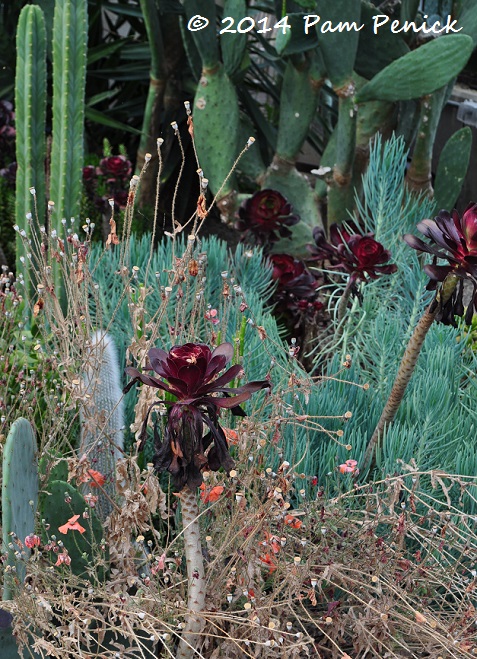 A quick peek inside the greenhouse rewarded me with this succulent and cactus combo.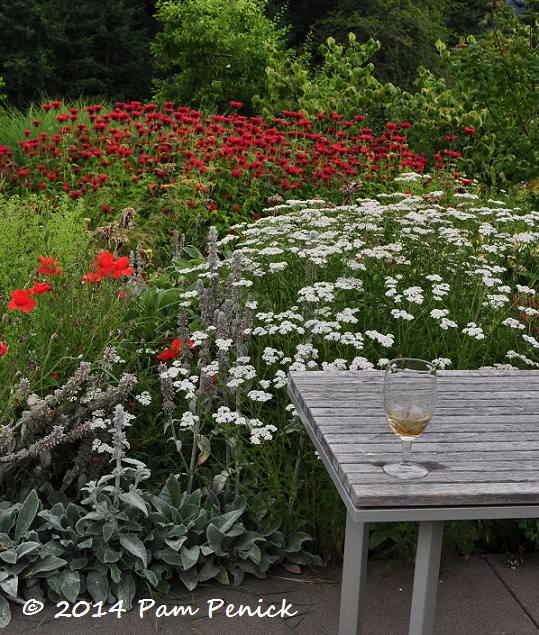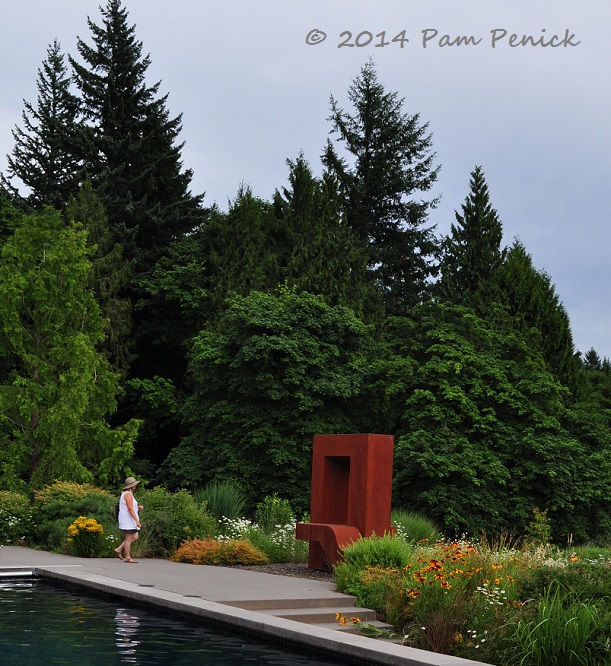 Making my way back down to the pool, I stopped to admire a monumental, rusty steel sculpture placed so as a frame a view of the distant mountains from inside the yoga house. (I wish I'd thought to walk around for that view myself. I only notice it now.)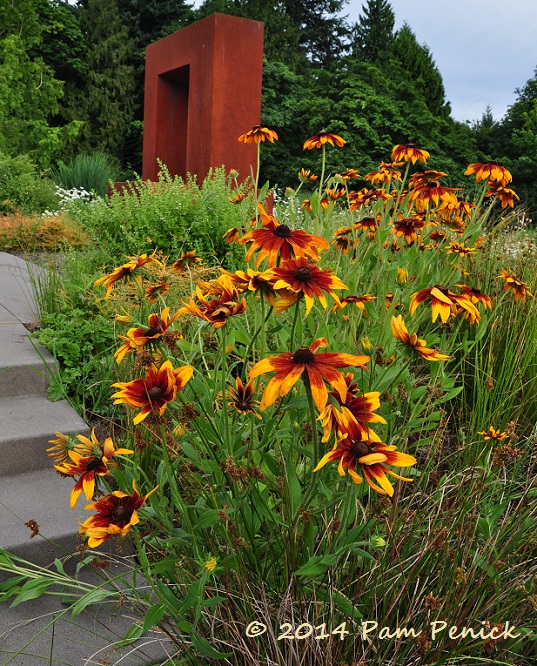 It color coordinates with the rudbeckia quite nicely.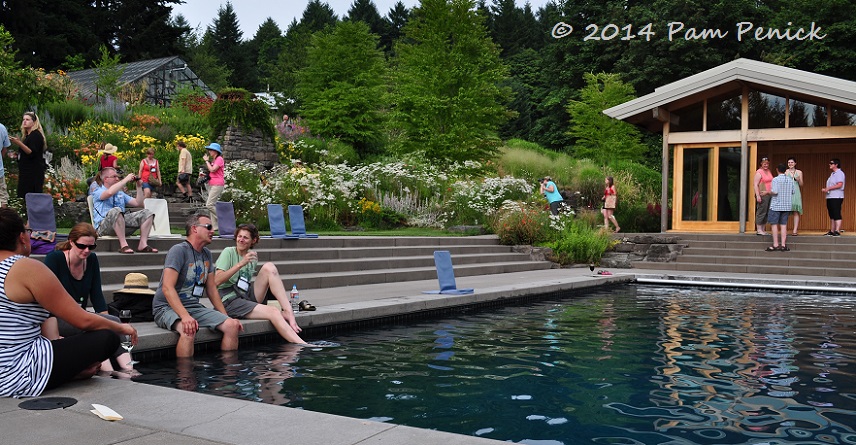 It's a pool party!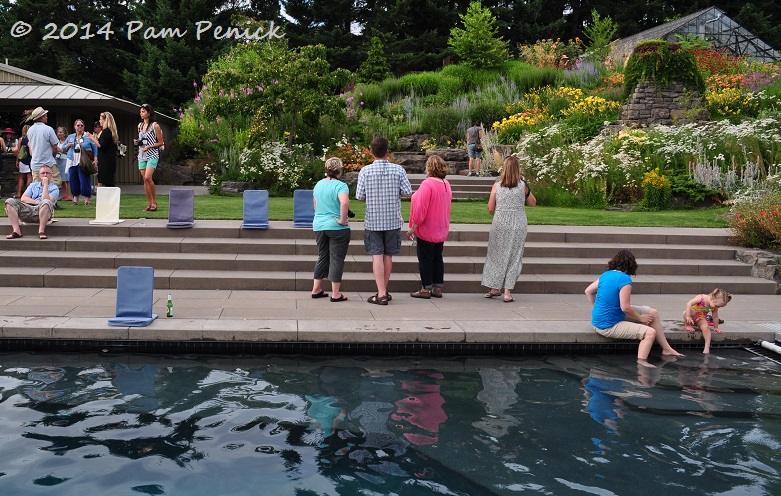 Though we're looking at the back of people's heads, this image gives you a sense of how the uphill garden relates to the pool area.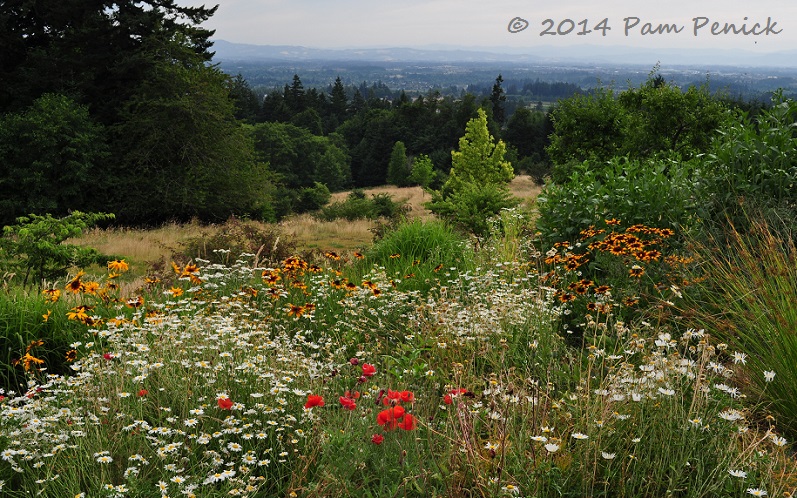 Turning the other direction, the view opens up to Mother Nature's garden. The sun-warmed meadow that allows enjoyment of the view is part of Greenlee's design, which involved clearing out a lot of Douglas fir. There are plenty remaining, he pointed out.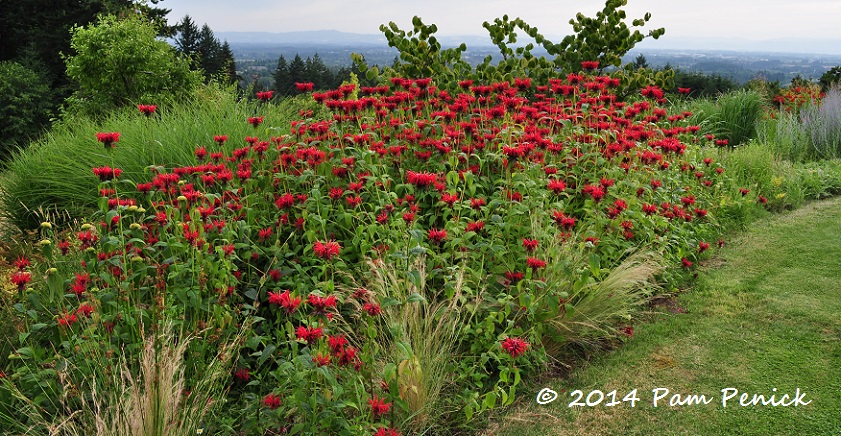 A fiery stand of beebalm attracted not just me…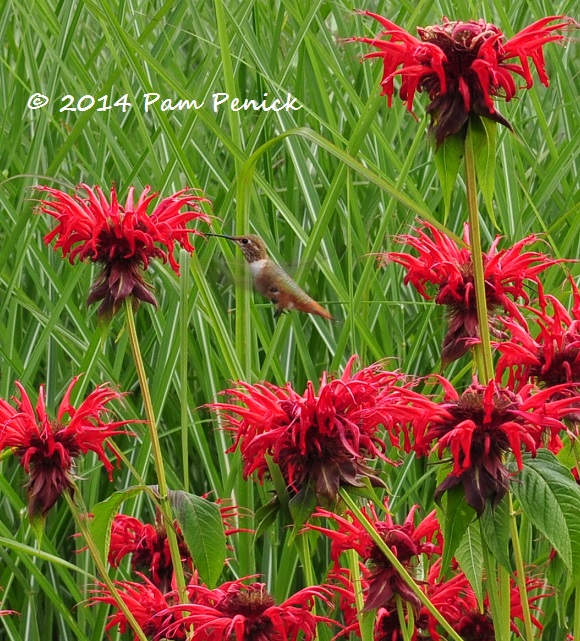 …but a busy hummingbird as well.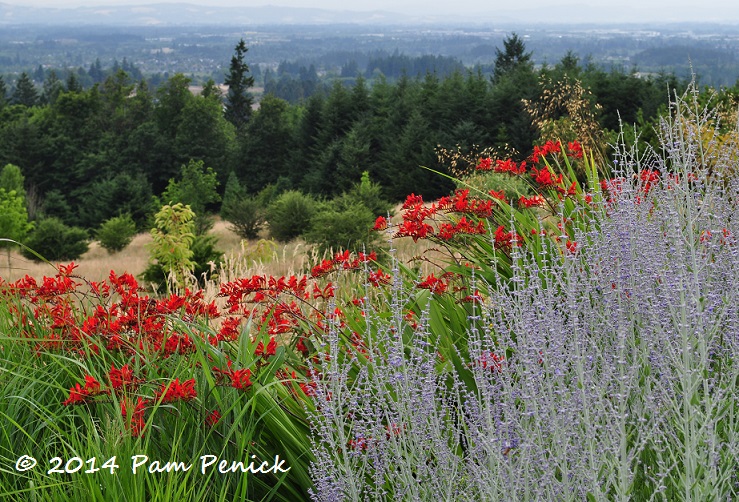 Crocosmia and Russian sage — fire and ice — edge the overlook.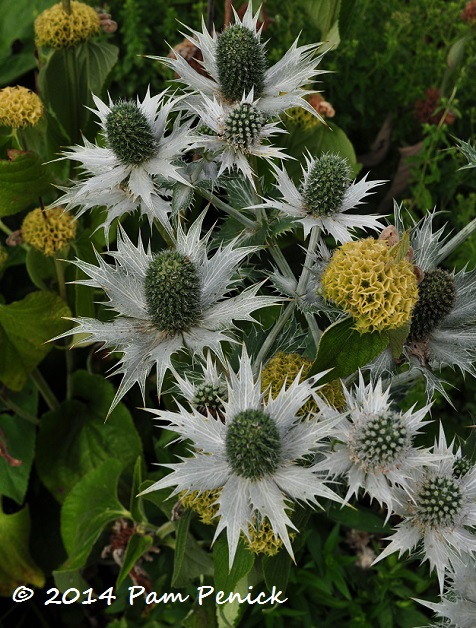 Ghostly eryngium and butter-pat blooms of Jerusalem sage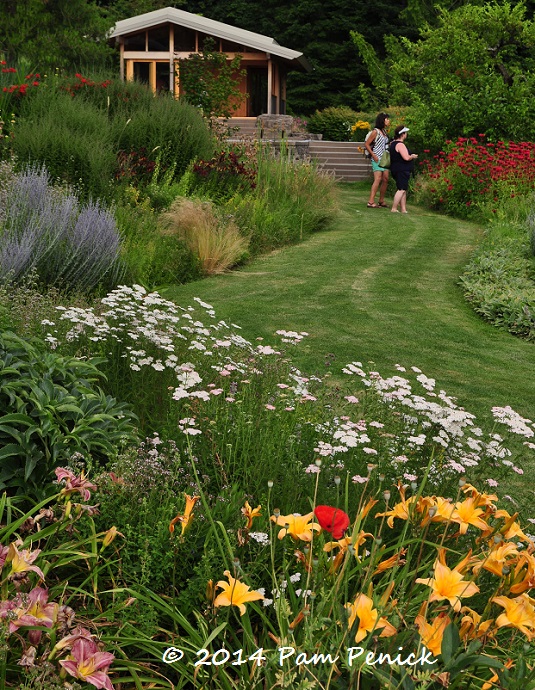 Looking back, a mown path curves between abundantly planted perennial borders.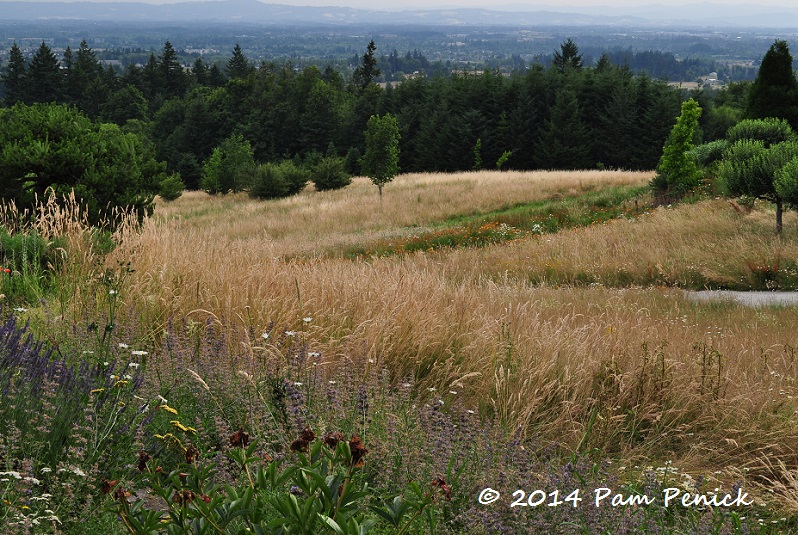 A winding drive leads further down the hill, through tawny grasses…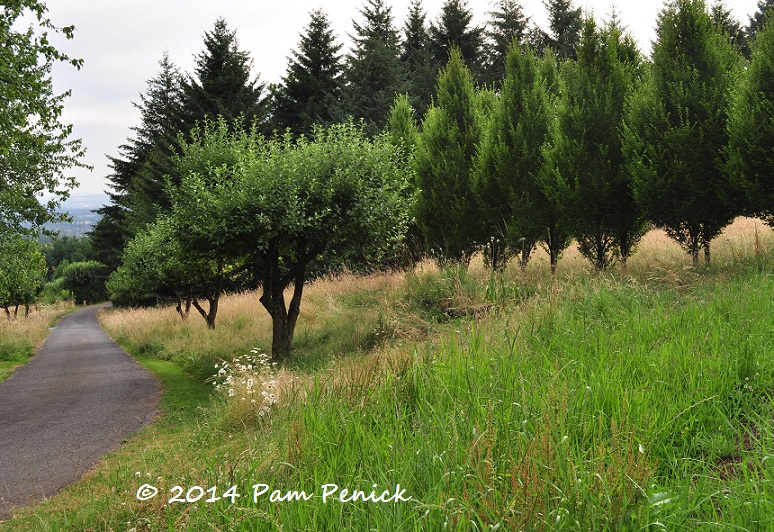 …and Italianesque olives and cypresses (I think?).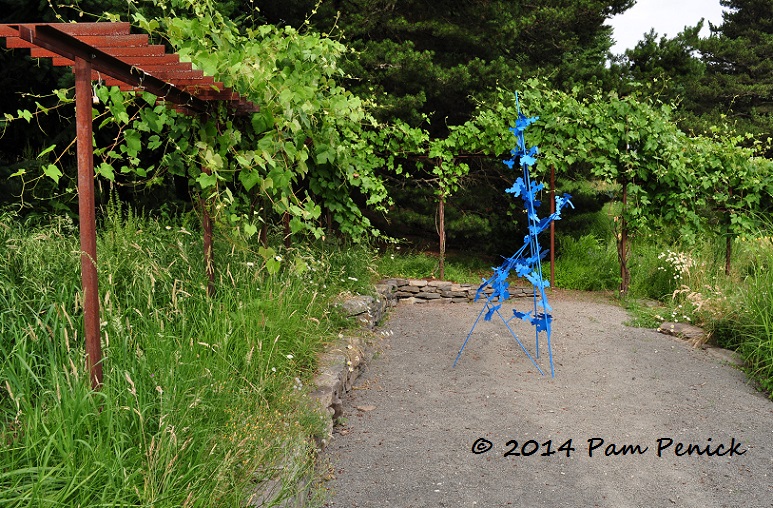 Grapes trained along steel arbors are echoed by a blue, steel sculpture of grape leaves. This is part of what makes Westwind a "farm studio," I expect, along with the lavender field just above. It was a gorgeous and calming end to the first day of the Portland Fling.
Up next: The serenely beautiful Portland Japanese Garden. For a look back at the hillside splendor of Old Germantown Gardens, click here.
All material © 2006-2014 by Pam Penick for Digging. Unauthorized reproduction prohibited.
posted in
Birds
,
Cactus
,
Daylily
,
Fling Portland
,
Garden art
,
Garden structures
,
Garden tours 2014
,
Grasses
,
Hillside
,
Lawns
,
Paths
,
Patios & decks
,
People
,
Ponds
,
Prairie/Meadow
,
Rock
,
Sculpture
,
Seating
,
Succulents
,
Swimming pools
,
Travel
,
Trees
,
Trellis
,
Views
,
Vines